Download our Free Matte Coffee Bag Mockup bundle! In it, we've gathered three flawless templates that showcase a medium-sized flat-bottom coffee packaging bag, with a resealable zipper. The rounded corners make the bag look more sleek, unusual, and catchy. Besides, the detailed matte texture adds an interesting touch and makes the packs look even more life-like. While two templates feature a single bag from different angles, the third mockup shows two packaging bags standing side by side. Most importantly, the offered PSD format of these design materials allows for hassle-free adjusting in Photoshop.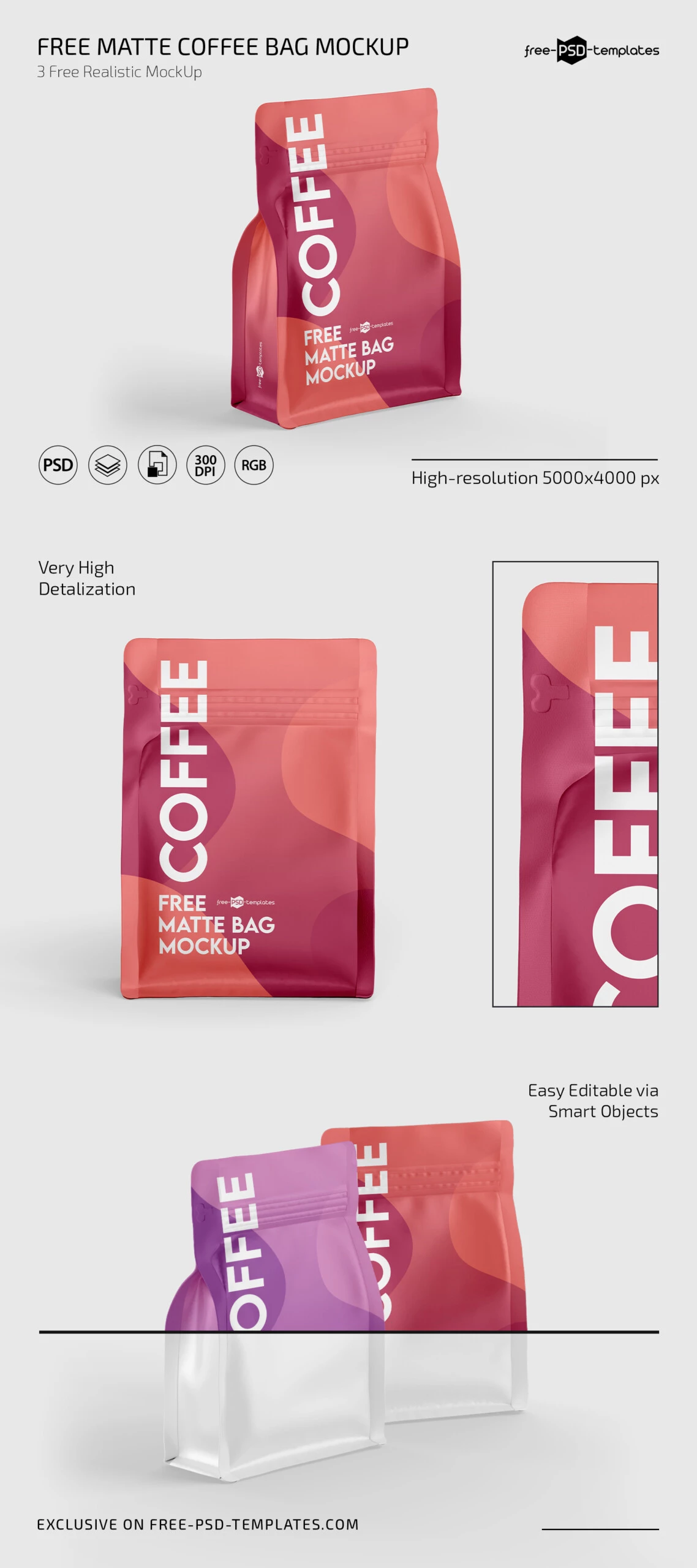 Who can benefit from downloading the Free Matte Coffee Bag Mockup pack?
While the quality and taste of coffee are important, customers need to find your product to discover that. If you're a graphic or packaging designer, coffee producer, or coffee shop owner, our bundle of three coffee packaging mockups is precisely what you need! These top-quality adjustable materials are ideal for showcasing your branding and packaging designs in a realistic way. With our set, professionals developing new coffee packaging can effectively visualize and communicate their ideas.
How can you customize the Free Matte Coffee Bag Mockup pack?
Start off by applying your packaging design to these mockups in Photoshop. You can customize not only the front but also the sides of the bags. It's possible to feature any text, add an illustration, a pattern, an image, or a logo. Additionally, you can alter the color scheme of the packs. Finally, it's possible to use any fitting image in the backdrop. Thanks to detailed textures and precise shadowing, the edited templates will look realistic and appealing.
Why should you download the Free Matte Coffee Bag Mockup pack?
Make sure to download our Free Matte Coffee Bag Mockup bundle! It assembles three fantastic mockups of flat-bottom coffee packs at no cost. The exceptional quality of these materials will ensure a faultless presentation of the new packaging project. Meanwhile, the PSD format and the nicely-organized layers guarantee that the editing process will be fast and enjoyable. Finally, we've included a free license that allows you to use these samples without limitations.
Download