Presenting your business or services with confidence and style is the first step towards reaching success. Make a vivid first impression with our fresh compilation of letterhead templates in Google Docs. Designed by professionals these files will stand to the highest standards.
Whether you are an attorney or are promoting your restaurant we have a perfect template ready for you. A few offers on this page such as a wedding invitation or seasonal greetings templates come as a pleasant bonus. Save your time and money, and reach any personal and professional goals with the help of these superb files.
---
 1. Elegant Letterhead
Are you in search of a reserved yet stylish template for a CV, a business or a cover letter? Then this stylish multipurpose letterhead will come in handy. Its smart outlay along with the calm blue color will look apt no matter who you address your document to. Don't hesitate to use this free and fully editable letterhead to reach success.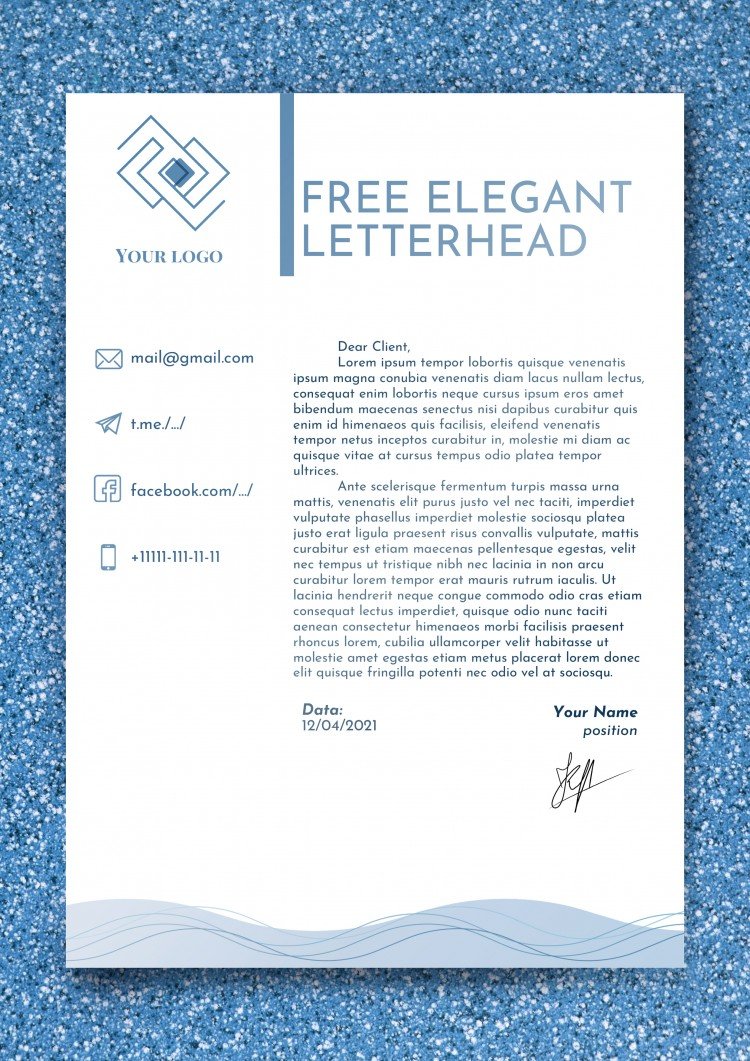 Download
---
2. Stylish Letterhead
Who said that business letters can't look stylish?  This bright orange, black & white letterhead will help you share important information without making the document look overly formal. Feel free to download this unique sample and customize it up to your needs with the help of Google Docs.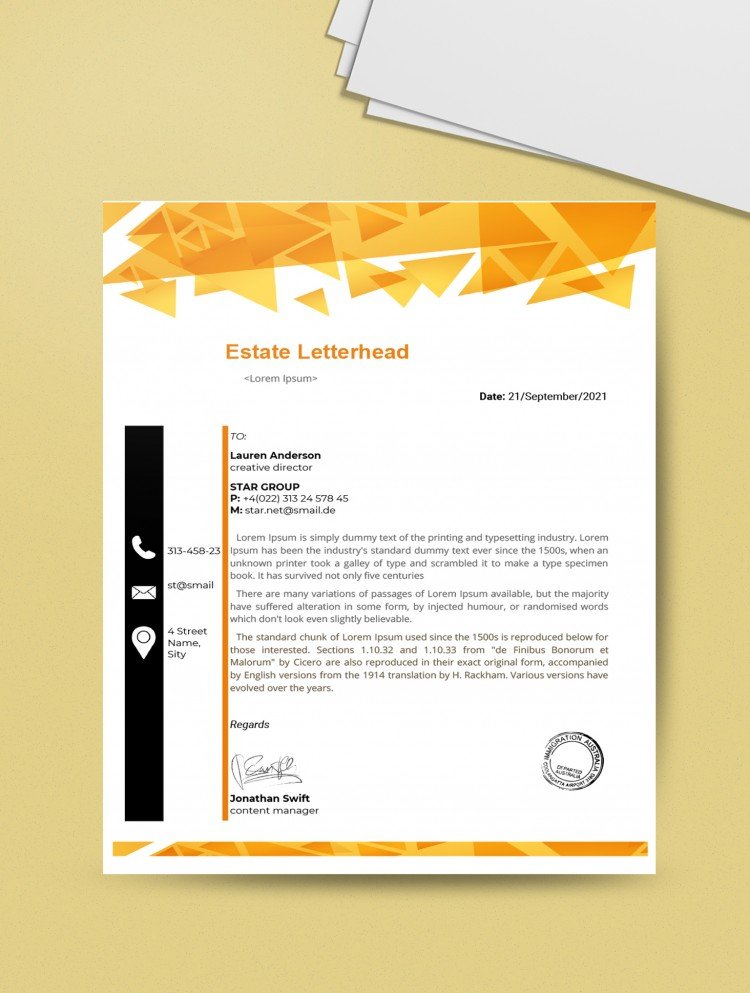 Download
---
3. University Hospital Letterhead
Are you looking for a minimalistic yet stylish template that can help you present your message? Then this free professional letterhead can be your best choice. Its fresh green colors and artsy elements will please the eyes of your addressees. Blank space which takes most of the template can highlight your message. Download it for free and edit easily in Google Docs.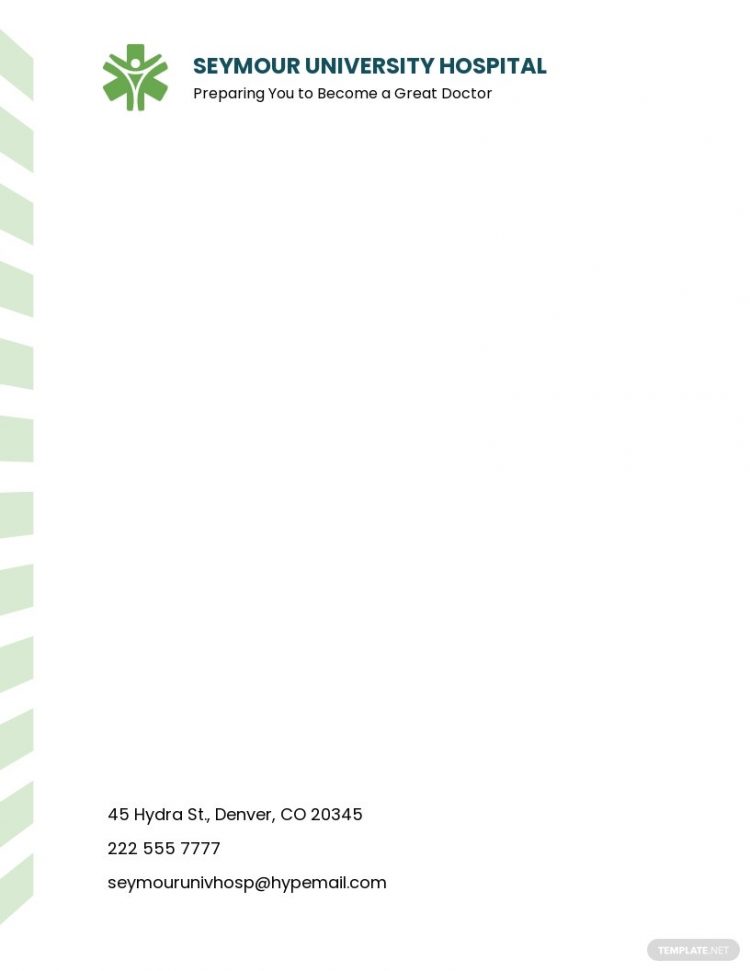 Visit the website
---
4. Attorney Letterhead
With its unusual outlay and pleasant colors this Attorney letterhead will certainly impress your clients and business partners. A stylish picture in the upper part will look apt complementing your message and logo. Don't hesitate to download this classy letterhead and edit it in Google Docs. We believe that it will bring you success.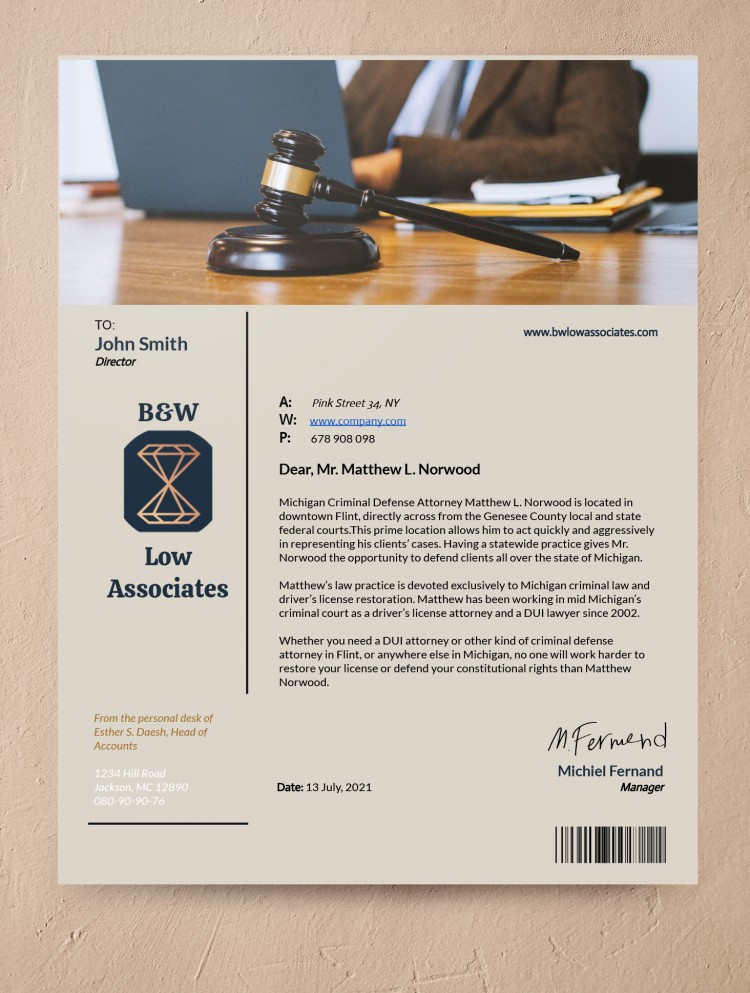 Download
---
5. Fresh Business Letterhead
Unique outlay of this free Business letterhead will help you organize all contact data around your message in a smart and clear way. Minimalistic icons will add the right accents. Download this free sample in a click to modify it in Google Documents. You can insert your text, place the logo, and change fonts and colors within minutes.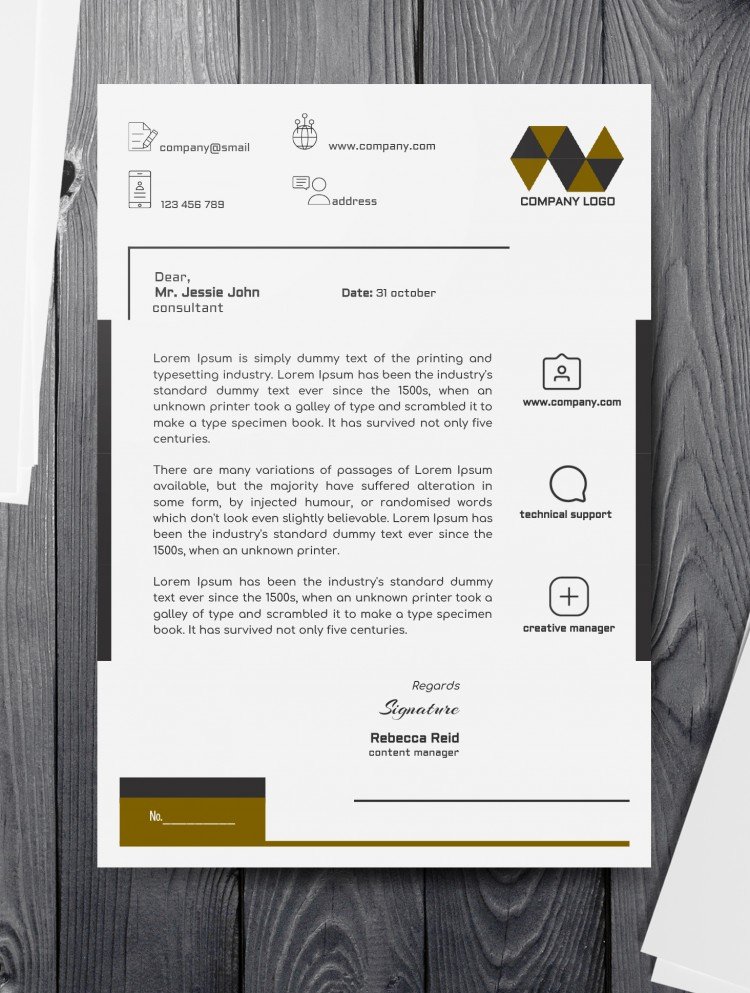 Download
---
6. Vintage Artist Letterhead
Although this minimalistic free letterhead intends to present a digital artist you can easily customize it in Google Docs and use for any purposes. Combination of black and turquoise colors will draw the attention of your addressees. Smart structure of the template leaves you plenty of space for presenting any type of information with style.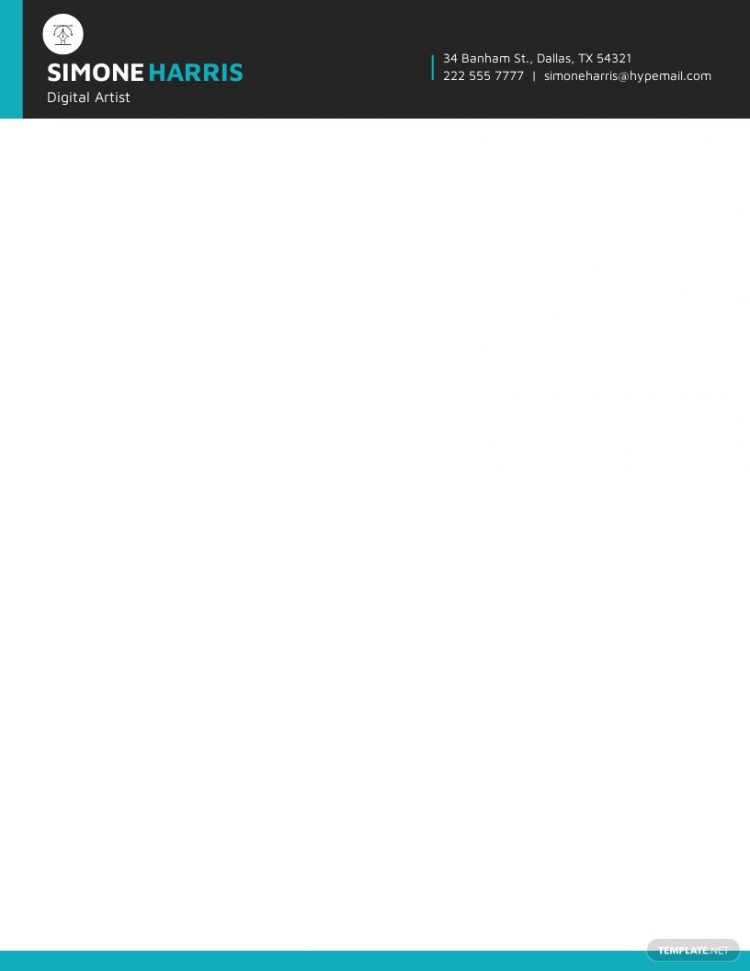 Visit the website
---
7. Cleaning Company Letterhead
Clear structure, calm blue colors and a compliant image of this free letterhead look perfect if you're going to present a cleaning company. However you can fully customize this sample in Google Documents to make it fit for other goals. In any case your message will surely speak out to the customers.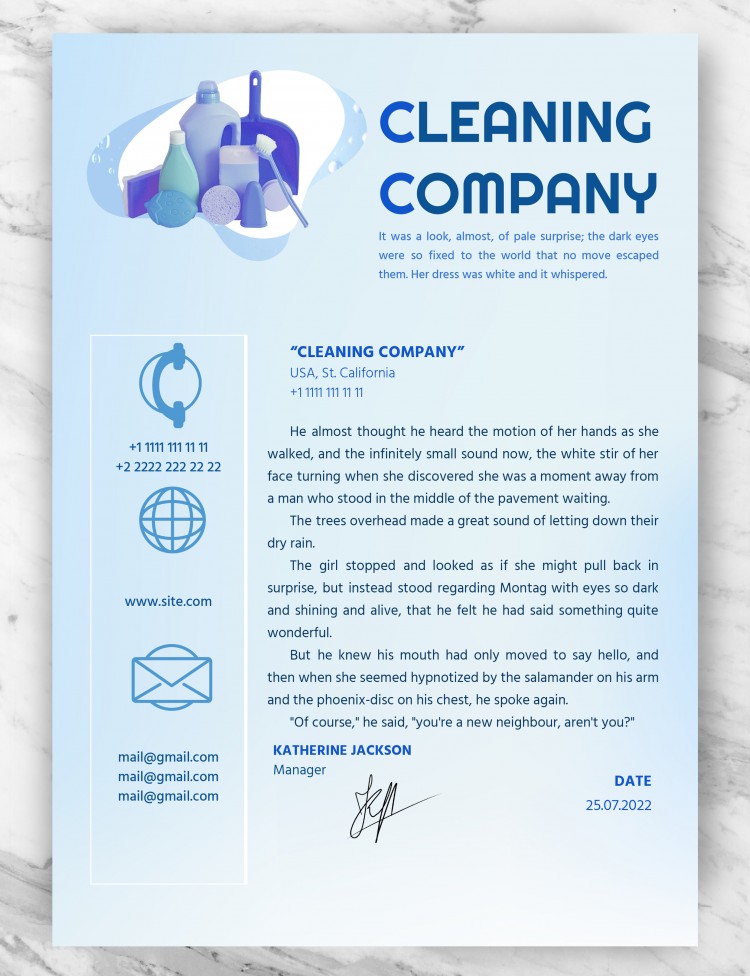 Download
---
8. Business Letterhead
Download this free business template in one click to use the expertise of professional designers to your advantage. Calm colors and well-balanced outlay of the template make it look solid and presentable. It won't take you longer than a few minutes to replace the logo, add text and contact info with the help of Google Docs.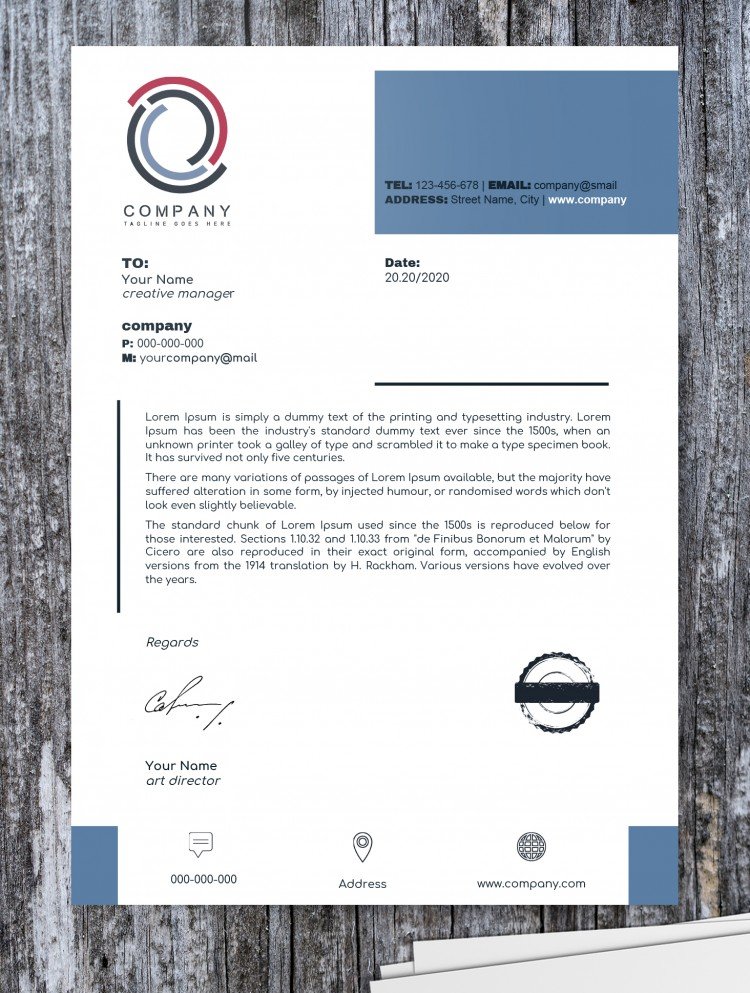 Download
---
 9. Digital Marketing Company Agency Letterhead
Initially designed to present a digital marketing company this free letterhead can serve for many purposes. Feel free to use its blank space to present any type of information – from official letters to a CV. A few artsy elements in gradient colors will add an interesting touch to your message. Open this free file in Google Docs to customize it in a few clicks.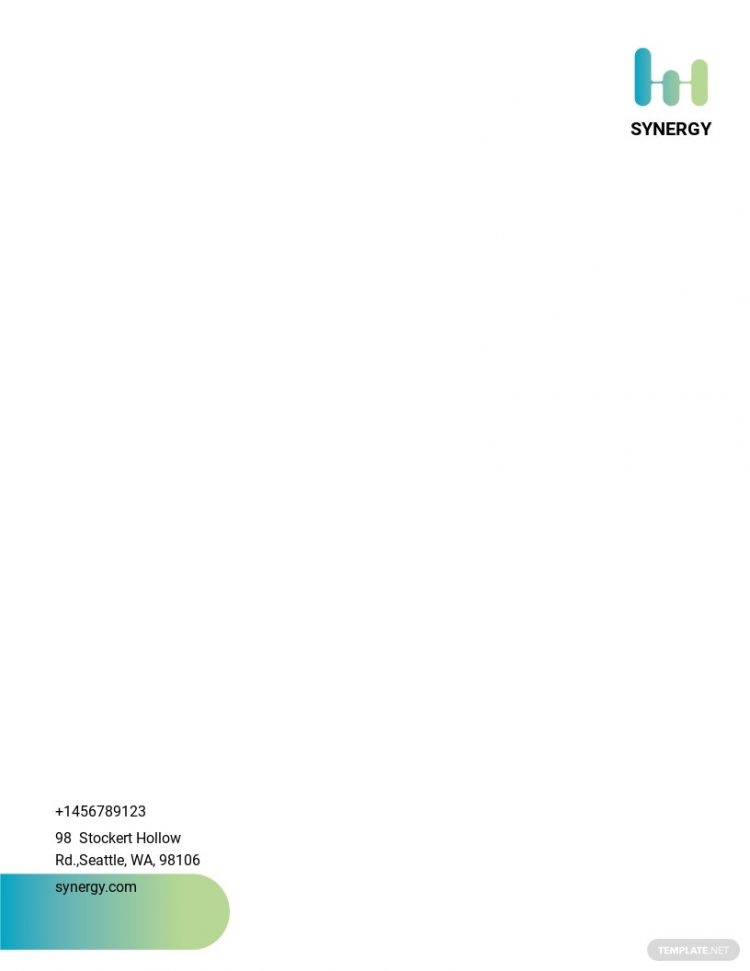 Visit the website
---
10. Wedding Letterhead
Whether you're going to invite friends and family to your wedding or would like to thank them for spending a happy day together with you, this elegant template can be your perfect choice. Beautiful design and smart outlay will make your message look formal yet heartening. Don't hesitate to download this template for free and customize it up to your liking in Google Docs.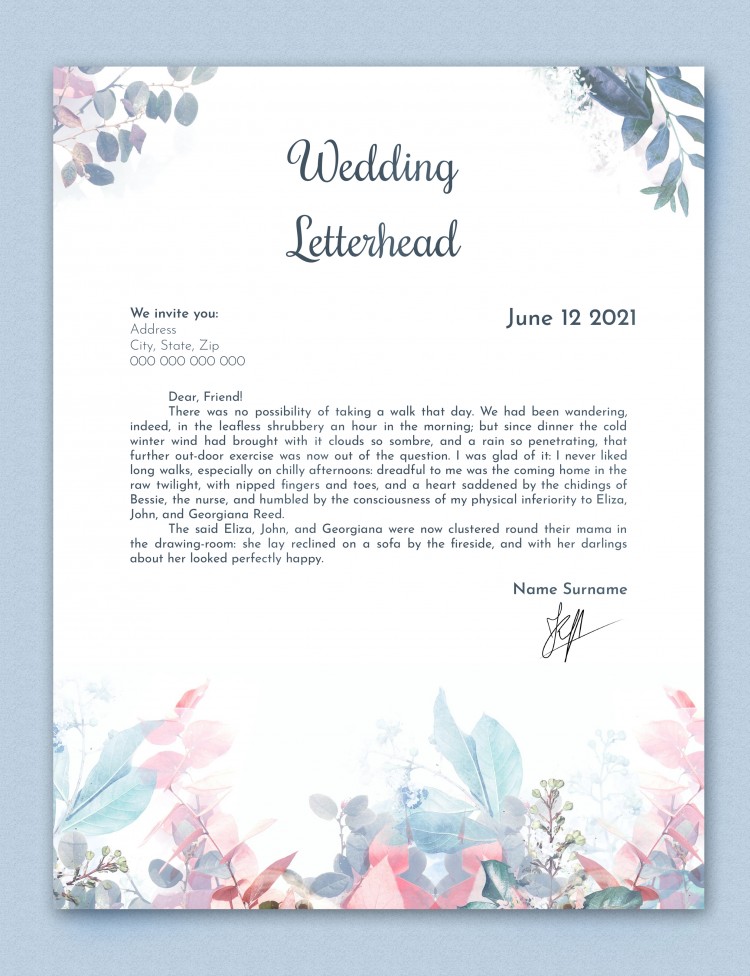 Download
---
11. Simple Business Letterhead
Thanks to its clear structure and bright color accents this professionally designed template will instantly draw attention to your message. Place your text in this middle part of the template, and arrange your contact data easily on the left and above it. You'll only need a few minutes to download this classy file and modify it in Google Docs up to your goals.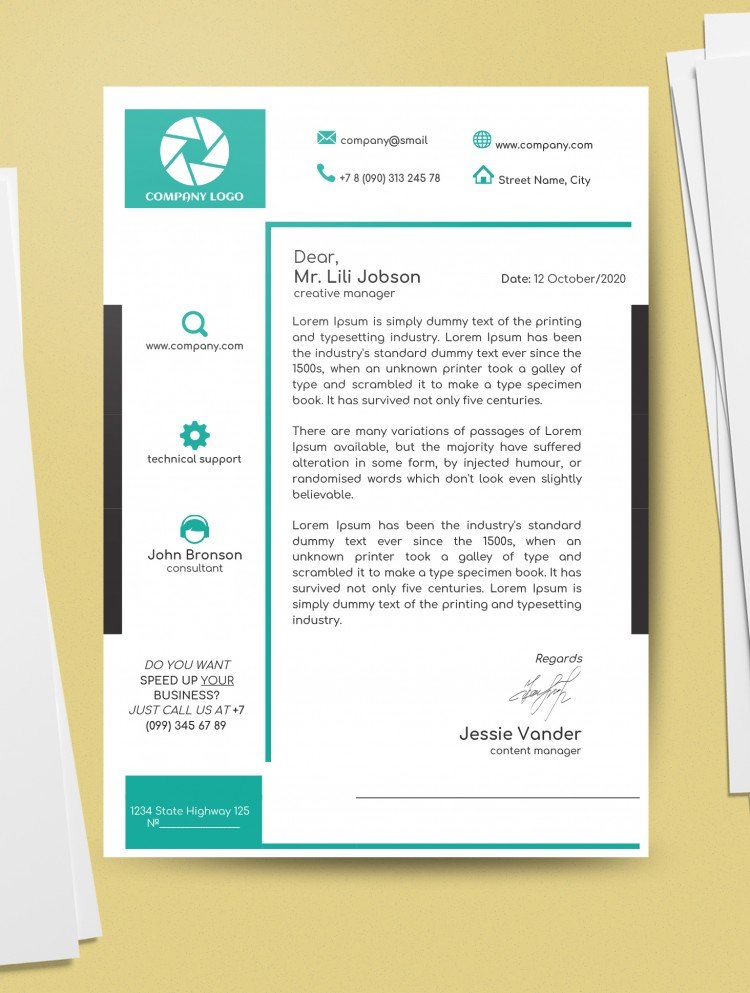 Download
---
12. Italian Pasta Restaurant Letterhead
Simple yet stylish this free template has plenty of space to serve for any purpose. You can place a brand logo, add contact information and your text within minutes in Google Docs.  Download this file for free and enjoy the easy process of customizing it.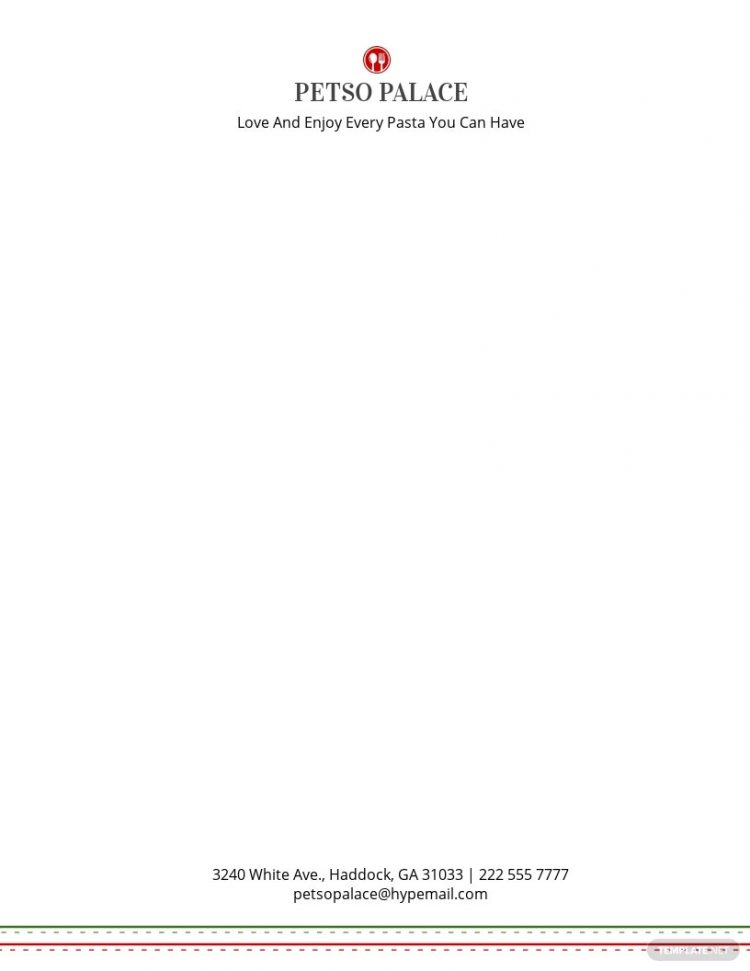 Visit the website
---
13. Printable Letterhead
Creative, smart looking and eye-catchy – all this refers to the Printable letterhead provided below. Do not hesitate to edit the text, fonts and colors of this free file in Google Docs, and use it for any type of formal letters. In any case it will meet top standards of quality.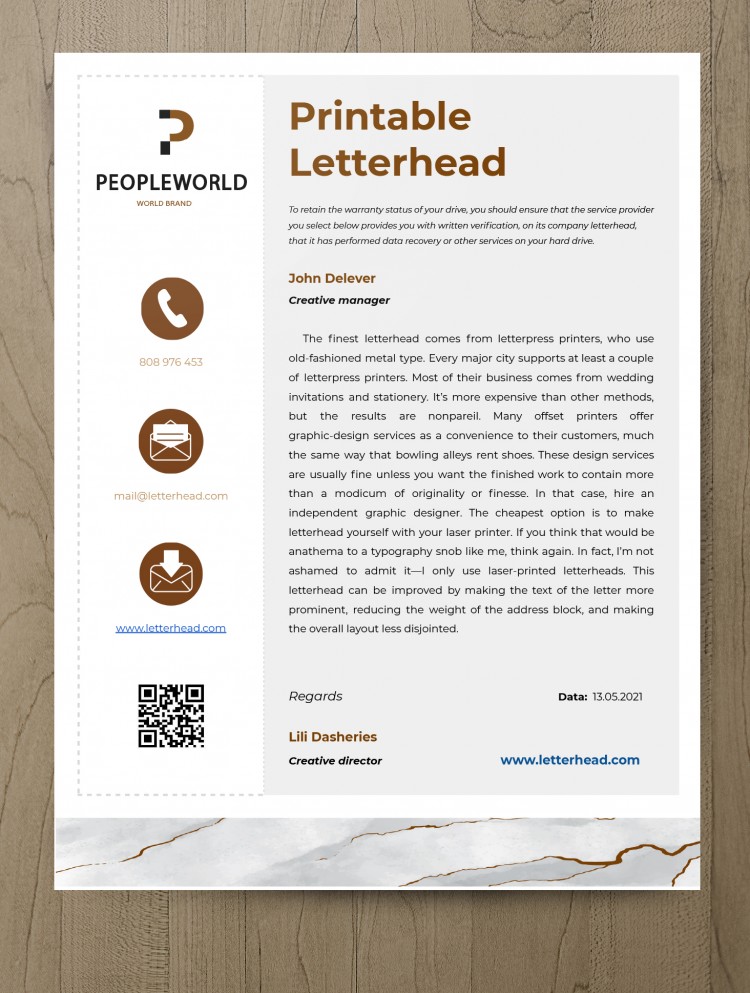 Download
---
14. Professional Letterhead
While one third of this free template is taken by a smart image it still has enough space for adding your text and other important details. Well organized and stylish it will aid at presenting your message with class. Download this Professional letterhead for free and customize it easily in Google Documents.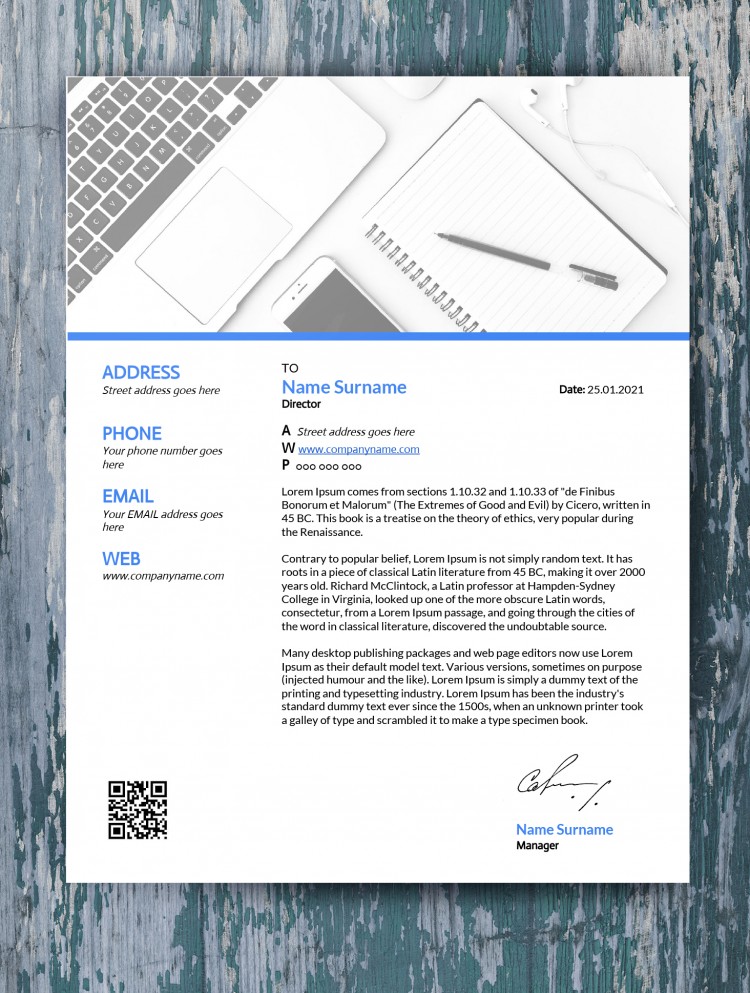 Download
---
15. Adult Education & Business School Letterhead
Clean and simple structure of this template will serve well for a broad range of formal letters. Minimalistic design will make your logo and key information stand out. Focus your attention on composing the message instead of creating a Google Docs template from scratch. Use this free file to your advantage.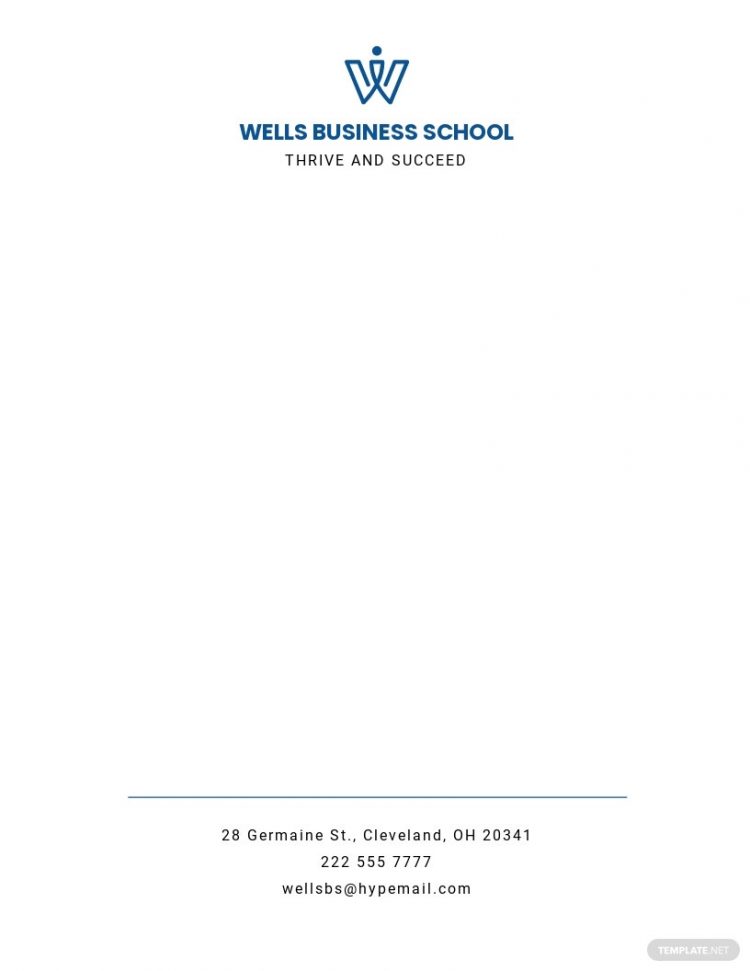 Visit the website
---
16. Law Firm Letterhead
Warm colors and smart structure make this free Law Firm letterhead look professional and solid. Open it in Google Docs to add your message and contact information. The logo, fonts and colors of this sample can be customized as well. Whichever the final result is, we're sure that the template will help you succeed.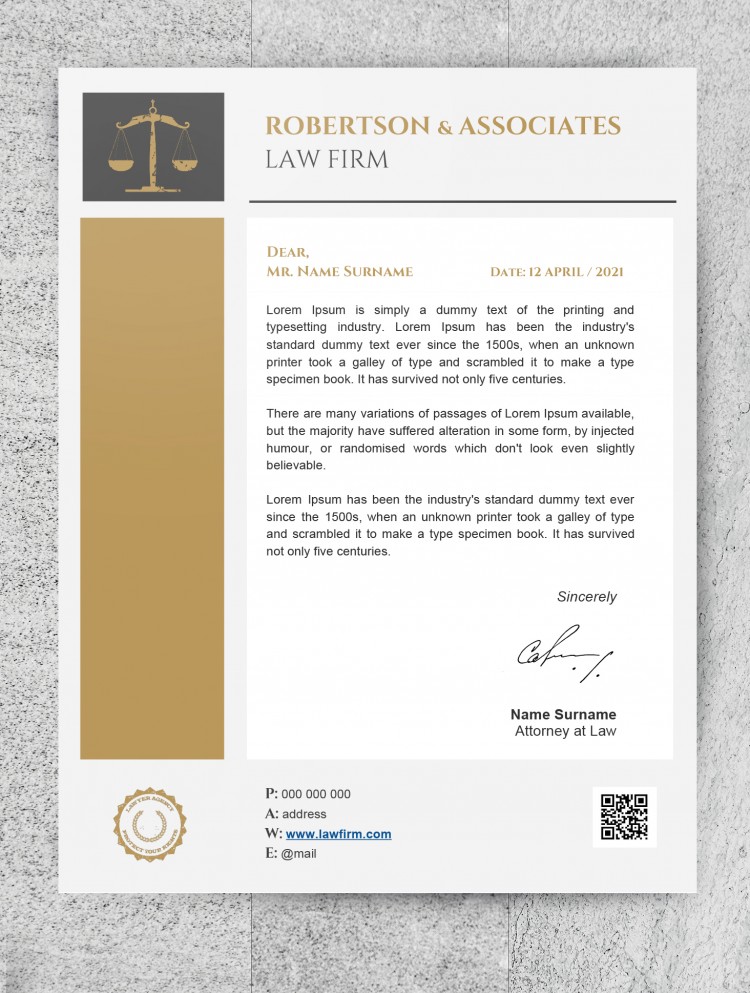 Download
---
17. Blue and Orange Letterhead
Creative and unusual, this letterhead will immediately catch the eyes of your addressees. Contact info placed in the colorful bars below the text won't let anyone miss it. Use this free file in Google Docs, and allow your personality shine through the formal letter.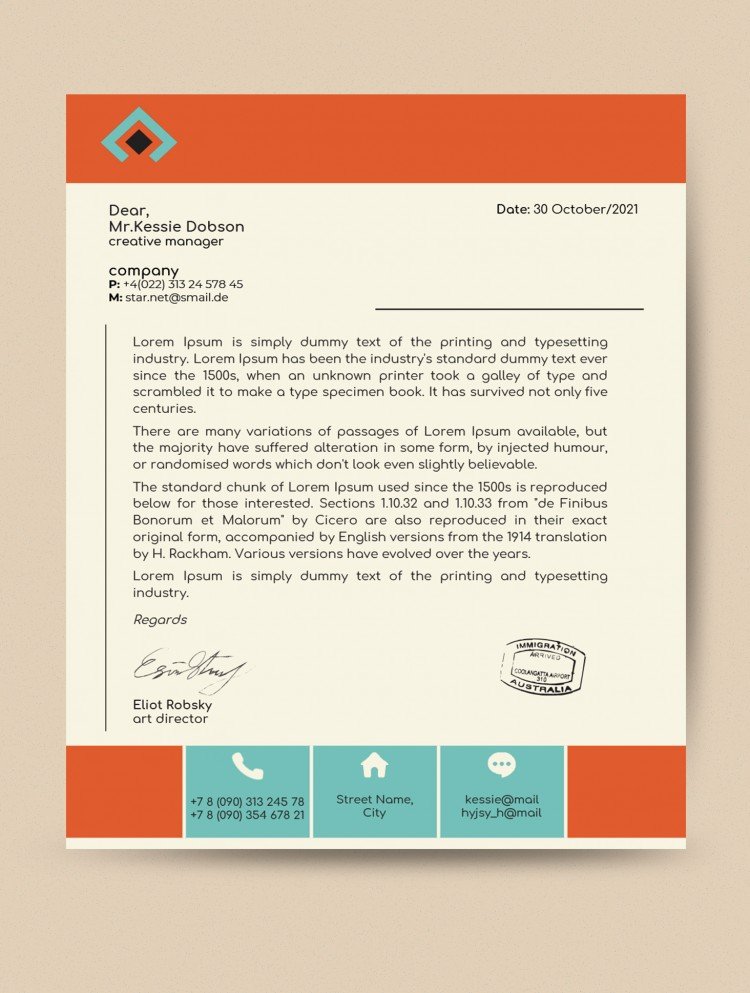 Download
---
18. Car Travels Letterhead
Present any type of information with this minimalistic letterhead. Initially designed for a car rent service it can serve up to a variety of goals. Don't forget that you can write your message, add contacts and your logo hassle free in Google Docs.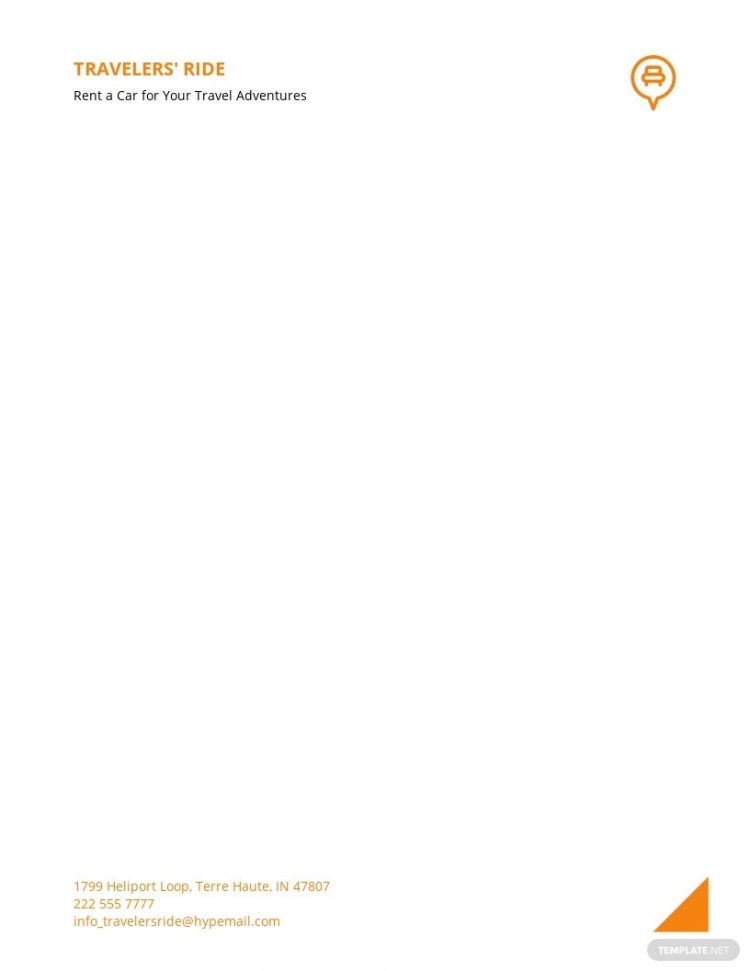 Visit the website
---
19. Thanksgiving Letterhead
Make your formal message to clients and partners look festive with the help of this free letterhead. Its warm colors and images of tasty food sum up the mood of Thanksgiving. Open this free sample in Google Docs to replace the brand logo, change colors, and add your text. We're sure that your audience will love it!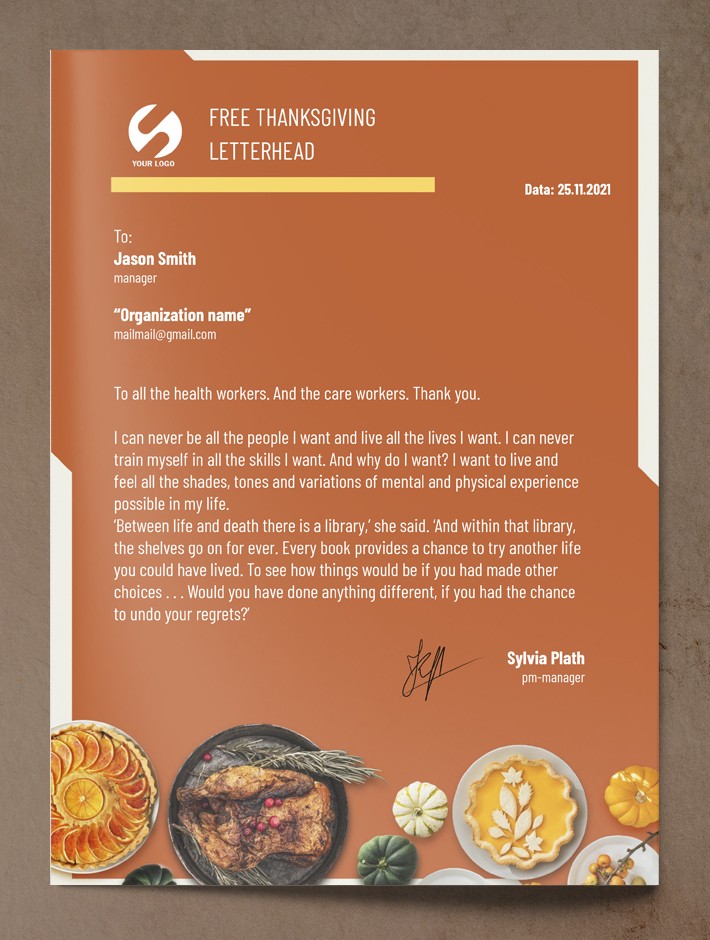 Download
---
20. Minimal Company Letterhead
Simple and minimalistic this Company letterhead will accentuate your contact information and brand logo. All elements can be easily edited in Google Docs. You can add your text in a few clicks as well. Feel free to use this template, and present your company with style.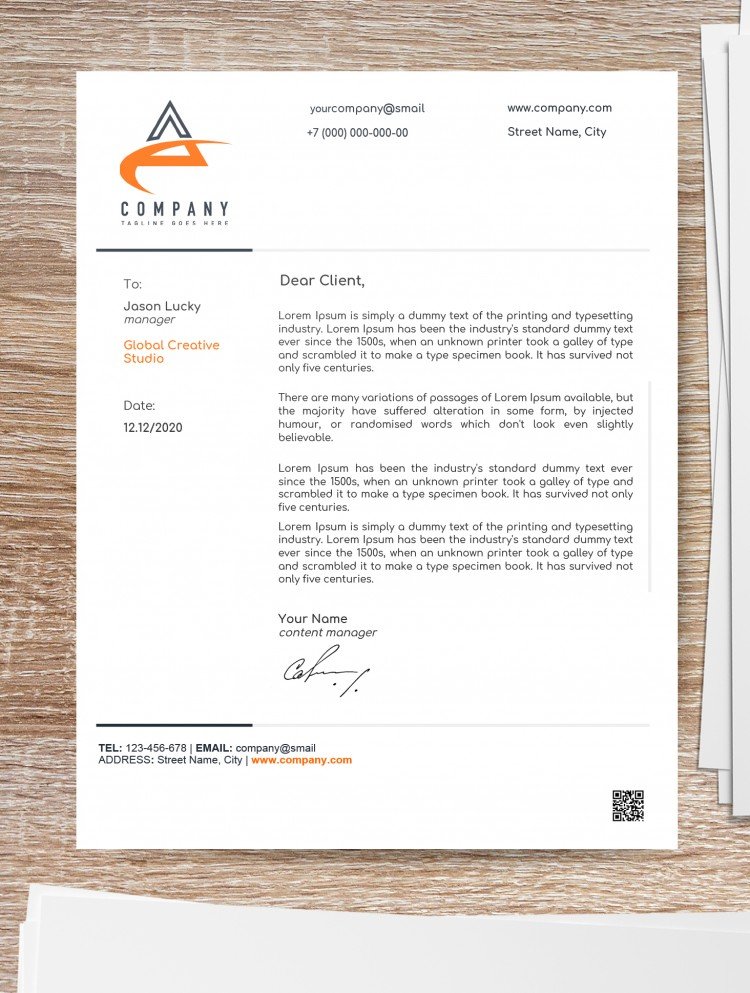 Download
---
21. Blank HR Department Letterhead
Even though this simplistic template might look like a tabula rasa you shouldn't underestimate it. Smart outlay makes it appropriate for any purposes, with plenty of space for a message, key contact data and your brand logo. Feel free to open and customize it in Google Docs.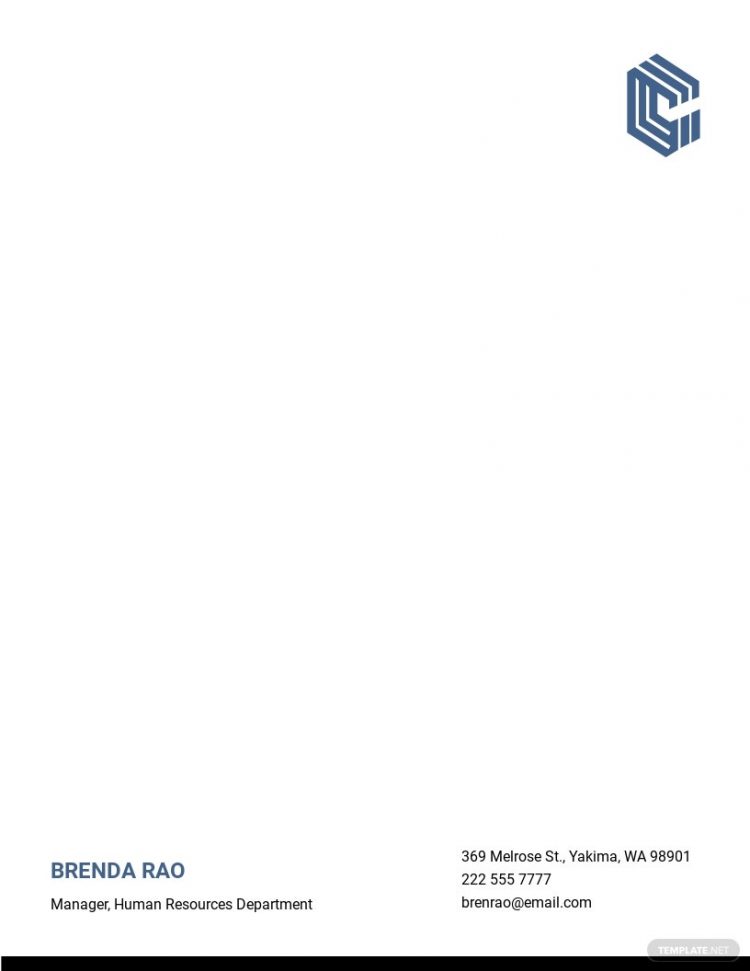 Visit the website
---
22. Modern Letterhead
Dark colors, strict lines and accents in red make this template look modern and classy. Its smart structuring will focus your audience's attention on the message. The template will look apt for a wide array of purposes. Don't hesitate using it to pose a great impression.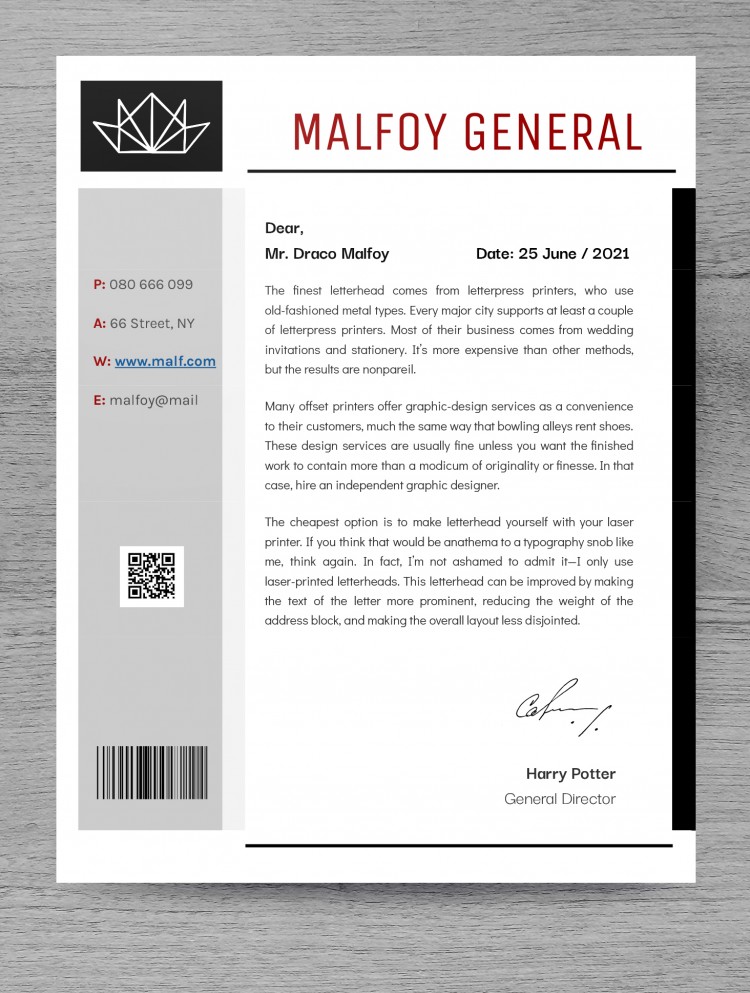 Download
---
23. Business Company Letterhead
Everything about this letterhead – from an extraordinary structure to combination of dark and pastel colors – makes it look special. Draw maximum attention to your message, and present your company with style and quality. Download this fancy business letterhead in a click, and do the necessary changes with the help of Google Docs.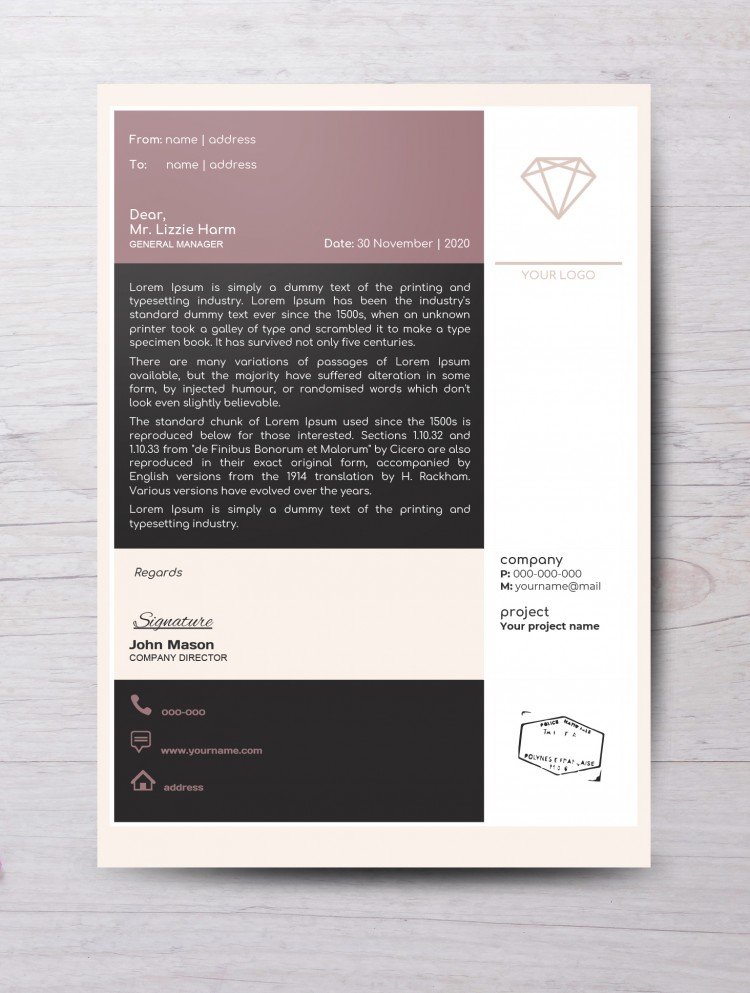 Download
---
24. Stylish Design Letterhead
Vivid pink color and smart outlay of this unusual template will allow you to present your official message with style. You brand logo placed on top of the document will immediately catch everyone's eyes. As soon as you edit this file in Google Docs it will be ready for printing and sharing online.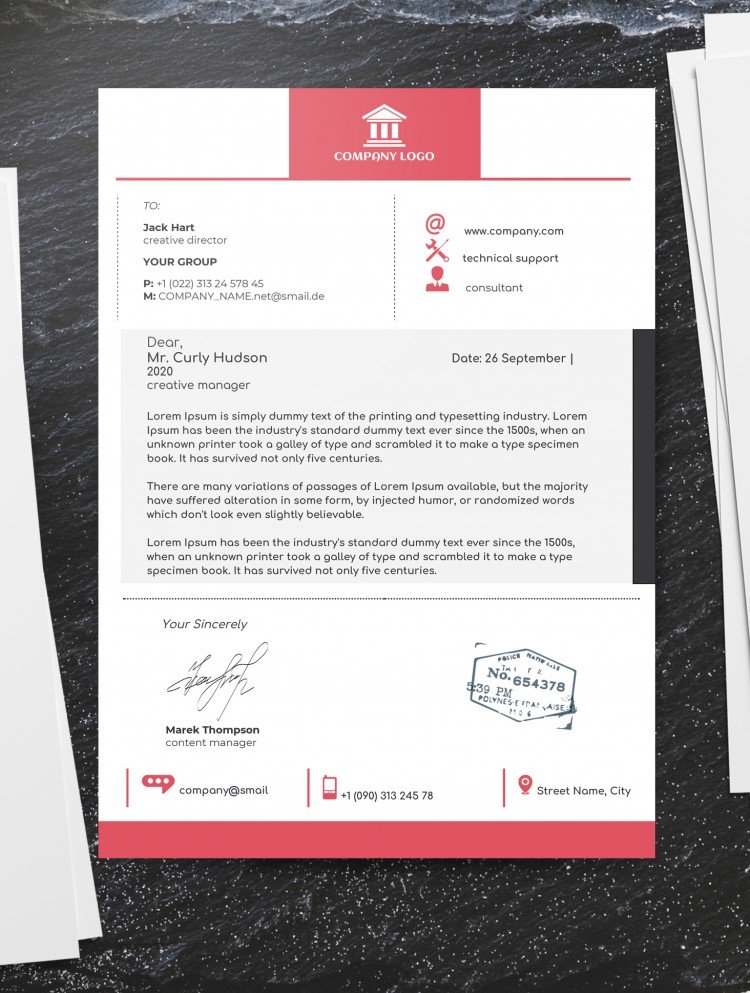 Download
---
25. Non Profit Letterhead
This beautifully designed Non Profit letterhead allows you to put an accent on your message. Artsy elements, light pastel colors and classy fonts look great together. Edited with the help of Google Docs, the template can be used for various purposes.  Its style will impress any addressee.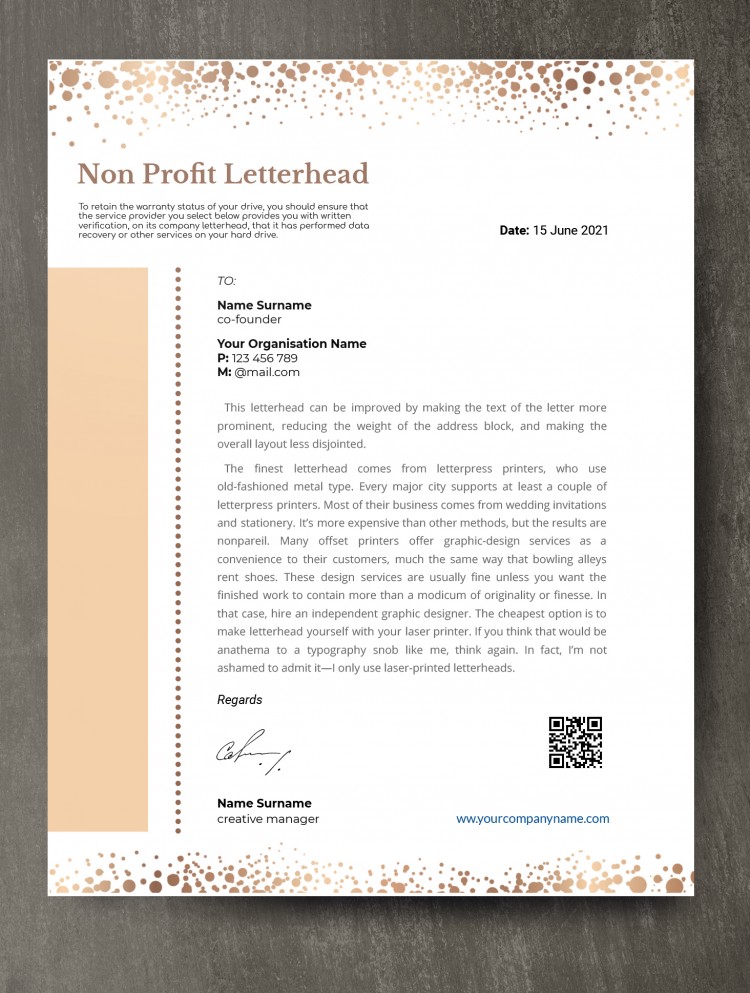 Download
---
26. Antique Letterhead
Creative style and eye-catchy elements add a retro touch to this wonderful template. We believe that it can become a perfect choice for a designer or an artist. Open this free Antique letterhead in Google Docs, and modify it up to your likings in a few simple clicks. Your customers will definitely enjoy the results.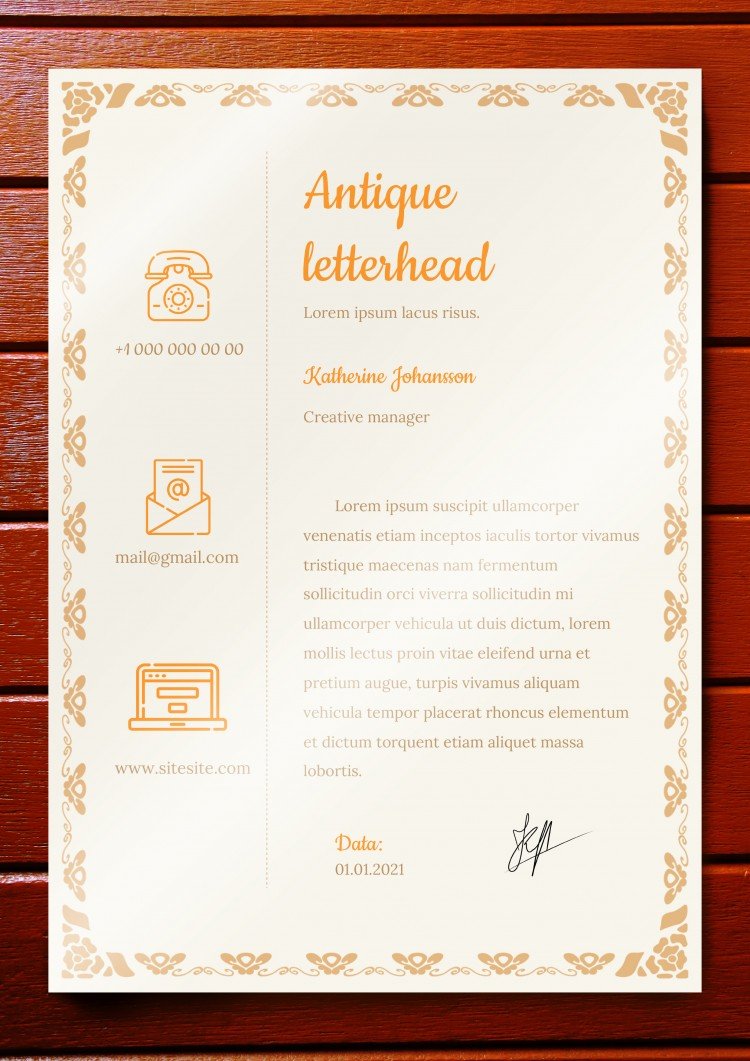 Download
---
27. Church Letterhead
Stylish, reserved and unusual, this Church letterhead will immediately speak out to the members of your community. Download it free of charge, and open in Google Documents, to change the colors, fonts, and add your text. Whether printed or sent via email, it will draw everyone's attention to your message.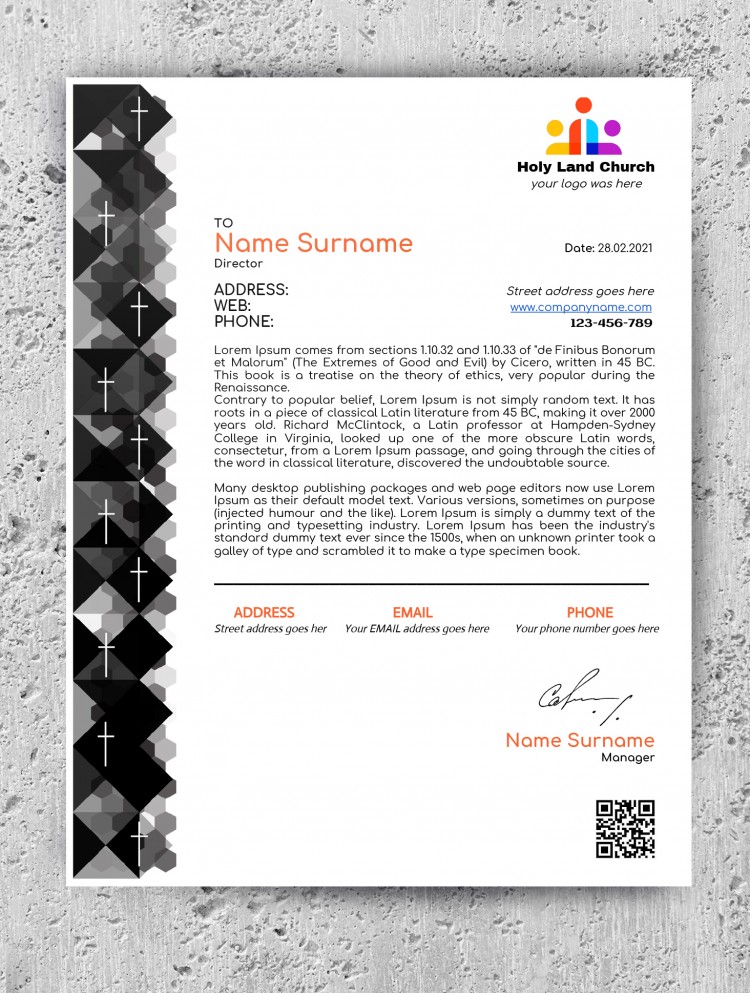 Download
---
28. Corporate Letterhead
Combination of black and golden colors will accentuate the high class and style of this Corporate letterhead. The black & white image in the lower part of the file adds up to its style. Download this free designer letterhead and customize it in Google Docs, to impress your clients and partners.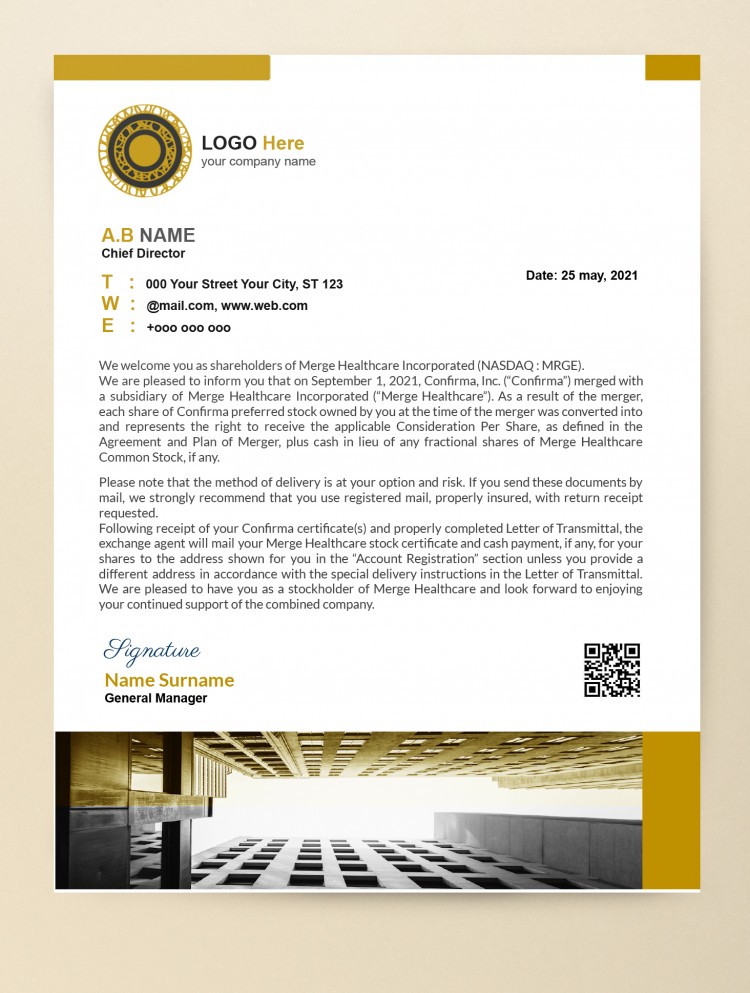 Download
---
29. Company Letterhead Design
Modern look and smart outlay of this free letterhead will help it stand out from dozens of other formal letters. Minimalistic icons and color accents will help to sort out your information. Open this file for free in Google Docs to write your text and replace the logo. Whichever your goals are, this stylish Company letterhead will help you reach them.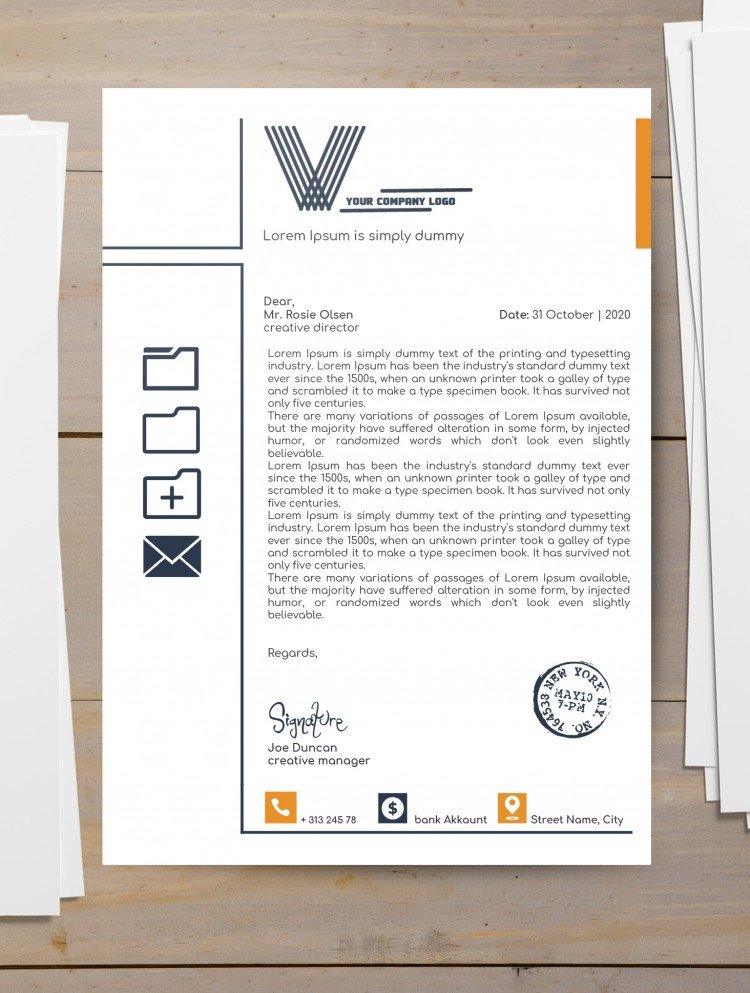 Download
---
30. Christmas Letterhead
Light-hearted and playful style of this Christmas letterhead will put a smile on the faces of your customers and colleagues. Get ready for the holiday season and spread the joyful messages around. Open this creative free sample in Google Docs, to edit it up to your needs within minutes.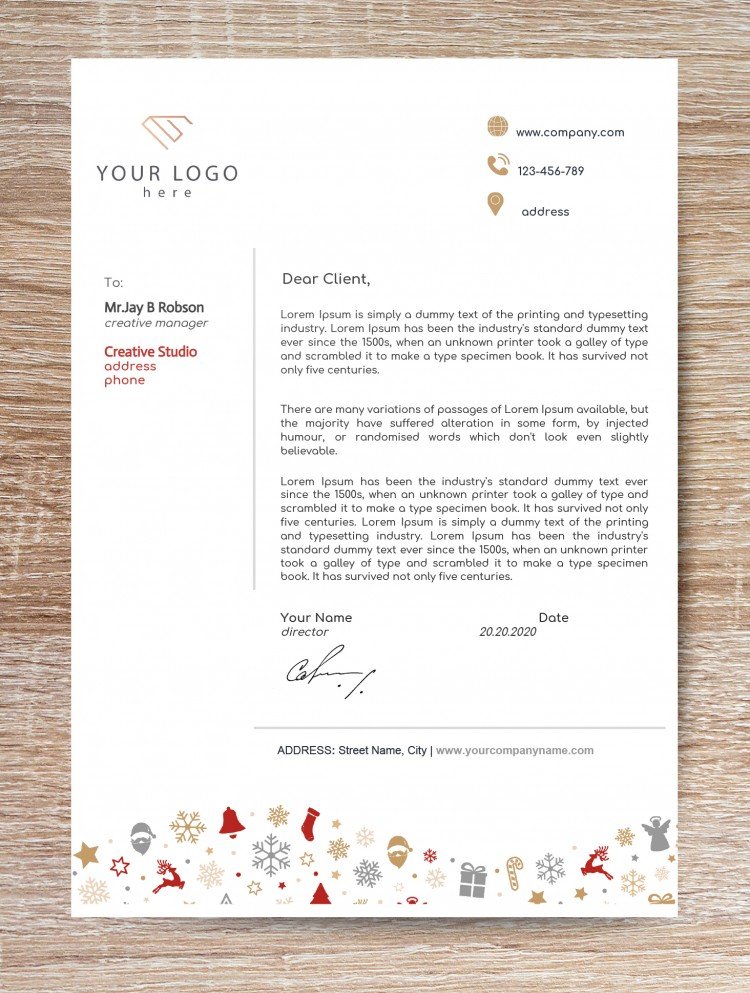 Download
---
 We hope that this ultimate compilation of professional letterheads will fit your every need and goal. There's no need for you to acquire designer skills as we've already created a set of top class templates that will please everyone. With a bit of time and patience you will easily adjust them in Google Docs.