Choosing a menu which perfectly matches the style of your café, bar or restaurant might not be easy. Of course, you can create the right template yourself but that will require quite a bit of time and designing skills. Instead, we suggest you picking one of the unique menu samples below, and spend your hours preparing new delicious treats for the visitors.
All 40 templates included into this list come in Google Docs format which means that they can be downloaded for free and edited without much effort. Crafted by pros from open sources, all menus here will certainly impress even the most demanding guests!
---
Organic Food
If you'd like to interest your guests in a special Organic Menu, this wonderful set of templates is all you need. The front page will amaze everyone with an iridescent photo of fresh vegetables. The rest of the dimmed green menu pages with the vivid orange accents look just as stylish and catchy.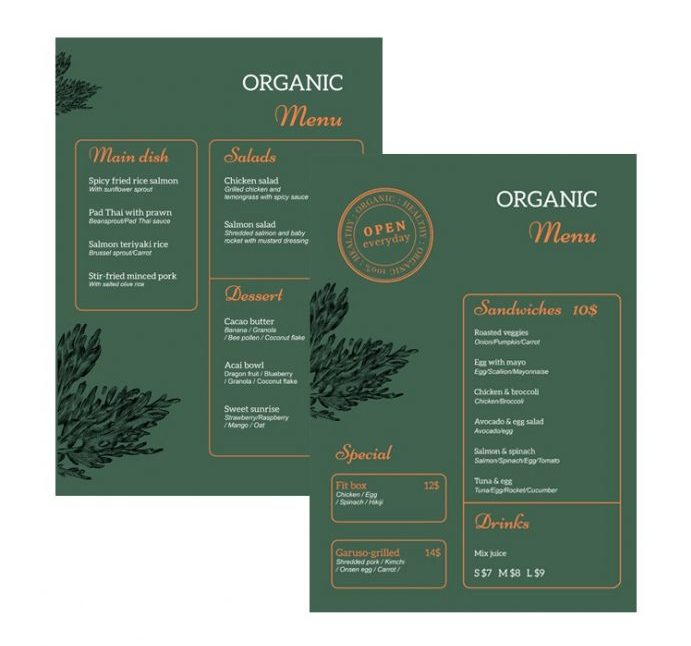 Download
---
Restaurant Menu
The menu templates here look interesting and unusual. Smart layout allows you to link each position on the menu to a photo of a dish. The writing in red looks bright against the white background. The file is free and can be customized with ease in Google Docs.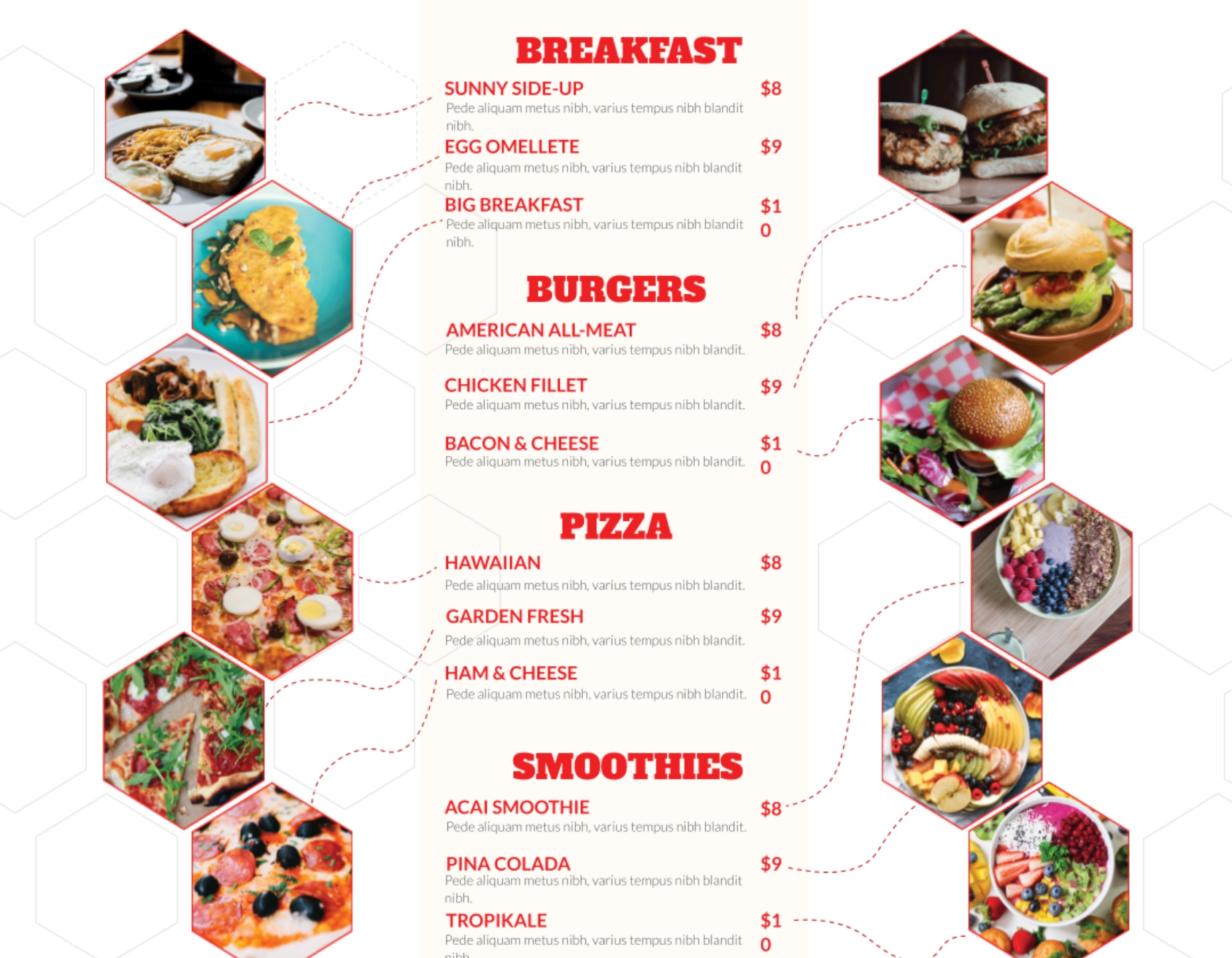 Visit the website
---
Bright Food
This cool menu template combines basic colors, bold fonts and stunning food photos. The cover page in spotted red looks bright and eye-catching. You can edit the text and upload your own images in Google Docs.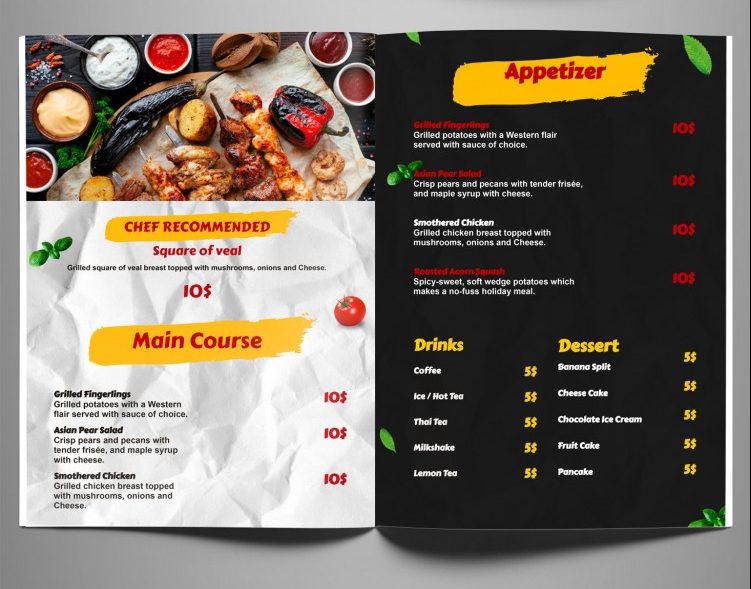 Download
---
Simple Banquet Menu
Sometimes, simplicity is the key to success. Use this pack of minimal menu samples in a light palette to please your visitors' eyes. Simple yet smart design and modern look allow you to present any types of dishes and drinks.
Visit the website
---
Halloween Menu
Make your big Halloween celebration even cooler with this set of themed menu templates. A playful and creative menu like this will be especially favored by kids. Scary pumpkins, a zombie, a ghost and other images glowing from the dark-brown background will certainly make your guests smile!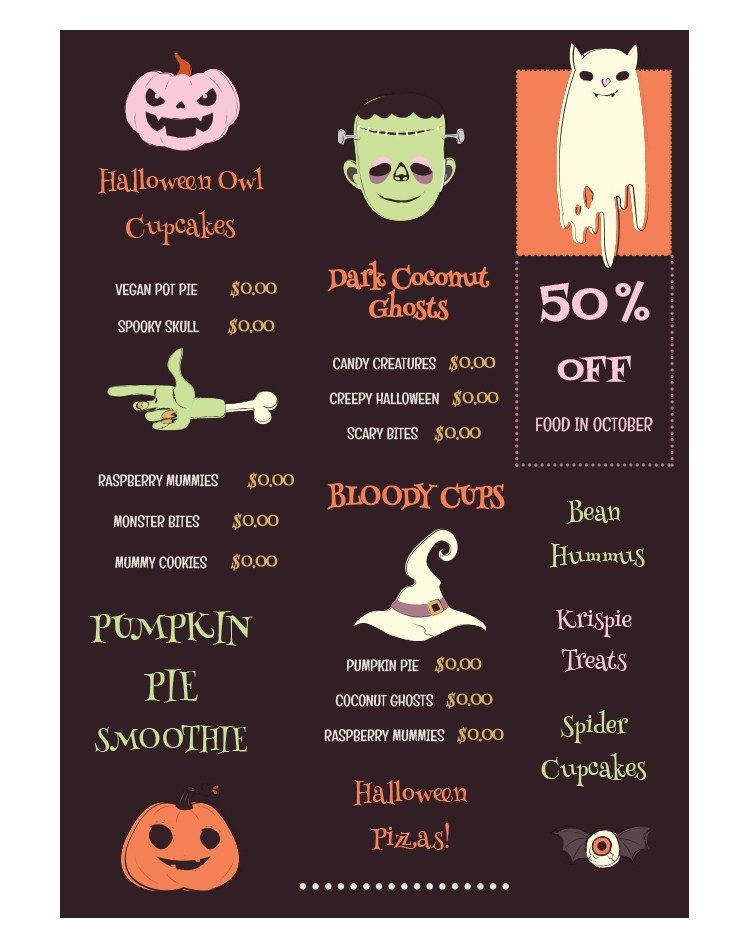 Download
---
Black Menu
A free menu model you see here looks bold and minimalistic. Dark background and simple writing in basic red and white will help to focus everyone's attention on the special dishes you offer. The template can be downloaded for free and edited in Google.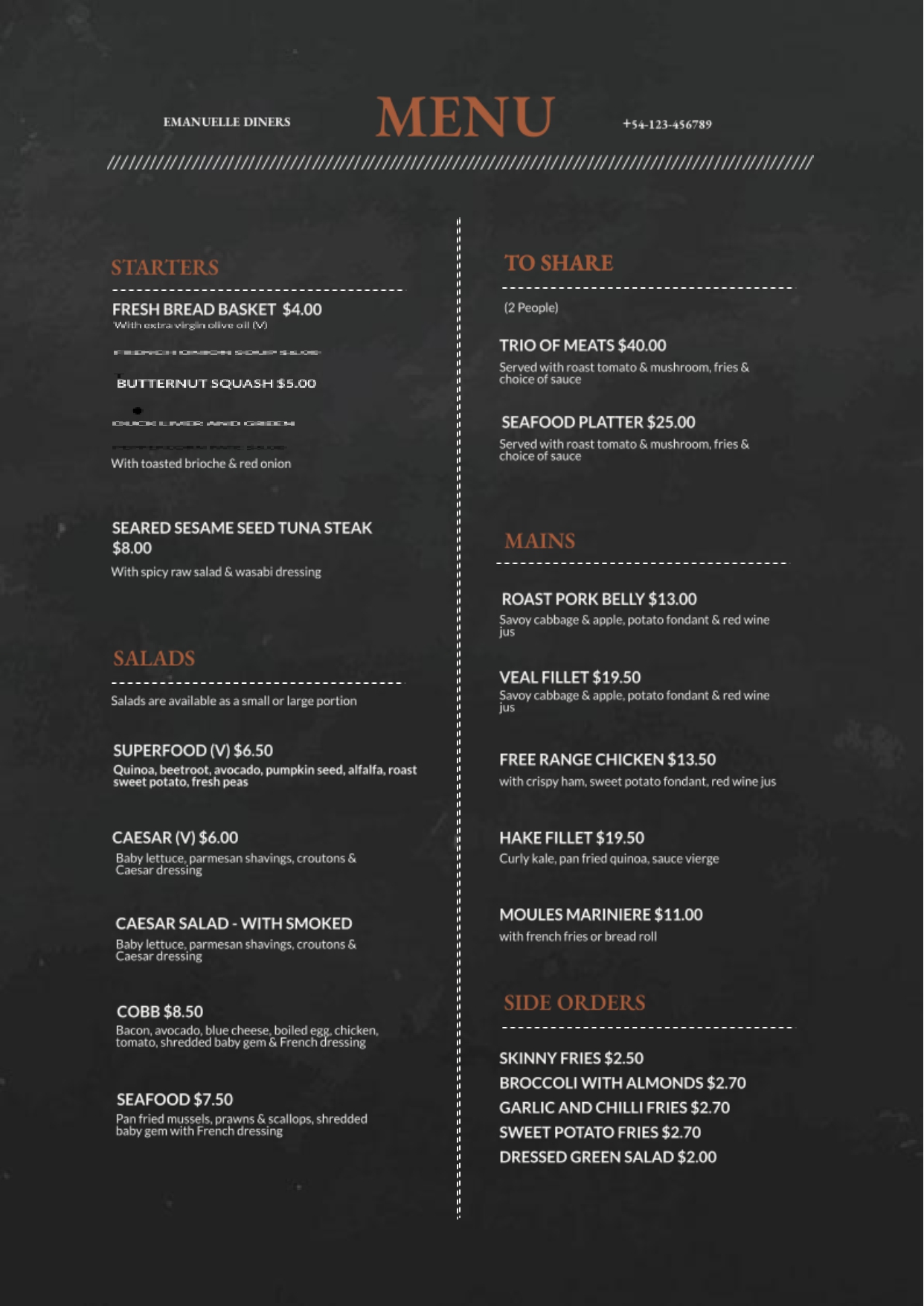 Visit the website
---
Grill and BBQ Menu
The ability to place not just the names and prices but also the amazing images of each dish is what makes this menu pack special. Your guests will like the contrasting combo of black and orange against the light background.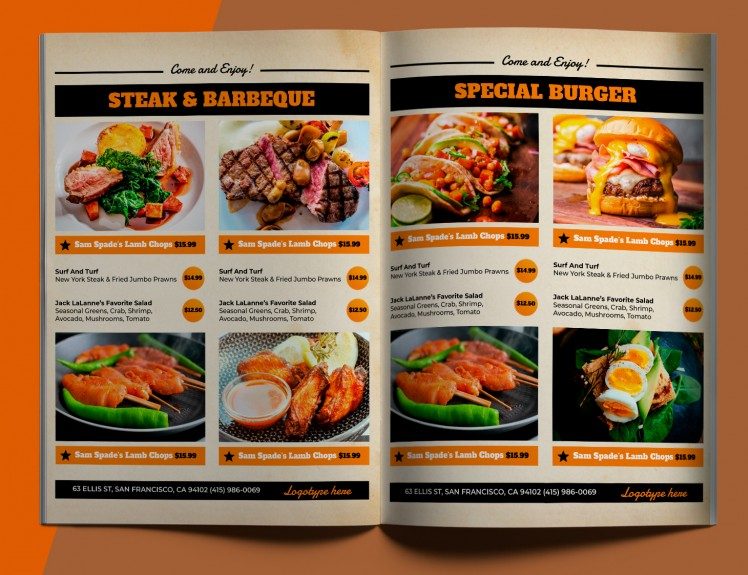 Download
---
Ice Cream Menu
We believe that an ice-cream menu should look bright and playful – just like this one. Download the creative set of templates with the fresh turquoise background, and invite everyone to try out the favorite summer dessert!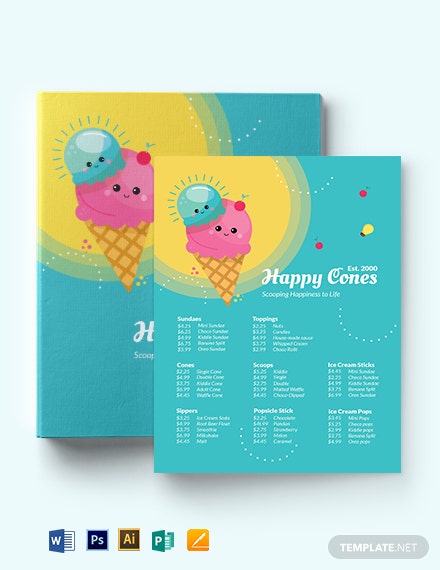 Visit the website
---
Sushi Restaurant Menu
We all know that Japanese cuisine can compete in its popularity with the iconic Italian dishes. Use this stylish Japanese menu to attract a crowd of customers. Elegant fonts and delicious photos stand out from the patterned black background.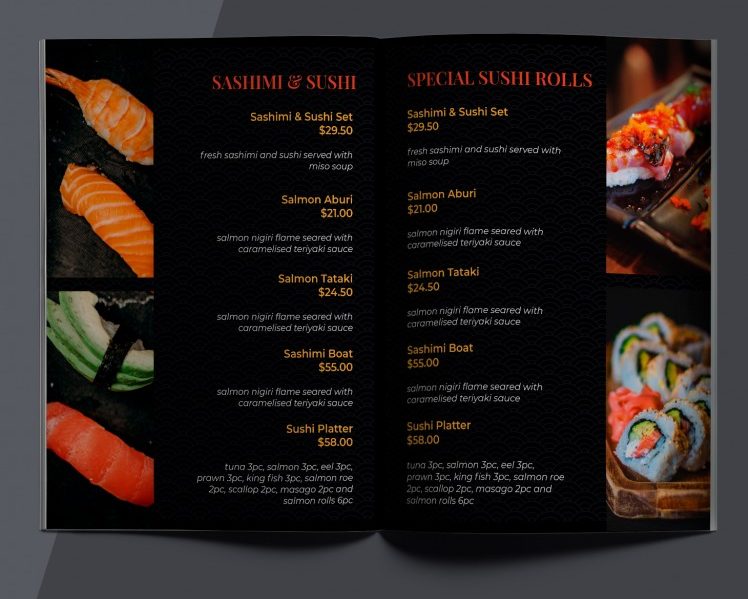 Download
---
Restaurant Menu
Incredible food images placed against the dark spotted background of this menu will make your guests drool! Smart layout will help to fit in all the dishes' names and prices. You can adjust this free file in Google to replace the photos and change the text.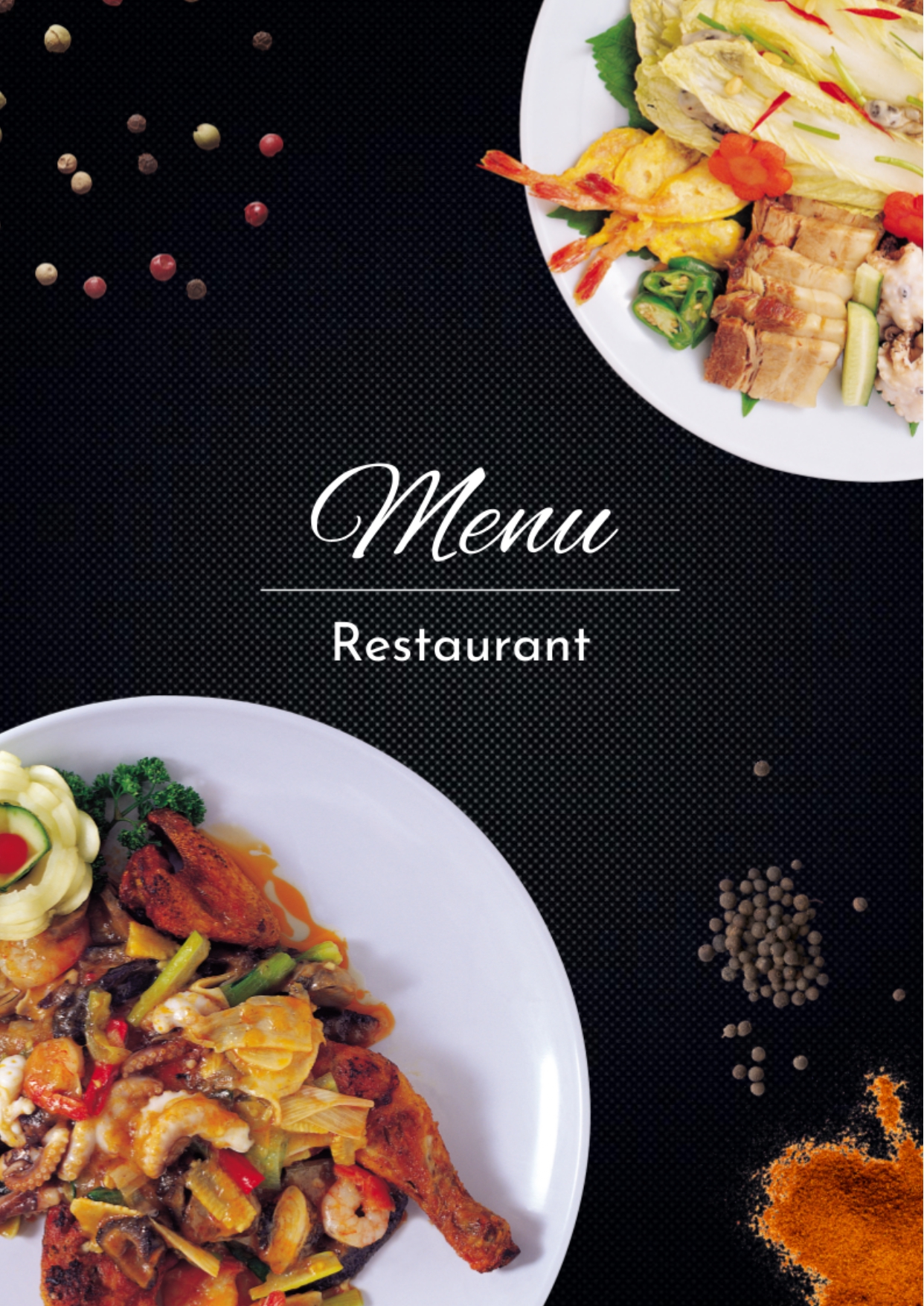 Visit the website
---
Dark Italian Restaurant Menu
Is there anyone who doesn't enjoy feasting on Italian dishes? Amaze every guest at your restaurant with this top class menu. The writing in soft orange color looks classy against the deep turquoise background. The stylish menu set is free and adjustable in Google.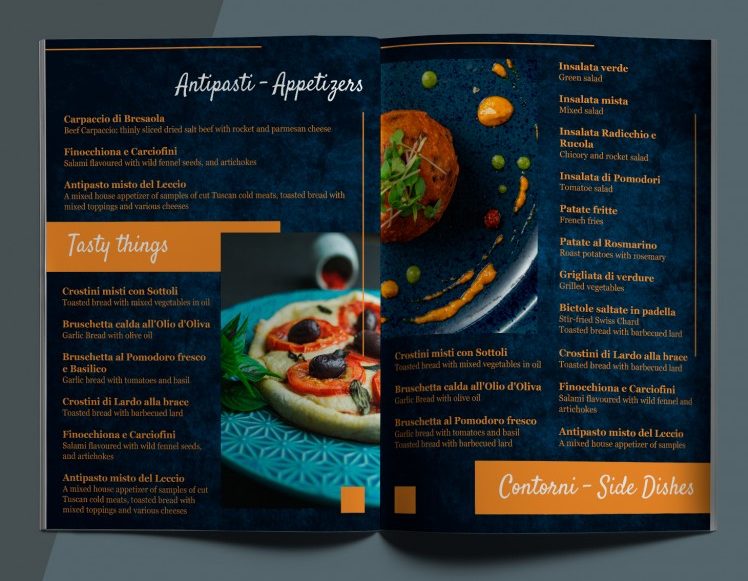 Download
---
Classic Food and Drinks Menu
Consider using this free pack for a classic look of your menu. The black linear pattern on the rims adds an interesting touch to these templates in pastel colors. You can change the text and set the prices with some easy adjustments in Google.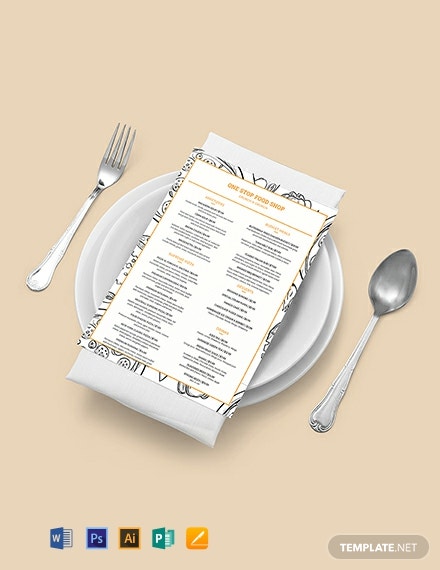 Visit the website
---
Baking Menu
We think that a baking menu presented here can be a perfect fit for a small cozy coffee-shop or a family bakery. Its vivid colors, cute images and a playful look will put smiles on your guests' faces. Some easy editing in Google Docs won't take you longer than a few minutes.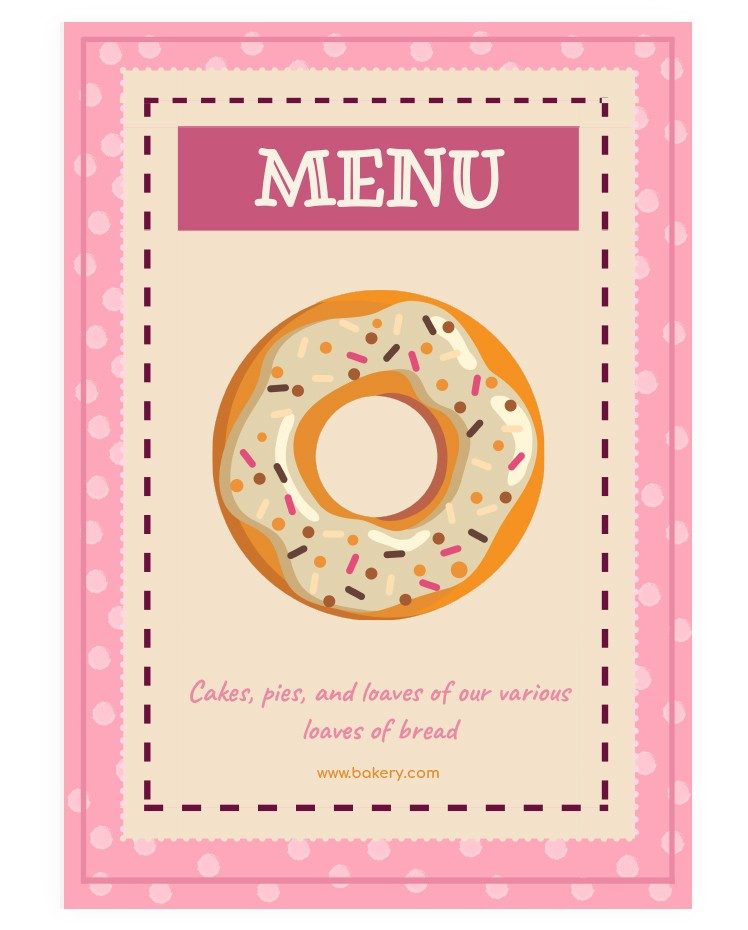 Download
---
Christmas Menu
If you are going to offer some special Christmas dishes at your place, this magical menu model will help you to share the festive mood. A cartoonish image adds a cute touch to this template. Save it for free, and have fun editing the text in Google.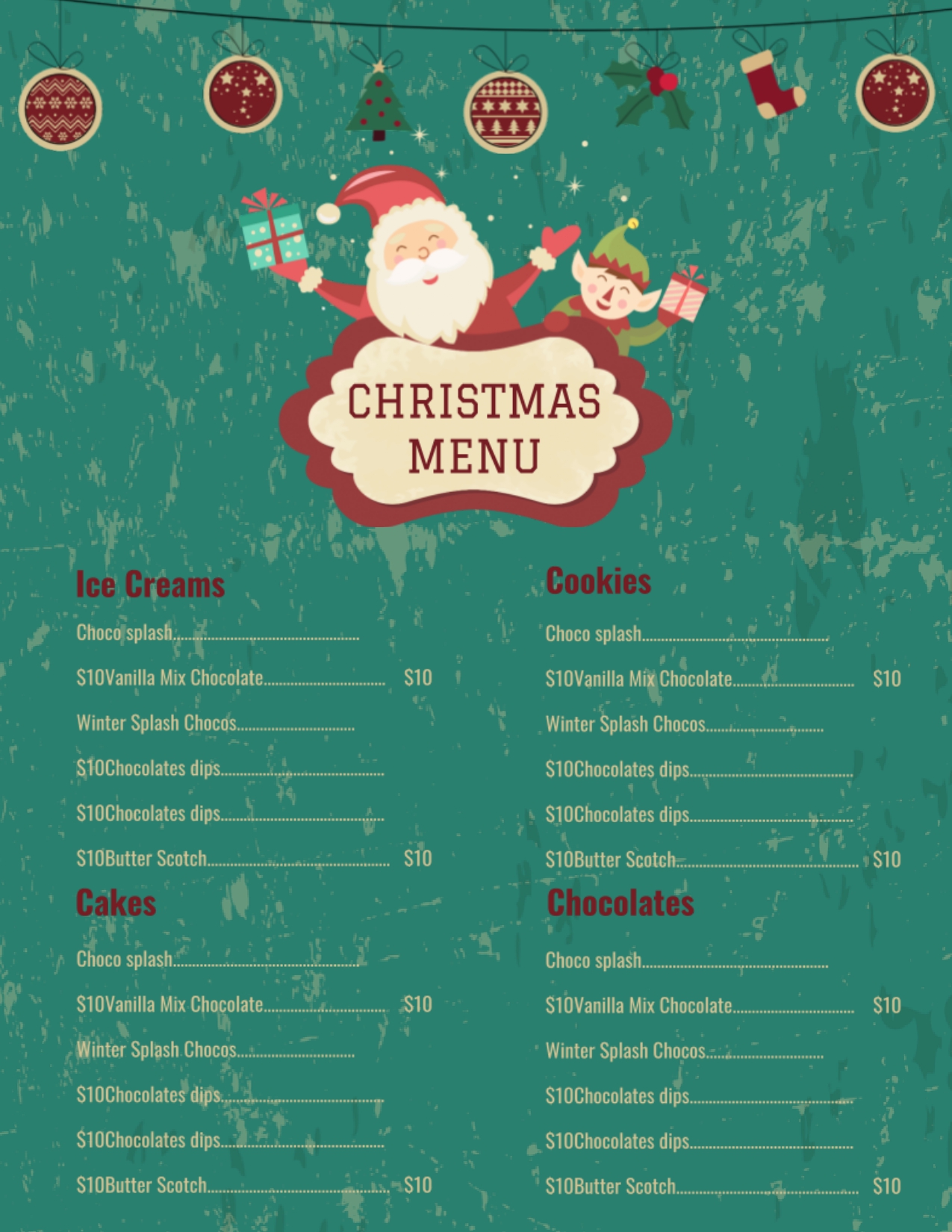 Visit the website
---
Fancy Menu
This Fancy Menu template fit for a luxury restaurant has got an elegant vintage vibe to it. While the front page in rich burgundy is decorated with the ornate elements, the rest of the pages with the light background will focus your guests' attention on the names of the special dishes and drinks.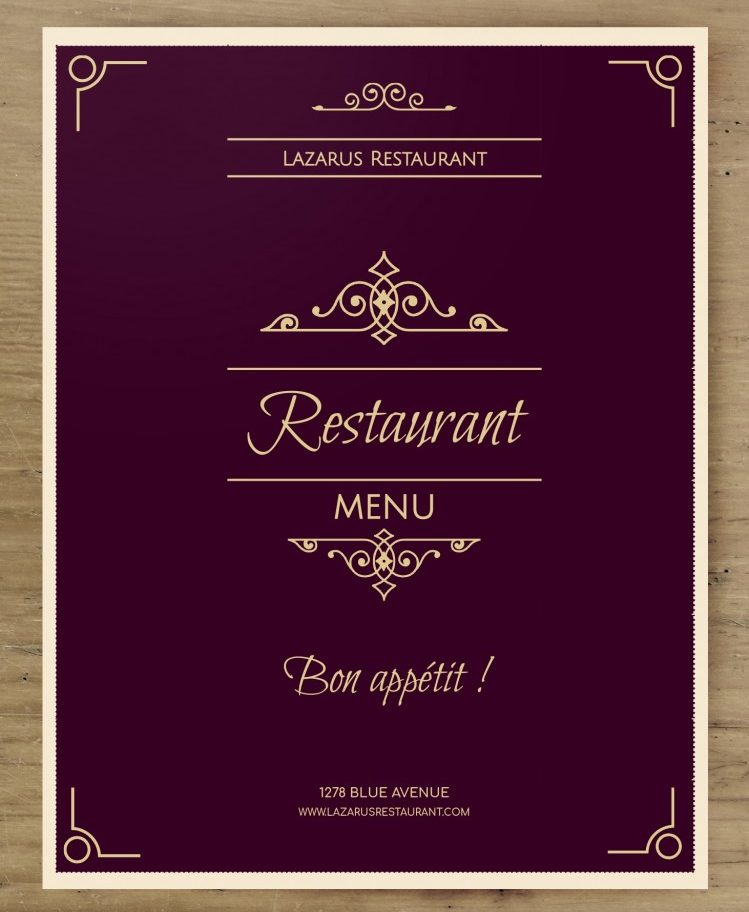 Download
---
Ice Cream Menu
Amaze all visitors with the variety of flavors using this Ice Cream menu template. A simple light-hearted design will speak out to everyone. You can opt for different colors and edit the list with fast editing in Google Docs.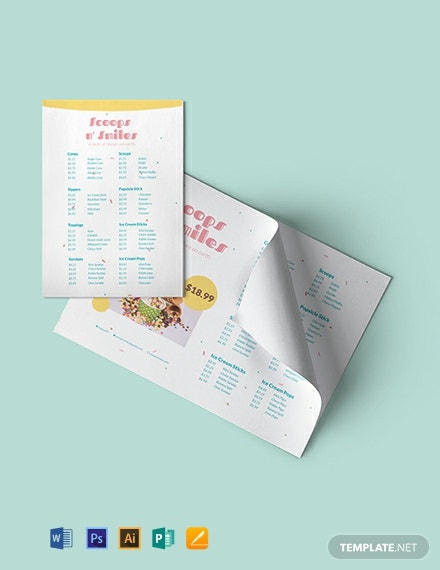 Visit the website
---
Barbeque Restaurant Menu
Tasty barbeque dishes will easily grant you a flow of customers. Spread these cool BBQ catering menus to tempt everyone with the juicy grilled beef or a plate of savory fries! No one will be able to resist ordering from you as soon as they see the mouth-watering photos of this menu.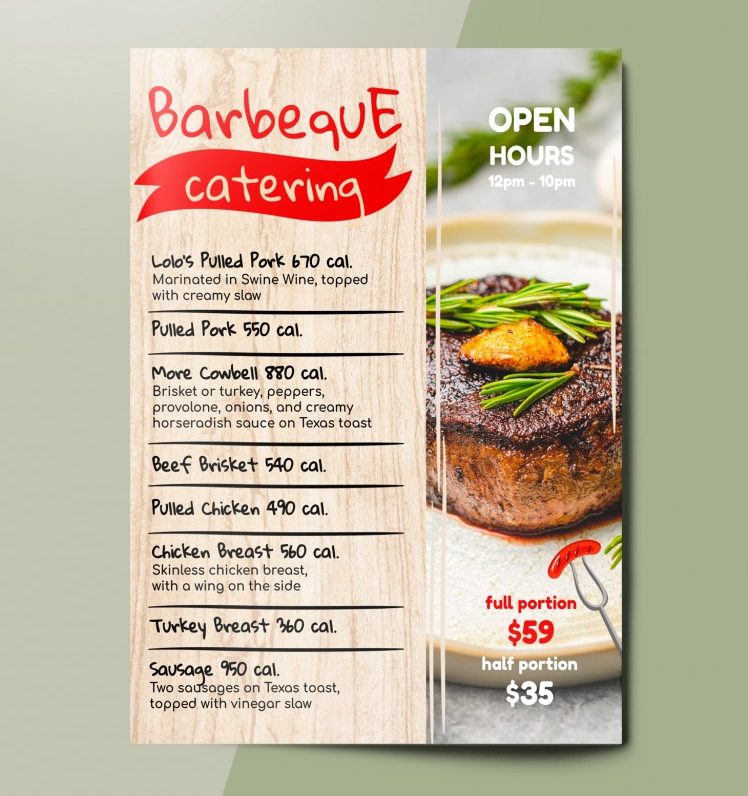 Download
---
Simple Asian Restaurant Menu
Although this template says it's meant for an Asian restaurant, you can use it practically for any cuisine if a minimalistic yet unusual menu is what you are looking for. Plain black background makes the text in striking white speak out to the visitors.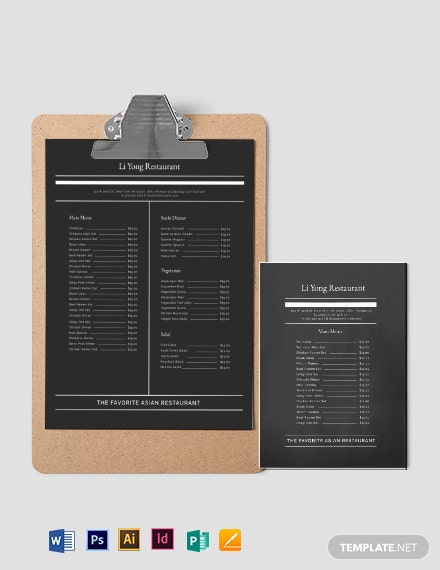 Visit the website
---
Read Italian Restaurant Menu
A smart layout gives this Italian menu the right balance of space for both the text and the mouth-watering photos of your food. All guests will enjoy the rich red background, but if you'd like to you can choose any other color while customizing these templates in Google Docs.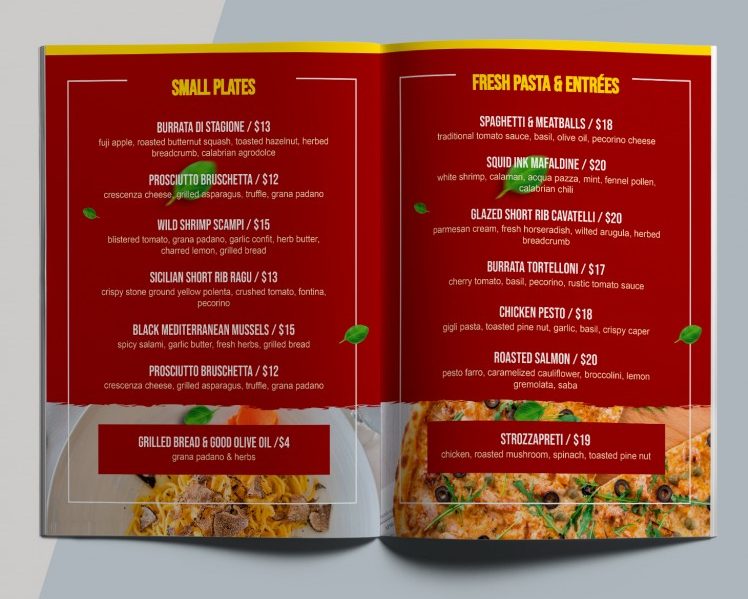 Download
---
Organic Menu
The beaming green background of this free template set is perfect for presenting your special Organic menu. The names of the dishes written in white will draw the customers' attention. It won't take you long to edit the template in Google Documents.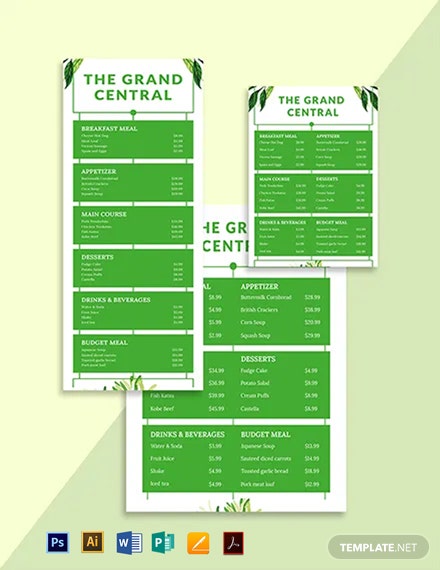 Visit the website
---
Oktoberfest Menu
Each year the jolly Oktoberfest is gaining its popularity around the world. Invite everyone to feast on amazing drinks and snacks and have fun with friends at your place. The unusual layout of this festive menu allows to place the names and photos of the dishes, and even to include a QR code.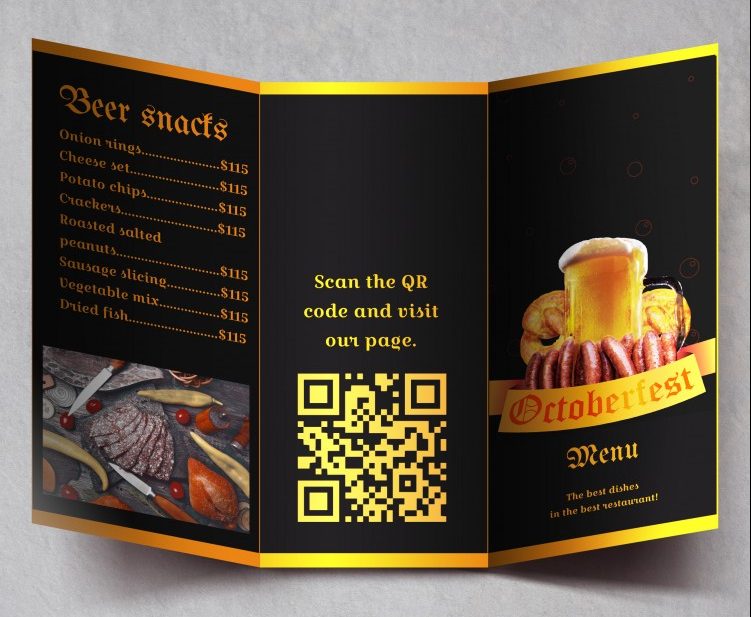 Download
---
Winter Menu
The beauty of winter and a festive mood can be reflected in details. Enchant your guests with the special winter menu presented here. Soft blue color and minimal yet elegant design of these templates will help to put an accent on the seasonal treats.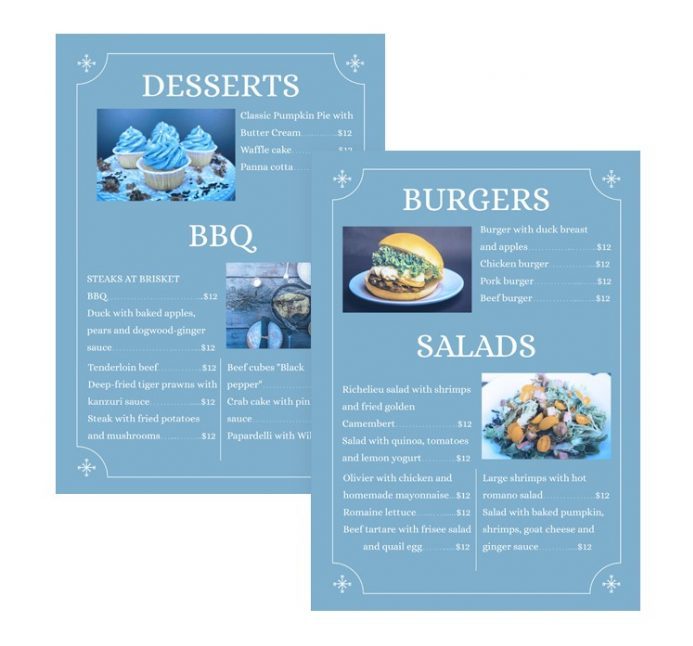 Download
---
Cocktails Restaurant Menu
Don't hesitate using this fashionable dark menu to show the variety of tasty cocktails at your bar! The incredible cover page will draw the looks of your guests. Cool design allows placing more photos of your drinks on the other pages.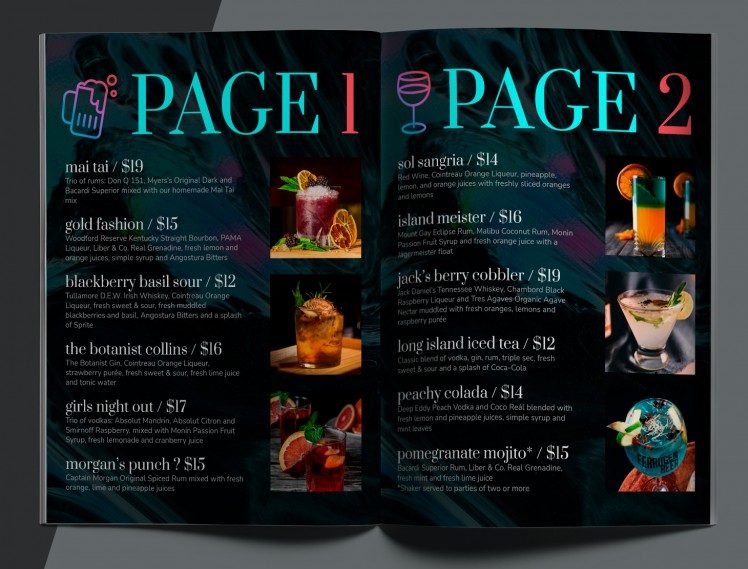 Download
---
Kids Restaurant Menu
Won't you agree that a menu for kids should look jolly and engaging? Download this free template pack to cheer up your young visitors. Tasty food photos and a simple layout will easily keep them interested.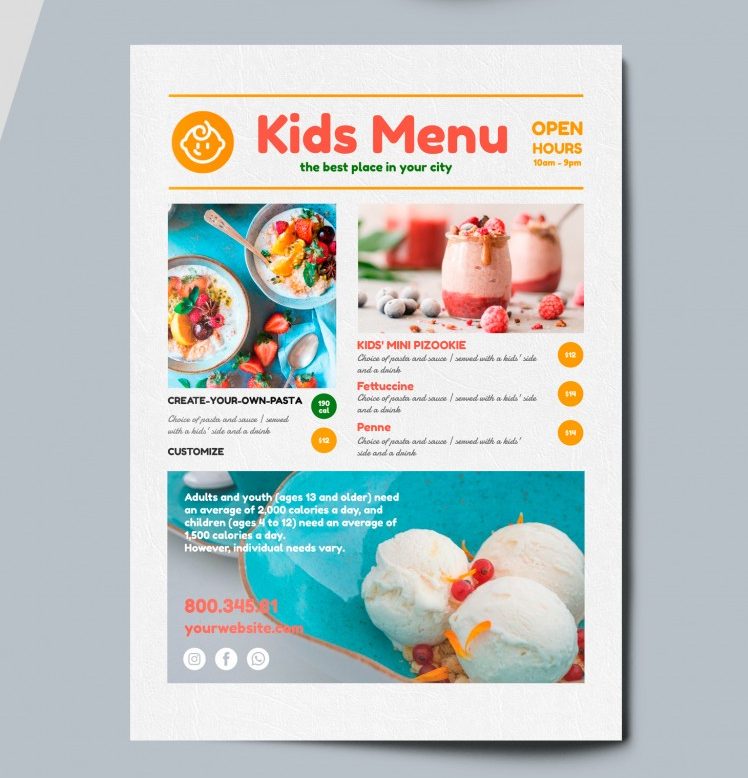 Download
---
Seafood Restaurant Menu
A superb menu here will help you to interest all those in love with seafood. Deep blue color of the background seems like a perfect choice for the special dishes. Well-structured, this menu allows you to fit in both mouth-watering shots and all of the prices and names.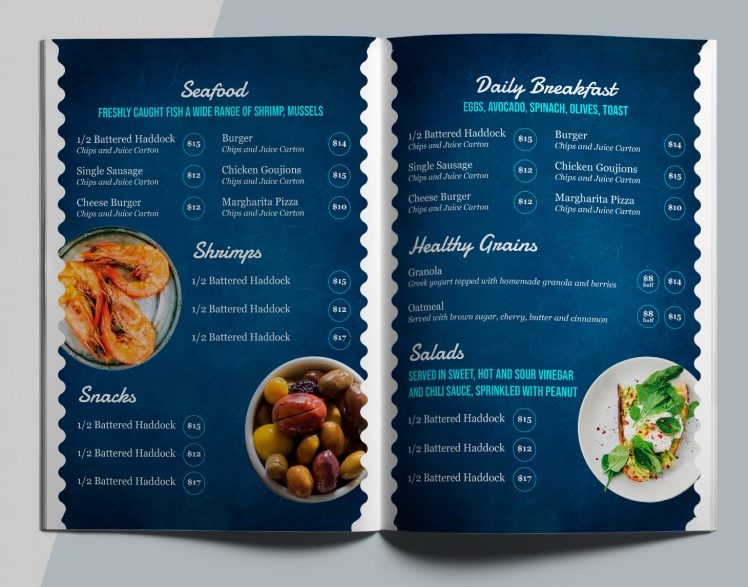 Download
---
Indian Restaurant Menu
We think that the beaming green color is great for presenting all the amazing positions on your Indian cuisine menu. Save this template set for free, and open it in Google to adjust up to your needs and preferences.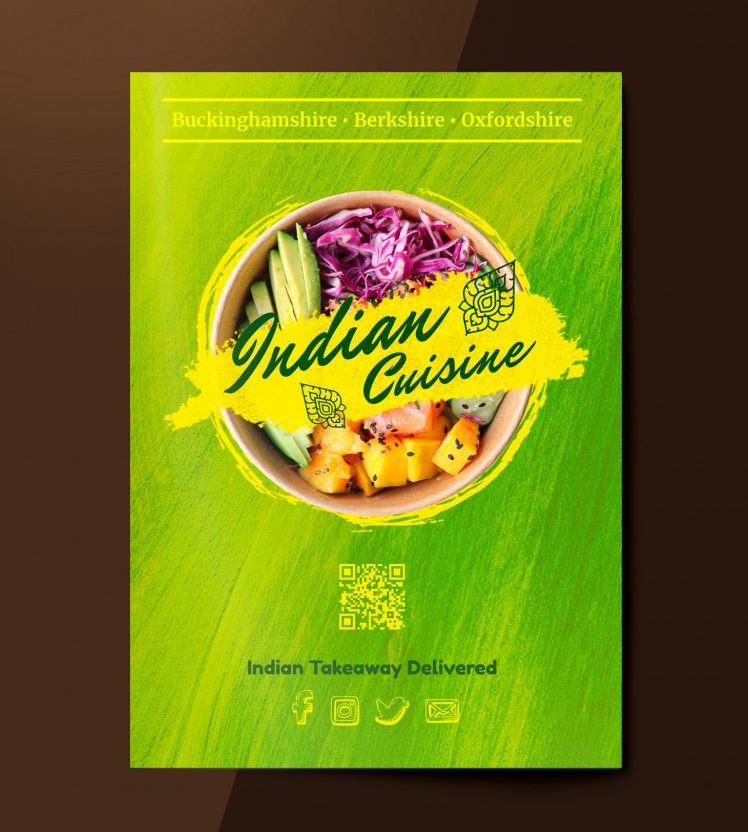 Download
---
Summer Menu
We think that the Summer Menu here looks stunning! You know why? Because the rich orange color can make one think of the glowing summer sun, and the simple white background brings in some refreshing notes. Use these samples to amaze your guests with the delicious seasonal offers!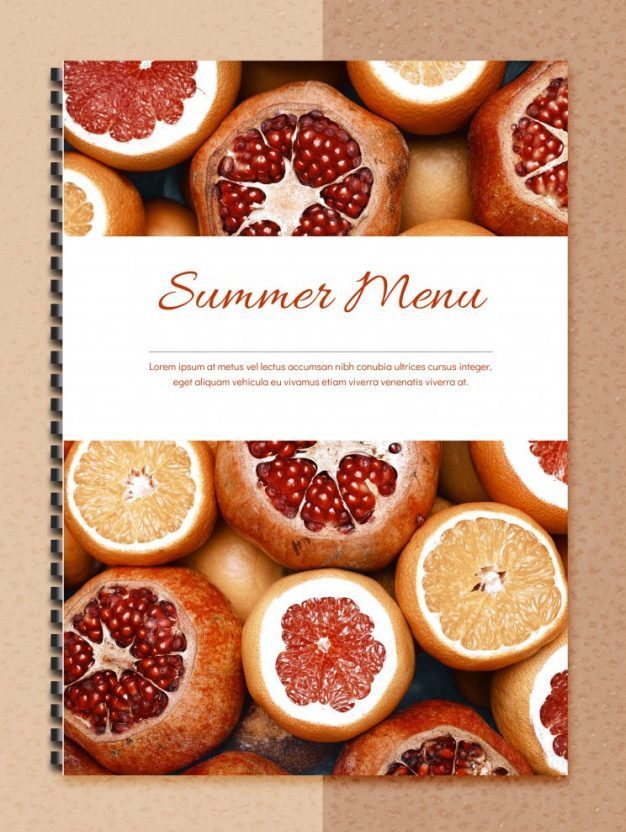 Download
---
Burger Menu
All those craving for a delicious burger will get excited as soon as they see your new menu! Have every guest's mouth water with the superb photos and detailed descriptions of your amazing treats. The stylish black templates are free and adjustable in Google.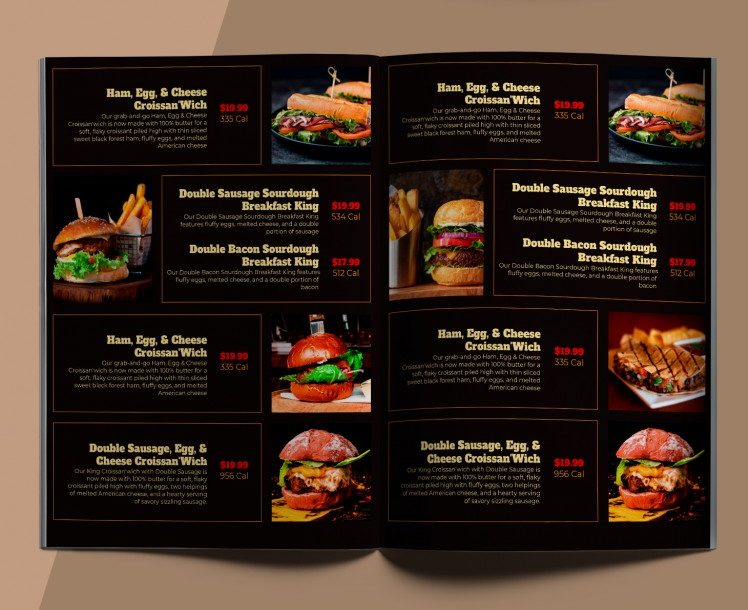 Download
---
Pizza Restaurant
Take a look at this stylish single sheet menu in pleasant beige and dark-brown color. Although the sample intends to present the Italian cuisine dishes, you can use it to offer any types of food, beverages or drinks. Your visitors will like the minimalist contemporary look.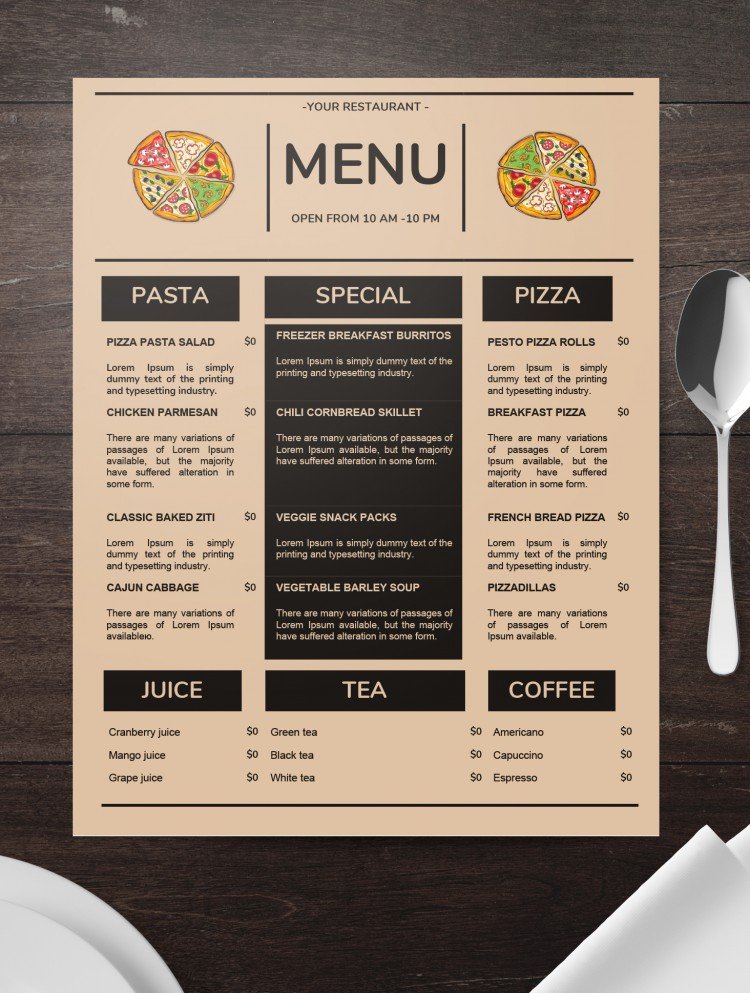 Download
---
Indian Restaurant Menu
Have a look at this free Indian food menu in green and yellow – it will certainly enchant your guests. List all the tasty dishes and include food photos with some fast editing in Google Docs. The results will be worth your effort.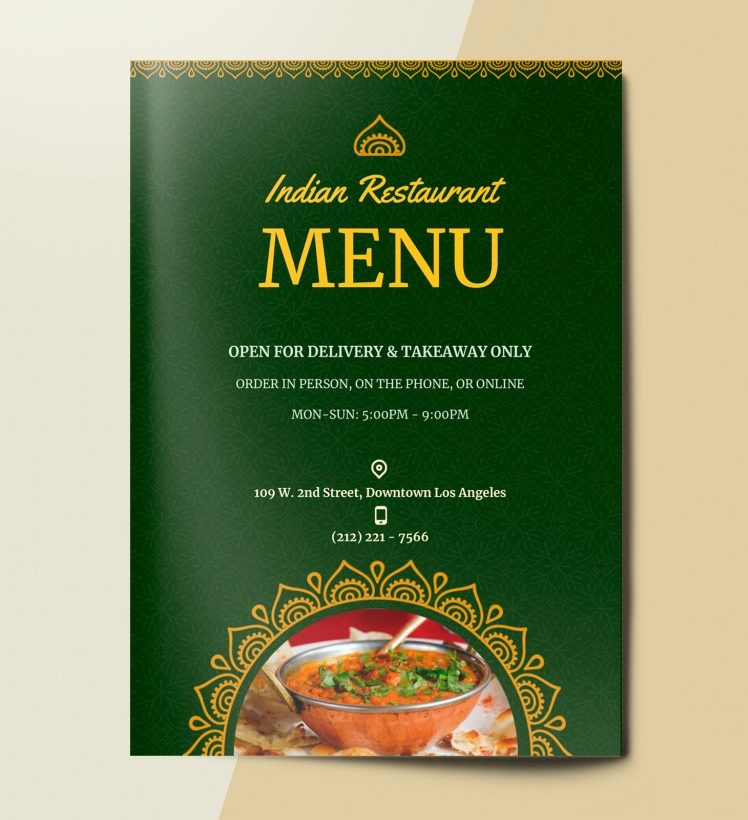 Download
---
Restocafe Google Slide Template
Unique design and stylish colors give this set of templates a pleasant look. Smart structure of the menu will allow categorizing the dishes. It won't take you long to download this free presentation template for Google Docs, and adjust it up to your needs.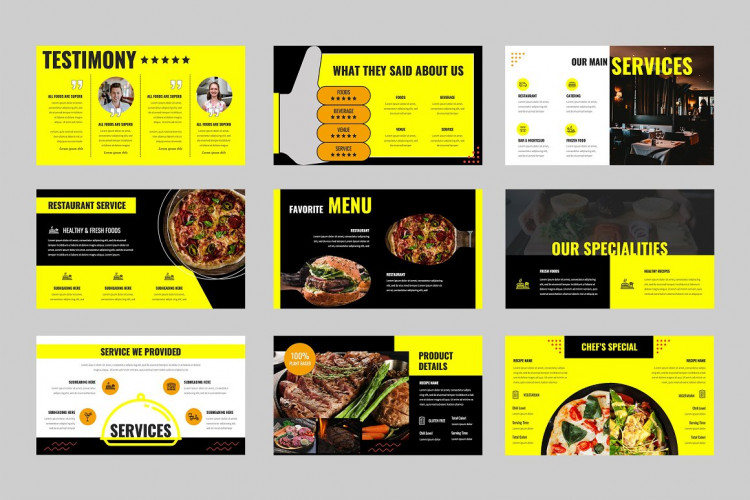 Visit the website
---
Mexican Restaurant Menu
Joyful palette of this menu pack makes it perfect for presenting traditional Mexican treats. Your visitors will enjoy the simple design and all amazing food photos. Invite everyone to taste delicious nachos or spicy enchiladas at your cozy place!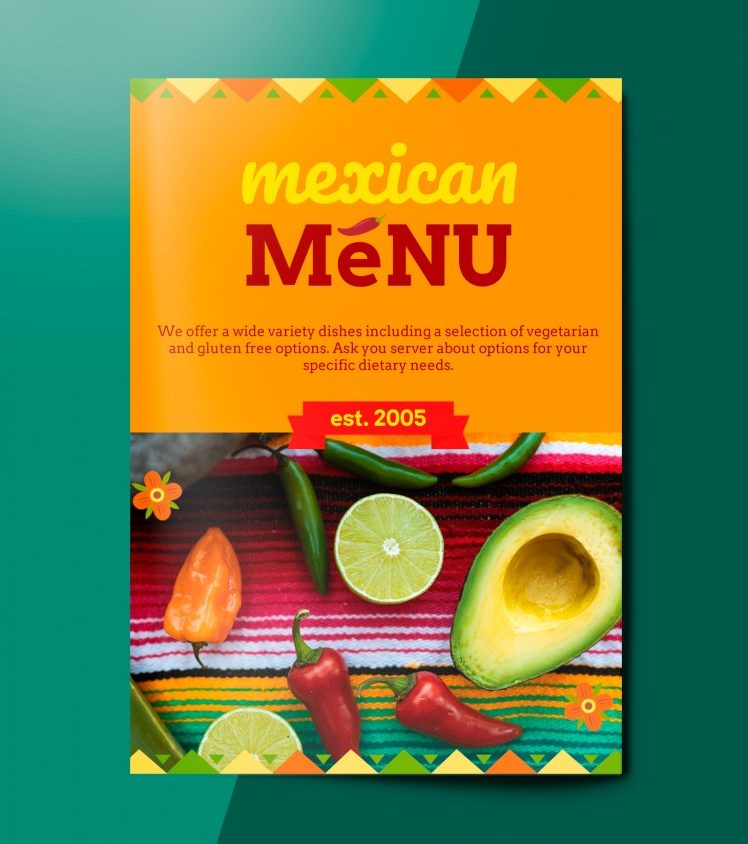 Download
---
Amazing Restaurant Menu
If a minimalistic, stylish and modern menu is what you are looking for, we've got the right templates for you! A menu model in green and white you see here combines the well-balanced structure with cool images and writing. Download and customize it in Google for free.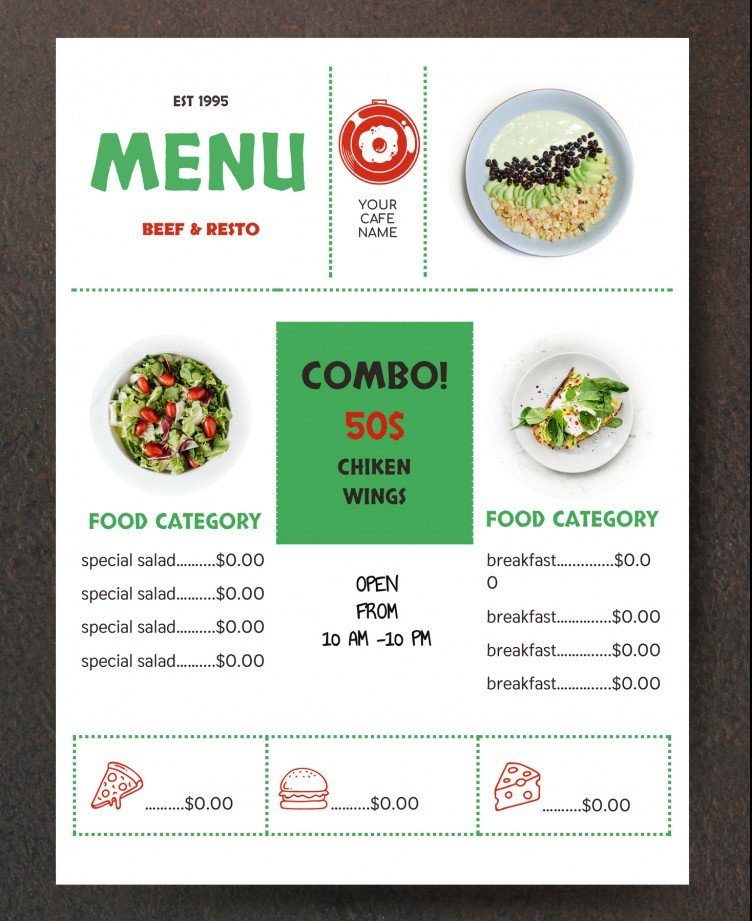 Download
---
Catering Menu
This single sheet catering menu sample will interest your potential clients with the unusual combo of pink and yellow glowing from the dark background. Although we think that the template's palette looks cool, you can try out other colors, and change the text in Google Docs.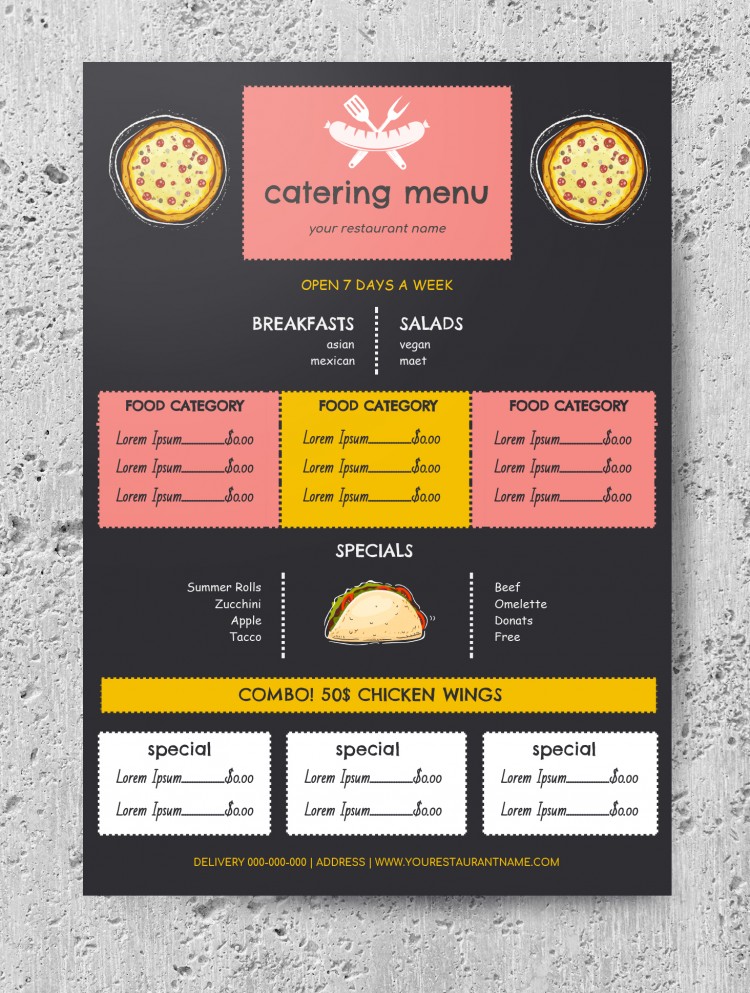 Download
---
Drink Menu
Jolly pink color and sweet little images is not something you expect to see on a drink menu. But these details are exactly what makes a template presented here unique. Adorable design makes this menu apt for a kids café or a homey coffee-shop.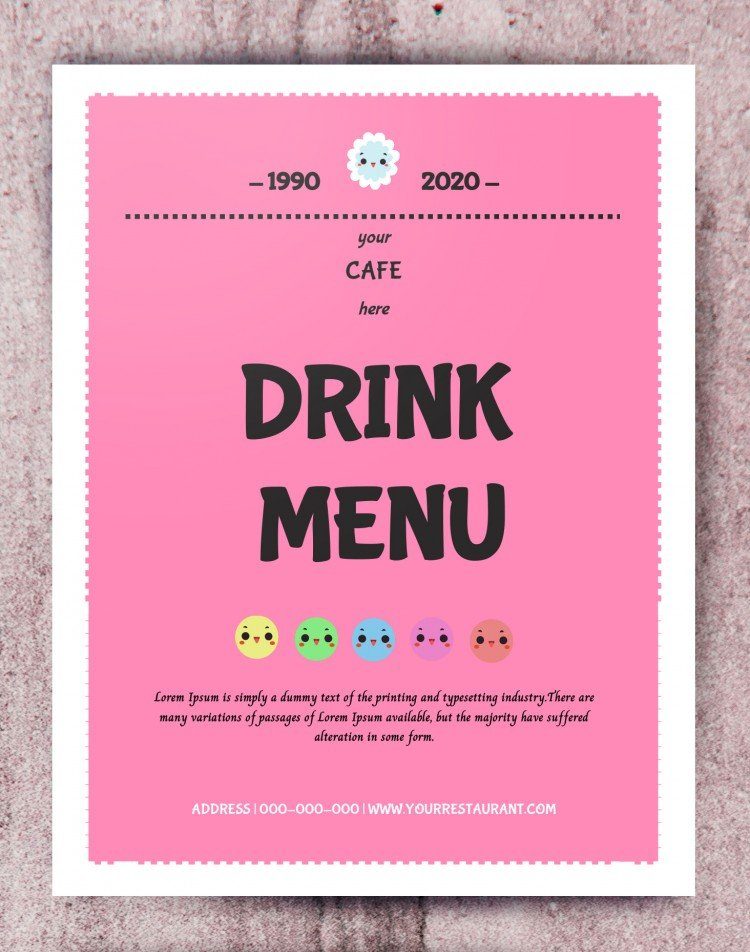 Download
---
Nousant Restaurant – Brochrue Template
If you plan on offering some special treats at your place, this special menu sample is all you need. Use this stylish menu to make your visitors shiver with excitement!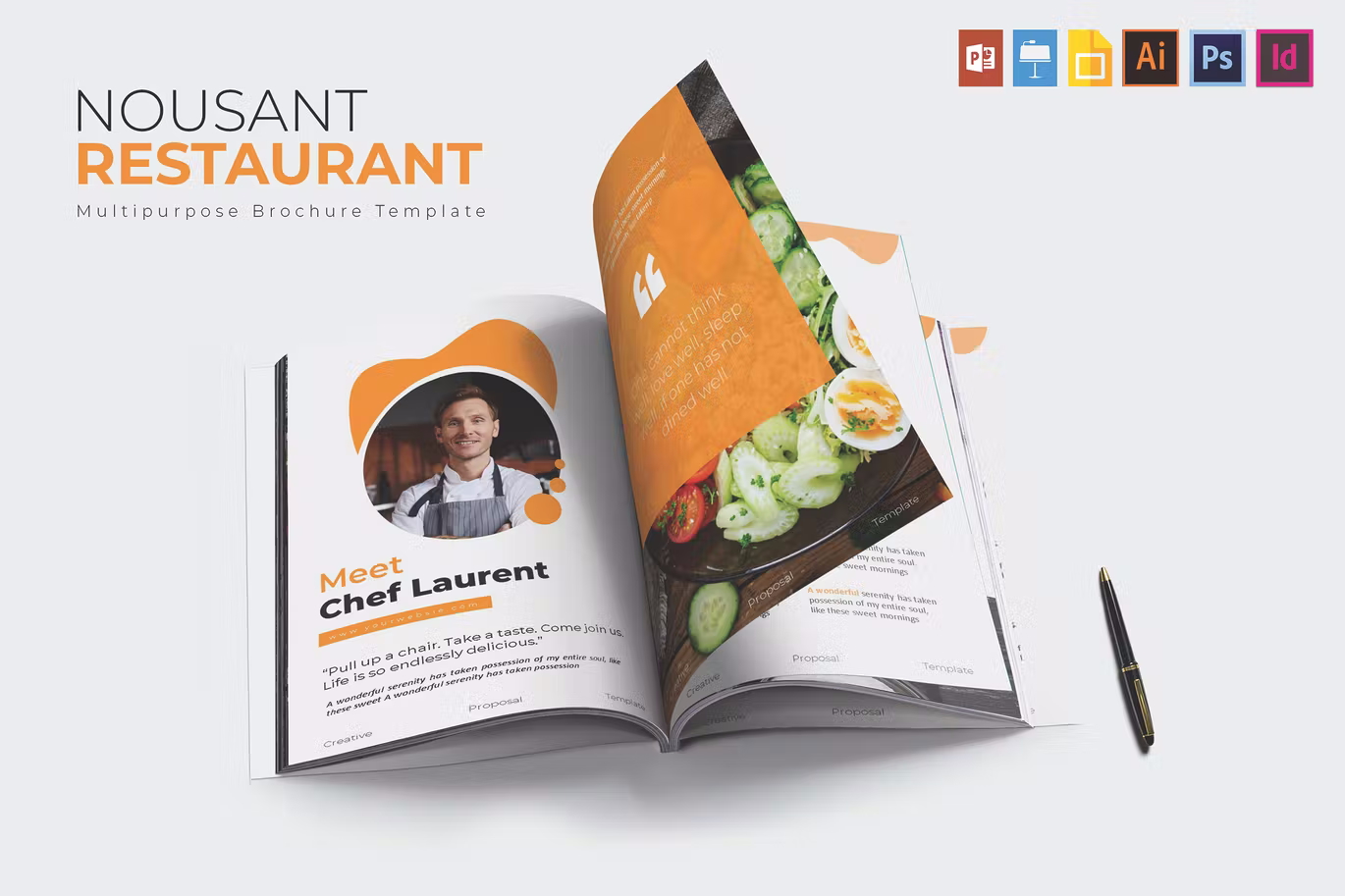 Visit the website
---
Arabic Restaurant Menu
Amazing mix of violet and purple used for this menu can be perfect for expressing the majestic atmosphere of your Arabic restaurant. Round-shaped food photos and short descriptions make the menu's layout classy and unusual. For sure, your guests will love it.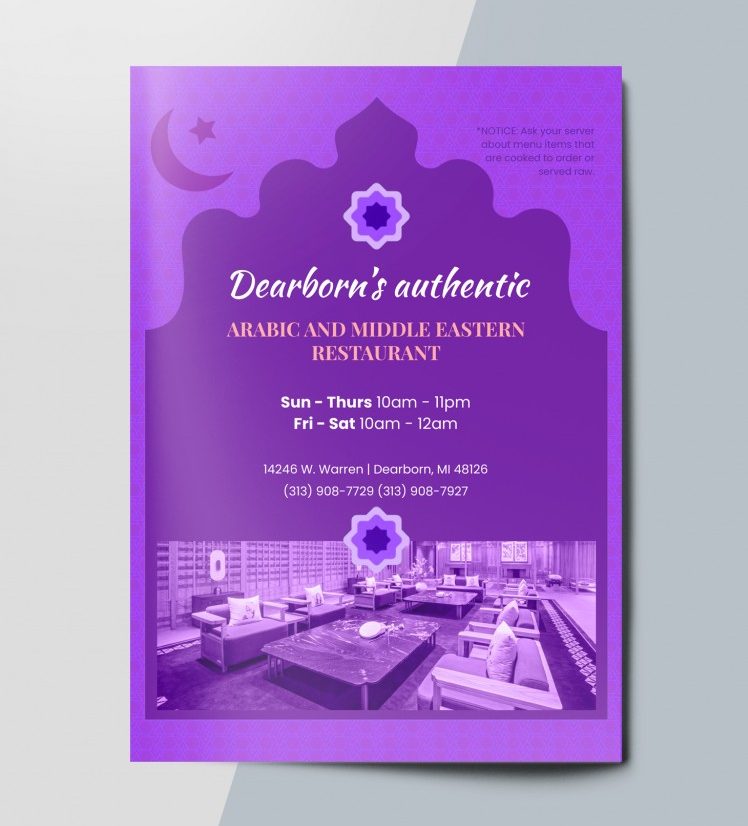 Download
---
Food Menu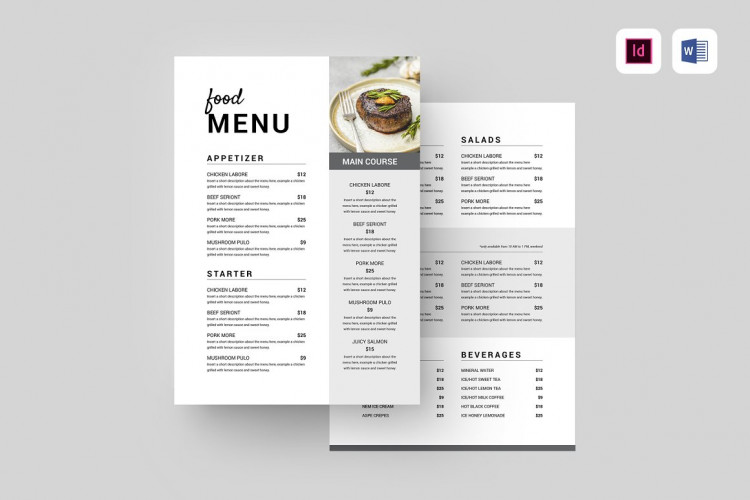 Visit the website
---
Tri-Fold Food Menu
This likeable trifold template in terracotta, beige and white will focus your guests' attention on the positions of the menu. Food images in the upper part add a colorful touch. It won't take you long to edit the text and set the prices in Google.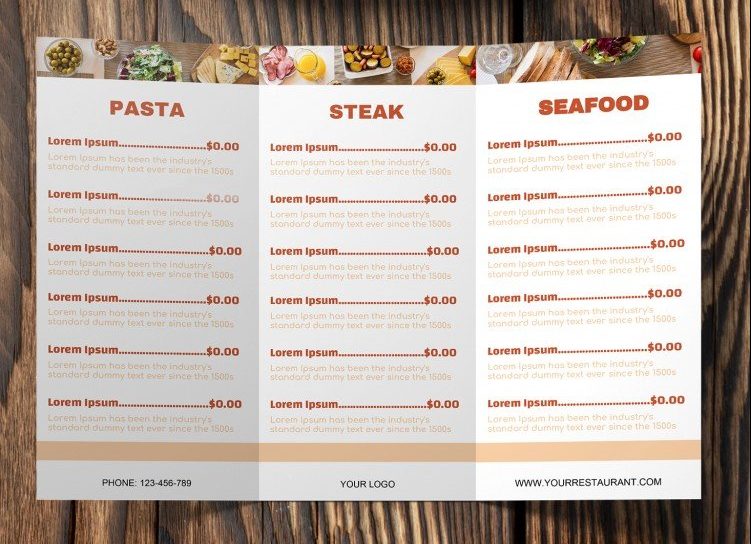 Download
---
Thai Style Menu
Your visitors will enjoy looking at this stylish dark menu with the chalk-like white drawings. Download the set of designer templates for free, customize them easily and Google Docs, and use to impress everyone at your Oriental cuisine restaurant.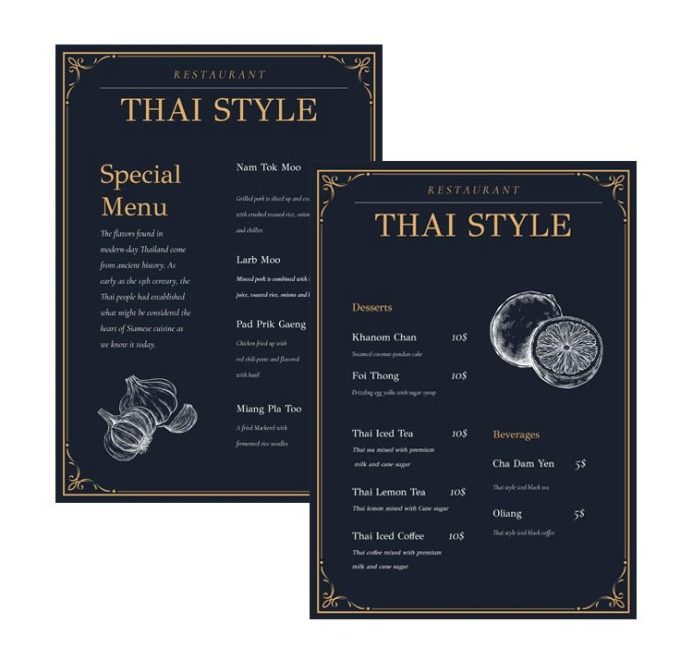 Download
---
We hope that this unique list was useful for you, and after some precise looking you've picked the menu template that perfectly represents the style and ambience of your place.