Download the Free Paper Box Mockup PSD pack! With it, you'll access three editable mockup templates that feature a simple, rectangular die-cut corrugated cardboard box. Each mockup showcases the box from a different angle. While two samples display a single box, the third piece presents two closed boxes stacked on top of each other. Precise detailing of textures and full adjustability are sure advantages of these samples.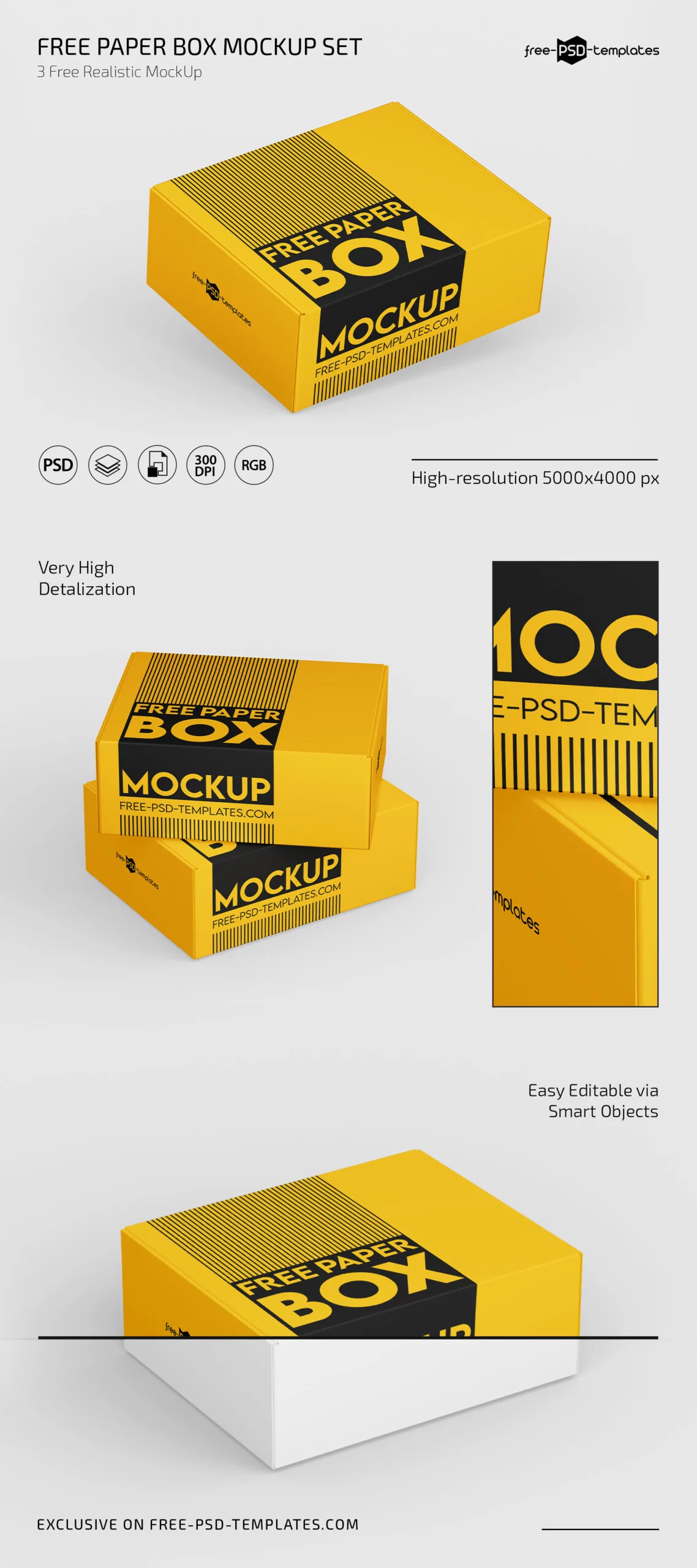 What are the benefits of downloading this mockup kit?
Firstly, these templates allow you to easily visualize and present your packaging designs in a realistic manner. Secondly, the editable nature of these samples enables you to customize various elements such as colors, labels, and backgrounds, tailoring them to suit your specific requirements. Finally, a set of die-cut mockups such as ours is a must-have design tool for designers and marketers. Besides, entrepreneurs seeking to showcase their products or present packaging concepts can also find immense value in these materials.
How can you adjust the Free Paper Box Mockup PSD set?
Start off by adjusting your packaging designs, labels, or logo to different sides of the boxes. Secondly, you can alter the color scheme and experiment with different backgrounds to create a compelling visual impact. Besides, it's possible to modify the shadows for a more realistic presentation. In particular, the accurate detailing of the cardboard texture ensures that your adjusted templates will seamlessly integrate into any project.
Why should you download the Free Paper Box Mockup PSD bundle?
Download the Free Paper Box Mockup PSD pack now to gain access to three life-like, professional cardboard box mockups. Not only is this bundle available for free but also it comes with a free license. This allows you to use the templates both for personal and commercial purposes without any restrictions. Whether you're a designer, marketer, or business owner, our bundle is a valuable resource that can elevate your packaging designs and presentations.
Download