Download our Free Red Hot Sauce Bottle Mockup pack! In it, we've collected three custom-crafted templates of a minimalist, cylindrical sauce bottle with a plastic cap, and a wide paper label covering its middle part. While one sample showcases a single item in gravity style, the second template presents a couple of bottles. Meanwhile, the bottle in the third mockup has an added shrink wrap. Thanks to realistic lighting, and extra detailed textures of paper, glass, plastic, and sauce, these samples look just as impressive as professional shots. Our bundle is ideal for a packaging, product, or branding design presentation. Since each mockup presents the bottle from a different angle, users can easily show all pros of their creations.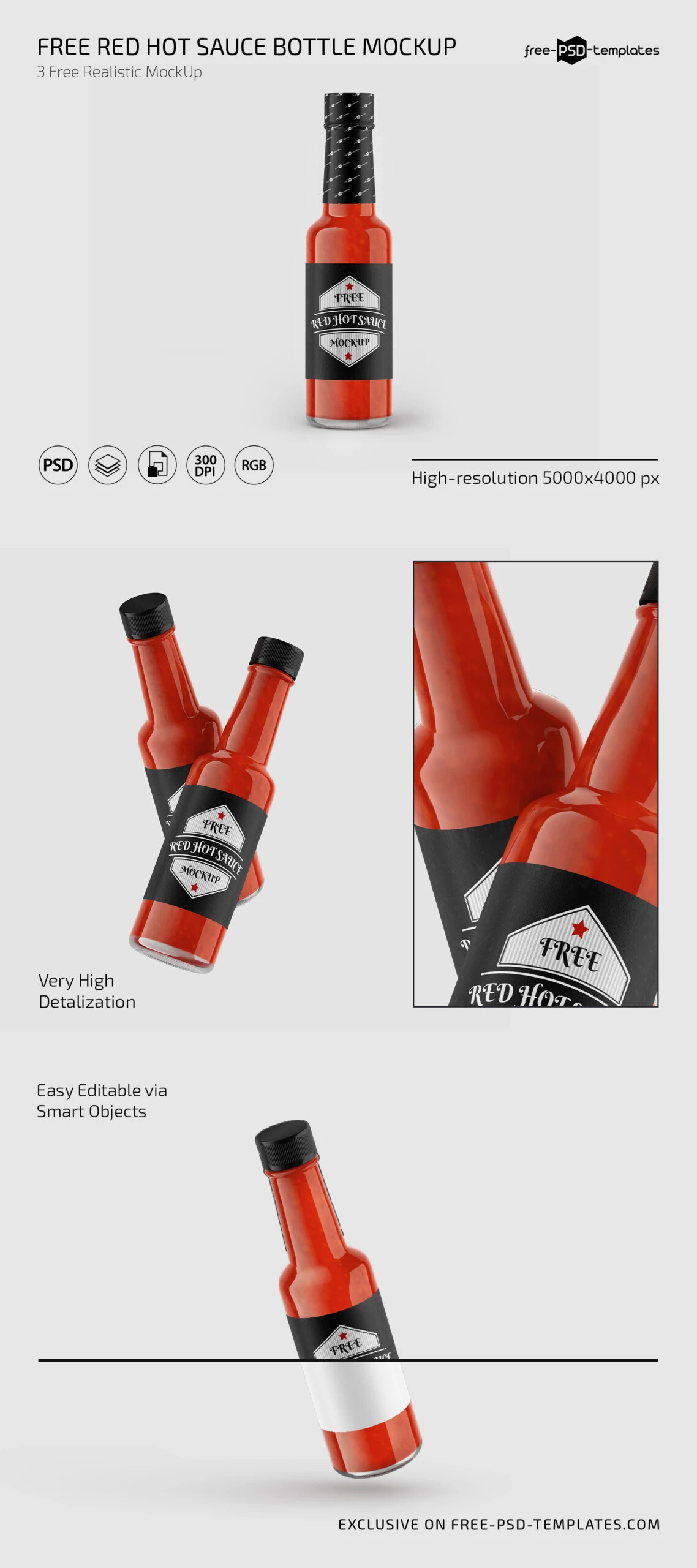 Who can benefit from using our Free Red Hot Sauce Bottle Mockup bundle?
Our template bundle can benefit a big variety of businesses or individuals who want to feature their branding or packaging design projects. In particular, marketers, product developers, and graphic designers can use our materials to showcase their creations in an appealing and realistic way. Besides, printing and packaging companies can also benefit from downloading this set. Finally, our sauce bottle templates can be of great use to food bloggers and restaurant owners in need of top-level visuals for their social media platforms and websites.
How can you customize the Free Red Hot Sauce Bottle Mockup pack?
As you open the original file in Photoshop, you'll see for yourself that editing it is easy. First off, you can customize the paper label using smart objects. In particular, you can replace the sample design, add your text, and adjust the colors. Secondly, you can apply any graphics and text to the shrink sleeve, in order to present branding and product information. Besides, it is possible to use layer styles and blending options to alter the textures of sauce, glass, and paper. Additionally, you can adjust the saturation, curves, and other layers, in order to fine-tune the contrast, color, and brightness of these mockups. Finally, it's possible to add texture, depth, a fitting image, or a solid color to the background.
Why should you download the Free Red Hot Sauce Bottle Mockup pack?
Make sure to download our Free Red Hot Sauce Bottle Mockup bundle. With it, you get access to three high-quality PSD samples that are fully adjustable in Photoshop. Making basic adjustments won't be a problem even for users with little experience in design. What's great, our materials are available at no cost. Besides, they come with a free license which means you can use them for any needs. As a marketer, designer, or producer, you certainly shouldn't miss out on our special pack!
Download