Whether you are a school teacher willing to introduce your students to an interesting topic or are looking for the best ways to sell an idea of an innovative start-up, a great presentation is your key to success. To save a good deal of time needed for developing a cool project presentation from A to Z you can use a set of ready-made templates available for download online; there's just one but – you should know where to look for the good ones.
But don't worry! Below we offer you a compilation of 10 best online sources with the professional presentation templates. All materials are fully editable and free for download. Take the first step to success and draw maximum attention to your project without spending an extra dime!
---
Loveslides
Created and managed by a friendly team of well-versed graphic designers, loveslides.com is a site which offers a broad choice of templates and themes suitable for the most various occasions. From fashion blog to financial consulting – this open resource offers a quick and effective solution for every need. Minimalistic yet user-friendly layout and simple search are the resource's pros. All samples you find here are unique and free for both personal and commercial use.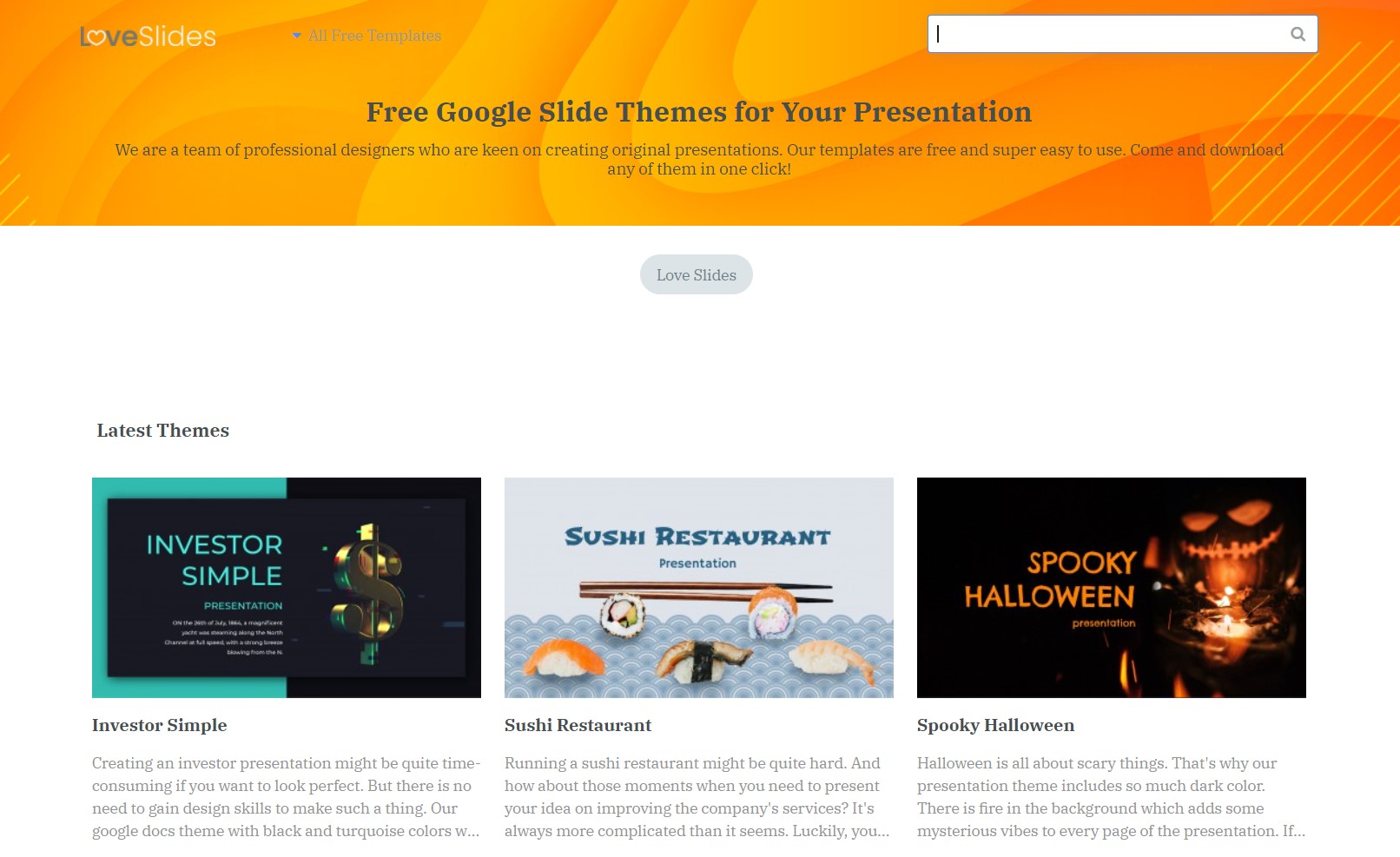 Visit the website
---
Slides Go
Part of the Freepic Company, slidesgo.com is an extensive resource which ensembles hundreds of top notch presentation templates. It's hard to name a presentation topic which isn't listed on this site! Other than a wide variety of samples an obvious benefit of Slidesgo is a super easy search. You can browse the slides by tags, themes, styles, and even color! The site has two plans: Free and Premium. While the first plan offers plenty of great templates fit for occasional use, the second option will come in handy for those who frequently deal with presentations.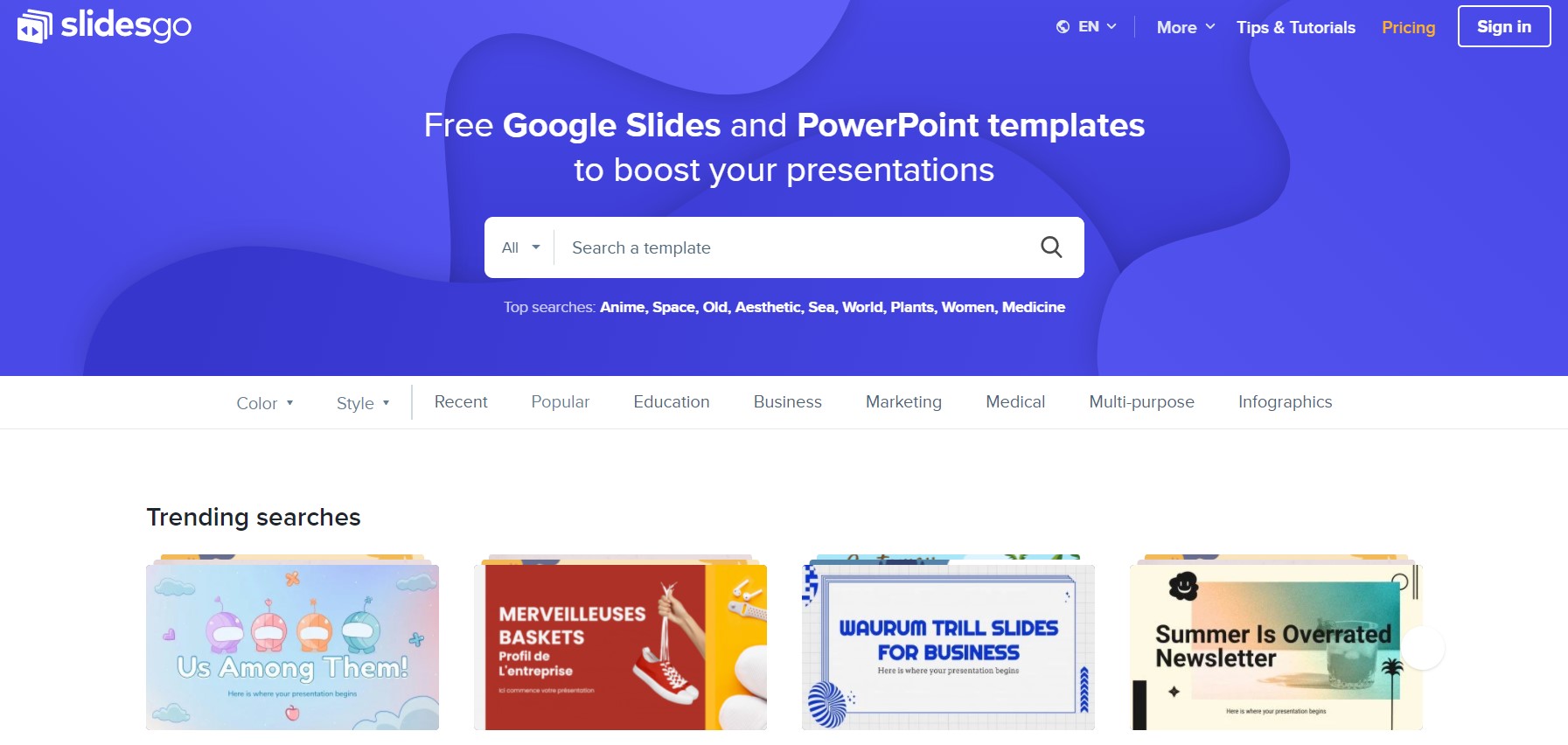 Visit the website
---
Slides Carnival
Equipped with a detailed yet intuitive search system slidescarnival.com can become an endless source of inspiration for those in search of effective presentation techniques. Run by a gifted and experienced graphic designer this site will anticipate one's every need. All Google Slides and Power Point templates on Slides Carnival are free and fully editable. Enjoy browsing this wonderful resource and pick the theme which perfectly matches your needs!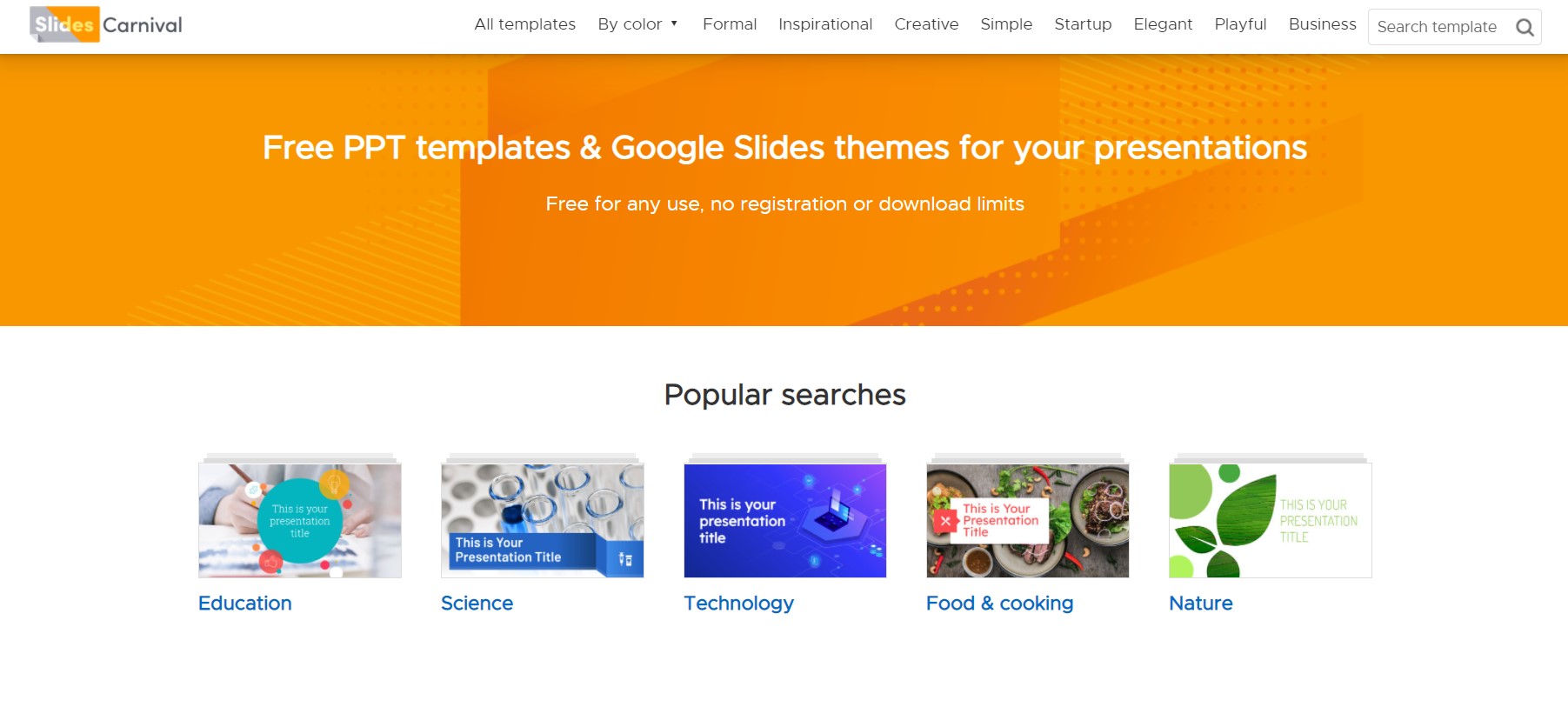 ---
Slides Mania
Although slidesmania.com might not have the richest selection of templates ever, a cheerful and light-hearted style of this site makes it stand out a mile. Check on such categories as Formal, Fun or Education to find dozens of original ideas fit for presentations and promotion in Google Slides and Power Point. Do not forget that all materials are fully customizable and free. Offering plenty of less formal-looking content Slides Mania can become a great presentations resource for students and educators.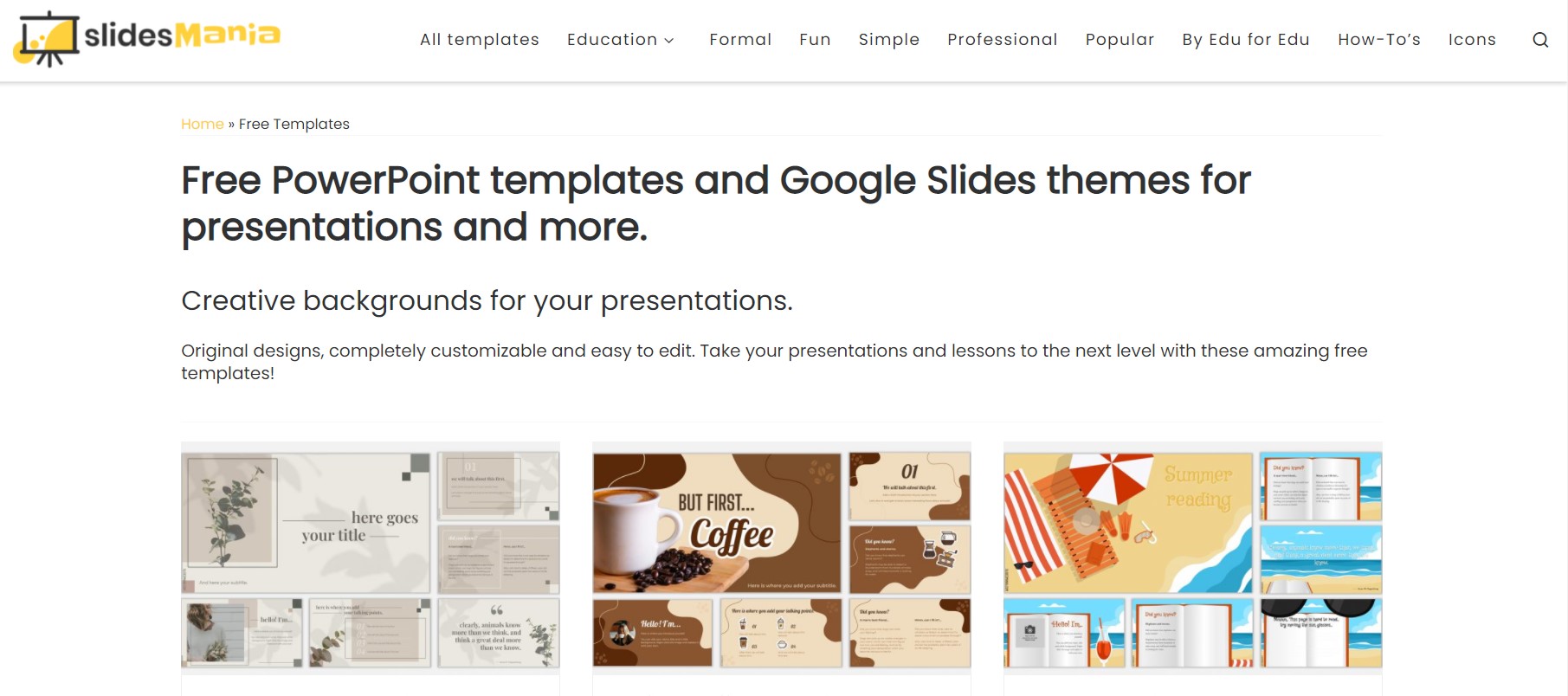 Visit the website
---
Slides Gala
If you prefer simplicity and elegance to abundant decorative elements free themes featured on slidesgala.com is exactly what you need. Minimalistic yet stylish they will help you present your idea with confidence and class. Do not hesitate to download free templates from Slides Gala and modify them up to your needs and preferences using Google Slides, Power Point or Keynote.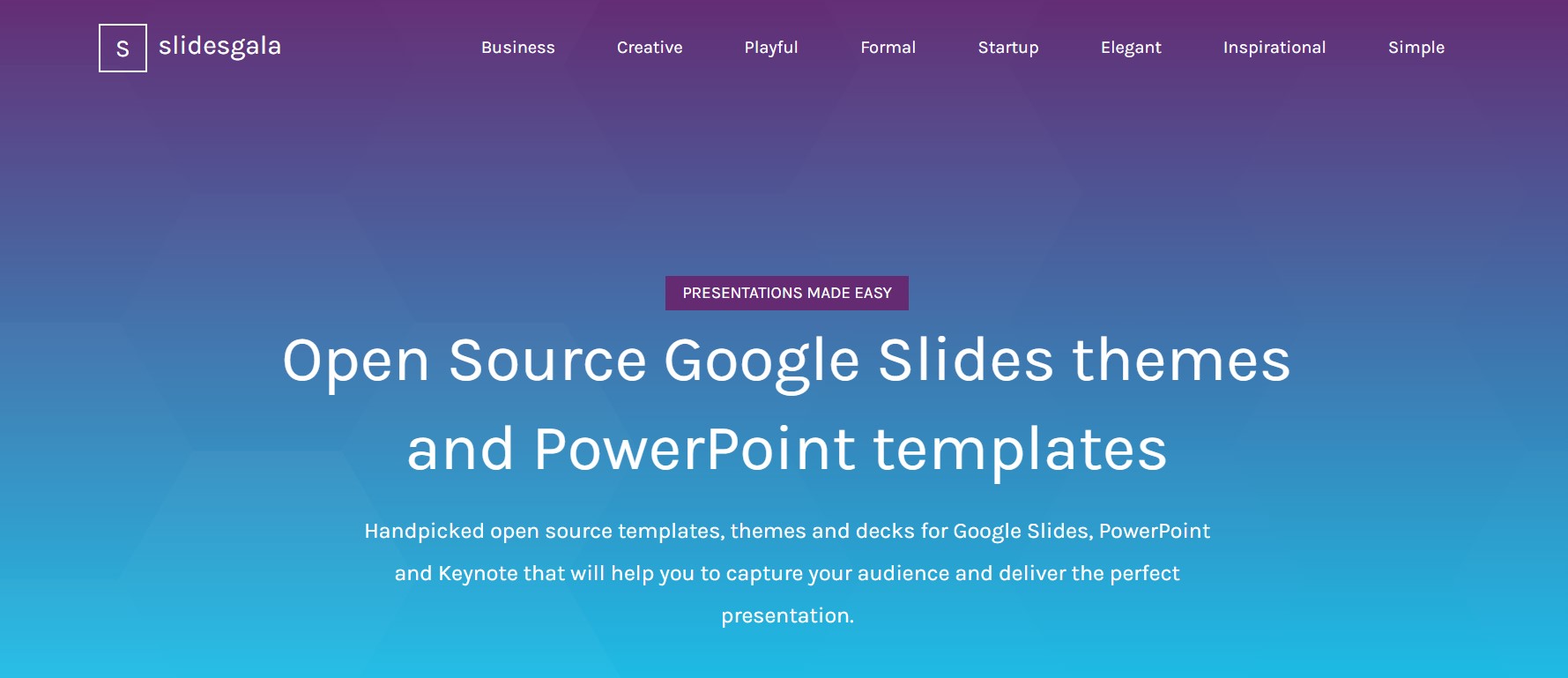 Visit the website
---
Slide Salad
Safe yourself the hassle of preparing a set of original templates, and focus on presenting your idea with free materials available on slidesalad.com. Although the resource has a Premium plan its freebies look no less creative and professional. Check on the themes fit for Google Slides, Power Point or Keynote, and impress everyone with our concept.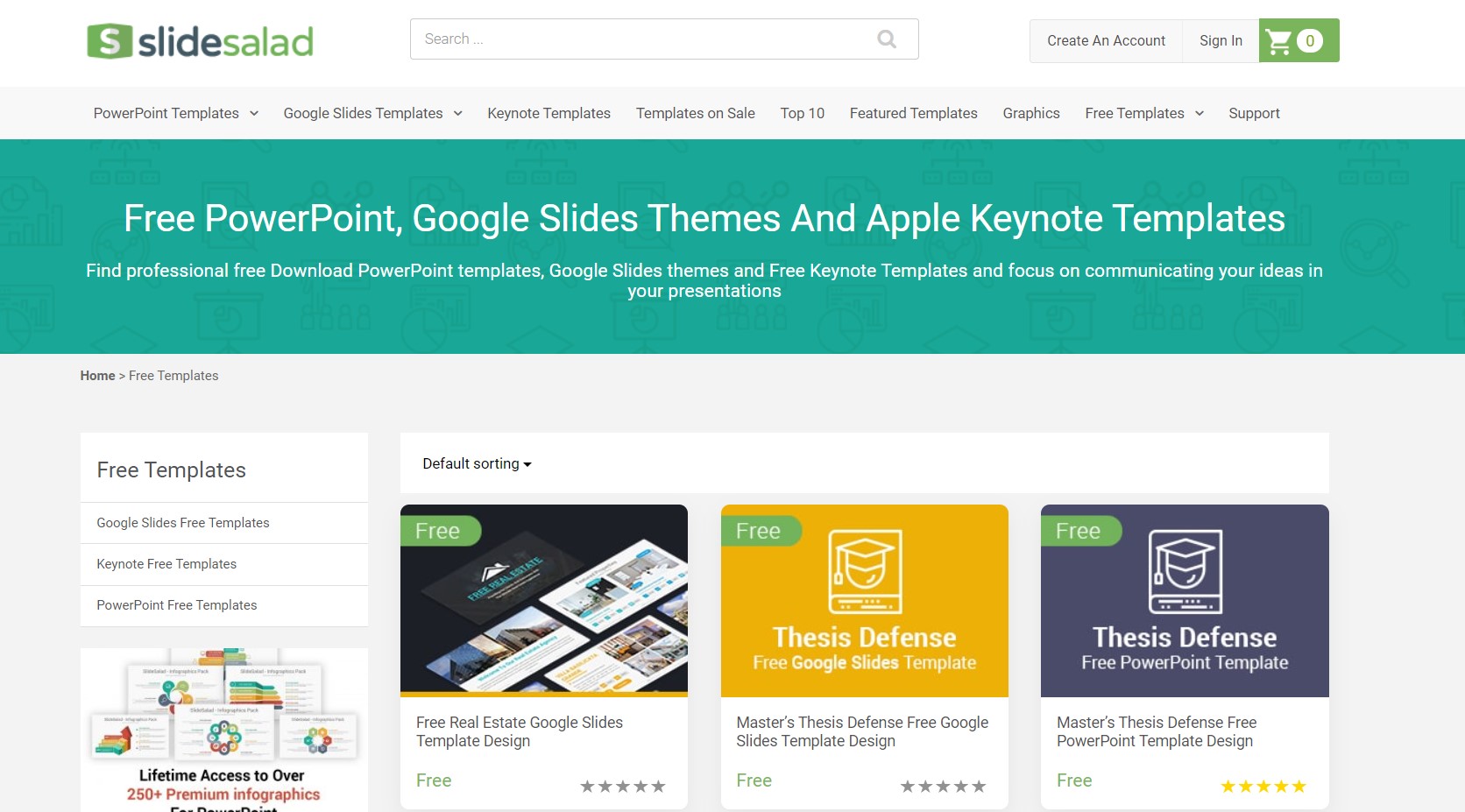 Visit the website
---
Pptmon
A real chest of designer treasures, pptmon.com can offer presentation templates fit for every occasion and need. Crafted by professionals, free files available on this vast online resource will help you impress everyone whether you're presenting a business project or a lovestory on a couple's wedding day. Simply download the templates, do the necessary edits in Power Point or Google Slides, but don't forget to give credit to the site. You surely will enjoy the process!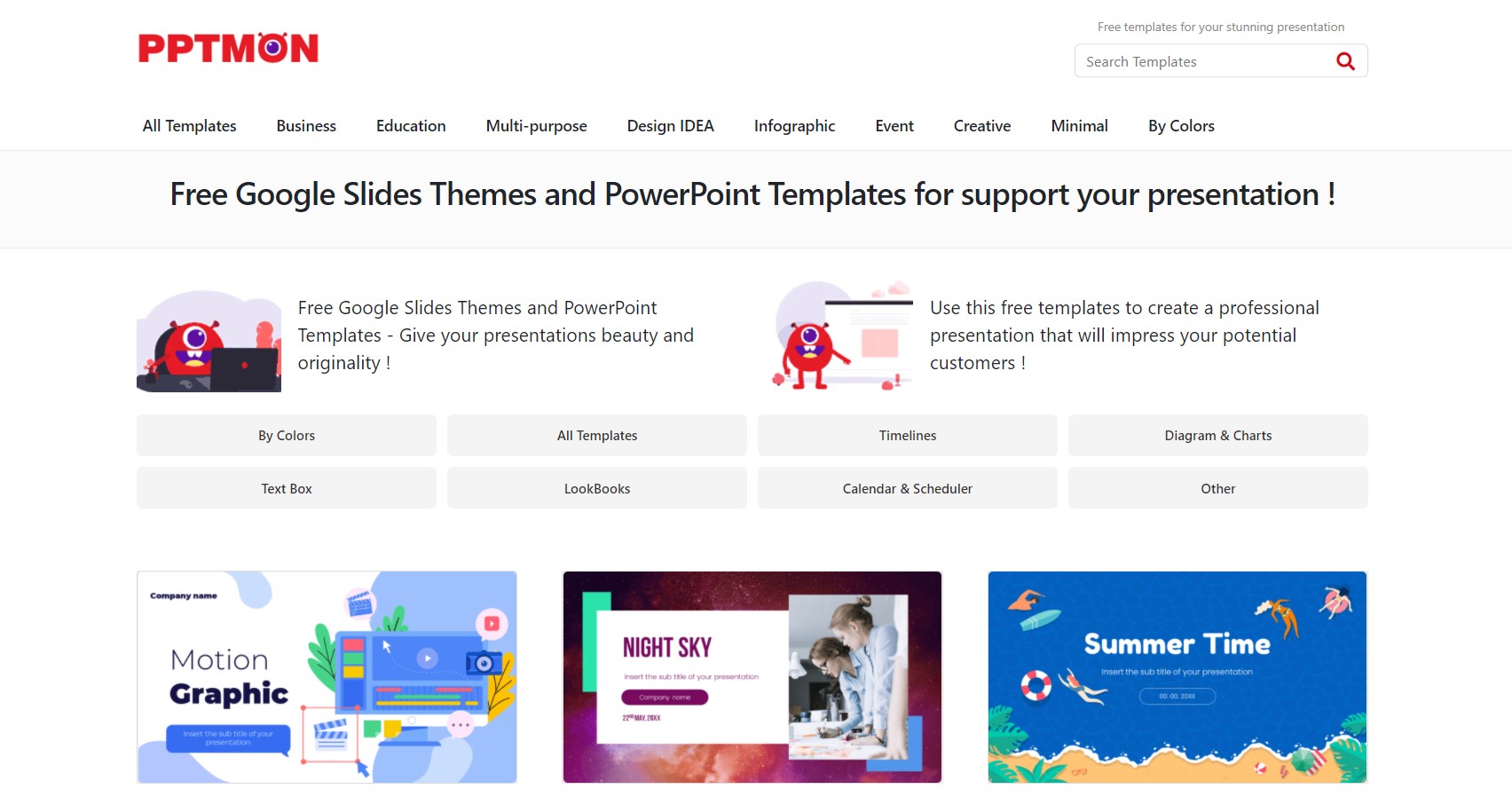 Visit the website
---
MmacFadden
Sometimes a single slide is all you need to put your idea in the limelight and compel the attention of your audience. If all you need is a minimalistic yet visually impressive presentation then mmacfadden.com is the resource you need. Check on its constantly growing library and choose a free file to download and customize it in Google Slides or Power Point.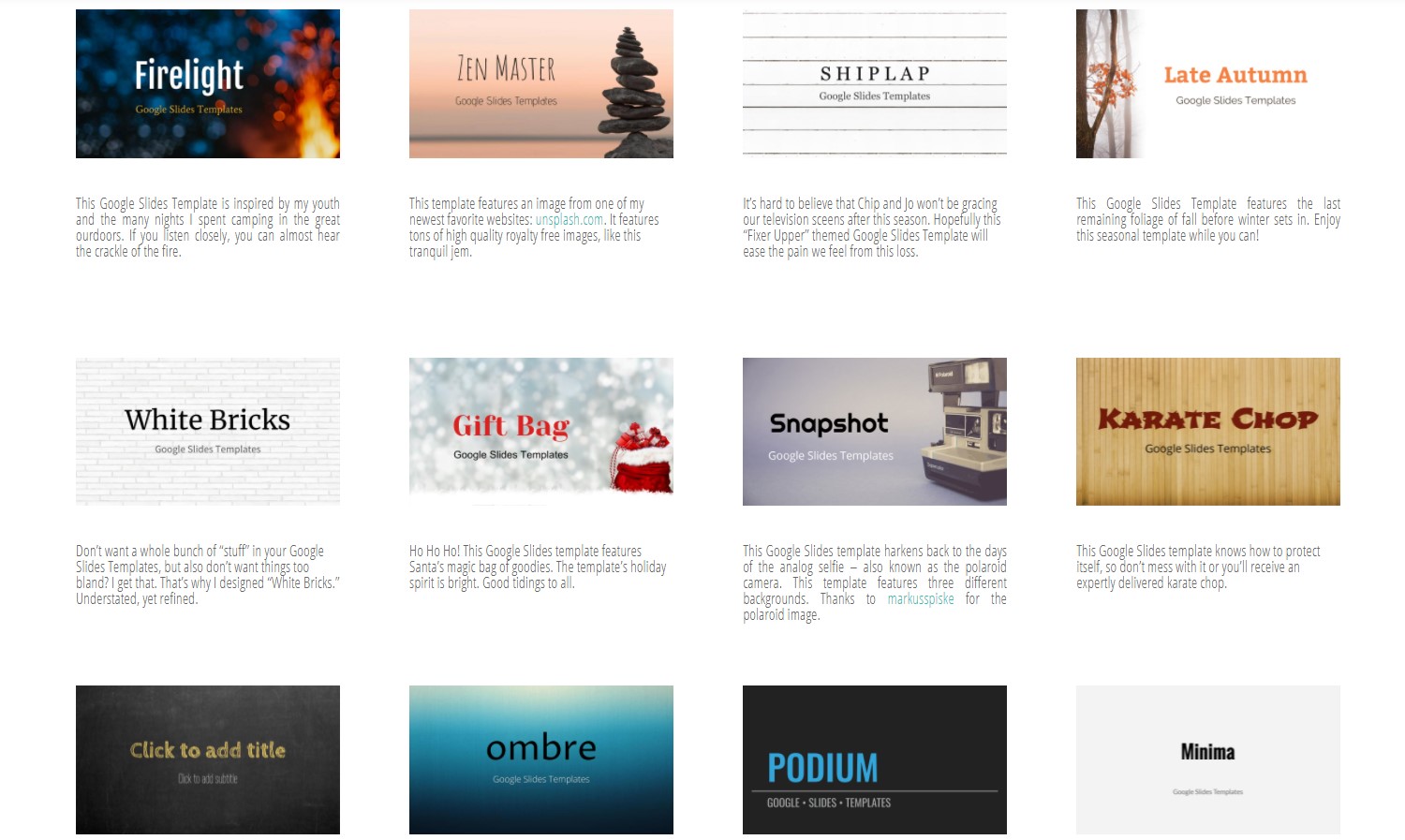 Visit the website
---
PPTTemplate
With a wide spectrum of themes and search options presentationgo.com will readily offer a set of templates for almost every need, you just name it! Explore this amazing site and find your perfect match. You need no graphic design skills to use this open resource. Simply download templates and present your data like never before.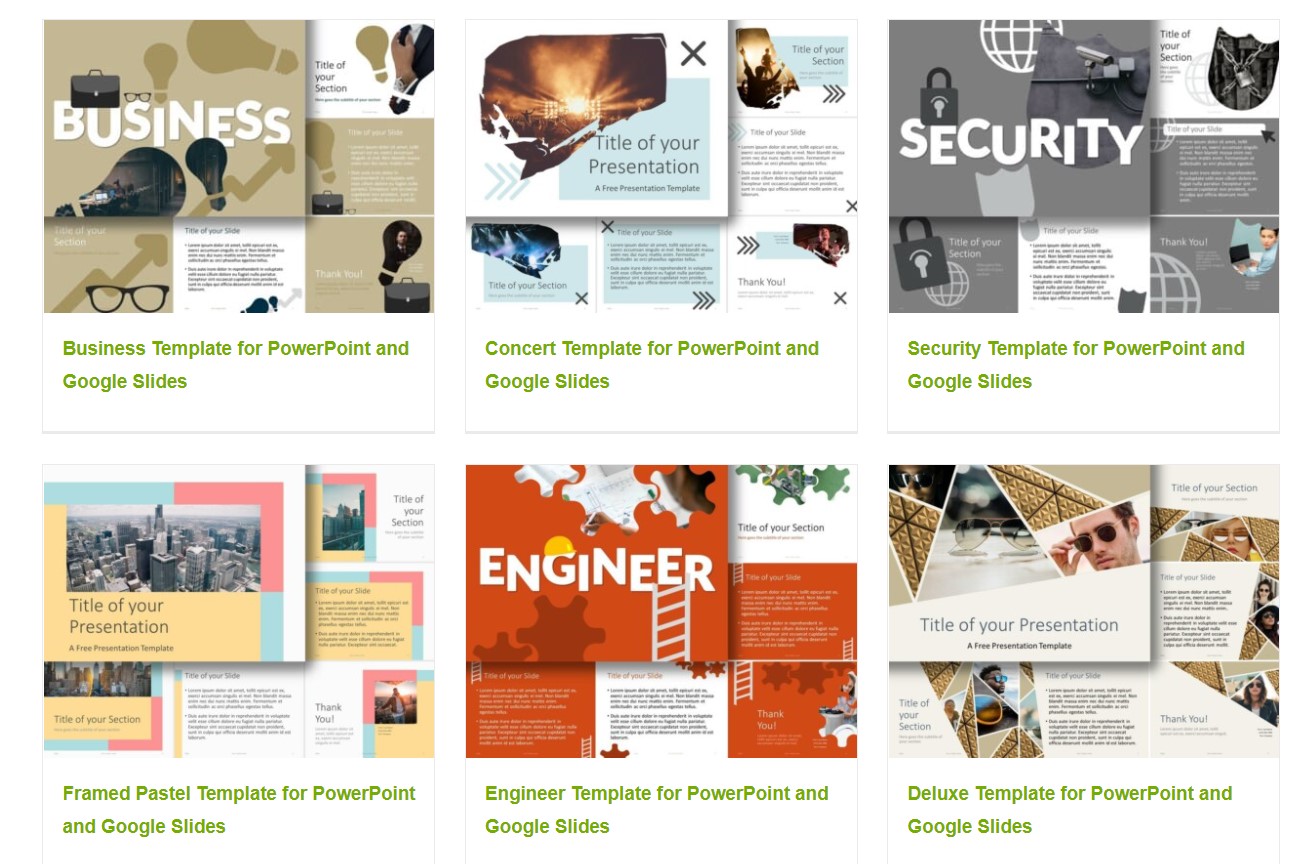 Visit the website
---
Slide Model
Among the variety of products featured on slidemodel.com you will find a broad choice of Google Slide themes that will make the process of preparing even the toughest presentation easy and enjojable. Search among dozens of bright and creative templates, slides and diagrams to find what's right for you. All resources are free to download, edit and share.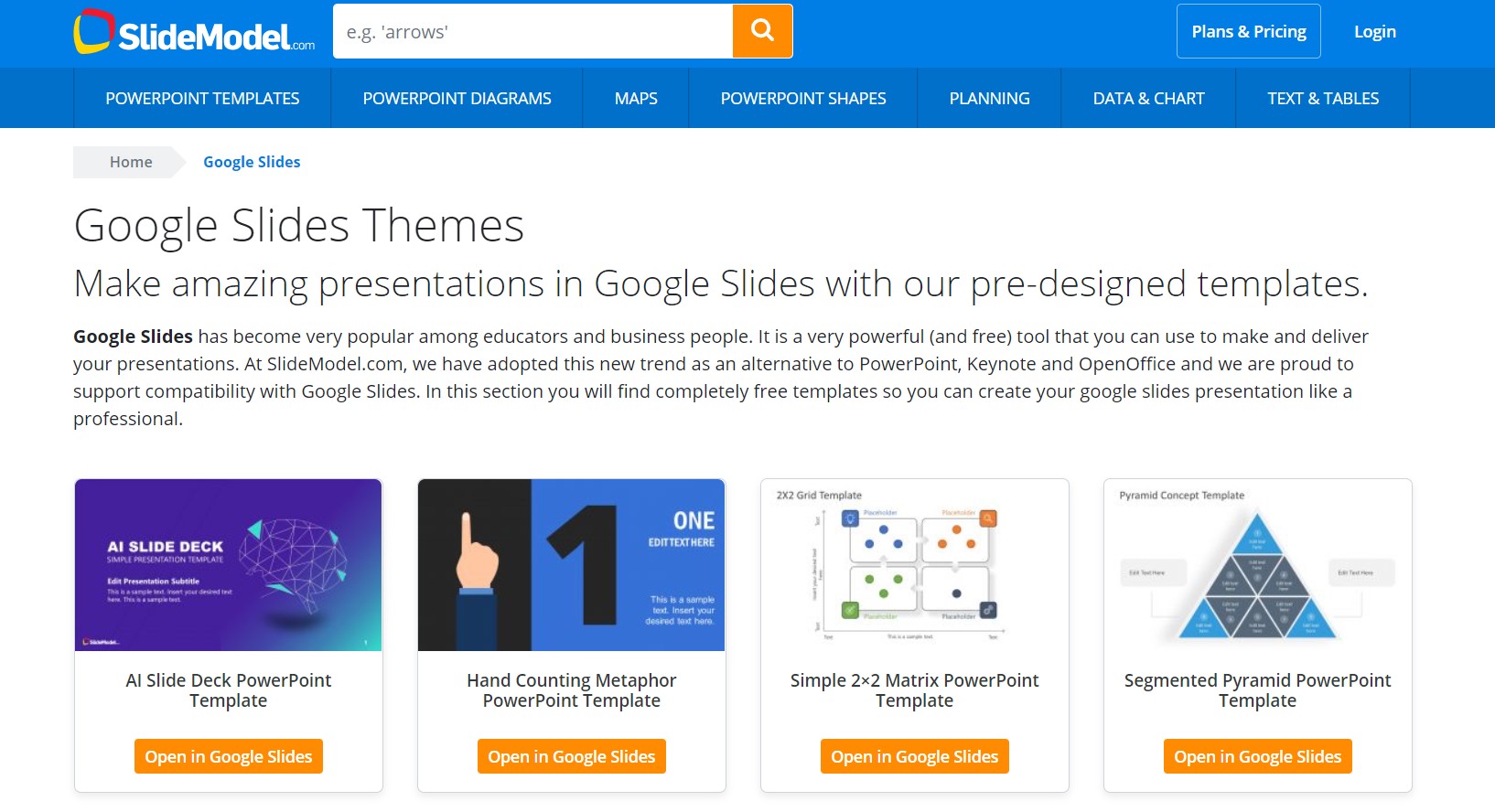 Visit the website
---
 Now that you know where to find the best free templates for your next presentation we're sure that you will reach your most daring goals!