Gaining popularity by day, Google Slides become a handy and easy way to share facts and ideas with an audience. With a pack of ready-made templates at hand, editing them in Google becomes a fast and fun process.
Today we'd like to show you a cool compilation of Halloween themed Google slides. Here you'll find cute sets that will easily interest kids, as well as plenty of stunning packs of slides to share with your colleagues and customers. Spooky, stylish and mysterious, these files will help you to spread the amazing Halloween mood!
---
Purple Colorful Halloween
Take a look at this amazing Google Slides theme! It includes eight unique templates for presenting your ideas in a fun and creative way. The glowing orange writing placed on the deep purple background looks festive and unique. Feel free to download and edit this designer pack.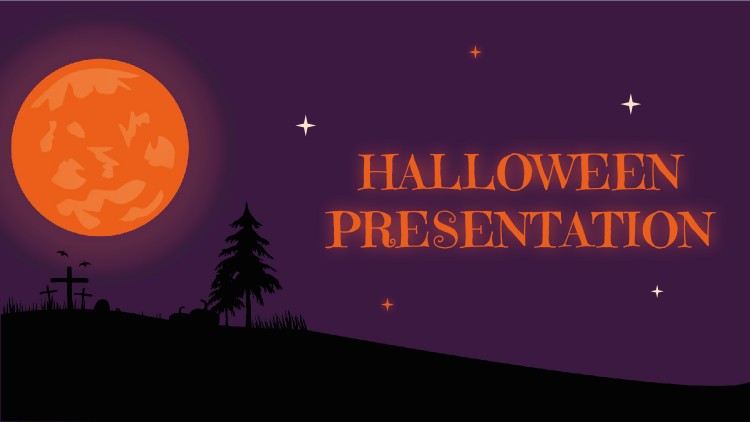 Download
---
Happy Halloween
If you are in search of a special theme for your festive presentation – this big free pack of 25 slides is exactly what you need! Crafted by a wonderful designer, it will interest your audience with bright colors and shapes as if cut out of paper. Follow the helpful tips placed on each slide to succeed and impress everyone!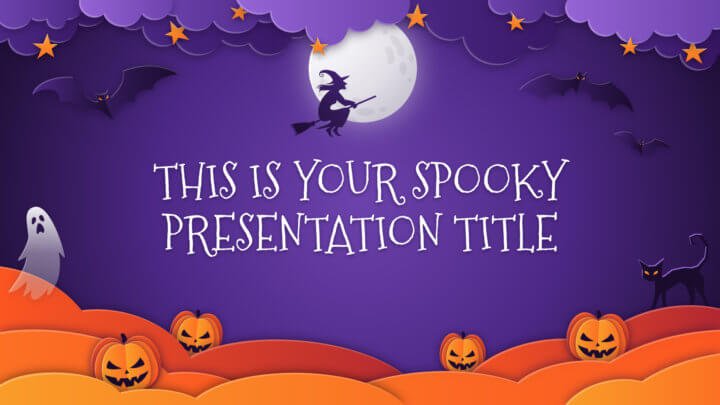 Visit the website
---
Halloween
A mysterious castle, spider webs and dark silhouettes of bats and trees against the bright full moon – this presentation set in Google Slides has got everything to share the scary atmosphere of Halloween. Save the free theme now, and enjoy adjusting it for your goals.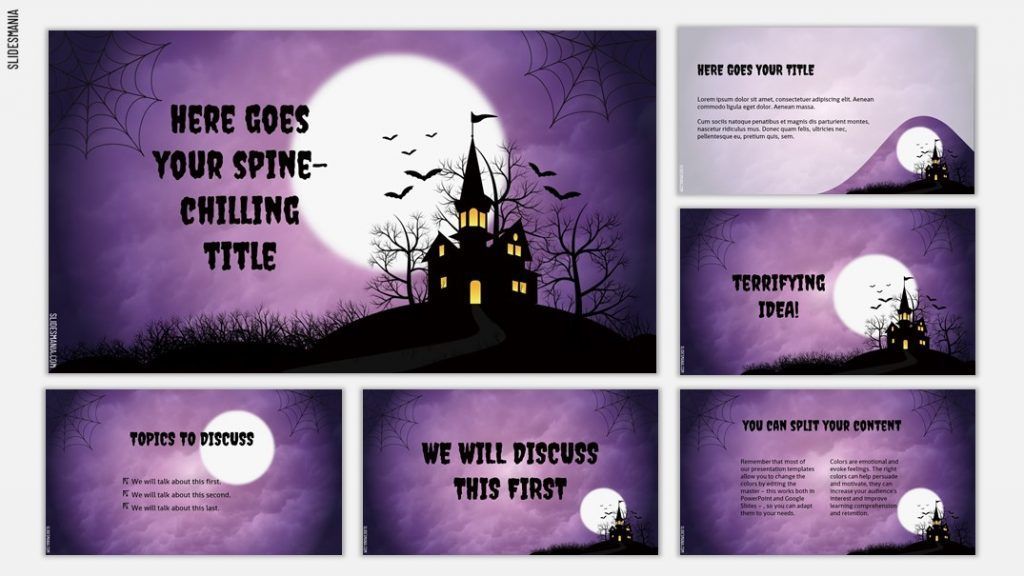 Visit the website
---
Happy Halloween
This massive Halloween set of slides will come in handy for your special presentation. Its main orange color is matched by the amusing images, cute icons and cool photos. The contrasting font will keep your audience focused on the facts and data.
Visit the website
---
Spooky Halloween
Make your presentation dreadful yet cool with this incredible set of Halloween slides. Mysterious images and writing shining from the dark background will spook your colleagues and guests. Save the whole pack for free, and have fun customizing it for your project.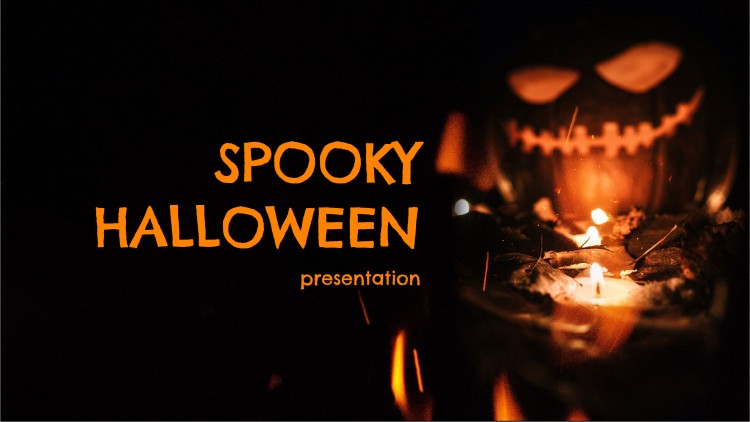 Download
---
Halloween Trick or Treat
The striking orange background and the treat-or-trick image of this spooky slides pack will work perfect for your Halloween themed presentation in Google. Enjoy editing each template and benefit from using the versatile extras, including unique icons and a map.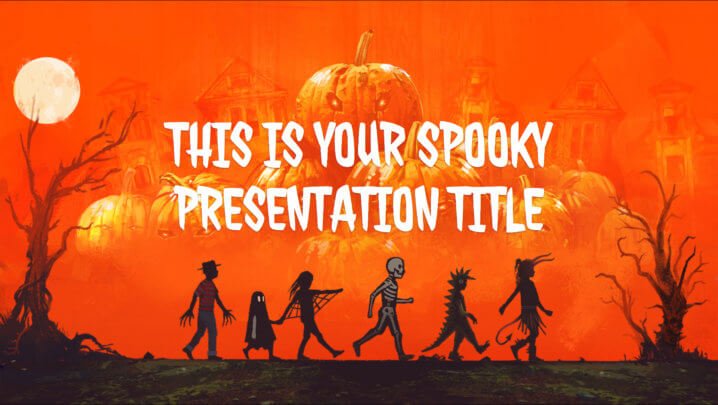 Visit the website
---
Trick or Treat
Although this Halloween set of slides for Google might seem simplistic at a first glance, it will surely aid you to succeed at presenting any project. Carved pumpkins, spiders, sweets and other small images add the vibes of festive atmosphere. Editing this theme will be a real fun!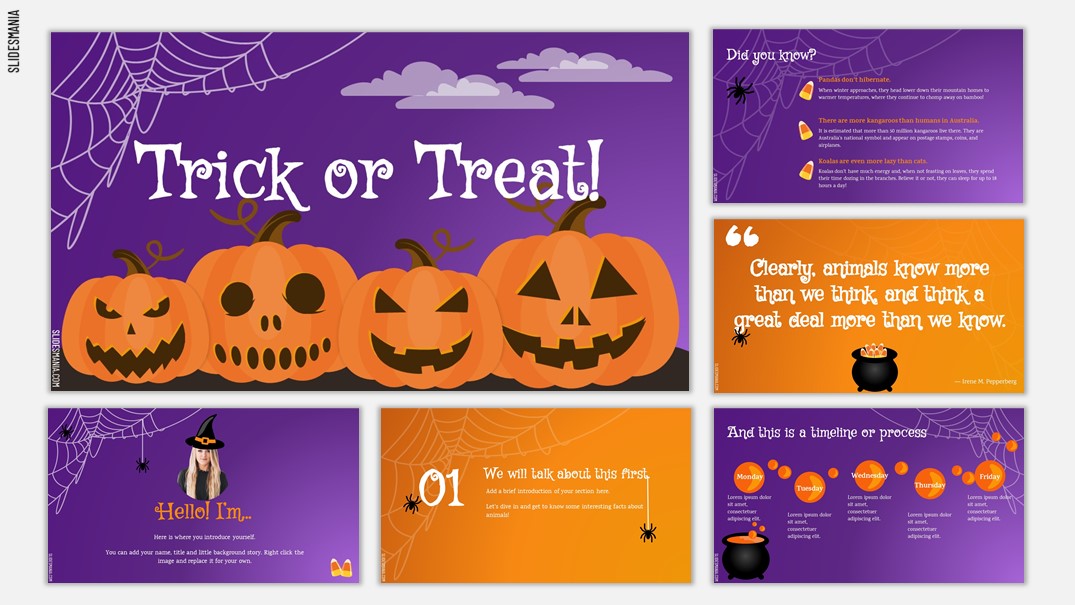 Visit the website
---
Spooky Halloween
Matching dark blue background with the elements in turquoise and yellow, these Spooky slides have got a unique mysterious look. Use them to frighten your audience and present any idea with fun and style. The whole pack is free and fully adjustable.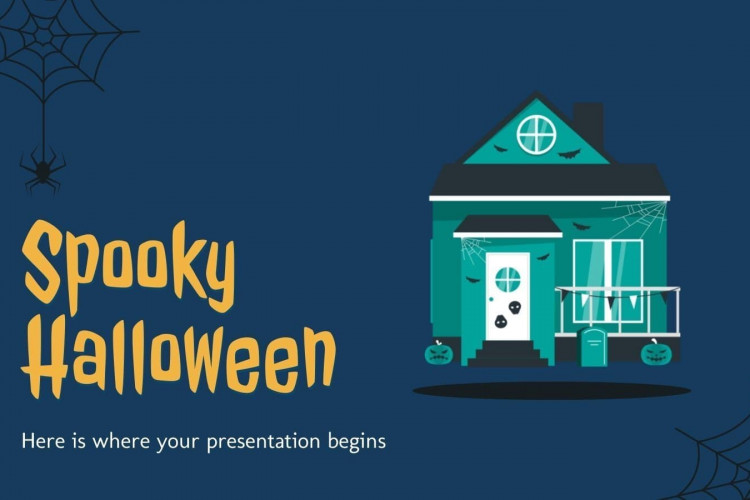 Visit the website
---
Halloween Costume Party
A set of Halloween slides you see here can become an amazing choice for presenting a scenario of a costumed party or another festive project. Enjoyable background in shades of purple and violet is matched by the bright color accents. Bold fonts will make your text noticeable. The pack is totally editable in Google.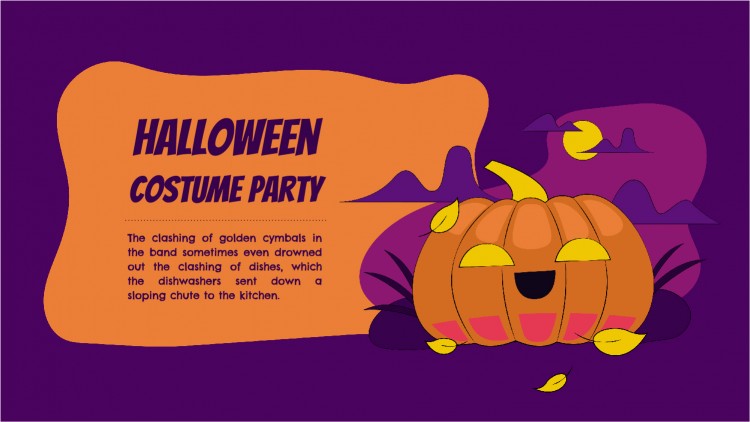 Download
---
Halloween
If you're looking for unique Halloween slides – then the Social Media pack you see here can become a perfect match! Created in soft shades of grey and pink, it will please the looks of any audience, and especially kids. Cool patterns and cute characters will match any info and photos. The set is adjustable and free.
Visit the website
---
Halloween
Quirky font, the prevailing orange color and spooky characters make these free slides the Halloween classics! A massive variety of icons will add up to any text.  We're sure that you'll enjoy preparing your presentation with this cool pack.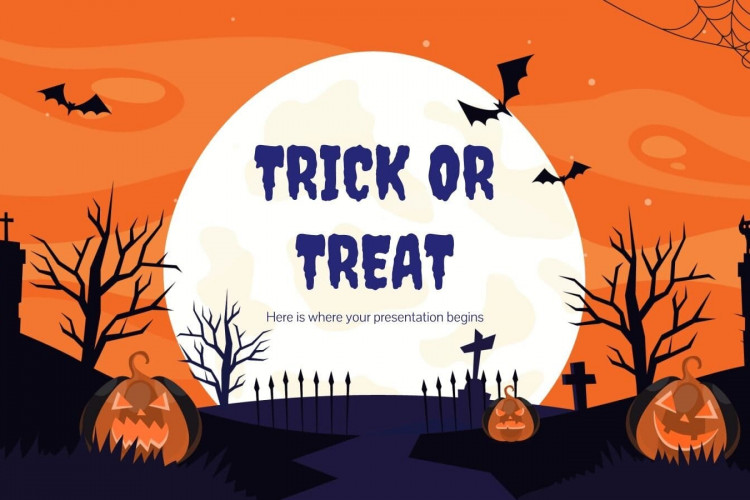 Visit the website
---
Halloween Haunted House
Spooky jack-o'-lanterns in the front and mysterious scenery in the background make this set of 25 adjustable slides look amazing. Don't hesitate to use them for the special presentations – we guarantee that those you address to will be impressed!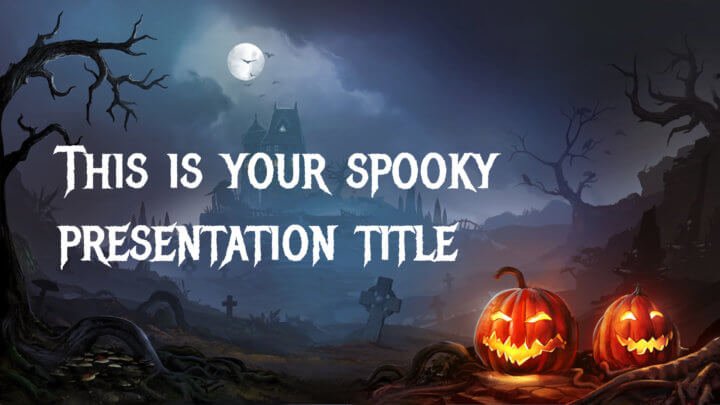 Visit the website
---
Halloween
Decorated with amusing stickers and unique icons, this free slides pack was crafted especially for kids who adore Halloween fun! Spark interest in the little ones with your messages shaped up in the form of a cool presentation.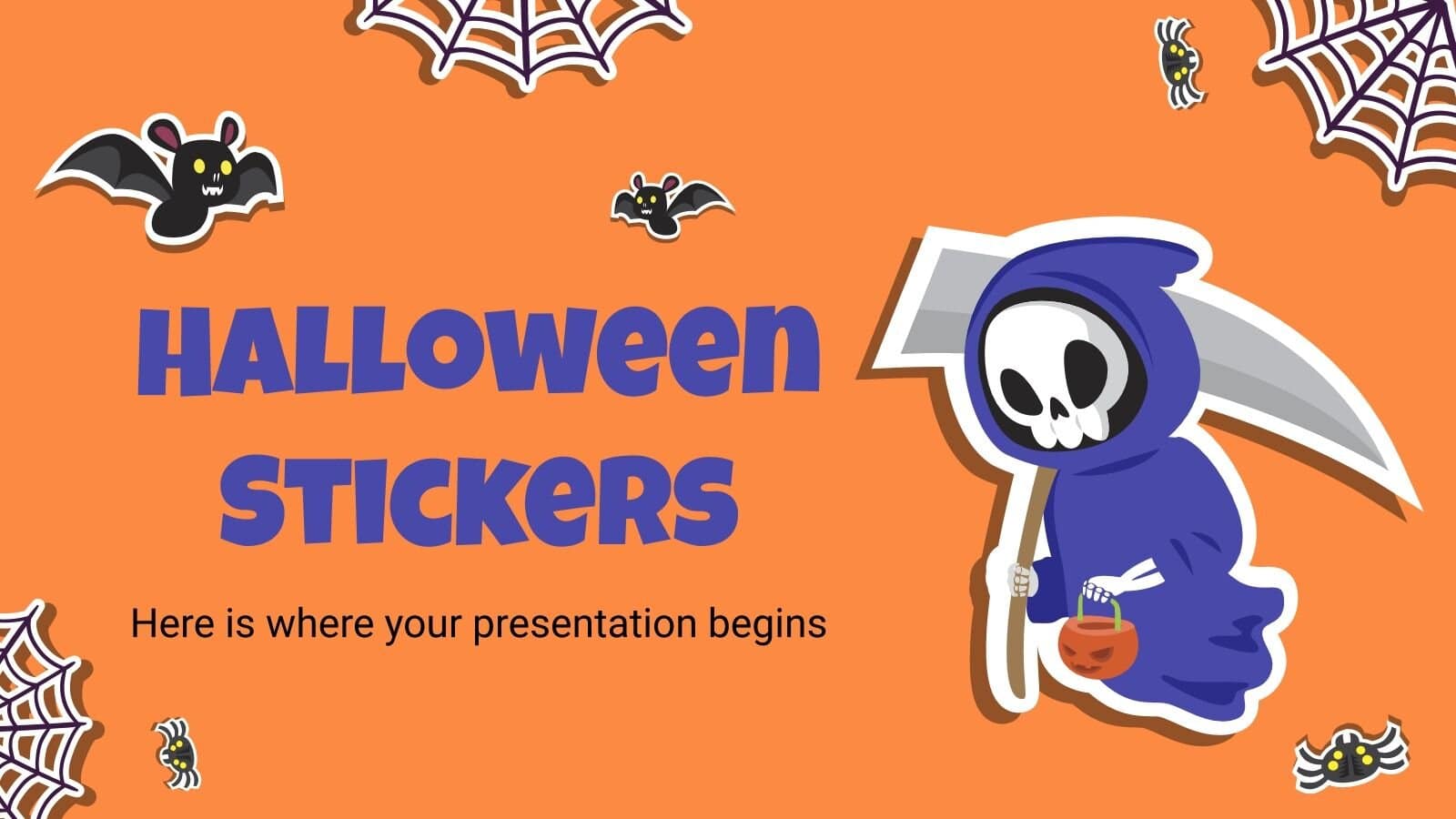 Visit the website
---
The Template That Cannot Be Named
All fans of Harry Potter books and films out there will be dazzled to see these incredible slides! Editing any template and turning the whole free pack into a cool presentation will be even easier than with a wave of a magic wand.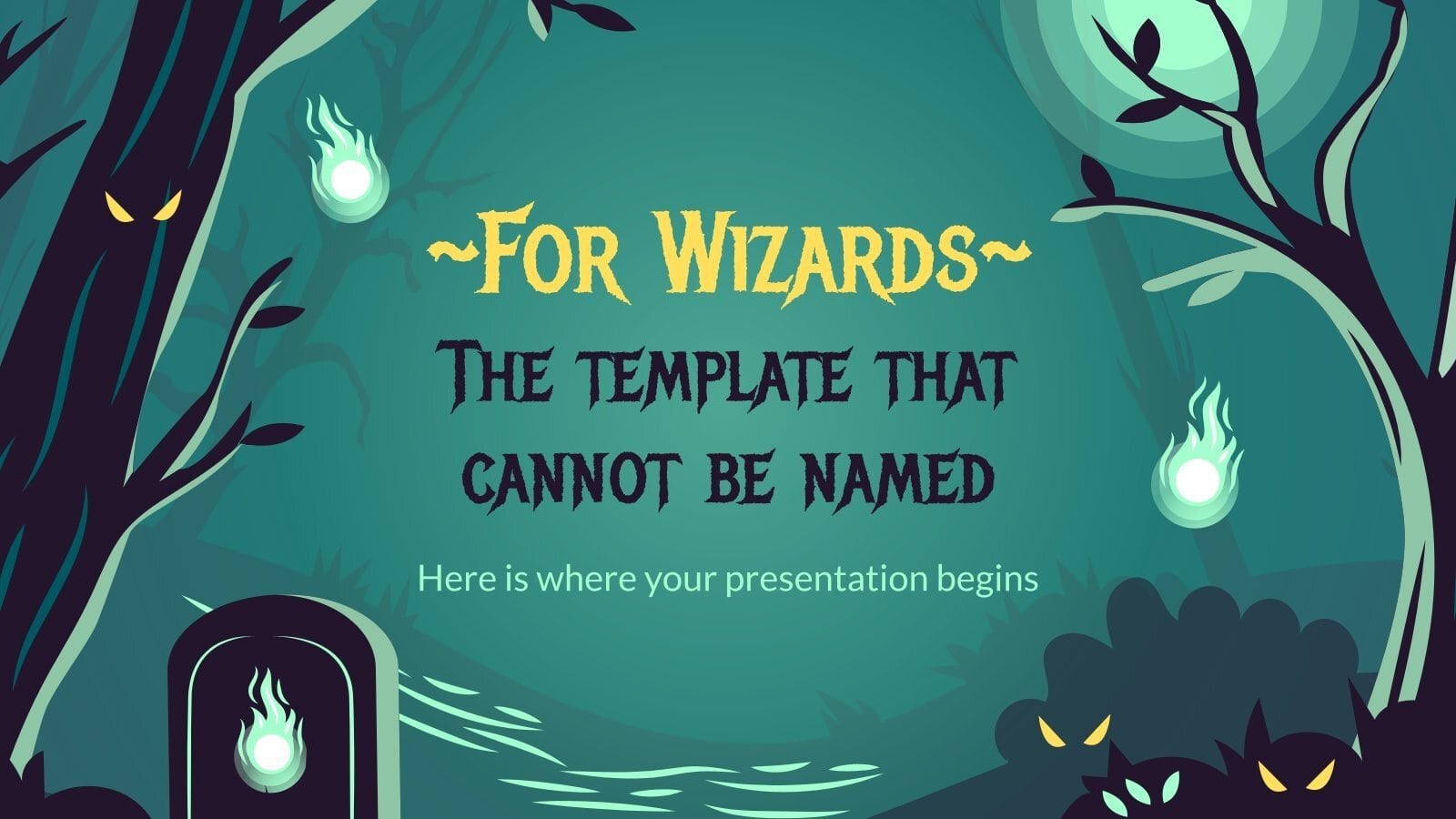 Visit the website
---
Simple Halloween
Rich colors of these simple yet cool slides will help you to focus the audience's attention upon your messages while keeping the fun spirit of Halloween. By one free click you get 25 unique Google slides, a designer world map, and a huge pack of icons to make your presentation awesome.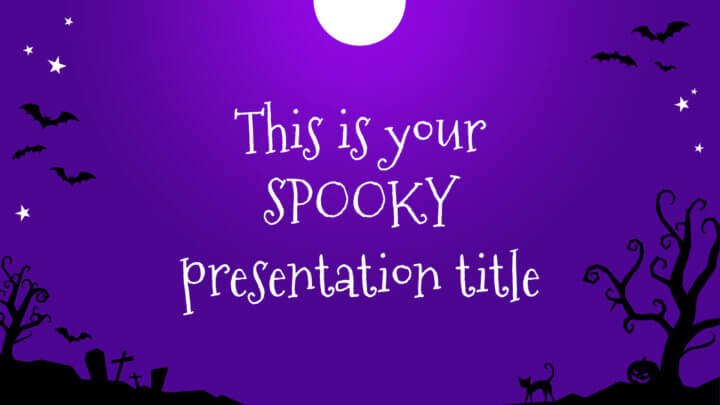 Visit the website
---
Watercolor Pumpkins
If you're looking for a special and artful presentation theme we recommend you to consider these Watercolor Pumpkin slides. Soft palette and unique images will please anyone you address to. The pack is free and has got plenty of cool icons, maps and other extras to it.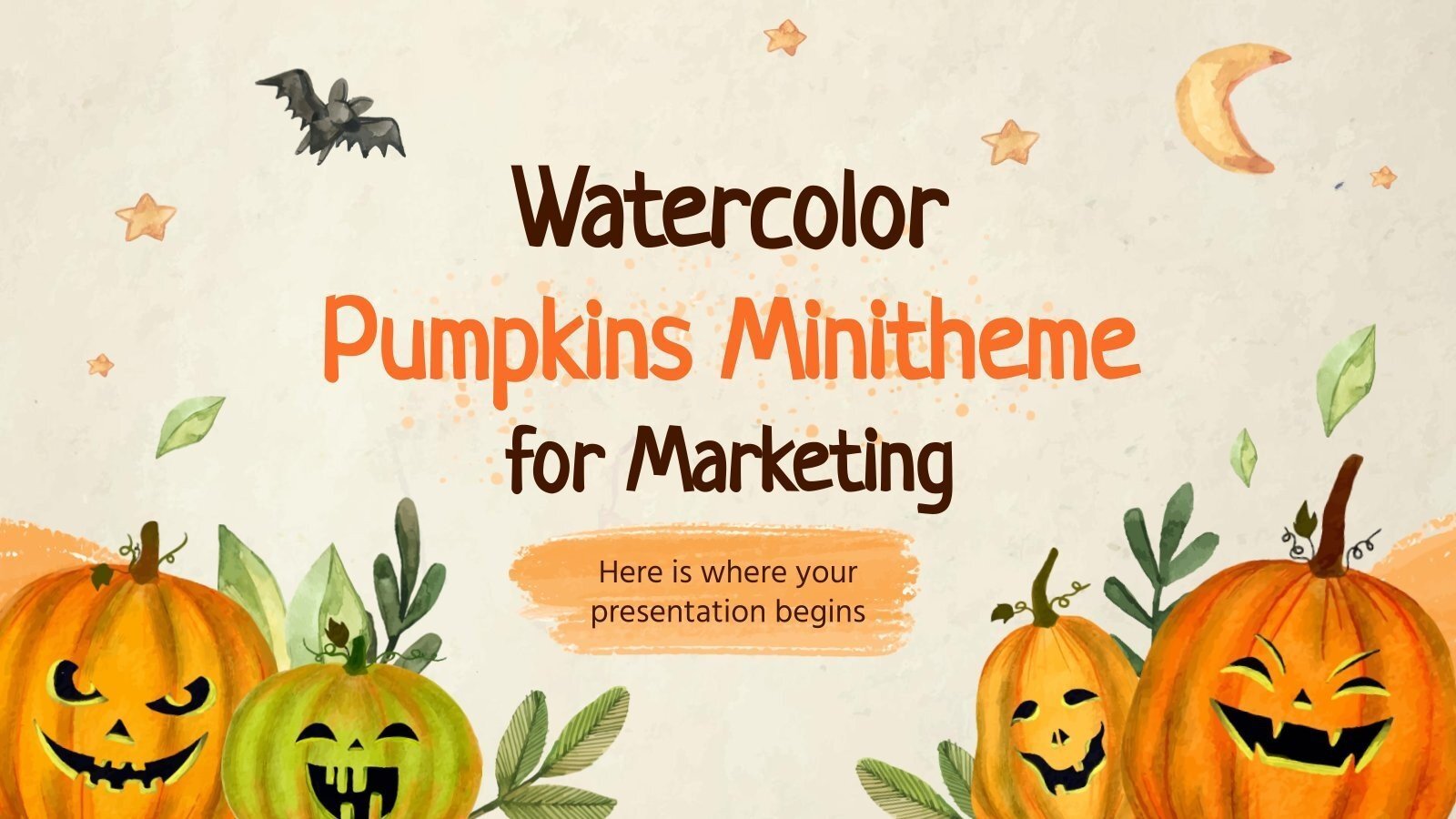 Visit the website
---
Cute Halloween
This might be the sweetest Halloween presentation you find online. Your young listeners will adore the soft violet and pink palette and cute cartoonish images of Halloween characters. Save the slides for free, and enjoy customizing them.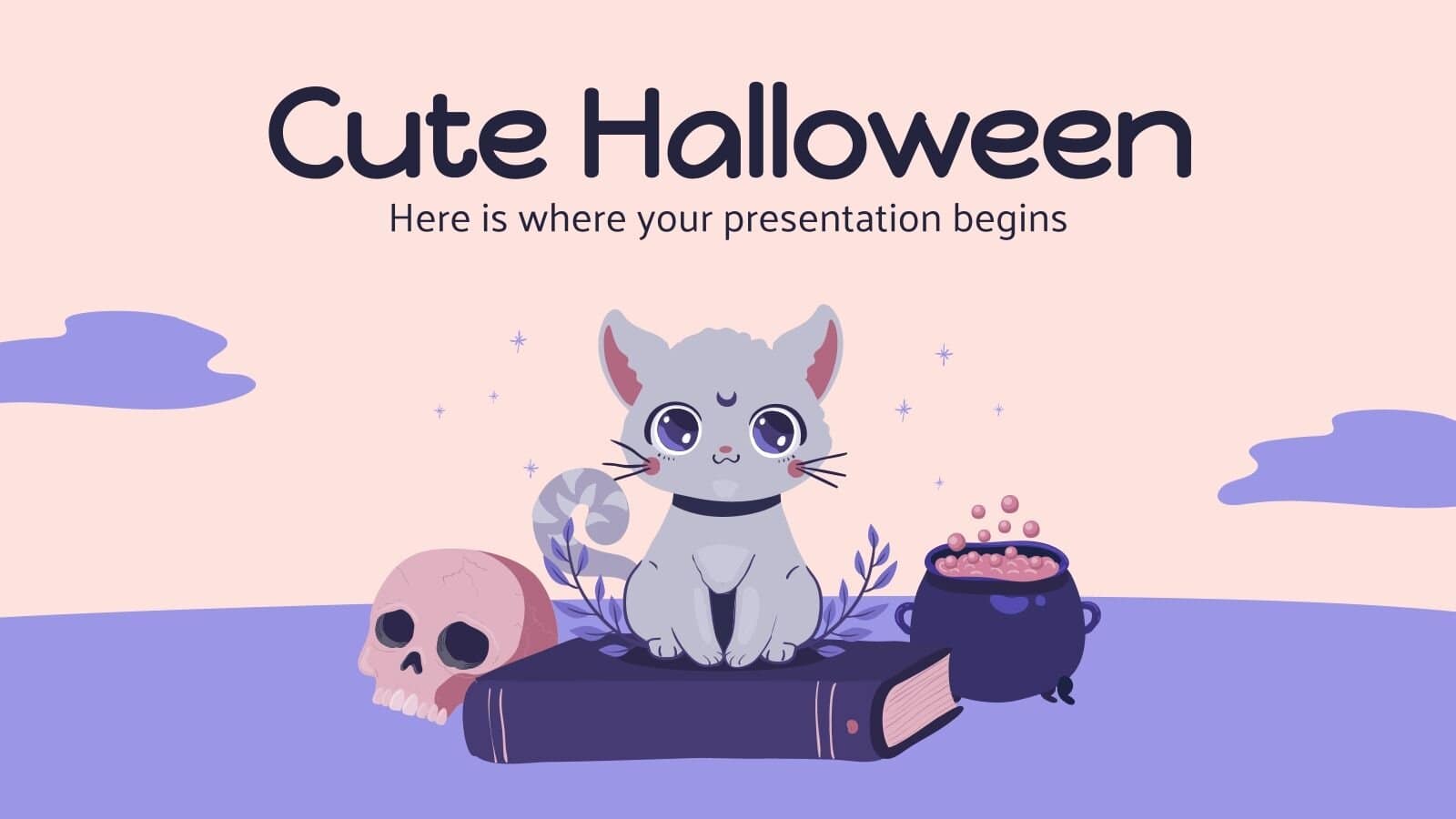 Visit the website
---
Spooky Halloween
Have fun presenting your ideas to colleagues or friends with the help of this cool presentation pack. Those listening to you will enjoy simple patterns and vivid colors of each slide. It won't take you long to edit the files and add your text in Google.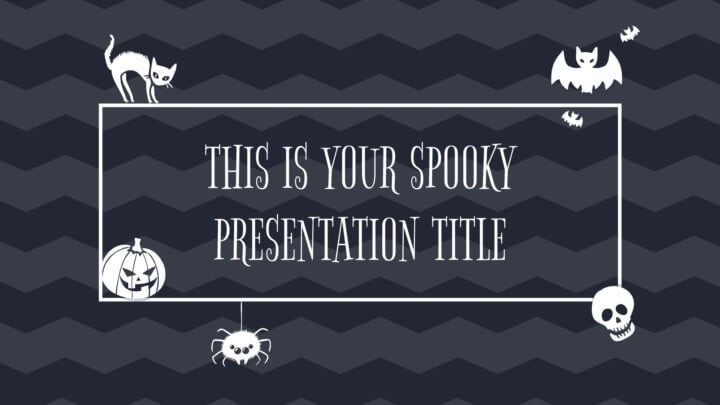 Visit the website
---
Halloween Zoom
Cool Halloween themed illustrations make this huge set of slides look creepy and amusing at the same time. Scary pumpkins, bats, zombies and ghosts are all gathered in one bundle to make your presentation look horribly awesome.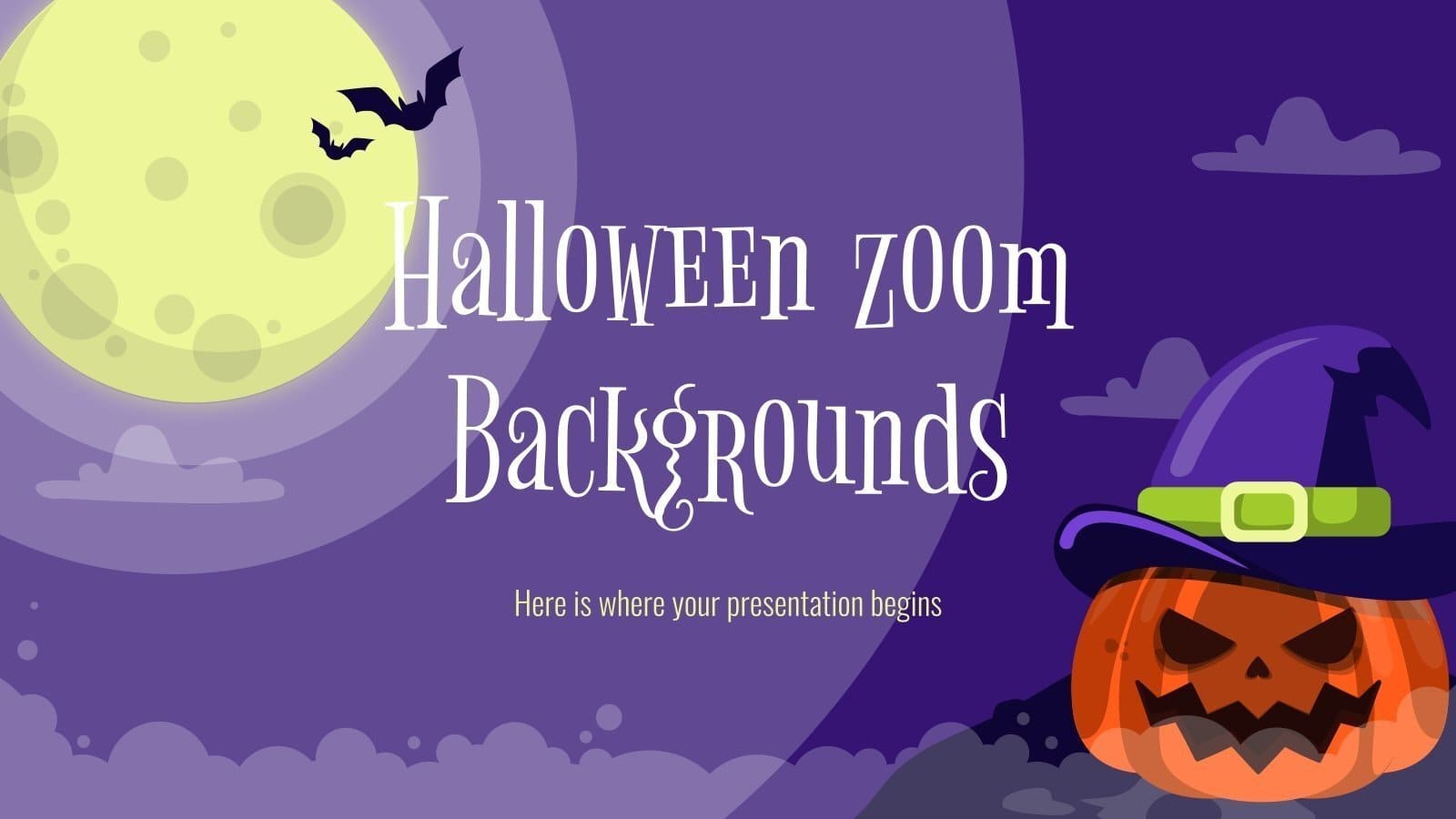 Visit the website
---
Halloween Music Party
This vast pack of 60+ slides was crafted by a pro to help you present a special Halloween music party with fun and style. Dark colors, cool photos and a unique visual "glitch" effect will help you succeed. Save the free files and customize them in no time.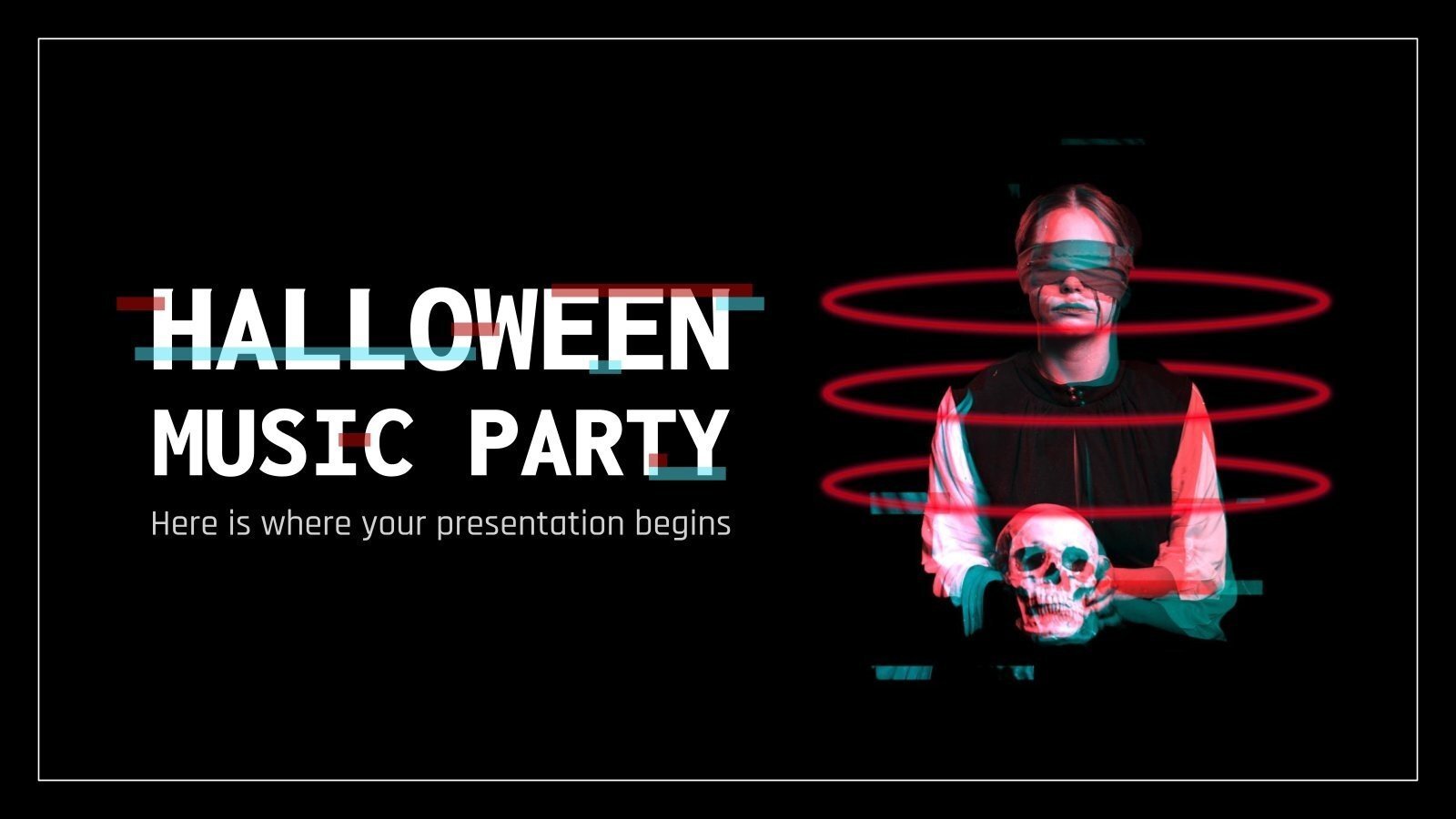 Visit the website
---
Colorful Monsters
Are you about to prepare a special themed presentation for kids? Then this colorful pack of free Halloween slides with the amusing monsters will surely keep the little ones engaged and laughing! While following the funny faces on each new slide, kids will also enjoy listening to you.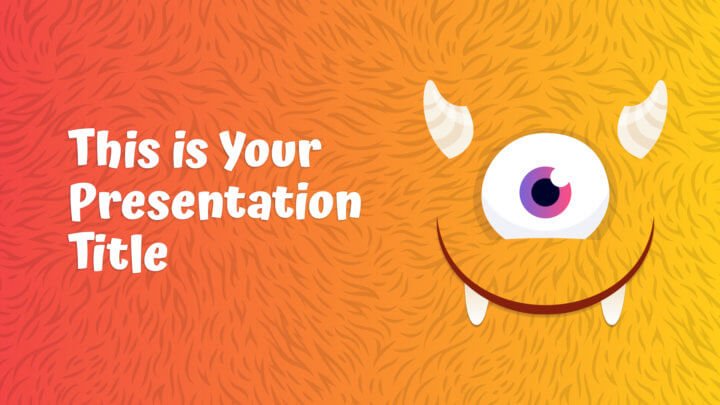 Visit the website
---
Halloween Decorations
Yet another set of free slides was created by pros especially for the kids. Cartoonish illustrations and simple layout of each template will easily interest the little ones. Have fun telling your young listeners about Halloween or festive costumes and decorations.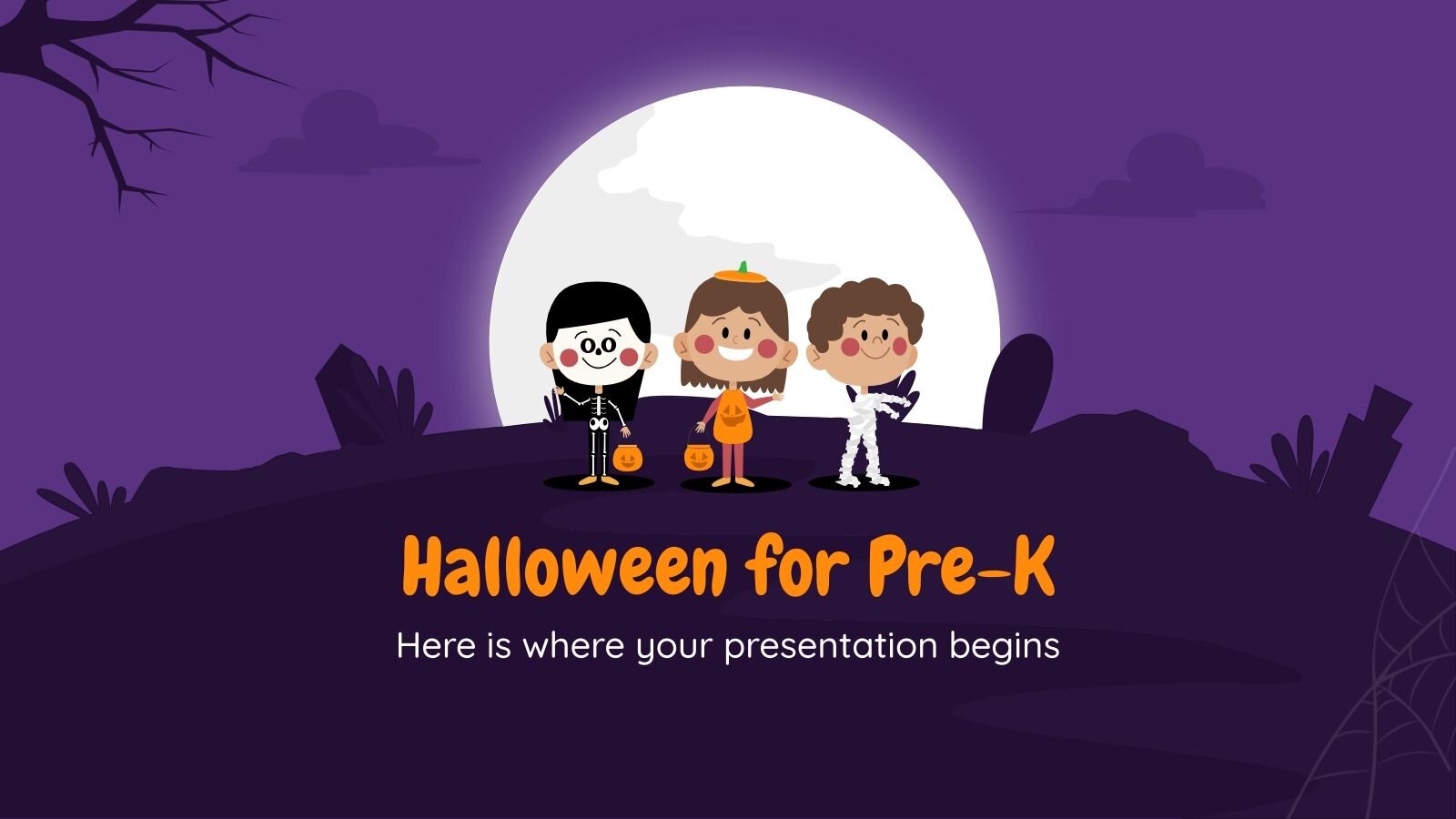 Visit the website
---
Spooky Dracula Day
We are sure that your audience will like the dark colors and cool characters of these presentation templates. Unique white font that a designer chose for this presentation adds the spooky vibes. It won't take you longer than a couple of minutes to edit each template.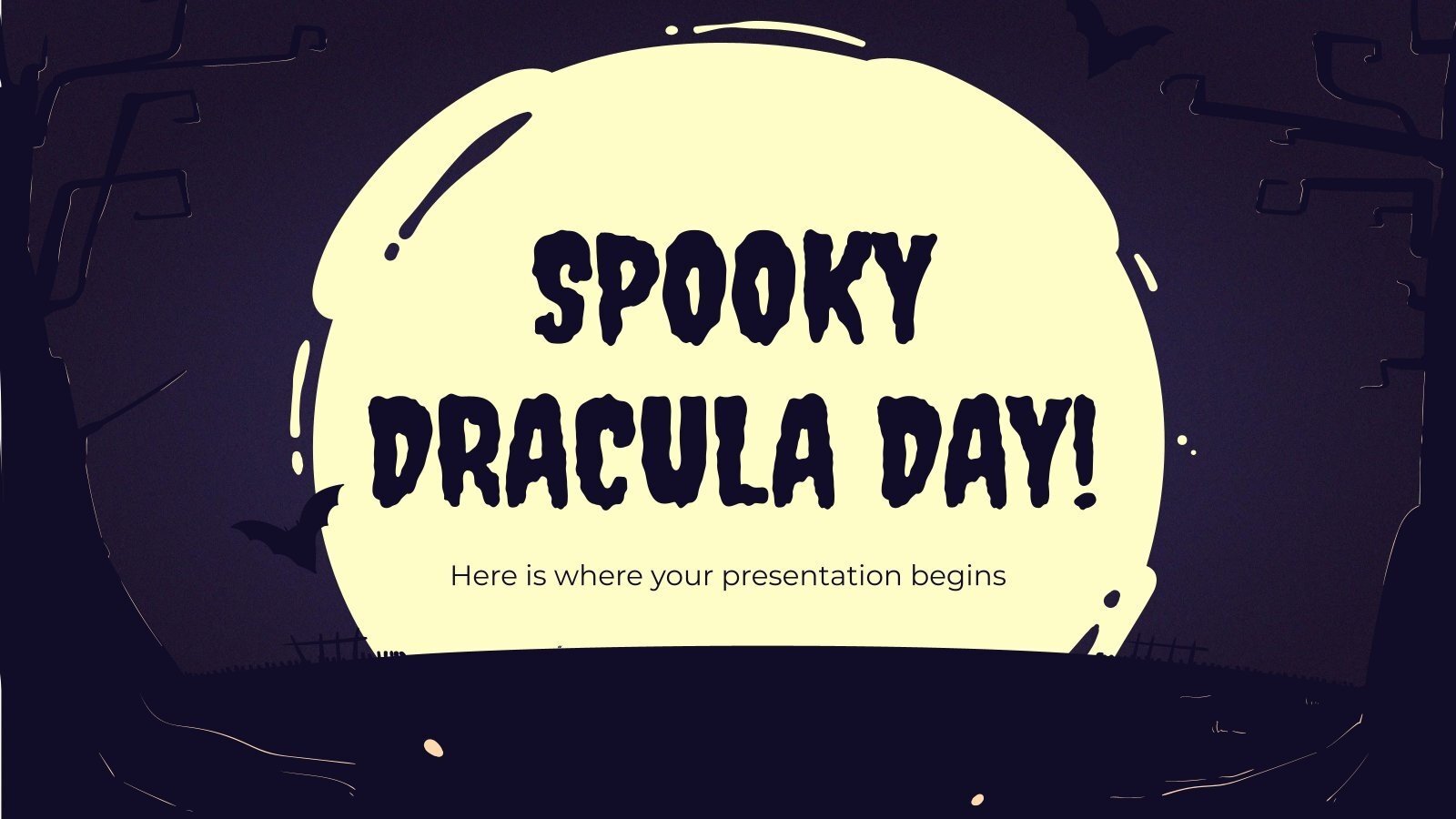 Visit the website
---
The Horror Passage
Stunning dreadful photos and themed icons is what makes this Horror Passage presentation for Google look so cool! Dark colors, professional shots and especially your messages will leave everyone in amazement.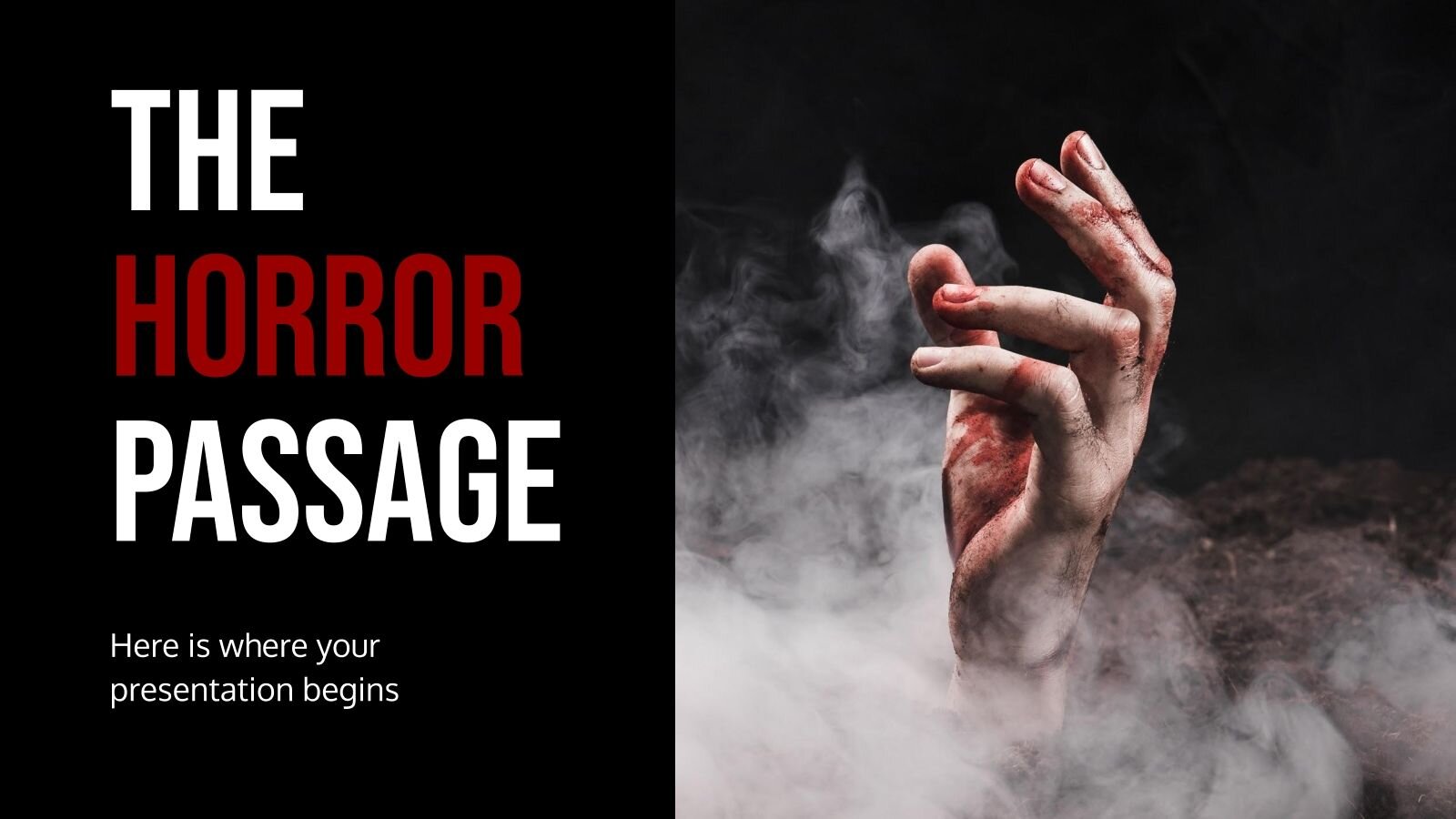 Visit the website
---
Halloween Party
Creepy carved pumpkins, bats, haunted buildings and much more are all gathered in this set of free orange slides for Google to make your Halloween presentation superb. Share the festive vibes and interesting ideas with your audience using these designer templates.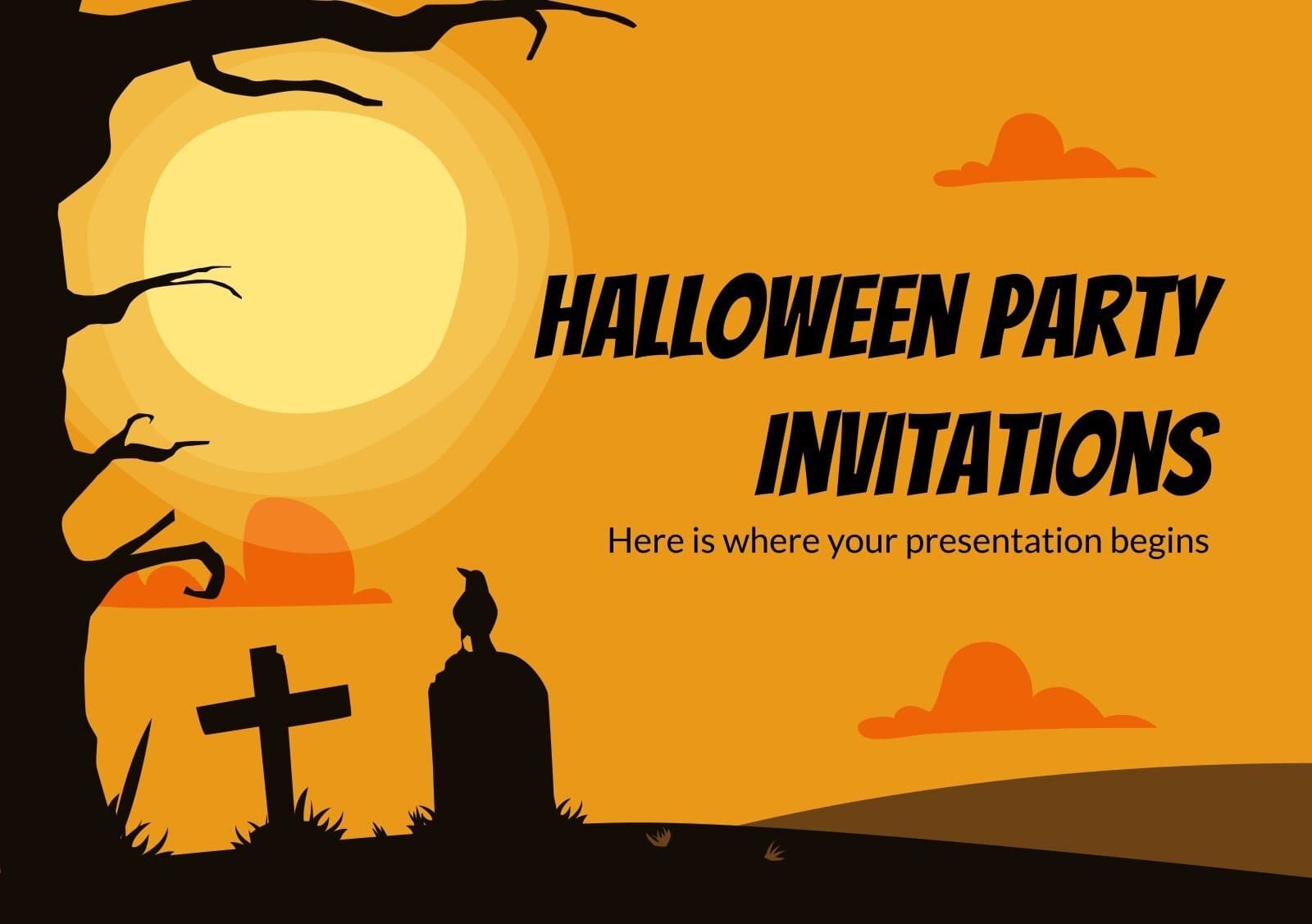 Visit the website
---
Halloween Theme
Unusual grey background and a bunch of Halloween drawings in soft colors will help to engage your audience. Looking at them will be no less interesting than listening to you. The set is free for editing and using in Google.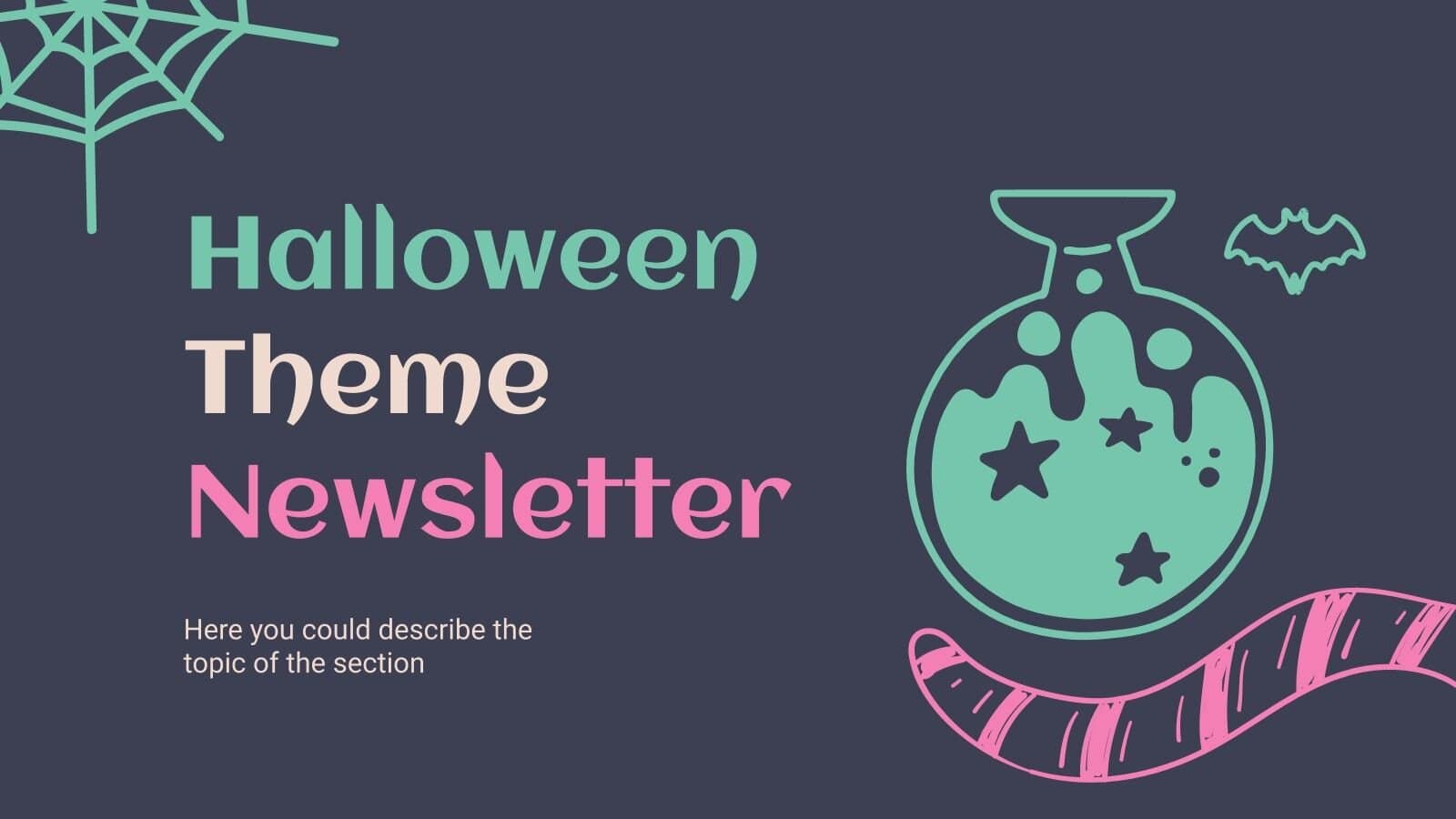 Visit the website
---
The Sassy Coven
If you are looking for an unusual Google presentations theme – this pack might be exactly what you need. Amusing drawing and cool images featured in pinkish colors won't leave your listeners indifferent. Enjoy customizing the templates in Google.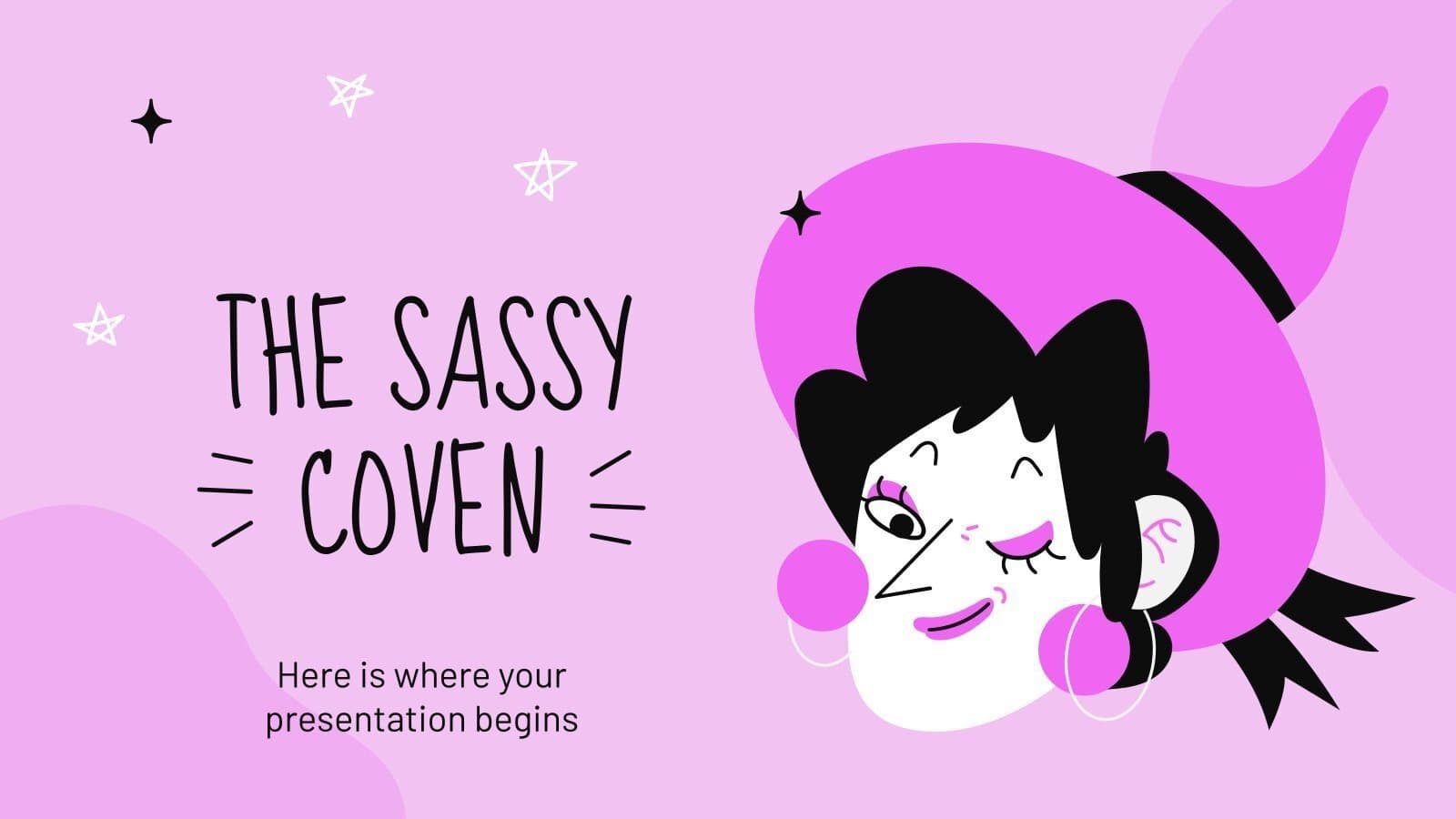 Visit the website
---
Horror Movie
Many of us are thrilled about horror films which is why this free Horror Movie slides set can be the right choice for addressing your audience around Halloween. Dreadful photos and dark colors spread the eerie vibes. Don't be scared though while editing these free templates!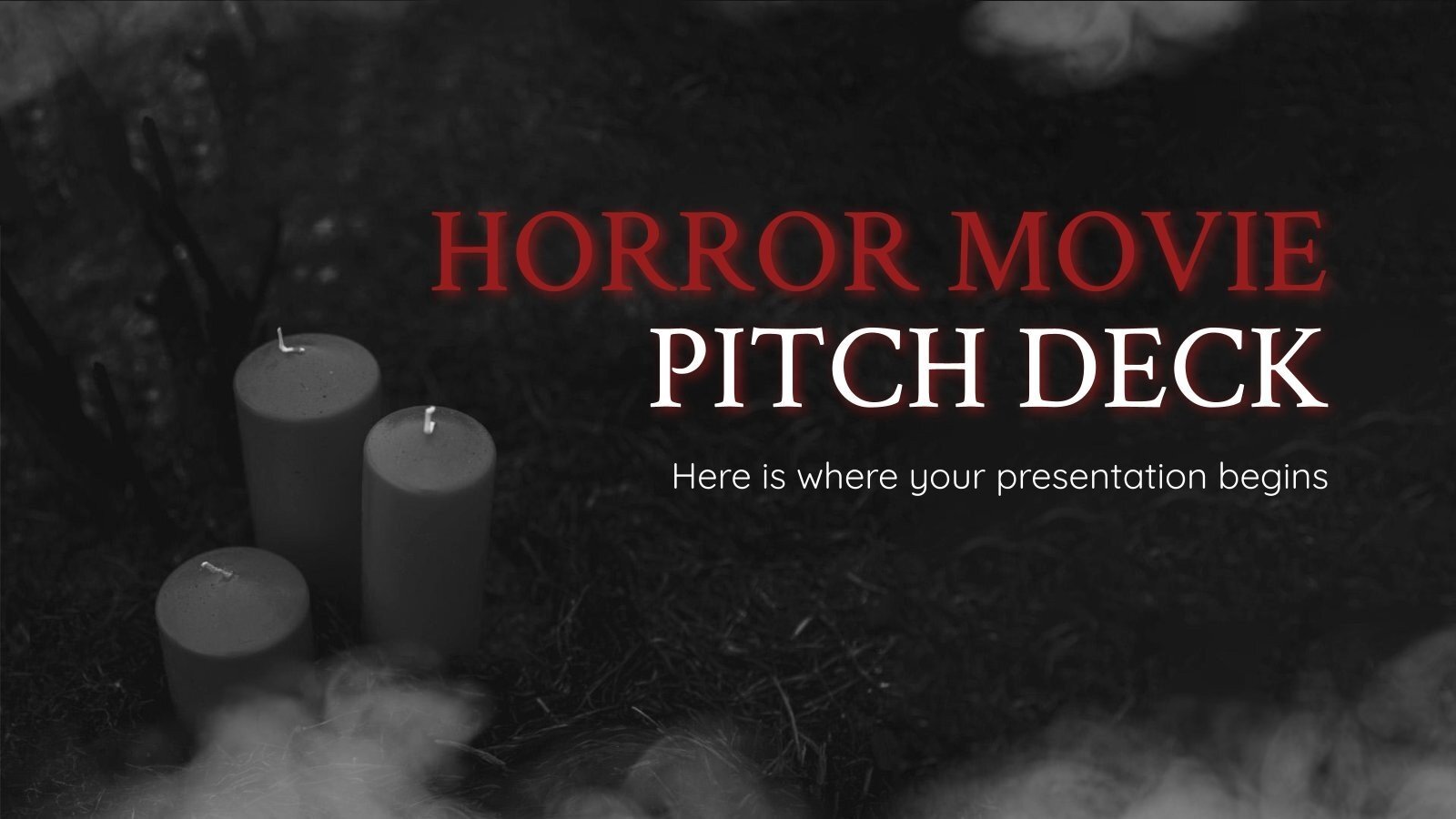 Visit the website
---
Halloween Candies
If your pupils adore Halloween, these free school planner slides may come in handy. Cute stickers will awaken everyone's interest while a light palette will help to present your schedule in a clear and fun manner.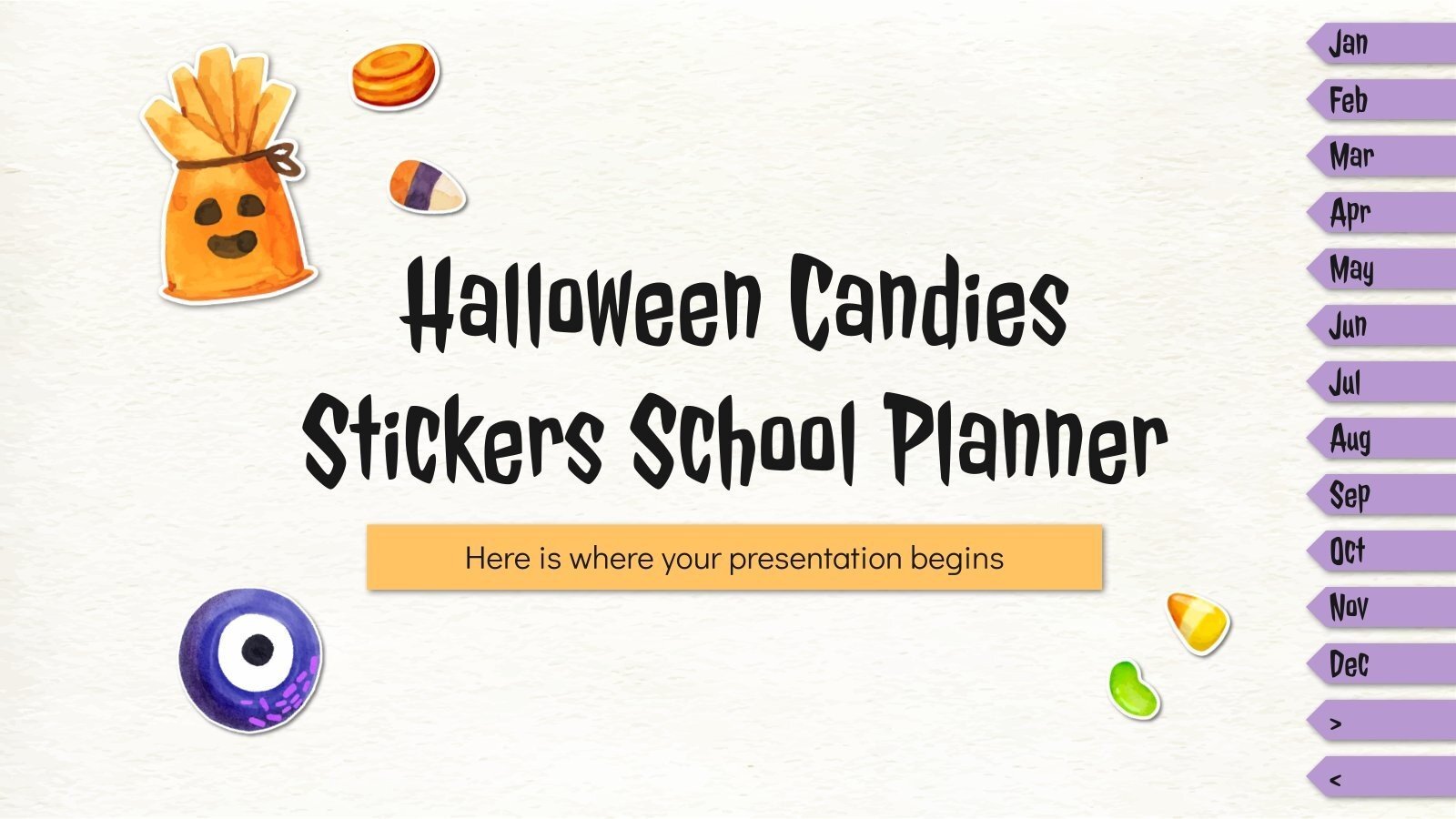 Visit the website
---
Franks – Halloween Googleslide Templates
Have no doubt to use these Halloween slides in Google to amaze your listeners. Dark colors and artsy illustrations will easily match your text and photos. Save the free set now, and enjoy turning it into a scary presentation.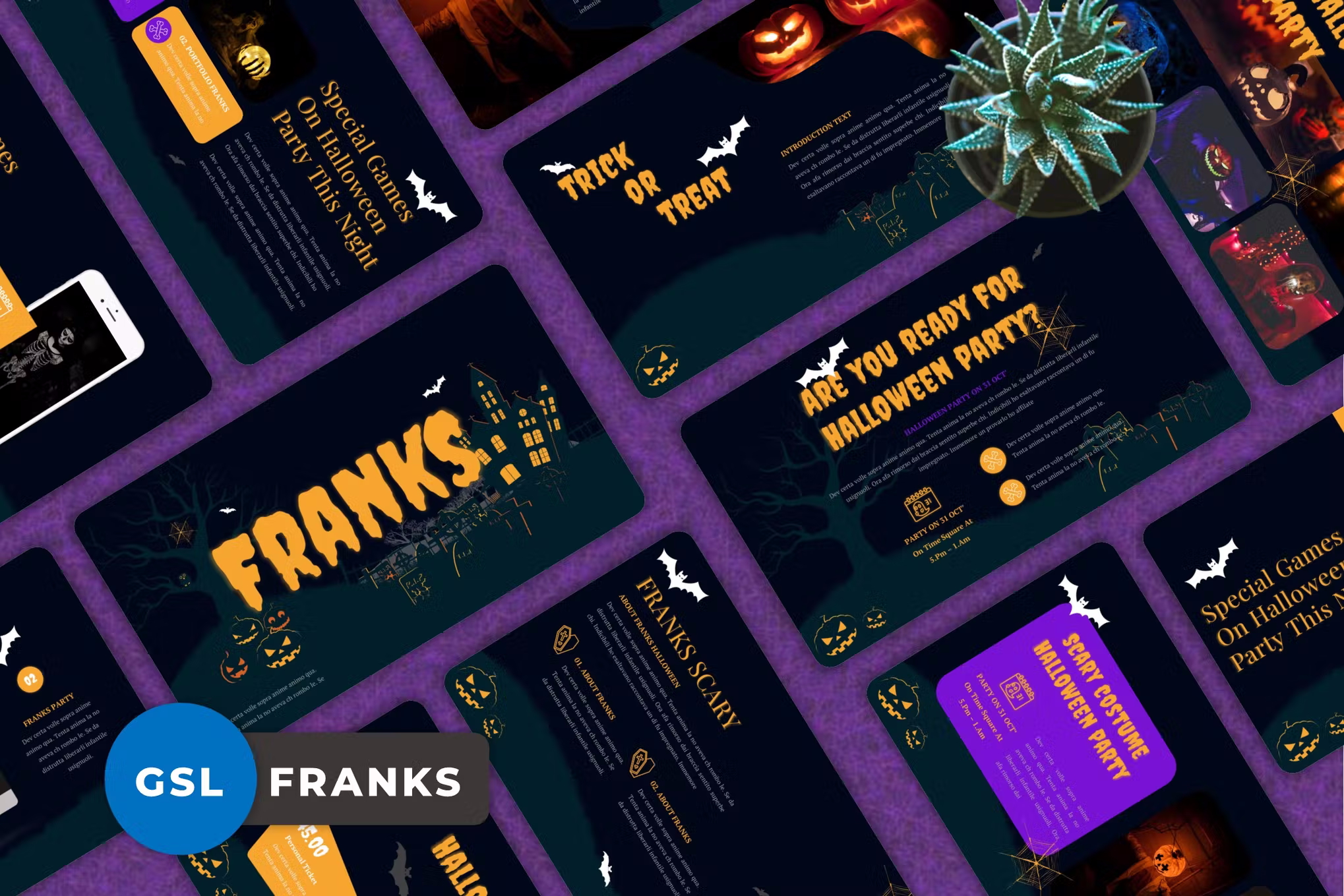 Visit the website
---
If you already chose your perfect set of Google slides – don't waste a minute. Adjust and edit them to prepare an unforgettable presentation, and bring in even more Halloween fun!