Even in our digital age printable flyers remain a highly efficient tool for announcing various events, including music festivals and concerts, parties, business conferences, sales and more. While professional graphics editing software such as Adobe Photoshop remains an advanced tool for creating top class graphic products, applying it requires basic skills and extra time. Luckily, the World Web offers online flyer makers – a quick remedy for those who wish to craft free flyer templates fast and without extra hassle. Intuitive and user friendly, such online tools will allow you to prepare excellent pieces with the help of professionally made templates or fully from scratch.
Without any further ado, we present an extensive list of free online flyer makers. Check it out, to pick your perfect match.
---
1. Crello
A successful project of Depositphotos, crello.com is a free online tool for graphic design. It allows users with no professional skills to create social media content and marketing materials – free flyers included. One can create a fully customized flyer from scratch or choose an apt template from an extensive 25 000+ collection. Intuitive on-site tools and smart prompts will make the process fast and enjoyable. While a free version has a download and a few other limitations, a Pro Plan offers great benefits for a moderate price.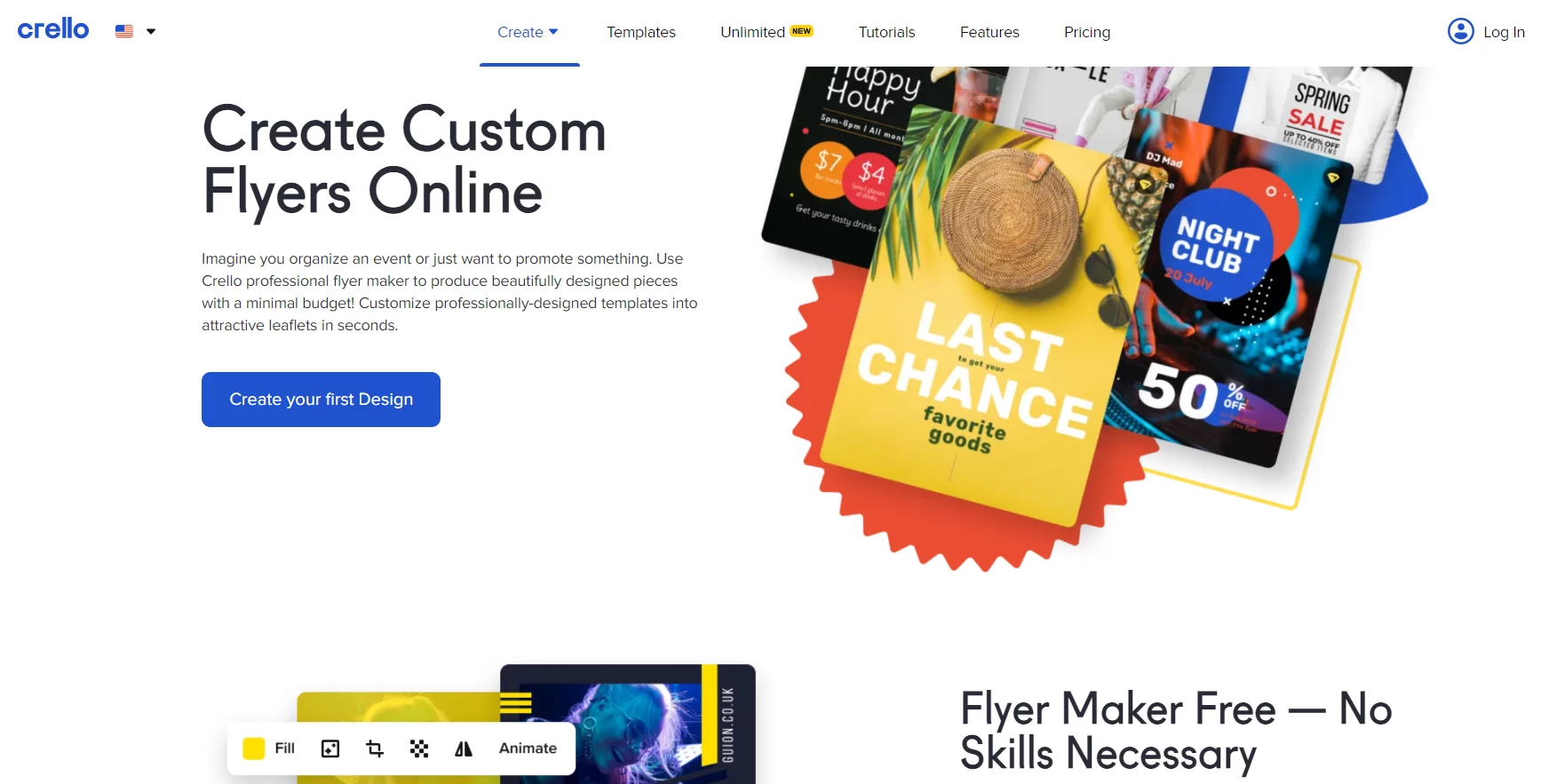 Visit the website
---
2. Piktochart
Piktochart.com is simple yet effective software which allows preparing presentations, infographics, and materials for printing – such as free flyers. No graphic design skills needed – a great variety of templates, easy on-site editing tools, and step-by-step instructions will help you to craft a perfect flyer for any project. While features a Free Plan are limited, Pro, Team, and Education plans provide extra options on any budget.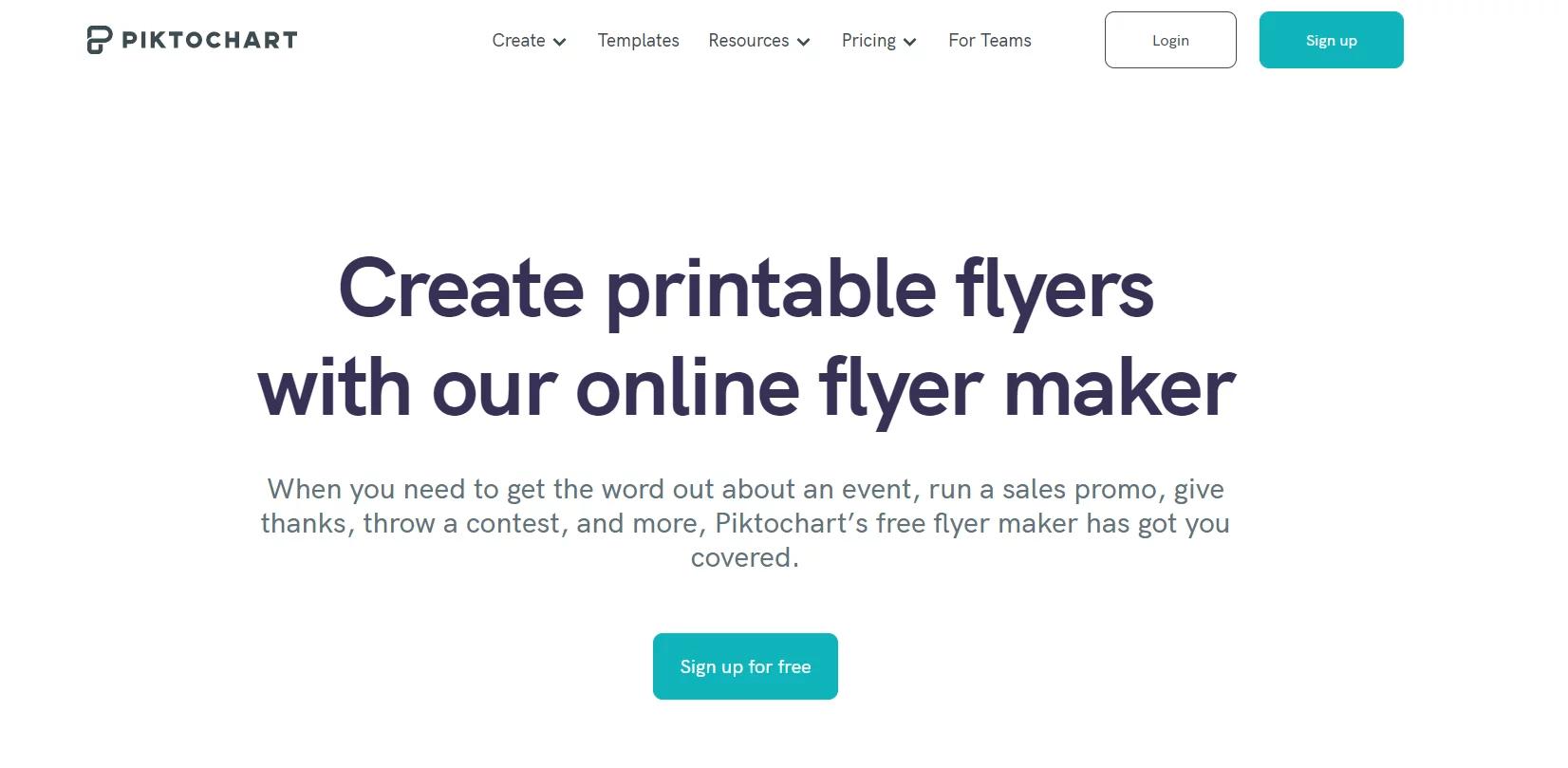 Visit the website
---
3. Visme
Visme.co is yet another software for creating free flyers. You can opt for ready-made templates, or use a database with thousands of photos and icons to develop a unique design of your own. Easy online tools will help you on the way. When your flyer is ready, you can print it, download it in various formats, or share a link. Mind though that a Free Plan of Visme implies some serious limitations on the number of downloads, templates, formats, and amount of storage space. At the same time, paid plans guarantee extensive options.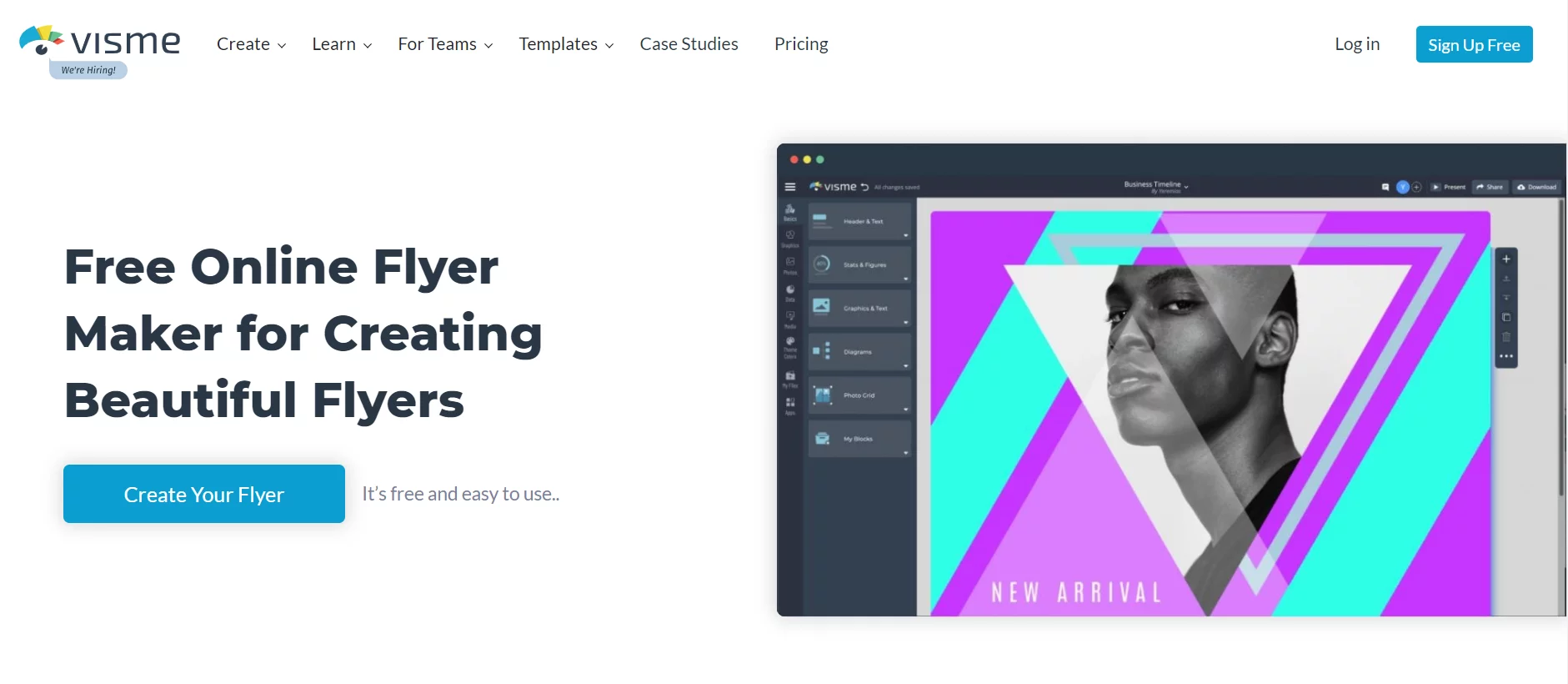 ---
4. Fotojet
Fotojet is a handy online application which can be used for editing images, and creating various graphic design projects and photo collages. This resource doesn't require registration, and is available free of charge. You can craft unique flyers with the help of pro templates from a wide database. Short tutorials will make the process smooth and easy. Go with the free version, or purchase a Plus Plan for extended editing options.
---
5. Venngage
Venngage.com is a handy online tool which helps to visualize data and craft infographics and different graphic products, including free flyers. Sign up, to browse the database of customizable samples, or tailor a unique flyer design. Add your text, and change fonts and colors hassle free within minutes. Mind that to enjoy wider editing options you can sign up for a paid Venngage plan.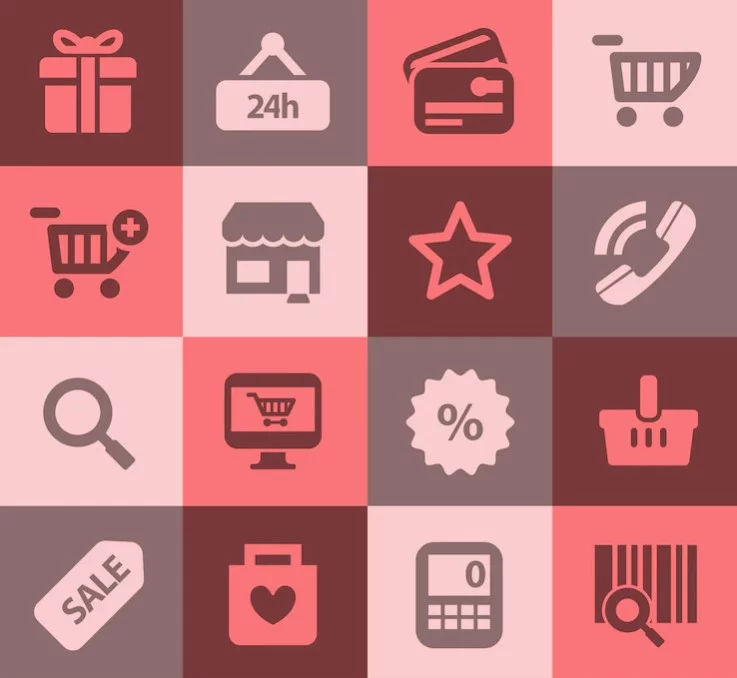 Visit the website
---
6. Jukebox print
An outstanding service, Jukebox Print offers an ample choice of custom printed materials, tutorials and handy online tools. You'll certainly enjoy using the service's flyer maker as it allows crafting fully editable files within minutes. The service suggests you to create your own designs, or make use of the awesome professionally tailored templates. The online flyer tool by jukeboxprint.com is intuitive and free to use.

Visit the website
---
7. Small SEO Tools
The greatest advantage of the online resource Small SEO Tools is that it's totally free. The service offers several online tools for making flyers, logos, resumes, and more. Besides, you can find an interesting blog and compilations of pre-made templates, flyer samples included. Although the choice of flyer files on this site is rather humble, the online maker is user-friendly and enjoyable. If you find the right template for your project, it surely will meet the highest quality standards.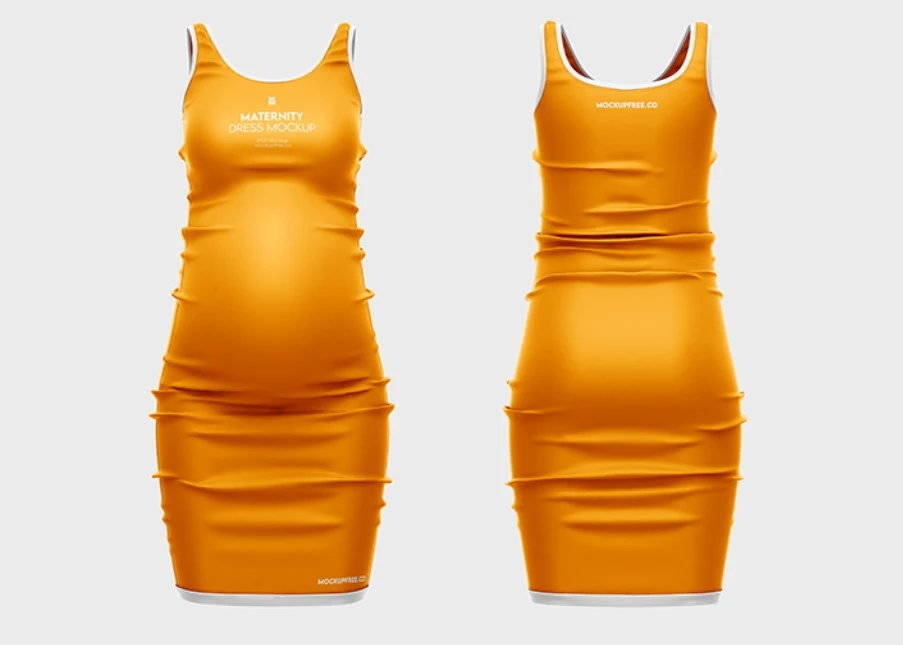 Visit the website
---
8. Desygner
Desygner is a totally free online service which offers an impressive choice of templates for every need. You can find broad compilations of logo, invitation, social media, and other files, among which the selection of flyer templates is the most extensive. All free flyers features at designer.com will impress you with their bright and modern look. You can pick among various formats and sizes. Easy-to-use online maker at Desygner will help you enjoy the process of editing.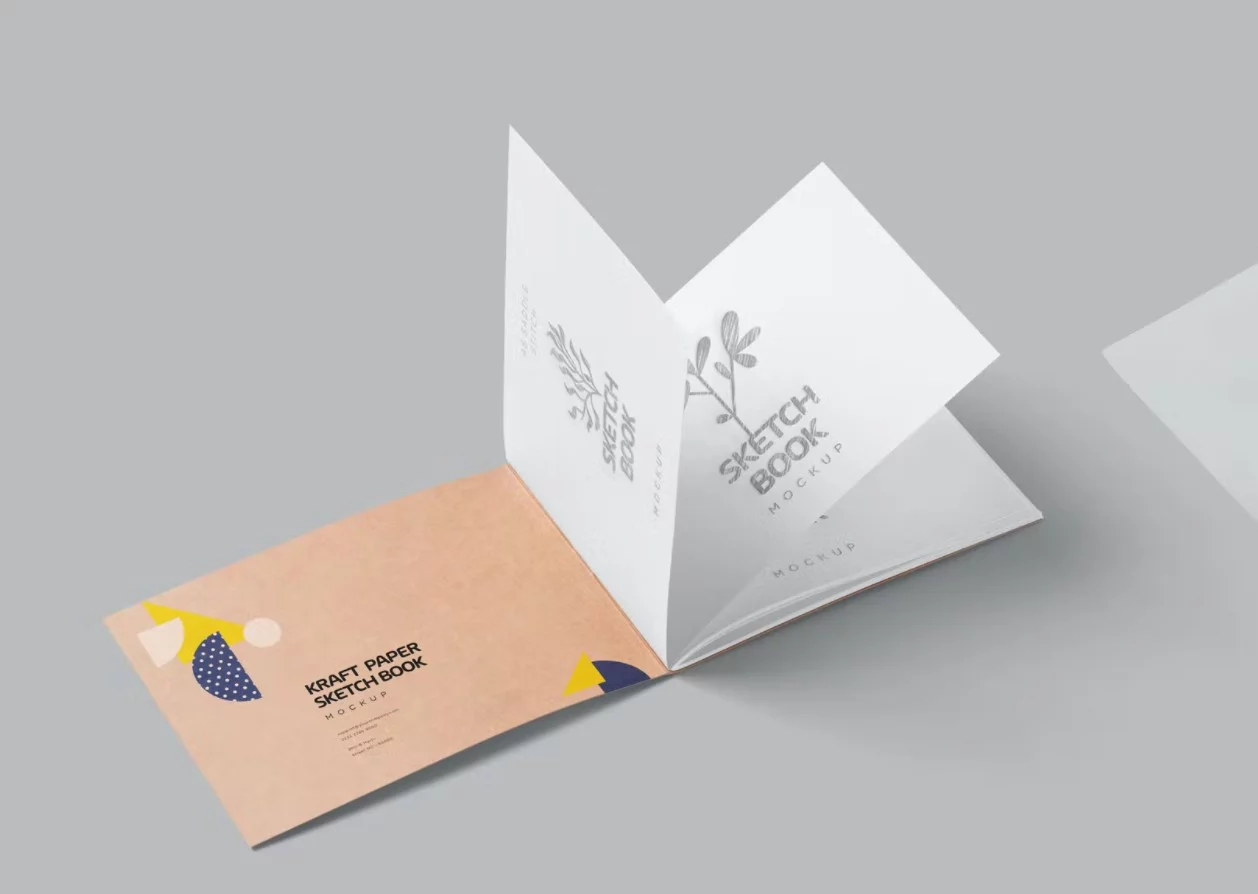 Visit the website
---
9. Renderforest
Renderforest.com is an online company which offers free and paid quality design services. Aside from cool branding tools and a wide set of logo makers, you can use an online flyer making tool with a truly impressive choice of templates, and a variety of categories. While your customized designs can be downloaded for free, a broad range of paid plans will offer a bigger amount of storage data and other handy premium features. One more bonus of renderforest.com is an extensive and inspiring blog with plenty of fresh design ideas.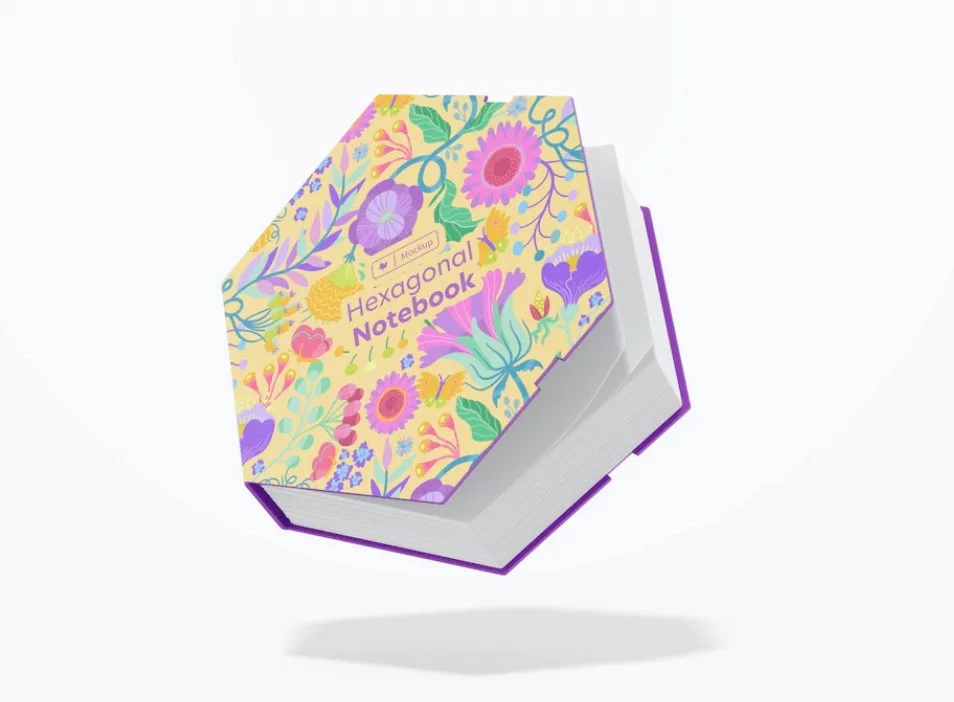 Visit the website
---
10. Edit.org 
Edit.org is a great service which offers a truly impressive selection of online tools free of charge. Here you can craft anything – from business cards and social media posts to flyers and book covers. A rich selection of professional flyer exemplars will allow you to find an apt variant for your project or services. An online tool will make the editing process quick and exciting. You can opt for a paid subscription at edit.org to get access to premium designs, templates, extra storage space, and more.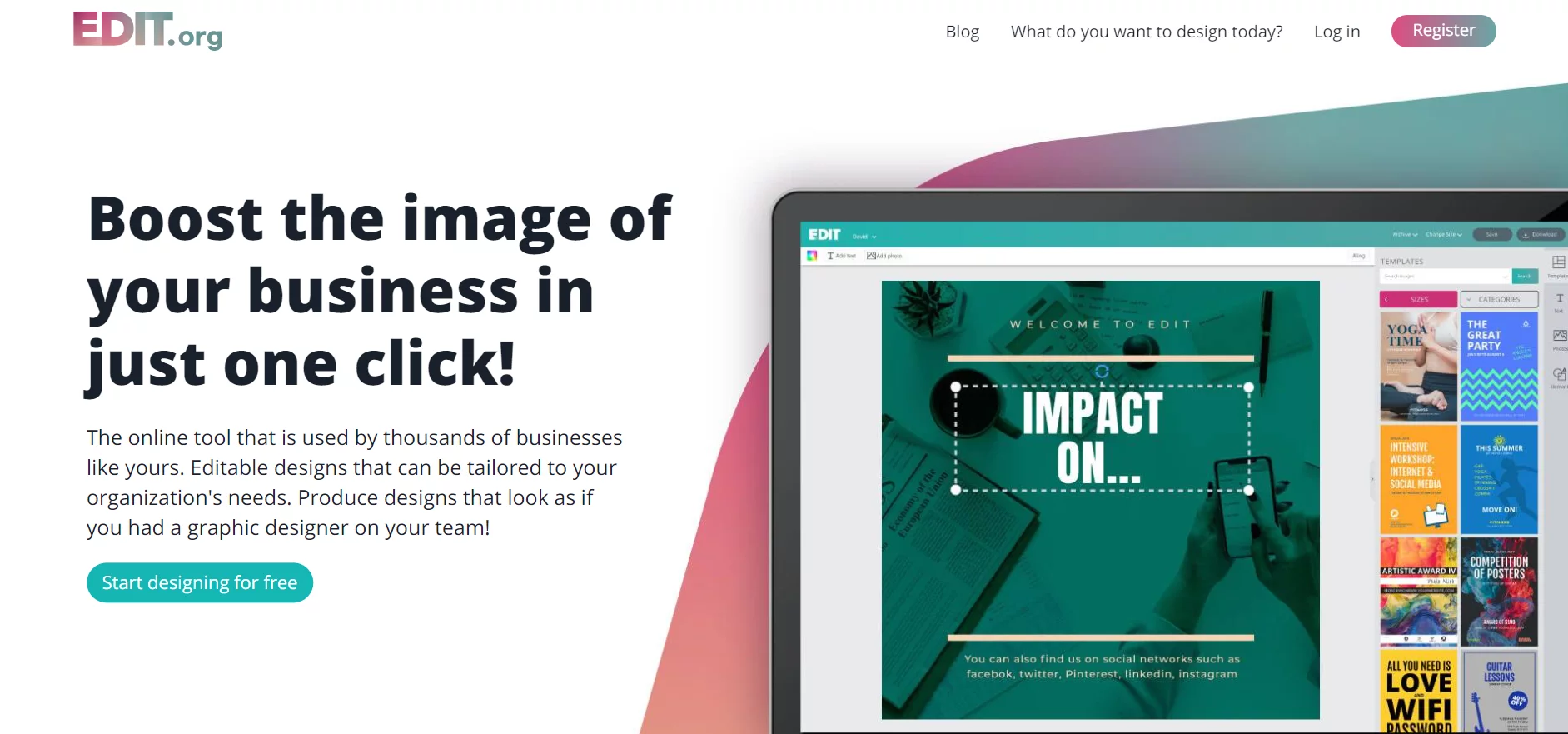 Visit the website
---
11. Adobe.com
Our list of flyer makers wouldn't be complete without the professional flyer generator by adobe.com. Without a doubt, proficiency and top quality of flyers created with the help of Adobe is what will bring you success. Browse the open library to pick a template apt for your project, and go with the minimal changes, or try advanced editing. You can add your own photos, or choose images from the database of Adobe Spark. The pro plan will allow you to change the colors, fonts, and add your brand logo. We're certain that you'll love the result.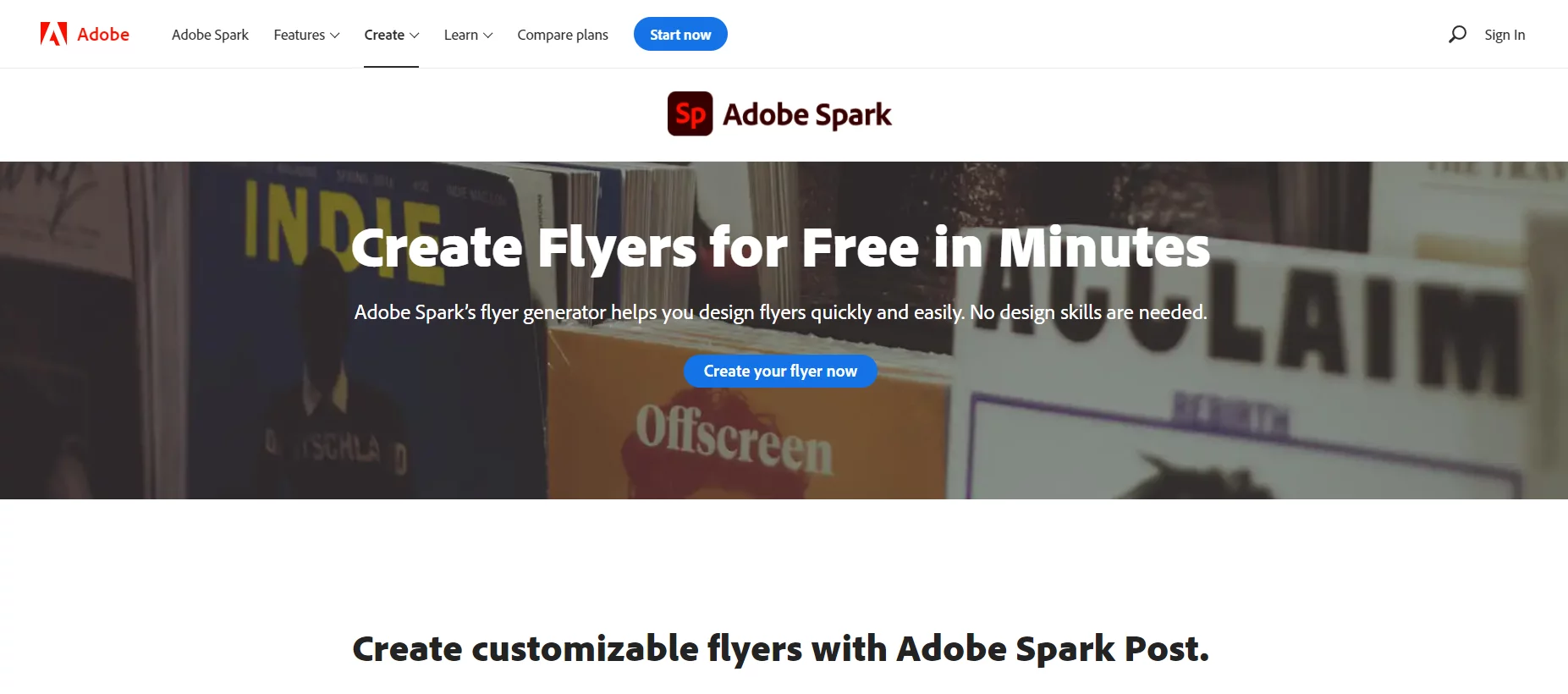 Visit the website
---
12. Canva
Canva is a global platform of graphic design. A favorite resource of many, it makes the process of creating graphic materials online free, easy, and enjoyable. You're welcome to browse through a vast selection of premade templates and add free images from an extensive library. Besides, there are premium images available for just $1 each. You can create unique designs by uploading the photos of your own. The online drag-and-drop flyer maker is incredibly easy and satisfying to work with, and the quality of the finished flyers will impress you with the highest resolution and quality.

Visit the website
---
13. DesignCap
DesignCap is powerful online software for graphic design and flyer making. It can help you to craft classy free flyers in a few simple steps. All you need to do is choose a unique template out of a massive database, and edit it according to your needs. Although this resource is free you can purchase a basic or plus paid plan for extra features (including unlimited access to graphic materials, a bigger number of uploads and designs).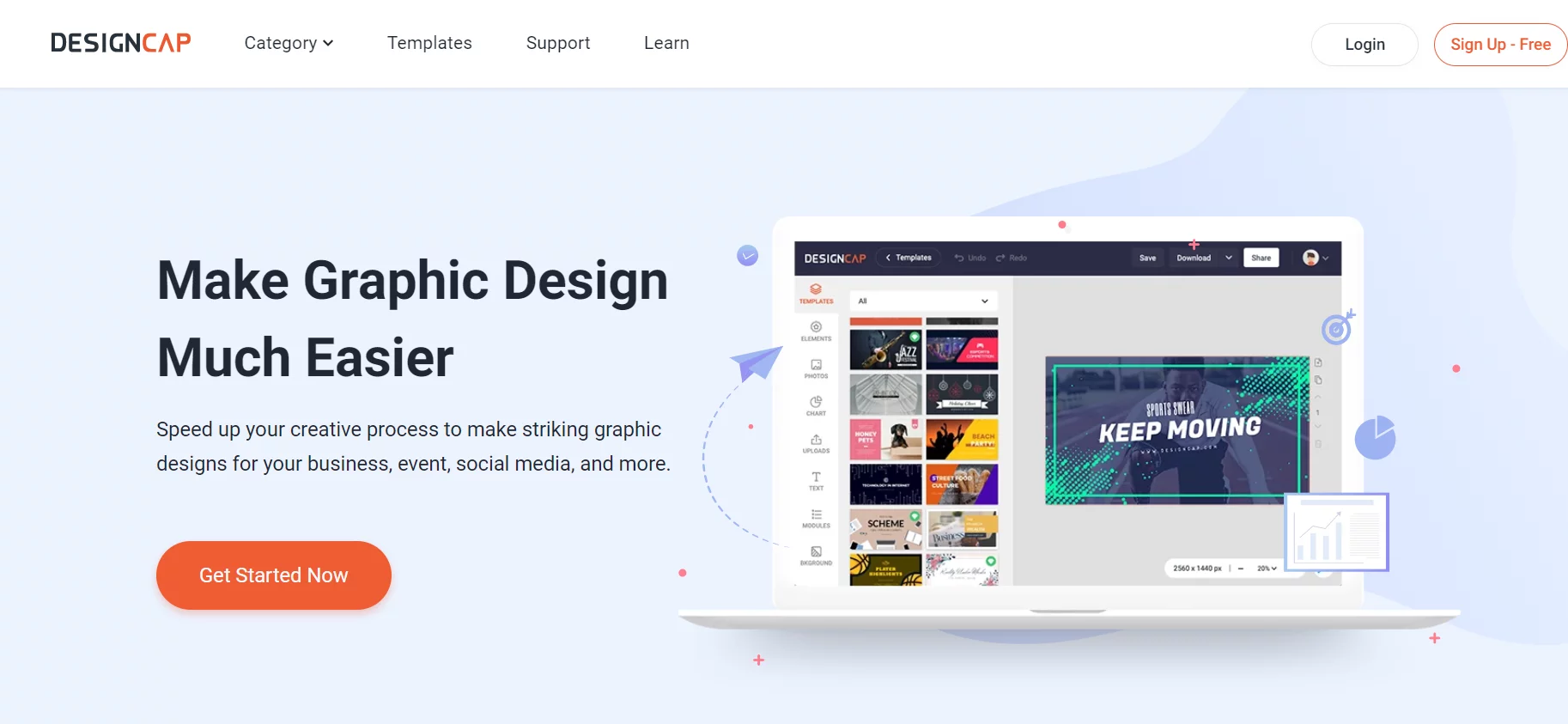 Visit the website
---
14. Creative Center
Although Creative Center can't be called the most extensive resource, it offers an array of free high quality templates for different purposes. You can choose professional samples of flyers, cards, calendars, and even party decorations. To create your own flyer using creativecenter.brother you can browse among exclusive templates, grouped by a number of categories. The process is intuitive, easy, and won't require more than a few minutes.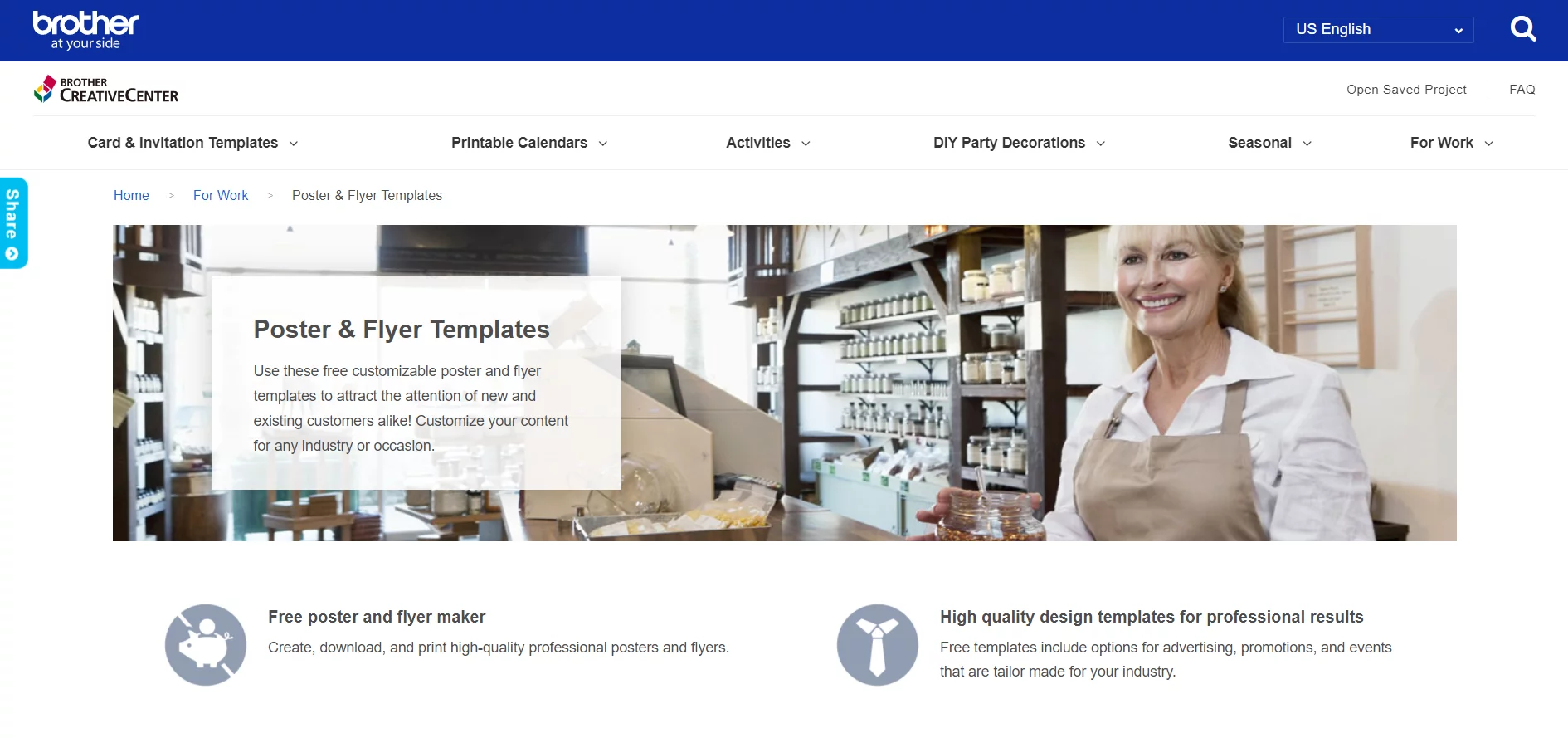 Visit the website
---
15. Creatopy
Creatopy.com presents itself as an effective online platform for visual production. Thanks to its constantly growing library and exceptional customization features, the resource is popular among private users, businesses, and teams from all corners of the world. You will be impressed with the diversity of available flyer templates and editing possibilities. Aside from the basic free plan Creatopy offers paid plans with the extensive premium features that will be especially useful for big teams.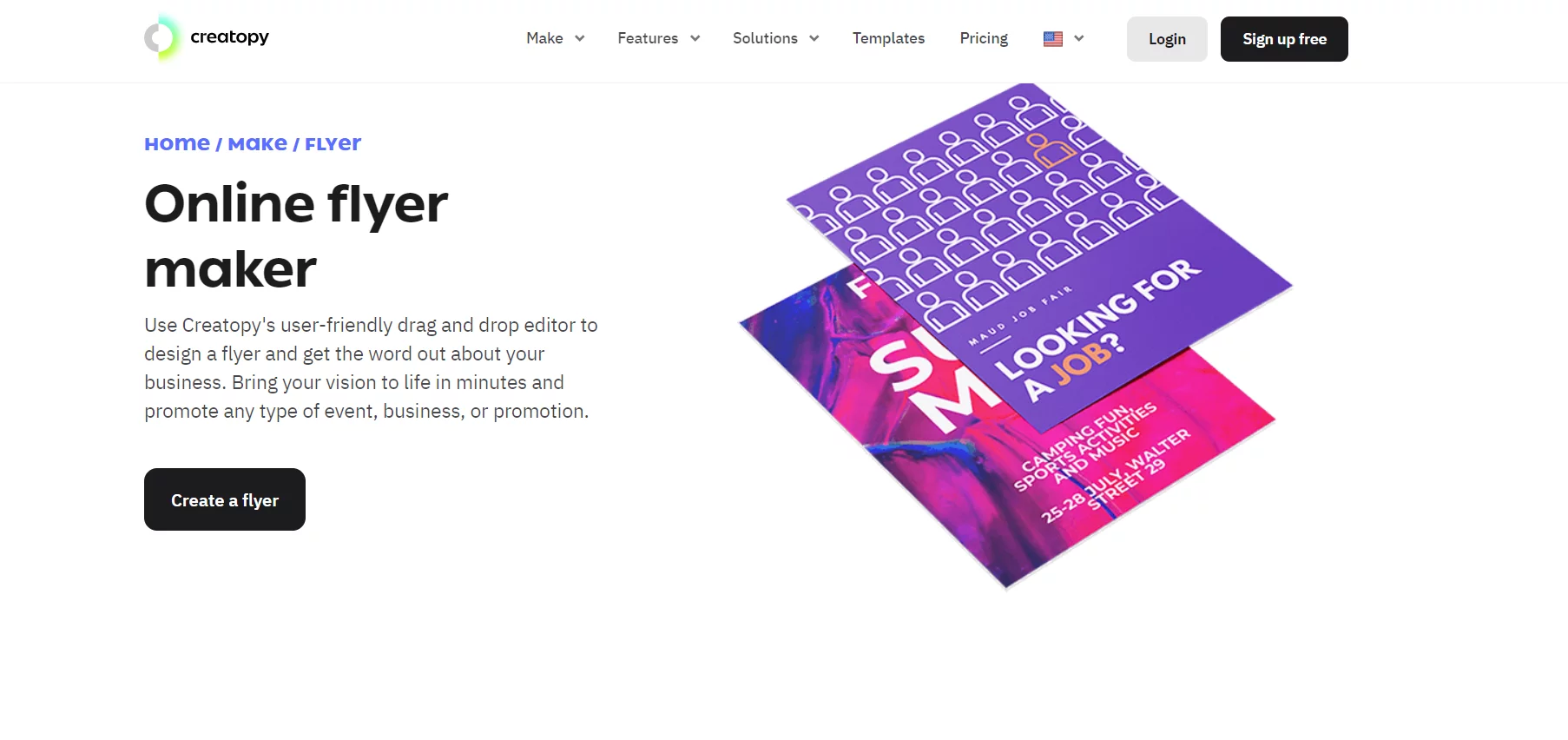 Visit the website
---
We hope that in our compilation of the best online flyer makers you managed to find a great option that matches your needs and budget. Don't hesitate to use it for your projects, and create gorgeous flyers that will bring you success.