Autumn is here, and everyone is glad to welcome it! Brighten up your graphic projects by adding warm colors and soft shapes. While stylish fonts and catchy images draw attention of your followers and clients, the patterns can instantly set the right mood. Professional vector patterns can be easily edited in graphic software to fit your needs. Using a themed design is the best way to add a sweet personal touch to any web page or printing.
In this hand-picked compilation you'll find 20+ best autumn patterns. Created by aspired designers for such amazing resources as https://graphicsurf.com/and https://free-psd-templates.com/ they will help you to express the happy and romantic mood of the golden autumn. Don't hesitate to download them for free, and spur your creativity preparing new unique projects. 
---
Autumn Patterns Set
Autumn is rich in colors and shapes that all are reflected in this beautiful set of patterns. Choose among ten unique designs that feature leaves, berries and pumpkins. The patterns are perfect for seasonal greeting cards, covers, backgrounds, and more.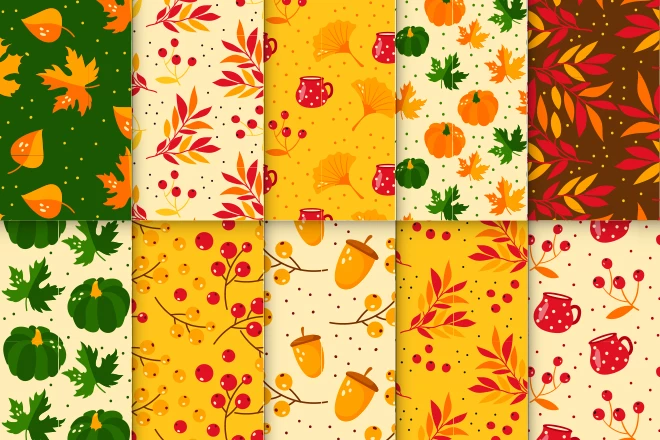 Download
---
Hello Autumn
Simple yet adorable, this Autumn Vector pattern can turn into a beautiful background on any web page. Download the file now for free, and enjoy applying it to your graphic projects. Your followers will love looking at the mushrooms, leaves, and fruits.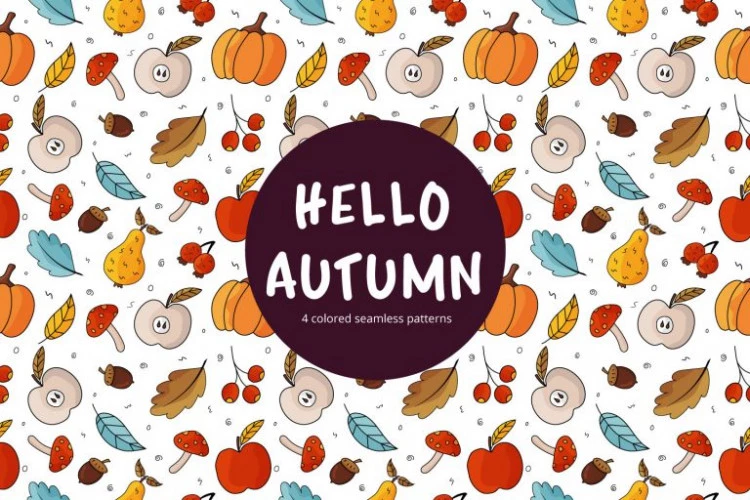 Download
---
Autumn Leaves
This dark pattern of fall leaves is filled with grace and color. It looks like a wonderful mosaic created by a variety of shapes. Use the pattern to add elegance to your project. Without a doubt, it will please anyone's eyes.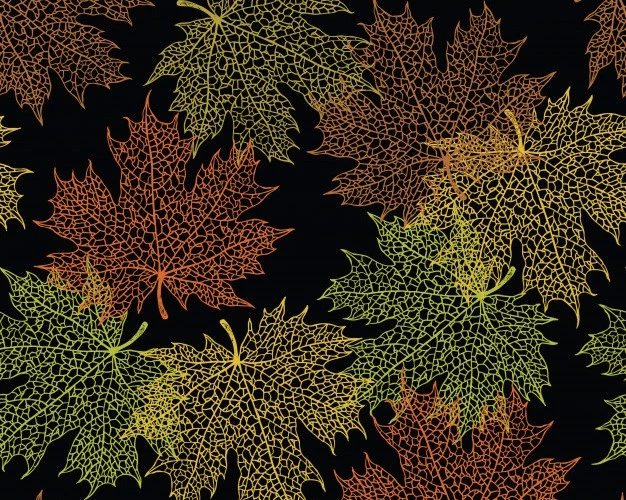 Visit the website
---
Autumn
Thanks to a variety of colors – from dark and bright to soft pastel – eight free patterns presented here can come in handy for a variety of needs. Choose between light blue or rich green, to decorate your page or craft a unique printed item.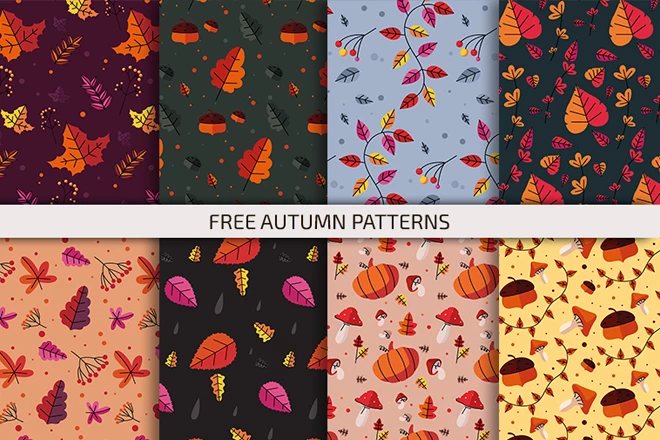 Download
---
Autumn Leaves
You don't need much to share a joyful autumn mood with your clients or a community on a social network. Do not hesitate to download this seamless vector pattern, and customize it for your seasonal projects.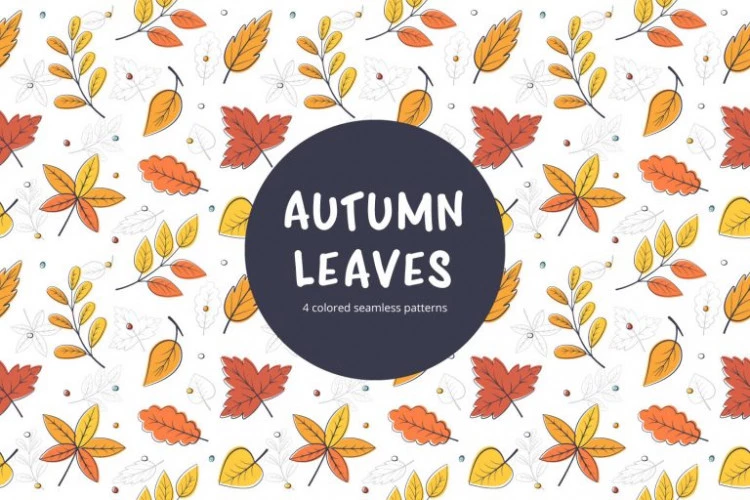 Download
---
Dark Autumn
Use this amazing fall background pattern to make your page or any items look unique! We love the wonderful combination of deep brown color with fallen oak leaves and acorns. Your followers will surely enjoy it, too.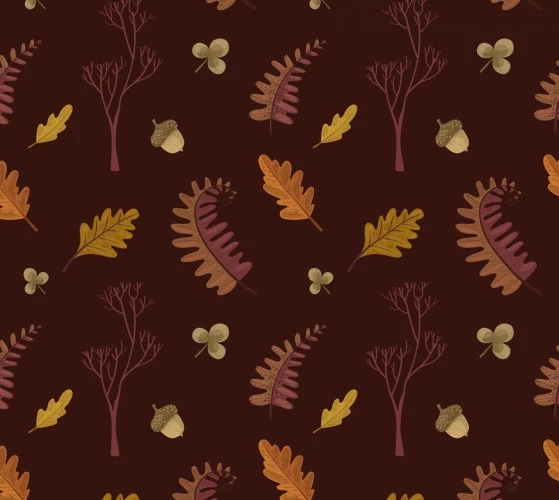 Visit the website
---
Autumn Mood
Simplistic and abstract, these fall patterns will add a playful mood to your projects. Download the whole pack of ten unique designs for free, and have fun playing around with them in Photoshop or other software.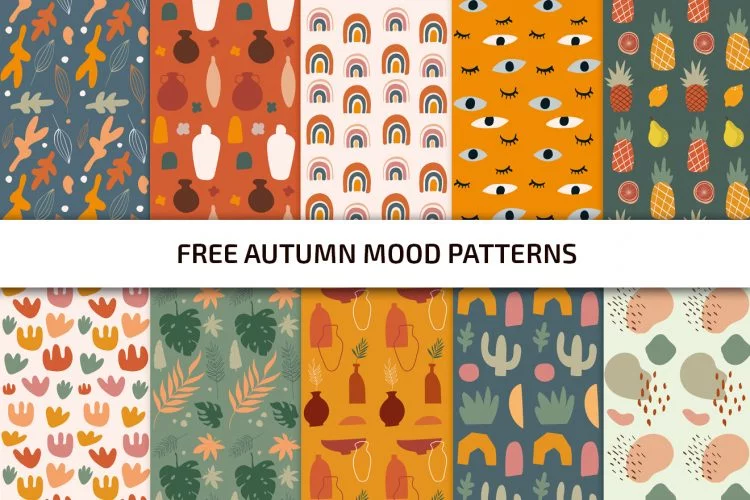 Download
---
Doodle Autumn
What would you draw in a notepad looking at an autumn scene out of your window? Leaves, pumpkins, warm scarves and hot drinks are what we can't imagine fall without. Use this cute Doodle pattern for your seasonal projects – for sure, everyone will love it.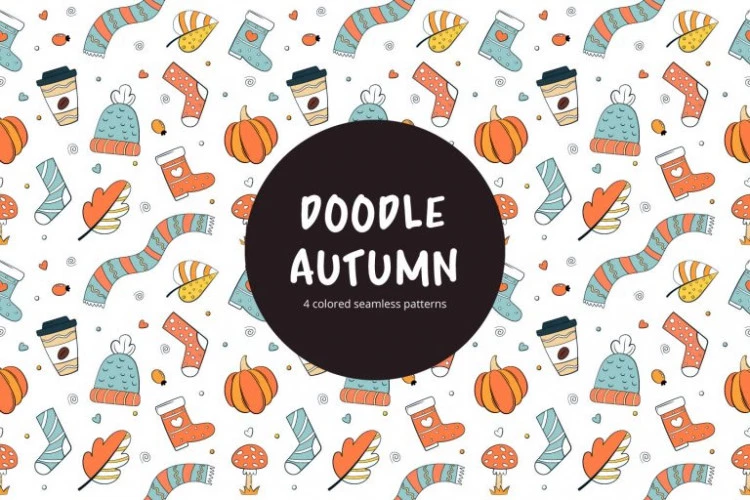 Download
---
Decorative Autumn
Colorful and eye-catching, this minimalistic free pattern will easily interest your customers and followers. Use it to place an accent on the printed items or any online page.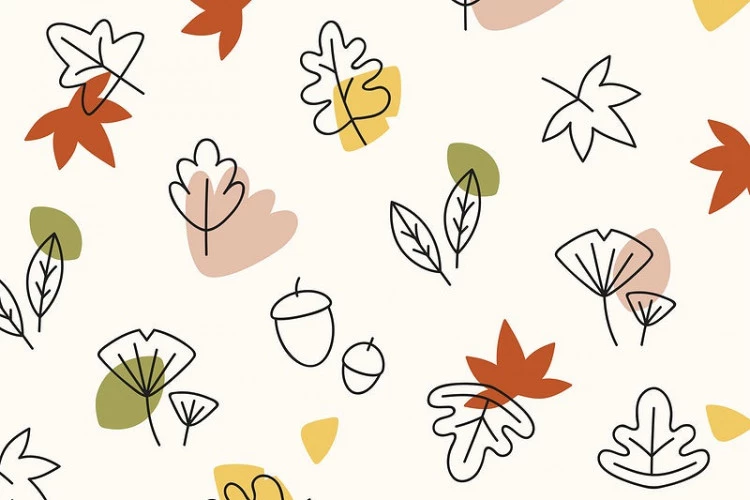 Visit the website
---
12 Autumn Patterns
Seamless patterns are multipurpose, and can be used for any graphic needs. Download this diverse set of professional autumn designs. Umbrellas, mushrooms, acorns and leaves that you can find on it look joyful and enjoyable.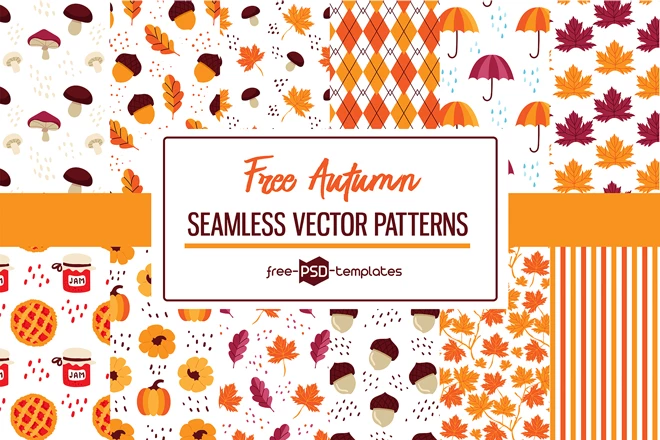 Download
---
Autumn Forest
Spread happy vibes using this autumn forest pattern. Tiny birds and hand-drawn hedgehogs running among the colorful trees look somewhat childish, yet adorable. Make your followers smile with the help of this cute design.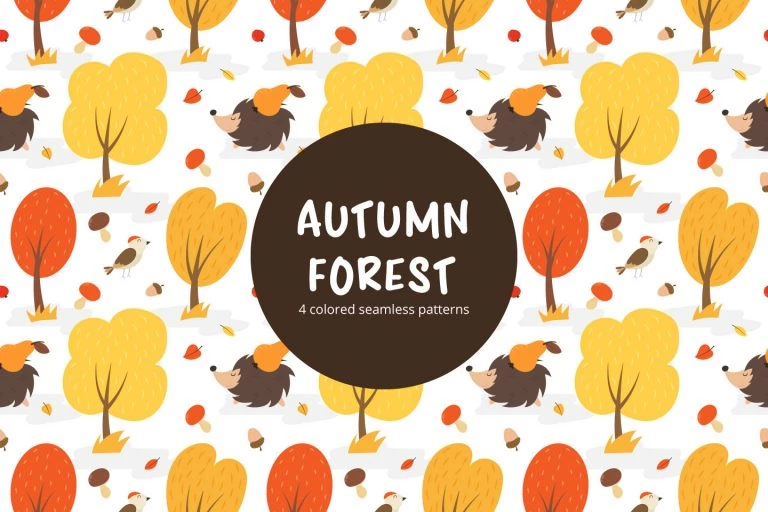 Download
---
Autumn Leaves
In autumn you can enjoy seeing maple leaves in all possible shades and colors. Use this simple yet enjoyable pattern to place a colorful accent on your web page. We guarantee that it will serve just as great for printing or any other needs.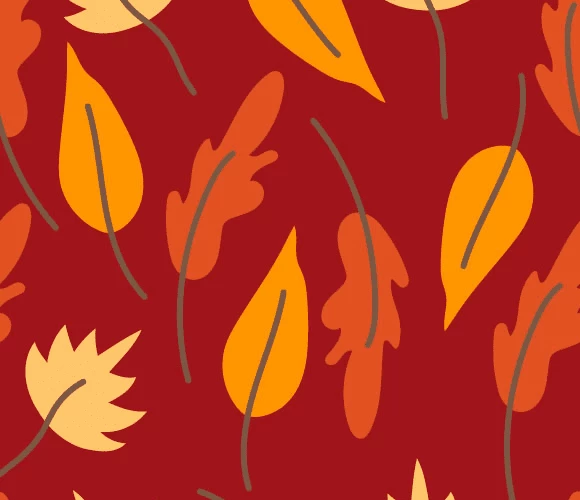 Visit the website
---
Autumn Patterns Bundle
Congratulations! You've just found a massive bundle of 50 unique autumn designs that will cover each and every need. Enjoy exploring its colors and the images, to pick a perfect fit for the print or your website.
Download
---
Watercolor Autumn
Tailored by a creative designer, these four Watercolor patterns will add charm to your projects. Sweet palette of the leaves and diverse backgrounds can live up to any needs. Save the pack for free in one fast click.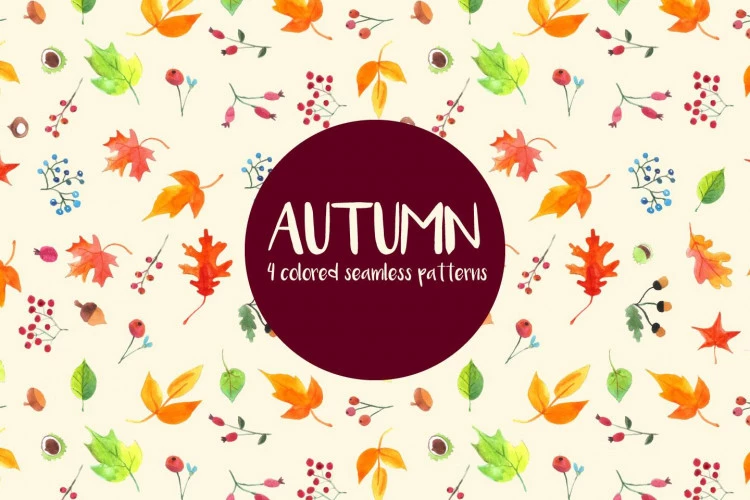 Download
---
Abstract Autumn
The contrasting combo of yellow and purple, soft pastels and bright accents – all this is assembled in an exclusive set of three Autumn Collection patterns presented here. Every design can become a wonderful solution for your project. Unique abstract organic shape is definetely what you need.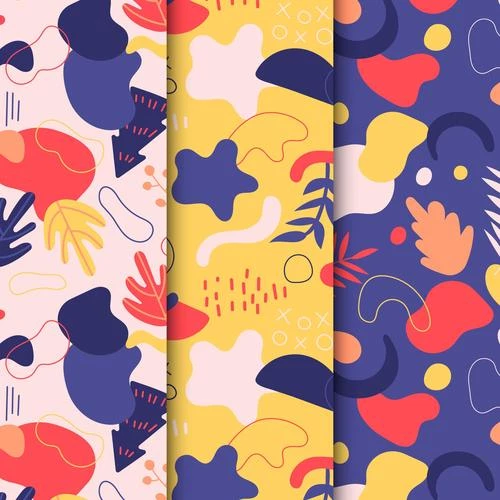 Visit the website
---
Thanksgiving Day
The beloved autumn holiday, Thanksgiving is what we can't imagine ourselves without. Download these charming Thanksgiving Day patterns, to spread the happy mood around! Juicy turkey, veggies and pilgrim hats easily sum up the fest.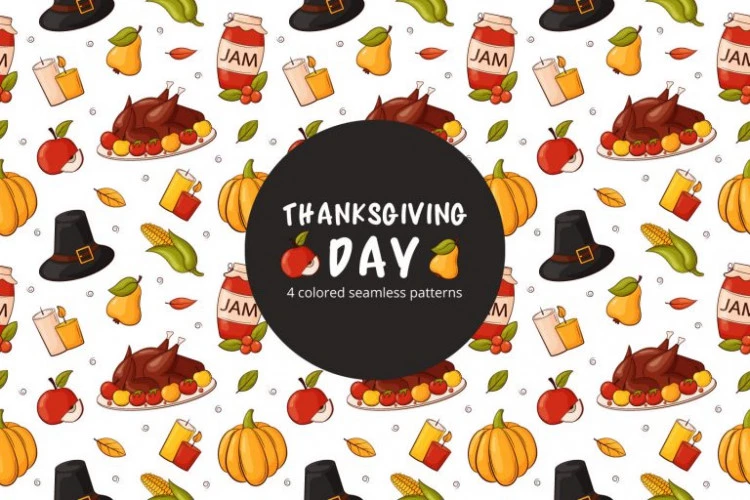 Download
---
Maple Leaves
We love the beautiful effect that the exquisite yellow maple leaves create against the dark rich background. Save this designer pattern for free in a click, and enjoy applying it in printing or web design.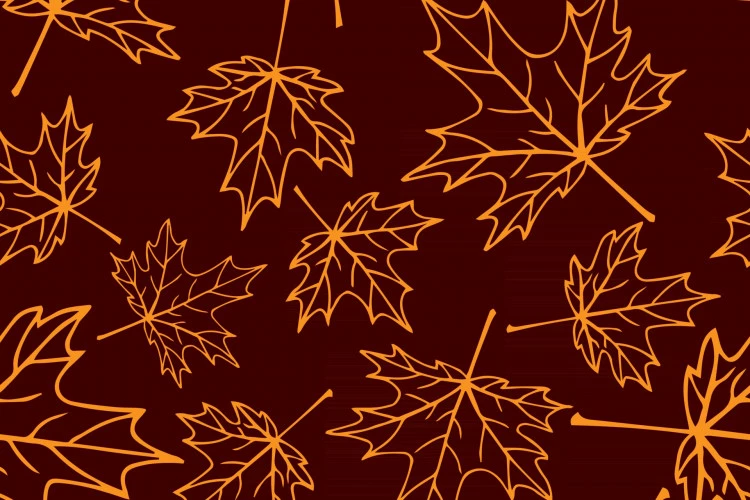 Visit the website
---
Autumn Walk
Is there anyone who doesn't enjoy walking in a magical autumn forest? Save this stunning set of patterns to impress your followers and customers alike. They will enjoy seeing the unique hand drawn figures and pleasant colors of each design.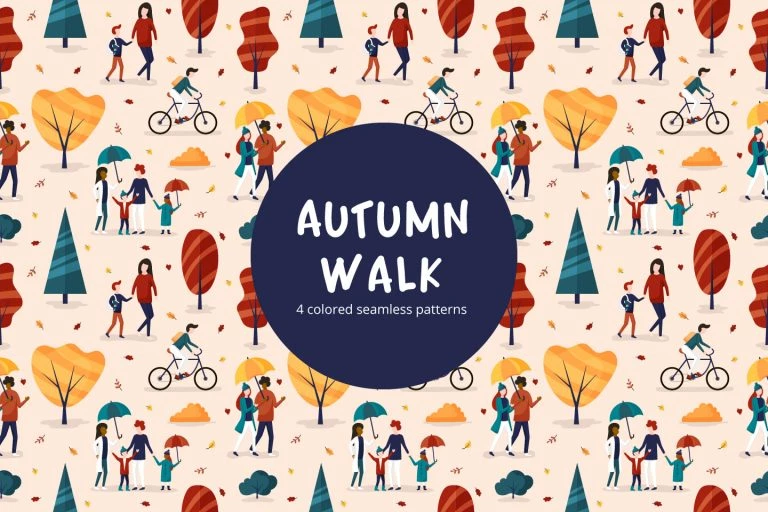 Download
---
Fall Patterns
This wonderful collection of free patterns can represent the three autumn months. Joyful September, romantic October and breezy November are as if gathered here. Save the set for free, and enhance your creativity.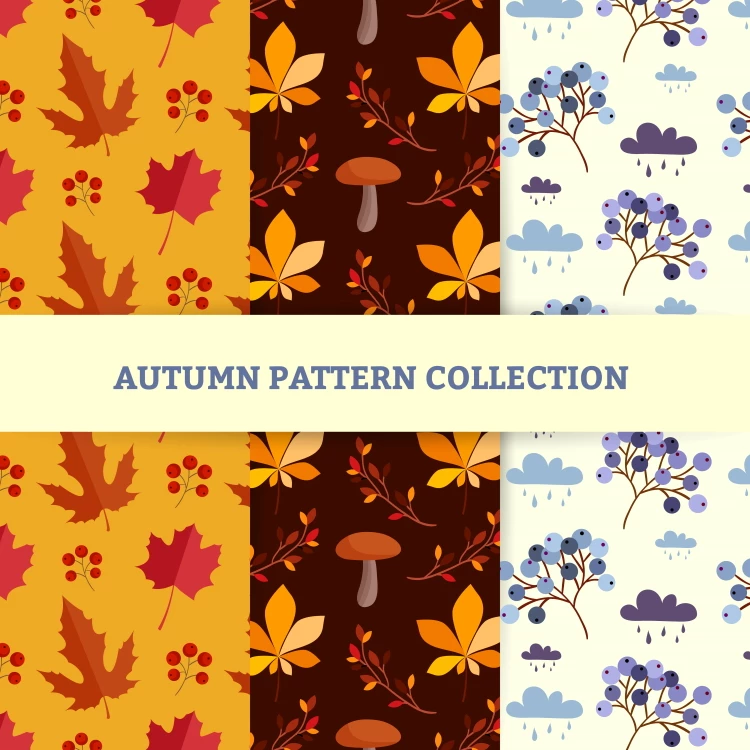 Visit the website
---
Mushrooms
A lot of people enjoy picking mushrooms in an autumn forest. Save this set of seamless Mushrooms patterns to add an unusual touch to your page. The backgrounds varying from black to pastel accompany the unique images.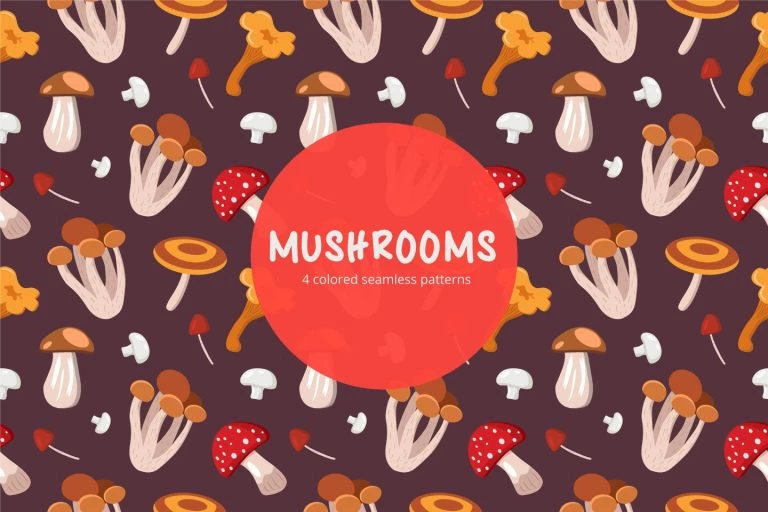 Download
---
Cute Autumn Hand-drawn
Beautiful purple color and lovable doodles is what will make many enjoy this cute fall pattern. Download it quickly and for free, to get ready for your needs. You can easily play with the palette and scales.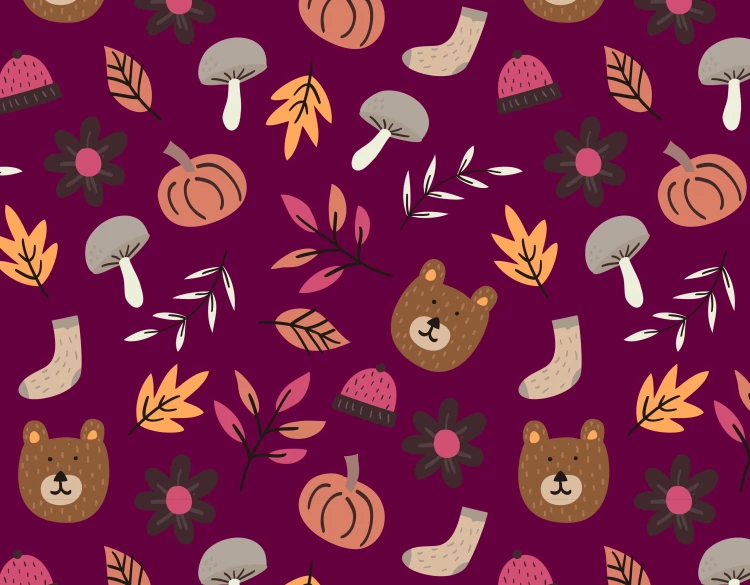 Visit the website
---
Memphis Autumn
Geometrical shapes and vivid palette make this free pattern look wonderful. You're welcome to download it for free, and add any color of the background if needed. Beautiful leaves sum up the happy fall mood.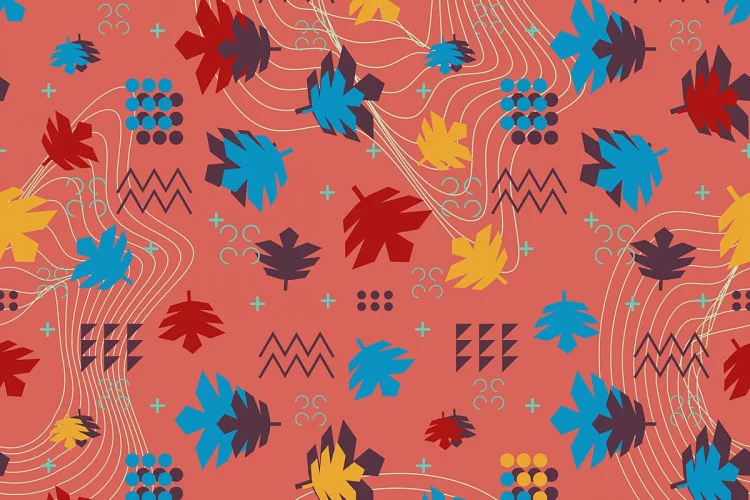 Visit the website
---
Enjoy the beauty of autumn and express it through graphics. We hope this in this wonderful collection you've found one or several free patterns that perfectly match your ideas and projects.