The magical holiday season is getting closer by day, and it is time to take care of the special décor and web projects you will prepare for this year's celebration. Here we'd like to offer you a broad array of 40+ patterns that are joined by the theme of Christmas and jolly winter holidays.
Each design provided below comes in vector which allows you to customize it for any projects with the help of graphic software. What's even best, all of these patterns are available for free. So don't waste a moment, and start scrolling to download the ones you love most!
---
Christmas
We'd like to start this list with a brand new set of ten charming patterns. Cartoonish objects in gray, white, pink and other pastel colors look modern and unique. Each design will look amazing whether you use it for printing or on the web. Graphic software will aid you in easy customization.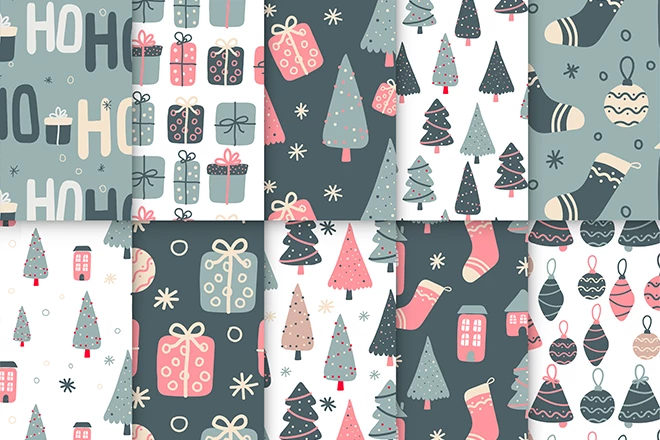 Download
---
Christmas Gingerbread
Every sweet-tooth will fall in love with the patterns included into the next set as they feature cute Xmas cookies and ginger breads scattered on the bright backgrounds. Whether you choose a violet design with candy cane and star-shaped treats or a red pattern with snowmen and little houses, it will look awesome!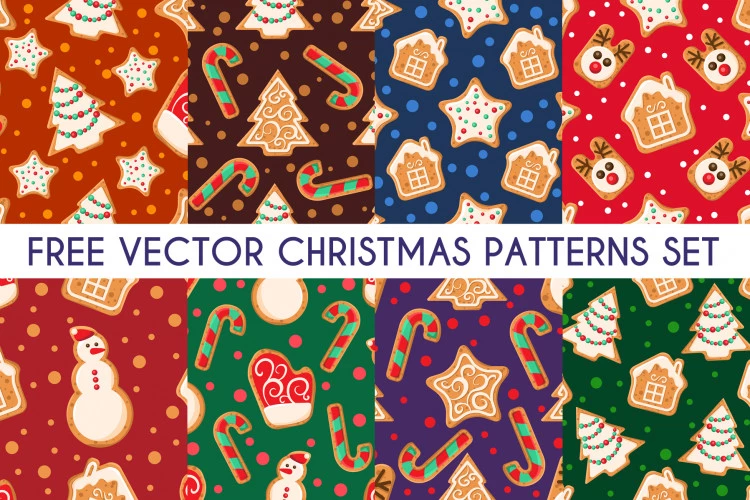 Download
---
New Year at Home
Spending Xmas holidays in the coziness of your home is a special pleasure. Download this adorable pattern that's all about gifts, hot winter tea and cuddling kitties. By the way, you can choose between four colors of the background – white, beige, mint, and light green.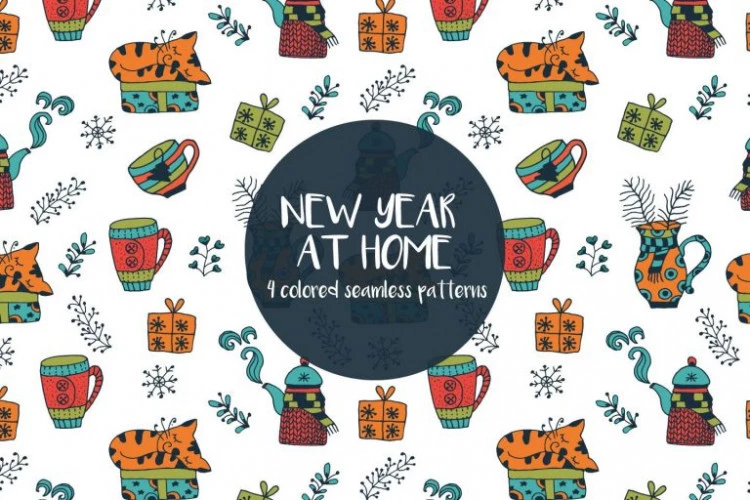 Visit the website
---
Cute Christmas
X-mas trees, socks, bells and ornaments featured in this pattern look like cute doodles. The colors vary from pastel pink to intense gray. This pattern will help you spread a light-hearted holiday mood through the special designs.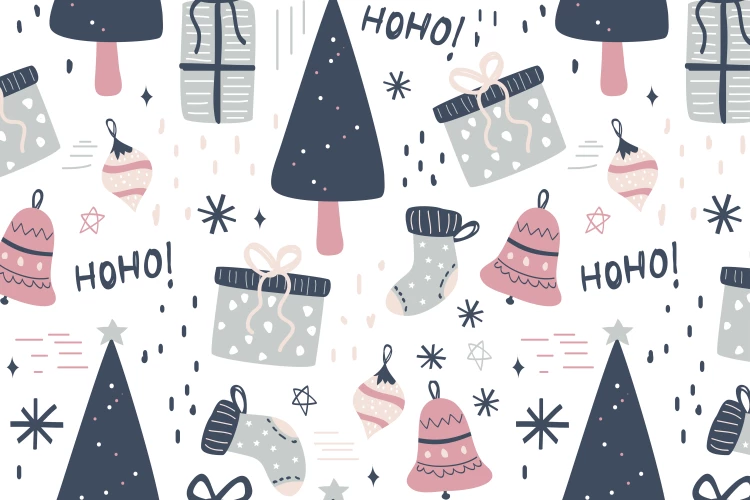 Visit the website
---
Christmas Ornaments
Is there anyone who doesn't enjoy decorating a tree with beautiful ornaments? Whether modern or retro, they all have a special charm. This free design ensembles ornaments of different sizes and shapes. Soft colors and a mint background look great.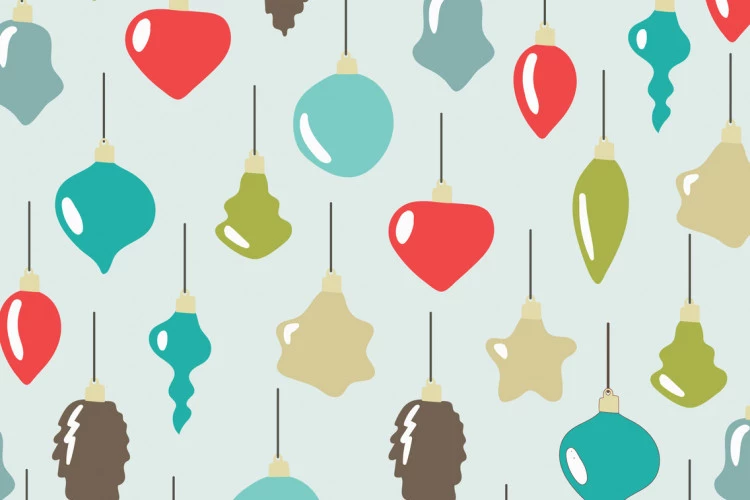 Visit the website
---
Christmas Elements
Feel free to save this cute festive pattern. Adorable characters including Santa, a smiley snowman, owls and deer is what makes it special. White snowflakes and leaves add more charm. The gray background makes this design apt for any projects.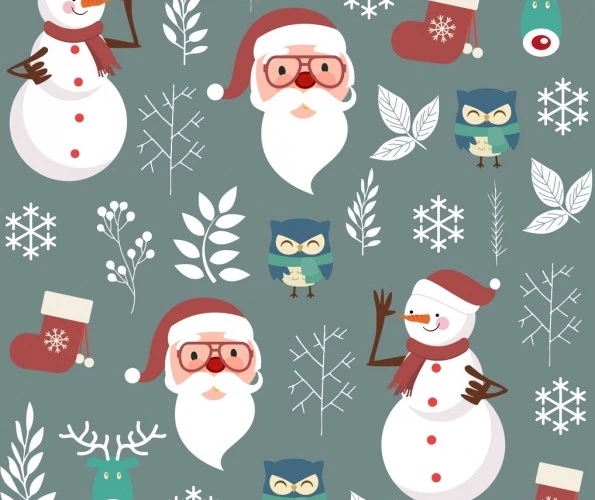 Visit the website
---
Merry Christmas
Although this seamless pattern may look simplistic at first, your customers will surely find it sweet. This design has gathered small minimalistic images of everything we associate with X-mas, including snowmen, gifts, candy-canes, cookies and more. The background is available in four colors.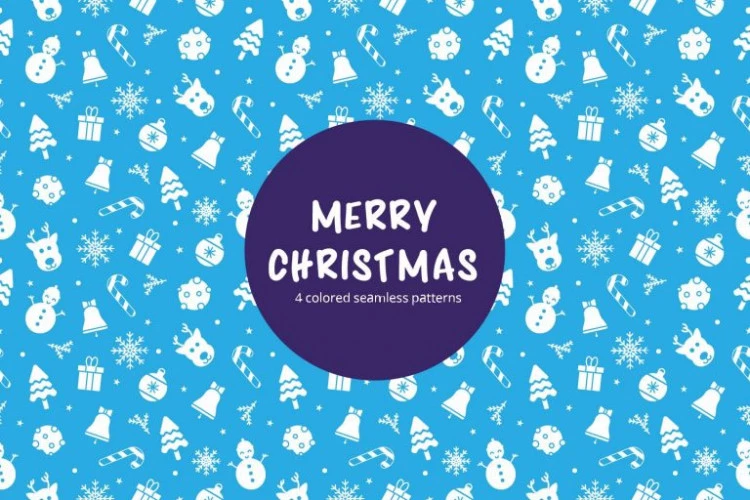 Download
---
Vintage Hand-drawn Christmas
On Christmas your clothes should look festive, too. This special vintage design presents red and green sweaters, scarves, hats, socks and mittens decorated with simple ornaments. The light beige background, white writing and snowflakes make it even sweeter.
Visit the website
---
Deers and Christmas Balls
This simple pattern in a bright turquoise color shows Xmas ball-shaped ornaments and white silhouettes of reindeers. The unusual look is what makes it modern and eye-catching. Wrapping paper, gift boxes and textile are a few ideas to apply this design.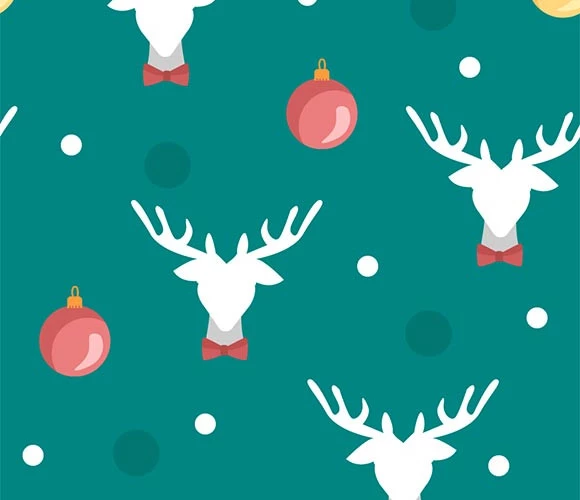 Visit the website
---
Christmas Toys
This wonderful pattern is all about toys that kids dream of getting for Christmas. However, here you won't see any modern gadgets – the pattern features teddy-bears, trains, drums and balls, which gives it a sweet retro vibe.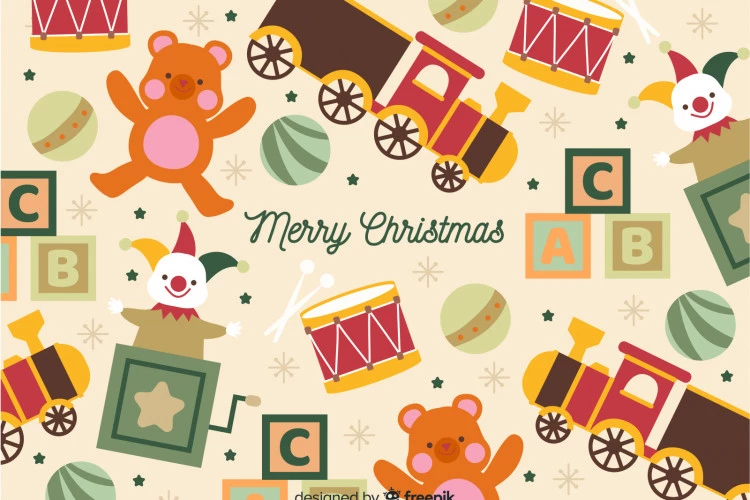 Visit the website
---
Knitted Christmas
The pattern that comes next includes eight amazing knitting designs in festive white and red colors. Each of them will help you to share the warm and cozy Xmas mood. Although these patterns will of course look perfect in textile printing, you can use them for web design, too.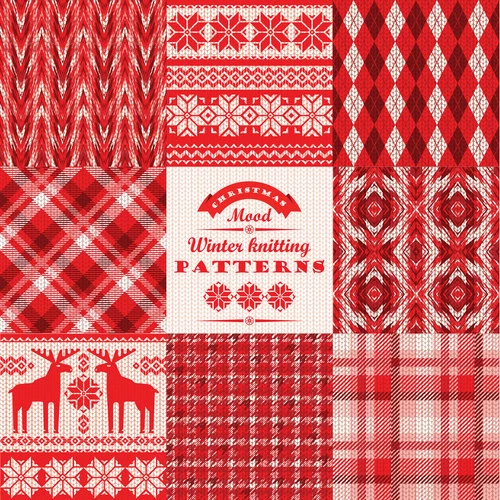 Visit the website
---
Christmas Gift
Colorful gift boxes and candy canes in this pattern will easily create a joyful mood. Since the design is seamless it will look good on any surfaces and webpages. All you need is some easy adjustment in graphic software.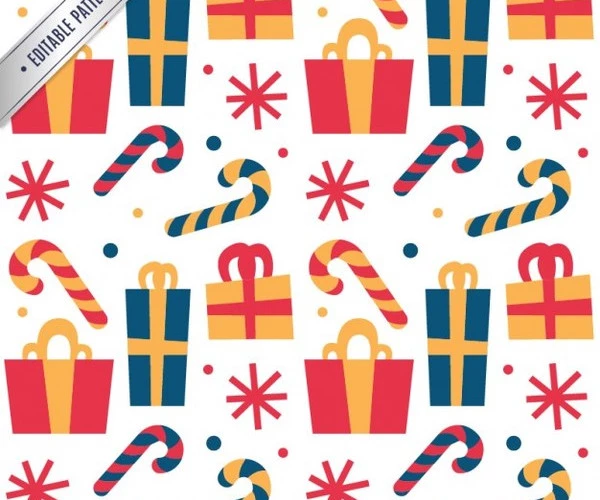 Visit the website
---
Colorful Hand-drawn Christmas
An unusual selection of colors is what makes this pattern look special. Here you will see navy X-mas trees, vivid pink ornaments, radiant yellow gift boxes, and more. Don't hesitate a moment, and apply this creative design to your projects.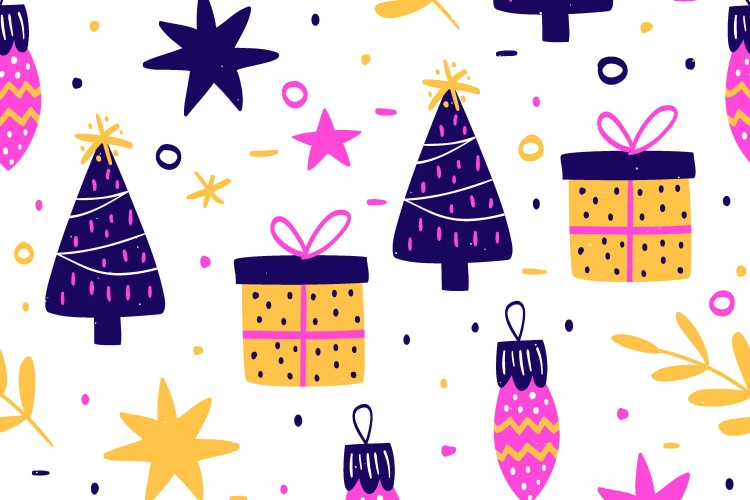 Visit the website
---
10 Christmas Patterns
A wide selection of ten excellent patterns will add magic to your festive projects. Snowflakes, ornaments, gifts, trees, and other objects that remind us of X-mas are scattered on intense red, green and light backgrounds.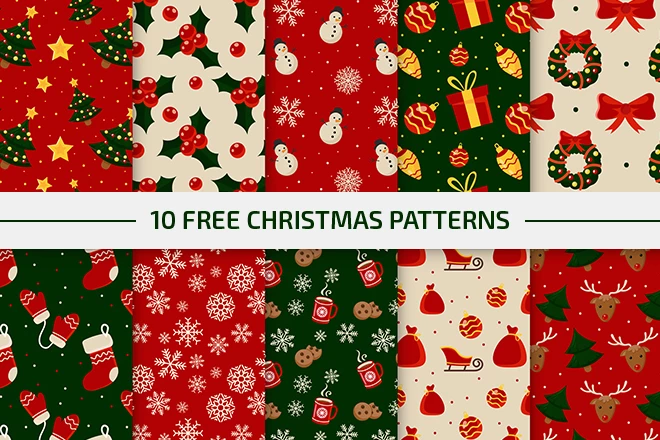 Download
---
Christmas
We love this adorable Christmas design that comes with a pack of four backgrounds – white and light shades of yellow, blue and green. The pattern includes sweet drawings of Santa, gingerbreads, socks, festive trees, and more. It will amaze you with the beautiful details.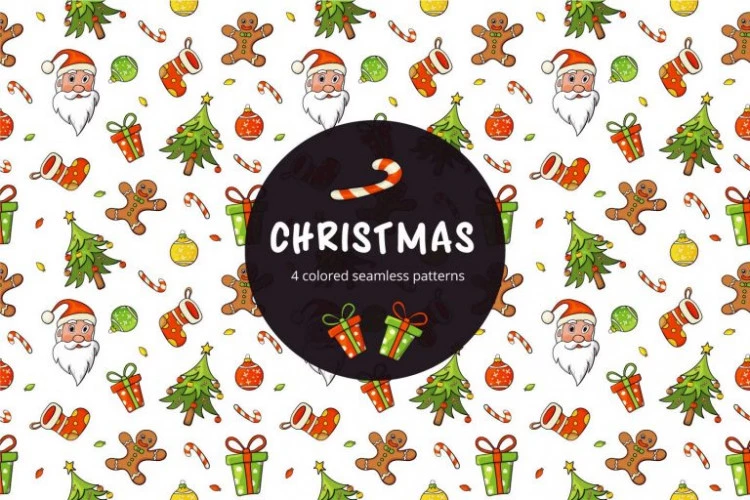 Download
---
Christmas Pine Tree
This wonderful pattern is all about festive Xmas trees that come in a variety of shapes and styles. The colors in this seamless design are special too, and range from splotches of light pink to thin lines in black and golden. The pattern looks very stylish and modern.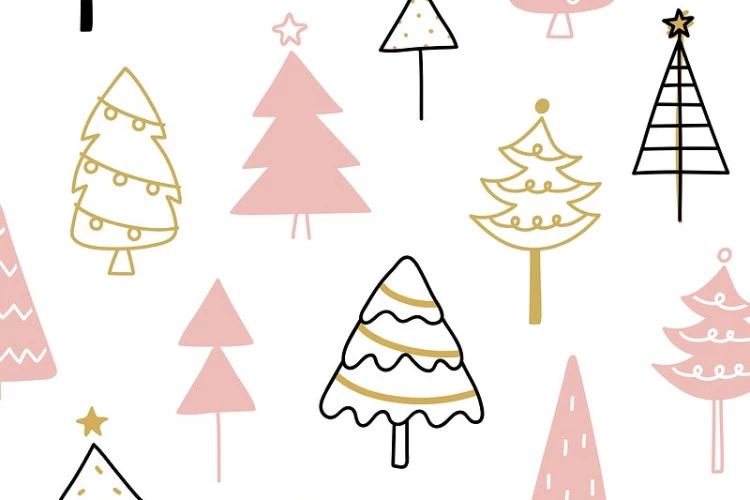 Visit the website
---
Merry Christmas and Happy New Year
The intricate linear drawings in red and green make this little pattern look festive and adorable. Small trees, gifts, bells, snowmen and Santas create a unique lace-like design. Your customers and friends are gonna love X-mas décor and web design you create using this wonderful pattern.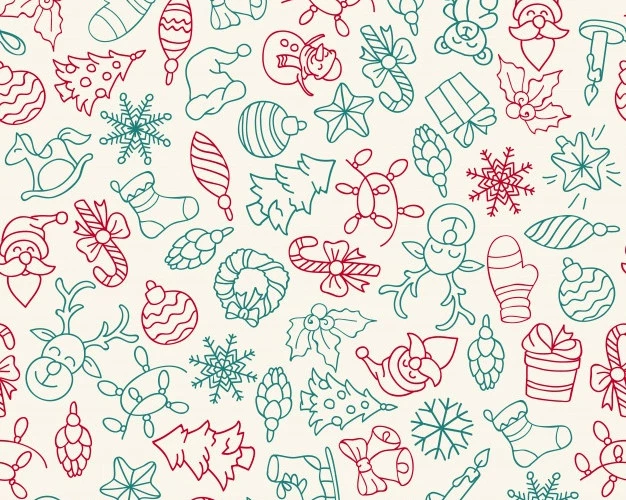 Visit the website
---
9 Christmas Patterns
Feel free using any of these nine versatile designs to make your festive projects look unique. In this pack you will find patterns with snowflakes, reindeer, ornaments, holly, and a sweet pattern with trees and gingerbreads. The background colors vary from mint to beige and red.
Download
---
Linear Christmas
Create wonderful Xmas décor, textile and web design using this linear themed pattern. Among the tiny drawings you will find skates, snow globes, greeting cards, and other cute objects. By the way, the pattern comes with different backgrounds – white, navy and red.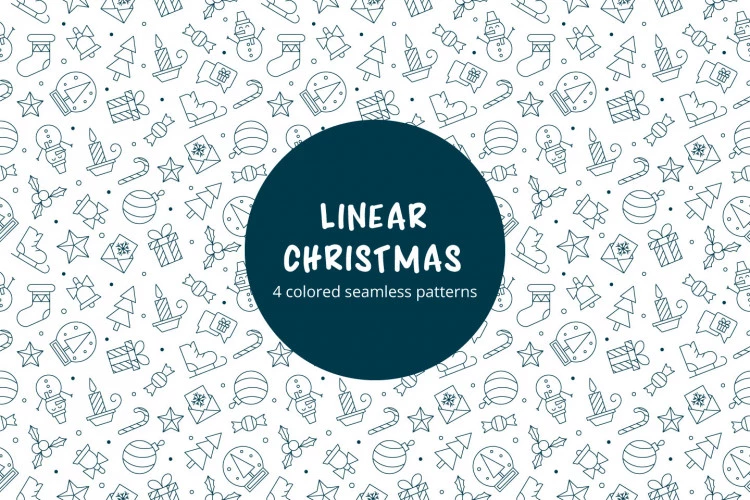 Download
---
Memphis Christmas
Won't you agree that a special geometric Memphis style used for this pattern looks great? Simple shapes in pastel mint, beige and brown are arranged neatly on the soft red background. This design has a cozy festive vibe to it.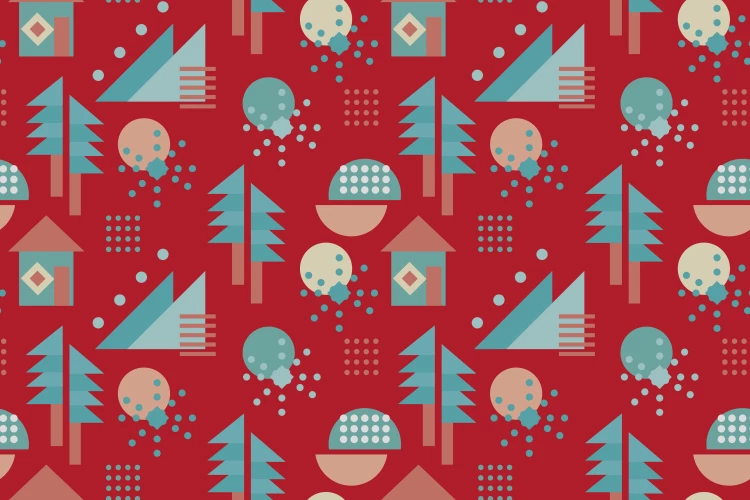 Visit the website
---
Christmas Mouse
If you are looking for something unusual to use in your Xmas projects, this pattern with little mice dressed as Santas might come in handy. The cartoonish style and a soft palette make these tailed characters look cute. Would you dare use this design to surprise everyone?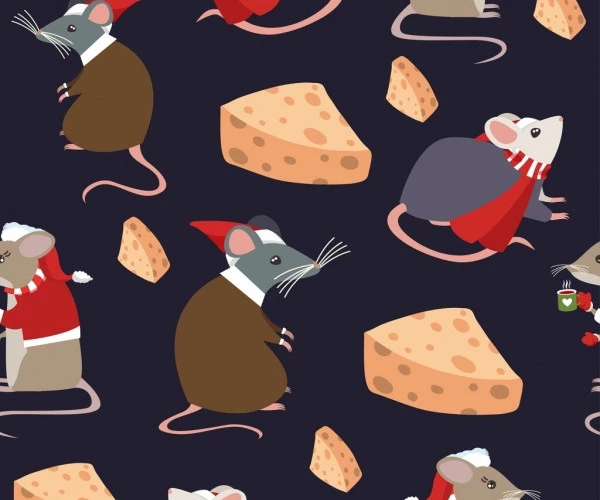 Visit the website
---
Happy New Year
The majority of us love Christmas preparations, and that's what a pattern here is about. Cartoonish gifts, snowflakes, and cars bringing festive trees will please everyone's eyes. The backgrounds used for this cute design are white, beige, yellow and mint.
Download
---
Colorful Christmas
Sweet gingerbreads and candies along with the colorful socks and mittens look joyful against the navy background chosen for this pattern. Bright text and snowflakes add the final touches. Whatever you use this design for, it will look amazing!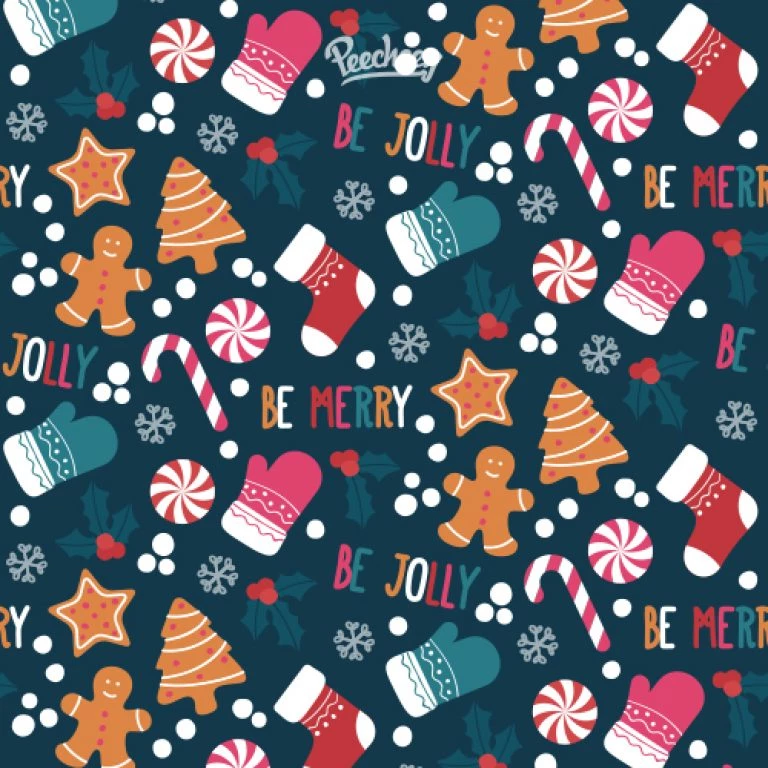 Visit the website
---
Merry Christmas
We think that a pattern with leaves, branches and trees presented here looks eye-pleasing. Soft colors and minimalist shapes create a unique seamless design that will look nice on any surfaces as well as online.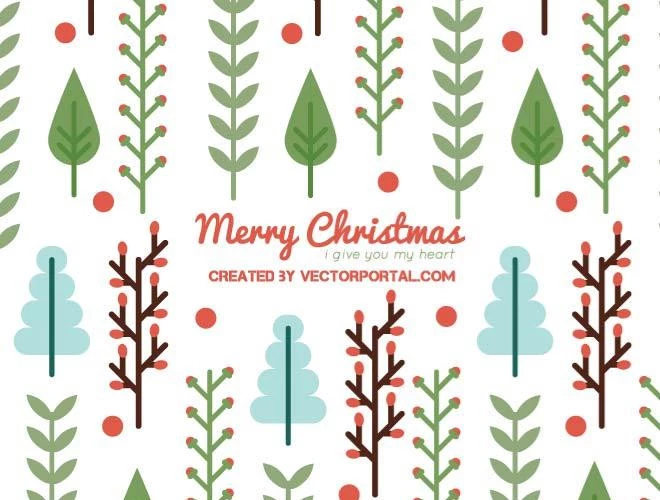 Visit the website
---
Sweet Dreams
All grown-ups and especially kids love Christmas treats. In a sweet pattern here you will see cartoonish candy-canes, gingerbreads and lollipops. The colors chosen for this design are pink, violet and blue, which will help to create a festive mood.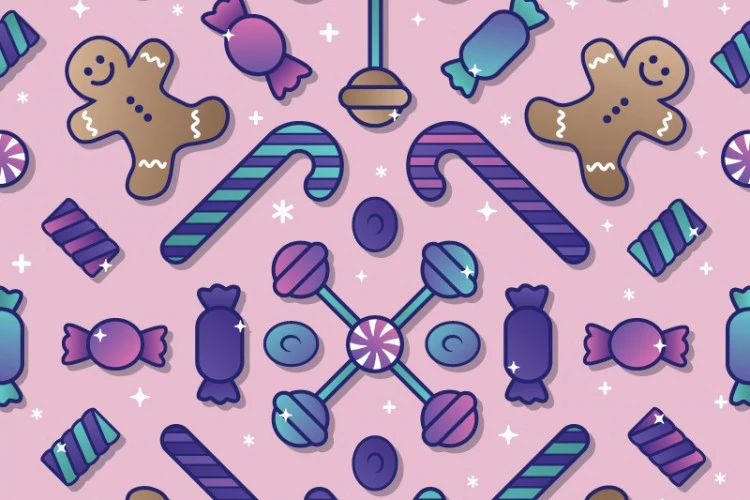 Visit the website
---
Family Decorates Christmas Tree
For many families decorating a Christmas tree together is a beautiful and cherished festive tradition – and it is accurately shown in this magical pattern. The modern style of images, soft palette and a simple white background make this design multipurpose and charming.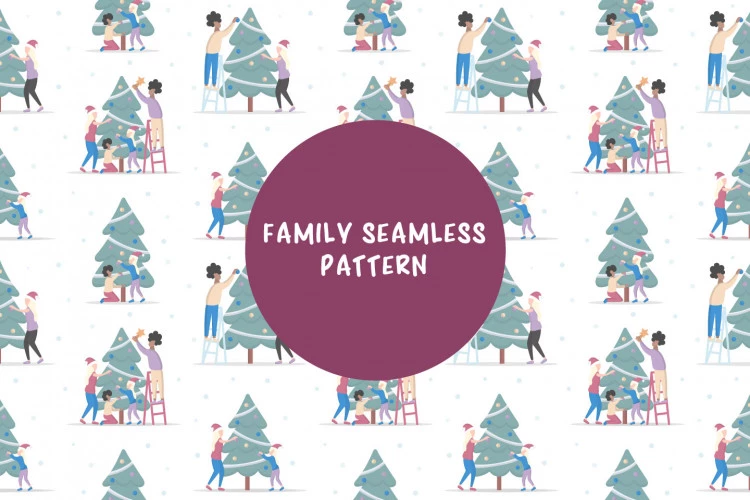 Download
---
Vintage Classic Christmas
A vintage pattern in red, green and white presented here looks as if inspired by old Xmas sweaters. The small trees, ornaments, bows and snowflakes are arranged in neat horizontal rows. This design will look especially nice on textile and décor.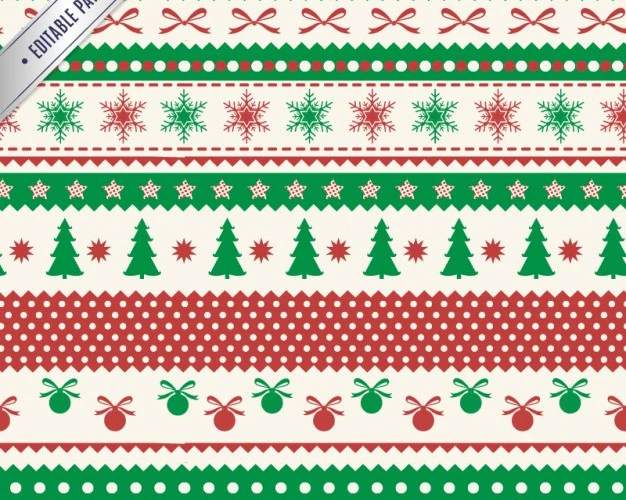 Visit the website
---
Christmas Tree
Your family, friends and customers will love the amusing Xmas trees presented in this pattern. Bright colors and simple shapes make them look like cute childish drawings. Imagine getting a present wrapped up in paper with such a pattern – it would definitely make you smile!
Visit the website
---
Christmas Tree
A fluffy and beautiful fir-tree is something we can't imagine a cozy home Christmas without. This great pattern will show you a variety of festive trees in all shapes and sizes; some of them are decorated, and some not. The pattern has four colorful backgrounds.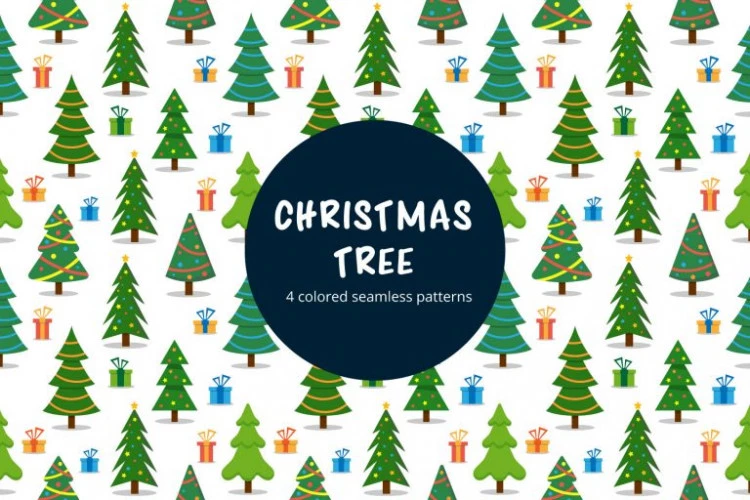 Visit the website
---
Happy Christmas
This set of eight stylish patterns in vector will make your projects exceptional. The rich black background with the small elements in golden and green give these designs a unique look. Here you will find snowflakes, pine branches and cones that will look impressive in any project.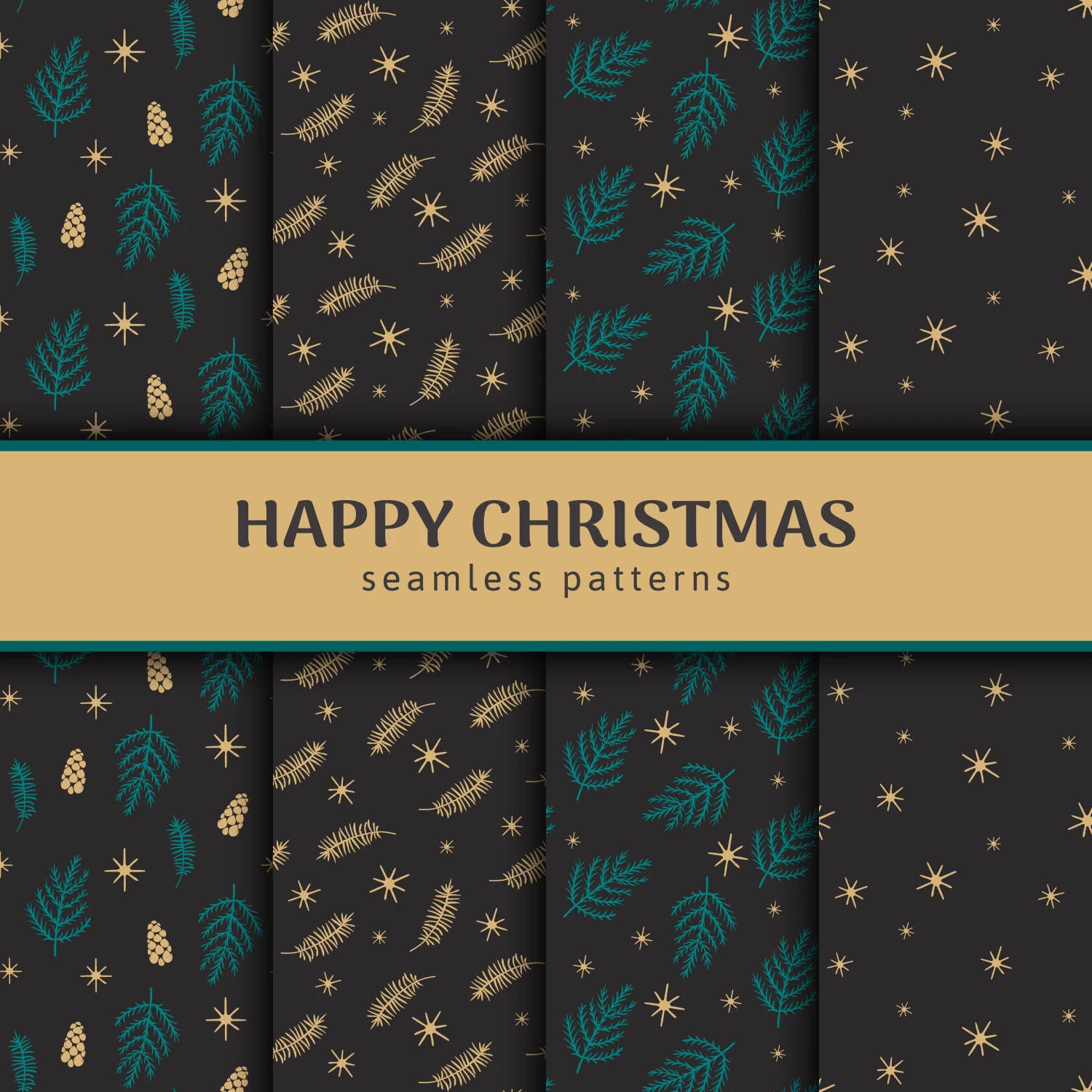 Visit the website
---
Christmas Hand-drawn
We fell in love with this beautiful and intricate X-mas pattern. The hand drawn trees, branches and snowflakes look like a delicate rime against the light mint background. This magical pattern will make any décor, textile and web pages festive and special.
Visit the website
---
Christmas
Consider using this set of two charming festive patterns. While the first design has a soft gray background, the second comes with the moss green. The small cute images scattered on both include trees, holly, gifts, bows, cookies, and more.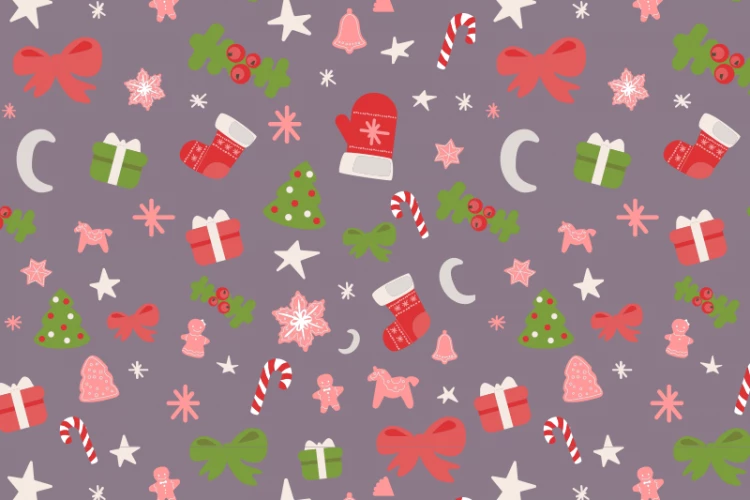 Visit the website
---
Christmas Gifts
Take a look at this wonderful pattern that features Xmas gifts packed in colorful boxes, hidden under the festive trees, and stocked into sacks and socks. It will make everyone smile! By the way, the backgrounds used for this design are special too – you can choose between intense violet, burgundy, brown, and turquoise.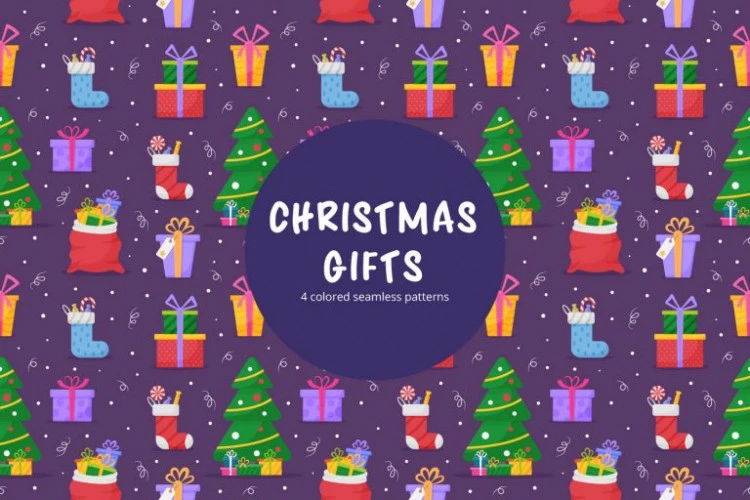 Download
---
Cute Christmas
Floral elements of this lovely pattern are complemented by candles and red Santa's hats. This seamless design in vector is multipurpose thanks to a simple white background. However, you can choose any different color with the help of graphic software.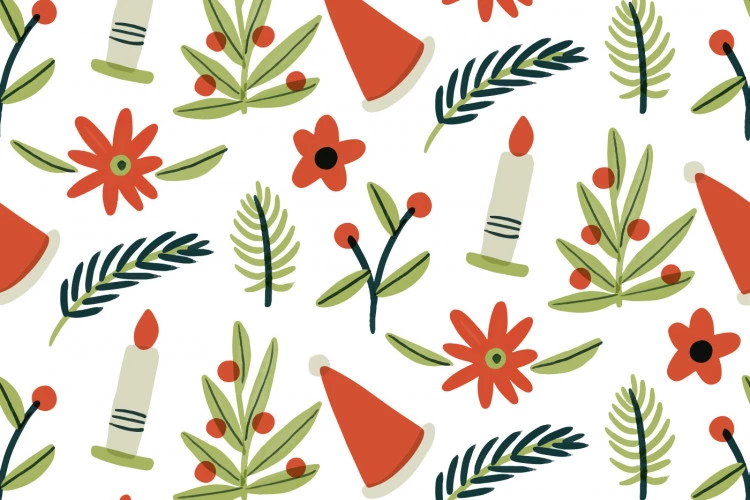 Visit the website
---
Christmas Elves
Funny elves, bright presents, and ball-shaped ornaments shown in this pattern can make anyone smile, and especially kids! Four different backgrounds make this lovable design even better – you can choose between white, burgundy, navy and dark green.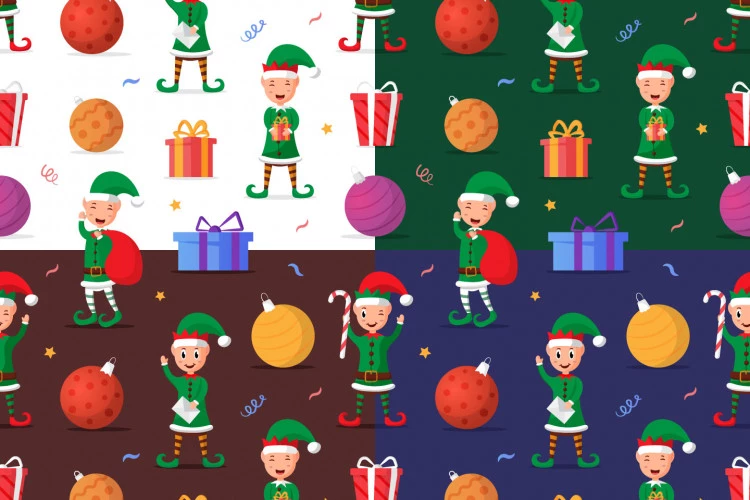 Download
---
Winter
We all love looking at unique patterns that rime draws on the frozen windows. The design you see here looks just like a magical white frost. The delicate branches and cones create a wonderful ornament on the light blue background.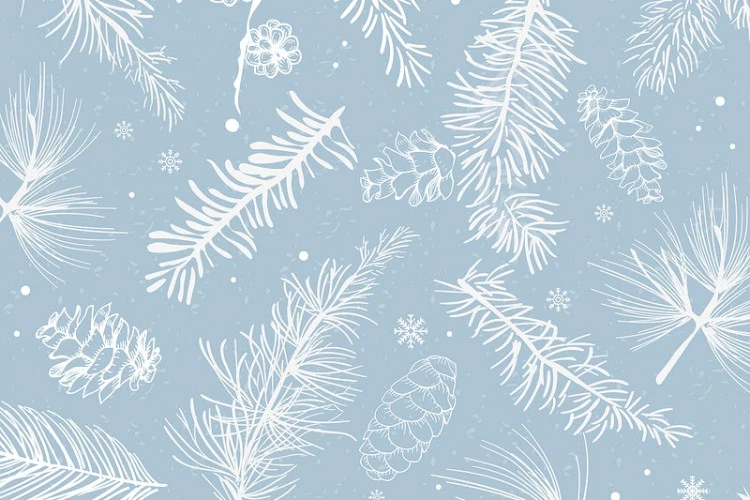 Visit the website
---
Hand-drawn Christmas
Polar bears and reindeers appear in many Xmas stories which is why a designer used these characters in their unique pattern. Aside from the adorable animals you will find small houses, trees and ornaments that look cute against the bright blue.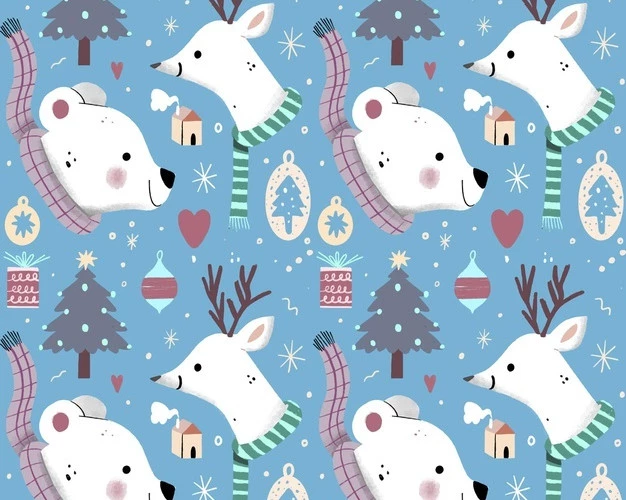 Visit the website
---
25 Christmas Patterns
Get ready for a generous X-mas present – in this huge pack we've gathered twenty five free festive patterns for you! Even though the set includes plenty of snowflakes, trees and traditional ornaments, each of the designs gathered here is unique.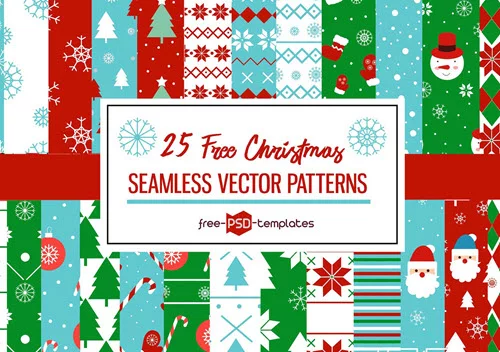 Download
---
Christmas Toys
This creative pattern will amaze you with the hand-drawn festive ornaments in all possible colors and shapes. Balls, stars, cones and other toys create a joyful variety. Four pastel colors of the background are available with this design.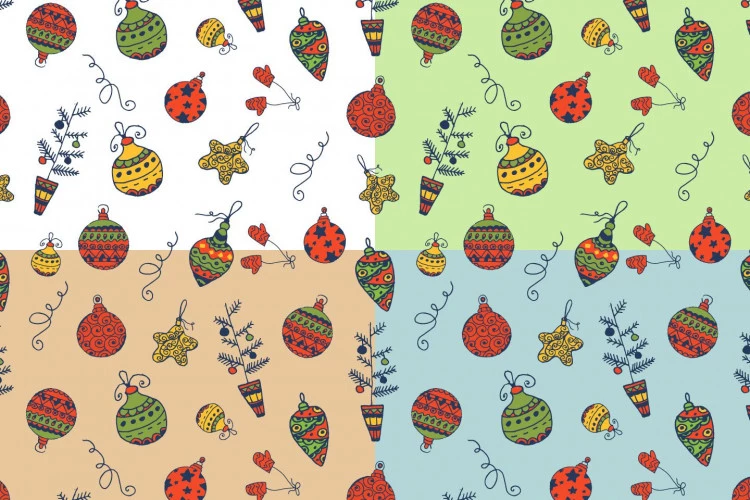 Download
---
Snowmen
Funny snowmen that a designer has gathered in this wonderful pattern will help you spread the festive mood around! All friends and customers will love the small smiley faces and a cartoonish style. You can opt for any of the four backgrounds – dark blue, violet, turquoise, or a beige one.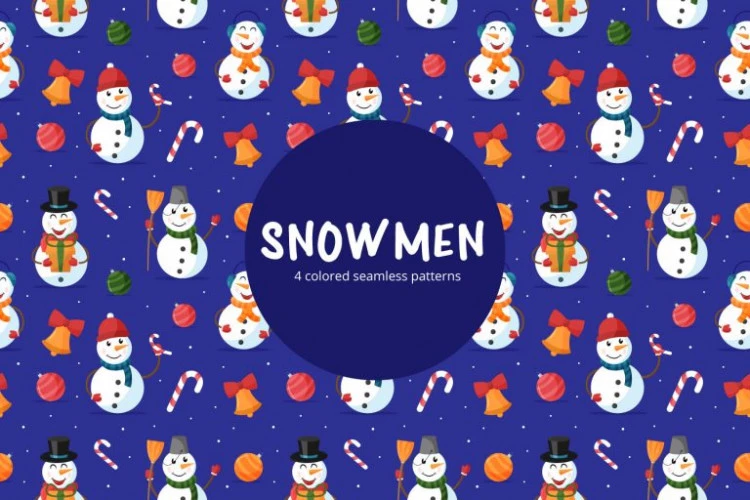 Download
---
We truly hope that this extensive list of festive designs came in handy, and you've chosen one or several patterns to make this Christmas brighter!