Welcome to FreePSD – your ultimate source of design supplies and inspiration! Today we are proud to present to you our broad and diverse collection of free floral patterns PSD. In case you are currently working on a special themed project to celebrate spring – the most charming and beautiful season, we are ready to offer you a generous array of unique patterns that are all about blooms, young leaves, beauty and growth!
All designs included into an extensive list below have been crafted from scratch by skilled artists who follow the latest trends. Here you will find plenty of excellent floral patterns to download and get inspired with. Customizing any of them in order to apply to your upcoming products is easy with the help of the popular graphic software such as Adobe Illustrator. Don't hesitate, save these offers for free, and get ready to celebrate the success of your design marketing efforts!
---
Free Botanical Pattern Set
First off comes this amazing bundle of floral patterns! A playful style and cheerful saturated hues of the ten original designs will easily draw the clients' looks. Simply apply any pattern to a product with the help of AI, and prepare lovely items to celebrate the warm season!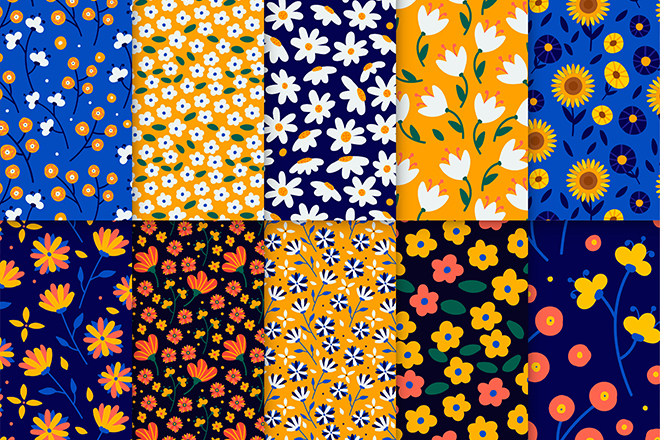 ---
Seamless Pattern Consisting Of Bouquets Of Flowers
A sweet seamless pattern with the colorful bouquets will add charm to a project you're working on. Although the flowers look catchy and contrasting against the dark background, you can try out different colors while editing this template.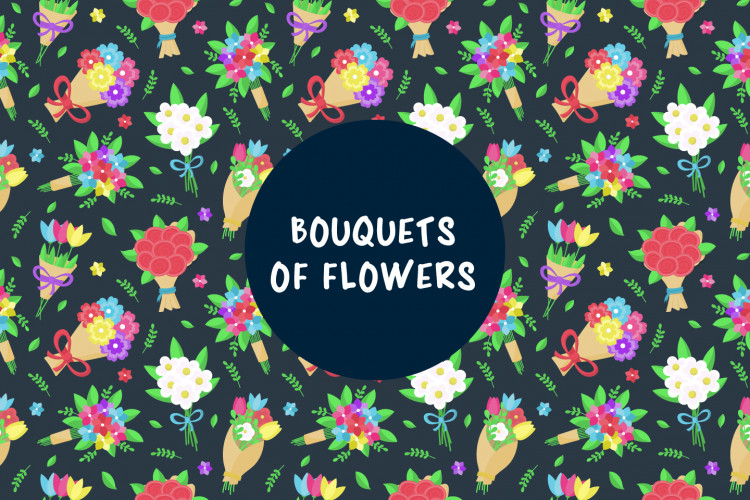 ---
Free Floral Patterns Set
This exclusive set of floral patterns is certainly worth your attention. The suave shades of beige, gray and turquoise along with the soft flowing lines will make any product you apply these designs to look elegant and unique.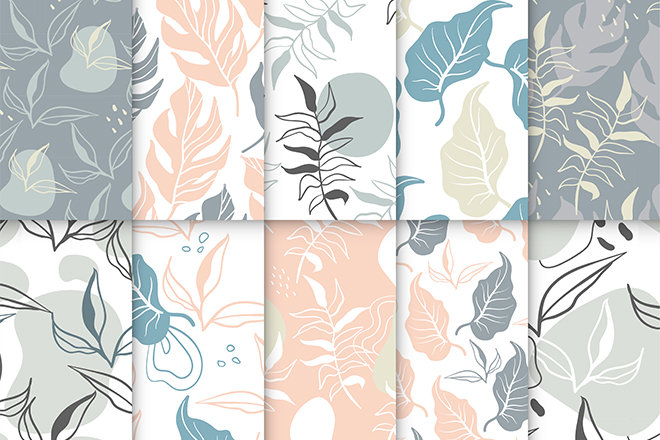 ---
Floral Watercolor Free Pattern
You may fall in love with this lovely floral watercolor pattern! Small illustrations of twigs, leaves and berries will look wonderful on any type of packaging, clothes, postcards, etc. The natural translucent colors will enchant everyone. The pattern file offers four colors of the background for you to consider.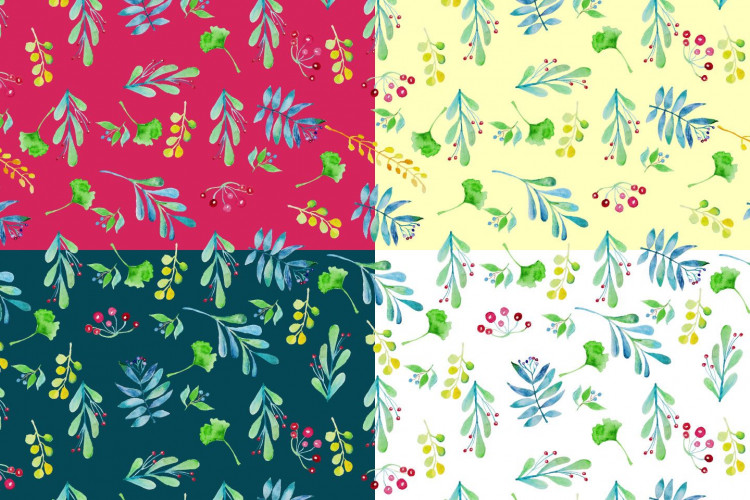 ---
Snowdrops Flower Seamless Botanic
Meet one of our favorites on this special list – a seamless pattern with the lovely snowdrops! The exquisite white flowers and the light turquoise backdrop can help anyone feel the blissful vibes of the early spring. This unique vector pattern is easy to adjust and apply.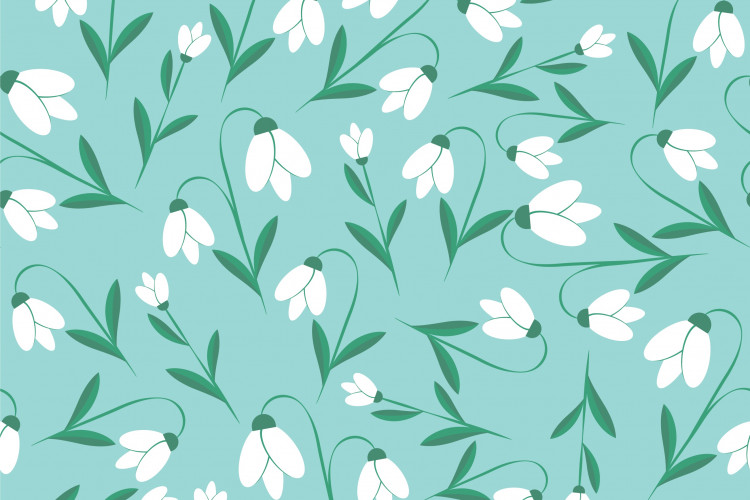 ---
Watercolor Floral Pattern
While creating this one-of-a-kind pattern, a designer decided to match the light and dark blue leaves with the tender beige flowers. As a result, the pattern they came up with looks elegant and exclusive; don't hesitate using it for your projects.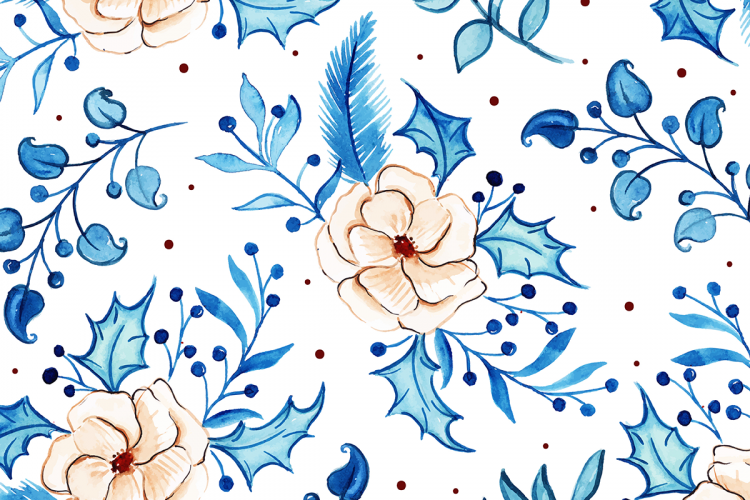 ---
Hand-drawn Floral Pattern
Looking like a delicate sketch, this floral pattern with a light latte color background has a charming vintage vibe to it. Download it in a click, to complete your products and web pages with an elegant detail.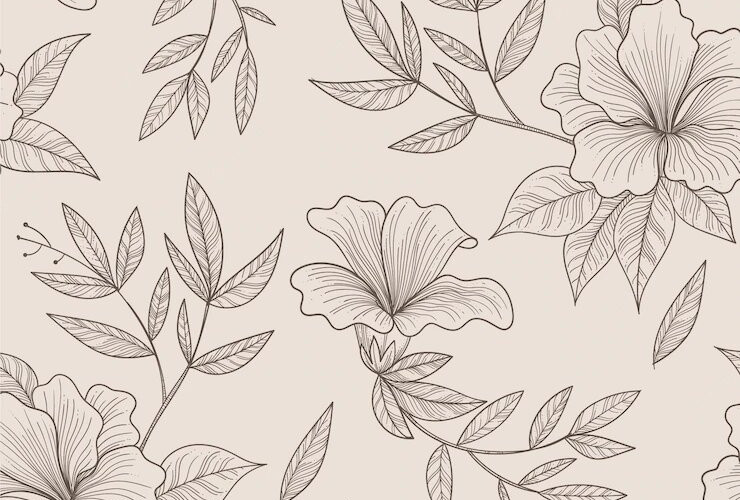 ---
Seamless Leaf Pattern
We adore this special pattern with a variety of linear leaves drawings! The hues of green ranging from light to intense and cheerful will help you and your customers feel the vibes of spring, hope and the awakening nature!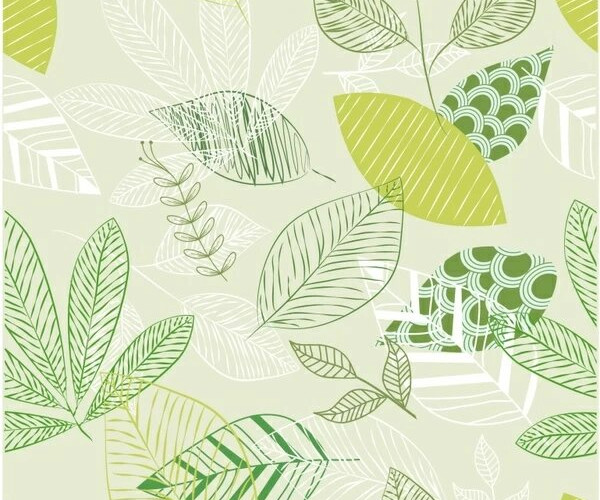 ---
Free Floral Pattern Set
Use this set of four special floral patterns to fill your graphic projects with elegance. Delicate hand-drawn details can enchant anyone. Although the background is light and dark gray, you can try out other colors while customizing these designs.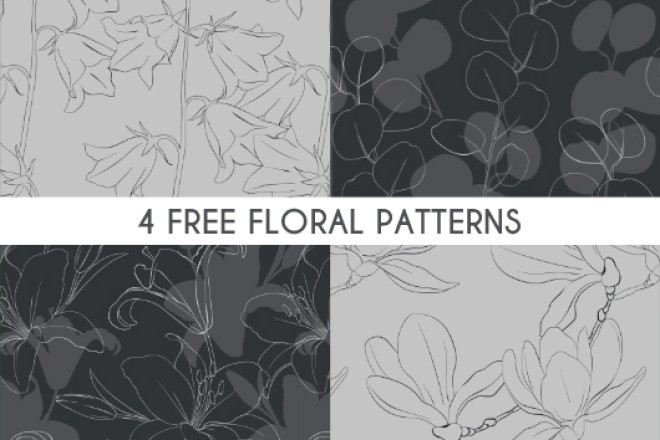 ---
Colorful Floral Vector Seamless Pattern
Light-hearted and cheerful, this scattering of spring flowers and leaves can bring a smile on anyone's face! Apply it to wrapping paper, textile, notepads or webpages to celebrate the arrival of the warm season. The backgrounds vary from white to dark.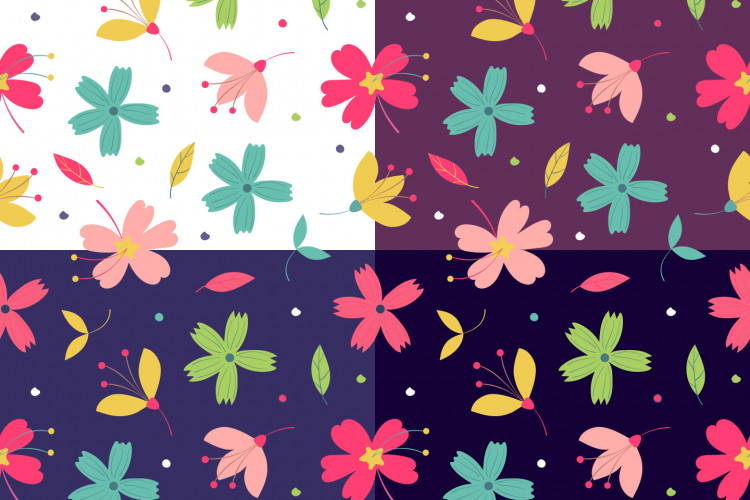 ---
Floral Patterns Bundle
Meet a unique bundle of twenty seamless patterns that are all about charming spring flowers. The black and white palette makes this set stand out of the rest. All designs remind detailed sketches, and will look amazing on textile, printed products, and online.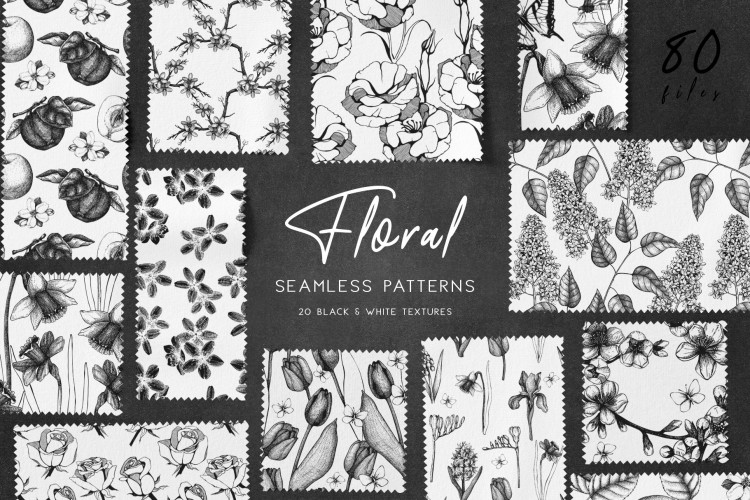 ---
Birds & Blooms Patterns
Soft faded colors and magical drawings of birds, leaves and flowers give these patterns a touch of vintage elegance. Six delicate designs are available both in a color and monochrome version, and we are certain that they will make your new projects shine!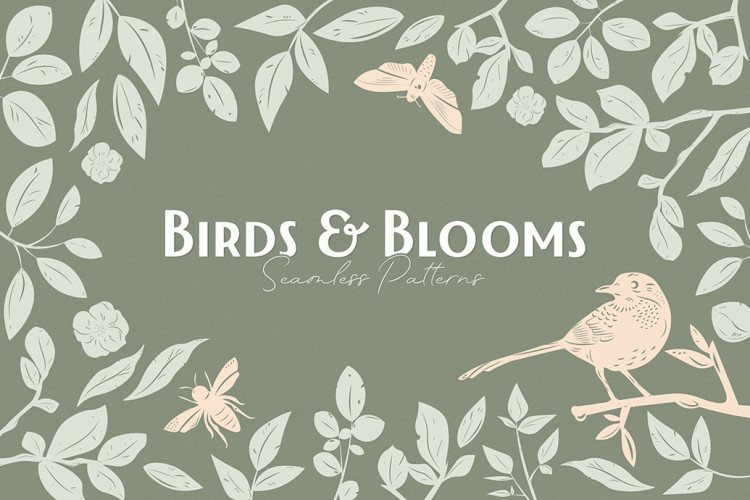 ---
Black Outline Floral Doodles Seamless Vector Pattern
Many of us enjoy doodling flowers in our notepads or on the scraps of paper. This cool seamless pattern with the warm yellow background features a scattering of leaves and flowers that look like sweet doodles. Your customers are gonna love it!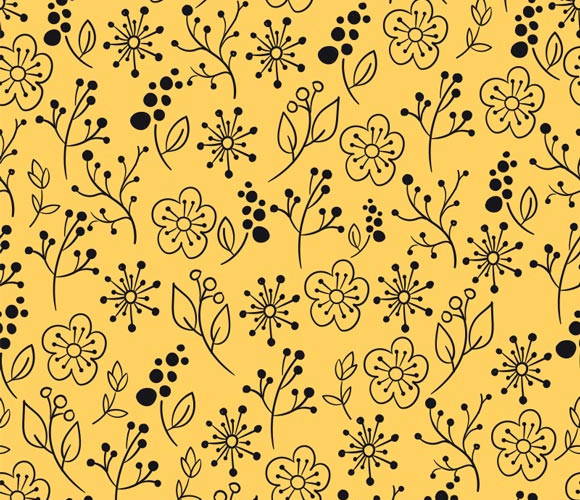 ---
Cheerful Spring Flowers
Combined together the lightest hues of pink, vivid young leaves and delicate flowers have resulted into this well-balanced pattern that can please anyone's eyes. Don't hesitate using it to make your spring projects look wonderful!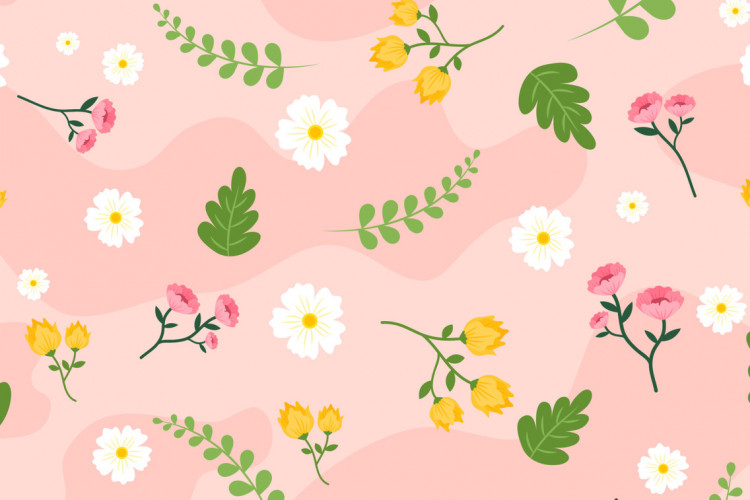 ---
Free Pattern Templates PSD + vector (.ai)
Ten seamless patterns presented here amaze with their simple elegance. Crafted by a pro, each design features delicate twigs, branches and flowers. The colors of the background vary from warm and cheerful yellow to soft brown and clean white.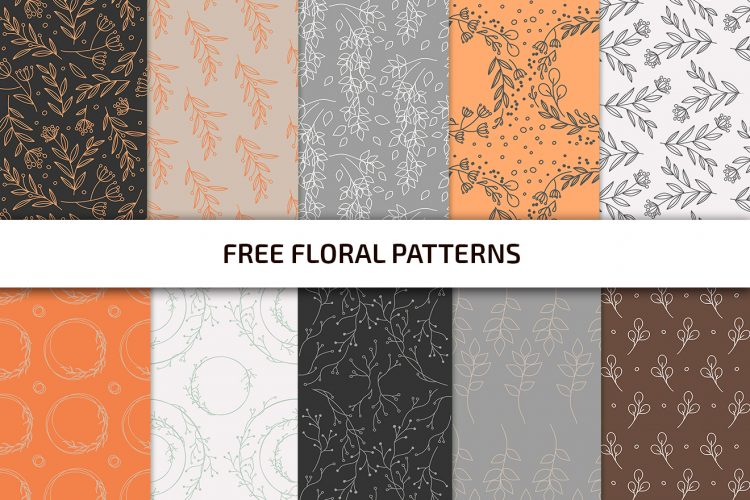 ---
Cute Plants Vector Free Seamless Pattern
These amusing cacti in colorful pots look like characters of a funny cartoon. Use this amazing pattern to add cuteness to your projects, and make your customers smile! The adjustable AI file offers four backgrounds: bright blue and yellow, white, and gray.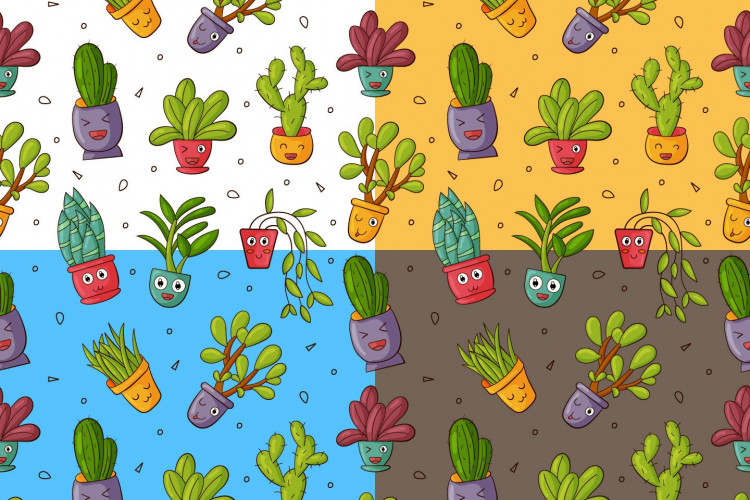 ---
Flower Pattern
These simple flower drawings scattered across the clean white background remind of the sweet peach flowers and sakura blooms. Soft red, pink and blue hues of the background perfectly match the faded green color of the leaves.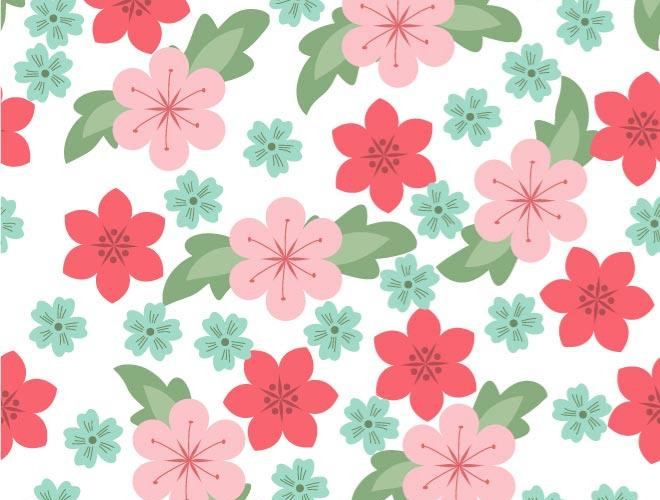 ---
Summer Floral Pattern
Download this floral pattern for something elegant and different! Chrysanthemums and flocks in white, violet and pink look like masterful watercolor paintings. The light pink background completes this unique floral design.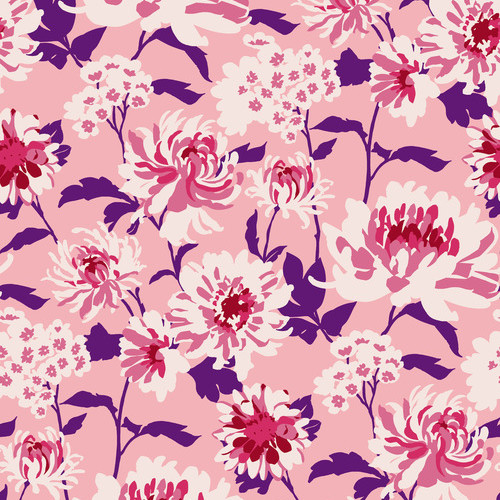 ---
Seamless Flower Pattern Free
Big drawings of cherry blooms here allow seeing every delicate detail. Created by a skilled designer this special pattern will add charm to your printed goods and web pages. The seamless vector pattern is easy to adjust.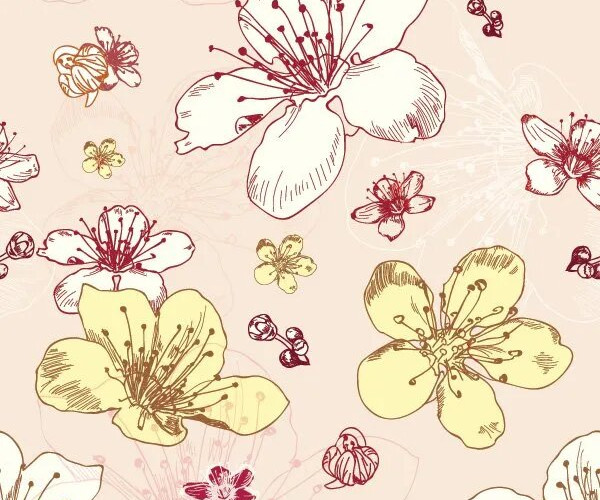 ---
Colorful Birds In Nature Seamless Pattern
Having matched paradise birds and tropical plants, a skilled designer created this amazing pattern. The contrast of the dark background with turquoise, white and brown colors chosen for the images makes this exotic design stand out from the rest.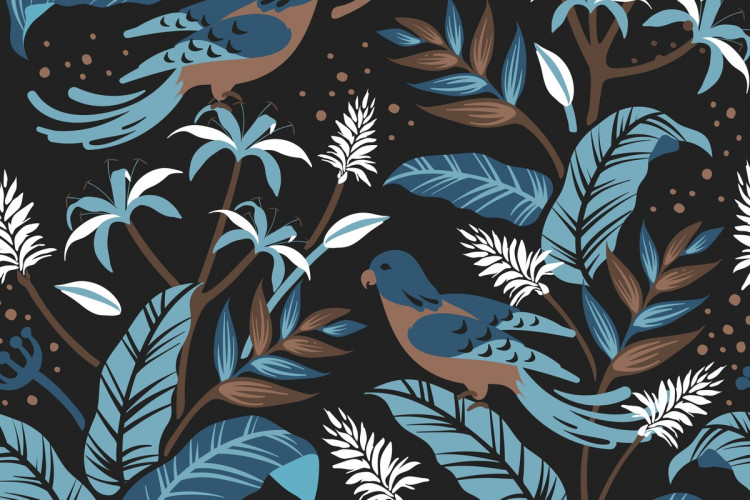 ---
Retro Spring Floral Seamless Pattern
Tenderness of magnolia flowers is summed up in this elegant pattern with a vintage note to it. The play of the light shades of violet, pink and green will please any customer's or follower's eyes. The pattern is easy to customize and apply.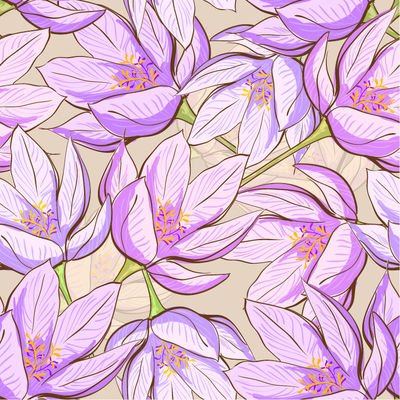 ---
Free Floral Vector Pattern Set in EPS + PSD
Each of the ten unique patterns included into this list looks like a small masterpiece! Simple drawings of young twigs, leaves and blooms certainly have a charm of their own. The palette is wonderful, too: white, turquoise, suave blue and sweet peach perfectly match each other.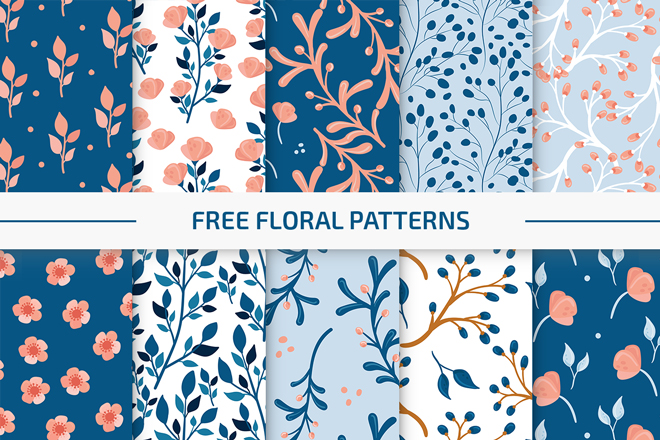 ---
Floral Vector Free Seamless Pattern
Add spring sweetness to your printed products, goodies and web pages! This adorable pattern with a scattering of tiny flowers and twigs can make anyone smile. The pattern comes with four pastel colors of the background; it's up to you which one to choose!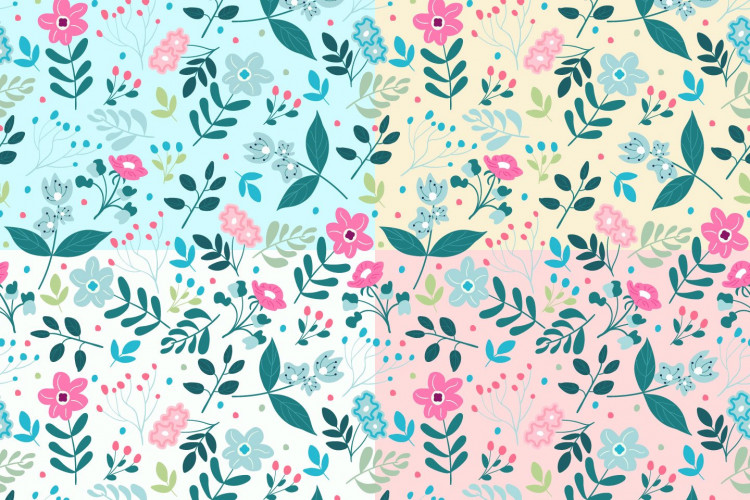 ---
Floral Patterns
There is no denial that the designs of William Morris have a special elegance of their own. This massive collection of 490+ artist's creations is a real find for anyone who admires his art, and would like to feature it in their projects!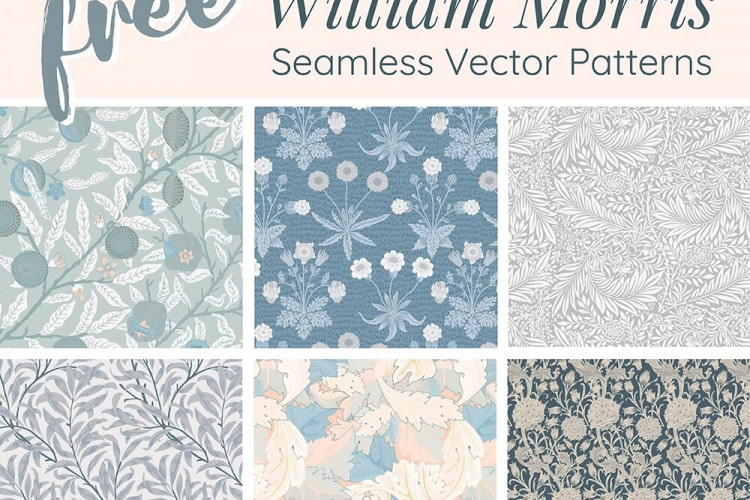 ---
Nature Hand Drawn Vector Leaf Patterns
If a catchy contrasting pattern with natural motives is what you're looking for, these four designs might come in handy. Green leaves of various shapes and sizes are organized neatly on four dark backgrounds. The set is adjustable and free.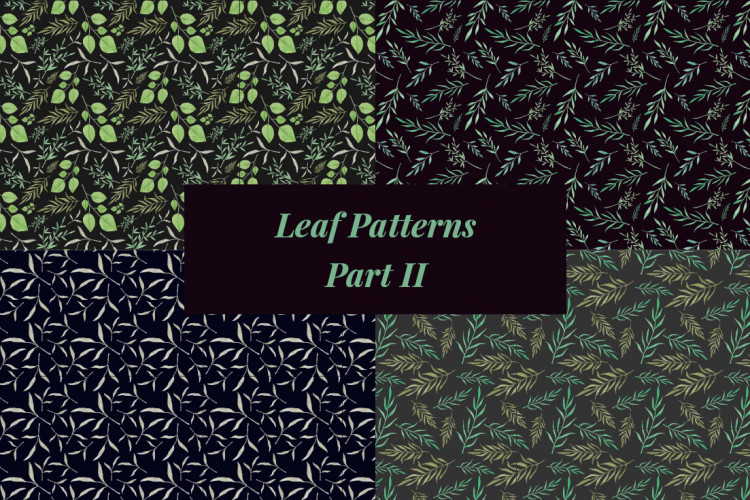 ---
Elegant Ethnic Decorative Blue Floral Pattern
Meet one of the most beautiful samples on this lengthy list! Detailing and thin soft-flowing lines in a soft shade of blue make this design look elegant and exquisite. We're certain that it will make any commercial project or a web page look incredible!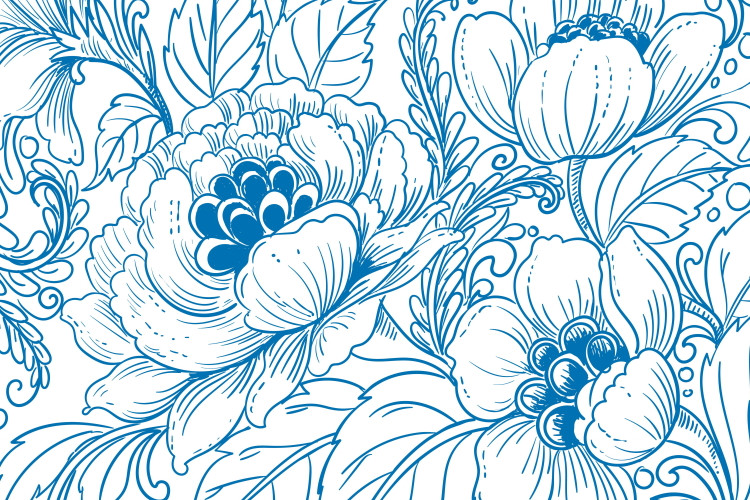 ---
Floral Pattern
Don't hesitate downloading this amazing seamless pattern which combines an intense dark background with the beautiful drawings of marigolds in faded golden color. Applying this customizable seamless pattern can make any project look extra stylish.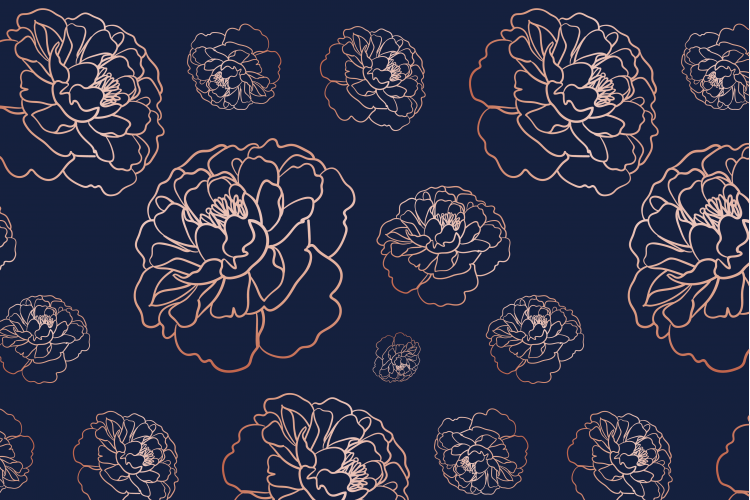 ---
Organic Flat Abstract Floral Pattern
Sweet, playful and light-hearted, this flat floral pattern will liven up any spring-themed printed items, textile, packaging, and what not. Enjoy applying it with graphic software, and place joyful smiles on your customers' faces.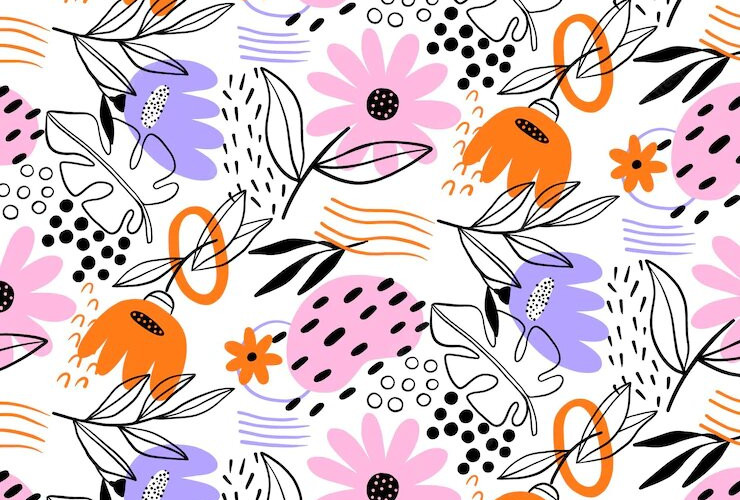 ---
Floral Pattern Flat Retro
We love a brilliant shade of turquoise that a skilled designer chose for this pattern. Flat soft-flowing silhouettes of flowers and leaves in a grayish tint give this design a slight retro vibe, while making it look appealing and up-to-date at the same time.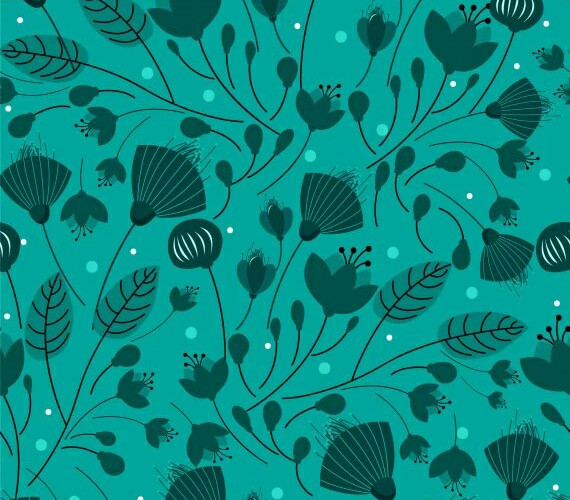 ---
Free Wedding Patterns Set
Although the designer team offers using the ten unique items in this bundle for the wedding invitations, textile and décor, we suggest you download these designs if you wish to fill your newest projects with the notes of balance, bliss and calm. Suave colors and simple floral elements look tender and charming.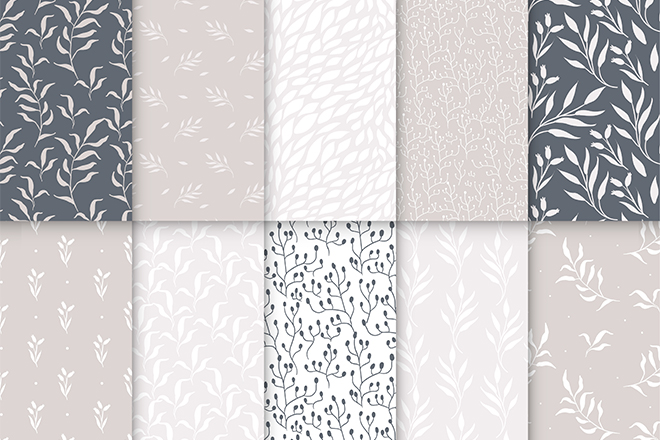 ---
Seamless Vector Pattern With Flowers
All those in love with the simple but oh-so-charming daisies will appreciate this sweet pattern! Flat flowers scattered across the light backdrop look like cute drawings. Don't hesitate using this special design, and your customers will favor it!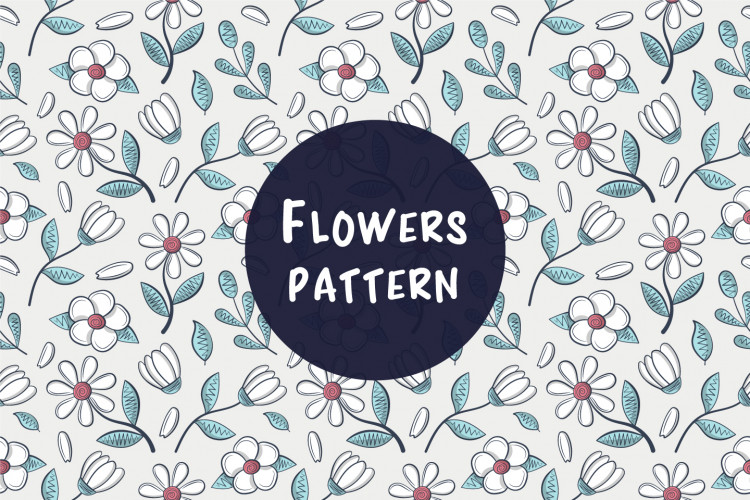 ---
Vintage Flower Patterns
We bet you too will fall in love with this fantastic bundle of eight special floral patterns. The vintage vibes and a perfect balance of colors, textures and shapes make them look ultra-trendy and impressive.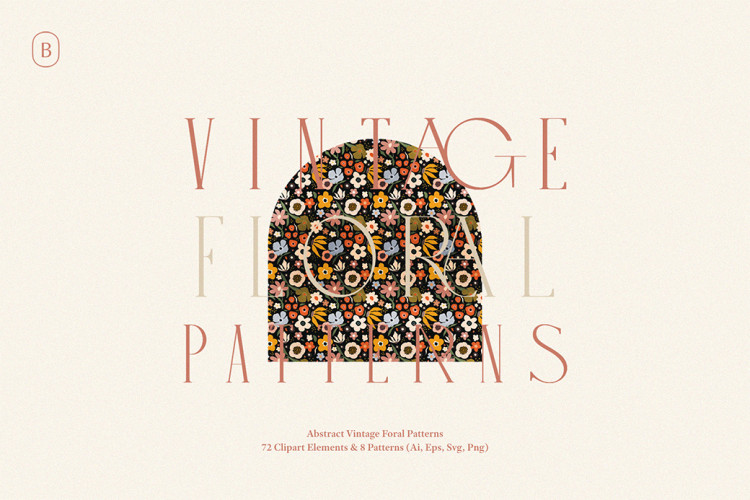 ---
Vintage Green Floral Ornament Seamless Pattern
Fill your new project with the charming vibes of the days-long-gone. Use this intricate ornament that flourishes on the pleasant light-green background. This special seamless pattern will engage your customers while adding elegance to the products.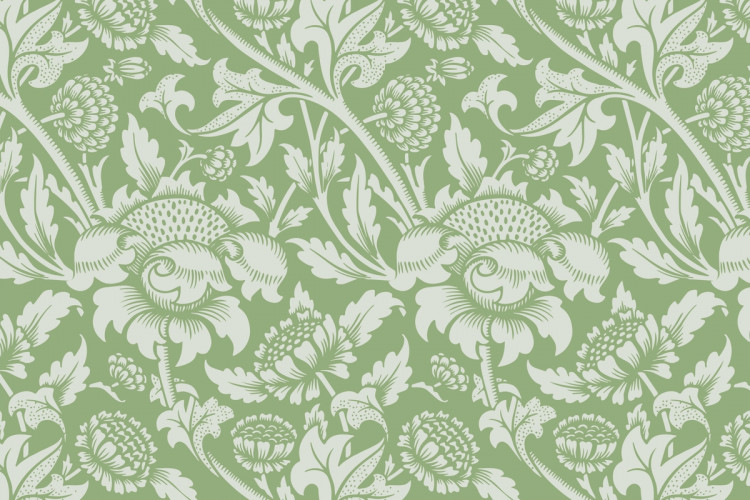 ---
Free Hibiscus Flower Pattern
The abundance of colors summed up in this excellent flat pattern will add amazing tropical vibes to your new creations. The scattering of exotic hibiscus flowers will look catchy and cool on any web pages and surfaces. Feel free opting for any of the incredible color options.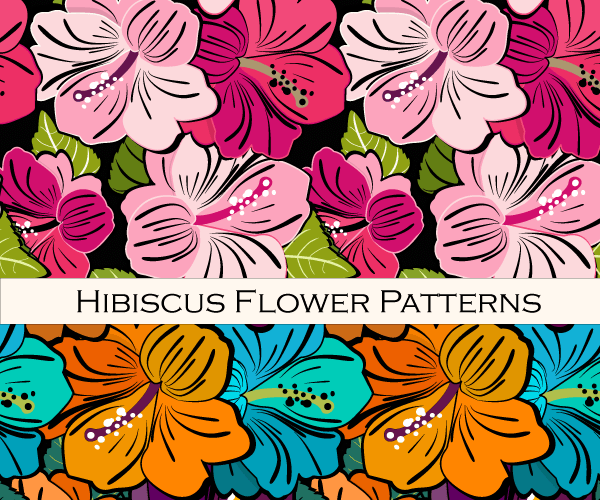 ---
Cactus Pattern
Being all about funny and sweet cacti, this seamless pattern is fun both to look at and apply to any projects. A diversity of colors and shapes will certainly please your customers' eyes, making them favor your printed or web products.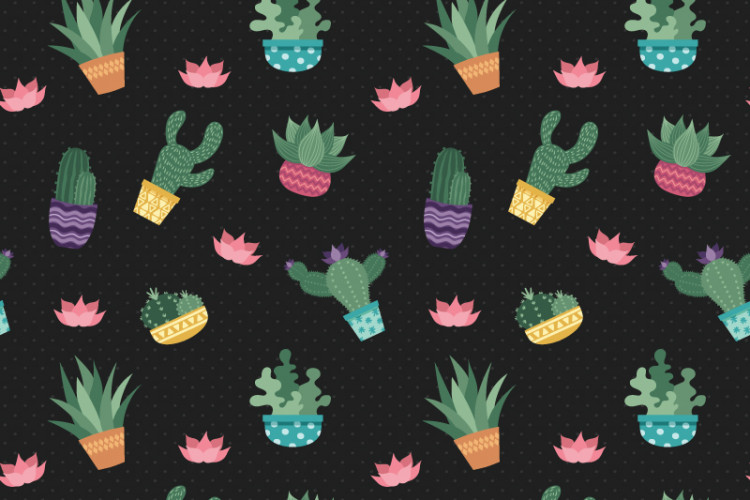 ---
Nature Ornament Seamless Blue Pattern
This special pattern showcasing nothing but the leaves and thin branches in navy blue is elegant in its own way. It looks both retro and modern, and will certainly add up class to whichever product you're currently working on.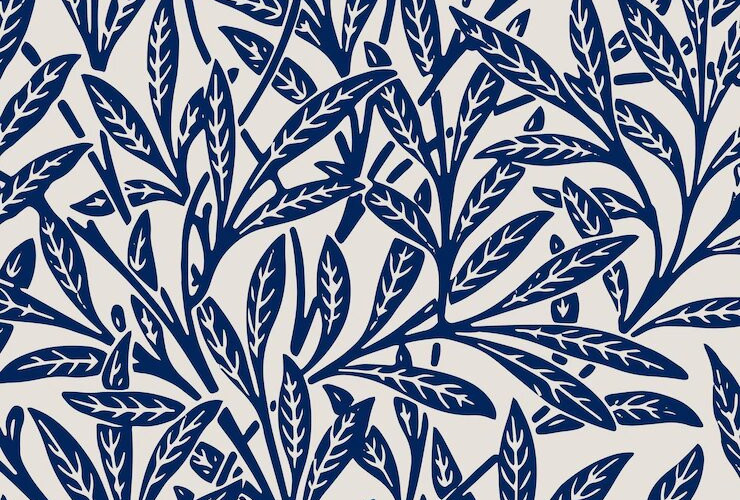 ---
Flowers Pattern
In this unique pattern, light watercolor leaves in sage and gray are matched by the exquisite golden accents. Using this excellent creation will make your products look posh and elegant. We guarantee that the effect will impress even the pickiest clients.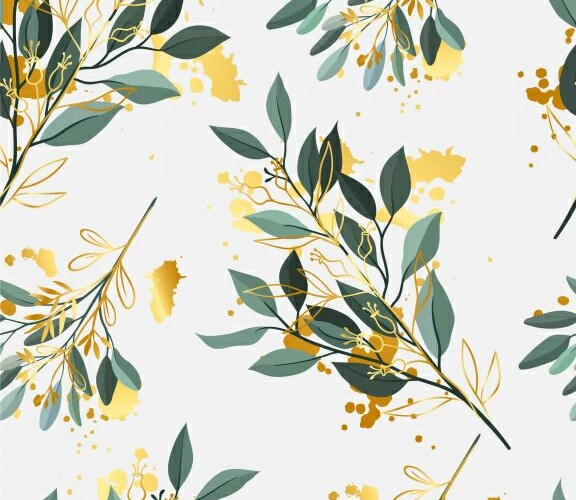 ---
Free Plants Patterns Template in PSD + AI, EPS
In this set of nine cool patterns a well-versed designer has successfully combined the abundance of geometrical shapes, minimalist floral motifs with both the light and contrasting palettes. Feel free to use any or all of these pieces for a fantastic result!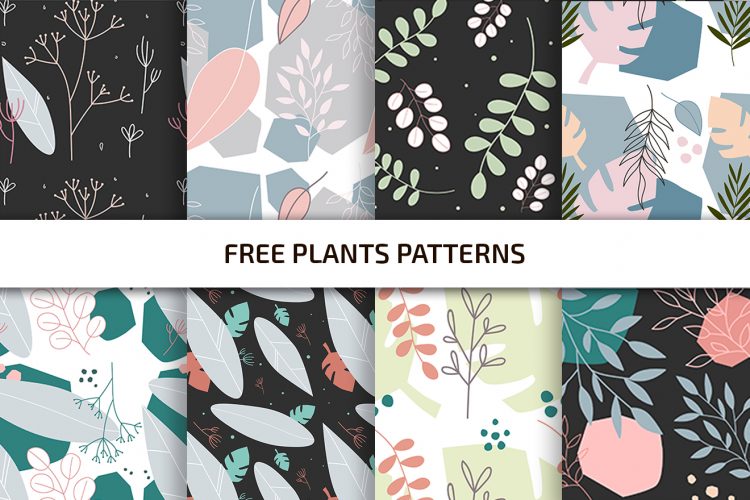 ---
Seamless Flowers, Herbs And Leaves Vector Pattern
Simple yet sweet beige flowers and twigs look wonderfully charming scattered around the light terracotta setting. Download this sweet flat pattern to let your clients feel warm, cozy and relaxed vibes. Editing it will go fast and smoothly.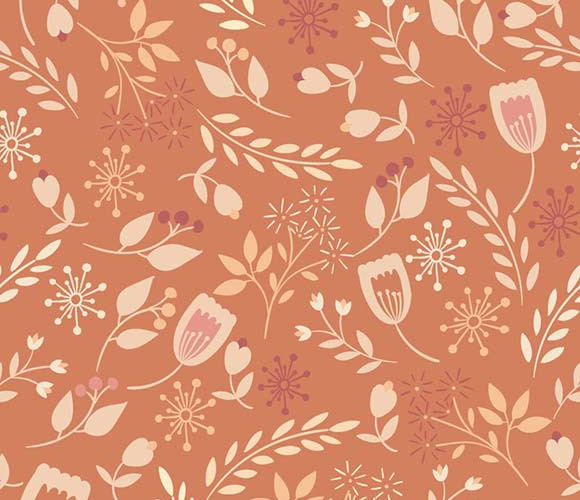 ---
Cherry Blossom Seamless Pattern
An ultimate symbol of spring, a blooming branch is perfectly captured in this simple yet eye-pleasing design. The cheerful green twigs and flowers look eye-catching against the suave setting. The variety of surfaces you can apply this design to is endless.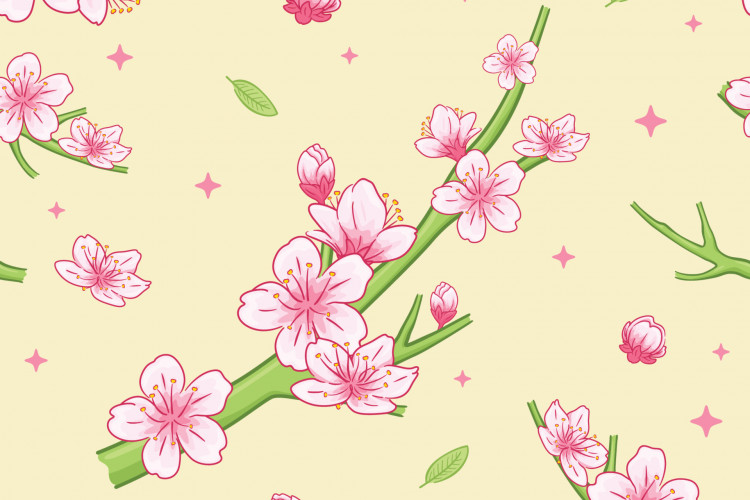 ---
Floral Pattern
We love how in this pattern the transparent leaved branches in every possible hue from suave gray to vibrant pink and intense magenta complement each other. The products you use this special flat design for will certainly appeal to the customers.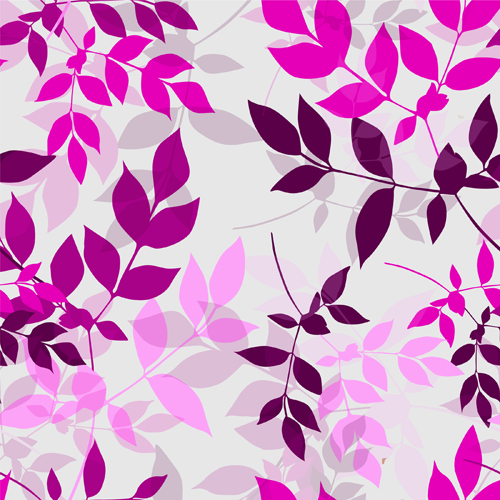 That's it – you've reached the bottom of our lengthy and versatile list of the wonderful floral patterns. Remember that you are welcome to use any of these customizable PSD designs for free. Crafted by the skilled artists, they will perfect any web and printed products you're currently working on.