Download any of the 20+ Oktoberfest Event Flyer PSD Templates that we have ready for you in this special compilation! Are you preparing to host a jolly local Oktoberfest event? Or, perhaps, a fabulous beer festival is your goal? Then a cool promo campaign should be your first step towards making the future event a big success. In this compilation, we've gathered 20+ printable models from pro designers that will indeed help fill your place with a crowd of thirsty visitors!
The available formats of these Oktoberfest Event Flyer Templates allow for fast and hassle-free editing even if you are new to Photoshop and Illustrator. It won't take you long to adjust the writing and the palette before sending a chosen flyer sample to print. Now, start browsing our collection, and get ready to fill your event with happy guests and good times!
---
Free Oktoberfest Party PSD Flyer Template
Use one of the most captivating designs on our Oktoberfest Event Flyer Templates collection to announce your upcoming festival! The centerpiece showcases a lifelike beer mug filled with frothy beer, drawing attention to your event. Against a dark backdrop, it offers a striking contrast with the warm hues inside the wooden frame. Meanwhile, vibrant autumn leaves adorn the design and infuse a romantic ambiance. Since the package also includes an Instagram-optimized template, you'll craft an irresistible promotional campaign, and engage potential guests!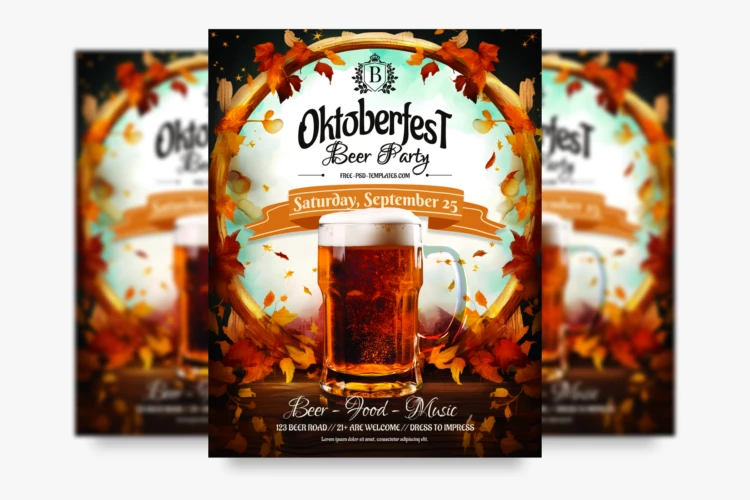 ---
Oktoberfest Free Flyer PSD Template
This superb design highlights a wooden beer cask and two beer glasses on its sides. A few hops, wheat spikes, and pretzels complete the composition. The bold black-and-white header and other text pop up against the light-textured background. We guarantee that making some critical edits won't take you longer than a few minutes. With this design, you'll surely succeed at promoting your future party!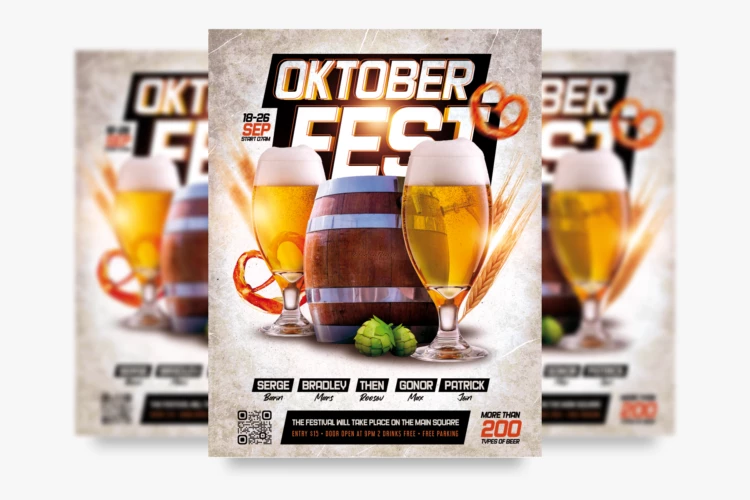 ---
Modern Oktoberfest Flyer Layout with Frothy Beer Stein
Looking for a cool design to awe your guests? Check out this fantastic template! It features an illustration of a frothy beer mug, with the words "Oktoberfest Celebration" integrated into the design. The white and yellow colors seamlessly blend with the mug image. The design stands out against the black backdrop with a repeating pattern of small gray rhombuses. The sample is ready for fast editing and printing.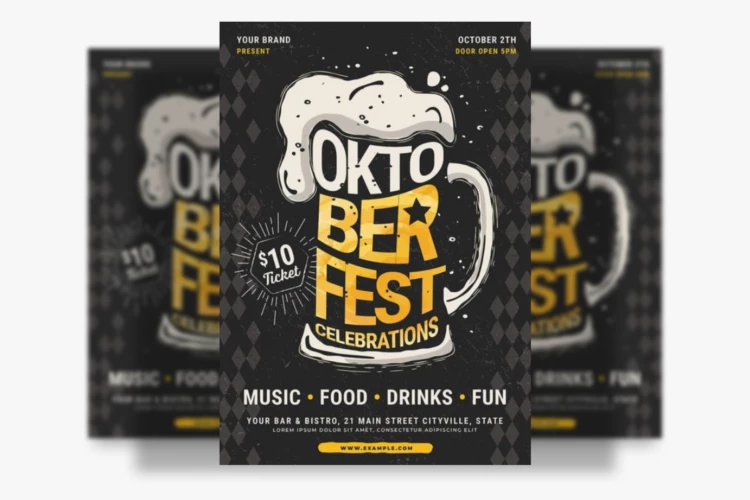 ---
Free Oktoberfest Event Flyer
Announce the upcoming Oktoberfest celebration with this unique template! The centerpiece is an artistic illustration of a charming German village, with neat white houses, towers, and vibrant autumn trees. At the top of the design, we placed a stylish header reading "Oktoberfest Festival". Meanwhile, at the bottom, there's ample space for listing all the important event details. Additionally, the set includes a matching Instagram template. Using both pieces, you'll ensure an effective promotion for your celebration!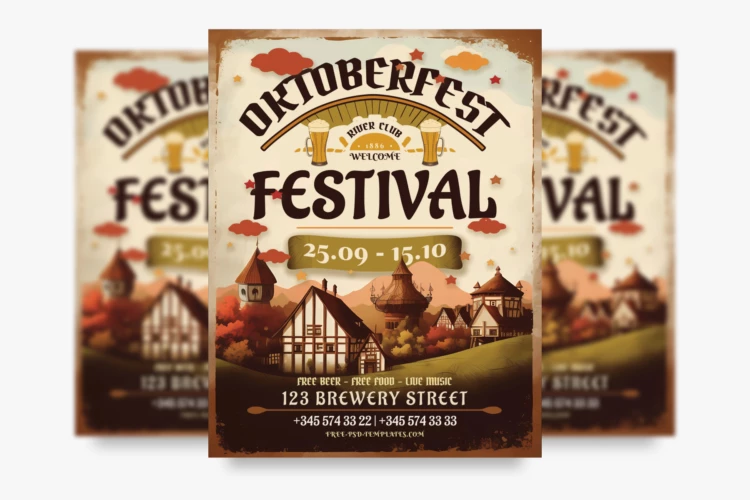 ---
Beer Festival Flyer Layout with Beer and Musical Instrument Illustrations
Impress your guests with this unique sample! It features an awesome illustration of a beer glass and musical instruments. A tasty pretzel and green hop surely add up to the classic Oktoberfest feel. The bright red text pops against the light background, making for an eye-catching design. The overall look is both appealing and artsy, and there's a matching drinks menu template available to wow your guests.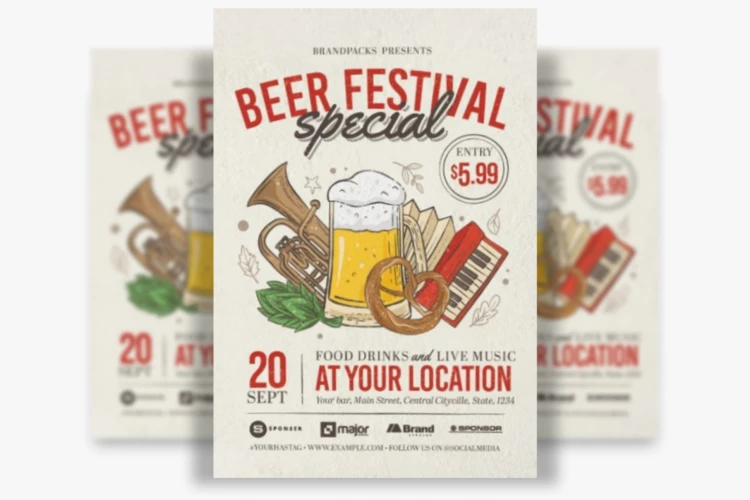 ---
Free Oktoberfest Club Flyer
Get ready to tempt every potential guest with this superb design. The template showcases a captivating image of a frothy beer glass. Besides, a wooden wall and golden spikes create a natural and inviting aesthetic. The well-arranged text lines provide the perfect platform to showcase key event details in a catchy manner. Once printed, these flawless flyers are bound to bring you success.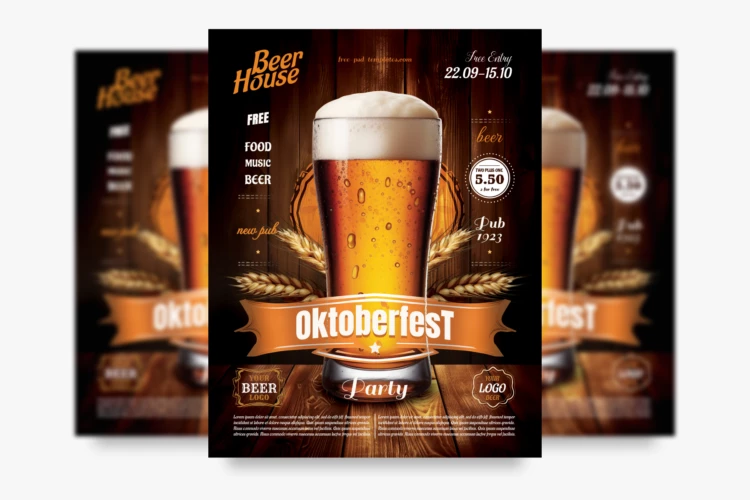 ---
Craft Beer Happy Hour Flyer Template
Go for a simple yet effective approach with this stunning printout design! The spotlight is on a hand-drawn image of a frothy beer mug, and a stylish header above it. While the illustration creates a captivating contrast against the clear background, you're free to experiment with different color combinations in Photoshop. Besides, the text is fully customizable. Without a doubt, these stylish and unique flyers will attract a crowd to your place!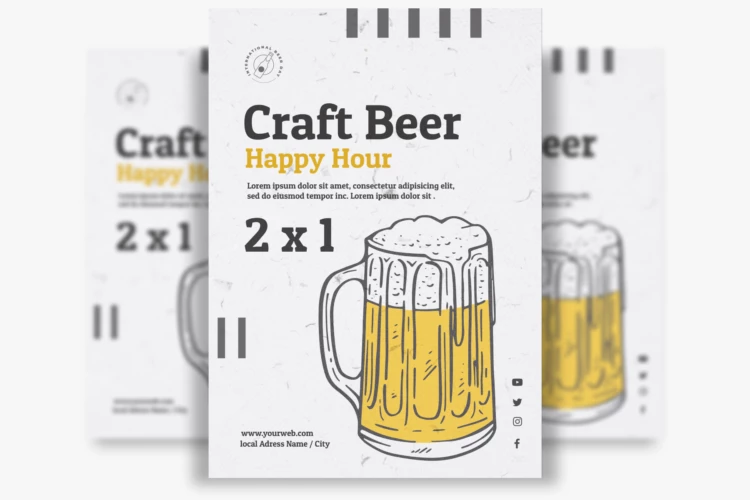 ---
Beer Fest Flyer Template
 Promote your event with this attention-grabbing template! The design features a huge, close-up image of a beer mug with a frothy head and condensation drops that will make anyone crave a cold beer. A pop of green from the hops surely adds a fresh touch to the yellow, white, and brown color palette. The bold white letters at the top read "Beer Fest," while the bottom allows for additional event details. Easily edit the text and colors in Photoshop to create stunning printouts for your event!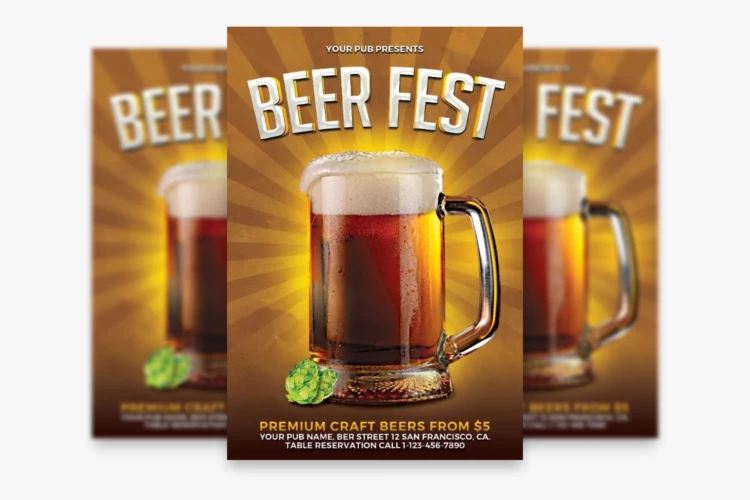 ---
Free Oktoberfest Flyer Template
Check out this awesome template! It's got a vintage vibe and a simple design that's sure to catch your guests' eyes. The main attraction is a frothy mug of beer set against a turquoise and orange backdrop. With Photoshop, you can easily customize the header and add all your event details at the bottom. Additionally, you can alter the color scheme, to make it match your preferences.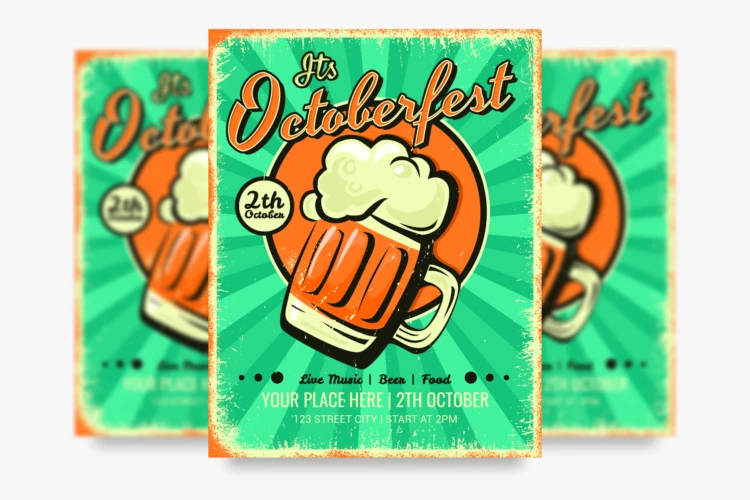 ---
Oktoberfest Free PSD Flyer Template
Let a fresh and natural design of this template promote a big Oktoberfest event! The centerpiece is a big glass of frothy beer, with green hops and wheat spikes that surround it. The shabby effect and flags add a crafty touch. The big white letters spelling out "Oktoberfest" contrast with the wide blue patterned stripe on the yellow background. There is also plenty of space at the bottom for additional event details.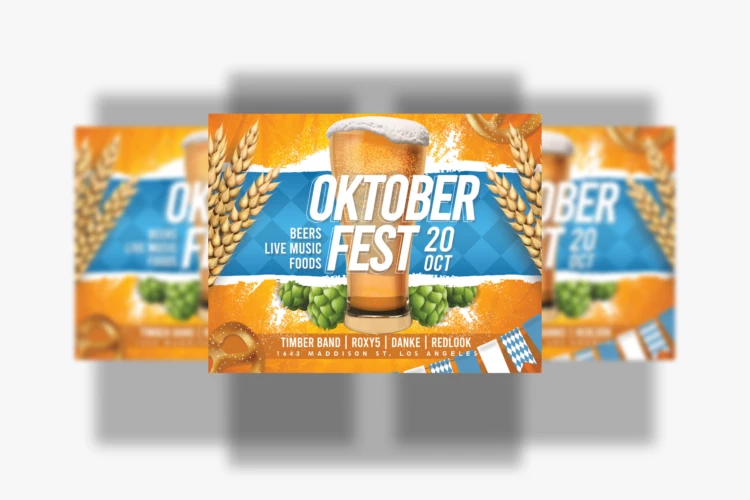 ---
Free Oktoberfest Flyer Template in PSD
 Announce your upcoming Oktoberfest event with this bold and simple design! The striking yellow backdrop makes it impossible to miss. In the center, there is a minimalist drawing of a beer glass and three slanted white stripes with the words "Best Beer Oktoberfest Celebration" running across them. You can easily adjust the text and additional lines in Photoshop. Although the contrasting yellow, brown, and white color looks cool, you can alter the palette to suit your preferences.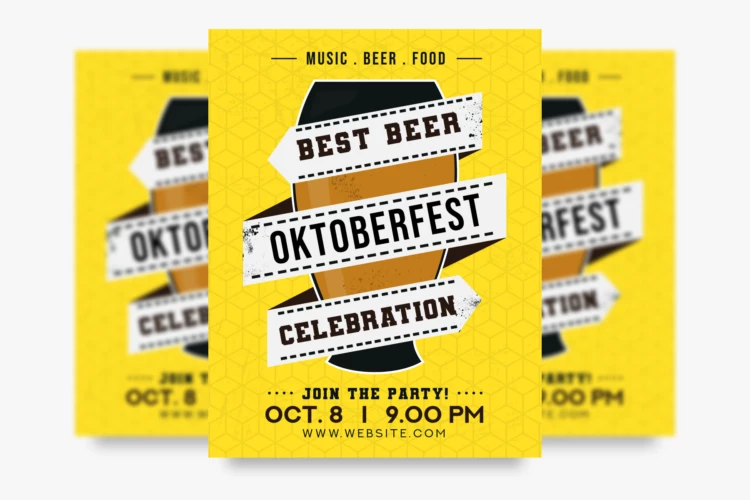 ---
Free Oktoberfest Flyer Template Set in PSD
Here's one more outstanding sample on our Oktoberfest Event Flyer Templates compilation! The file offers you two different but equally stylish color schemes to choose from. You can opt for the black setting with beige and white accents, or the beige backdrop with white details. The centerpiece of the design is an image of a vintage-style wooden beer barrel, with a decorative ribbon in front where you can add your club's name. Make everyone look forward to your awesome beer fest!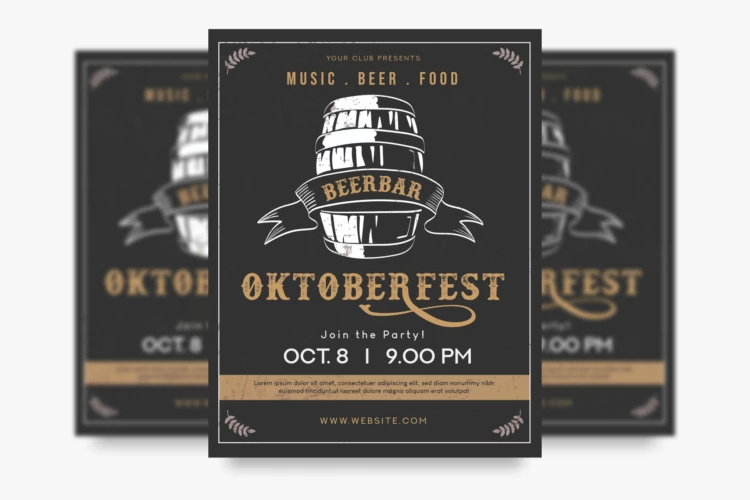 ---
Oktoberfest Party Free PSD Flyer Template
Looking for a catchy that will make everyone thirsty? This template features a close-up image of three glasses full of cold, tasty beer. The golden crops in the background add a nice touch of nature. Meanwhile, crispy pretzels and a juicy sausage will make anyone's mouth water! To top it off, both the food image and the text in white & golden create an amazing contrast with the dark backdrop. Get ready to enjoy some delicious beer and celebrate in style!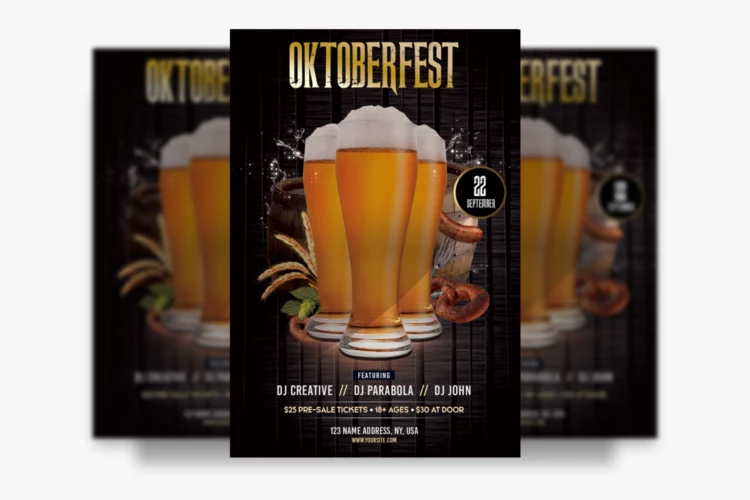 ---
Free Beer Party Flyer Template
Stun your guests with this cool design! It features a huge golden header reading "Beer Night Party". Behind the header, you'll find an image of three beer bottles and shiny spikes. They stand out against a blue-and-brown background that evokes a festive vibe. Besides, an image of fireworks adds some extra excitement. A few lines of small, golden text at the bottom of the template allow you to provide all the essential event details.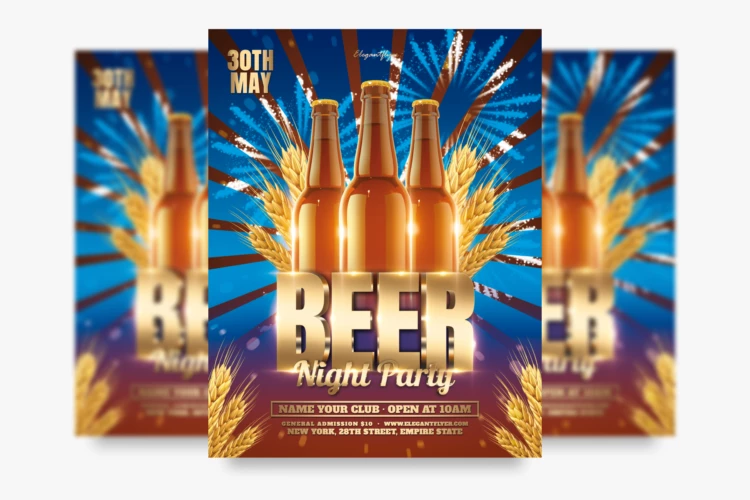 ---
Oktoberfest Event Flyer Template
This simple yet stylish design will surely catch the guests' looks. It features a hand-drawn illustration of a beer bottle, a beer glass, a couple of pretzels, and wheat spikes on the sides. The warm yellow setting of the template contrasts nicely with accents in dark green, white, and brown. The header below the illustration looks stylish and apt. In the lower part of the sample, there's plenty of space to include all the important details about the event.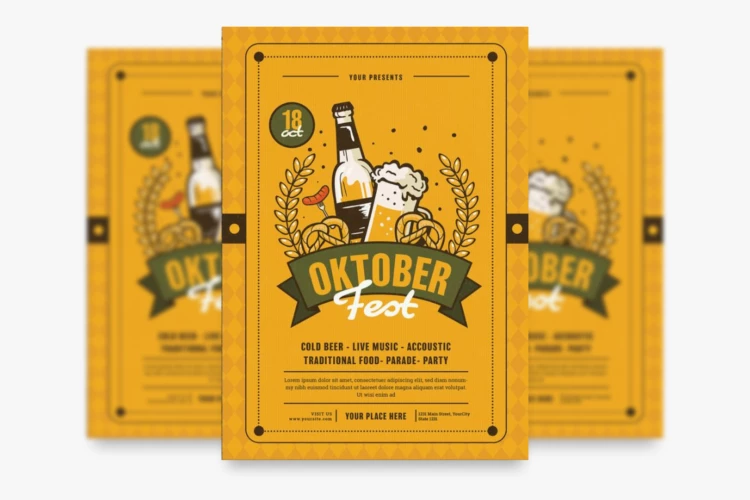 ---
Beer Festival Flyer Template PSD
This template's unique color contrast certainly sets it apart! The upper part's bright yellow is a perfect match for the dark brown wooden texture below. The centerpiece of the design is an eye-catching frothy beer mug with wheat spikes in the background. The template's bold header and white and yellow text are sure to catch the eye of any potential visitors. Editing the template in Photoshop is a breeze, ensuring high-quality print results every time.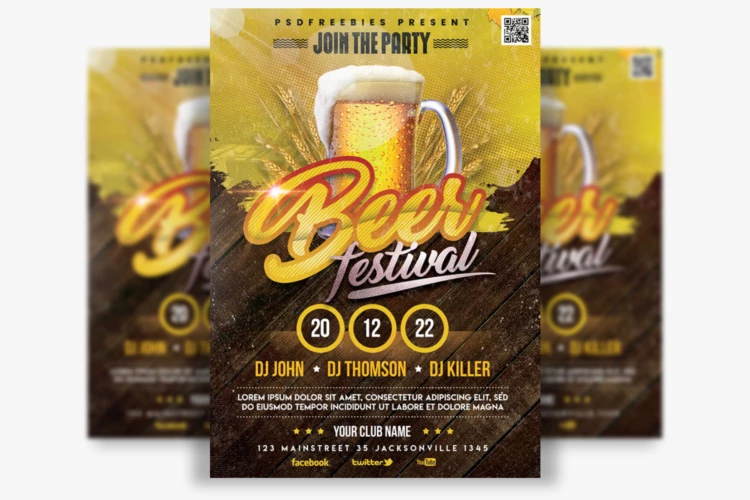 ---
Oktoberfest Free Photoshop PSD Flyer Template
This design is perfect for those who want to promote their event in a vintage style. It showcases an image of two beer mugs on top of wooden barrels, giving off a warm and inviting vibe. The header on a wooden sign adds to the overall rustic feel. The option to easily edit the text and color scheme in Photoshop makes this template a quick solution for creating unique flyers. Both you and the visitors will enjoy the quality of the printouts.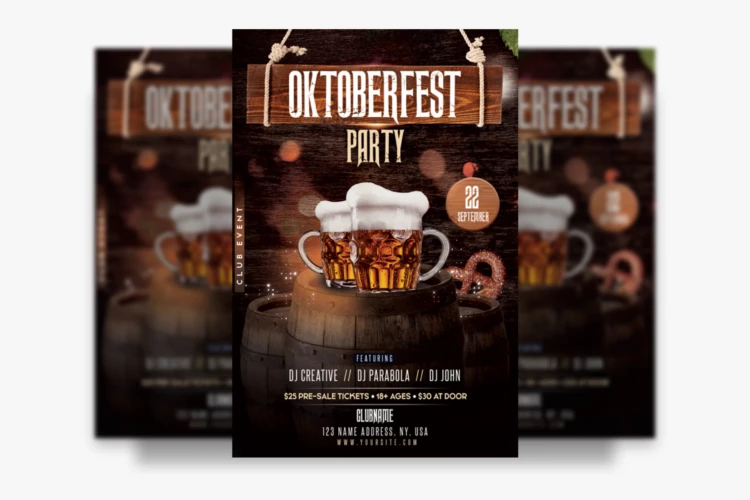 ---
Blue and White Flyer Layout with Beer Illustrations
Don't miss out on this stunning design! The blue and white color palette alone will make it stand out. The template showcases a hand-drawn illustration of a frothy beer glass with spikes. Besides, cool fonts and an unusual layout of text make this design look even more stylish. In the upper part, there's an imitation of blue and white checkered cloth giving the template a unique finish. Additionally, you can get a matching drinks menu template to go along with flyers!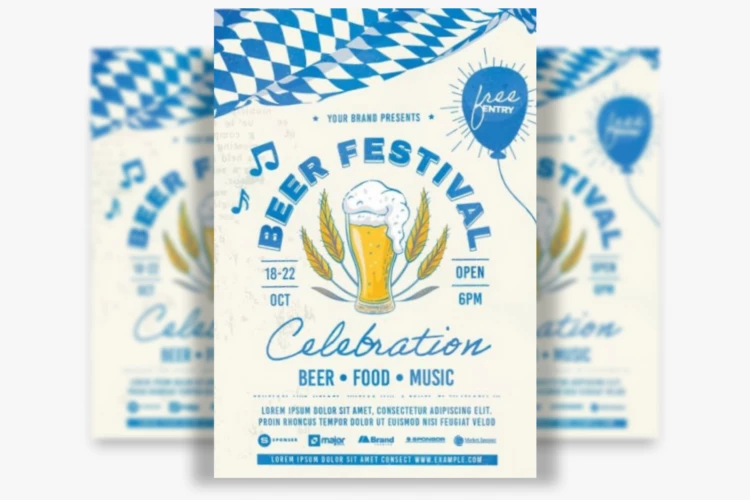 ---
Beer Day Flyer Template
 Get ready to ignite the fun mood with this minimalist and welcoming design! The big image of pals enjoying their beers surely captures the essence of a great time. In the lower part, you'll find the details on timing and special offers against a vibrant yellow-and-white setting. Easily customize the text lines and add your logo with just a few clicks in Photoshop. Get the party started with this amazing template!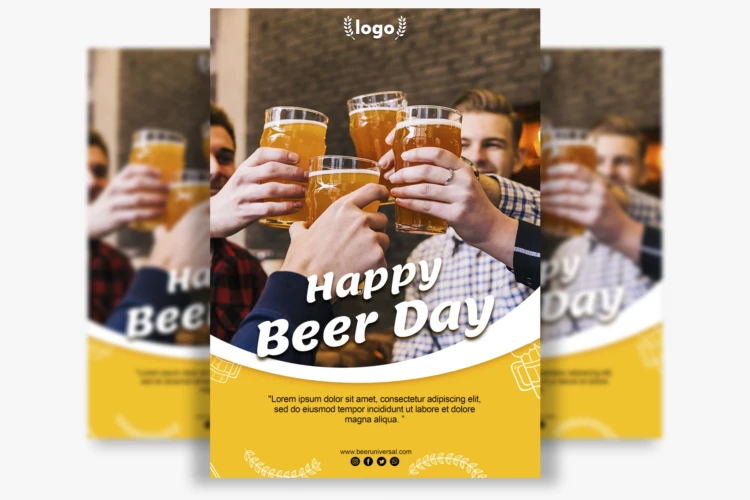 ---
Beer Festival Celebration Flyer PSD
Get ready for an extraordinary beer festival promotion with this sample! The template's design is unique and certainly will make your event stand out. A bright yellow top blends nicely with a textured dark blue bottom. A beer cap with a bold font header is the perfect centerpiece, and two beer glasses complete the look.  You'll find it easy to add details about the festival to the lower portion neatly arranged portion.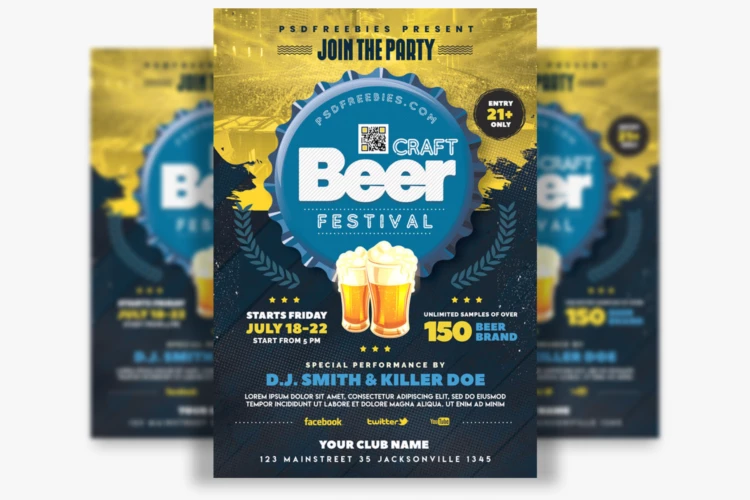 ---
Free Beer Day PSD Flyer Template
Get this stylish and outright template that surely sets the stage for a fun beer night with friends. The design features an image of pals raising beer glasses in the lower part. Meanwhile, the upper half provides details on the venue, timing, and special offers. With superb fonts and a charming chalk-drawing image, this template indeed captures attention. Spark interest among potential guests with these fabulous invites and host unforgettable evenings!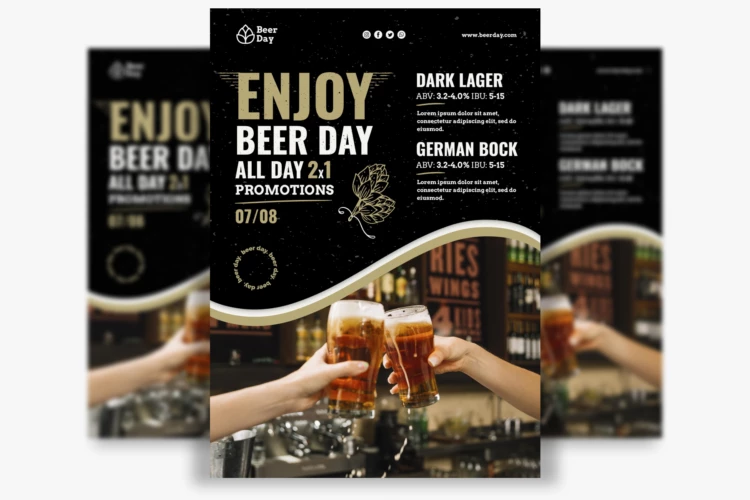 Congratulations! You've reached the end of our incredible Oktoberfest Event Flyer Templates collection, and we hope you've found the perfect template for your place and upcoming event. Get ready to enjoy the seamless process of personalizing your chosen design in Photoshop or other software. And here's the best part: all the offers on our list are completely free! Prepare those fantastic invites and get ready for a huge success.