Most of us have organized at least one event or a party and the first thing you organized are invitations. With these free online flyer makers, you can quickly create a custom flyer invitation or a promotional flyer in minutes.
Today, every business needs to go an extra mile in terms of promotion and marketing in order to spread the word about services and reach as many potential customers as possible.  One of the most cost-effective and on-budget ways to promote business services or products to potential customers is a promotional flyer. It can be distributed almost everywhere, left in shops and cafes, distributed on the street, left at doorsteps, etc.
If earlier, you had to hire a good graphic designer who had skills and resources for a professional design of a business or an event flyer, today's advanced digital technologies have made it possible create flyers yourself with the help of free online flyer makers and free flyer templates.
The so-called do-it-yourself online flyer makers are online graphic editors which allow customizing pre-designed print-ready templates via advanced editing options like uploading a photo, manipulation design elements and background colors, sizes, fonts and font sizes, saving and printing, sharing via social media. Below are listed some of the best free online flyer makers which you can use for creating custom flyers for different business purposes, be it advertising flyers, event flyers, non-profit and charity flyers, invitation flyers. These flyer makers provide a free version that has basic features which have limited editing functionality but may be enough for creating minimalist flyer designs for non-promotional needs.
Crello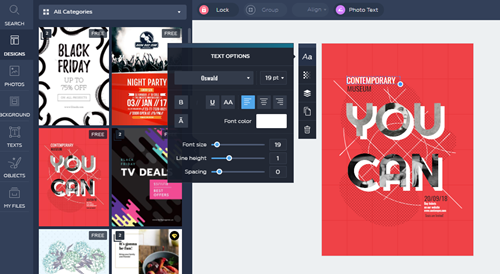 Being launched by Depositphotos, Crello provides a huge variety of multipurpose free templates, including social media animated templates. Using Crello, you can also create a flyer, an invitation, and a poster design. What is great about Crello is that a wide range of flyer templates and customization features are available for absolutely free without any restrictions. You should pay for photos if you use the ones from Depositphotos ($0.99/photo). But there are also a lot of free photos you can choose from.
Visme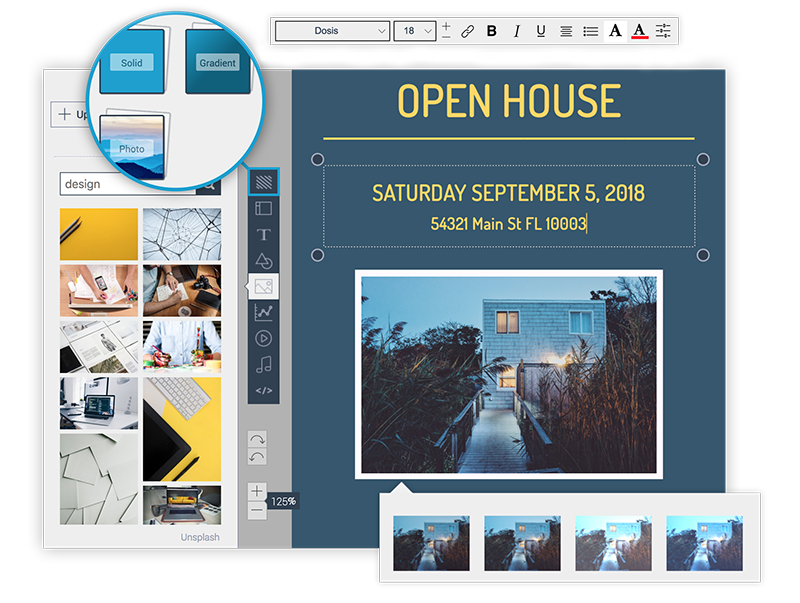 Visme provides a wide range of premium and free templates for creating presentations, infographics, charts and reports, social media graphics, banner ads and printable marketing materials like flyers. The process of creating a flyer is as easy as a piece of cake. Choose a suitable free template among dozens of categories and themes (there are templates for any type of business and organization), pick a needed layout, choose from thousands of vector icons, images (you can also upload your own photos or images). Although these is a freemium version, the customization options are limited in a free plan.
Canva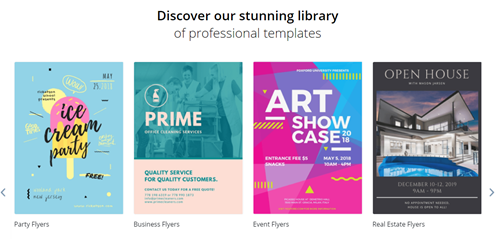 Canva is one of the most user-friendly online design tool that helps to save a lot of time with drag-and-drop functionality and easy search function. There is a freemium version, so you can easily create a flyer using premade free templates and customize it with hundreds of editing options like colors, fonts, stickers etc.
Adobe Spark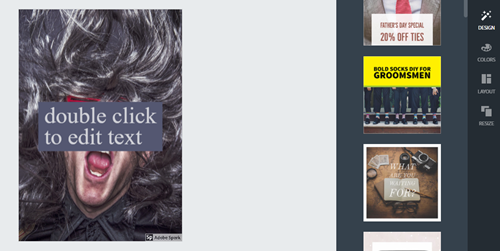 Adobe Spark flyer maker is great when it comes to DIY flyer design. The process of flyer customization is easy and smooth. Thanks to the integration with Adobe Creative Cloud, Dropbox and Google Photos you can easily upload your image or a photo and tweak it with fonts, layouts, colors and icons in order to get the best result.