Jars – a common type of packaging – are widely used for the most various types of everyday products, from foods to cosmetics and pharmaceuticals. We all have an array of different size and style jars in our kitchen cabinets that we enjoy reusing for other goods. When we choose a product in a store we also pay attention to how its packaging looks; a stylish and handy jar can often be a reason for us to choose a certain product above all others. The task of designers is to make a jar and its label look so original and appealing that it instantly makes a jam, a sauce or a cosmetic product stand out from a line of others.
In today's compilation we've gathered 30+ unique jar mockups crafted from scratch by professionals. Fully adjustable in Photoshop they can become effective tools to create a realistic presentation of your next cosmetic or food branding project. All you need to do is download any sample, open the ZIP archive and apply your design to the placeholders. The scales, palettes and backgrounds are editable, too. And now the best part – all mockups on this special list can be downloaded and used for free!
---
Free Coffee Jar Mockup
Check out this wonderful packaging for the coffee! Extremely realistic coffee jar with plastic lid is a good way to demonstrate your product.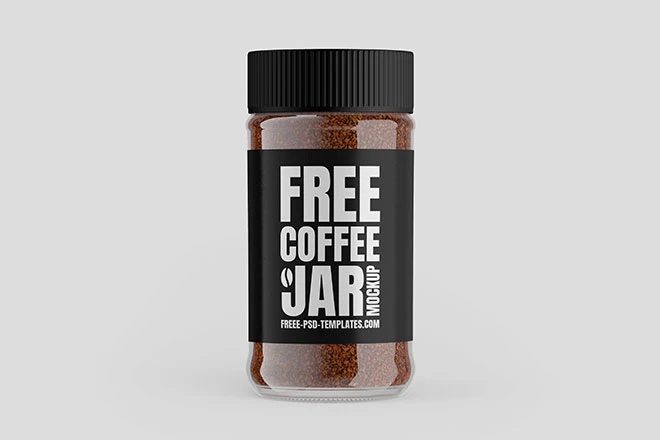 ---
Free Glass Cosmetic Jar Mockup
Here's a pack of three original jar mockups that can come in handy for any cosmetics companies, or simply be a good base for presenting your new packaging design. A sleek minimalist shape of the jar templates makes them apt for almost any design.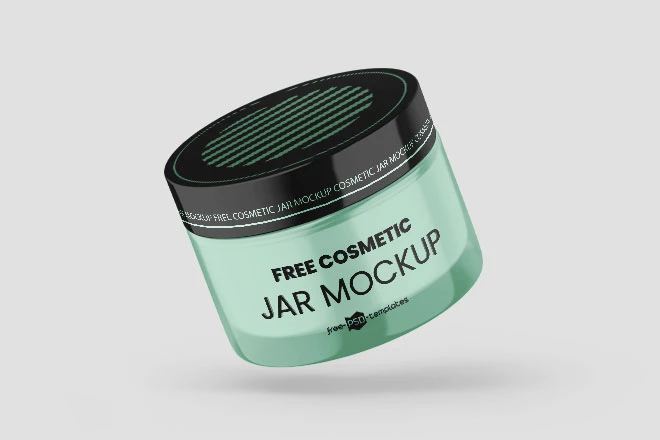 ---
Free Jam Jar Mockup
Every sweet tooth will enjoy looking at these jam jar mockups. High resolution makes both samples look like real objects. You can apply text, a logo or an illustration to both a paper tag and a lid easily in PS.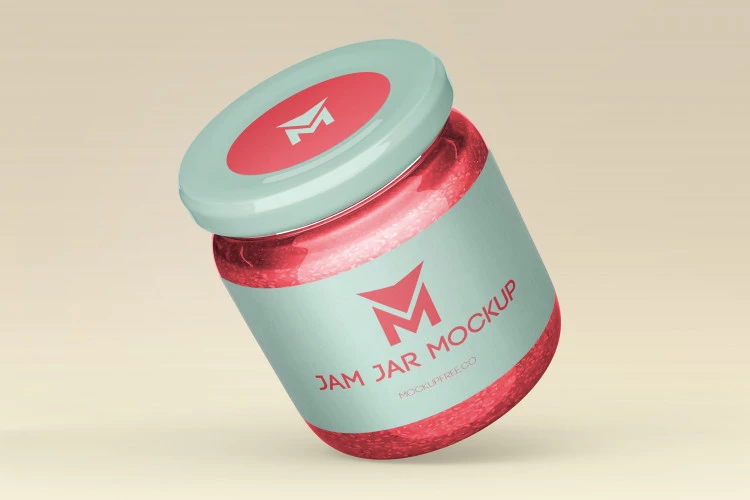 ---
Glass Peanut Butter Jar Mockup
A favorite treat of many, peanut butter usually comes in simple and handy cylindrical jars. Such a standard jar is exactly what the mockups in this professional set feature. You can also opt for a piece with a couple of peanut butter jars in it. All mockups are customizable in PS.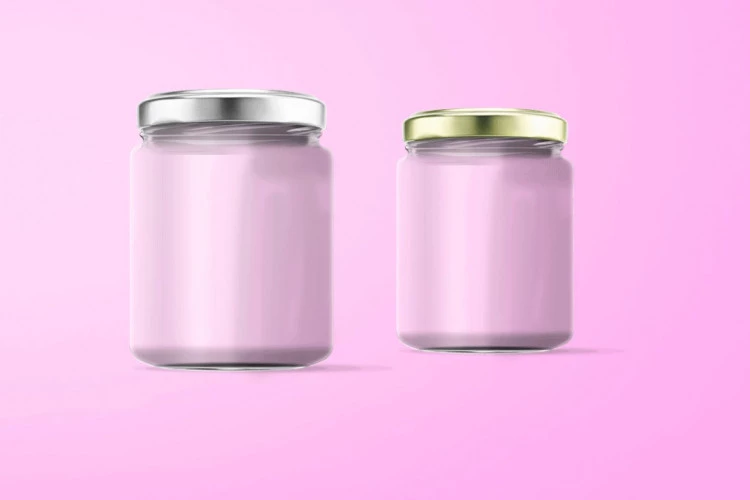 ---
Free Bath Jar PSD Mockup
Thanks to an unusual shape and a thin wooden lid this Bath Jar mockup has a nice crafty look that your customers will surely enjoy. Although the jar is originally presented in an eye-pleasing scene with the seashells and a lime, you can remove and replace it while editing this template in Photoshop.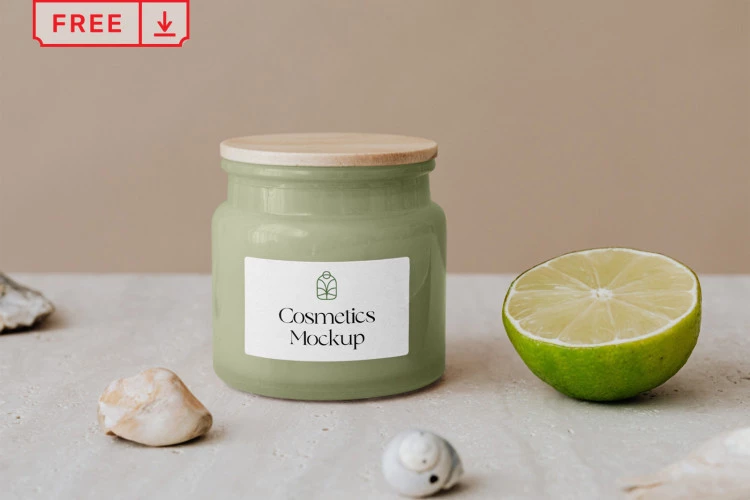 ---
Free Pills Jar Mockup Template in PSD
The three pills jar mockups in this set will impress you and the customers with their realistic look. Both a transparent and a black jar will look great whether printed or on the web. PS will help you to edit the colors, shadows, reflections, and apply your text and design.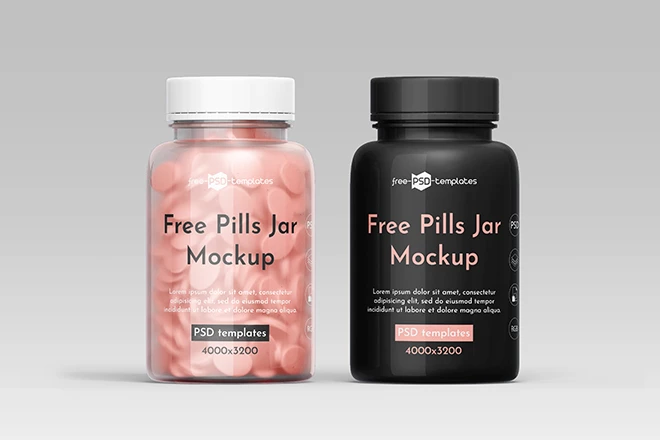 ---
Free Cosmetic Jar Mockup
High resolution and a life-like look make these two professional templates perfect for promoting your cosmetic products or showcasing a new packaging design. Crafted by a professional, these samples are extremely easy to adjust in Photoshop.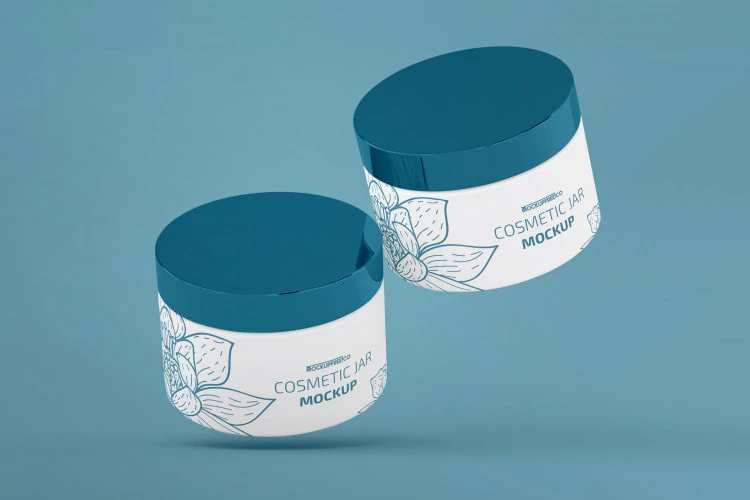 ---
Free Cosmetic Jar Mockup
A top class cosmetics product will get a perfect presentation with any of the jar mockups in this special set. A wonderful scene with the stones and exquisite twigs behind the jar will please your customers' eyes. Smart Objects will make the editing process fast and easy.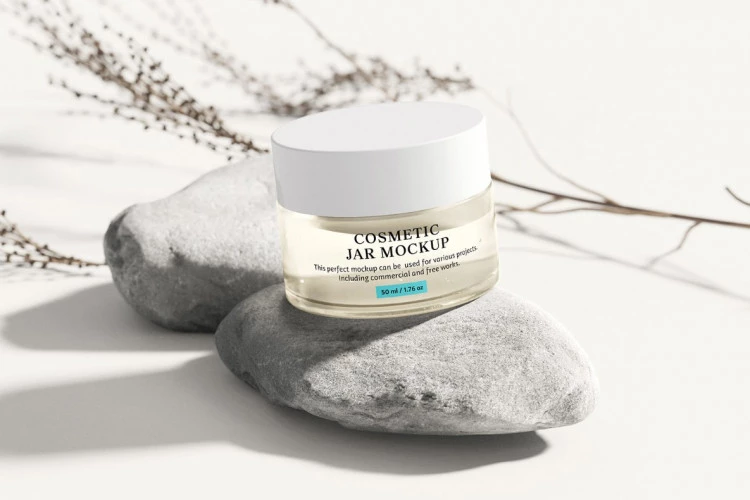 ---
Free Honey Jar Mockup
Hey, honey! Why not use this incredible mockup of two cool hexagon jars? The special shape of the jars grants extra space on the paper labels to apply your design, logos and text to. Sweet honey shining through the glass looks life-like.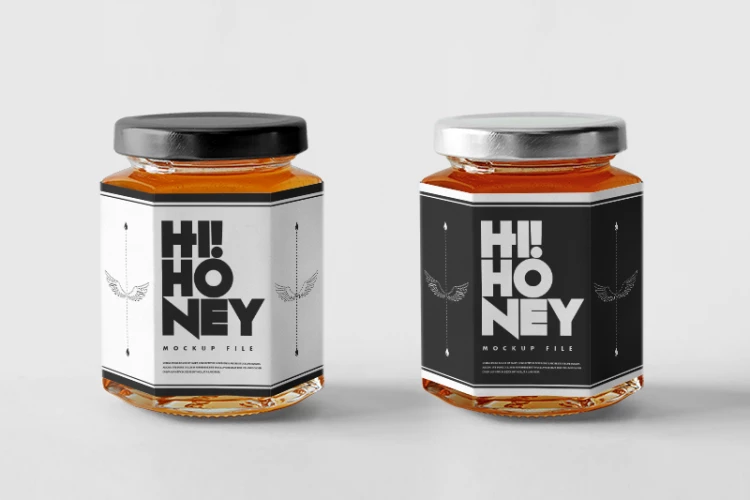 ---
Free Jar Set Mockup in PSD
This superb set of mockups features a taller and a small jar that could be perfect for storing honey, syrup, jam, marmalade and other delicious treats. Reflections and shadows make these templates look extra realistic. You can apply the logos and designs to the lids, labels and sticker tags.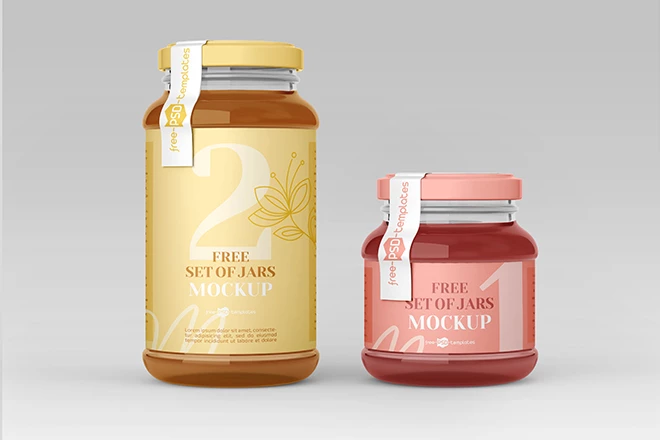 ---
Free Honey Jar Mockup
This cool jar imitating a honeycomb shape will draw extra attention to your cool branding design. The warm yellow color of the background can be changed or replaced with any image. Being a Smart Object, the label is easy to customize in PS.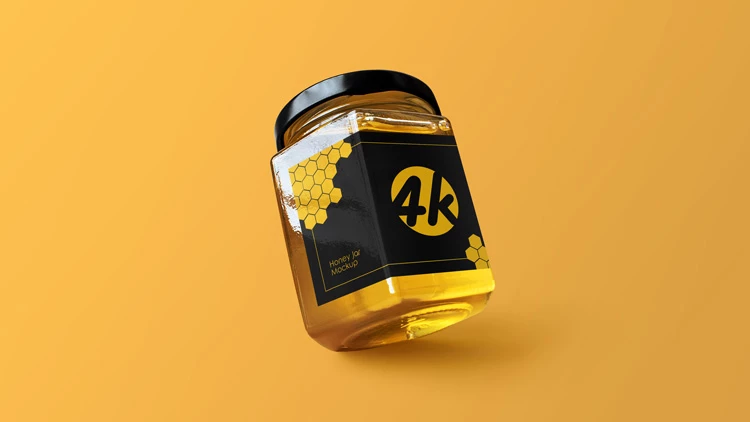 ---
Hummus Jar Mockup
Thought-through to the smallest details, this fantastic mockup of a hummus jar looks just like a real shot. A simple shape of the jar and the lid can be a great canvas for almost any style of illustrations, logos and lettering.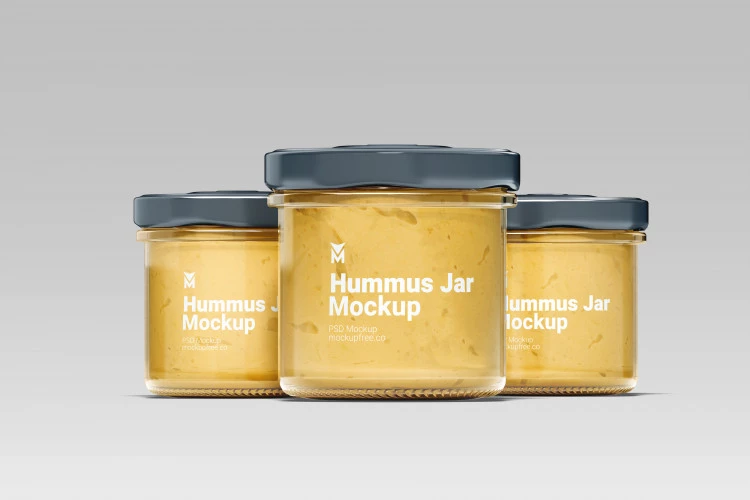 ---
Free Jam Glass Jar Mockup
It is incredible how detailed and realistic this jam jar mockup looks! The tiny bits of berries and the rich red color will convince everyone that there's some real delicious raspberry jam inside the jar. Download this hexagon jam jar mockup to make your products looks irresistible!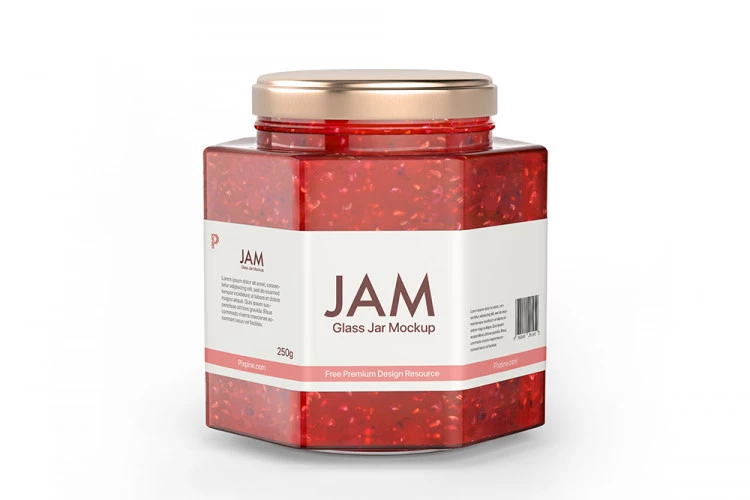 ---
Free PSD Peanut Butter Jar Mockup Templates
A plastic jar to store and sell peanut butter can be a smart alternative to the cool yet heavy glass jars. This set contains two mockups: while in the first you'll see a handful of peanuts and two plastic jars, one of them with an open lid, the second mockup features a single sleek jar.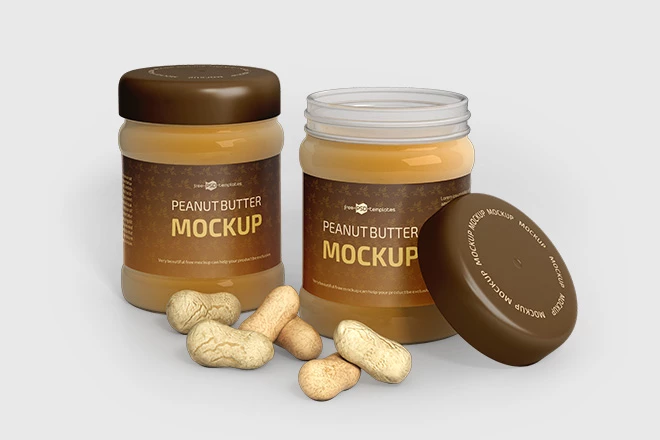 ---
Free Amber Cream Jar Mockup
Take a look at this amazing mockup featuring a cool cosmetics jar – the cream inside has a beautiful amber color. An unusual angle will help to draw extra attention of the customers to the new commercial project and your design featured in it.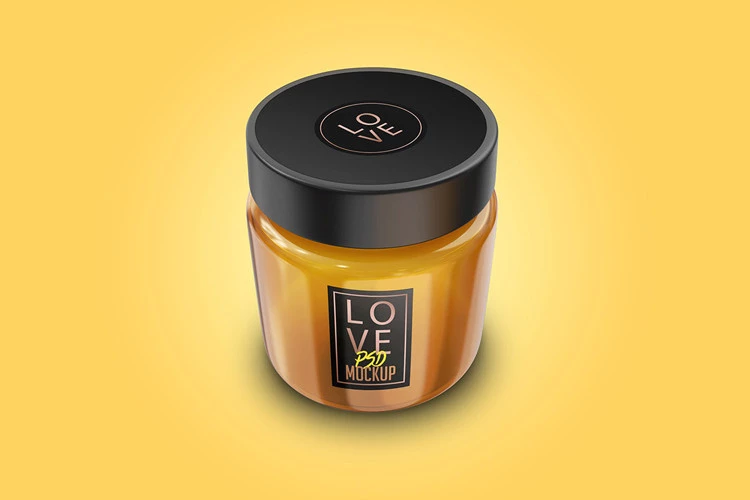 ---
Free Jam Jar Mockup
Here's a real find that will surely make your promotional campaign successful! This fantastic set offers twelve jam jar mockups and a whole lot of backgrounds and designs to use with them. Five types of jam in the jars look extra realistic thanks to precise detailing. One freebie and premium extra samples are waiting for you!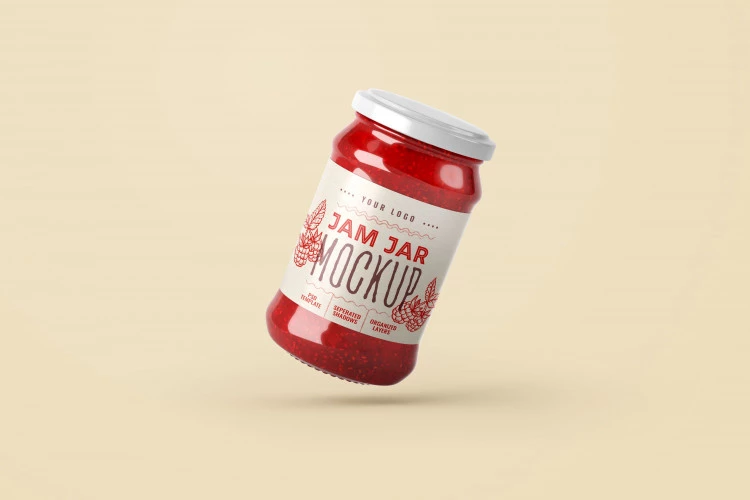 ---
Free Incense Sticks Jar Mockup in PSD
In this pro pack you'll see two life-like jars with incense sticks. The first mockup also includes a simple packaging box that can also become a placeholder for your designs. The scales, colors and the background are easy to change in PS.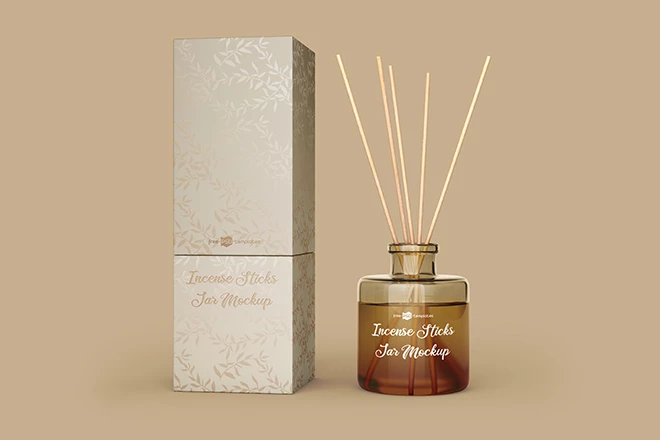 ---
Free Cosmetic Jar Mockup
A glossy crème jar here will help to feature your amazing design. A simple polished shape will make any text, logos and images applied to the placeholder look classy. The background can be replaced with any scene with the help of Photoshop.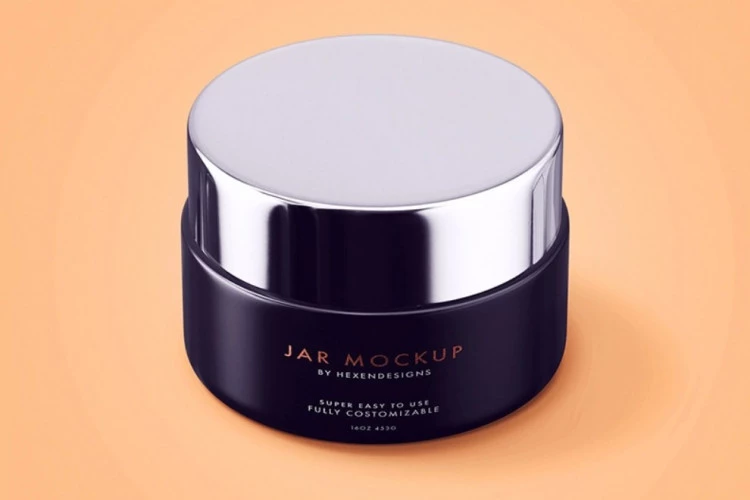 ---
Free Honey Jar Mockup
This pack features three excellent mockups of a honey jar that you can use for effective promotion or to present your designs to a customer. The jar looks unusual thanks to the unusual shape of its footing. The label and lid work as the placeholders.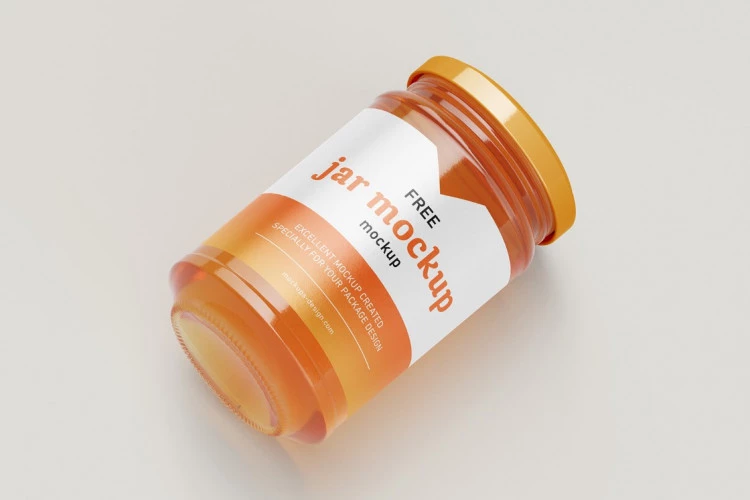 ---
Free Plastic Jar Mockup
Sleek and concise, this mockup will make any design featured on it look stylish and eye-catching. A simple label taking a bigger part of a plastic jar offers plenty of space to display any designer image, a logo or cool lettering.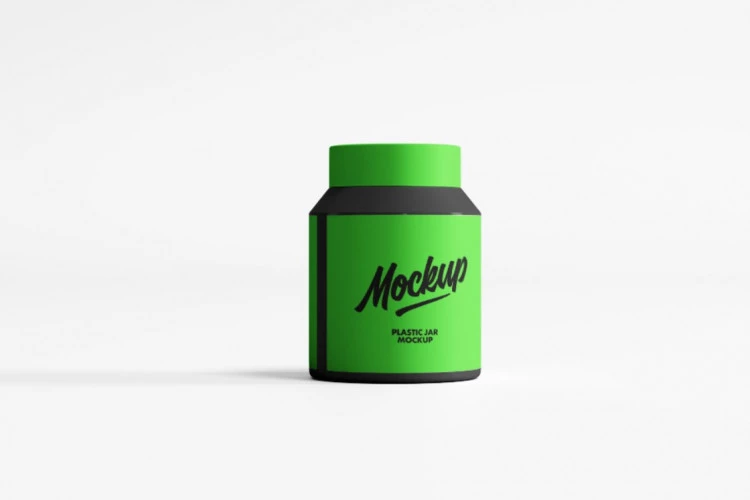 ---
Free PSD Ice Cream Plastic Jar Mockup Template
There aren't many people who would say no to a big portion of delicious ice-cream, especially on a hot summer day! Featuring your designs on an ice-cream jar mockup allows drawing maximum attention to them. This cool pack includes two awesome jar mockups for amazing promotion.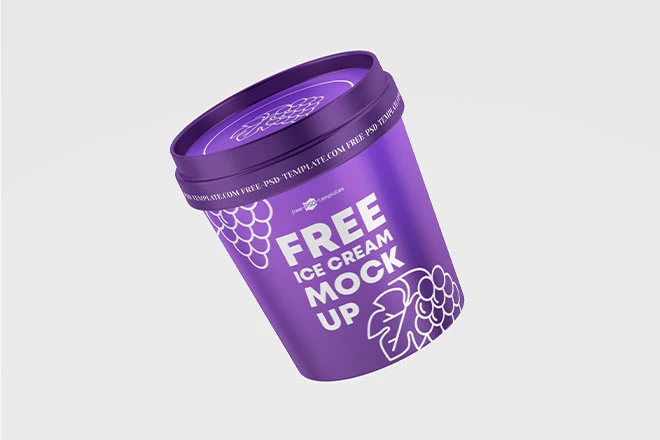 ---
Free Amber Glass Jar Mockup
This top-notch mockup presents three simple jars of honey. However, the gloss, shades and incredible detailing make this template look just as great as a professional shot. Applying your designs to the three placeholders is easy in PS.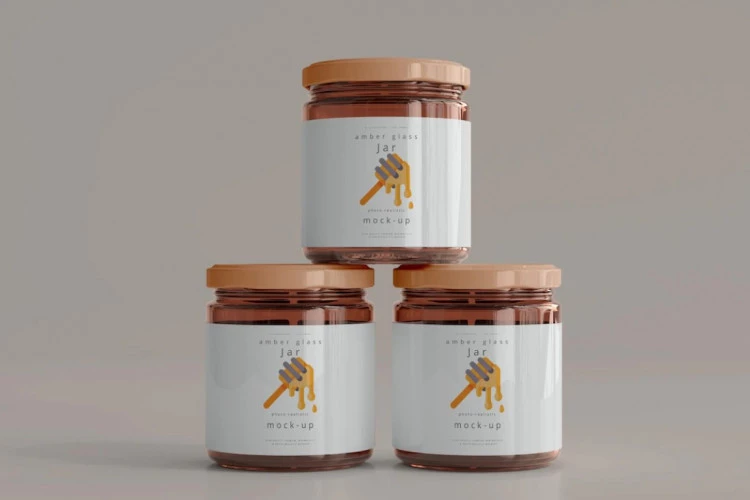 ---
Free Jam Jar Mockup
Here's a fantastic set from a pro designer which features four flawless jam jar mockups. The jars have all got different lids, including cloth, metal and a plastic one with a wire lock which allows you to pick the best variant for your presentation and promotional goals.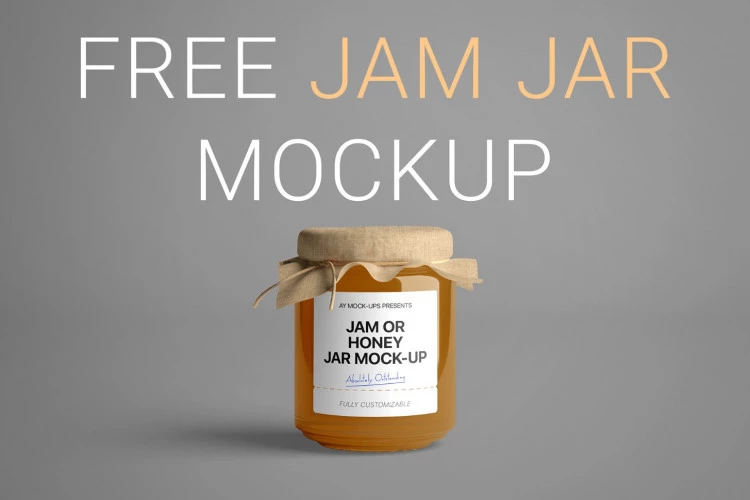 ---
Peanut Butter Jar Mockup
Here's a wonderful set of jar mockups which can help you meet any promotional goals! The simple and sleek look of the peanut butter jar makes will also fit for a big variety of products – from berry jams to sauces and mustard.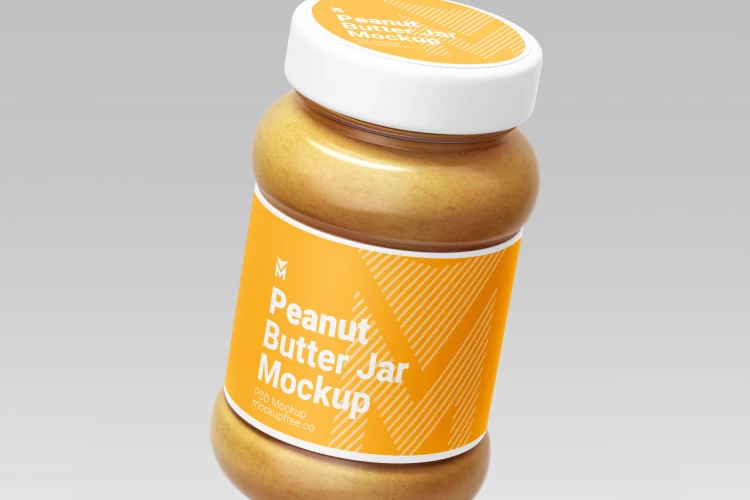 ---
Free PSD Honey Jar Mockup Set
Don't miss a chance to download this amazing set of two mockups that feature both a honey jar and a dipper. A wide paper label on the jar will become a perfect placeholder. While one template presents a jar and a dipper lying flat, in the other one they stand upright.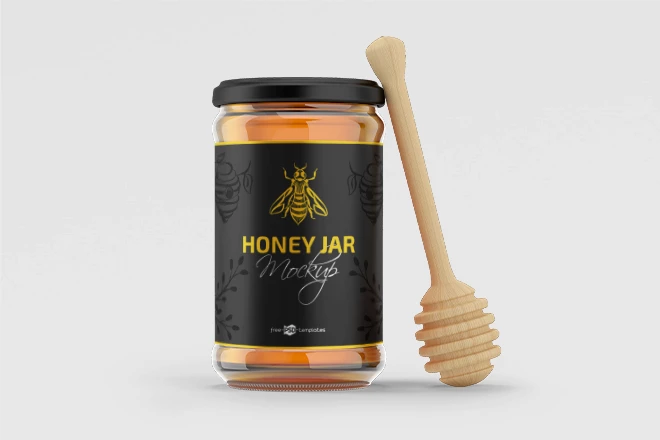 ---
Free Jam Jars Mockup
Won't you agree that a set of two jam jars here looks interesting and cool? While one jar stands upright the other one lies on the side – this will help to present your design applied to the paper tags at different angles. The glossy reflection on the jars makes the mockup look even more realistic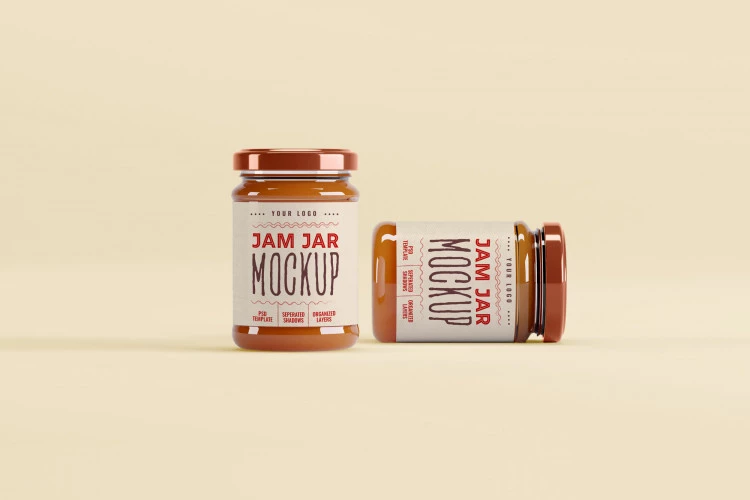 ---
Food Glass Mockup
Make good use of this detailed Bolognese pasta jar mockup. A basic shape of the glass jar won't take the customers' attention away from the designs you apply to the label. The gloss on the glass and the sauce inside add realistic details to this sample.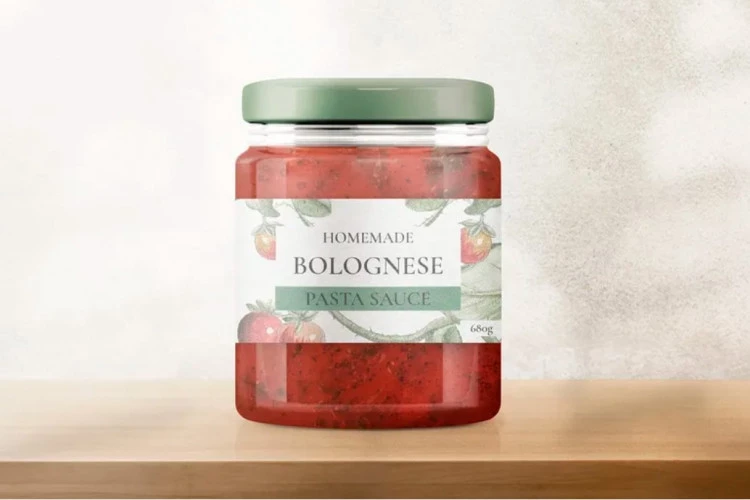 ---
Free Minimal Jar Mockup
Here's a special sample on this list – a mockup of a plastic jar for Japanese matcha. A simple yet interesting look of the jar is compatible with any designs and styles. All you need to do is apply them to the placeholder via Smart Objects in Photoshop.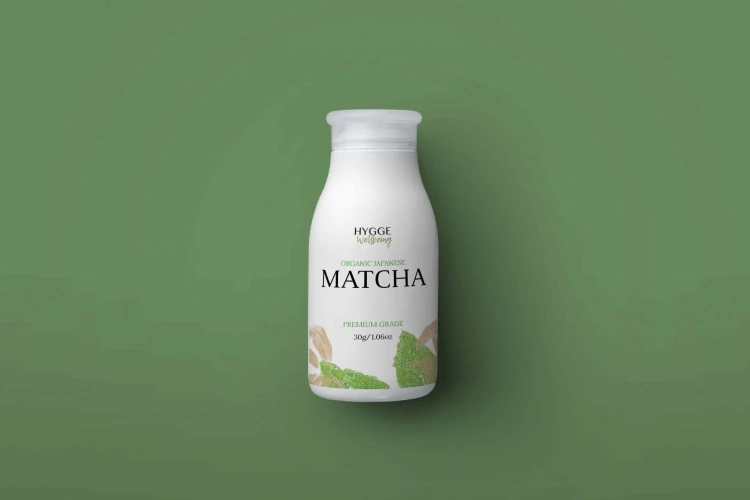 ---
Free Plastic Jar Mockup
The basic plastic jar shown in this pack of template can be good for presenting various products from cosmetics to foods or even sports protein powder. Featured at different angles it will ensure the all-round presentation of your designs.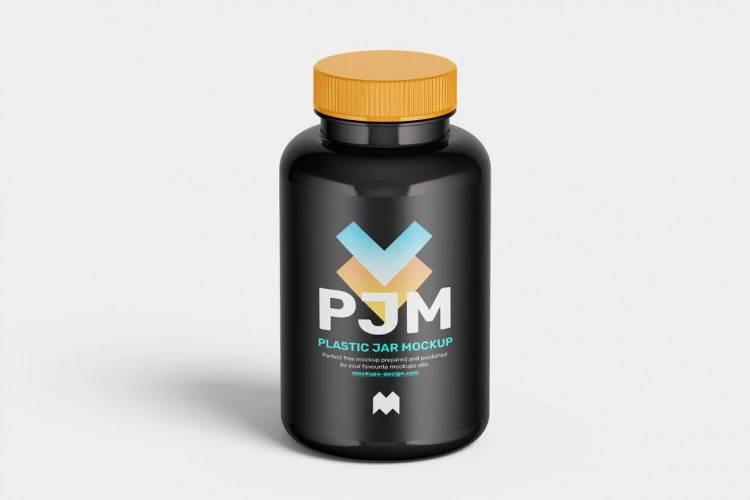 ---
Free PSD Cosmetic Jar Mockup Set
Here's a pack that will come in handy for everyone who wants to succeed at promoting new cosmetics products. Alternatively, these samples can help at featuring the original designs to the clients. Three angles will showcase the images and text really well.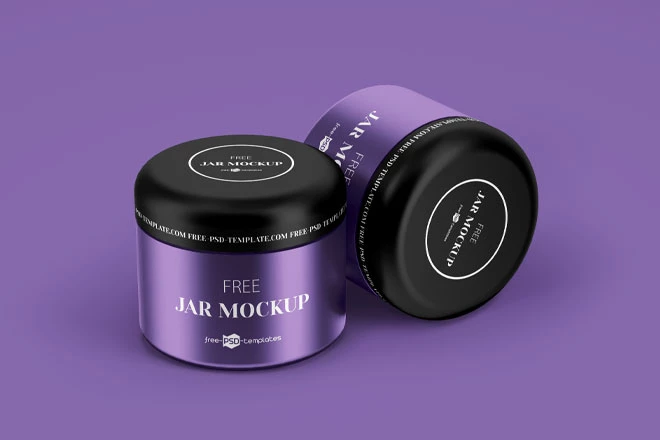 ---
Free Cosmetic Tin Jar Mockup
A teen jar is a handy and smart packaging for such popular cosmetic products as creams and gels. Use this pro level mockup to make the best impression on your potential customers. The placeholder on top of the tin is extremely easy to customize in PS.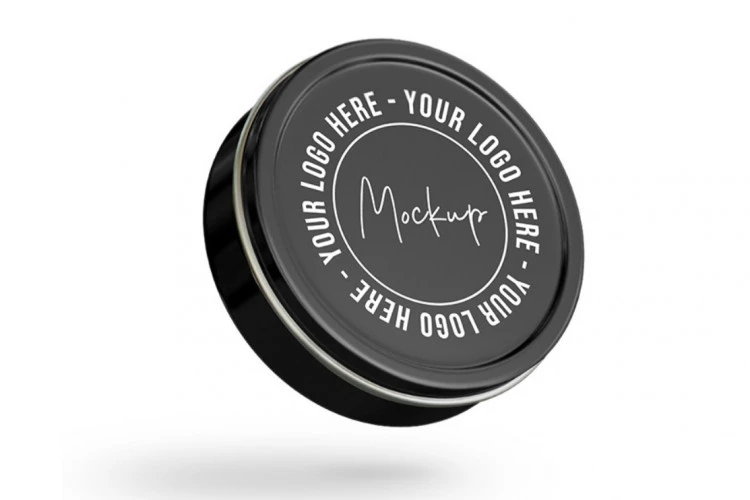 ---
Free Cosmetic Jar Mockup
Here's a mockup of two cosmetics jars presented in a casual scene with a green plant and a candle. These details make the template look appealing and classy. The placeholders on the jars allow featuring the same or different designs which you can add in PS.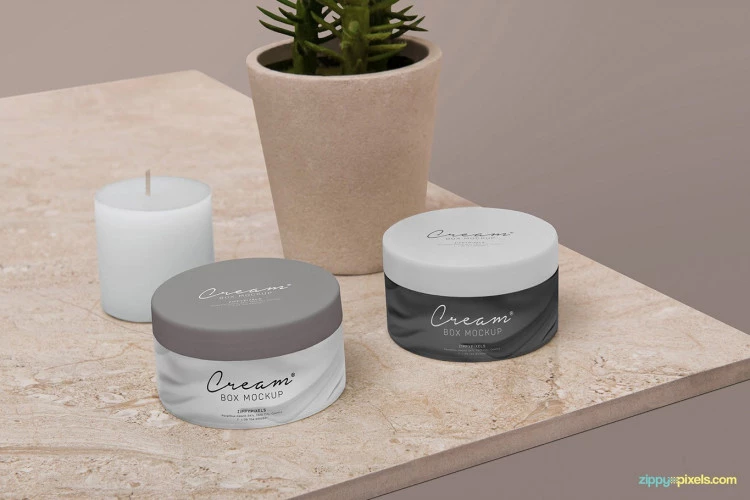 The skilled team here on FreePSD hopes that the unique list of professional jar mockups above was useful to you. Let us remind you that all templates in this compilation are easy to customize in Adobe Photoshop, and can be used for both commercial and personal purposes free of charge.