Download free can mockups that we gather for you! Here is a big collection of free and premium can mockups for your projects. Items are editable in Photoshop.
If you are working on the drink or food packaging, try your design on the can mockup! It's the best way to visualize the final way of your product. Can is one of the most popular packaging, especially for the long shelf life products. We decided to save your time and prepared a wonderful collection of free can mockups along with the premium templates.
In this article you will find different types of bottles: beverage bottles, cosmetic and medical packaging, etc. We tried to find as many samples as possible so everyone could find a perfect template for their projects. So let's not waste the time and start exploring!
---
Free Drink Can Mockup Set
Let us start with this awesome set of drink cans! Classic drink cans with glossy texture is a good choice for soda presentation. Feel free to download a pack of floating can mockups in one click!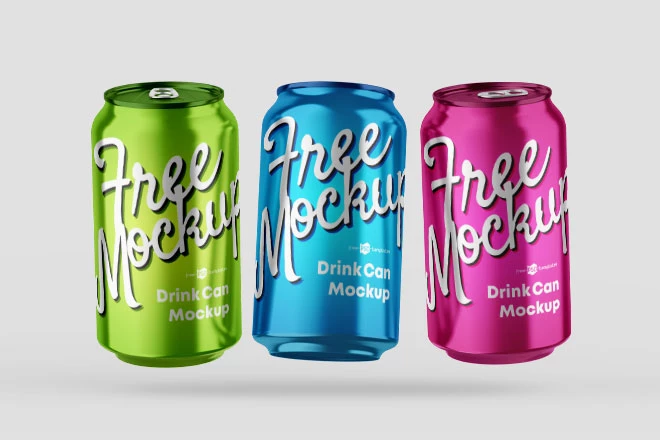 ---
Free Paint Can Mockup
These samples will be good for the hardware stores and renovation companies. Round cans for the wall paint are eailsy editable. You can change the color and add text, logotype.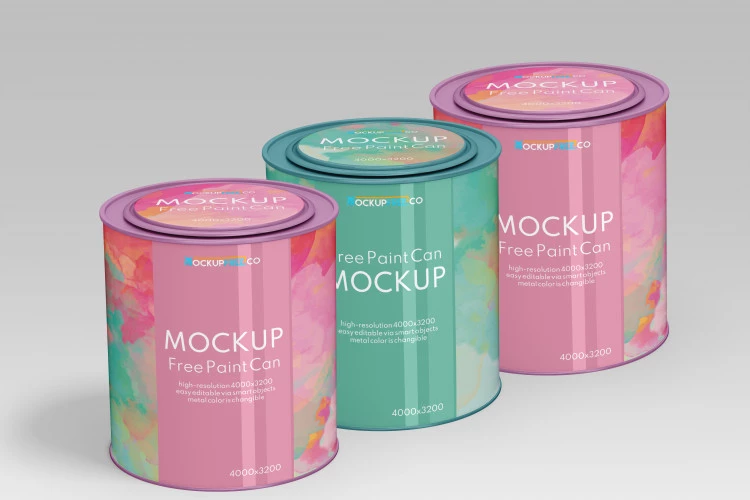 ---
330 ml Soda Cans mockup
Here you can see a creative mockup template with 330 ml soda cans. If you produce soda drinks or have a small brewery – try this mockup to create your beverage design.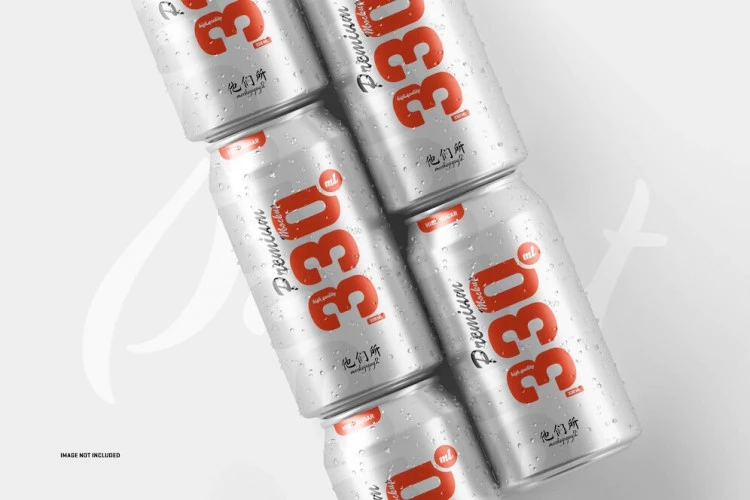 ---
Oil Can Mockup
If you are looking for the perfect olive oil packaging, check this one. A great alternative to a glass bottle is a tin can. Rectangular tin mockup with a handle will help skilled designers and amateurs to create a good packaging design.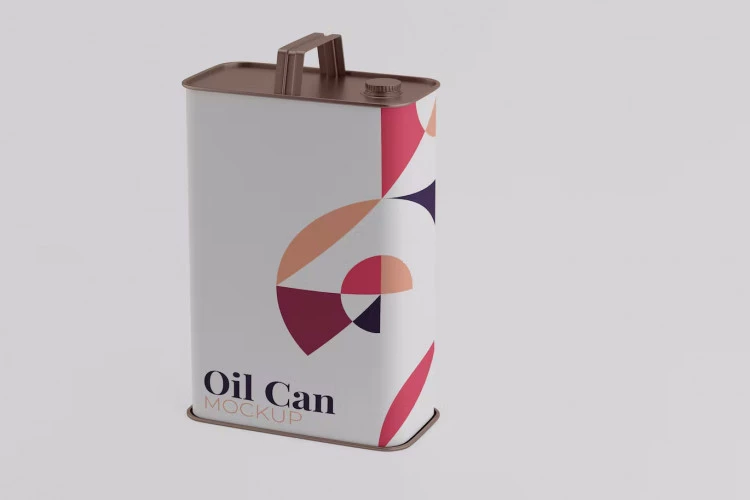 ---
Floating Soda Tin Cans Mockup
The next template is this creative scene with floating cans. in the blue background. Just open this mockup in Photoshop and apply your own drink label design. All smart-layers are editable.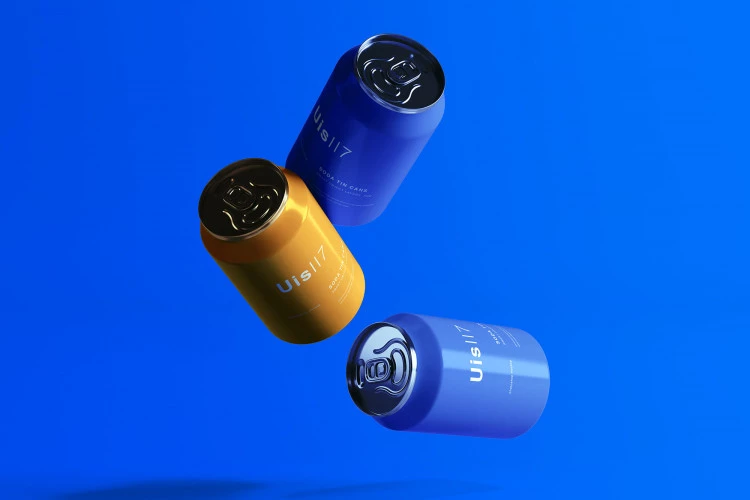 ---
Aluminum Food Can Mockups
This wonderful product is perfect for the canned food. In the premium pack you will find many realistic samples from different angles. These can mockups are suitable for fish, meat, soup, etc.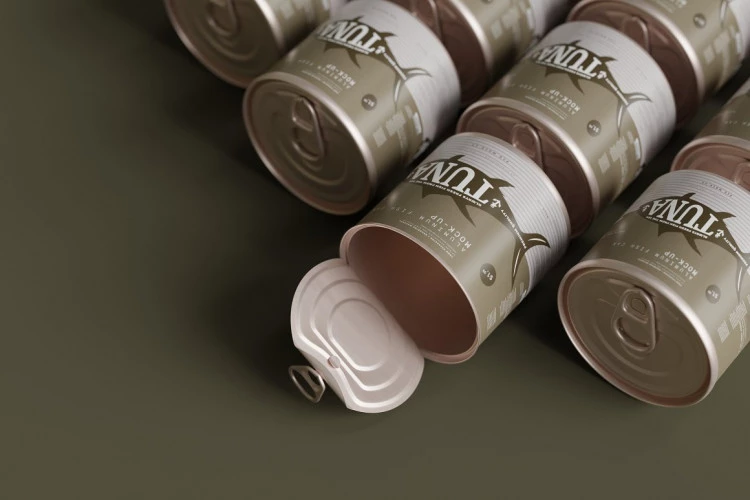 ---
Free Energy Drink Can Mockup Set Template
Here you can see floating energy drinks mockups made in black color. But do not worry – you can change the color in one click. Hurry up to grab this awesome freebie and try on your design.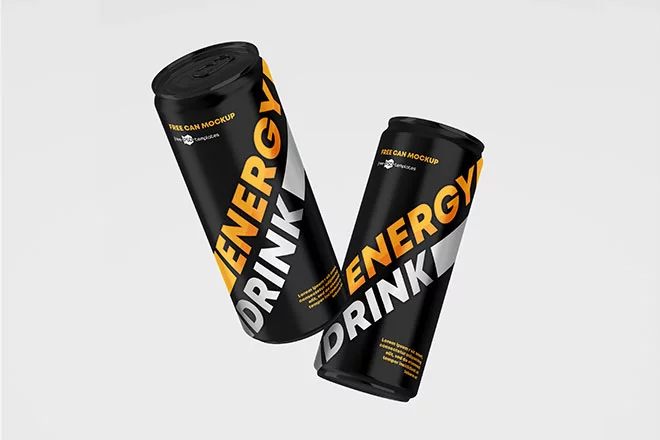 ---
Free Soda Can Mockup
Check out this free set of 2 soda can mockups! Cute small cans are extremely easy to work with! The best thing is that the product includes the rough metal texture layer which might be turned off if you want.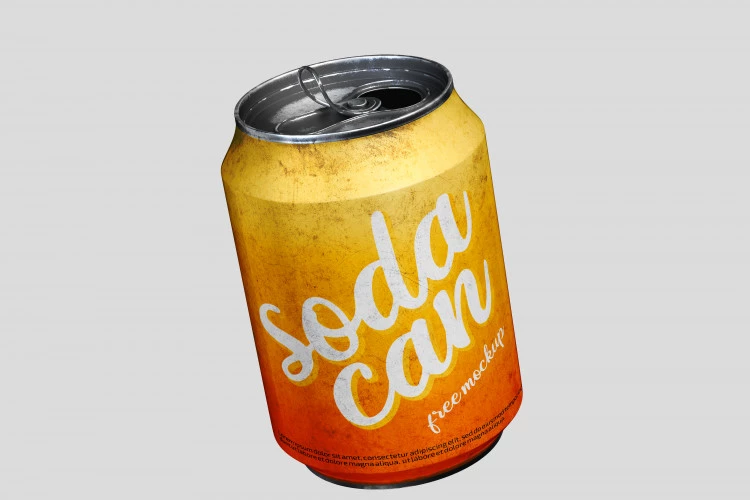 ---
Free Spray Paint Can Mockup
Our next freebie is a catchy set of Spray Paint Can mockups. The pack will come in handy for those who is working on graffiti products design.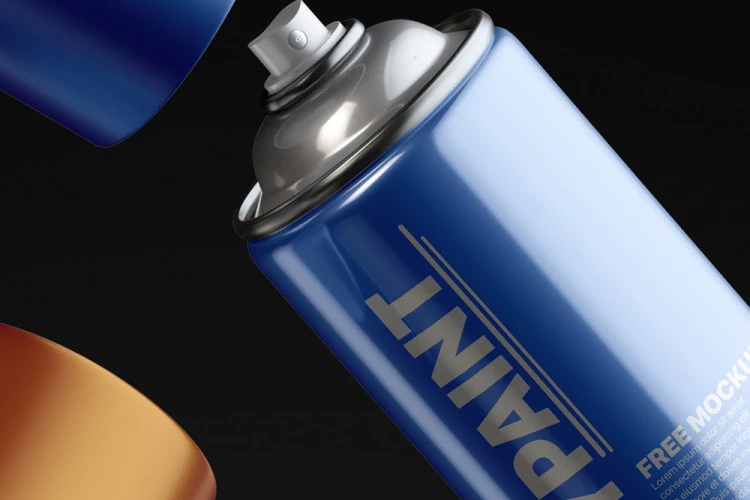 ---
Tin Can Mockup
Do you have to create an excellent packaging for the peas or corn? How about this tin can mockup template? Sample with two realistic cans will help you with good promotion.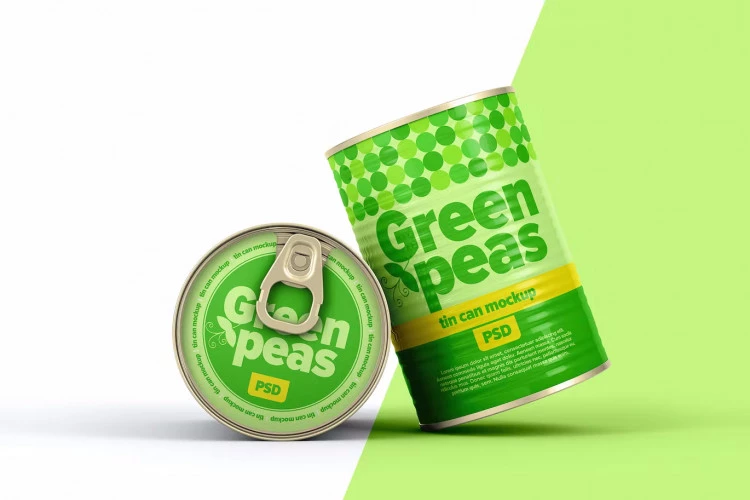 ---
Free Soda Can Mockup
These three opened soda cans also pretty good for the branding campaign. You can demonstrate different flavours of your drinks by using this cans mockup.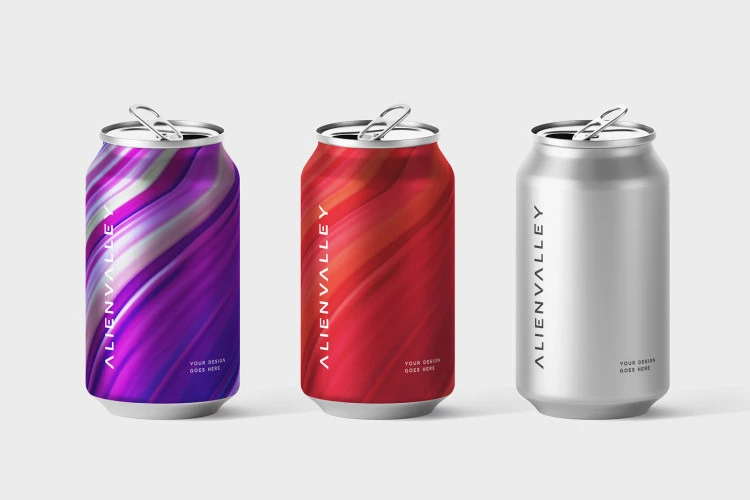 ---
Free Soda Cans (0.5 liter) Mockup
Let's switch to this isometric mockup of soda cans. Three beverage cans and a colorful background are easily editable. Use this sample to announce new flavours of your drinks!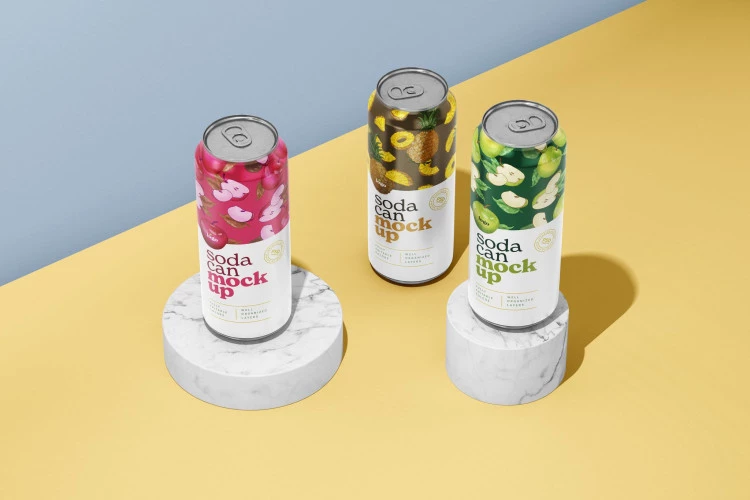 ---
Free Soft Drink Can Mockup
Here we have another free set of soft drinks mockup. Three extremely realistic shiny cans will demonstrate your design for it's best side. It's very easy to work with!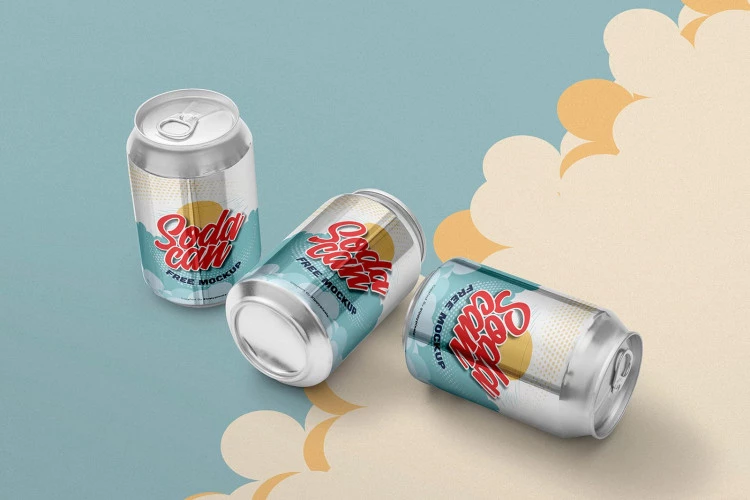 ---
2 Free Glossy Aluminium Can Mock-ups in PSD
Don't pass by these long glossy aluminium can mockups! The archive contains 2 samples – you find a front view and a floating you. What can be better for your design experiments?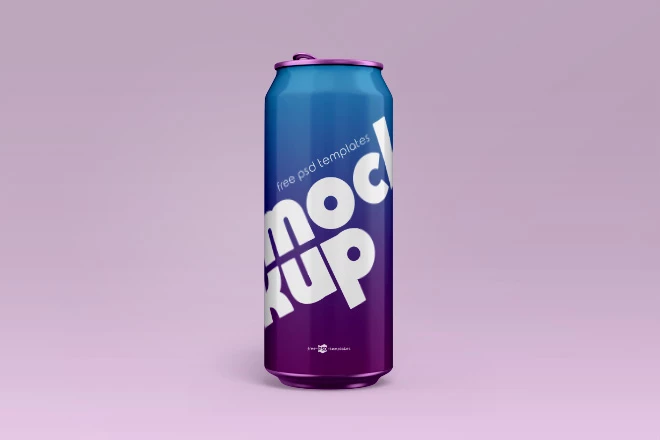 ---
Free Matte Beer Can Mockup
Our awesome free Matte Beer Can Mockup will definetely become your favorite template. There two realistic mockups with a matte texture. Click to grab it!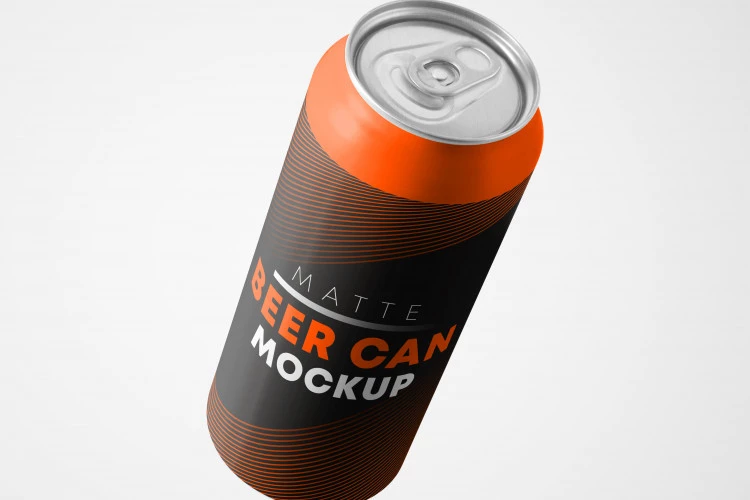 ---
Free Craft beer can mockup
The next freebie is a free can mockup with splashes. It's a closeup view of an aluminium can with water drops. You can use it for a beer or any other drink.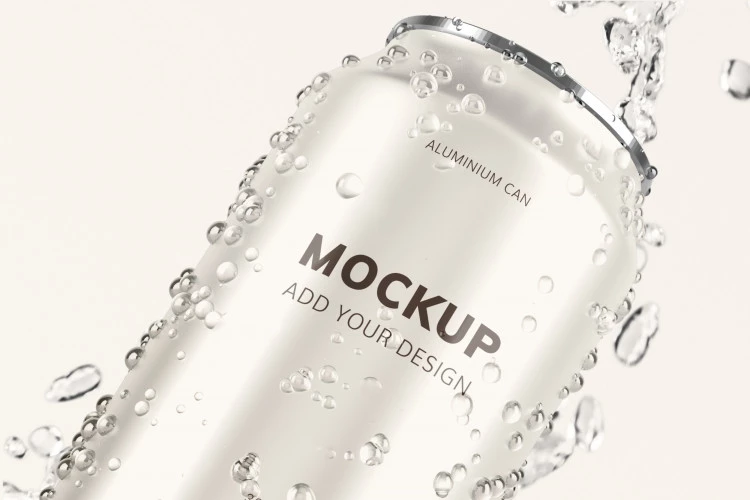 ---
Soda Can Mockup set
On this preview you can see on of the 5 wonderful can mockups. Two realistic cans with ice cubes is the best way to promote a refreshing drink! Click the button below to see the other shots of this set!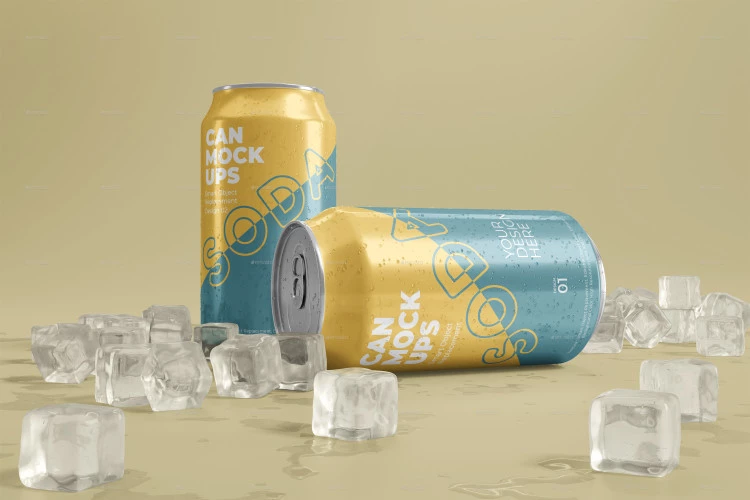 ---
Free Beverage Can Mockup PSD
Another great example of a can mockup. Free beverage packaging mockup consists of three long cans on the colorful background. You can easily replace the can design, the barcode and the backdrop.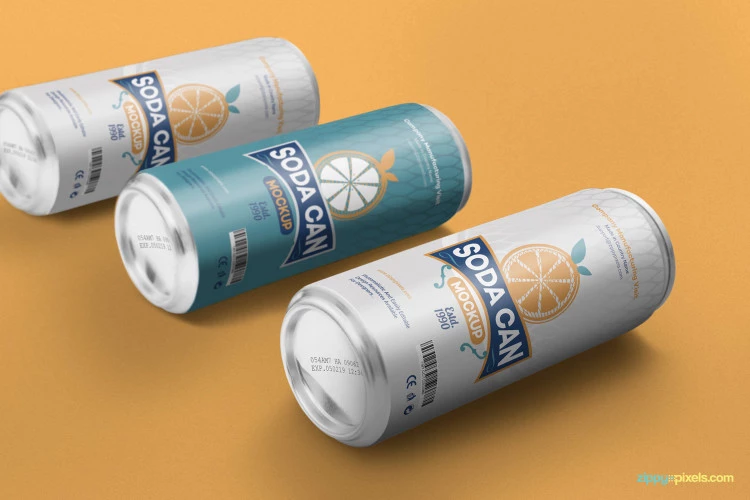 ---
Free Tin Can Mockup
This dark food can mockup was made by a skilled designer. Just look closer at these details! Feel free to use this sample to create a packaging design for a canned food.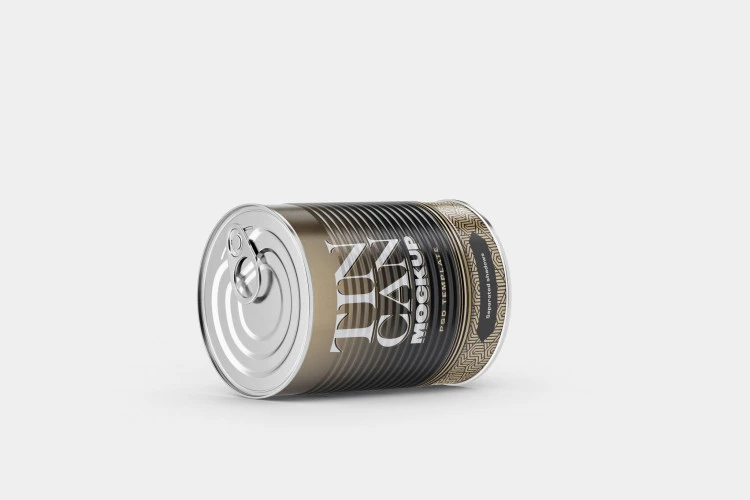 ---
2 Free Round Tin Can Mock-up in PSD
Check out this free round tin can set! There are 2 mockup templates including the top view. You will be able to change the packaging design and the background. Try it on for your product!
---
Free Aerosol Spray Can Mockup
Here you can see a professional Aerosol Spray Can mockup. Even on the preview everyone can see a realistic texture. Free Spray Can mockup is suitable for the cosmetic products, paint products, disinfection and refreshing products.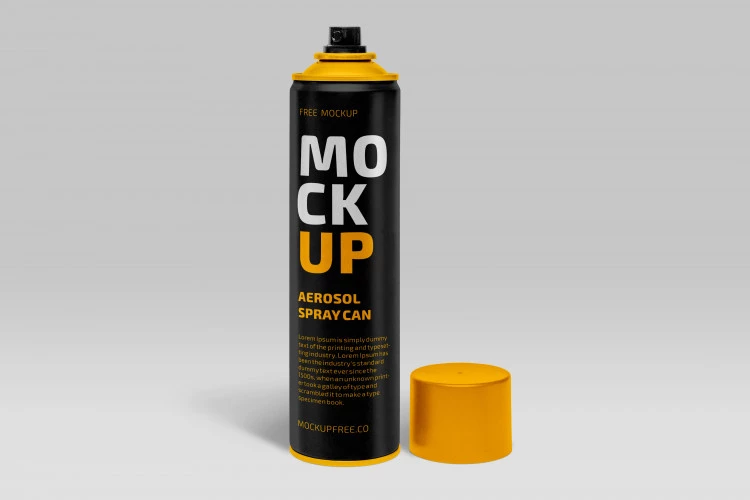 ---
Free Soda Can Mockup
Don't hesitate to add to your collection this template! Free Soda Can mockup with water drops will catch everyone's attention. Feel free to use this mockup for soda, beer or any other cold drink.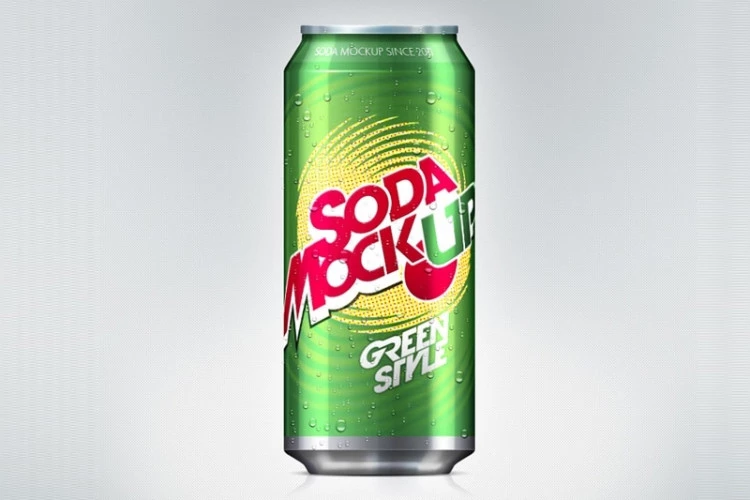 ---
Free Can Packaging Mockup
You will like this matte can mockup because as a bonus you will get a can packaging. Branding packaging with a handle on the background along with a drink can on the foreground will come in handy for your project.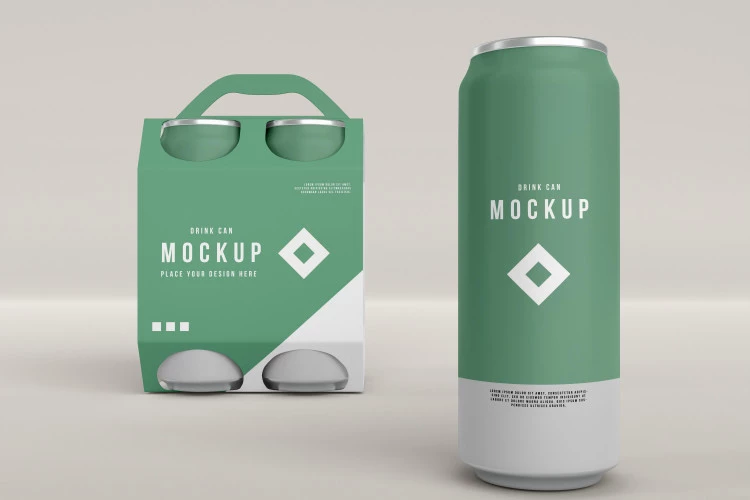 ---
Free Potato Chips Can Mock-up in PSD
Of course, we can't leave you without a good snack packaging mockup! Cool potato chips can mockup is absolutely free for you. Click to download and edit the design in Photoshop.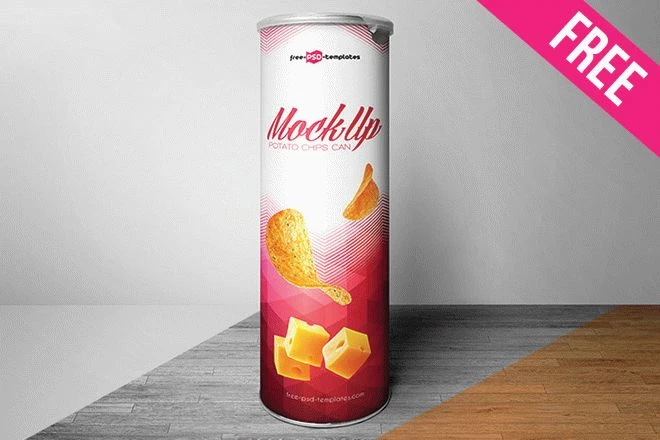 ---
Can with Water Drops Mockup
Pay attention to this premium set of can mockups. Pack of 3 aluminium cans with water drops was made to present a cold drinks. All smart-objects are easily editable. Click the button to read more details.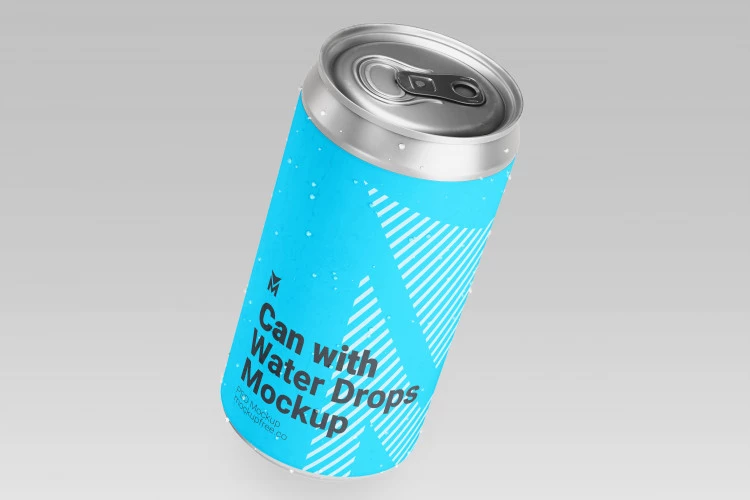 ---
330ml 6 Metallic Can Mockups
Another breathtaking set of drink can mockups! We found a wonderful premium pack that includes 6 PSD files. Realistic aluminium can mockups with water drops made in 330 ml size.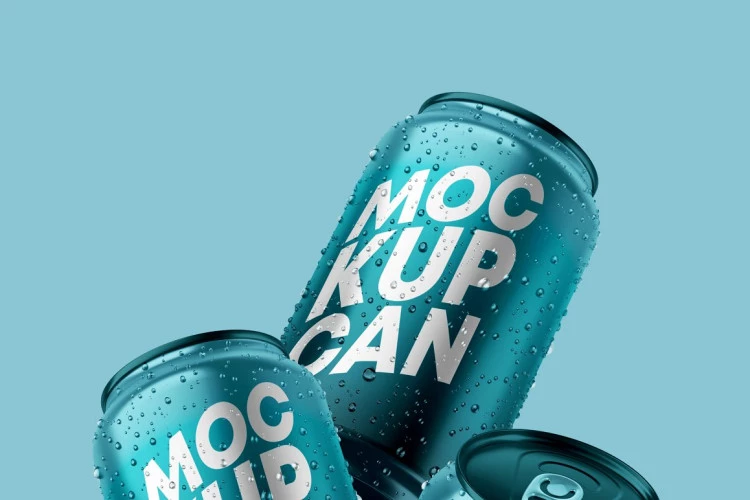 ---
Free Soda Can Mockup
On this shot you can see a close-up view of a pastel can with water. But don't pay attention to the colors – you can easily change it to something darker or brighter.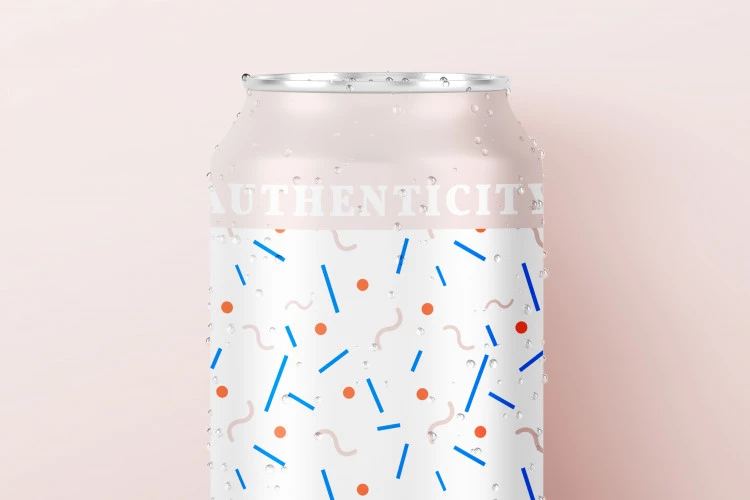 ---
Free Modern Tin Can Mockup
With this free modern tin can mockup it will be very easy to work on your branding. It's a classing packaging mockup which is suitable for different kinds of canned food. Try it on!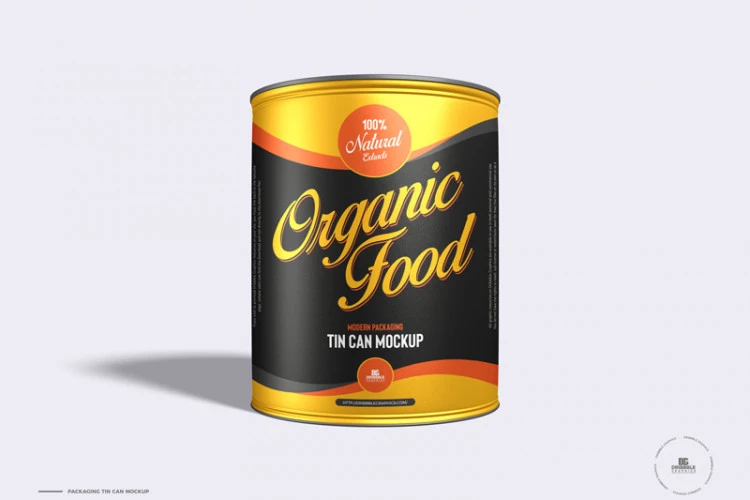 ---
Crumpled Can Mockups
Now you are looking at the awesome crumpled can mockup. This is only one sample of the whole pack with creative can mockups. Click the button to see more templates.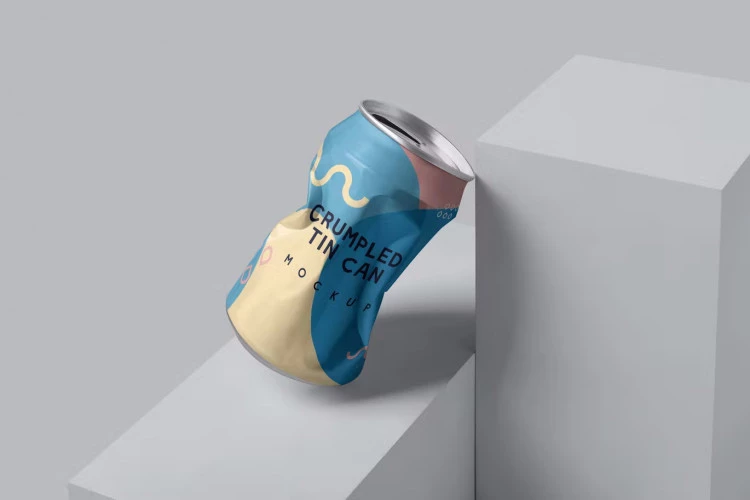 ---
Free Can Preserve Mock-up in PSD
Another free food can mockup for your ideas. Realistic shiny aluminium texture and editable sticker is all you need to create a perfect food design. Don't pass by!
---
Free Food Tin Can Mockup
Another free big food can mockup with editable color and background. You can add your logotype or corporate pattern in one click.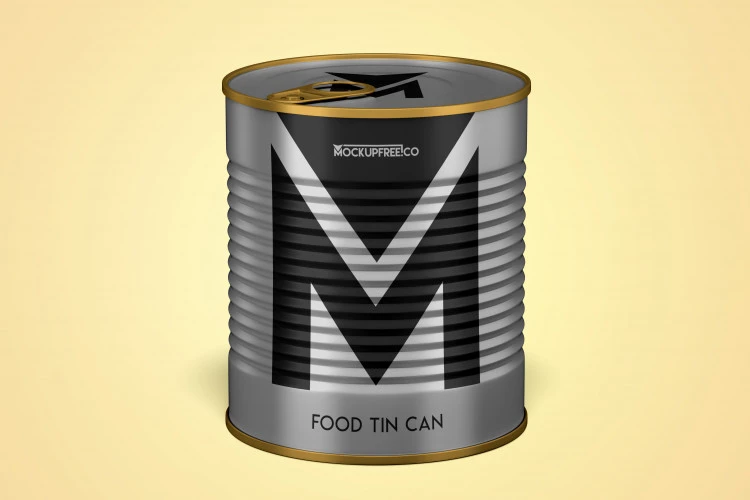 ---
Free Aluminium Soda Can Mockup
Let's switch to this easy-to-use mockup. As you can see, it's a catchy composition of three floating aluminium cans. Good choice for beer, soda and other cold drinks.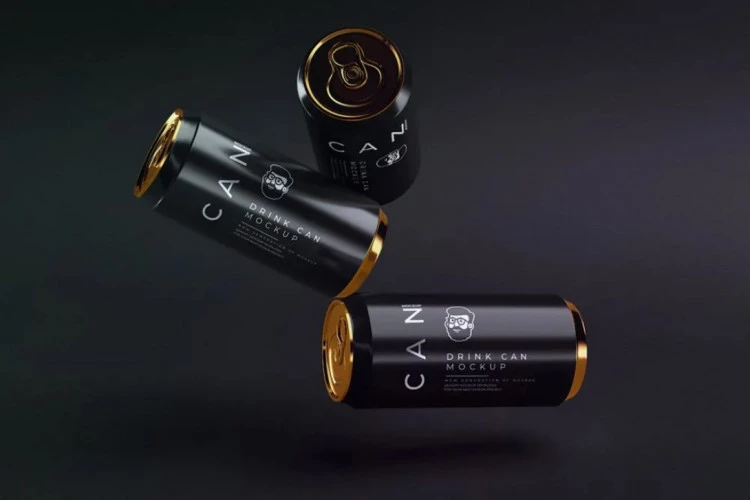 ---
Free Soda Can Mock-up in PSD
Enjoy this lovely drink can mockup with cute pink design. File contains 3 different backgrounds, but you can always apply your own. Of course, the can design is easily editable too. Feel free to download!
---
Free Tin Can Mockup in PSD
This free mockup set you will love for sure! Collection of different food tin cans is suitable for different products. As you can see, these cans might be used for fish, meat, vegetables and even pasta or soup.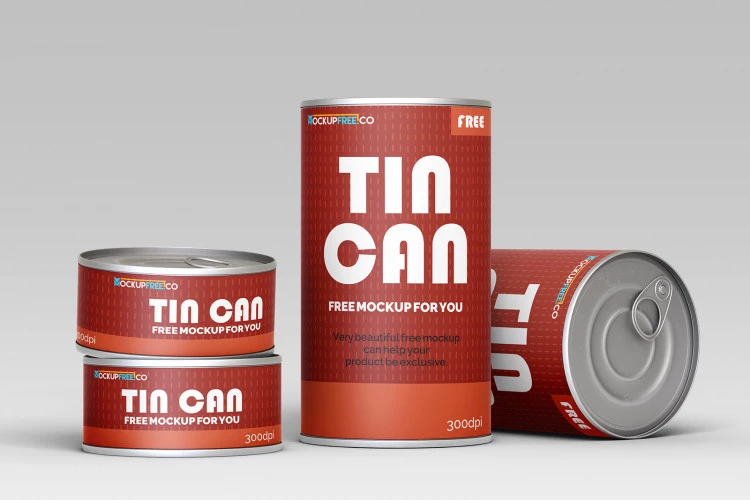 ---
Free Can Mockup
Another creative freebie for you. Check out this free long tin can with shadow. Don't hesitate and add it to your collection to use later. It's a very useful mockup for different kind of drinks.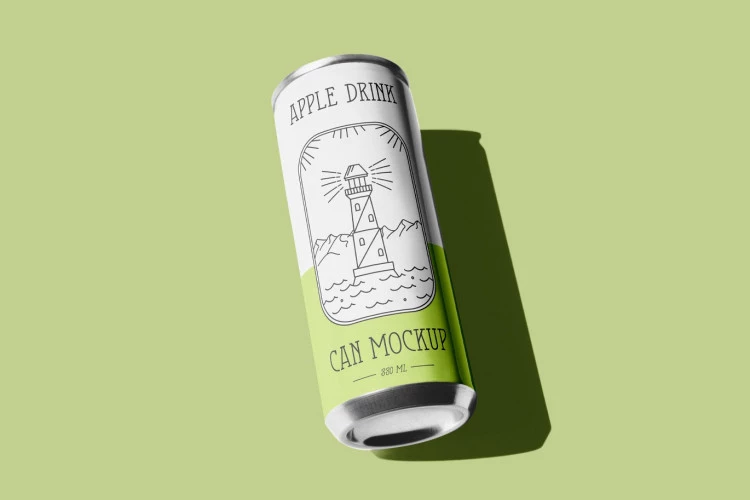 ---
Oil Tin Can Mockup
This premium pack offers you three oil tin can mockups. Professional set contains 3 angles, so you can demonstrate your product from all sides. Great choice for olive or sunflower oil. But don't limit yourself, you can use this set for other products too.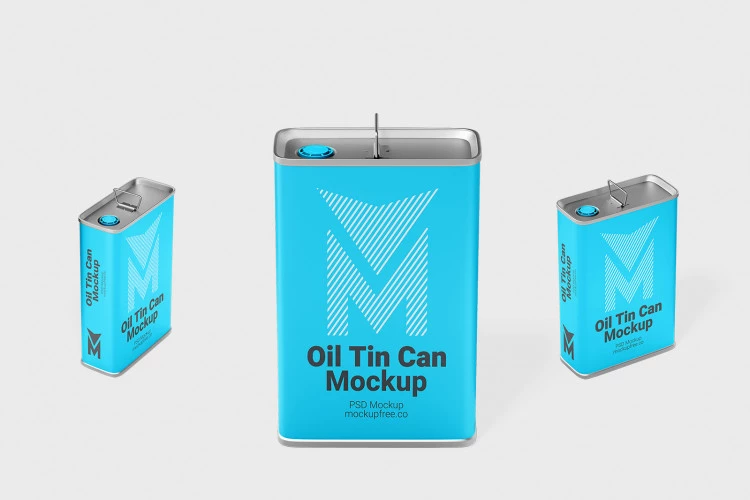 Well, we have to stop here. We hope you enjoyed the collection we made for you and already found fresh ideas. May the inspiration be with you while you creating the best design for your canned product.