The holiday season has officially started, and Christmas is getting closer by day! It is time to prepare a few magical designs, to showcase them to your potential and actual customers, and spread the jolly mood around. Applying your patterns, illustrations and artworks to PSD mockups is a convenient and popular way to preview and evaluate them before printing. A professional mockup will help your designs look life-like.
In today's compilation we gladly offer you thirty amazing free Christmas mockups. Gift boxes, ornaments, postcards, festive décor and settings are all included into this broad list. Simply download any of the free files below, and open it in Photoshop, for fast and enjoyable work with Smart Objects.
---
Free Cozy Sweater Mockup
A sweater looking as cool as this mockup can keep you warm and cozy in winter. Our amazing designer chose a special shape that could match any casual outfit. Get this piece now, and enjoy modifying it in Photoshop.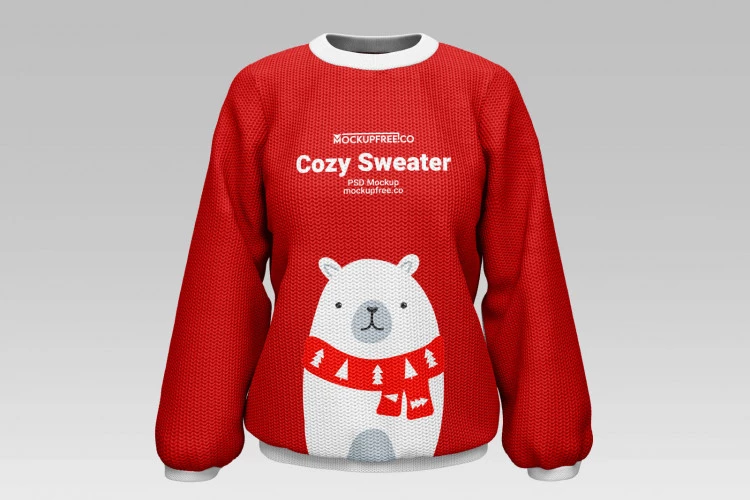 Visit the website
---
FREE CHRISTMAS SOCK MOCKUP
A Xmas sock is one of the holiday's iconic symbols we all like decorating our home with. A basic shape of our sock mockup allows trying out any designs you've prepared for this holiday season. PS will help you to adjust the size and scale of this piece, too.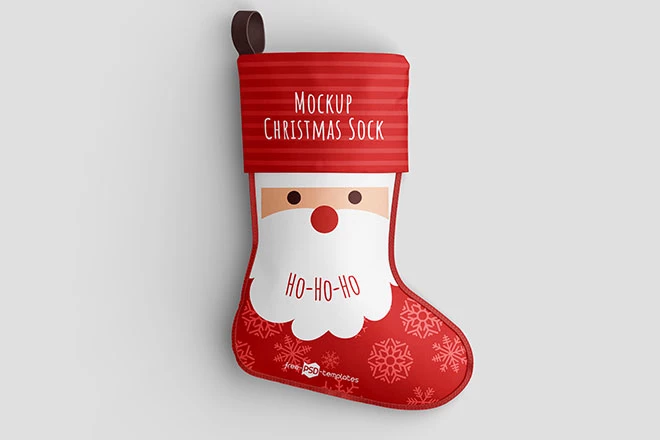 Download
---
Free Christmas Scene Creator Mockup
Create a perfect setting for your wonderful illustration or a new festive design with this mockup of a Xmas scene. PS will help you to move around or delete any of the objects; their modern restrained look allows focusing all attention on your work.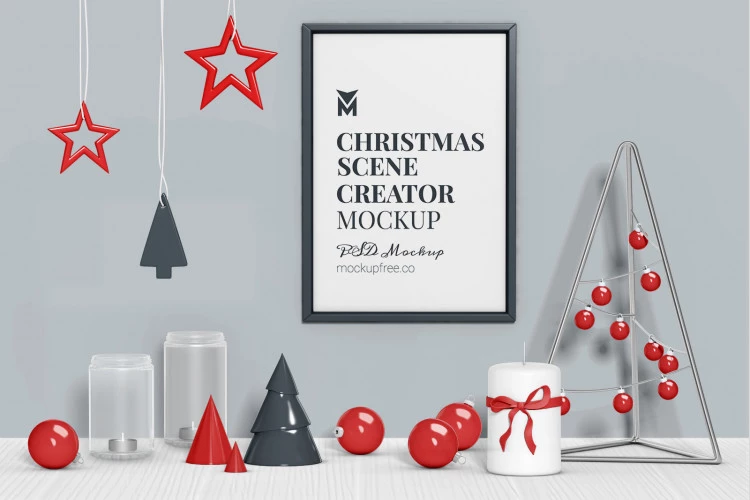 Visit the website
---
Free Gift Box Mockup
Download this flawless mockup of a gift box to present your magical designs, and spread the joyful mood around. The box mockup consists of three parts that can be easily separated and customized in Photoshop.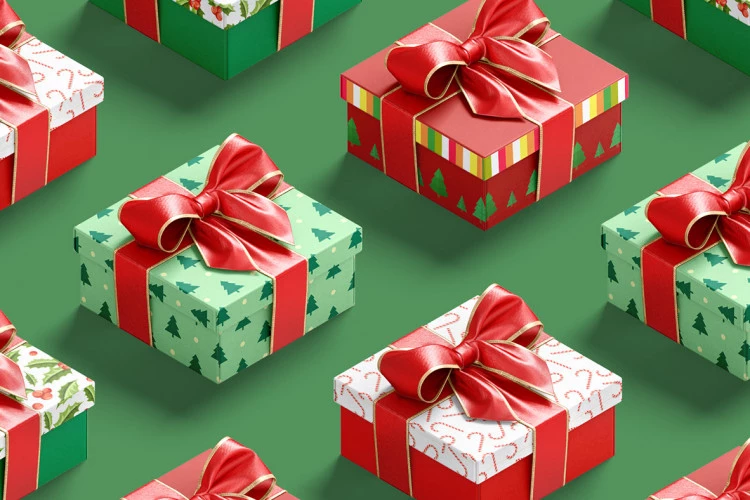 Visit the website
---
FREE ADVENT CALENDAR MOCKUP
Showcase your original ideas and unique creations using this excellent mockup of an advent calendar. Twenty-four small boxes allow presenting a whole bunch of festive patterns, writing, etc. The calendar looking like a book is a smart idea that will help you succeed.
Download
---
Free Advent Calendar Mockup
One more advent calendar shaped up like a house looks sweet and stylish. All twenty-four slide out boxes come in different sizes and shapes. Feel free customizing the colors and applying your unique festive designs in PS.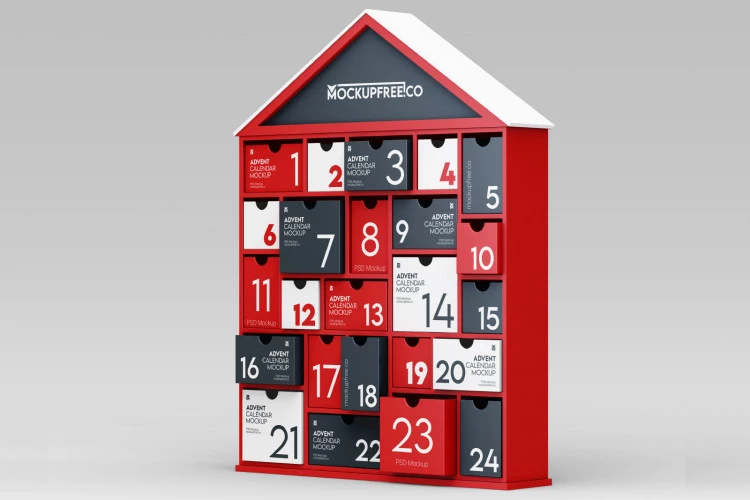 Visit the website
---
FREE GIFT BOX MOCKUP SET
A basic shape of this box mockup will make it easier for you trying out various Xmas patterns and other designs. A bow tied around the box looks surprisingly realistic thanks to precise detailing. Photoshop will help to adjust this festive piece.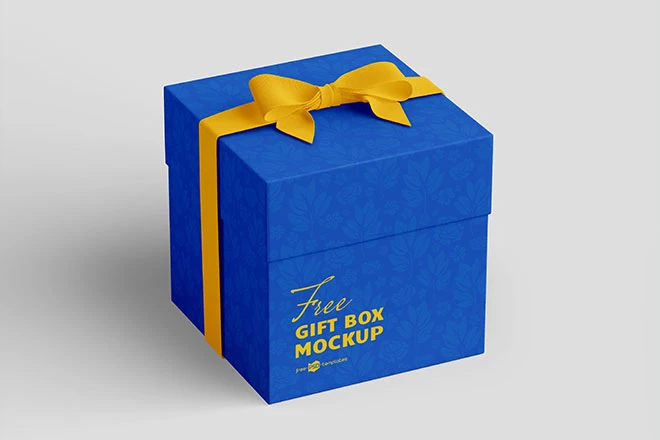 Download
---
Free Christmas Mockup
Generous and skilled, the creator of this festive scene mockup has supplied you with as many as forty objects that can be easily associated with Christmas. What's even better, all of these ornaments, gingerbreads, sweets and cones can be deleted or moved around, to match your design in the frame.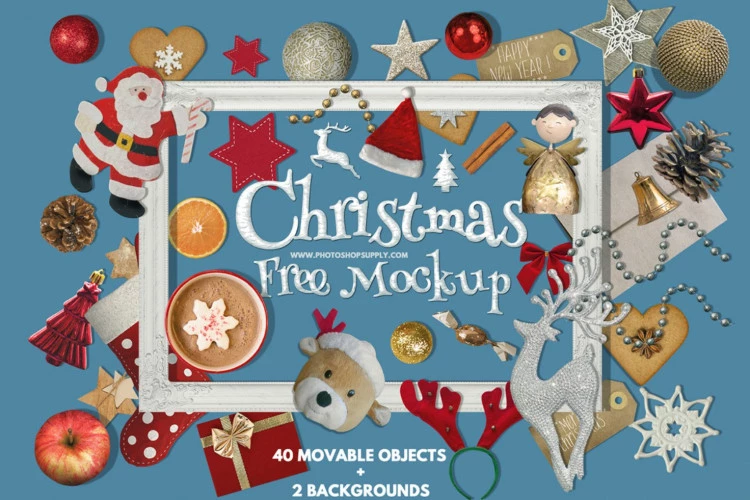 Visit the website
---
Free Christmas Ball Mockup
Decorating a Charistmas tree with the custom-made ornaments is twice as exciting and pleasant! A minimalistic look of this ball allows checking out any possible designs. An interesting textured structure and a bow on top make this mockup even more lifelike.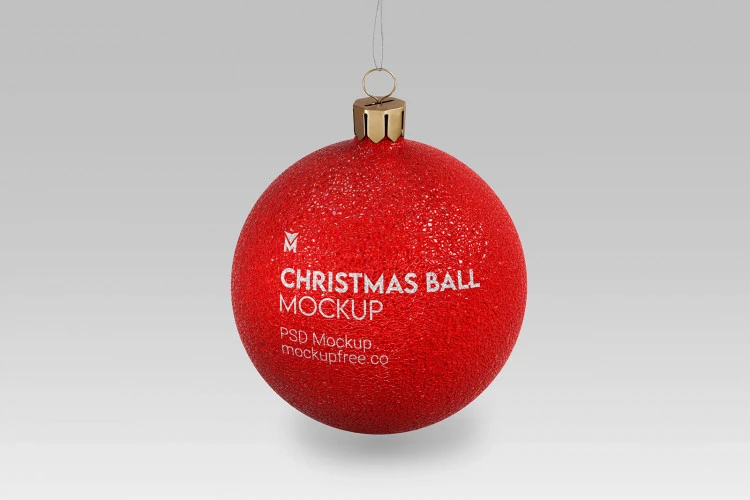 Visit the website
---
FREE CHRISTMAS BACKGROUND SCENE CREATOR TEMPLATE
Sleek shapes and a soft shine of the stars and ornaments here can please anyone's eyes. Use this festive scene to feature your own creations. All of the stars, snowflakes, acorns and ornaments here can be moved around and customized.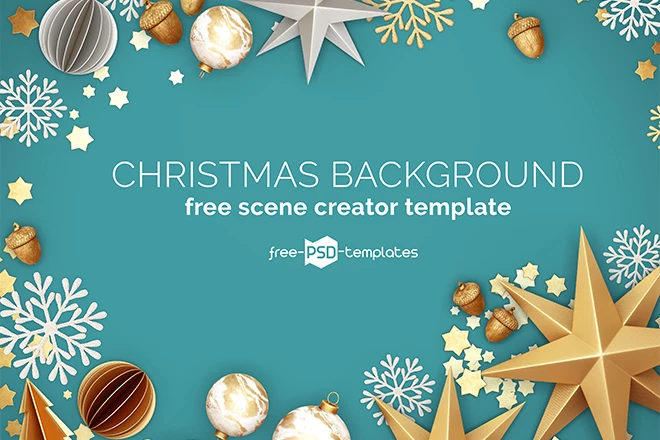 ---
Free PSD Christmas Card Mockup Template
Use this mockup of a Christmas card to try out different designs before applying them to a real thing. Simplistic look of the envelopes and the card becomes a perfect background for your festive ideas.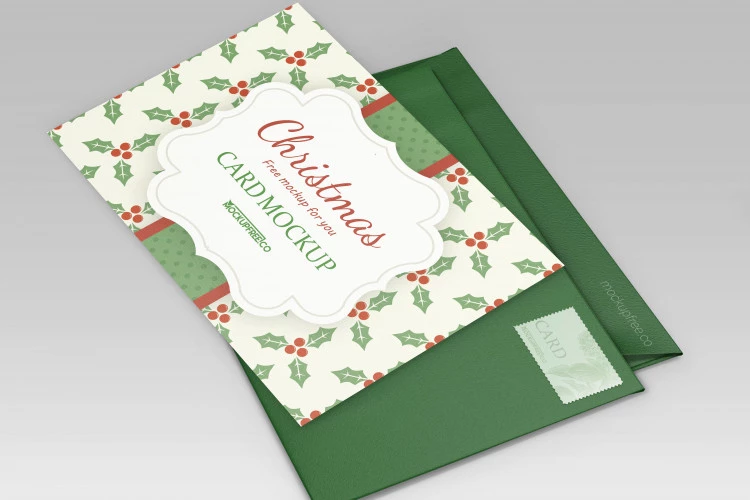 Visit the website
---
Christmas Mockup Free Scene
A vintage glass ball, a small wooden birdhouse toy, a candy cane, cinnamon sticks and other items give this festive scene mockup a cozy and charming vibe. PS can help to place your lettering, a logo or other designs in the middle.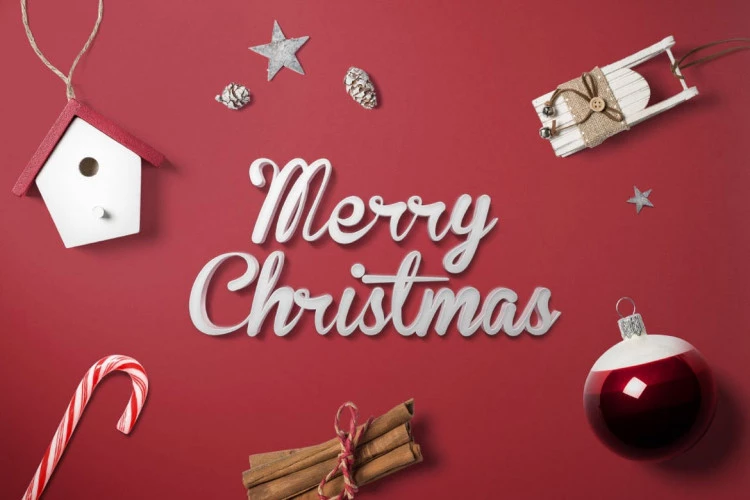 Visit the website
---
FREE BOX MOCKUP TEMPLATE IN PSD
Preview your design or present it to a customer using this spotless mockup of two festive boxes. The paper they are wrapped up into can become an excellent background for your Xmas patterns or illustrations.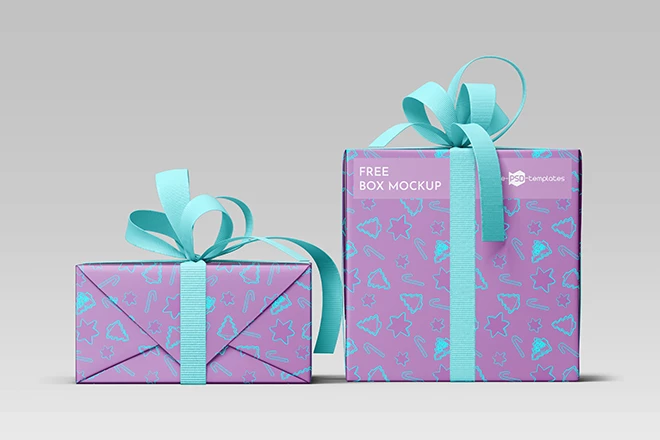 Download
---
Christmas Ball – Free PSD Mockup
Download this pro level mockup to try out your magical designs for the Xmas tree ornaments. The velvety structure of a ball featured here will add a luxury touch to your patterns. Incredible detailing will make even the most intricate drawings look realistic.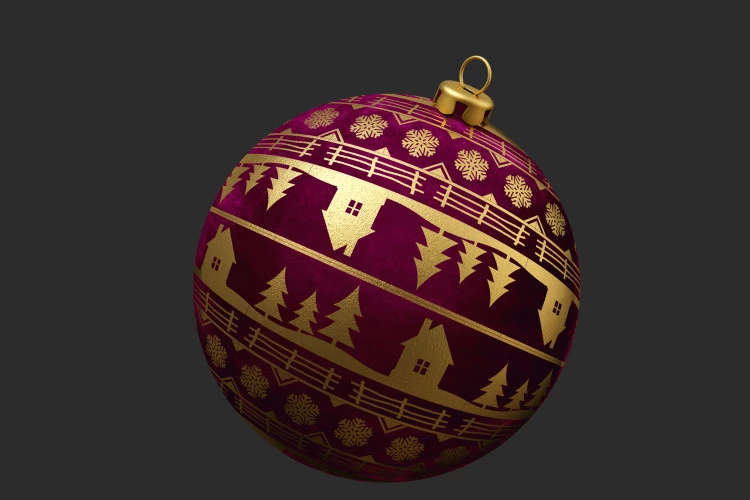 Visit the website
---
FREE PSD GIFT BOX MOCKUP SET
A detailed mockup here features a gift box with a gorgeous bow on it under two different angles. Download and customize this file to check out your creations or showcase them to a customer before sending them to print.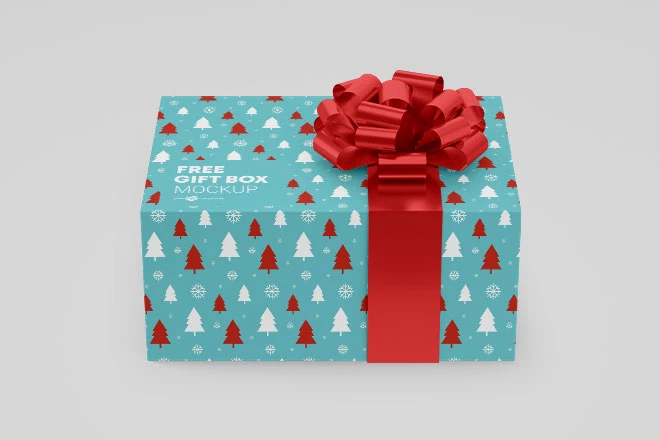 Download
---
Free Christmas Photo Frame Mockup
This awesome mockup allows presenting your festive shot in an eye-catching and stylish way. On the sides of a classy white frame with delicate molding you can see colorful balls and a small decorative Xmas tree. Use PS to add your image inside the frame.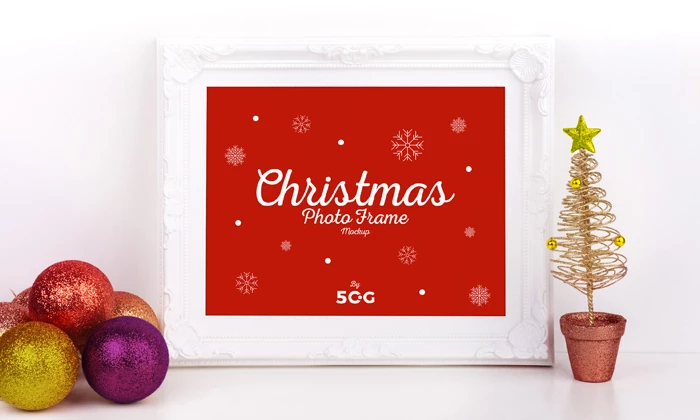 Visit the website
---
Realistic Book – Free PSD Mockup
This mockup presents a cozy looking scene with a plaid, a cup of tea, cookies and a big opened book in the middle. Feel free saving this file, to upload any other picture and a text on the book's pages using Photoshop.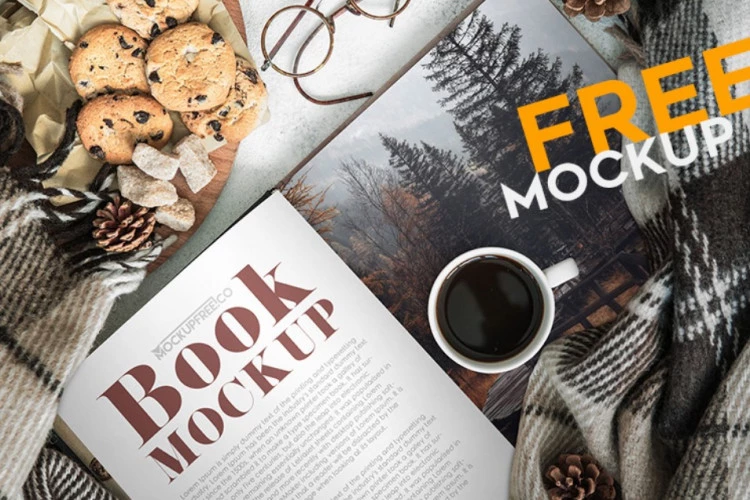 Visit the website
---
Free PSD Christmas Postcard Mockup
A mockup of a big festive postcard here has a sweet handmade look thanks to a cotton lace running on one of its sides. Xmas décor surrounding the card adds charm to the scene. You can remove the lace and apply any type of image or text to the card in PS.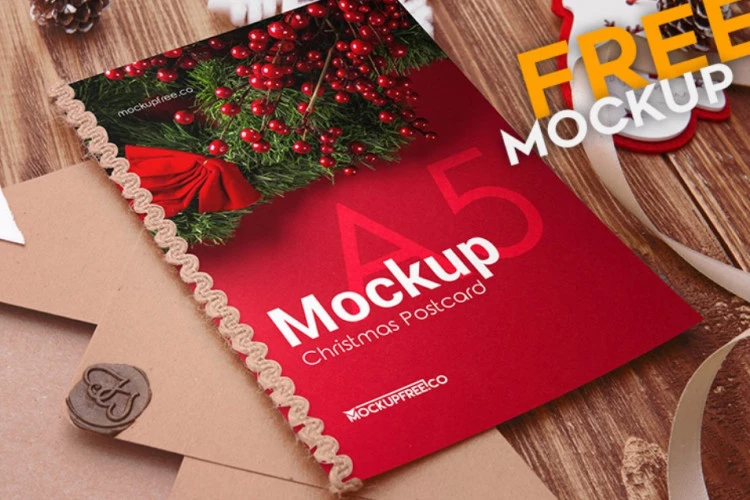 Visit the website
---
Cozy Christmas Style – 14 Free PSD Mockups
This unique mockup includes nine unique photos of stylish festive scenes. Each shot focuses on the objects such as postcards, photo frames, boxes and ornaments on which you can present your own Xmas designs. Pleasant colors give these mockups an authentic look.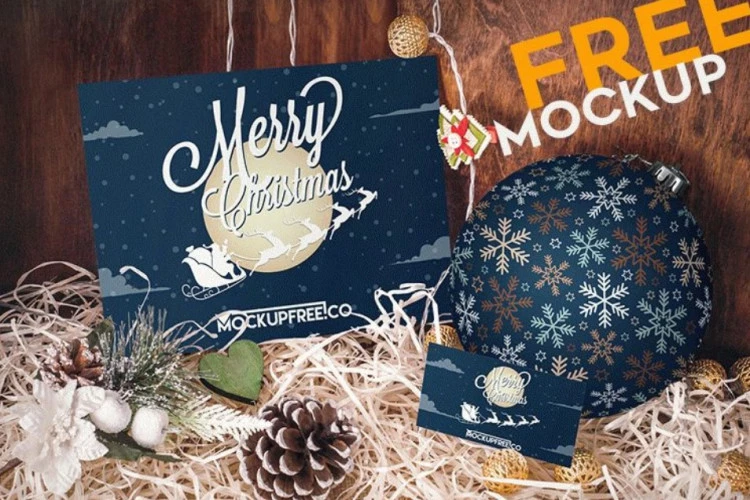 Visit the website
---
FREE CHRISTMAS POSTCARD MOCKUP
Save this realistic mockup of a postcard to apply your designs. On one side of the card you can see a candle and small branches of gilded mistletoe. PS will help to change the color of the background and move the objects.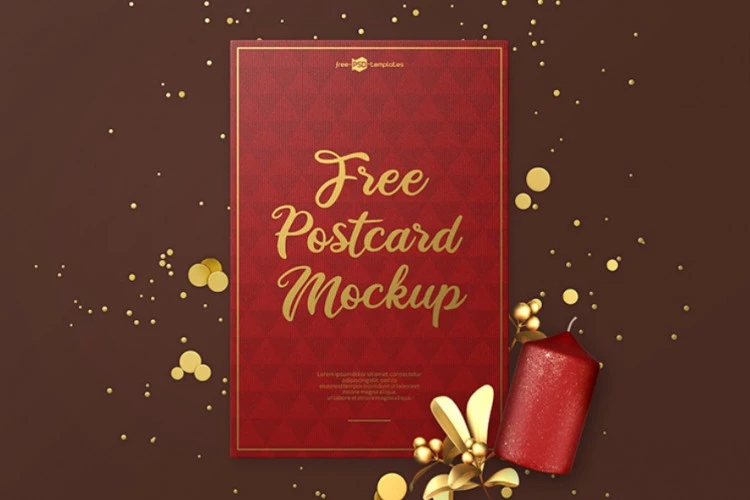 Download
---
Free Christmas Photo Frame MockUp
This mockup with a minimalistic frame will aid at presenting your photos or other images. A few decorative items surrounding the frame make the whole set look festive and engaging. You can upload an image within minutes in PS.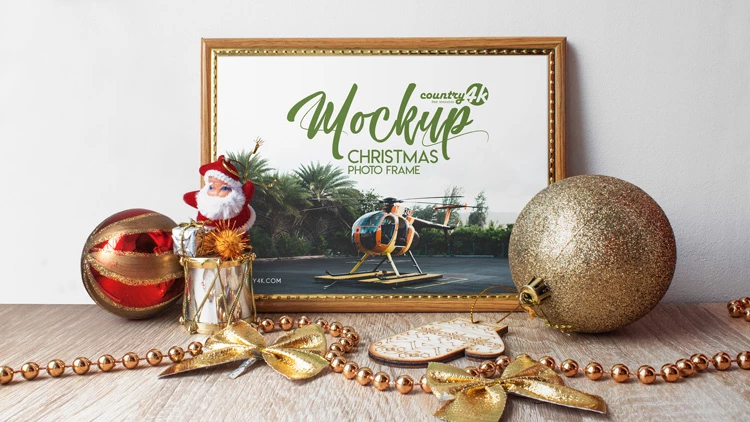 Visit the website
---
FREE CHRISTMAS BALL V02 MOCK-UP IN PSD
Don't hesitate using this ornament mockup to feature new designs you have ready for the holiday season. A plain shape of a ball allows focusing all attention on the décor. A street setting with the branches of a Xmas tree looks interesting and apt.
Download
---
FREE Christmas iPhone 13 Instagram mockup
Use this realistic mockup of an iconic gadget for your special projects. An image with a decorated tree and bokeh lights in the background adds festivity to the set. PS will help at uploading the image you'll feature on the phone's screen.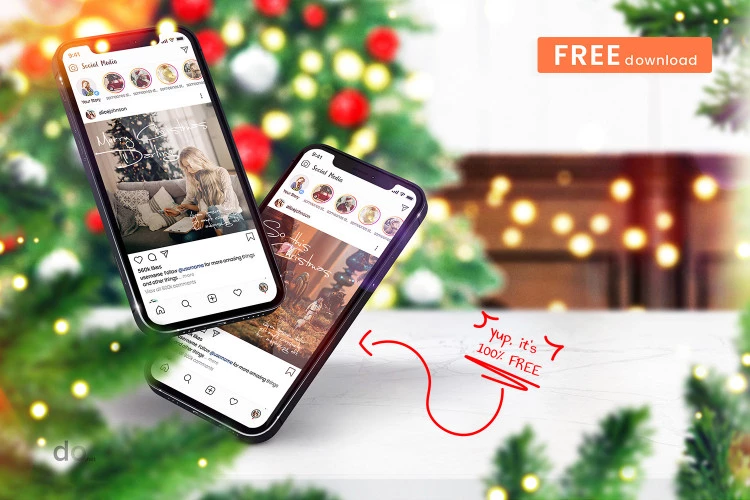 Visit the website
---
Free christmas ball mockups
If you'd like to focus the customers' attention solely on your designs this ornaments mockup might be right for you. Against the plain adjustable background you can see one, two and a group of three balls. Precise detailing makes them surprisingly realistic.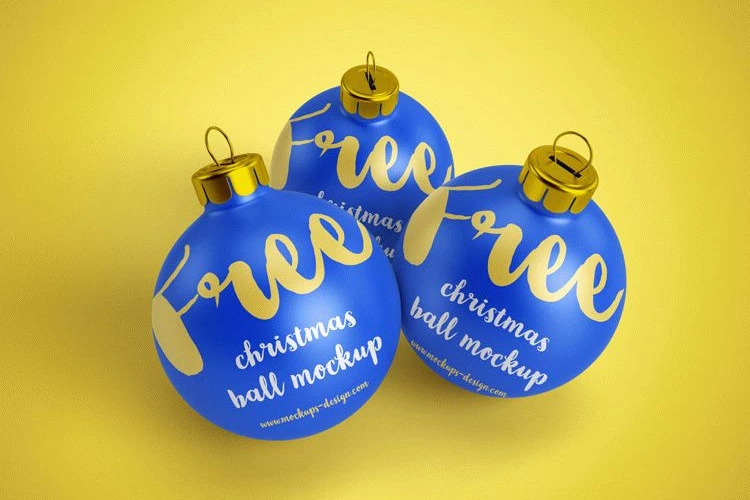 Visit the website
---
FREE WOOD PHOTO FRAME MOCKUP PSD
A simple yet enjoyable scene of this mockup features a plain wooden frame. You can feature your shots, artwork or any other images having applied them in PS. The frame's color can be changed too, to complement your designs.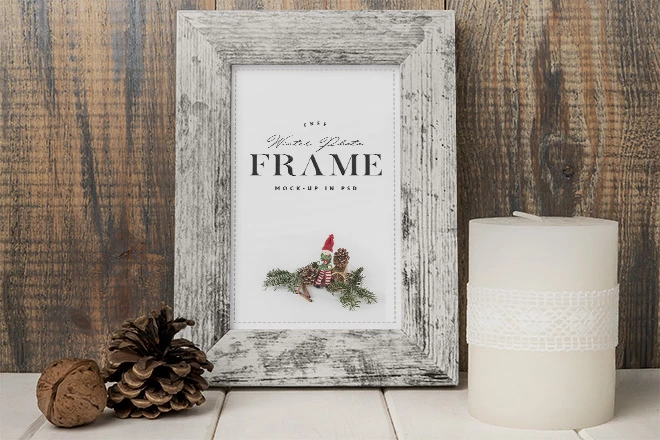 Download
---
Gift Box – 3 Free PSD Mockups
Use this box mockup to include into a festive scene or to showcase your original designs. For your convenience the box is presented at three different angles. The mockup can amaze anyone with the realistic paper folds and detailed structure of the ribbon.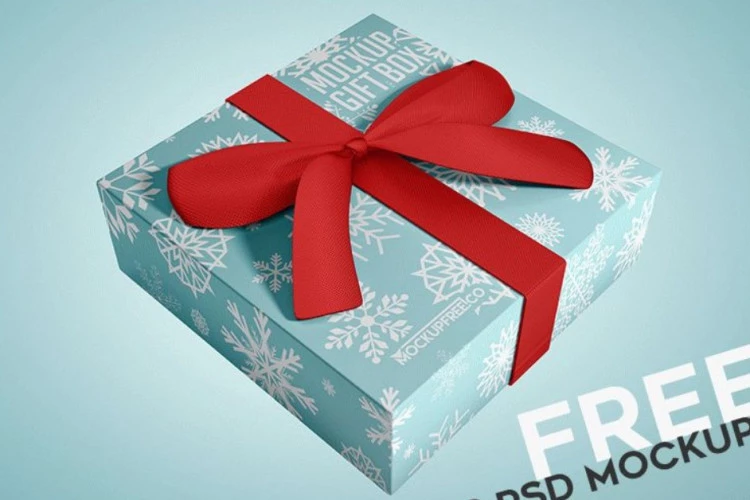 Visit the website
---
FREE CHRISTMAS TIME MOCKUP SET
Sending festive postcards is an amazing way to spread the joy of Xmas around! This mockup assembles six unique scenes with holiday postcards. While some of them come in frames, the others are stacked or tagged to a gift. Run PS to apply your designs.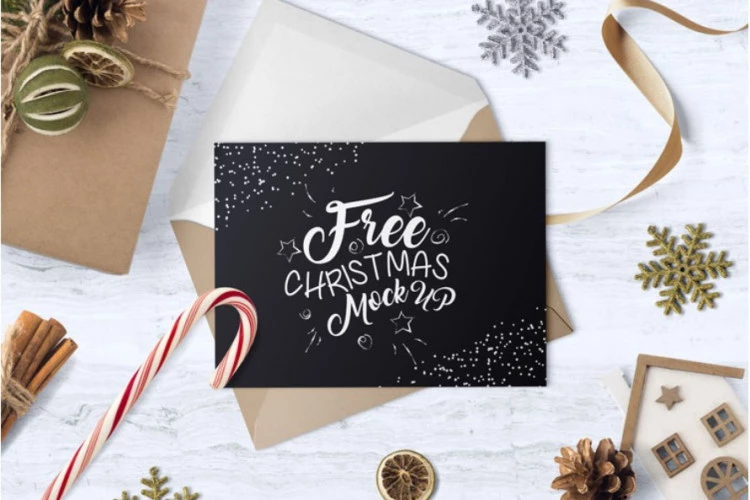 Download
---
Free Gift Wrap Box PSD Mockup
Although the minimalistic wrapping of this box looks stylish, you can easily replace it with your own designs in PS. A simple thin ribbon, the setting and the writing on the tag card is customizable, too. Don't hesitate using it for your special projects.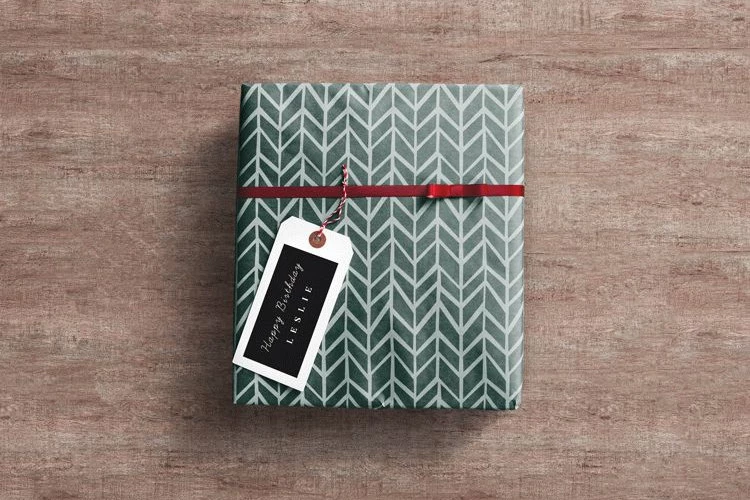 Visit the website
---
FREE GIFT BOX MOCK-UP IN PSD
The more Xmas gifts the better! Showcase your festive patterns and artwork having adjusted this packaging mockup. The lid with a massive bow on it is separated from the box for your convenience. PS customization won't take long.
Download
---
 Now that you are equipped with an array of versatile themed mockups getting ready for Christmas will be even more enjoyable! Free and fully customizable, they can be extra helpful for your promotional needs.