With Halloween right around the corner, you might be looking for a way to entertain your followers and engage new customers. Using Halloween-themed icons in vector can be an effective way to achieve these goals. Small unique images of popular characters, sweets, scenes and items related to Halloween can easily interest everyone.
Today we'd like to present a broad list of amazing icon sets that are all about celebrating the coolest autumn fest! Presented by such superb open sources as https://free-psd-templates.com/ all icons are available for free download and easy customization in Photoshop. Do not hesitate, go pick your perfect pack, and use it for terrific festive designs!
---
25 Halloween Icons
First on our list comes this cool pack of Halloween vector icons. Simple shapes, modern look and festive violet and yellow colors will look apt for any projects. You are free to choose between two or three unique designs of pumpkins, ghosts, bats and other items gathered in this set.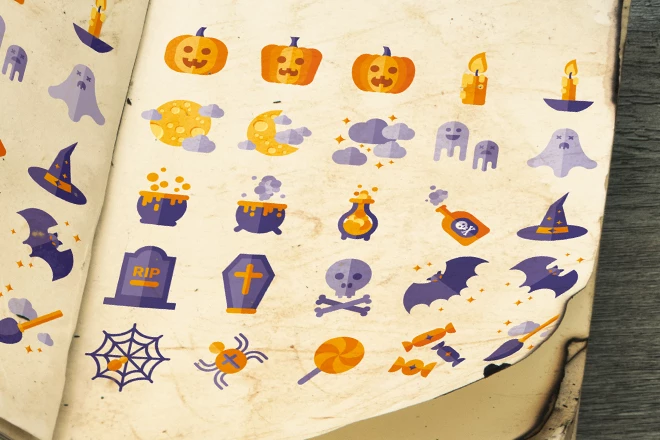 Download
---
Halloween
Next you see a small yet awesome set of icons in cool cartoonish style. An evil pumpkin, a scary ghost, a boiling cauldron and other Halloween related stuff is all gathered here. Whether to pick a linear style of icons or go for the colored ones – is up to you.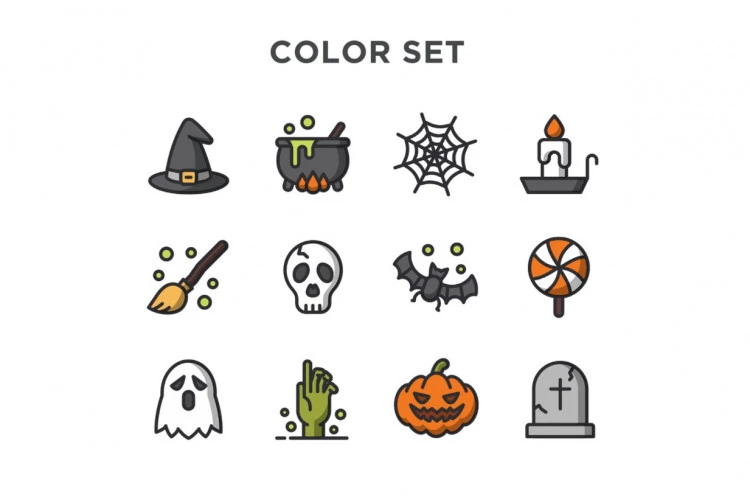 Visit the website
---
20 Halloween Icons
This set of twenty simple yet cool icons includes everything we can associate with Halloween. Download the pack for free, and choose between two options – a colored and a linear one.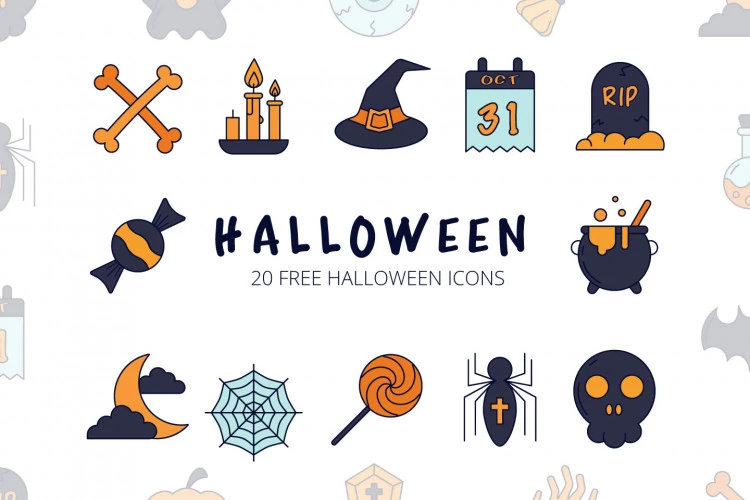 Download
---
25 Halloween Icons V02
The second volume of an amazing Halloween set we've featured above includes the haunted mansions, bats, a zombie, a scarecrow and more. Have no doubts using it for your festive web and graphic projects.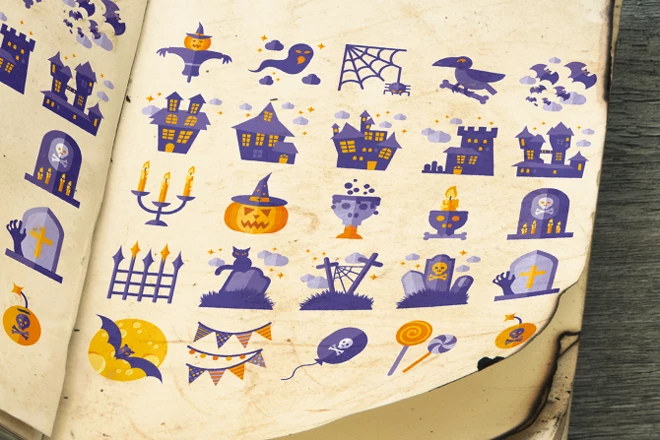 Download
---
Doodle Halloween
Free Doodle icons featured here will amaze your clients and online followers with the unique linear designs and soft shapes. Even a vampire, a ghost and a spider on this set look cute and lovable!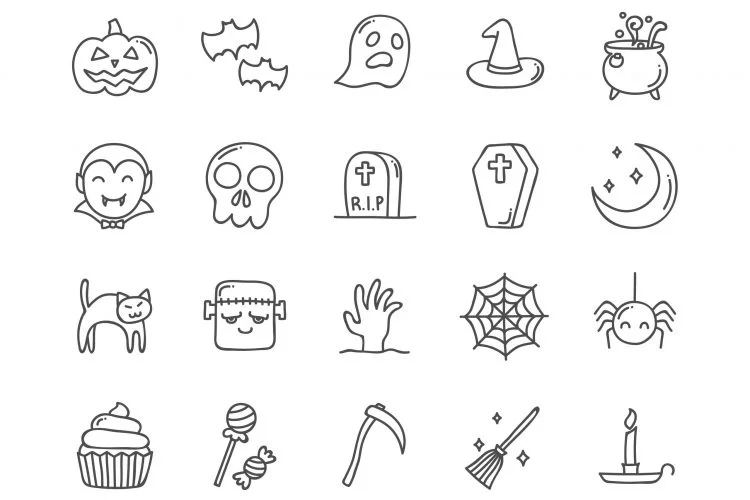 Visit the website
---
Line Halloween
Not only unique linear designs but also warm autumn colors is what makes this icons pack so awesome! We guarantee that each of these icons is unlike anything else. Save the vector set now, and have fun applying it to your projects.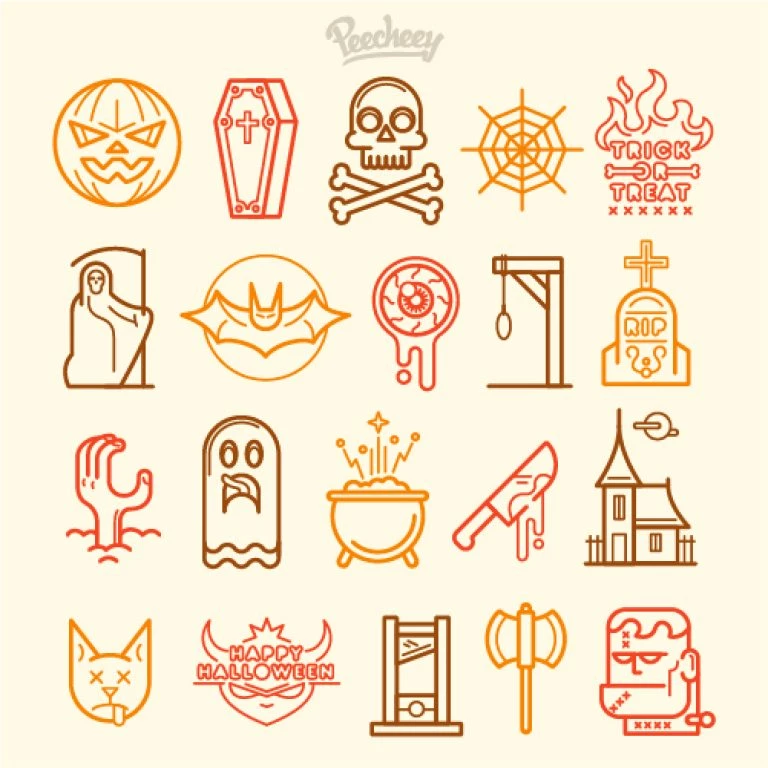 Visit the website
---
Halloween
Detailed and colorful, these Halloween icons can look great on any webpage or a printed festive item. A pumpkin, a skull and an eye look pretty scary. Save the icons now, and go creative editing and using them.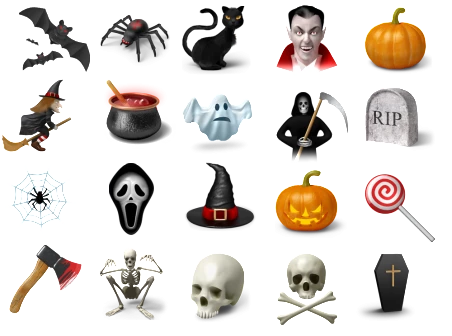 Visit the website
---
Pumpkin Emoticons
Adorable pumpkin emoticons here will put smiles on the faces of your followers and clients. Find every emotion and expression among these cool icons, and use them for your graphic or web design needs!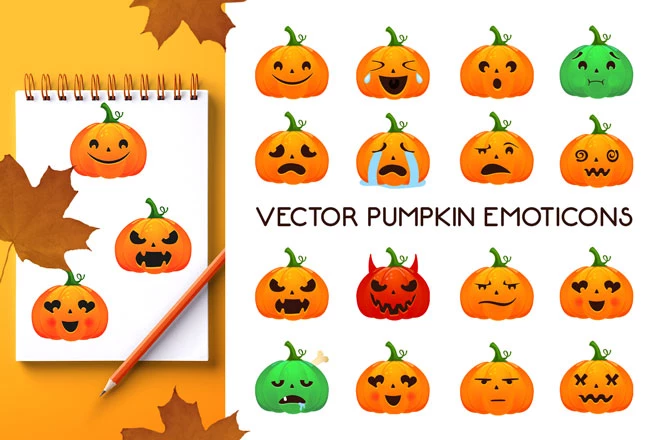 Download
---
Duotone Halloween
A set of a few icons in black and red can add an interesting festive touch to your projects. Save all images in one file, and choose among a zombie, a vampire, a jack-o'-lantern and more. The icons are customizable and free.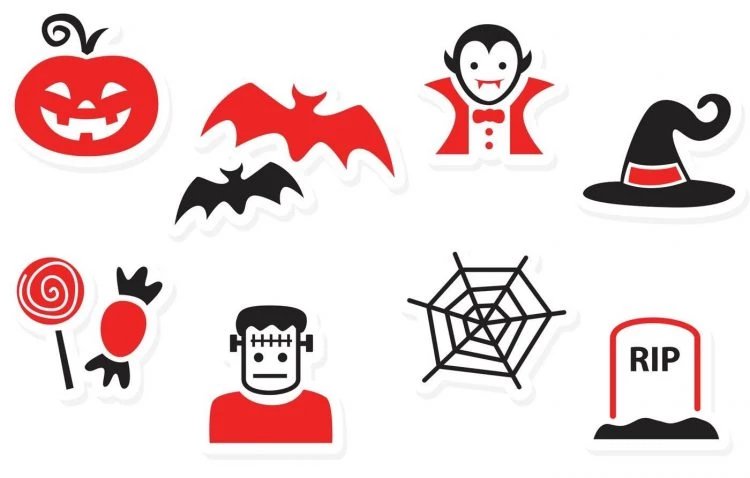 Visit the website
---
36 Halloween Icons
Take a look at this extensive pack of 36 icons! Each unique image is placed against a plain orange, black or turquoise background. Here you'll find funny characters and objects traditionally associated with Halloween.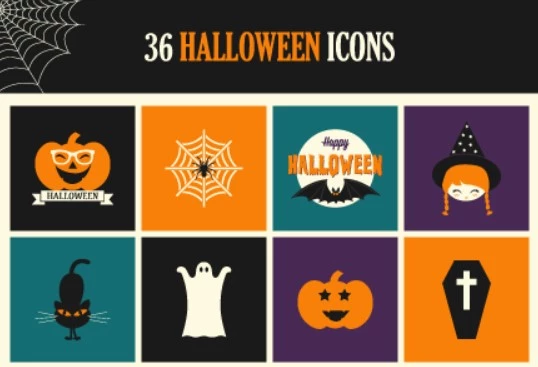 Visit the website
---
Halloween Set
Use these designer icons for your themed Halloween projects. Soft colors and simple designs make each icon not dreadful but likeable. Save them in a click, and adjust with ease in PS.
Visit the website
---
Lined Halloween Icons
Here comes a huge pack of one hundred unique icons that are all about Halloween. All characters and objects such as sweets, brooms and witch hats are presented in four different styles – from linear to detailed and colorful.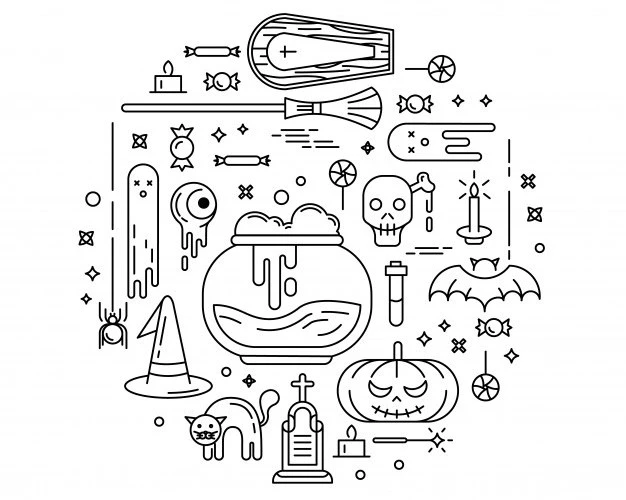 Visit the website
---
Cartoon Halloween
Although the next pack is small it has got some cool designs. Save it for free, to pick among a dreadful ghost, a creepy pumpkin or a witch hat icon. The pack is fully customizable and free for download.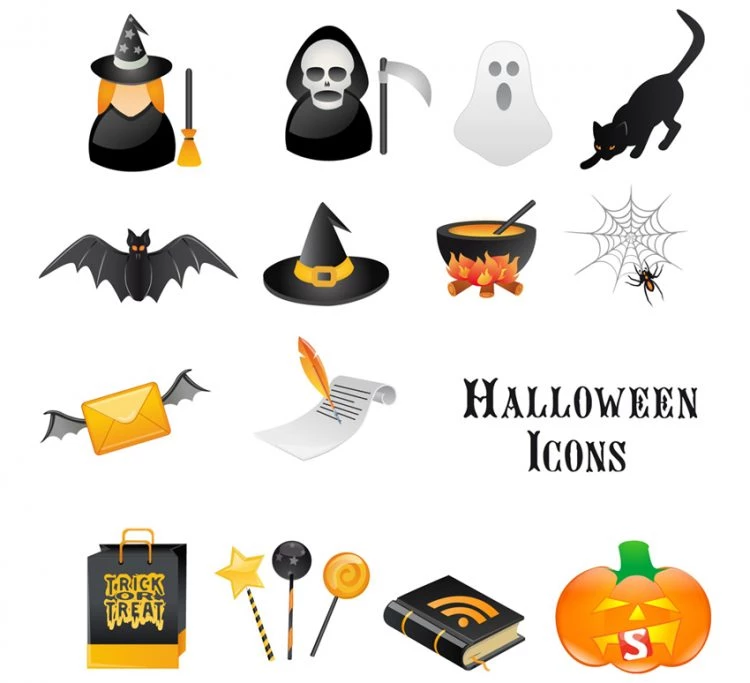 Visit the website
---
Line Halloween
Sometimes keeping it simple is the best decision. Use this bundle of small linear icons for your minimalistic and modern Halloween designs. The icons can easily adjust to your needs in PS.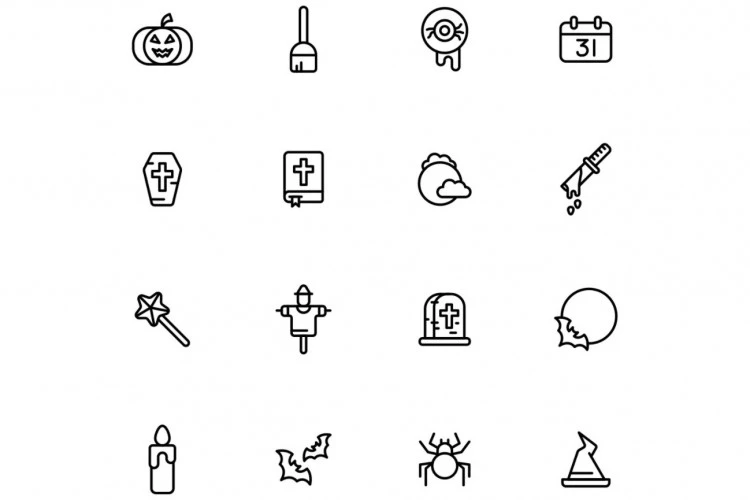 Visit the website
---
Vintage Halloween
Yet another set of vintage icons will help you spread fun Halloween vibes. A simple yet effective combo of yellow and dark purple color will look catchy on the web and in print. These detailed icons can interest anyone.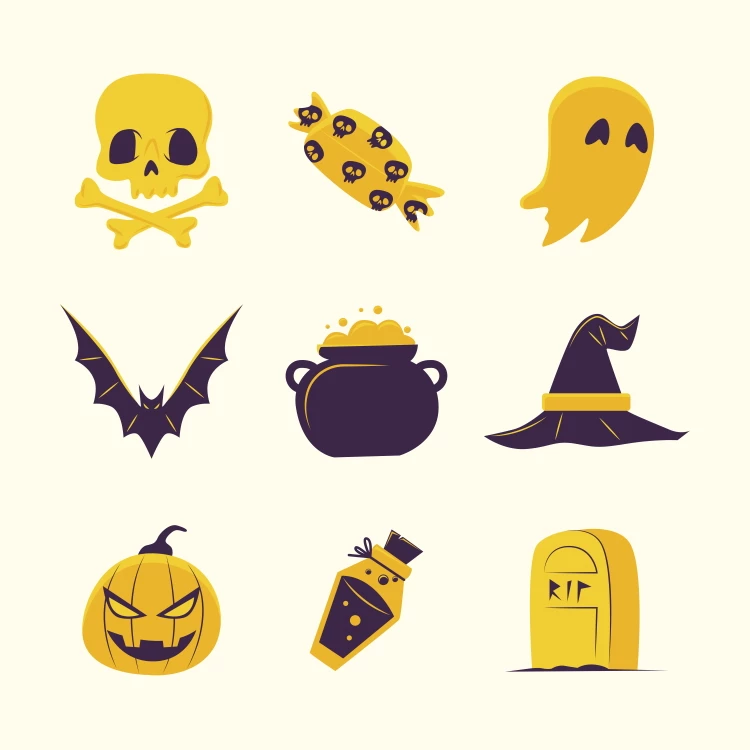 Visit the website
---
Color Halloween Icons
We think that a bundle of free icons here looks fabulous thanks to unique detailed designs and bright colors. One file features everything that we might need for an amazing Halloween party! You'll find the icons of creepy monsters, witch hats, a broom and much more.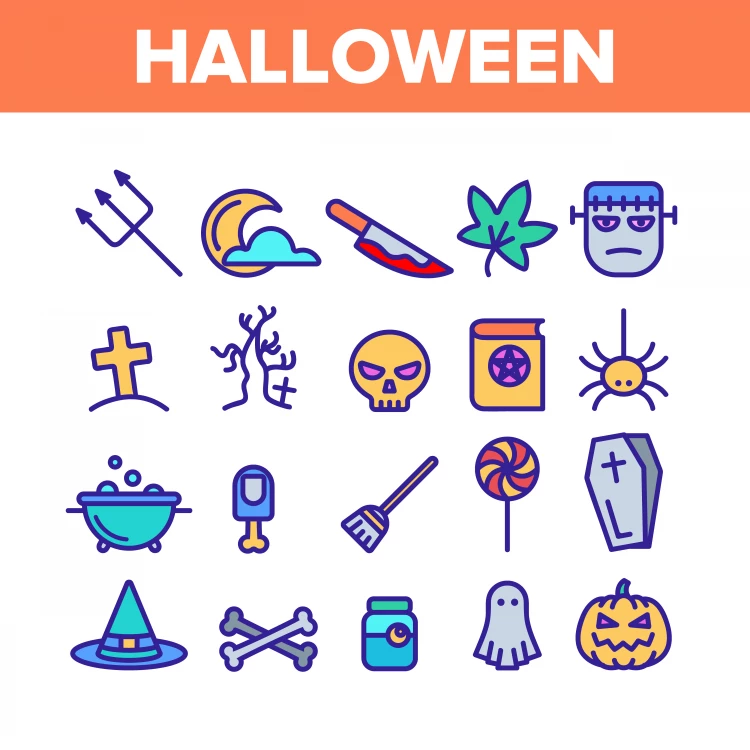 Visit the website
---
Minimal Halloween Icons
Although these minimal icons might look simple at a first glance, you'll be amazed with the unique designs and the tiniest details. Have no doubts using the linear icons to share the terrific Halloween mood.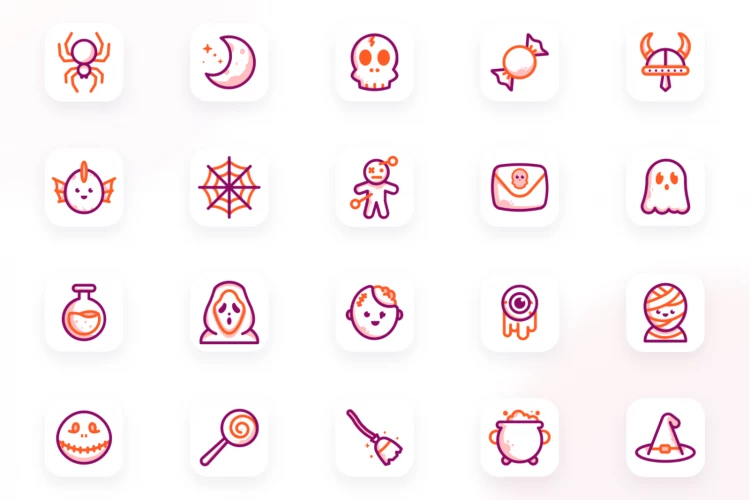 Visit the website
---
Halloween
A bunch of free icons you see here are unique and fully adjustable for any projects. Clean shapes and original design is what makes them cool. Save the set in one click, and apply PS to customize these icons.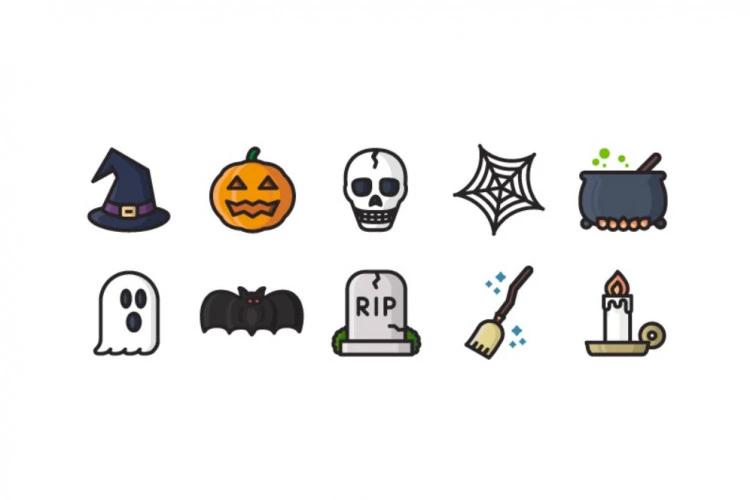 Visit the website
---
Halloween Costume Party
The second volume of the fabulous icon set has gathered the items that we might use to create a cool Halloween costume. Here you'll see death itself, a vampire, a witch and more. This unique pack is free and customizable in PS.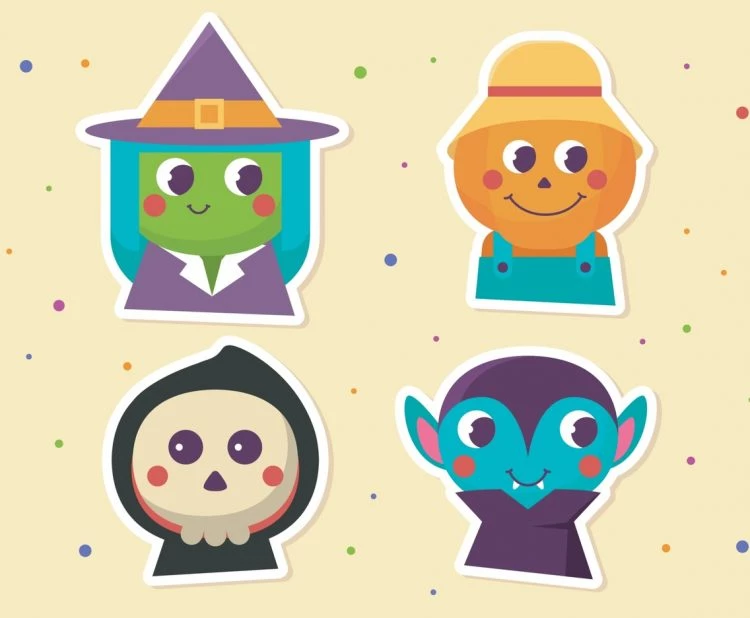 Visit the website
---
Halloween
A dozen of free icons gathered in this set look cool and amusing. Use a carved pumpkin, a spider web or a full moon icon for your original designs. This stylish graphics will look great in print or on any web pages.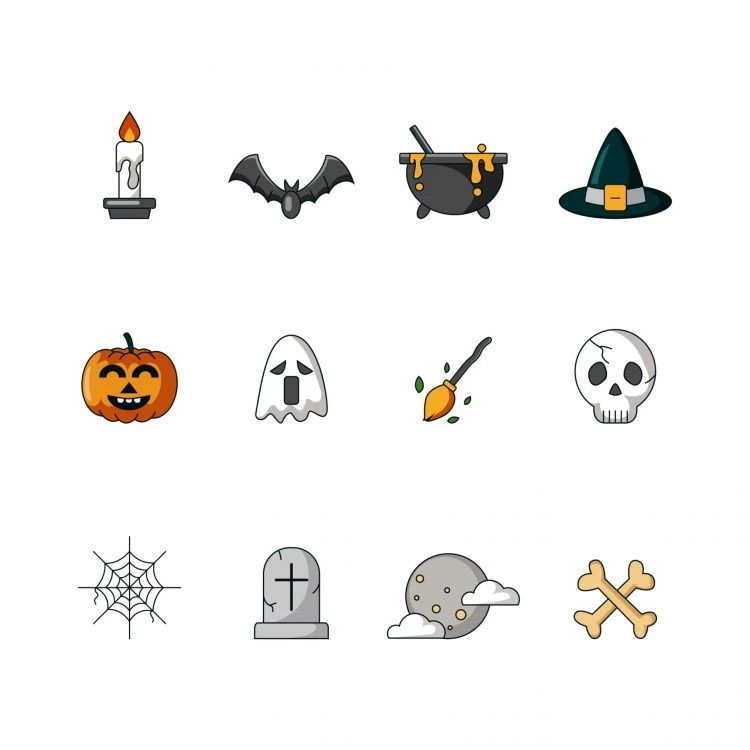 Visit the website
---
Halloween Icons
If you are looking for simple Halloween icons, pay attention to this cute set. Linear details icon templates would be perfect for your project. Monsters, weapon, candies and many more.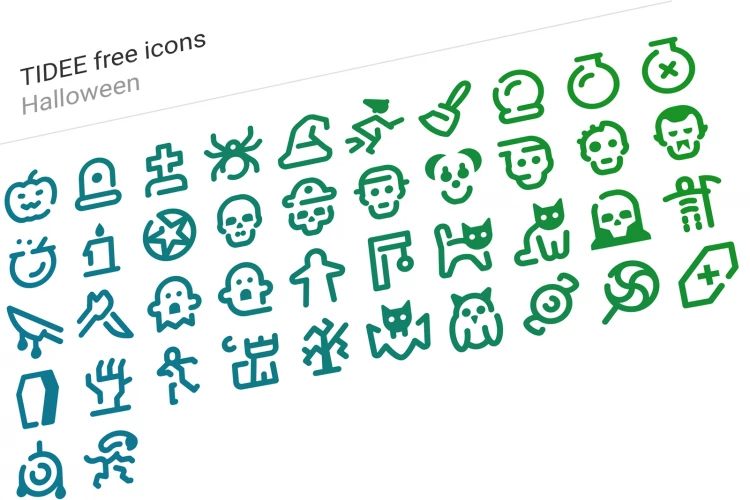 Visit the website
---
Scary Halloween
Tremendous unique design is what makes these icons so special. Whether you pick a creepy zombie, a ghost or a spider, their details will stun your clients and followers. Download this cool pack for free now.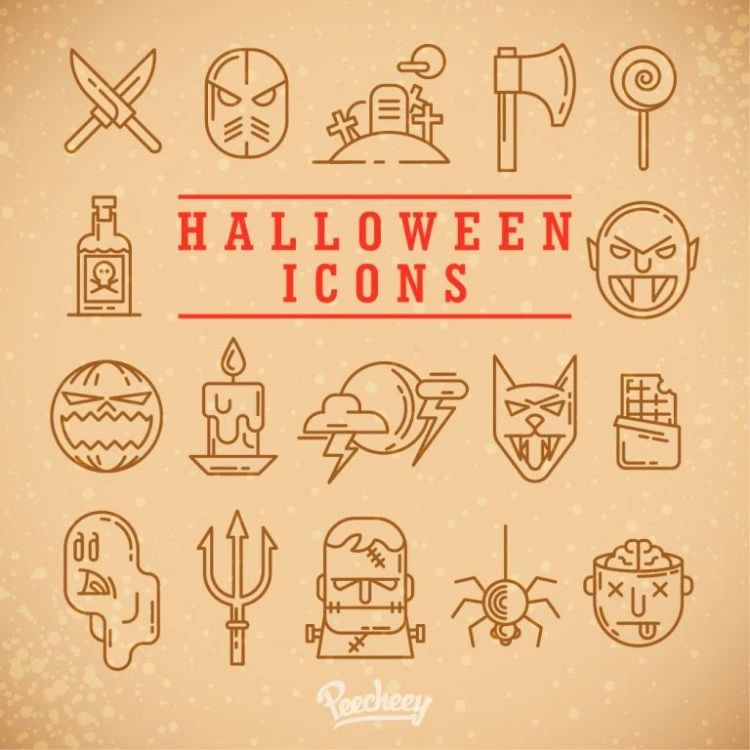 Visit the website
---
Halloween Monsters
If you are looking for a way to engage and entertain kids, this Halloween icons pack will come in handy. The colorful friendly monsters will instantly interest the little ones. All designs are unique and catchy.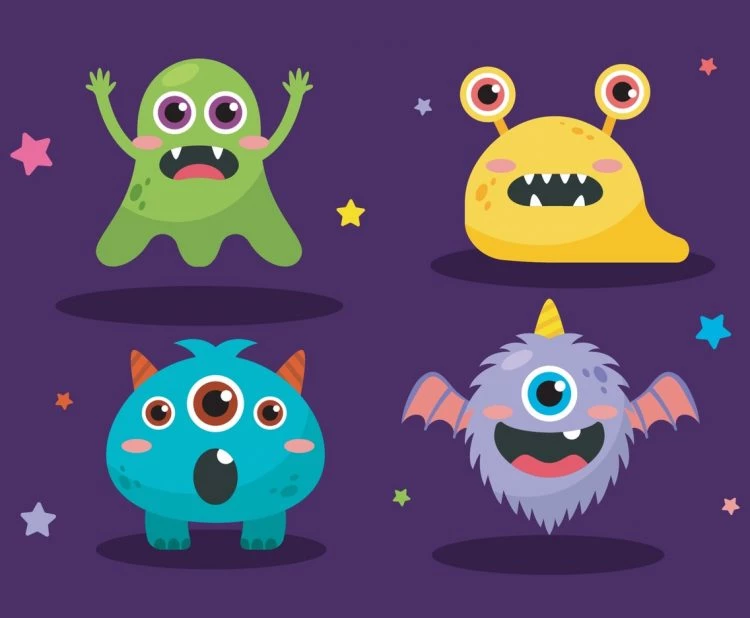 Visit the website
---
Fortune Telling
Halloween is a perfect time for magic tricks! Here you can see a wonderful icon set with fortune telling, magicians and witchcraft. Download this set to create a beautiful magic design!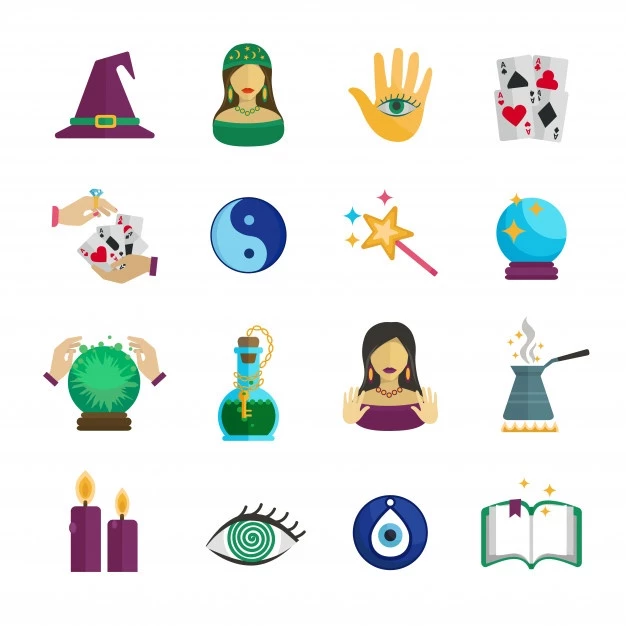 Visit the website
---
Halloween Costume
Picking a cool Halloween costume can be no less fun than wearing it on Halloween! These lovable free icons will give your followers and clients a few amazing ideas for the big fest. A mummy, a witch, a wolverine and other popular characters are all featured here.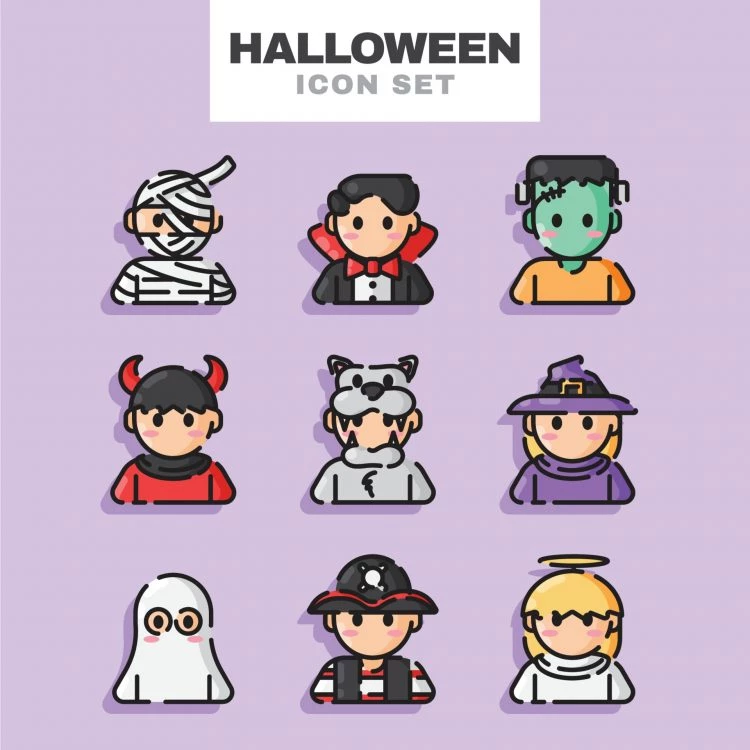 Visit the website
---
Halloween Set
Sometimes, less is more! Download this broad pack of simplistic icons to add a festive touch to your blog, a website or printed goods. Their minimalistic modern look can easily interest anyone.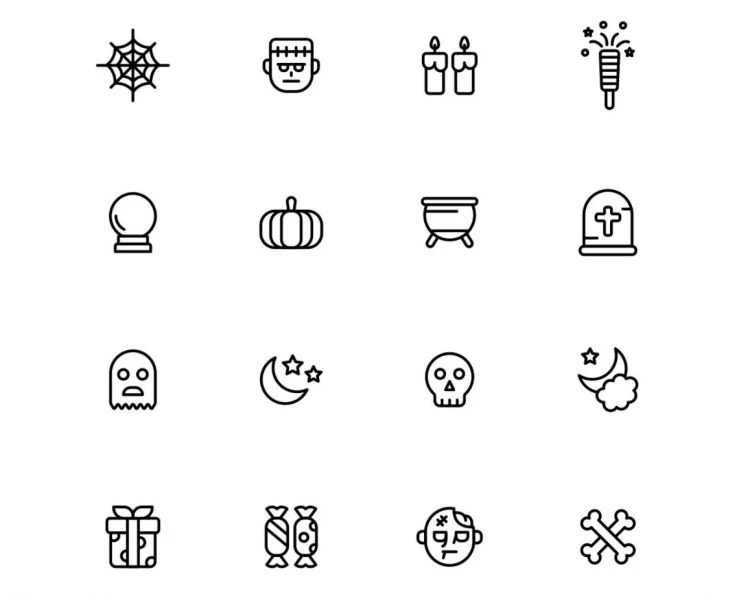 Visit the website
---
Happy Halloween
We are dazzled with this set of artful Halloween icons that feature not only unique images. Minimalistic linear icons will look equally impressive in print and online. Try it on!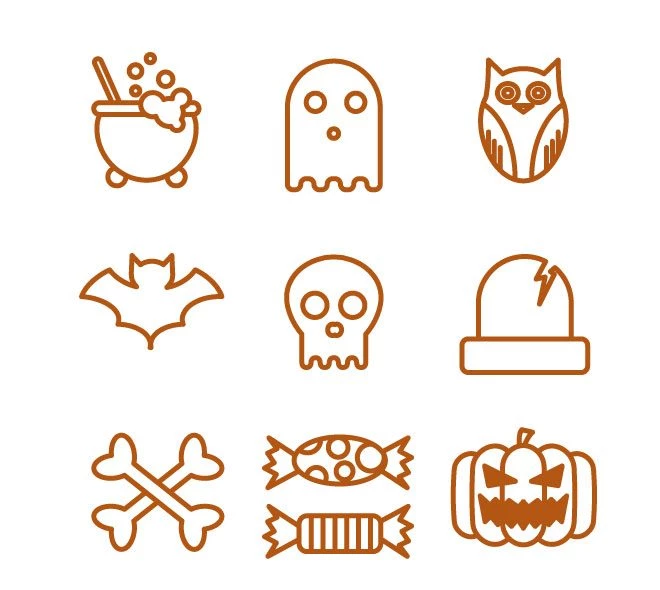 Visit the website
---
Futuro Halloween Icon Pack
Pay attention to these gradient Halloween icons! Gorgeous collection of duotone blue and pink icons. In fact, unique style and amazing details make these free icons almost as great as illustrations!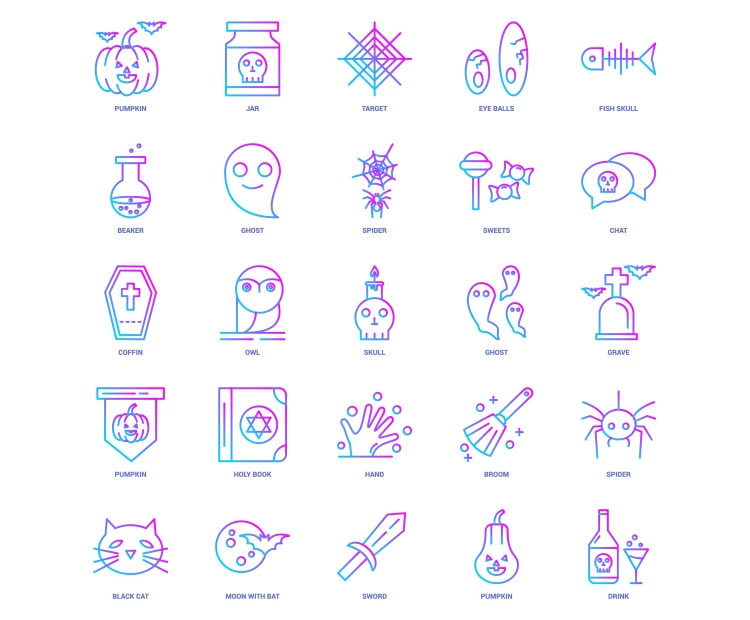 Visit the website
---
Halloween Icons
This small pack of cute icons presents a bunch of sweets and other items related to Halloween celebration. Thin lines make these multi-colored images look like doodles. The set is free and ready for quick customization.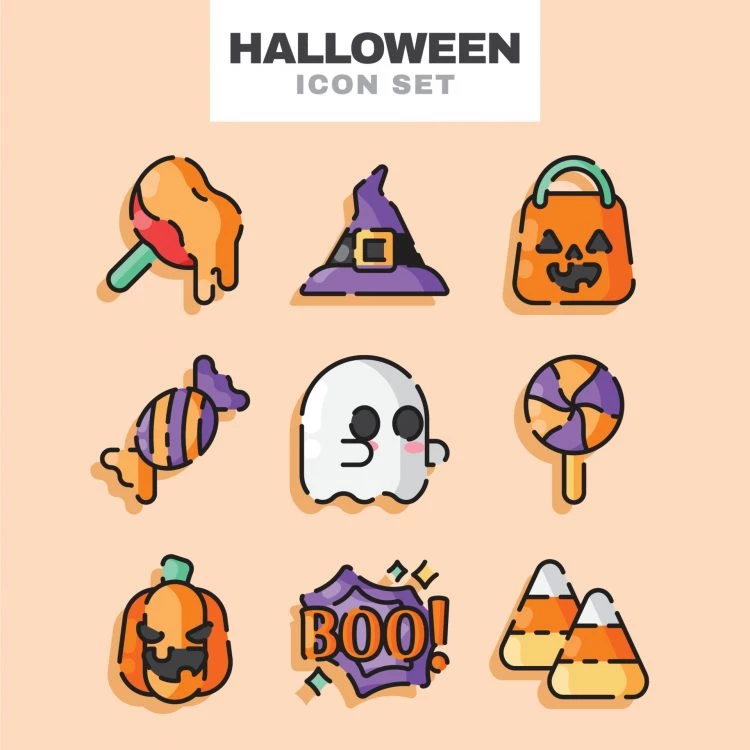 Visit the website
---
Halloween Head Icons
For sure, monster character icons are the best for the Halloween. The colorful faces express excitement, fright and other emotions we all experience during Halloween. Download the free set now to impress everyone!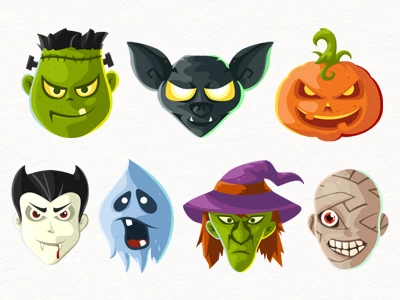 Visit the website
---
Halloween Line Icons
The linear icons gathered here look unique and cool. Your clients or online followers can pick something they relate to most. A coffin, a witch hat, and Halloween candies are all featured on this free list.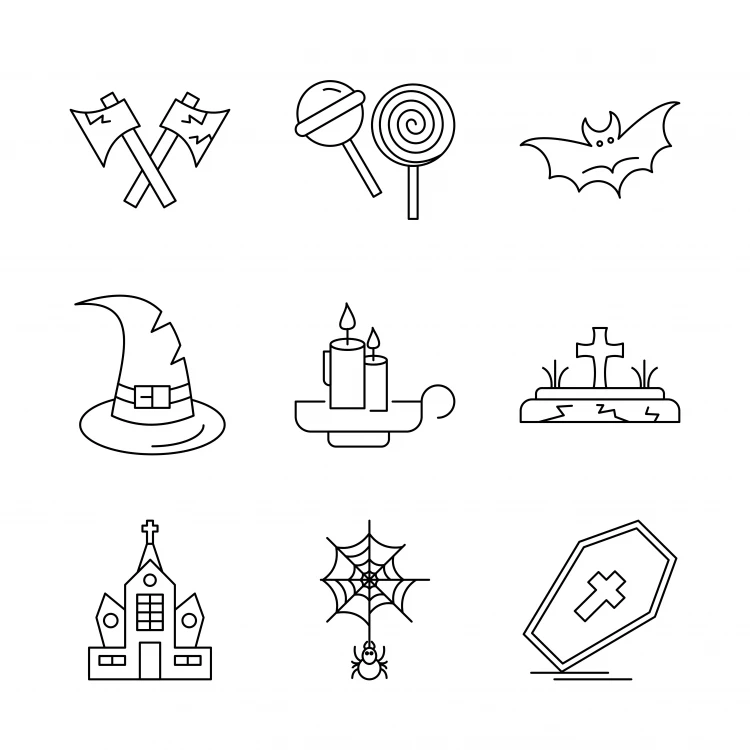 Visit the website
---
Have you picked the icons that go in tune with your horribly creative Halloween ideas and designs? We believe that you have! Save this – or several sets – for free, and have fun creating your own design.