Using banners on popular social media sites is a sure and efficient way to draw the utmost attention of your followers to your special events or offers. Whether you are throwing a fun party or would like to announce a big sale in your store, an eye-catching banner will spread the news online within moments. Announcing a private birthday celebration with the free banners can be fun, too.
Today we'd like to present you a unique compilation of 25 social media banners. Created by top designers from https://www.elegantflyer.com/ , https://free-psd-templates.com/ and other excellent resources, the templates can add style and color to any account. Download them free of charge, run Photoshop for some easy customization, and share online to make your promotion campaign successful!
---
Birthday Invitation Youtube Banner
This stylish birthday invitation will dazzle your community on YouTube with the bright mix of colors. Images of birthday presents and balloons create a festive atmosphere. Use this banner for your channel, and get ready for a happy celebration!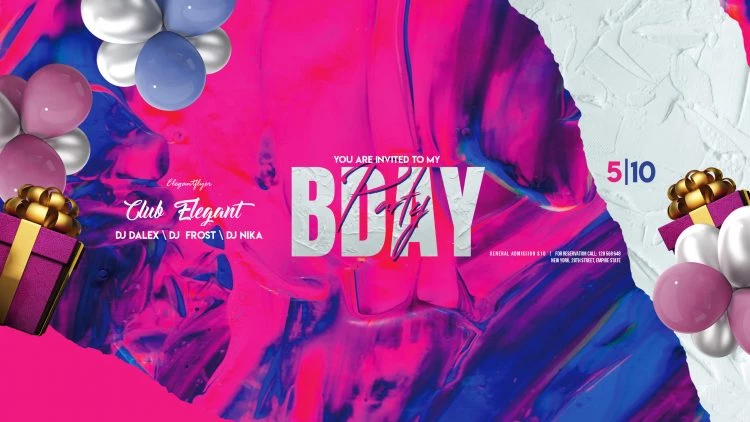 Download
---
Autumn Sale Facebook Banners
We love the contemporary look and beautiful colors of this Autumn Sale banners set. Choose among four unique designs or try them all! Versatile fonts and soft flowing shapes will please the eyes of your followers.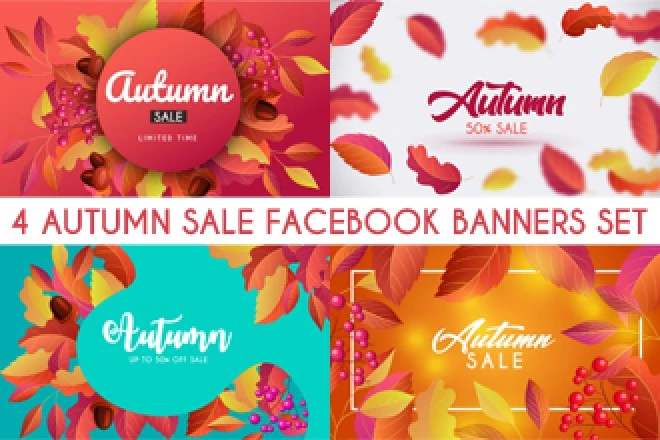 Download
---
Weekend Party Instagram Banner
Throw a massive party to make this weekend count! Use this stylish Sunday party template to interest your guests. Bold layout and photo of a sweet girl won't go unnoticed. Save this banner for free, and use PS to edit it.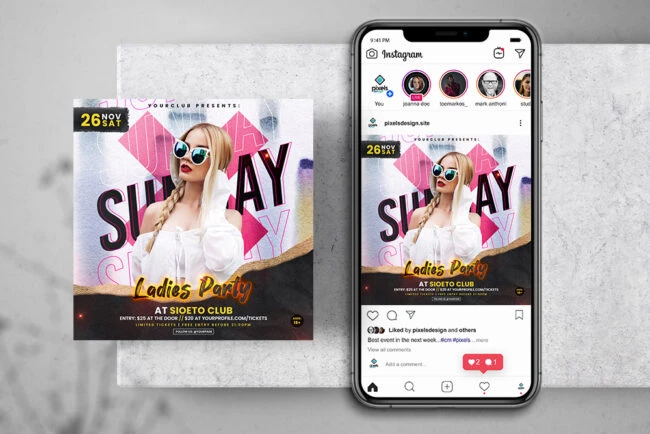 Visit the website
---
DJ Party Twitter Banner
Light up the smiles of your followers on Twitter using this DJ Party banner! The dark background matches the neon text and fresh green elements. You can keep the amusing image of a guy, or upload a pic of your own in Photoshop.

Download
---
Food Facebook Banners
This stunning bundle of free food banners will come in handy for any café or restaurant owner. Invite your followers to try out new dishes on the menu or announce special offers. The professional photos and stylish layout of the editable samples will help to bring in new guests.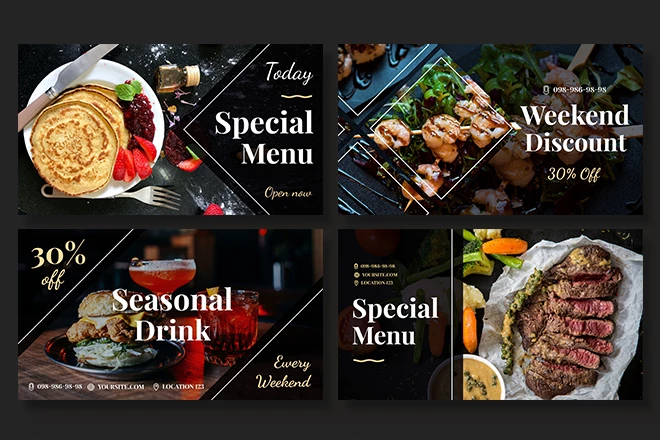 Download
---
Sale Social Media Banner
Men are keen on fashion, too. And of course, they won't miss a chance to purchase some stylish new clothes for a special price. Use this professional Sale banner to gain attention of your male followers. The file is free and ready for your edits in PS.
Visit the website
---
Halloween Party Youtube Banner
Throw a reckless Halloween party with this fearful YouTube template. Neon colors and a special image give it an eerie vibe. You can edit the text within moments using Photoshop. The followers will rush to become part of your stunning night!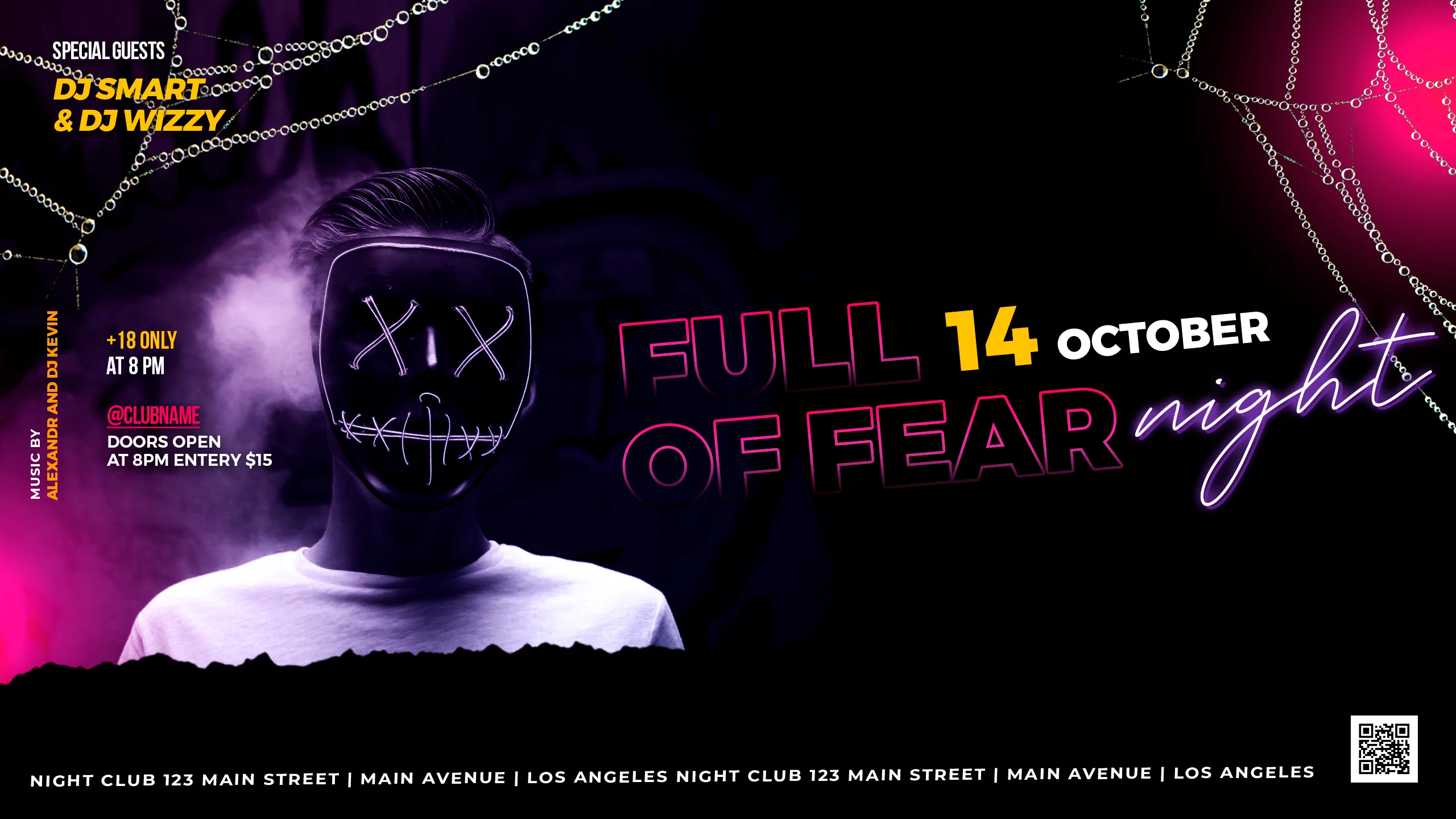 Download
---
DJ Banner Set
Use this free pack of four fashionable banners to announce special DJ guests at your club. Pink, yellow and white elements look striking against the textured dark background. Whether you pick the samples with the photos or just text, they will equally amaze all followers.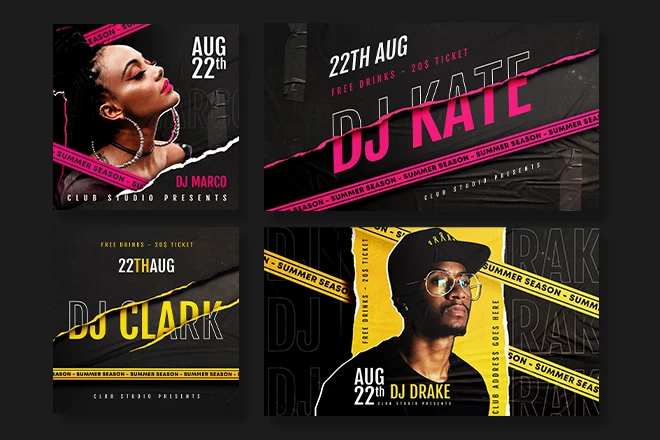 Download
---
Big Sale Youtube Banner
Make everyone count days to your big Friday sale with the help of this superb template. Save it for free, and try out different colors in Photoshop. You can customize the writing with ease, too. We guarantee that the banner will bring you success.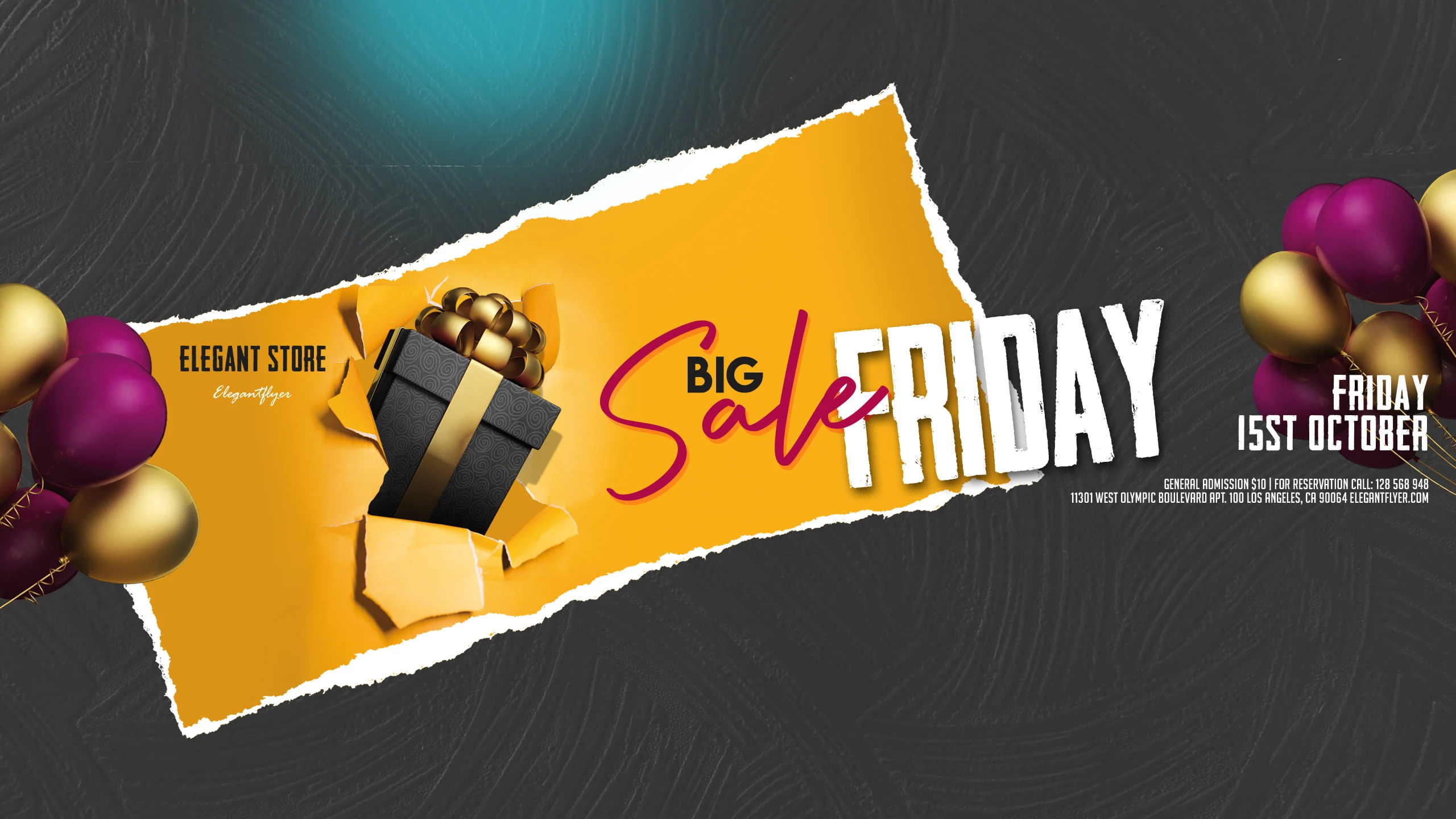 Download
---
Birthday for a Girl Twitter Banner
Your little princess deserves the most amazing celebration. Use this beautiful banner to invite all friends and loved ones to a happy party. Download the file for free, go for some fast PS editing, and share a sweet invitation on Twitter.

Download
---
Wave Texture Facebook Banners
This set of two modern looking banners can serve well for various purposes. Whether you run an online blog on the latest technologies or would like to announce a cool party at your club, the neon colors and enigmatic shapes of the banners will add a stylish touch.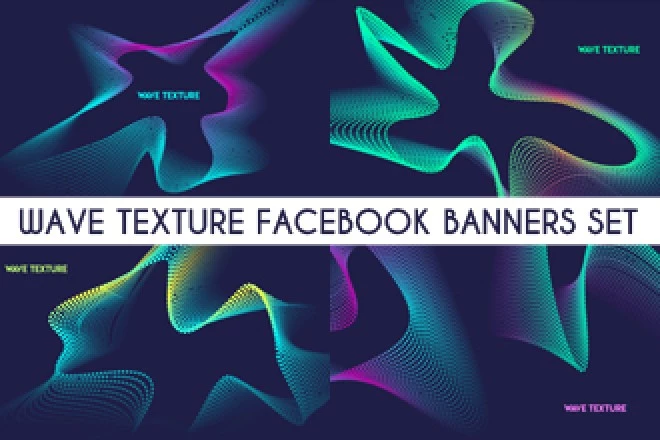 Download
---
Social Media Banners
Advertising on social networks is perfect to boost sales in practically any type of store. This special banner was created for those who sell comfy and modern furniture. Download it for free, and adjust in PS to announce your new collection.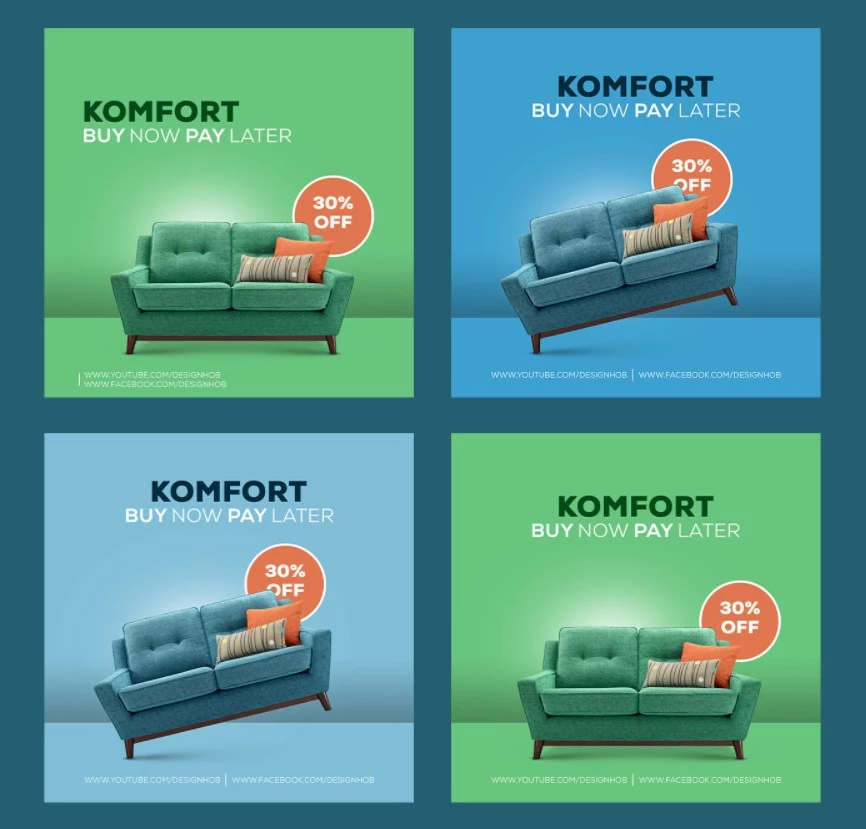 Visit the website
---
Friday Vibes Youtube Banner
Announce a fabulous Friday party using this banner template for YouTube. Light palette and bright text give it a cool relaxed vibe. You can save the file for free, and run Photoshop to change the text and replace the photo.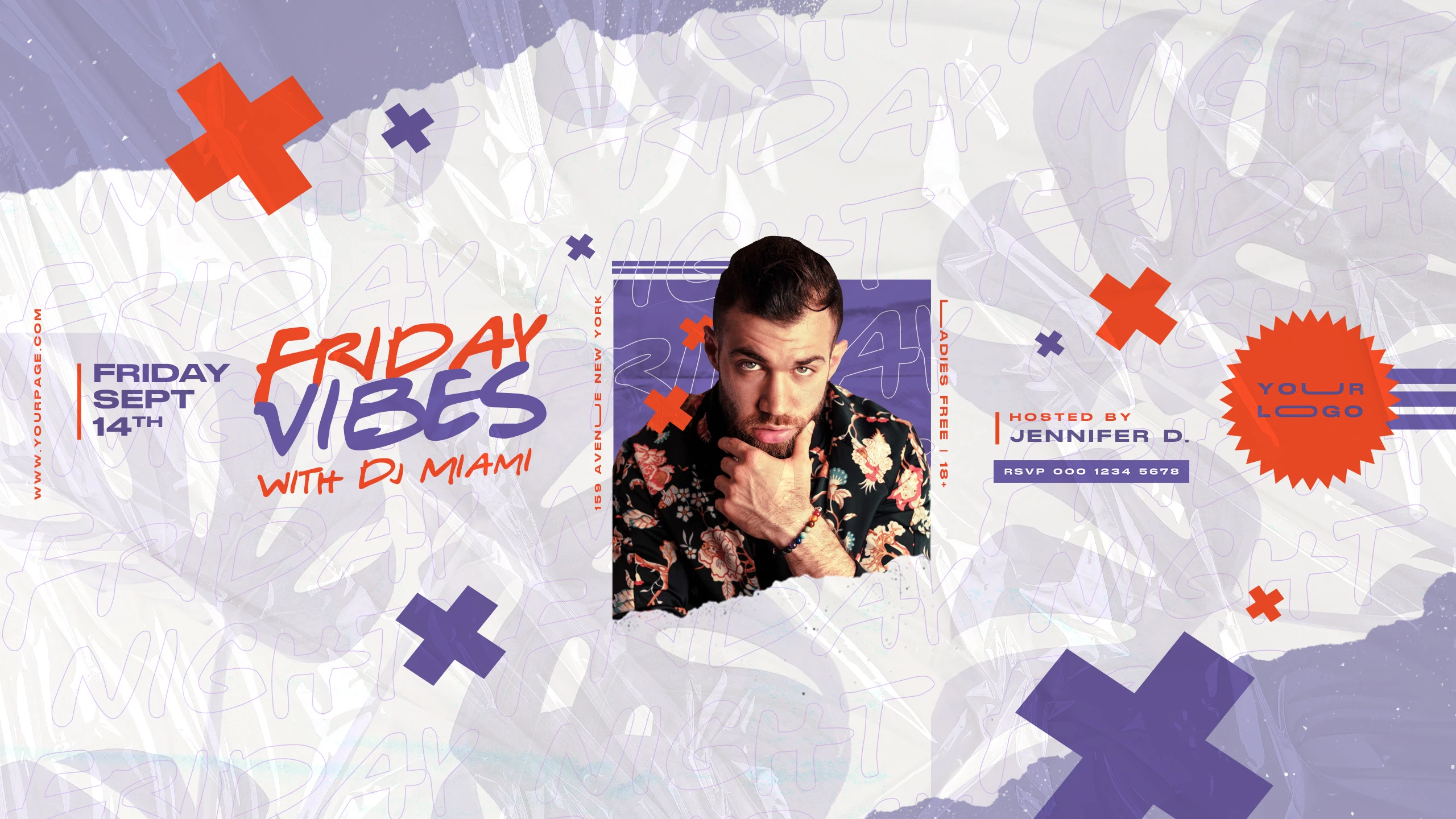 Download
---
Business Facebook Banner Set
An excellent set of nine banners presented here is perfect to attract maximum attention to your business. The eye-pleasing palette and contemporary images are complemented by the simple yet impressive fonts. You're welcome to download these free samples, and customize them in PS.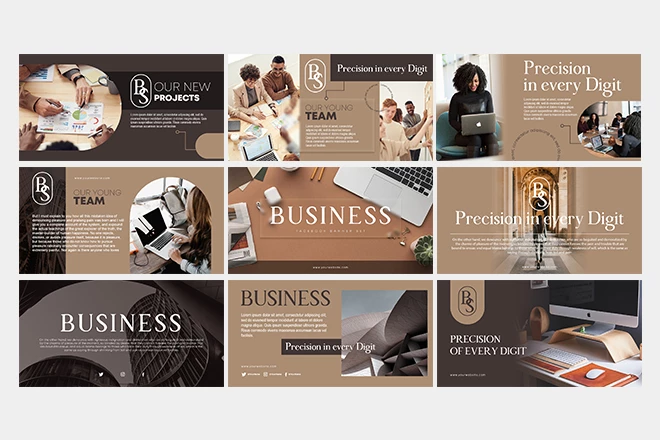 Download
---
White Party Instagram Banner
A catchy photo and neon shine of this banner template will help to announce a special night event at your club. Save the free file, customize the text and other details with Photoshop, and get ready for a stunning themed party.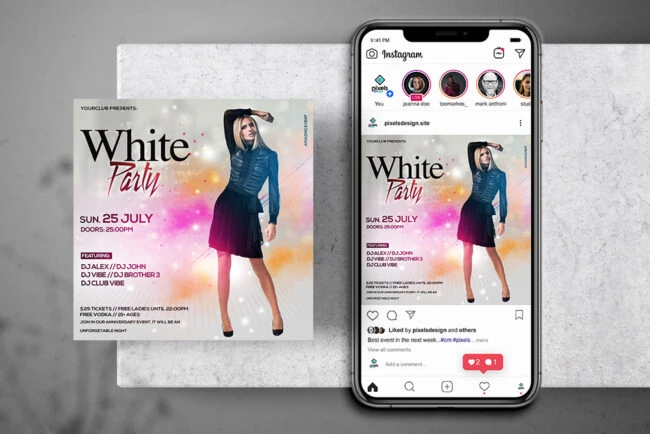 Visit the website
---
Halloween Party Twitter Banner
Share this incredible Twitter banner to announce the scariest event of the year! A striking headline and neon elements will draw the eyes of everyone in your online community. Save the template for free, and start Photoshop to customize it.

Download
---
Fitness Facebook Banners
We bet that the fitness banners have never looked as stylish. Save this pack of four free files to impress your followers, and turn them into new clients. Each template features a cool B&W photo complemented by bold white writing and vivid color accents. We guarantee that everyone online will be amazed!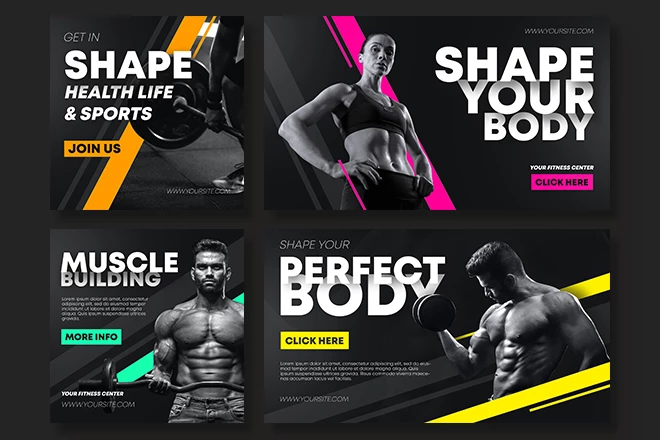 Download
---
Beauty Happy Hour Twitter Banner
A happy hour template presented here will impress everyone on Twitter with its impeccable style. Deep green color is perfect complementing the elegant writing and an image which you can easily replace using PS. Of course, the text is editable, too.

Download
---
Dia de Los Muertos Youtube Banner
Dia de los Muertos is an incredible festival that keeps gaining popularity all over! Throw a special themed event at your club that no guest will forget. Use this impressive free banner to share the news on YouTube.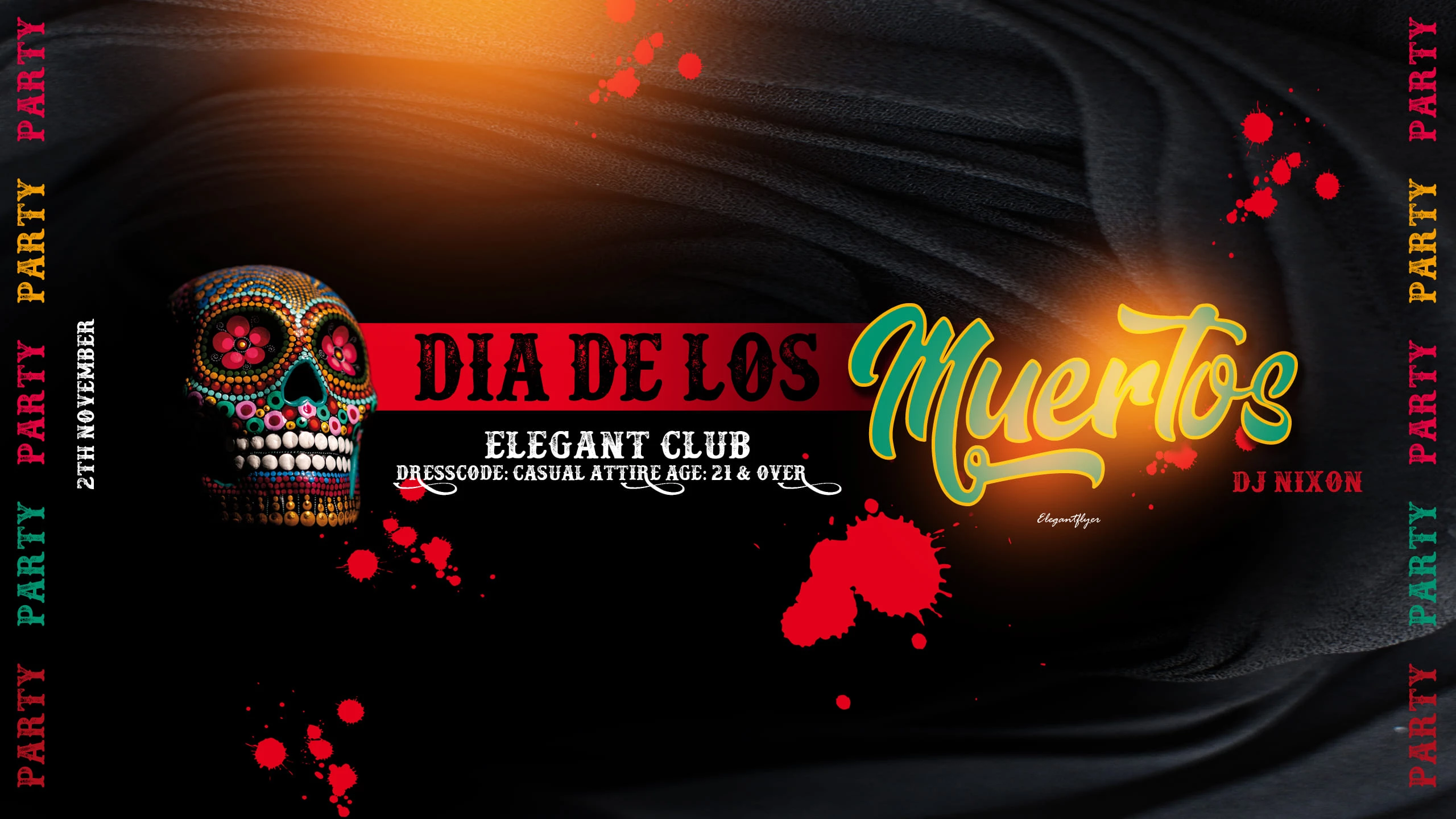 Download
---
Education Banner Set
We're sure that a free set of education banners here will come in handy for your school. Each template looks cool with a unique design, a catch text, and a photo of a smiling young person. Have no doubts using these editable banners to connect with your audience.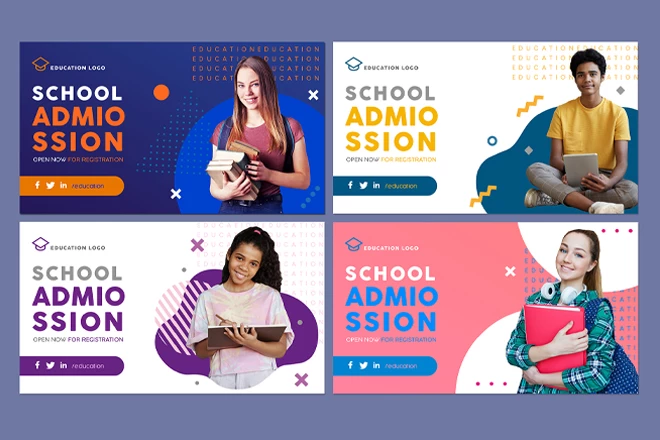 Download
---
Fall Sale Instagram Banner
Fall is the season of special sales everyone is looking forward to. Use this free Sale template to spread the news among the followers on YouTube. Simple yet eye pleasing, the file will turn into cool banners!
Download
---
Fall Party Twitter Banner
Spread the vibes of a special Fall Party with this Twitter banner. The cool combo of white, black and rich yellow makes the template noticeable. You can save it for free, and keep the stylish image or upload a new one in Photoshop.

Download
---
Pizza Social Media Banners
Make every follower drool using this pack of four incredible banners! We bet there's no person who'd say "no" to the mouth-watering photos of the beloved dish…  Hurry up and save these free templates, to edit them, and share online!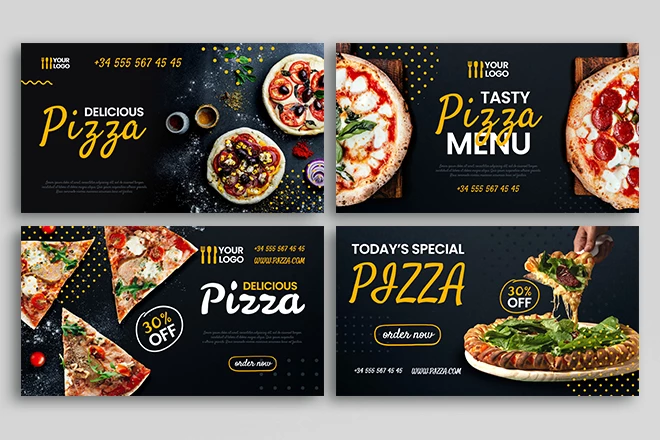 Download
---
Fitness Social Media Banner
Succeed at promoting your gym with this cool banner template! Simple yet striking text and an incredible image will make a strong impression on any follower. You can save this file for free in one simple click, and have fun customizing it in PS.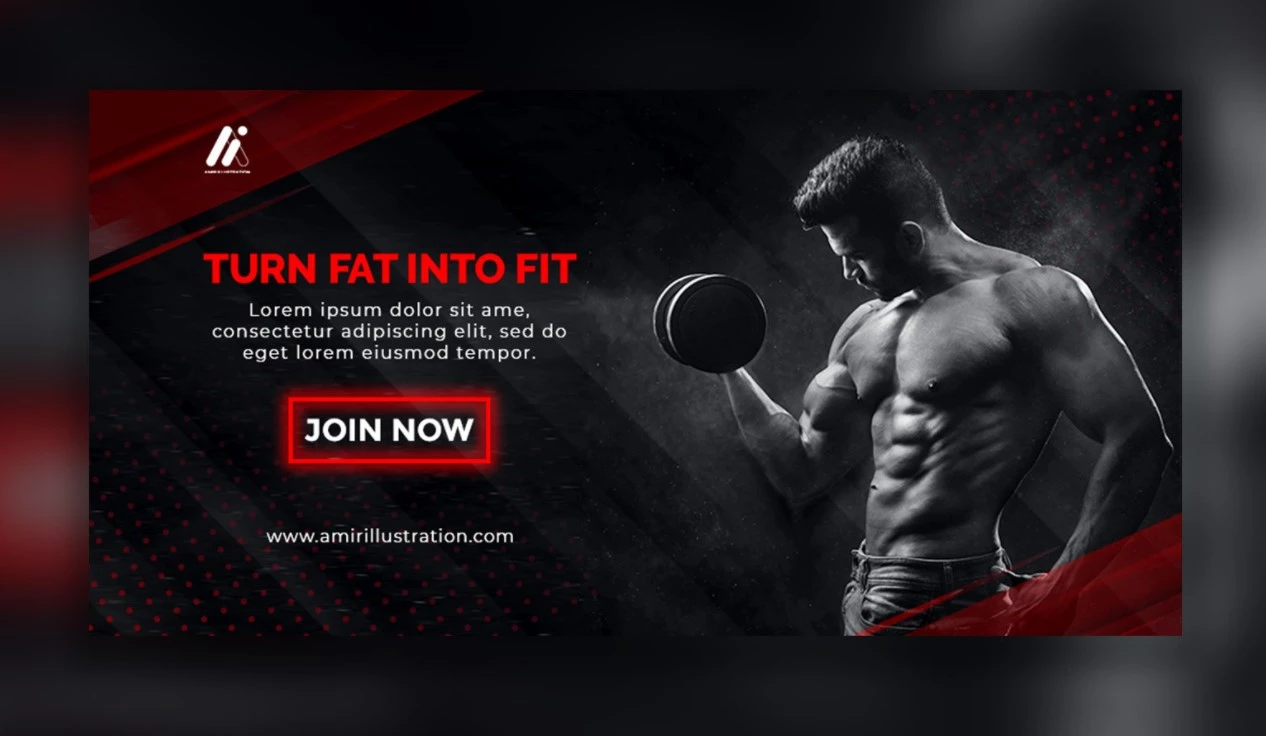 Visit the website
---
Church Revival Youtube Banner
Invite all followers on YouTube to come for a beautiful service at your church. Use this free banner sample to spread the vibes of joy and love. You can change the text and upload your own image within just a few minutes in Photoshop.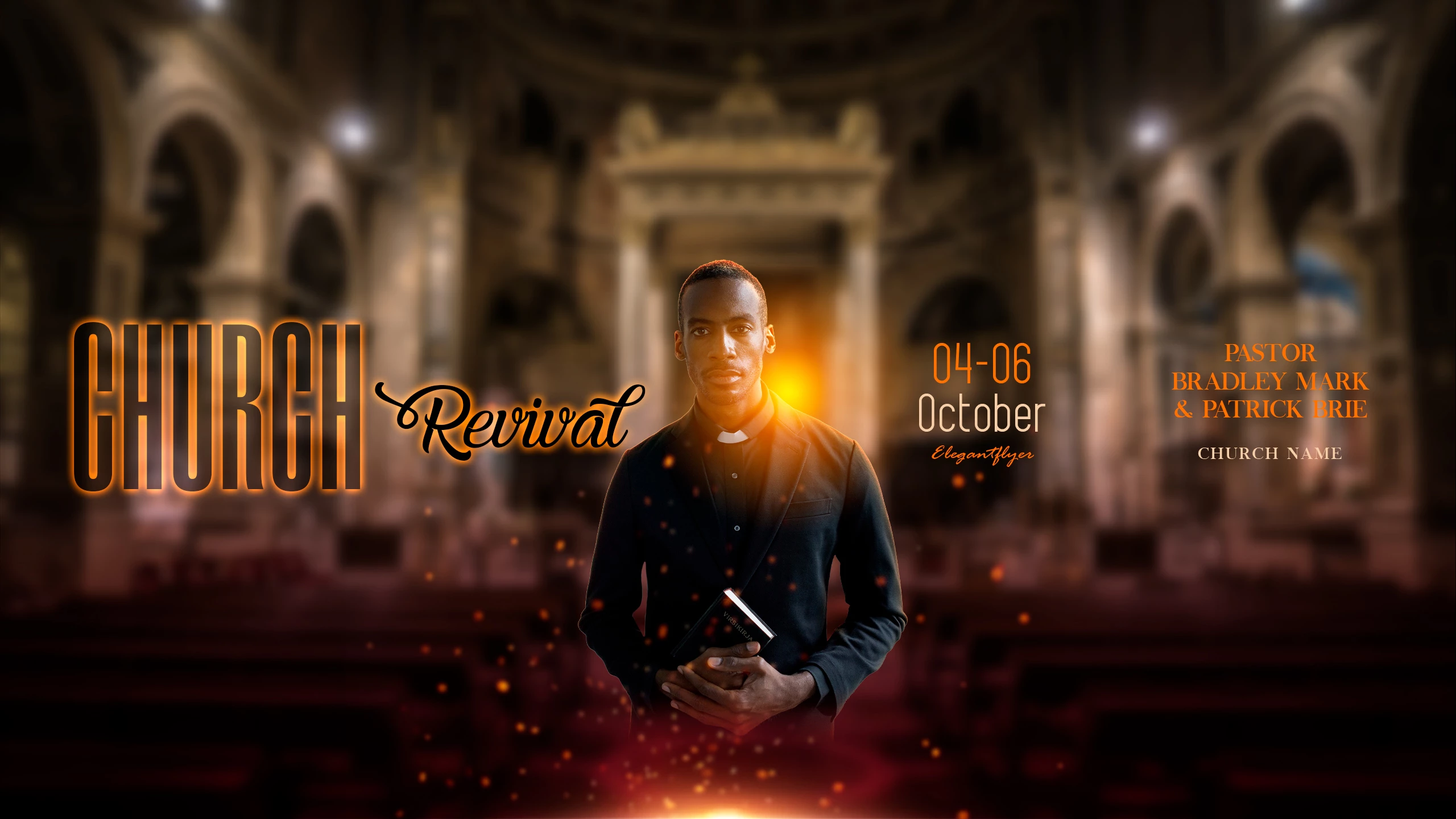 Download
---
Health Banners
The last but certainly not the least, comes the set of four Health banners. It's needless to say how crucial the topic of health and safety is nowadays. Use these free editable templates for your hospital, lab or an online blog.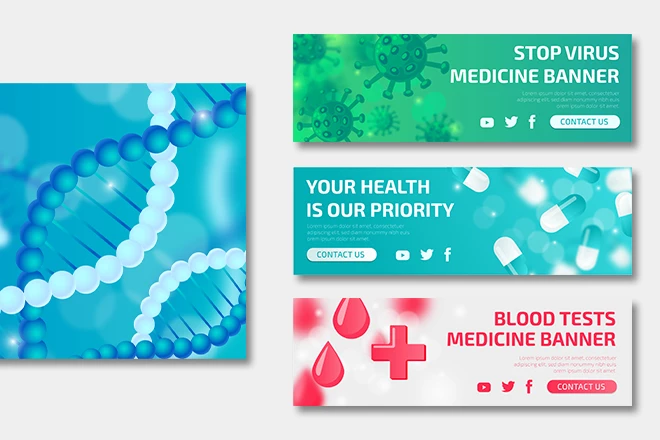 Download
---
Have you picked a perfect banner for your social media account? Of course you have! We're sure that our ultimate list includes everything one may need or wish for. Save your free file now, and have fun adjusting it in Photoshop.