We all love autumn for the beauty of nature, tasty fruits and veggies, and a cozy atmosphere. But a whole range of versatile festivals and fun events is what makes it even more special! A noisy Oktoberfest, a graceful Thanksgiving, spooky Halloween and Dia de los Muertos are just a few of those.
On this fresh list we've gathered 30+ unique templates of flyers for successful promotion of most various autumn events. Provided by https://www.elegantflyer.com/ , https://free-psd-templates.com/and other top class sites, they can be downloaded free of charge, and adjusted easily in PS. Whether you're going to announce a huge seasonal sale or would like to host a joyous fall festival, we've got a perfect flyer sample ready for you! Don't waste a minute, and find it here.
---
Autumn Sale
Let us start the list with a stylish Autumn Sale file. Warm palette and cool shot of a girl will easily draw customers' attention to your special seasonal offers. Save the file for free now, and edit its look in Photoshop to print catchy flyers.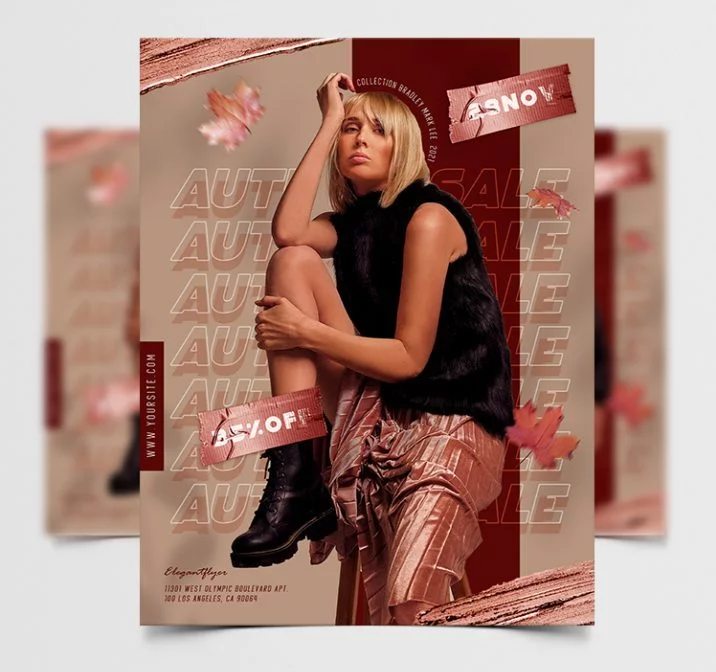 Download
---
Fall Festival
Vibrant autumn colors and cartoonish characters is what makes this flyer so adorable. Download the template in one click, and adjust it to let everyone know about your amazing Fall Festival.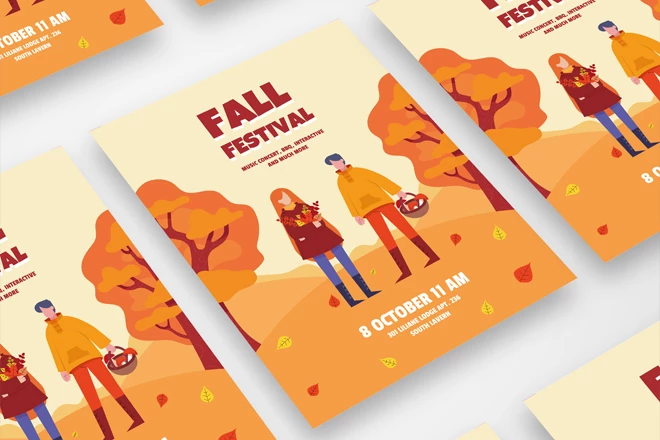 Download
---
Golden October
Impress everyone around with this incredible Golden October flyer. Seamless golden leaves and writing sparkling from the black background is what makes it look classy. No one will miss out on a unique party at your club as soon as they see such flyers!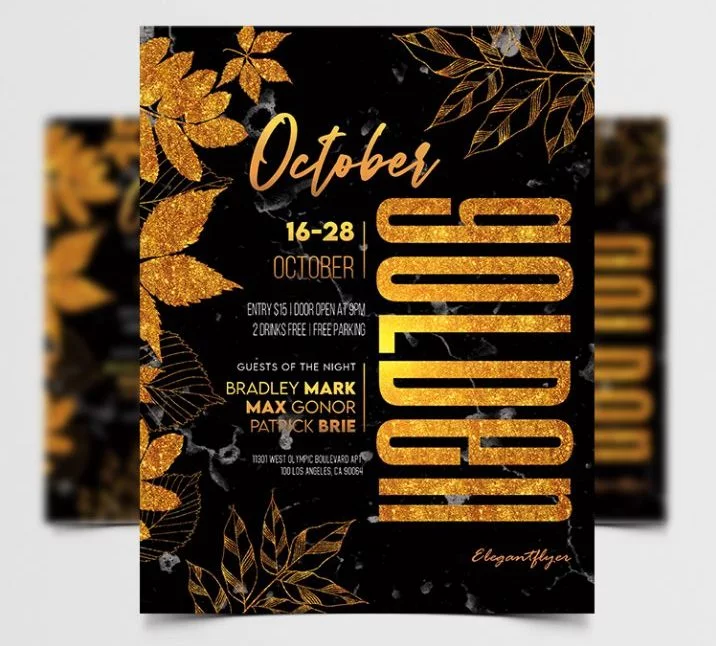 Download
---
Remembrance Day
We all know the importance and deep meaning of Remembrance Day. Use this sample to attract everyone's attention to a special event you are to host. Bright poppies and soft writing is what makes it beautiful.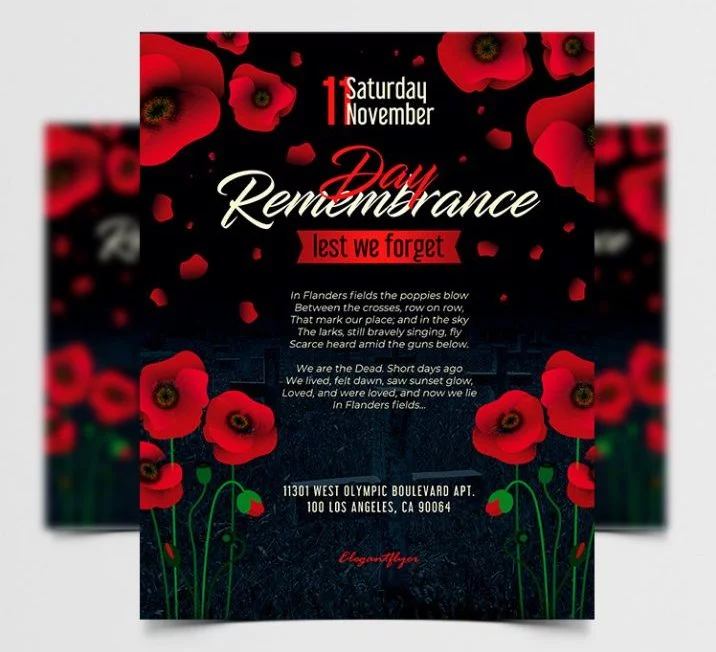 Download
---
Friday Sale
You'll hardly find a Seasonal Sale flyer as stylish as this one! Amazing magenta color complements the catchy combo of black and white. Smart layout of this model will let you place the key info. Save the free file, to print fabulous flyers and announce a big autumn sale!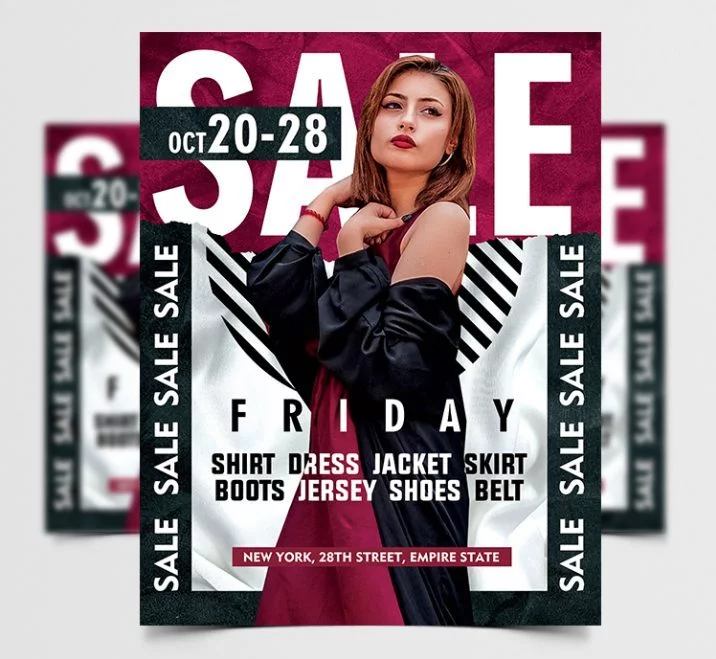 Download
---
Halloween
If you're in search of a fast way to promote a big Halloween bash, this cool flyer is all you need! Glowing colors matched with a dreadful image will make everyone look forward to your fabulous party.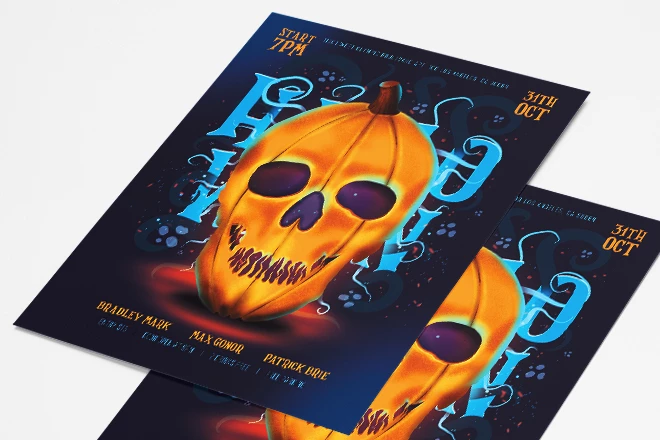 Download
---
Thanksgiving
Unique and elegant, a Thanksgiving flyer sample here will help to promote your happy celebration. A festive image and an unusual design seem perfect for the occasion. Gather everyone for a unique event, and spread the joy around.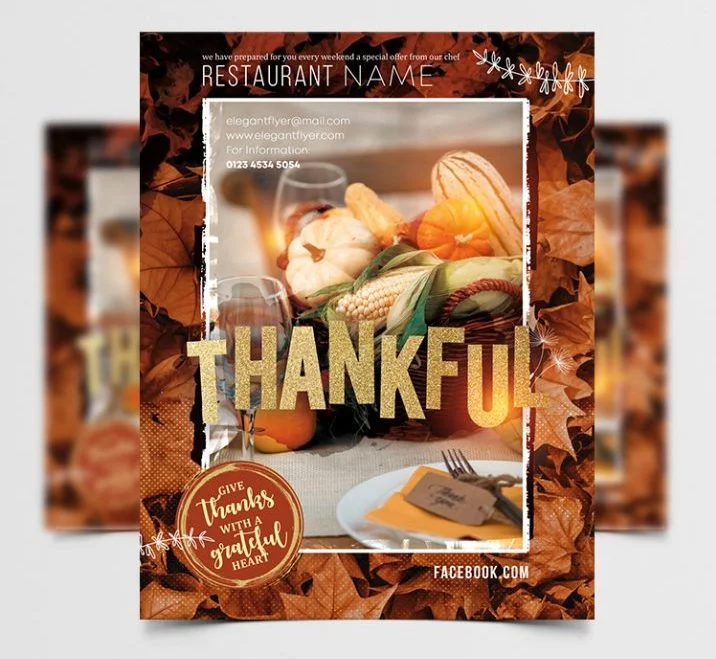 Download
---
Fall Festival
A Fall Festival is a great place to enjoy cool music, tasty local food, and have fun. The unusual combination of bright orange and blue colors used for this model will help to interest all potential guests.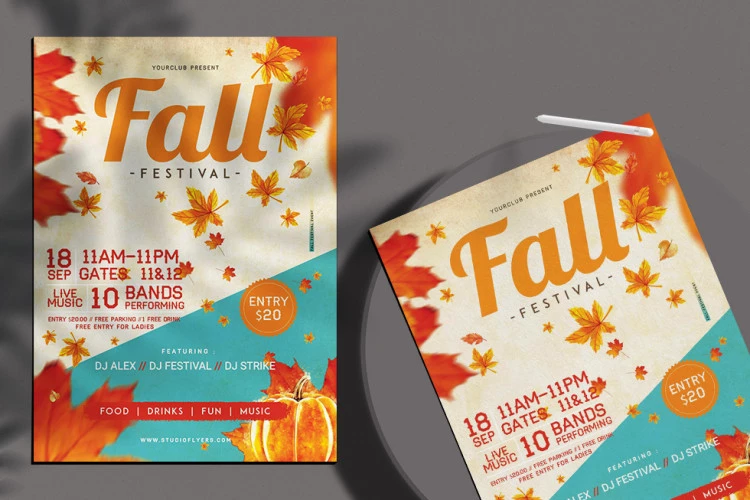 Visit the website
---
Dia de Los Muertos
A mix of red and black colors, a unique image is what makes this sample so catchy. Download it now, apply PS for easy editing, and spread stunning flyers to announce a big Dia de los Muertos event.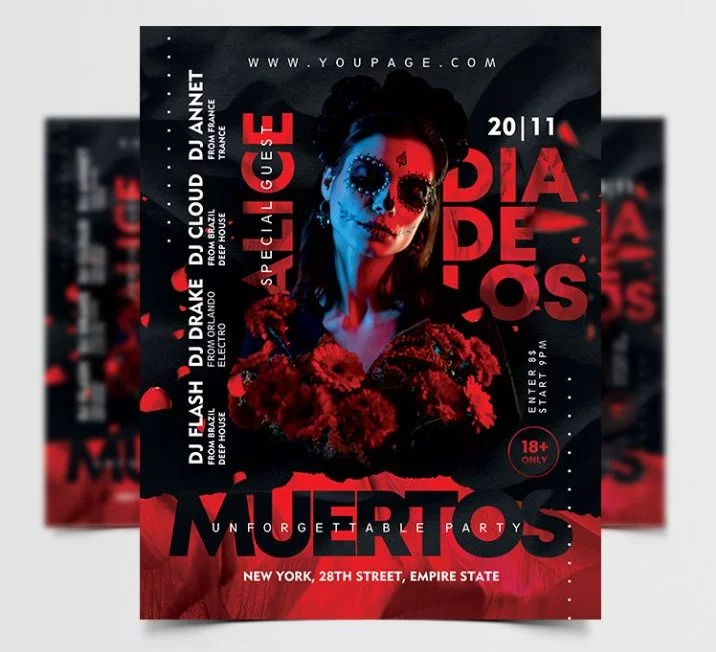 Download
---
Thanksgiving
Soft flowing shapes and deep colors give this free sample a unique contemporary look. We are sure that it will spark interest in your guests and will inspire you to host a wonderful Thanksgiving celebration.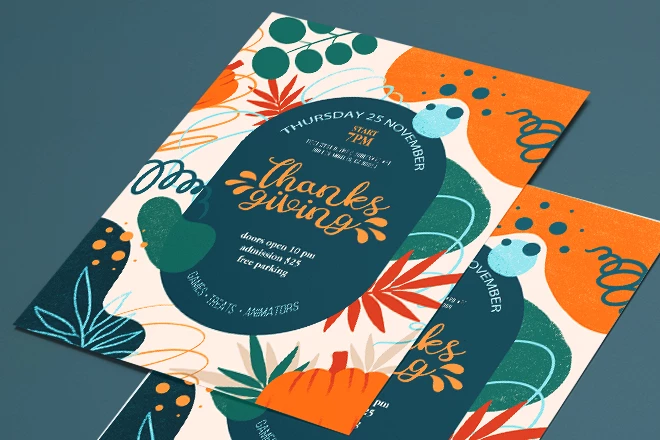 Download
---
Autumn Vibes
A superb photo and vivid palette of this Autumn Vibes flyer will promise all visitors a cool event with great music and lots of fun. Download the file for free now to open it in PS to edit within a couple of minutes.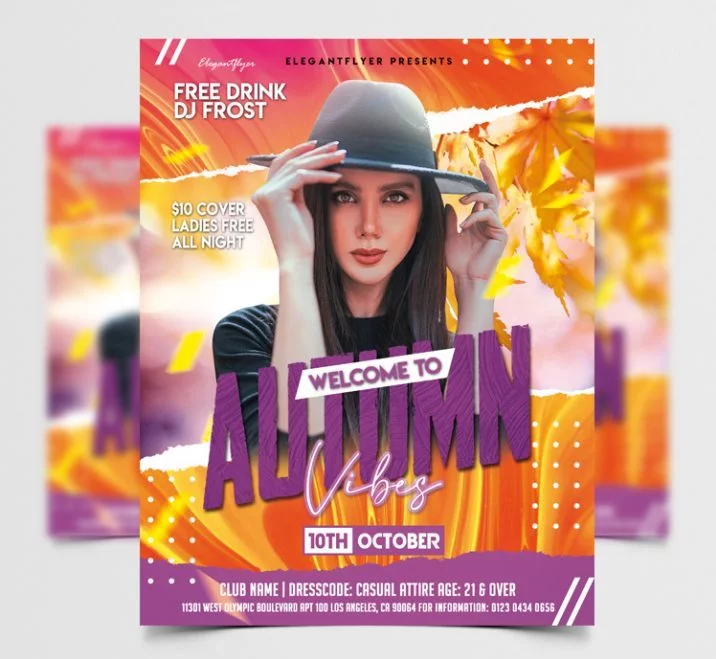 Download
---
Fall Festival
We all enjoy walking in a sunlit autumn forest. A beautiful fall scene is what gives this flyer sample the joyful vibes. Turn it into creative flyers, and gather everyone for a fabulous festival. All guests will enjoy this special invitation.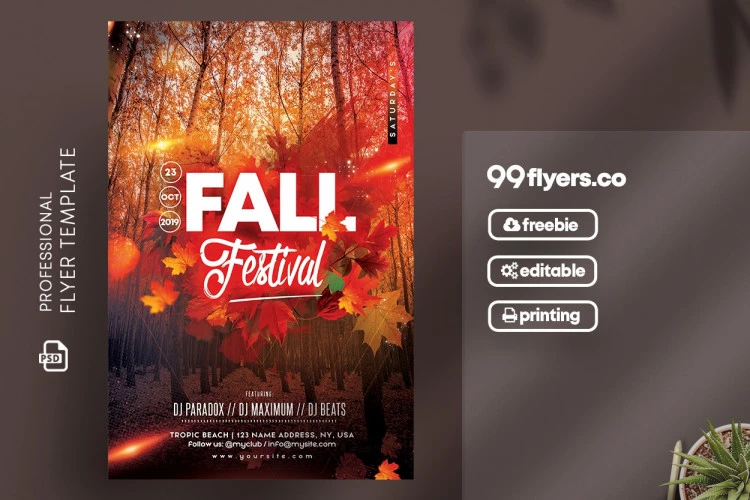 Visit the website
---
Kids Halloween
More than anyone else, children are looking forward to Halloween treats, tricks and a chance to have fun with their pals. Use this model to prepare flyers that will catch the eyes of all kids out there. For sure, they will love your huge themed party!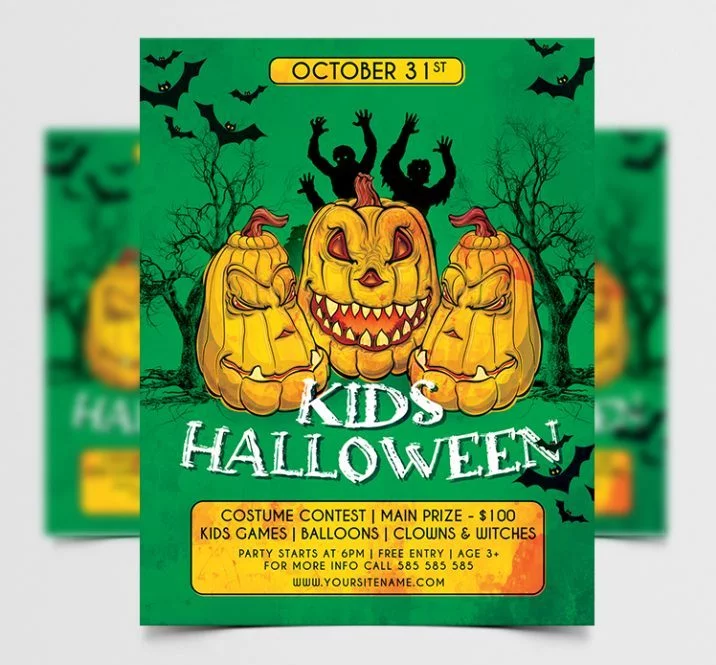 Download
---
Black Friday
Striking red and white writing glowing from the dark background… You'll hardly find a better flyer to announce a huge sale launched for this Black Friday! A template as gorgeous as this one will certainly bring in many new clients.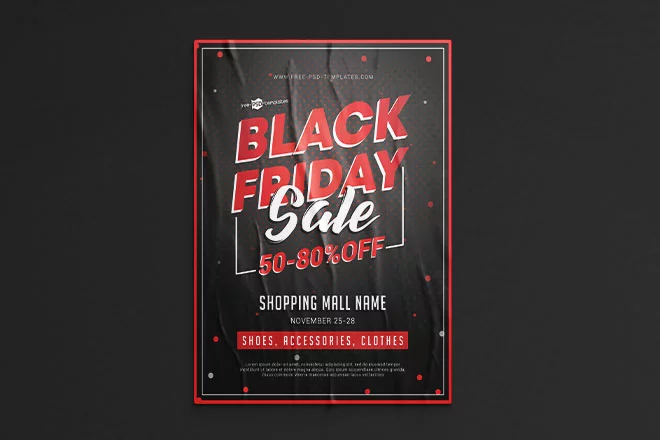 Download
---
Back to School
We think that hitting a cool event is a smart way to start a new school year! If you are planning to throw a special Back to School event at your club, this top class flyer is exactly what you need. Save it in a click, and edit fast in PS.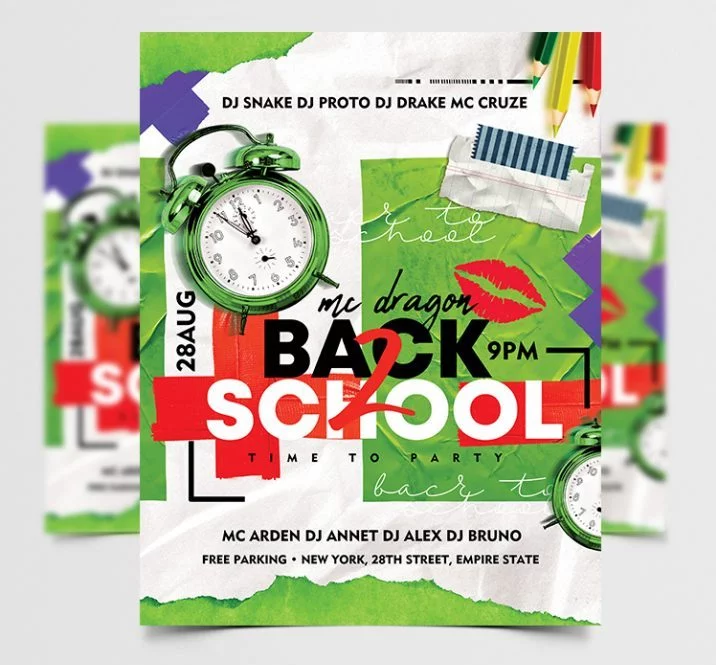 Download
---
Thanksgiving Day
A beautiful sample here will fit the elegant style of your Thanksgiving celebration. Fruits, autumn leaves and the shiny text have a festive and welcoming look. The flyers you make with the help of this file will surely impress everyone.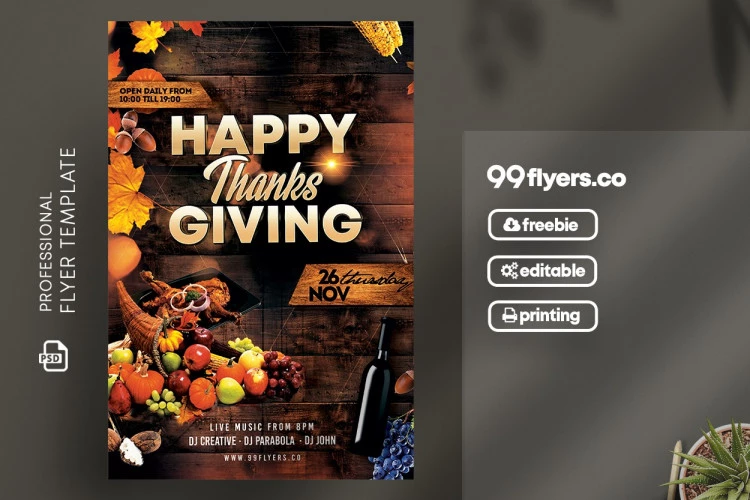 Visit the website
---
Diwali Festival
Glowing with joy, gratitude and lights, the festival of Diwaly is a special time a lot of people are looking forward to. The magical look of a flyer model presented here will easily please the eyes of all guests heading out to your happy celebration.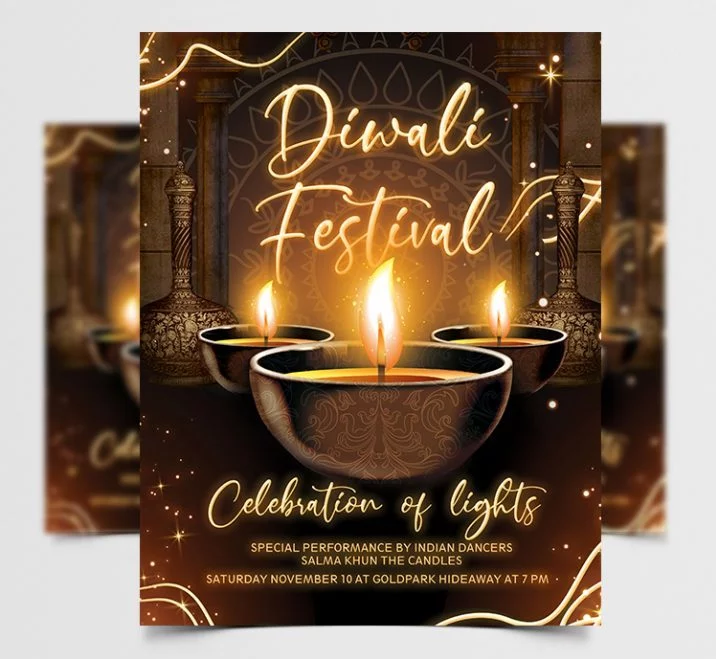 Download
---
Oktoberfest
A vintage Oktoberfest sample here can help with promotion of your joyous autumn event. Tasty drinks, food and a friendly atmosphere is all lots of people crave for. Gather everyone to celebrate your beer fest with the cool flyers.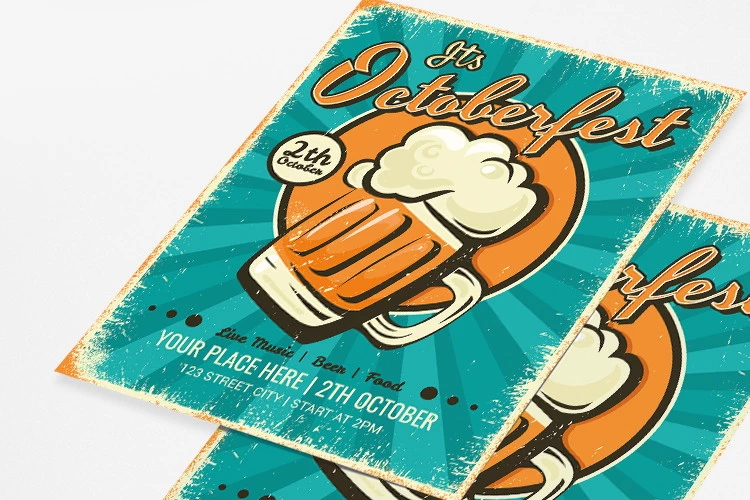 Download
---
Trick or Treat
A weird picture and acid green color matched with the deep black is what makes this Halloween file look so cool! Announce a dreadful party spreading the creepy flyers. The file is free and adjustable in PS.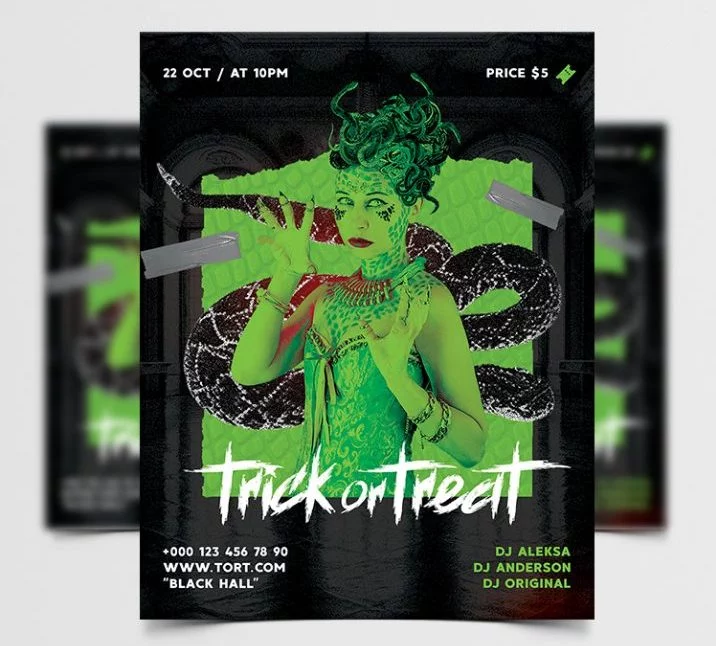 Download
---
Black Friday Sale
This artful Black Friday sample will quickly draw the looks of your potential buyers. Save the flyer model now, and turn it into fabulous flyers. Some hassle-free PS editing will help to change the details.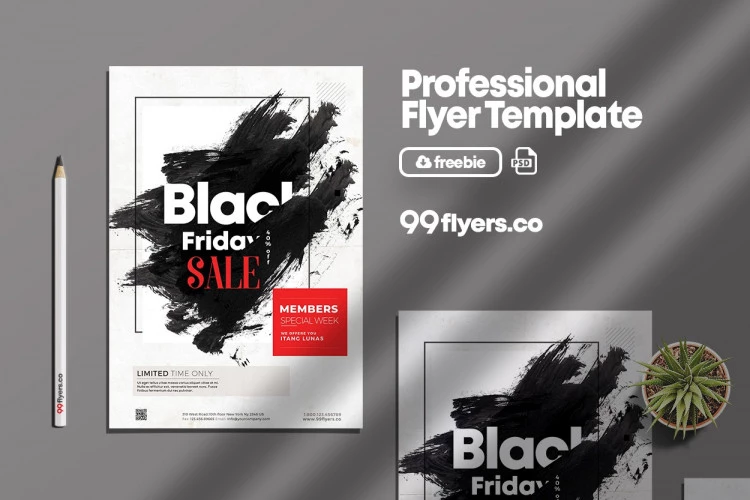 Visit the website
---
Columbus Day
Spark everyone's interest in your special Columbus Day events with this impressive flyer. A great image and classy writing give this template an ancient look. Use it for free to customize within minutes in PS.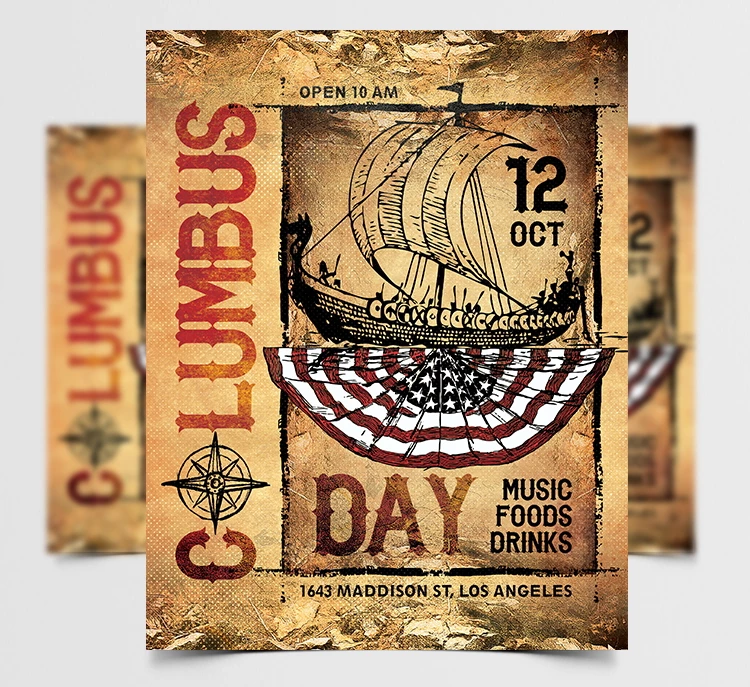 Download
---
Fall Festival
We know that no fall festival is like any other. Host a unique event and promote it with style using this modern-looking flyer sample. Amazing autumn palette matched with bold writing can quickly draw the guests' attention.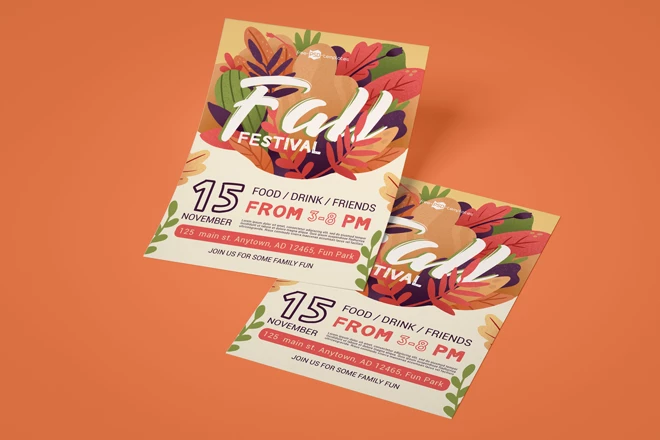 Download
---
Halloween
Let all visitors feel the spine-chilling vibes using these creepy flyers. The bloody red text looks catchy against the blurred empty window. Save the sample for free and edit it using PS. No one will miss a terrific event at your club!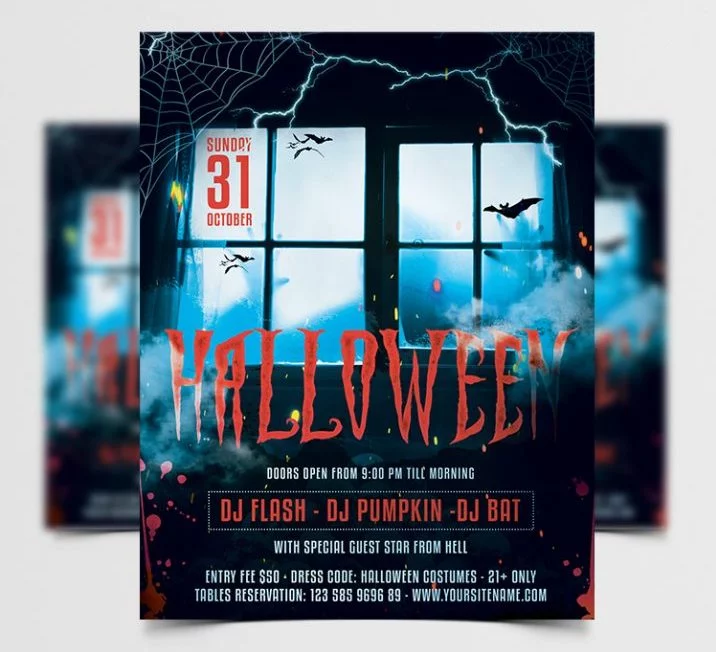 Download
---
Oktoberfest
Light, simple and joyful, this Oktoberfest model will put smiles on all faces. Announce a noisy festival full of fun and delicious treats while spreading these awesome flyers around. The template is adjustable and free.
Visit the website
---
Season Sale
A fashionable sample here will help at spreading information about your special seasonal offers. An image of a girl in a fabulous yellow outfit is accomplished by huge catchy writing. We guarantee that with these free flyers this year's autumn sale will be more successful than ever!
Download
---
Thanksgiving
Thanksgiving is approaching, and no guest will miss a chance to attend a special festive night at your club. This adorable sample will interest everyone – its vivid orange color, catchy font and an image of a cute turkey won't go unnoticed.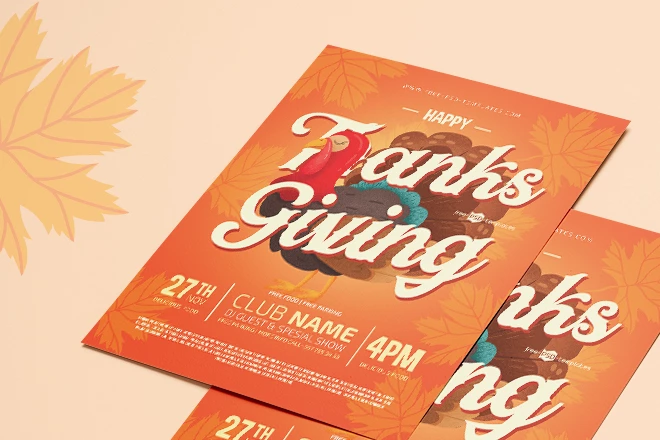 Download
---
Fall Party
Here comes the most elegant template on our big list. Golden autumn colors glowing on the turquoise background make it look charming. Announce a wonderful night at your club using these special flyers.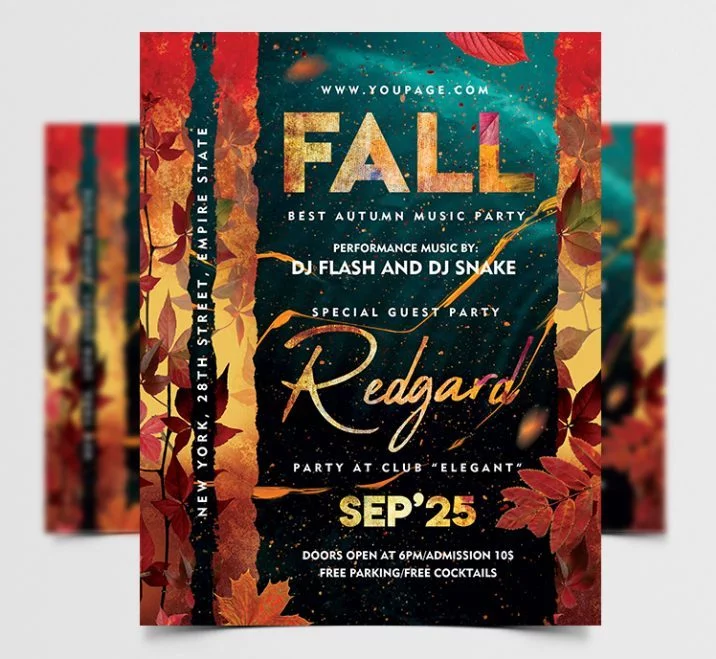 Download
---
Fright Halloween
This eerie Halloween file can make anyone tremble with fear and excitement. Announce a terribly awesome party spreading these frightening flyers. The file can be downloaded for free, and edited fully in Photoshop.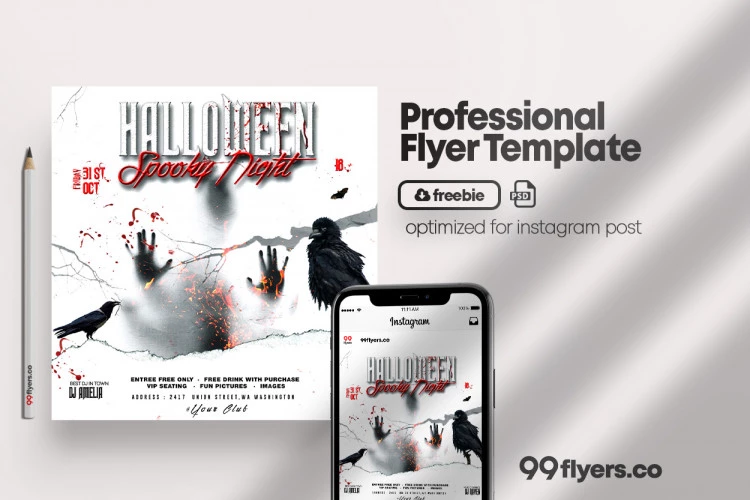 Visit the website
---
Dia de los Muertos
Use this unique free model to promise everyone an unforgettable Dia de los Muertos celebration! Cool colors mixed up in an amazing image will please everyone's eyes. All guests will remember your special party.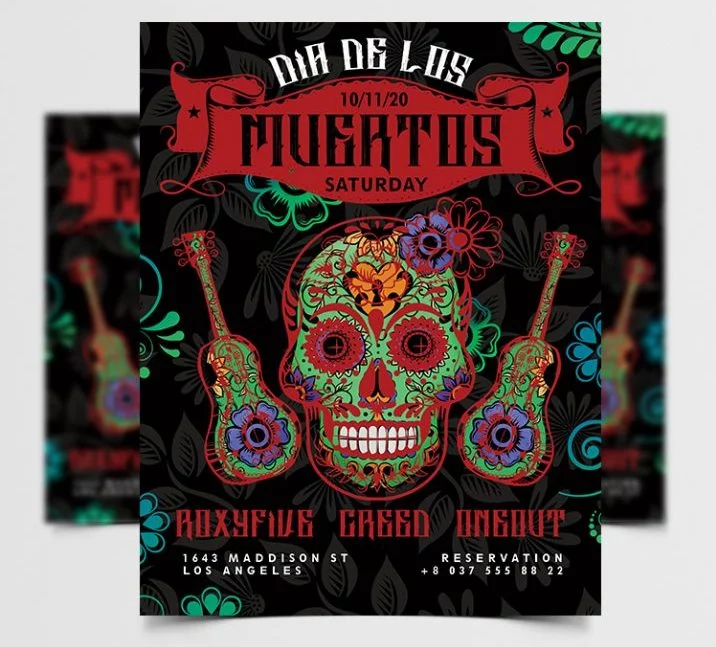 Download
---
Back to School
Allow the new school year to start with laughter and fun. Save this editable Back to School template for free, to print out a bunch of A-class flyers. Unique layout of this sample is perfect for a school themed night.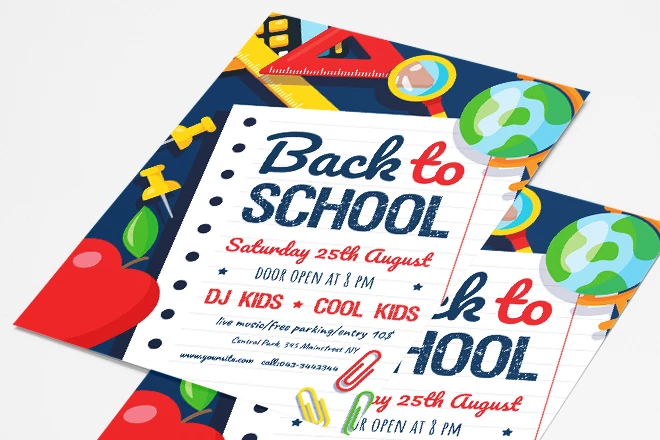 Download
---
Fall Party
Take a quick look at this superb Fall Party model. Catchy fonts and a pretty girl depicted on it won't go unnoticed. This stylish flyer file will help to fill any club with plenty of guests.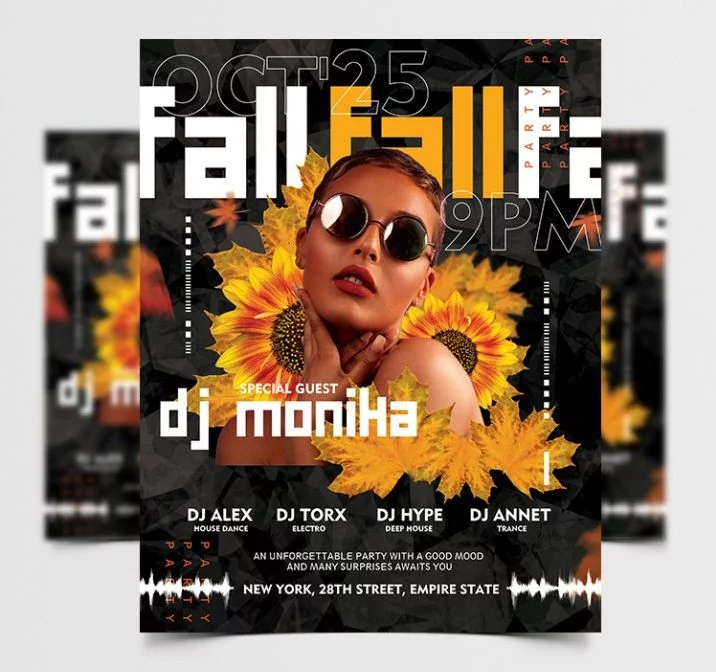 Download
---
Hopefully among these versatile free samples you've found the one which fits your upcoming fall event. Have no doubts downloading it for free, and change in PS to make wonderful themed flyers!