Every couple's wedding is an unforgettable day, filled with happiness and pure love. However, we all know that getting ready for a special celebration takes much time, effort, and includes high expenses. Although our team can't help you save the fortune, here's your first wedding gift – an ultimate list of free invitation templates to choose from.
A wedding invite is important because it helps you to share the happy news with your dear friends and family. An invitation – or a set of wedding cards – sets the mood and presents the style of your future event. Luckily, all templates gathered on this page are crafted by professional designers from such awesome resources as https://free-psd-templates.com/ and https://www.elegantflyer.com/, which means that they match the top quality with creative, romantic and sweet look of the invites. You're welcome to download any template for free, and edit it within minutes in Photoshop.
---
Wedding Invitation
Tender and elegant, this free template can turn into a unique invitation to your wedding. Save it for free, and go for some easy editing in Photoshop, to add your own photo and change the writing. The sample will be ready for print right after!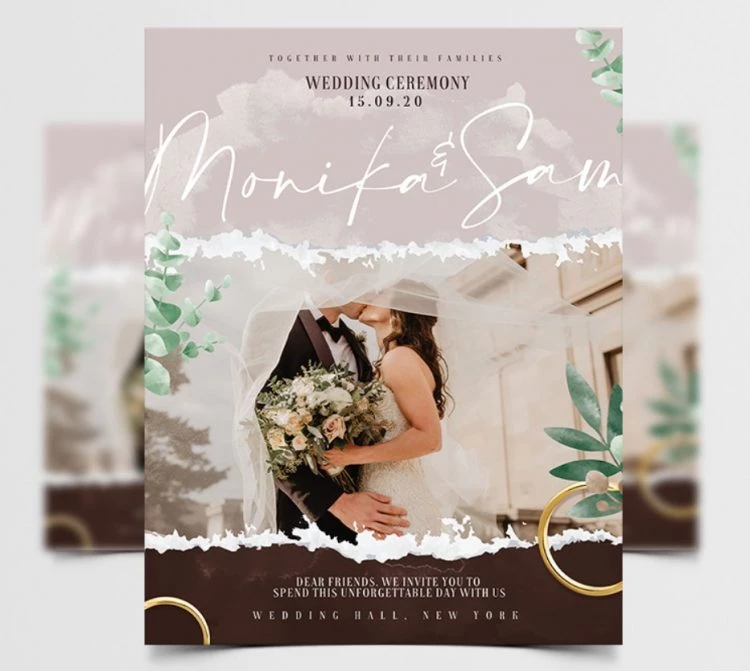 Download
---
Pink Wedding Invitation
This beautiful pink wedding flyer will add sweetness to your big event! Cute floral pattern makes the template look complete. You're welcome to download it free of charge, and customize every detail using PS.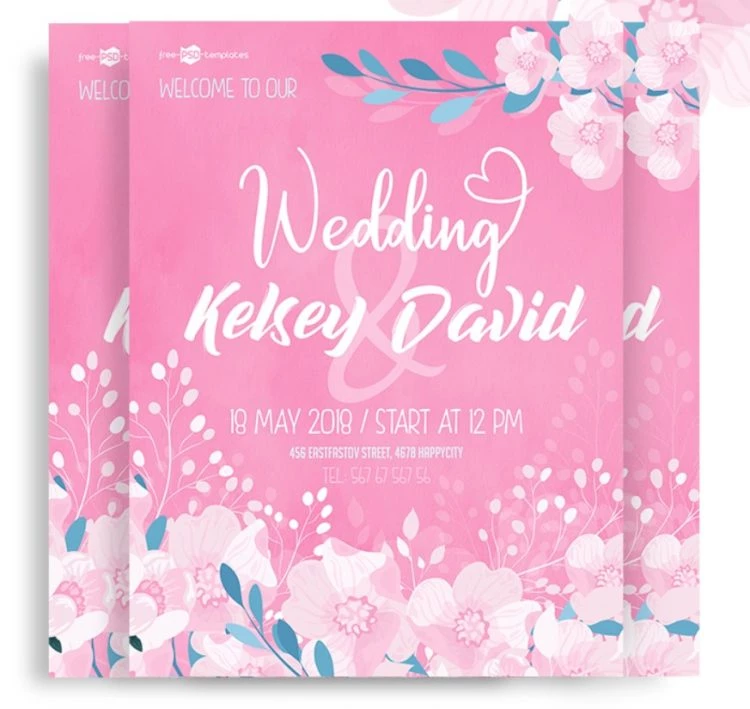 Download
---
Wedding Invitation Suite
 Take a look at the stunning invitation suite presented here. Everyone will love the elegant writing and beautiful floral elements. Download this editable set for free – it will help you to address the guests with style.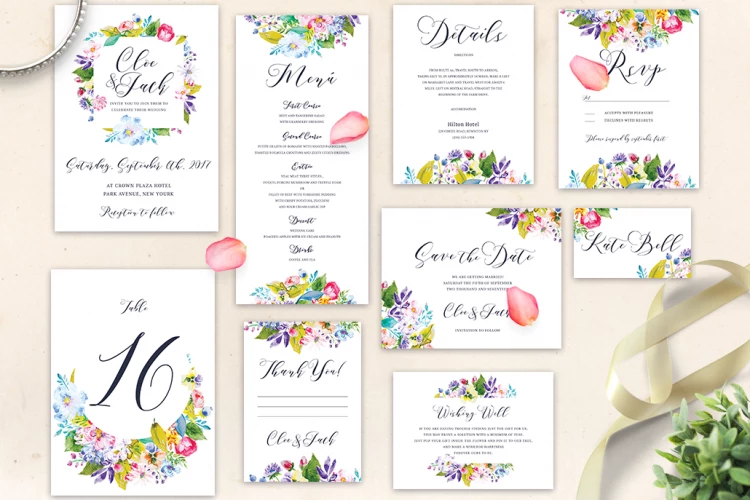 Visit the website
---
Wedding Day
This tasteful Wedding Day flyer is all you need to invite the dearest once to your happy celebration. Combination of white and tender blue looks beautiful and festive. You can easily upload your own photo and change the text in Photoshop.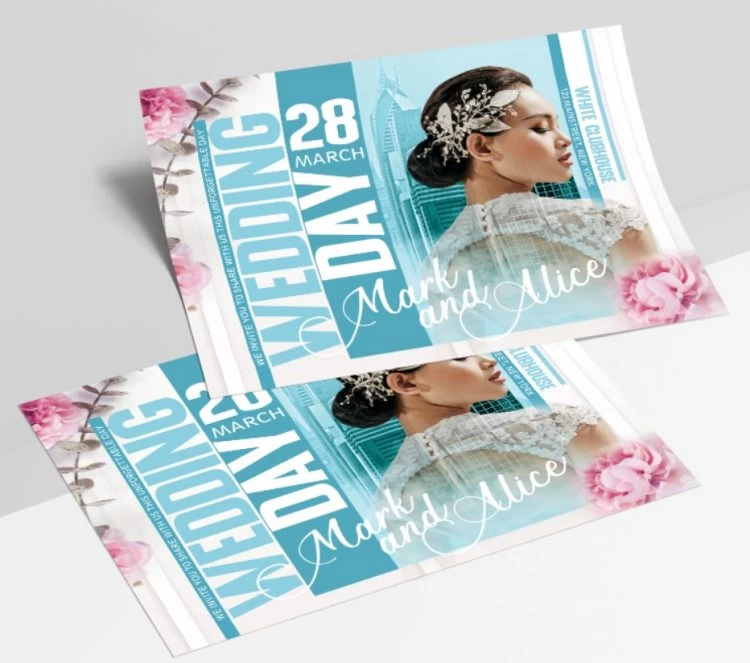 Download
---
Ocean Wedding Invitation
If you are planning on a romantic wedding at an ocean shore – this wonderful invitation pack is exactly what you need! Suave blue color and ornate seashell drawings will add charm to your special cards. You can easily edit this free suite with the help of PS.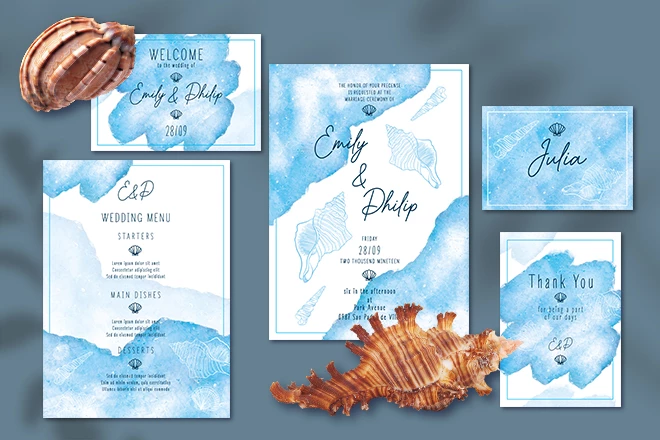 Download
---
Blush Noir Wedding Invitations
The classy retro look of these free invitations will instantly enchant your guests. They can become a perfect match for a rustic, a bohemian, or a vintage wedding. You can easily add your writing and play around with the palette in Photoshop.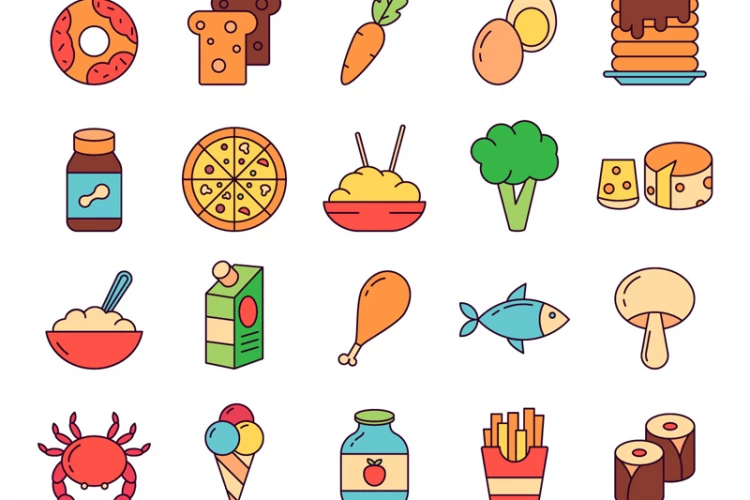 Visit the website
---
Wedding Invitation
This wedding template will help to focus everyone's attention on your couple. Created by a top designer, the file looks both formal and romantic at the same time. Have no doubt to download it free of charge, and adjust details within moments in PS.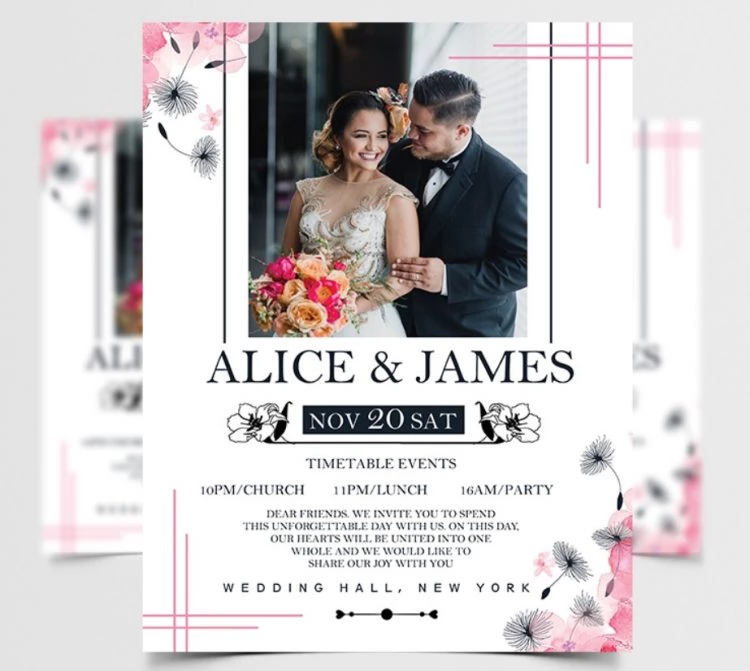 Download
---
Rustic Wedding Templates
You don't need bright colors and the excess of decorative elements to make your invitation look impressive. Use this set of tender Rustic templates to share the happy news with your future guests. The soft pastel palette and light pattern look beautiful together. You can edit this free pack with ease in PS.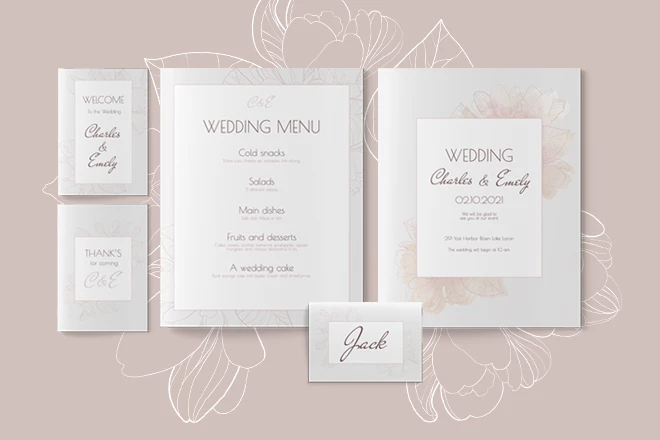 Download
---
Wedding Invitation Card
Bright color splashes of this invitation card will make your guests smile. They will easily find all important information on your charming wedding invite. Don't hesitate to save this free sample now, and customize it in Photoshop in the matter of minutes.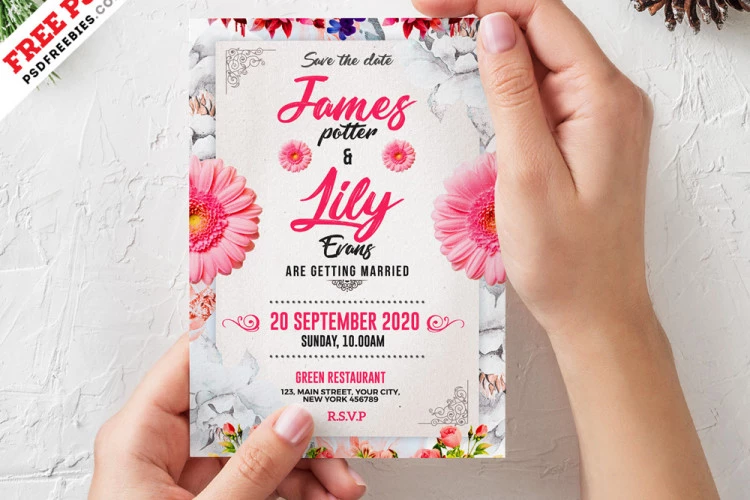 Visit the website
---
Wedding Invitation
Simple yet elegant, this invitation will surely speak out to your dear ones. Announce the wonderful event and share the romantic mood with the help of this free template. Some easy editing will allow you to replace the photo and the text.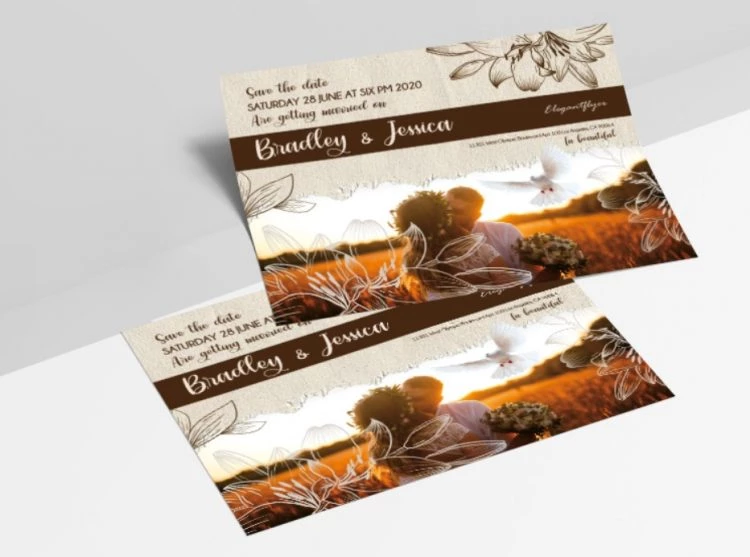 Download
---
Floral Wedding Set
We believe that the soft colors of this wedding suite perfectly complement each other. The ornate floral drawing adds an interesting touch to the background. Use these free templates for your romantic wedding – every guest will adore your invitation.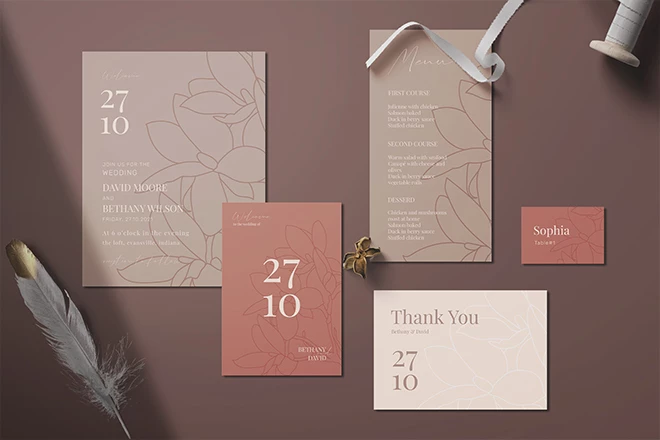 Download
---
Wedding Invite Template
Decorate the photo of your loving couple with the sweet flower drawings. This wedding template crafted by a pro will put happy smiles on your guests' faces. Save it in one free click, and customize without hassle using Photoshop.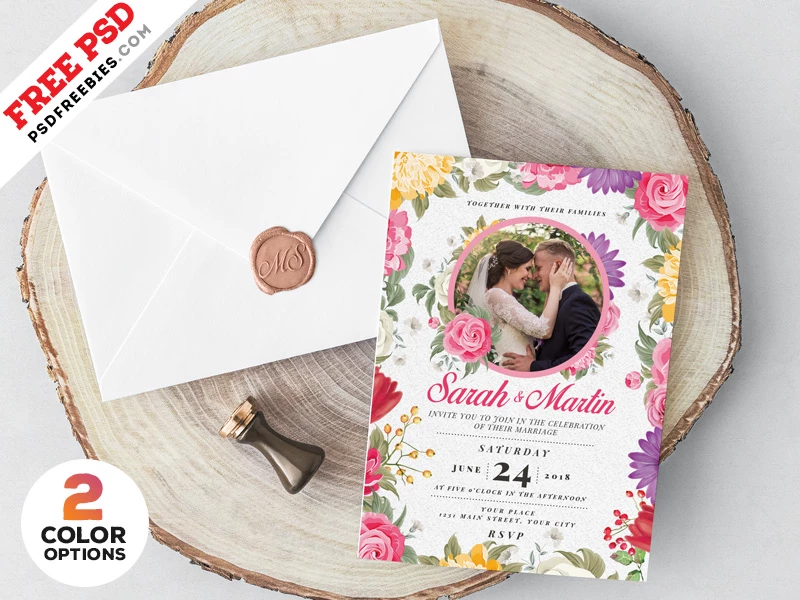 Visit the website
---
Flower Wedding Invitation
Beautiful garden flowers add a romantic vibe to this modern-looking invitation. Varying from bright red to elegant pink, the palette complements the elegant writing. You can adjust the free template in Photoshop without hassle – your family and friends will be impressed the moment they see your invite.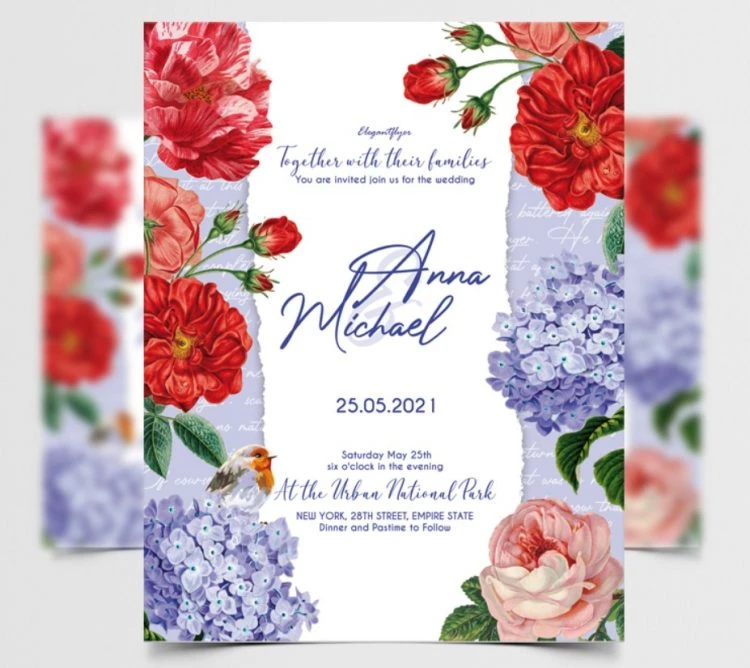 Download
---
Purple Wedding Invitation
The graceful look of these two templates will match your romantic wedding. The guests will love looking at the ornate fonts and the floral design. Although the soft violet palette looks charming, you can try out the other colors using Photoshop.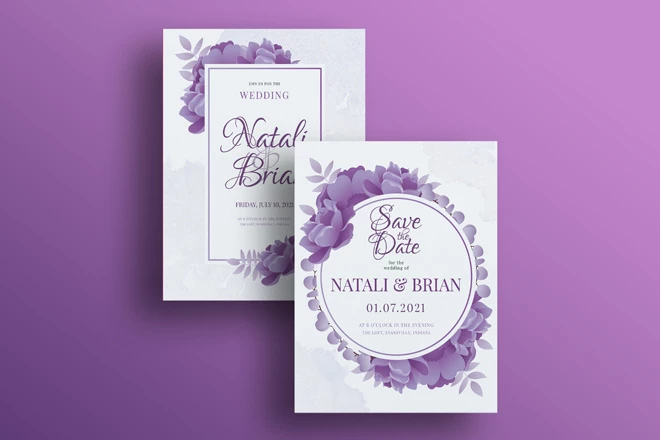 Visit the website
---
Greenery Wedding Invitation
The natural drawing placed at this free invitation makes it look contemporary and elegant. The light blush of pink complements the white background. You can edit the names, and add all key details in Photoshop within just a few minutes.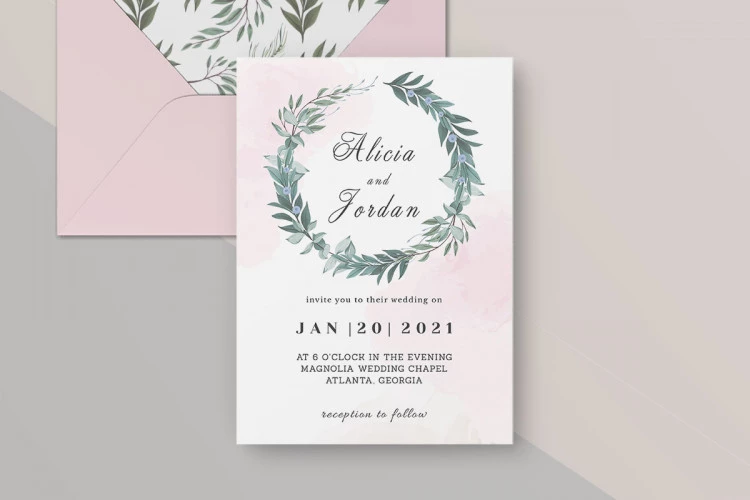 Visit the website
---
Elegant Wedding Invitation
Handing in a wedding flyer is a simple and modern way to gather all dear people for your happy day. Created by a trained designer, this elegant template will be adored by everyone. Download it for free now, and go for some easy adjustments in PS.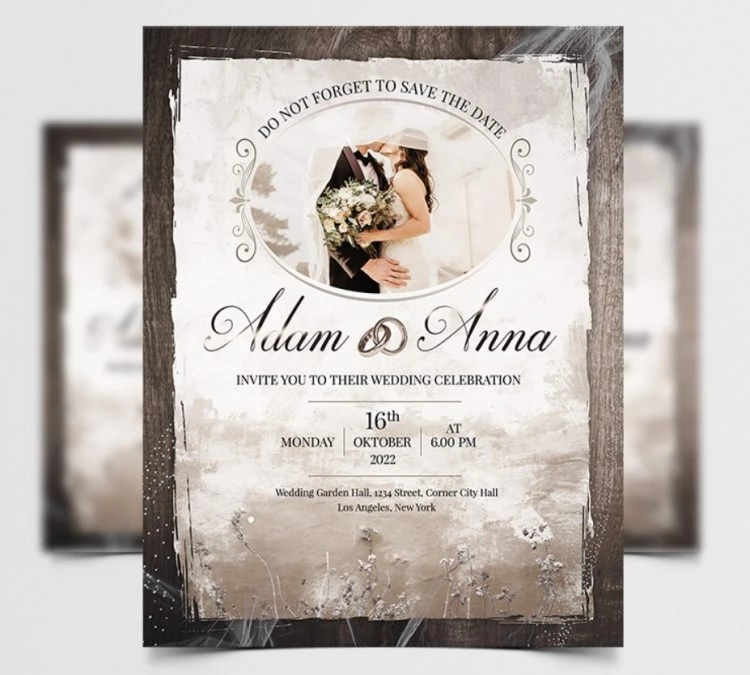 Download
---
Romantic Wedding Invitation
This smart free invitation can be a perfect fit for your modern wedding. Unusual outlay leaves plenty of space for your names, the date of the wedding, and other important info. The blue decorative elements add a stylish touch. The PSD sample is free and fully customizable.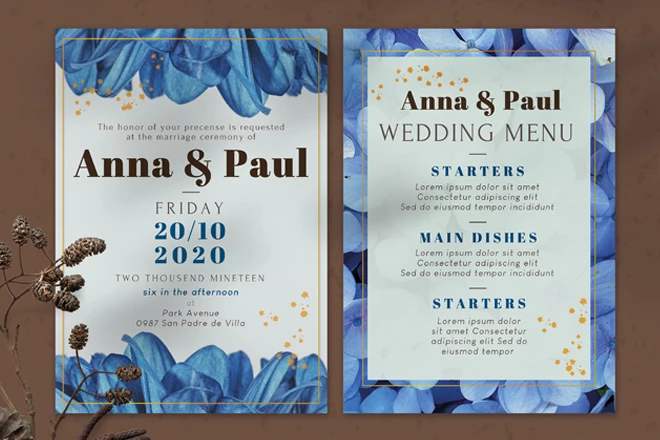 Download
---
Stardust Invitation Set
Your guests will fall in love with this contemporary looking invitation set. The watercolor strokes grading from airy white to mysterious blue sprinkled with tiny golden stars create a beautiful effect. Have no doubts to download this unique pack in a click, and customize it to amaze the guests.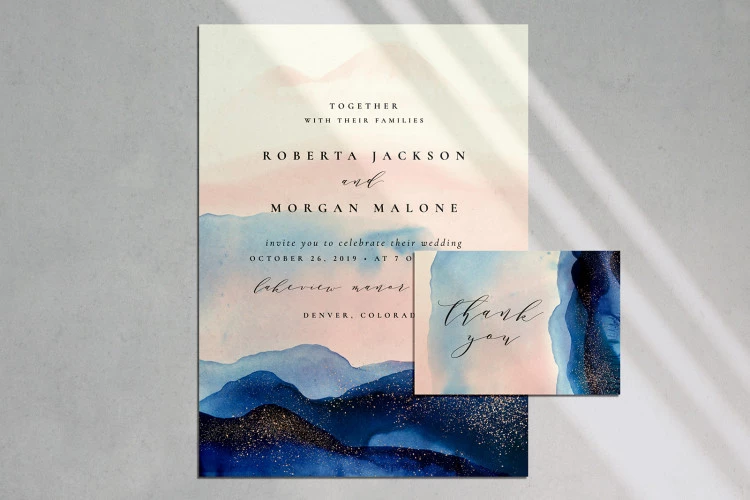 Visit the website
---
Wedding Ceremony Invitation
A free wedding template presented here looks charming and romantic. Save it for free, and edit without hassle in Photoshop. The smart outlay allows you to place all key information, and add two wonderful photos of your couple.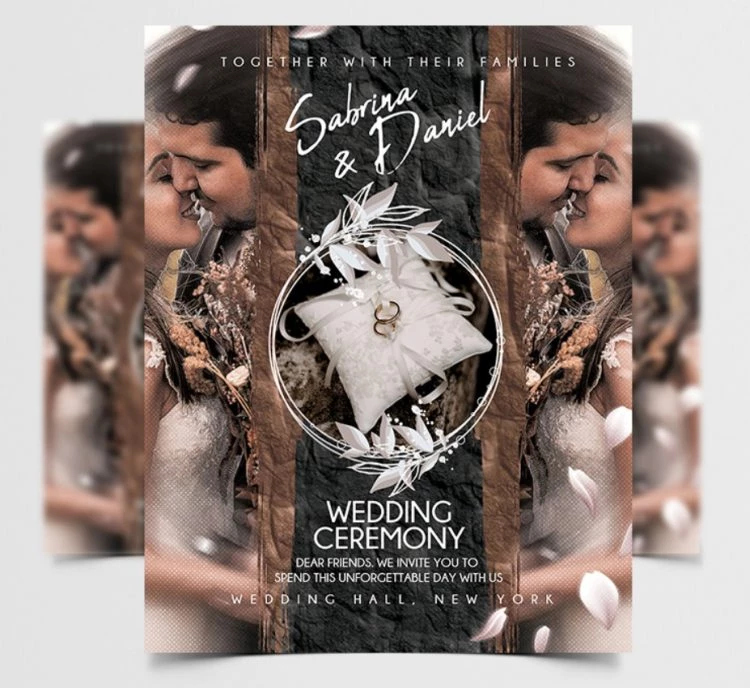 Download
---
Watercolor Wedding Invitation
Thanks to unique outlay and dreamy decoration this free template looks unusual and elegant. The artsy font adds charm and matches the ornate flower drawings. Save the sample and customize it within moments to print graceful invitations.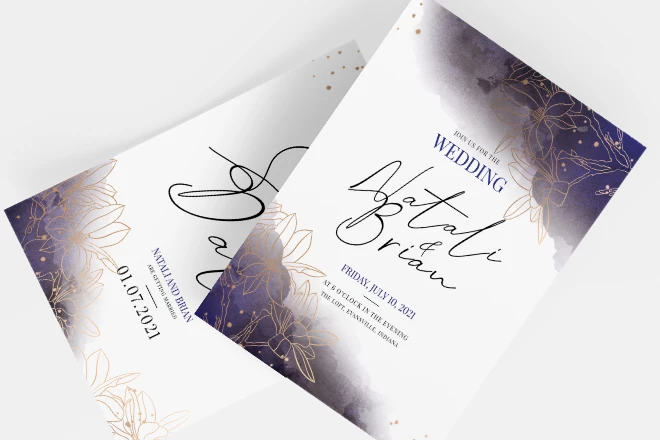 Download
---
Burgundy Floral Arch Wedding
Although this invitation might look simple at a first glance, it surely has its unique charm. We believe that the template is perfect for a rustic wedding. The drawing of a floral arch and a creative font look adorable together. The file is free and easily editable.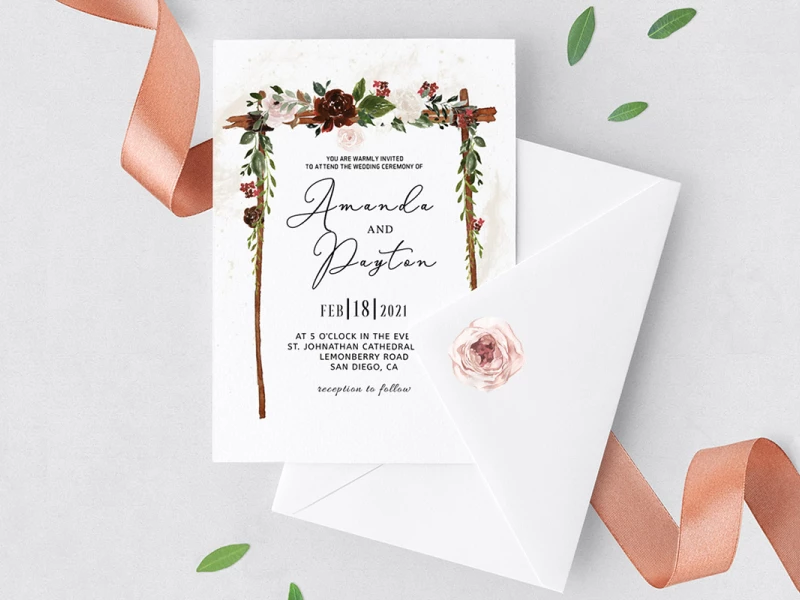 Visit the website
---
Purple Wedding Invitation
If your favorite color is purple and you plan on adding purple elements into your wedding decoration – this polished template is exactly what you need! Save it in one click, and enjoy the process of PS customization. The stylish outlay allows adding three photos of your couple's happy moments to enchant the guests.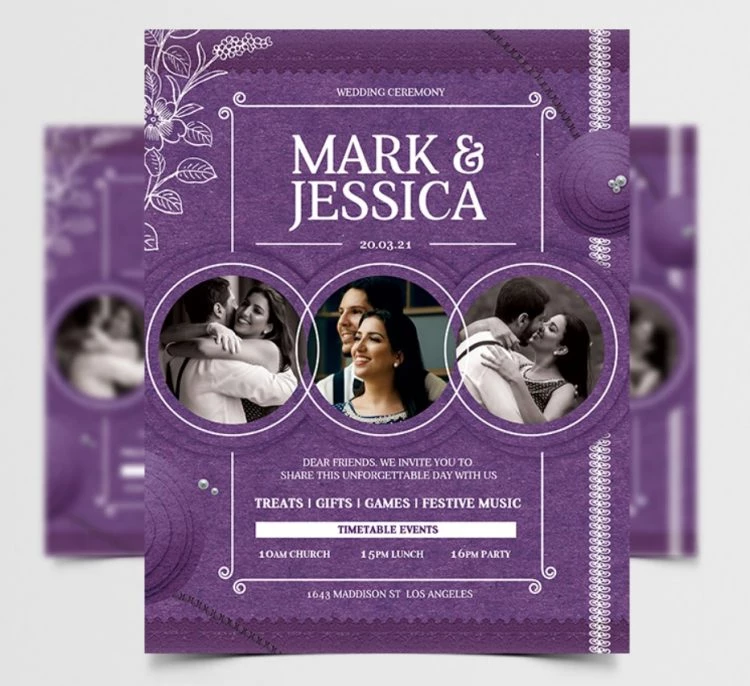 Download
---
Flower Wedding Invitation
At a first glance this wedding invite may look simplistic. But don't you agree that it has its own charm? The graceful pink lilies match the bold yet elegant font. You can change the color of the flowers, and other details of this free file in PS.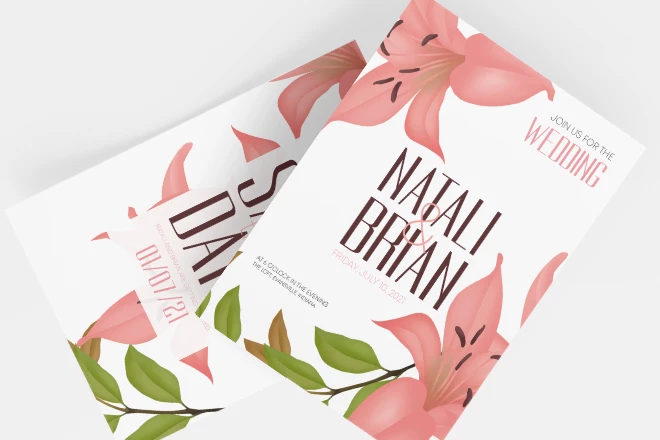 Download
---
Wedding Invite Card
Don't hesitate to use this free sample for a chic invitation. The bright red roses add romantic vibes. Fast PS editing will allow adding the images of the bride, the groom, and the joint photo of the loving couple.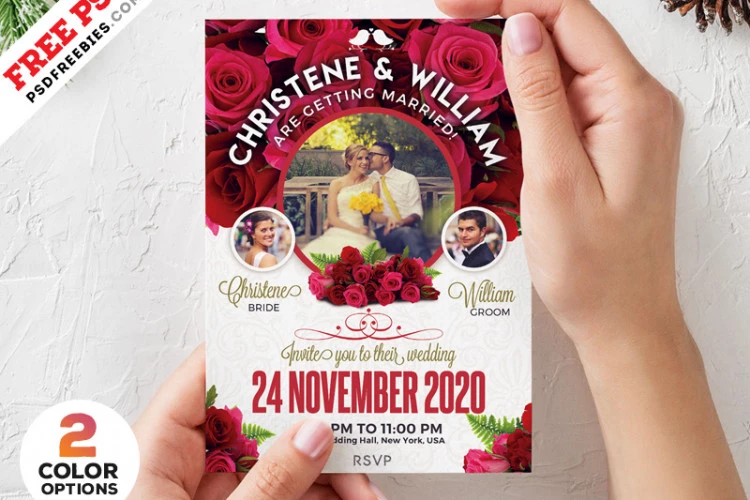 Visit the website
---
Stylish Wedding Invitation
Light palette, exquisite pattern and diamond shaped elements make this free invite look elegant and posh. Save it for free, and use Photoshop to add your photo, change the names, and write other details, including the date and the place.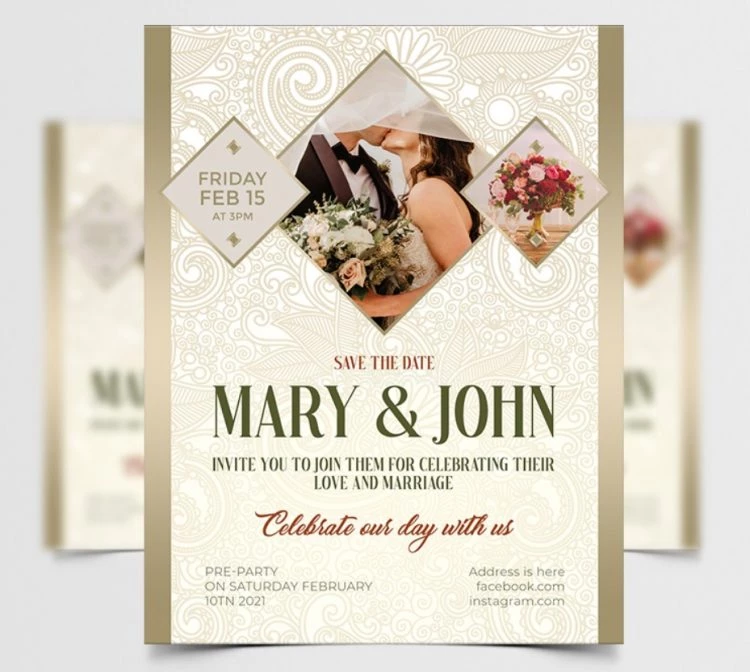 Download
---
Vintage Wedding Invitation
Take a look at this unusual template! The ornate writing makes it look charming and adds the vintage vibes. Although the textured navy background looks impressive, you can try out other colors in PS. The file is free for download.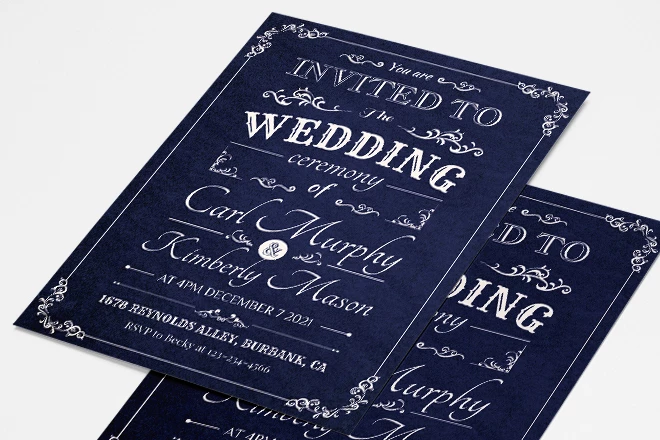 Download
---
Wedding Flyer
Are you in search of a romantic looking invitation? Then a free sample presented here might be a great choice. The pink ornament and the flower images are sweet matched with the fancy writing. You can adjust this file for free in PS.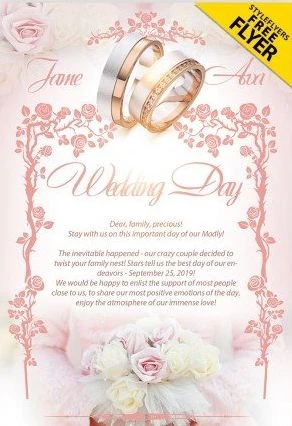 Visit the website
---
Turquoise Wedding Invitation
We love this wonderful template, and hope that you'll enjoy it too! Everything about it is great: the unique look, the fresh turquoise color matched with white, and of course the exquisite floral ornament. Your dear ones will be happy to find such an invite in their mail.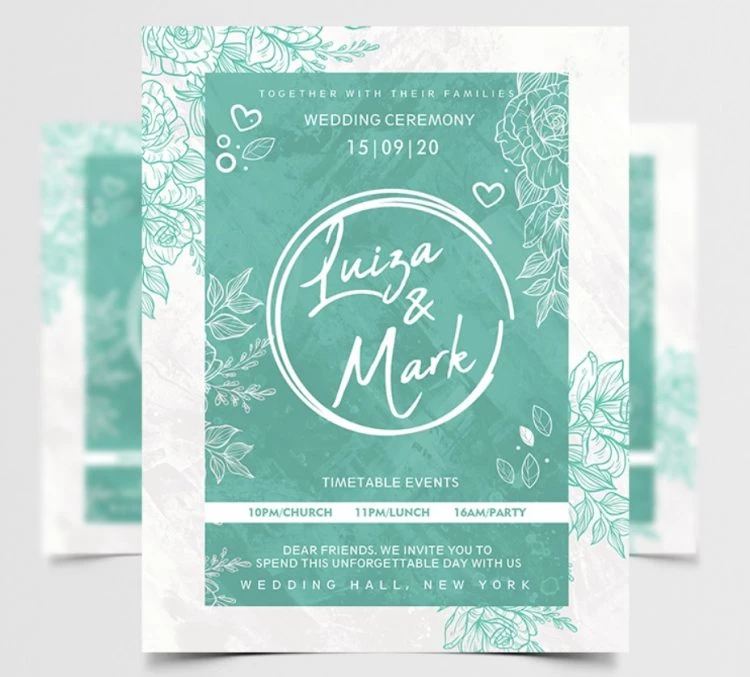 Download
---
Gradient Wedding Invitation
This might be the most contemporary looking invitation set on our list! The metallic shine effect matches the minimalistic décor, and the stylish writing. The free suite includes five designer templates: the invitation, the menu, the Welcome, the escort, and the Thank You cards. Save it in a click, and impress everyone.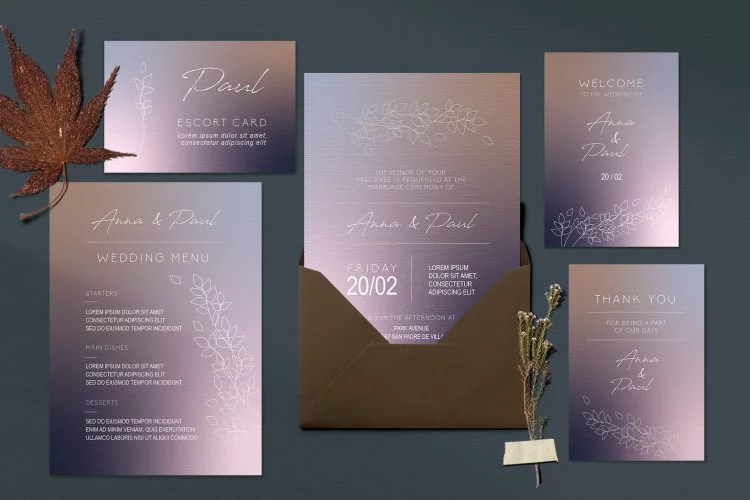 Download
---
Hand-drawn Wedding Invitation
Minimalistic yet sweet, this template can match such styles of wedding as romantic, rustic, vintage, outdoor or garden. Feel free to save the files, change the text, and try out different colors using Photoshop.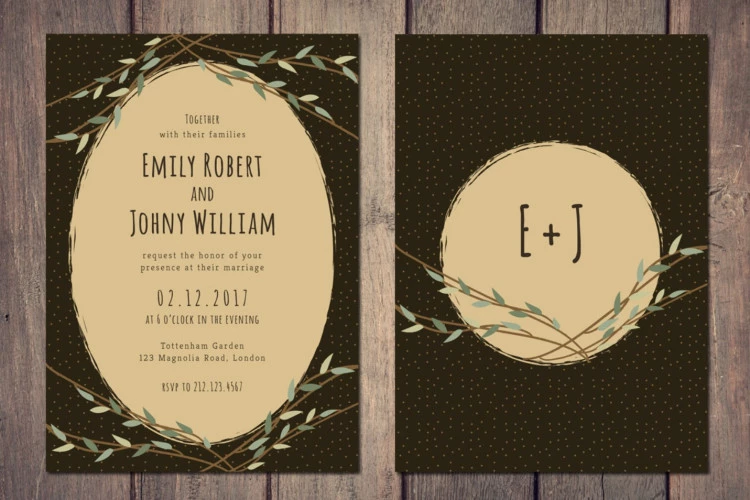 Visit the website
---
Navy Wedding Invitation
Our list wouldn't be full without this wonderful wedding set! The drawings of the tender lily-of-the-valleys placed against the navy background make each template look tasteful and elegant. The modern style of writing adds a charming touch. By saving this free suite you get five amazing PSD templates that can match your every wedding need.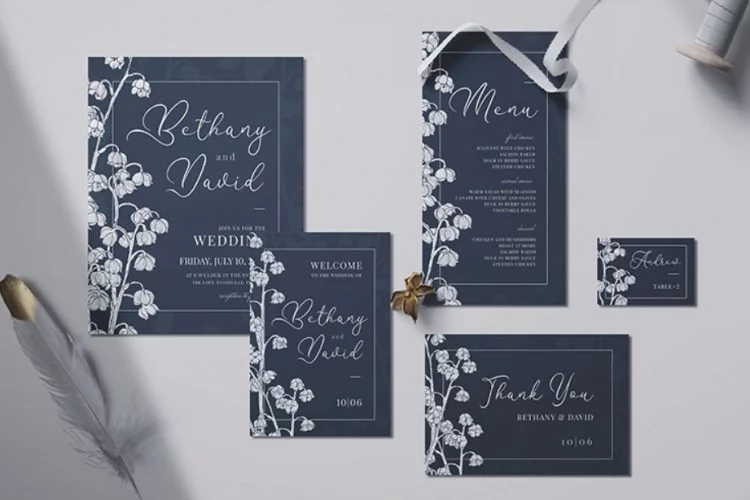 Download
---
We hope that among the awesome wedding samples presented on this page you've found your perfect match! Enjoy turning it into wonderful personalized invitations, and send them out to share the happy news with the dearest ones.