The most romantic day of the year is nearing, and it is time for you to spread love and joy through the special designs. Help everyone around feel tenderness and romance having applied some sweet icons to your Valentine's projects. Cute little hearts and adorable characters will instantly raise the interest of your customers and loved ones.
In the new compilation we gladly present thirty-five marvelous sets of Valentine's icons. Get as many of these free pro level bundles as you like, and run AI or other software, to modify them with ease and apply the icons to any web pages, apps, festive décor, clothing, cards, notepads and dozens of other printed materials.
---
12 Thematic Hearts On The Theme Of Love And Romance
This bundle presents twelve adorable hearts in light red color that vary with the small yet catchy details. Here you'll see a striped and a dotted heart, a broken heart, a heart stroked with an arrow, the one with a tiny key to it, and others.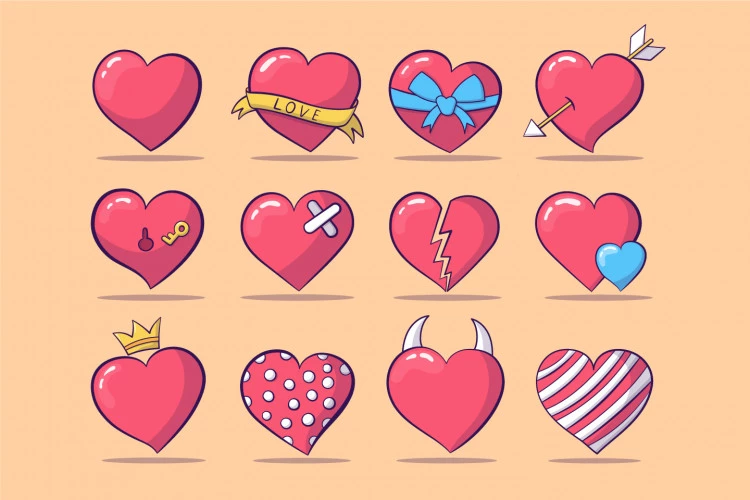 ---
A special set of themed icons here amazes with its diversity. Small images in light and vibrant colors present everything we associate with the Valentine's Day celebration. Cute hearts, love messages, flowers, vine and gifts will ignite a romantic mood.
---
Free Vector Flat Valentine Icons
Meet an amazing pack of twenty icons in a light palette with the vivid accents in rose, red and blue. A key, a gift, a teddy, a ring and other items with sweet little hearts on them will enchant everyone who sees your romantic designs.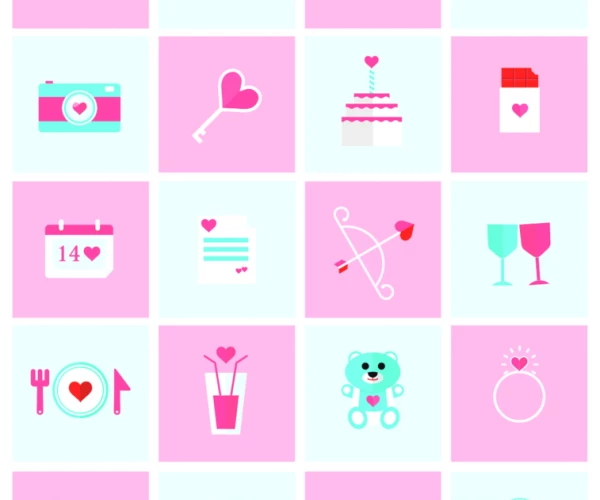 ---
Love Icons Collection
This set of sixteen linear icons in intense red color will interest everyone with the soft lines and an impeccable modern style. A cake, a gift, a bow with a love arrow, and other little items couldn't look more charming.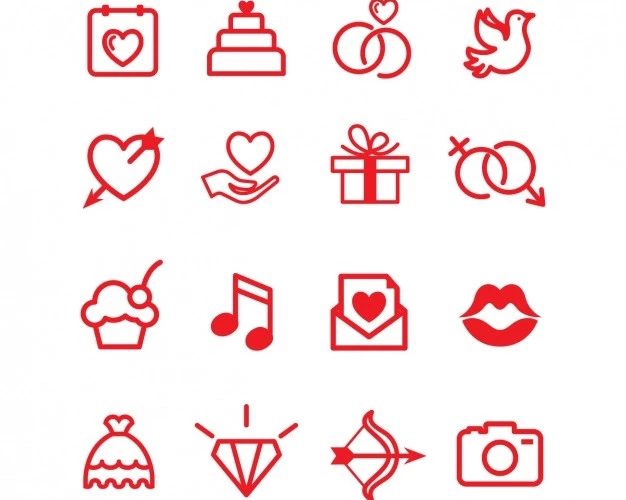 ---
Free Valentine Theme Icons
This excellent pack includes fifteen linear icons, each featuring a bigger or a smaller heart. Here you will find such unique little images as a heart-shaped pretzel and sunglasses, or a tiny cute heart seen through a magnifying glass. While simple shapes and a light gray hue make this bundle look modern and lovable, a single red icon of a heart sticker adds a cool highlight.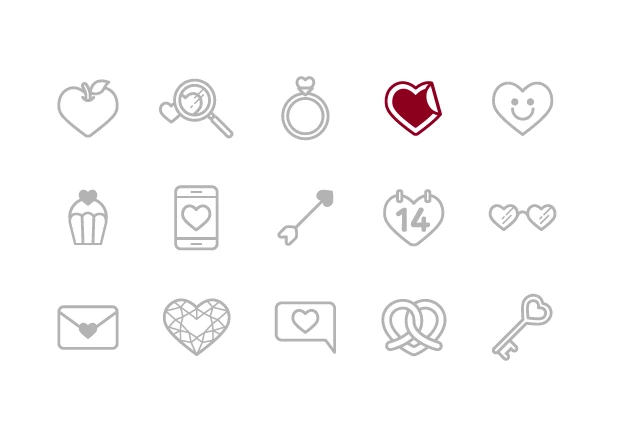 ---
Сollection Of 12 Pink Hearts
A pack of twelve heart icons in soft pink will add sweet vibes to your festive projects. Sleek shapes and special details will attract the interest of the customers and site visitors. These icons can turn into perfect stickers, or special accents in graphics or on the web.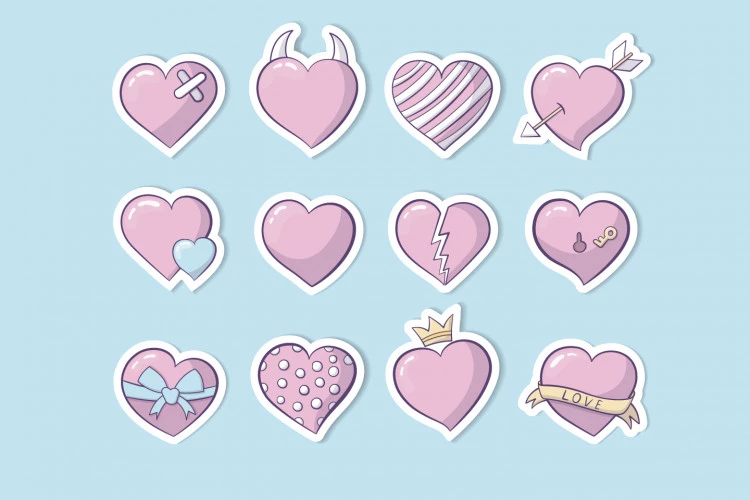 ---
Free Vector Valentine's Icons Template
In this diverse bundle of twenty icons you will see a sweet rose, lovebirds, a cupid, and other wonderful things we link to the celebration of Valentine's. You are free to choose among two color variants: a simple linear B&W, or white icons in the bright red circles.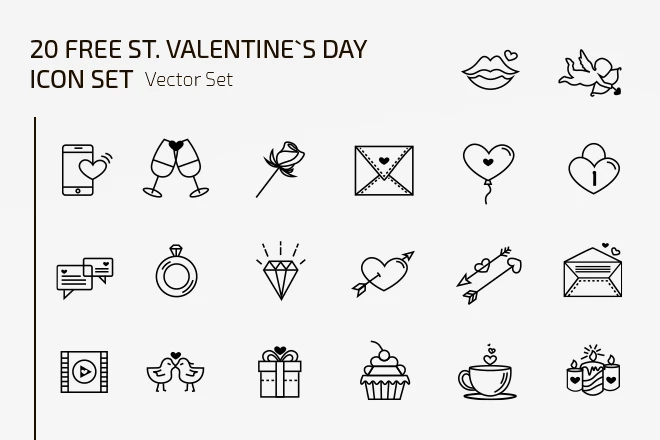 ---
Valentines Day Icons
Soft lines and pleasant colors with a few bright touches make these icons look like themed illustrations. Small size didn't stop a pro designer from adding some catchy details. A rose with a tiny bow, a diamond ring, a layered cake with a heart on top, and other items look stunning.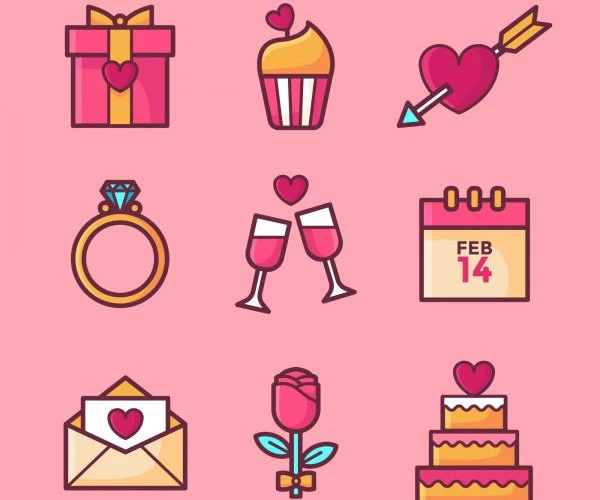 ---
Sweet Valentine Icons
This pack of six icons might be not too big, but it certainly looks awesome thanks to sweet colors and intense black lines. Use a flower, a love letter, a gift and other elements for unforgettable romantic designs, pint, and online projects.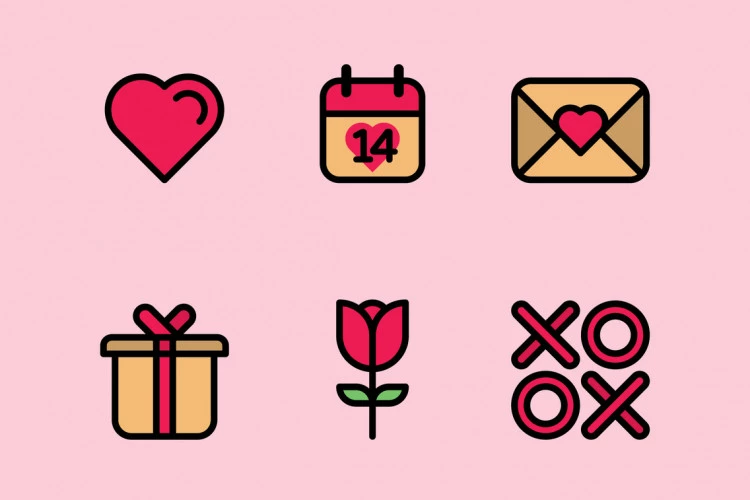 ---
Valenticons – Free Icon Set
Thin lines, a soft hue of pink, and the tiniest details make these icons wonderfully refined. Don't hesitate for a moment using them for your special romantic designs, and enchant both the customers and the site visitors.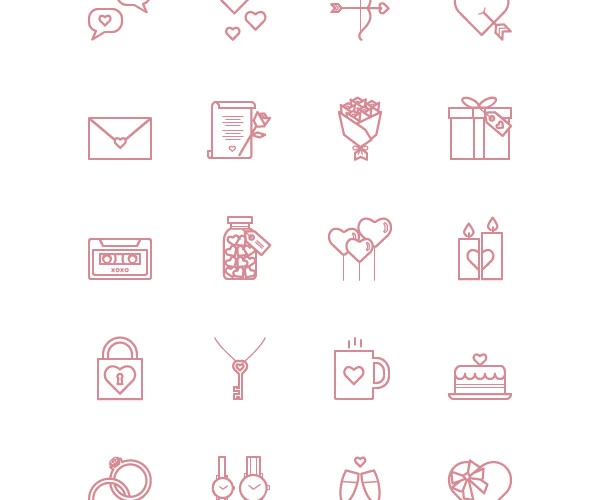 ---
Free Valentine's Day Hearts & Rose Vector Icons
Get this unusual bundle of twelve icons in red and golden to make any projects look fascinating. The set includes ten amazing images of hearts with the loving messages and cute details, as well as a couple of sweet roses.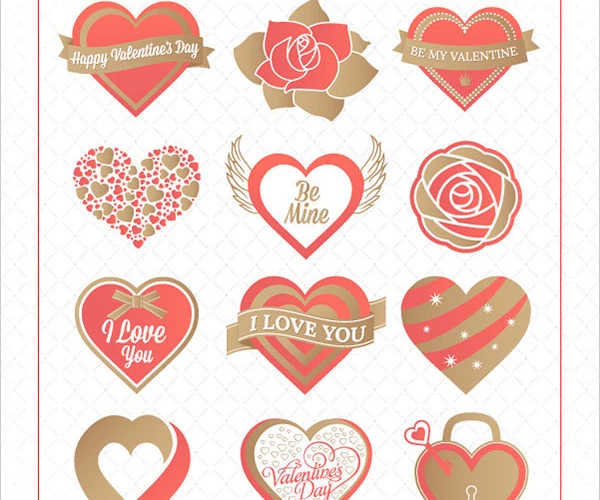 ---
Valentine Day Icons
Unusual shapes and a sweet red tint will add romance to your themed designs. Several hearts, love messages, flowers and other cute items are all included into this wide list. These vector elements are free and easily adjustable.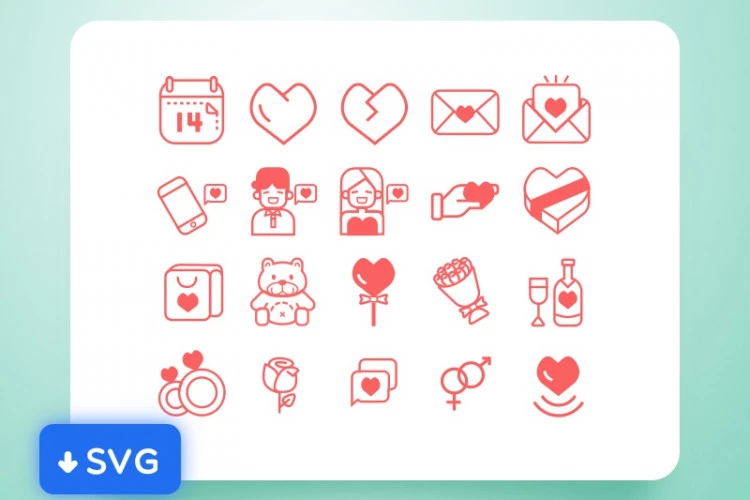 ---
Saint Valentine Day Icons
Here you'll find sixteen colorful icons placed inside the small white circles. Detailed and realistic, a key, a gift, champagne, and even a love potion will place attention-getting accents on your designs. The pack is easy to modify and free.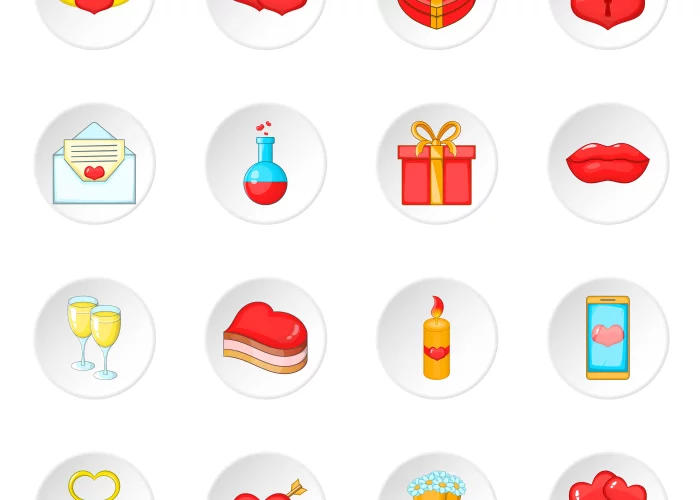 ---
Free Love And Wedding Icons Set
This list of sixteen linear icons in black and white includes some elements you wouldn't normally see on a romantic collection like this. For example, a cracker, an aim and a map, all with the tiny hearts on them are something that will catch the customers' attention.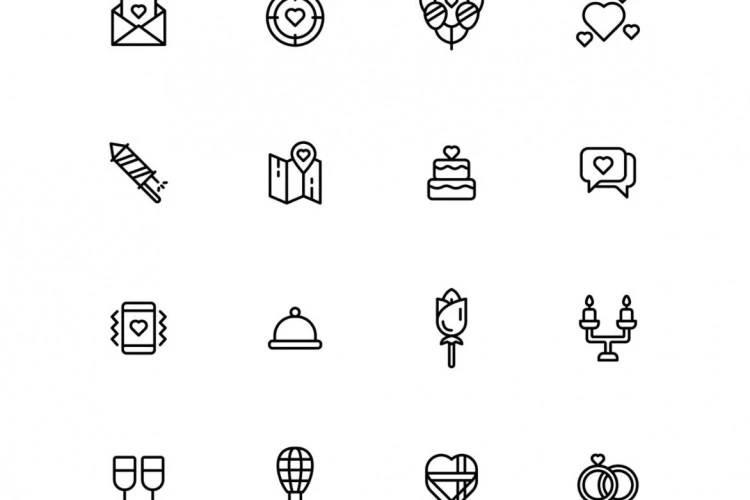 ---
Love Icons For Valentine
A bunch of lovable elements will instantly turn any project into a romantic one. Several hearts, flowers, love messages, and a ring will look amazing both online and in print. Reserved shapes can adjust to any style.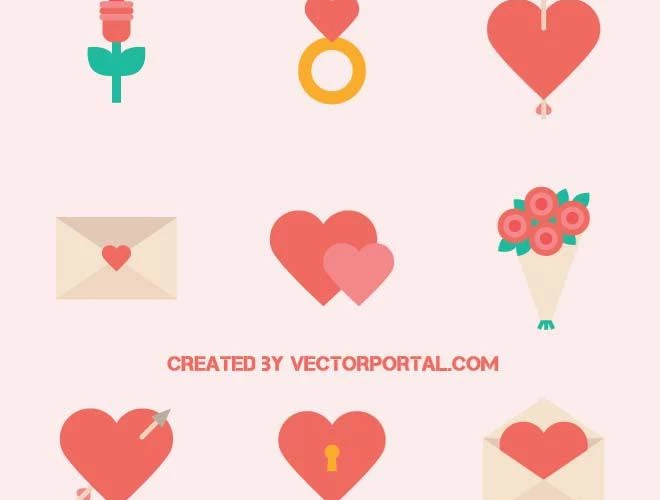 ---
50 Valentine's Day Icons (AI, EPS, SVG, PNG Files)
Meet one of the biggest packs in our romantic compilation! Fifty unique icons will amaze you with their adorable look and diversity. This set has got such unusual elements as a love magnet, a heart bomb, magic potions, and much more. Three options of color make your choice even greater!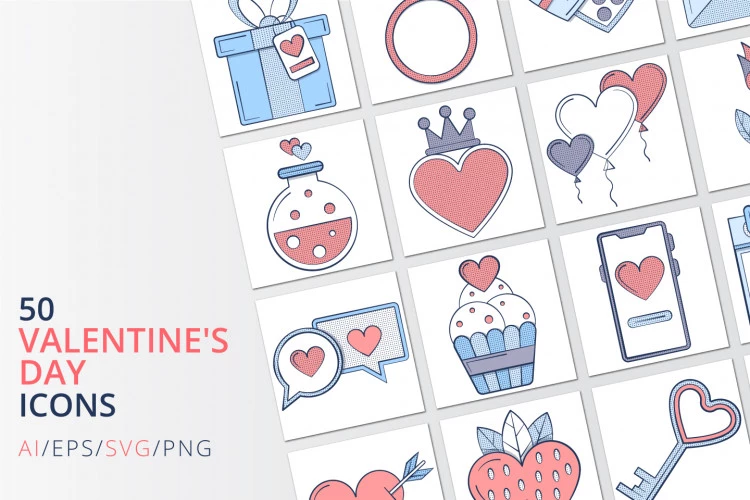 ---
Free Hearts Icons Templates in EPS + PSD
This marvelous bundle of twenty-five icons is beaming with romance thanks to the hearts included into each unique element. Love arrows, balloons, lovebirds, a padlock, and the rest of items look appealing with their sweet hues and rounded shapes.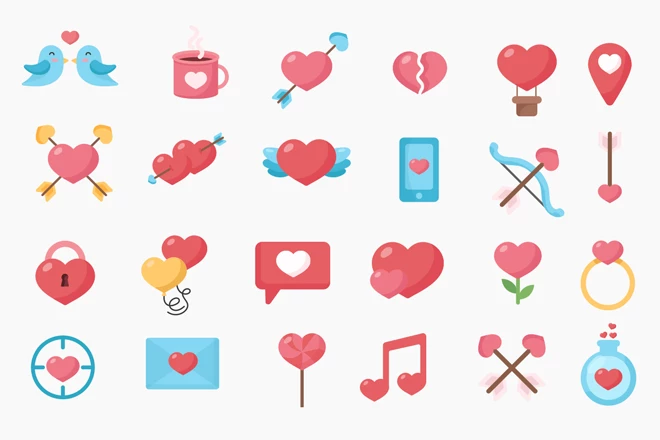 ---
Free Valentine Icon Set
Add a modern and sweet accent to your products with this set of minimalistic linear icons in a bright pink tint. A scroll, a chapel, drinks and envelopes all got a heart image placed on them. The free set is easy to modify.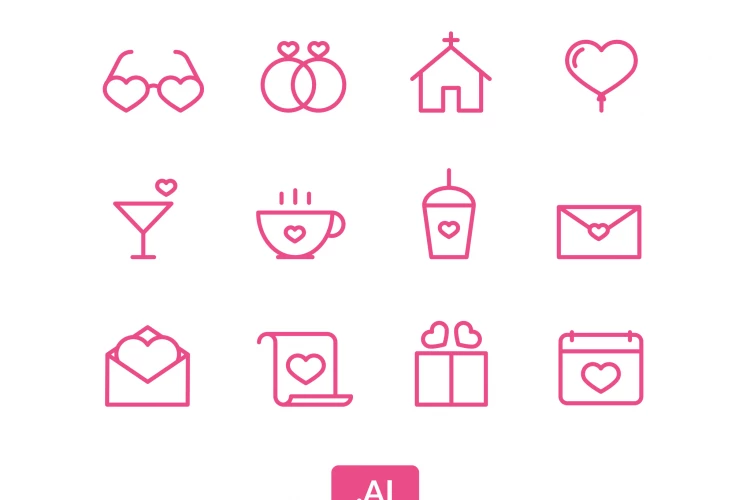 ---
Valentines Day Icon Collection
A set here looks one-of-a-kind thanks to the unusual items such as a choco bar, a love message and candles included into it. Soft shades of orange, pinkish and white are not ordinary, too. Any of the elements will look like an eye-catcher.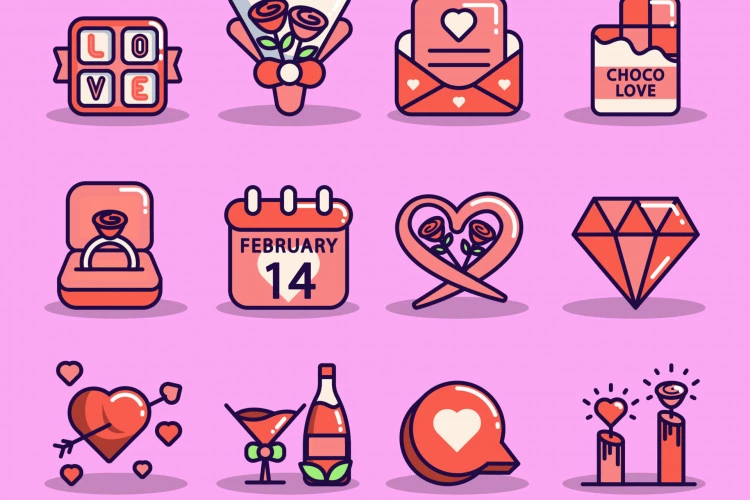 ---
St Valentine's Day Icon Set
A generous bundle of forty wonderful items will add sweetness to your projects and products. A dimmed hue of red is rather multi-purpose. On this list you'll find such amazing elements as a love call, holding hands, love potions, a hat, a teapot and a cup, and many more!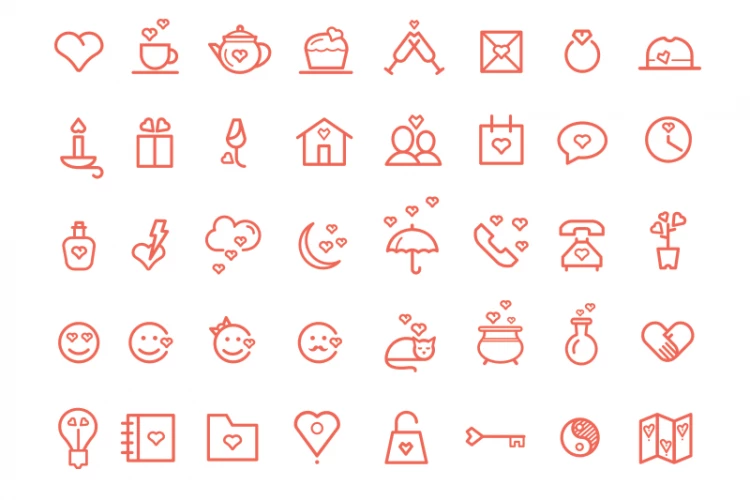 ---
Valentine's Day Flat Line Icons
This extensive set of thirty-three flat icons looks special thanks to the sweet palette and a cute cartoonish style. Love messages, hearts, and even an Eiffel tower will spark a sweet romantic mood among your customers.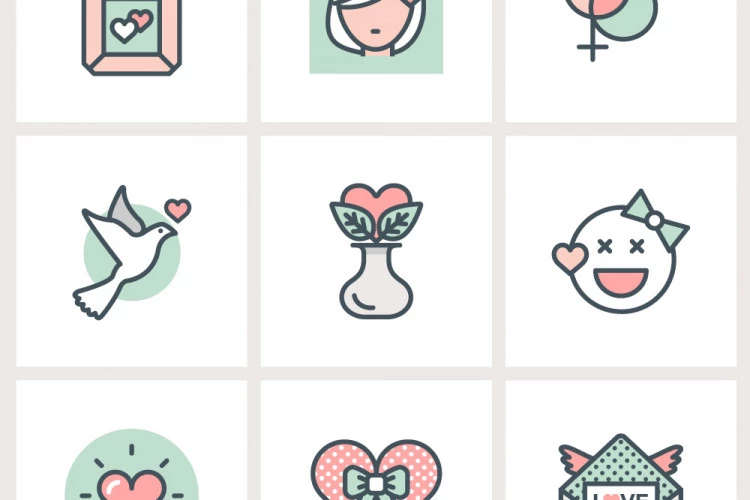 ---
Valentine Icons
A free part of a massive paid collection, these ten wonderful icons are presented in three variants – a linear, colored and glyph. Sweet couples, birds and hearts will add a special touch to your projects.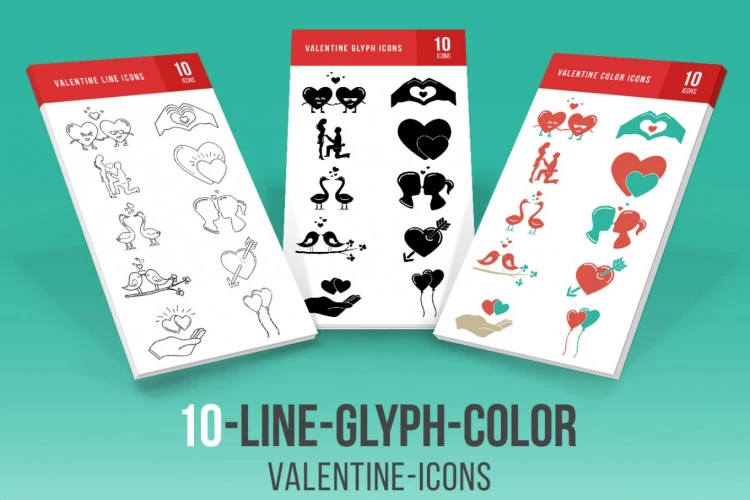 ---
10 Free Valentine's Day Icon
Pay attention to ten exceptional elements gathered in this pack. A photo camera, a cup, a birdhouse, and even a perfume all look sweet with the small hearts on them. You can opt for a colored version or those in B&W and blue.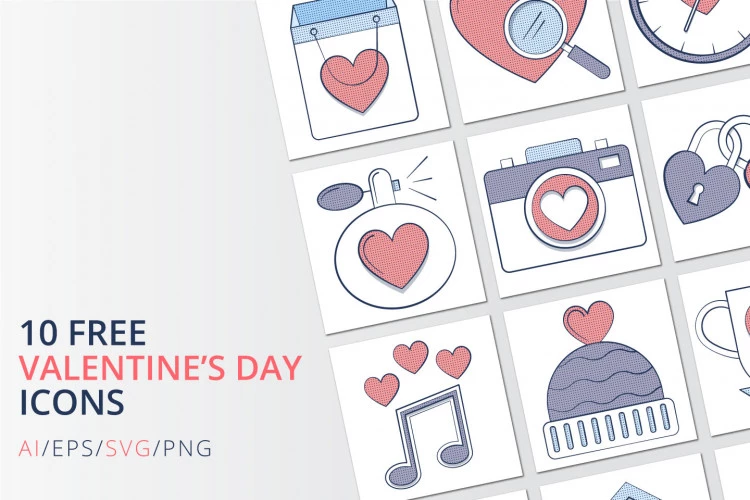 ---
Free Valentine Emoji Set
Make your festive décor, clothes, cards and other projects look adorable with this collection of emoji hearts. Playful, cheeky, sad or smiling, red cartoonish hearts can spark anyone's interest. All twelve characters are adjustable in several formats.
---
Valentine's Day Icons
Get this pack for twelve extraordinary 3D icons. Rounded shapes and sweet hues of pink, violet and white make them an excellent addition to your special projects. A padlock, a love magnet and a harp are just a few cool elements here.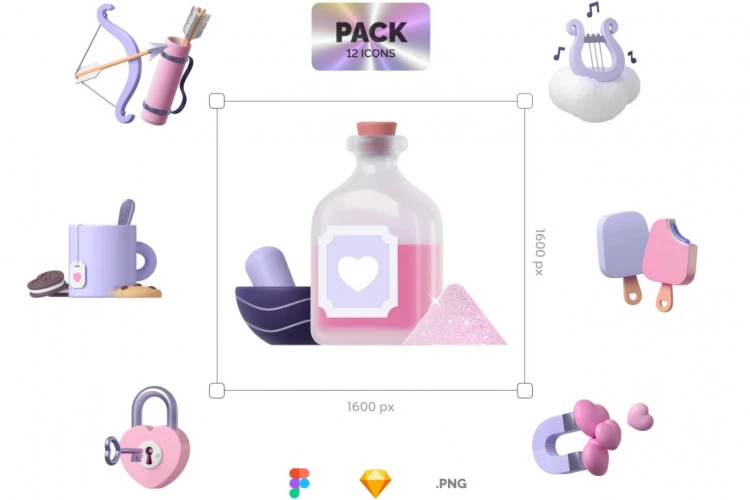 ---
Valentines Day Vector Free Icon Set
Among the twenty marvelous icons in this pack you'll see flowers, gifts, a teddy, a winged heart and other sweet elements. This set includes a linear black-and-white and a multicolored variant for you to choose the one which matches your project.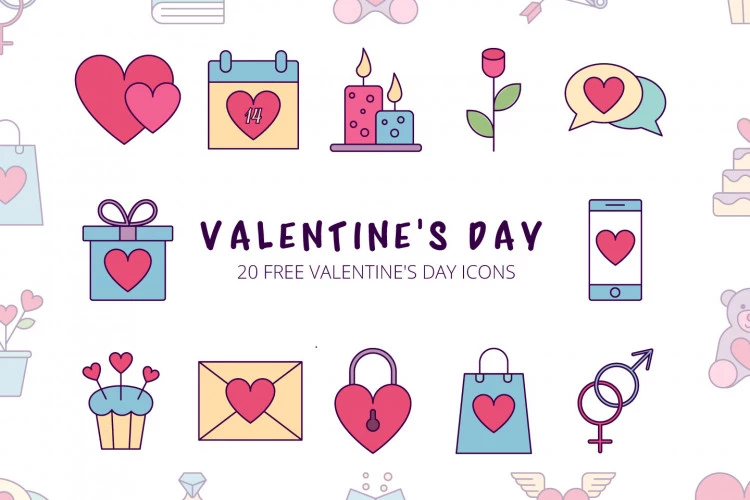 ---
30 Free Valentine Icons
These white flat icons placed inside the striking red circles will look noticeable on any surface or an online page. Get the whole pack of thirty designs for free, and choose such unusual icons as an ice-cream, a crown, a cloud raining with the teeny hearts, etc.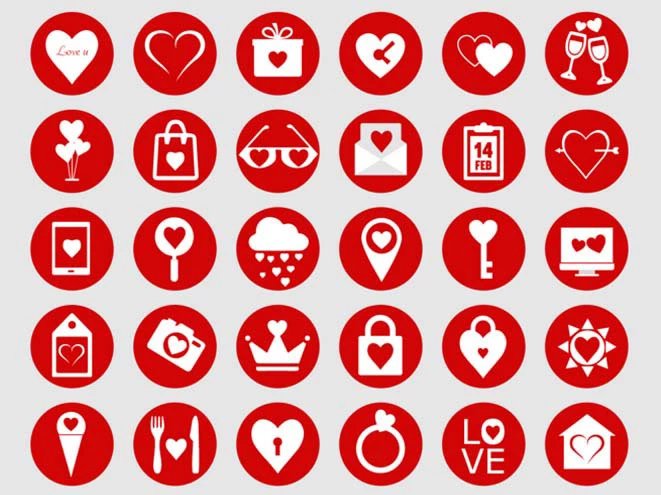 ---
Free Vector Valentine's Day Icons
This bundle might not be too big but it will surely level up the cuteness of your romantic projects. Cupid, sweets and flowers look enchanting thanks to detailing and sweet colors. Pick any of three formats and enjoy editing.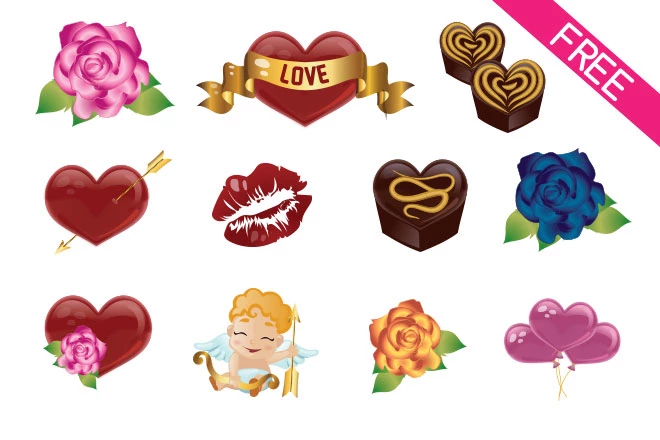 ---
Happy Valentines Day Vector Free Icon Set
These twenty icons reminding simplistic yet sweet doodles can be an awesome addition to Valentine's designs. A clock, a calendar, a pendant and various hearts, as well as other elements are available in a colored and a monochromic option.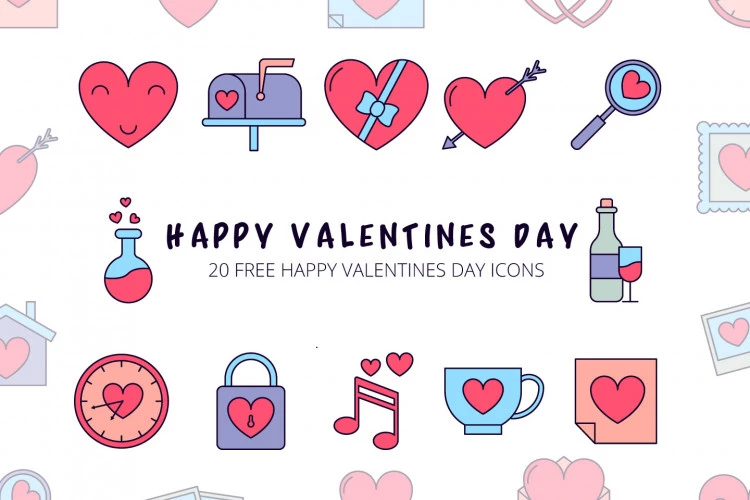 ---
40+ Valentine Day Line Icon Set Free PSD
Among forty-five white linear icons on this list you'll see such exceptional elements as movie stubs, fireworks, a coach, a chapel, a door tag and others. Each icon's got a tiny cute heart on it. Sleek modern shapes are great for any project.
---
Valentines Day Icons
Designed in red and suave rose but with a couple of accents in white and yellow these nine elements will enchant all those who see your romantic projects. Heart shaped notes and balloons, love messages and a key perfectly present a sweet holiday.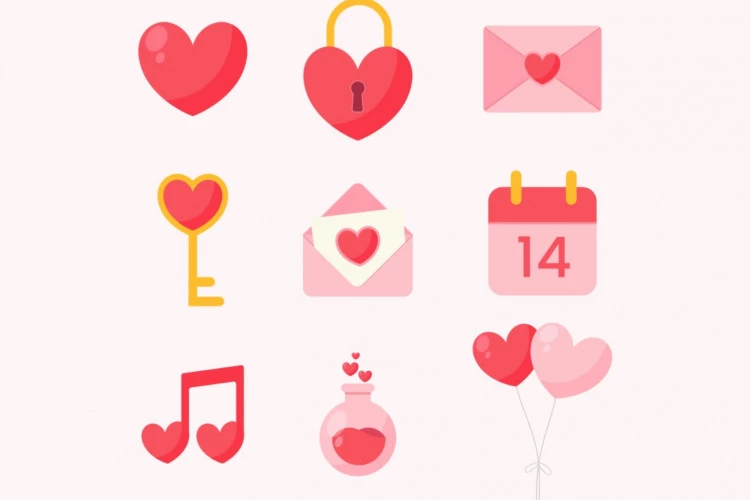 ---
20+ Hearts Outline Icon Set PSD Freebie
Although this bundle includes twenty heart icons, each of them looks unique thanks to the sweet touching details. Double and triple hearts, the ones with an arrow or a keyhole in them will all look appealing online and in print.
---
Love Icons Set
Restrained and modern, these designs are great for a simple yet sweet touch to be added to your special Valentine's projects. Dark red tint of the icons will match many other colors. A cake, a gift, a card and other elements are all gathered here.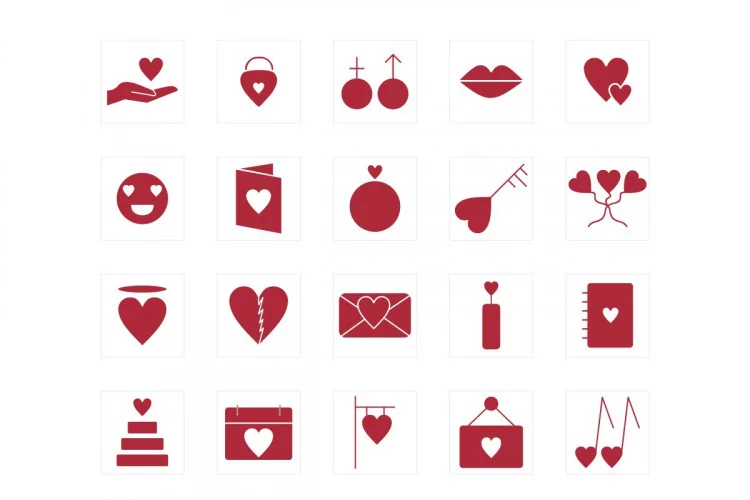 ---
Valentines Day Icons
We would like to conclude this list with six incredible icons. They look magnificent thanks to intense magenta and plain white color. Use this customizable set to make your projects spark with romance.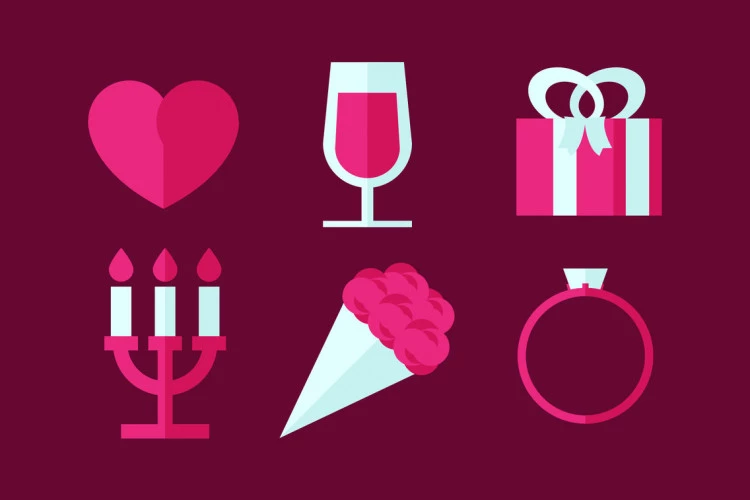 Hopefully, this broad list has offered you many noteworthy variants of romantic icons to choose from. Simply save the files you favor most, and spur your creativity applying all sweet elements to your themed projects.