The most romantic day of the year is approaching, and we know that you are working on a few special projects to celebrate it. Applying a lovely themed pattern to your designs will help sparking a romantic vibe right away! In today's compilation we offer you forty amazing patterns that are all about romance and love.
Feel free to download any of these files, and customize them for your needs using graphic software, for example Adobe Illustrator. The number of projects where these motives can come in handy is countless! You can craft textile items such as T-shirts, pillowcases and tote bags, print cute cards and wrapping paper, notepads and cups. And of course, these sweet patterns can make any webpage look charming and romantic. Enjoy!
---
Romantic Valentines Day Vector Free Seamless Pattern
Thanks to the small seamless images – hearts, gifts, strawberries, and love letters – this pattern looks adorable and sweet. You can choose among the four backgrounds, or apply any other color that matches your designs.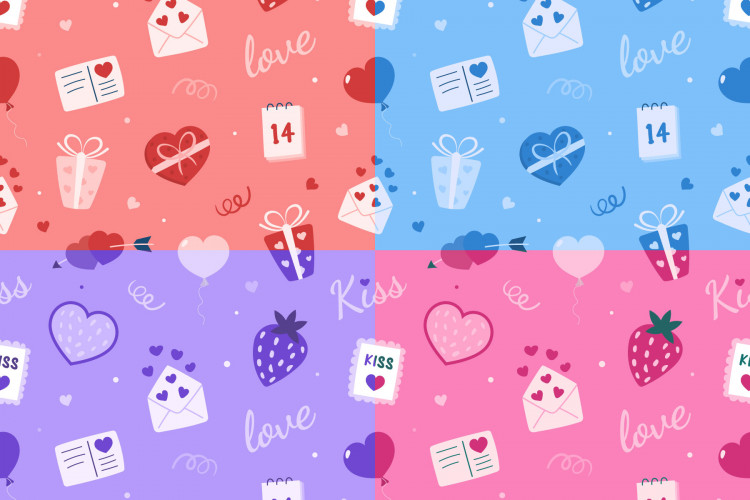 Visit the website
---
FREE VALENTINE'S DAY PATTERN SET IN EPS + PSD
Choose any of these ten amazing patterns in white, black, and light pink. Each design features many adorable hearts along with love letters and arrows. Sweet doodle style can enchant anyone. The pattern is customizable and free.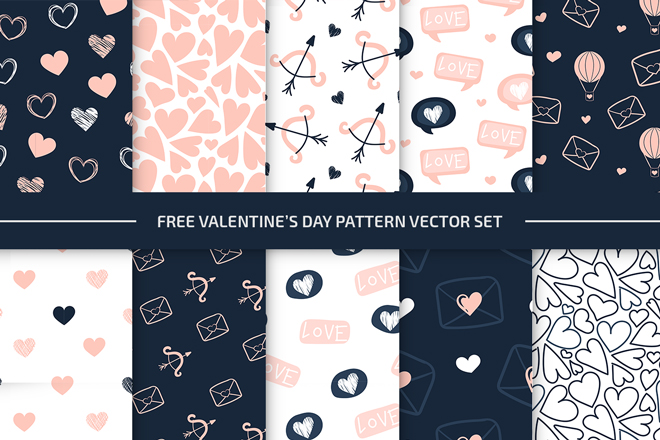 Download
---
Hearts and arrows seamless vector pattern
This unusual pattern shows hand-drawn arrows and hearts scattered on the dimmed red background; a "love you" phrase written multiple times among them completes the layout. This seamless design will look sweet on any surfaces.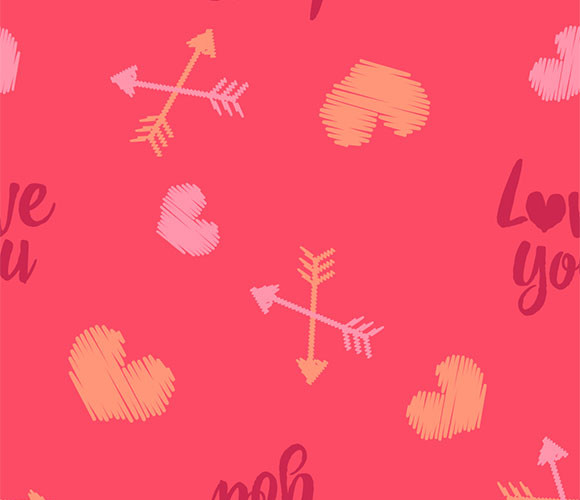 Visit the website
---
Heart pattern
This AI pattern is all about adorable seamless hearts that come in all possible sizes. Soft pink and white colors look catchy against the grey background. This design is perfect to complete your festive projects.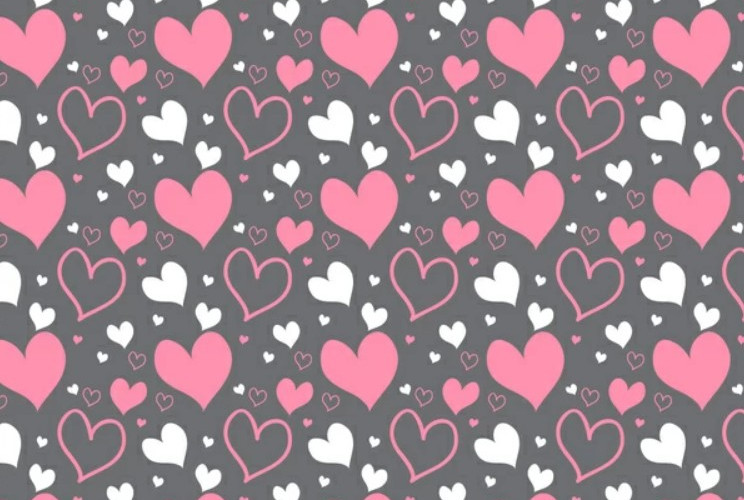 Visit the website
---
Valentines Day Hand Drawn Free Vector Seamless Pattern
This fabulous hand-drawn design will impress you with the variety of small objects it depicts. Here you will see everything from twin padlocks and love letters to cupcakes and lollipops. Each doodle features a little heart. This cute pattern comes in four colors.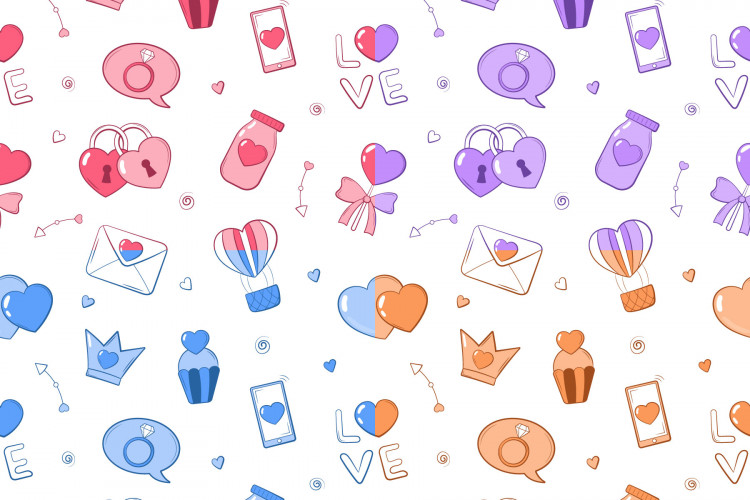 Visit the website
---
10 FREE VALENTINE'S DAY VECTOR PATTERNS SET
Download this free file to get ten marvelous patterns that are all about romance and love. Heart-shaped padlocks and little keys, gifts, love letters, and lots of small sweethearts – is there anyone who wouldn't enjoy these designs?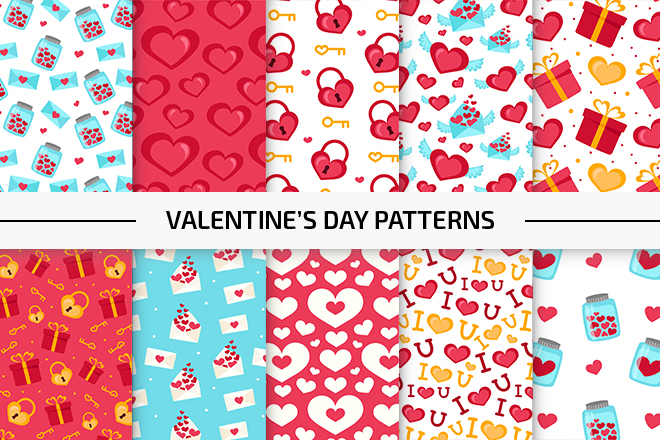 Download
---
Happy Valentine's Day Free Vector Pattern
This unique pattern has gathered many small sweet drawings such as plush teddies, love arrows, gifts, and of course a scattering of hearts. Their colors limited to red, white, and grey look catching against any of the four different backgrounds.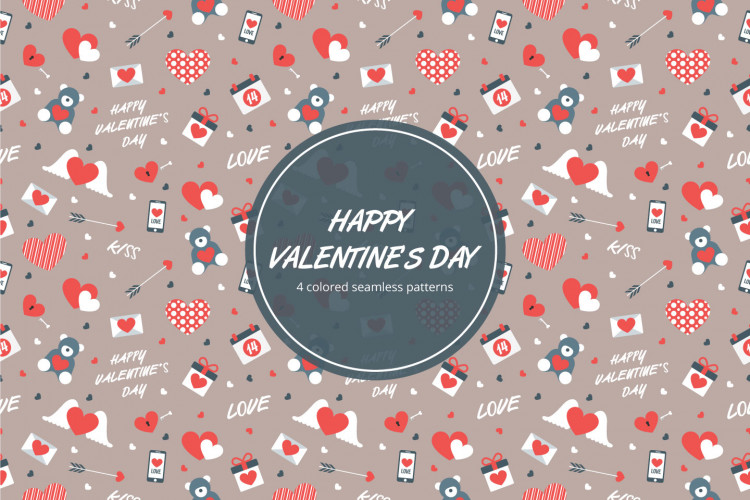 Download
---
Free Hearts Background Vector
If you are seeking for a sweet pattern with a dazzling vintage vibe to it, we've got a great one for you. Small seamless hearts in dimmed red and yellow are running in neat rows on the pale sage background. This design will add a retro vibe to your romantic creations.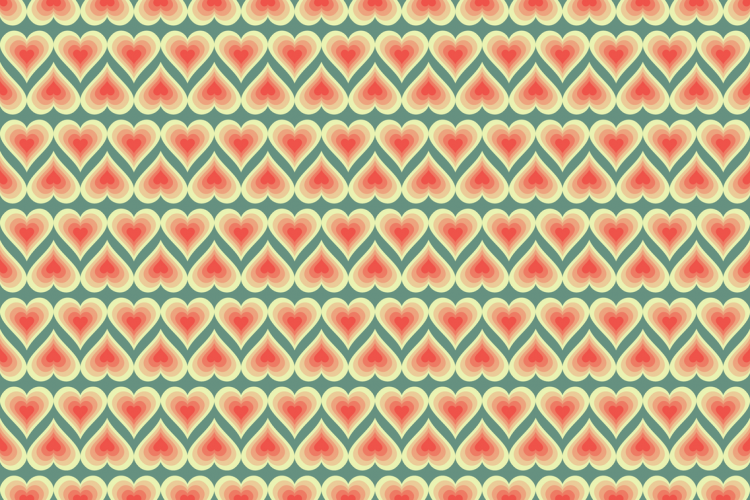 Visit the website
---
VALENTINE WALLPAPER DESIGN
This pattern looks as sweet as those little doodles we love scribbling in our notepads now and again. Cute linear cups, padlocks, love messages and clouds raining with tiny hearts can please anyone's eyes. The word "love" written in light pink adds a much needed color accent to the B&W palette.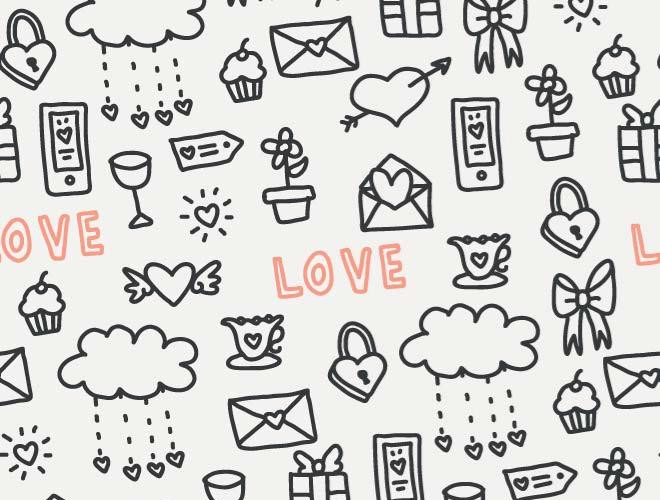 Visit the website
---
Valentine Pattern with Hearts Free Vector
We adore this splendid design with a variety of red linear hearts. Sweet patterns give each heart a unique hand-drawn look. This sample will add a light touch of elegance to your printed items and graphic projects.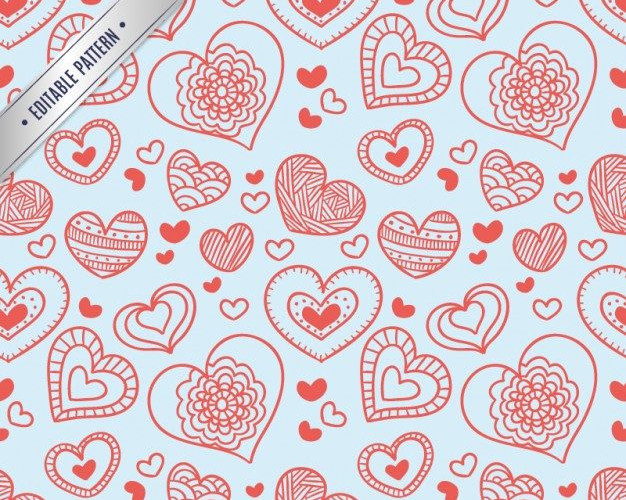 Visit the website
---
Colored Hearts Vector Free Seamless Pattern
It won't be easy to count all designs of the little seamless hearts gathered in this pattern. One thing they all have in common is a sweet and unique look. You can switch between four colors – green, yellow, blue, and red – to make this piece fit your projects.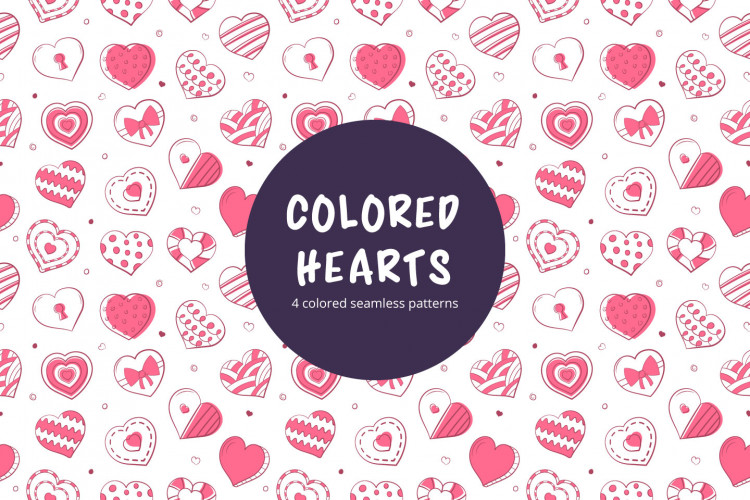 Visit the website
---
Valentine's Day Vector Seamless Pattern in Doodle Style
The tiniest details of the little doodles make this pattern so stunning! Anyone will enjoy looking at the small cups, birds, love arrows, gifts and even wee winged hearts captured inside the jars. Download this wonderful creation to impress everyone, and pick one of the four backgrounds – soft yellow, violet, mint and plain white.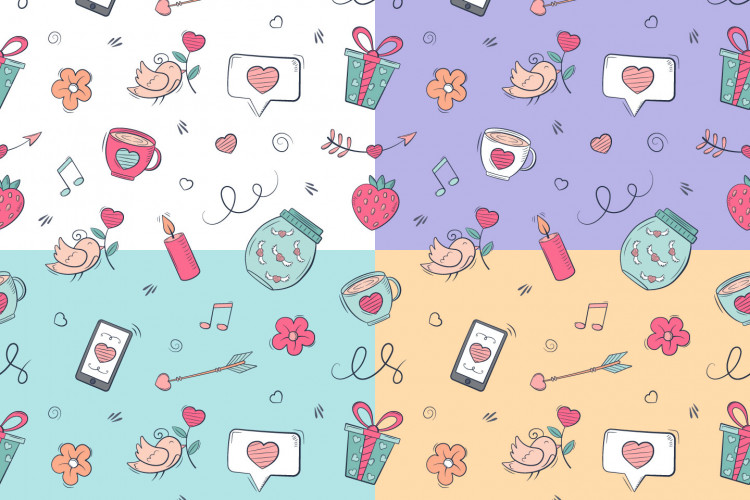 Visit the website
---
Cute heart pattern background image vector
Dots, pixels, thin hand-drawn lines, bows, and hippie signs – an array of designs makes each heart featured in this unique pattern look sweet. A soft pink color became an amazing background for the white seamless hearts.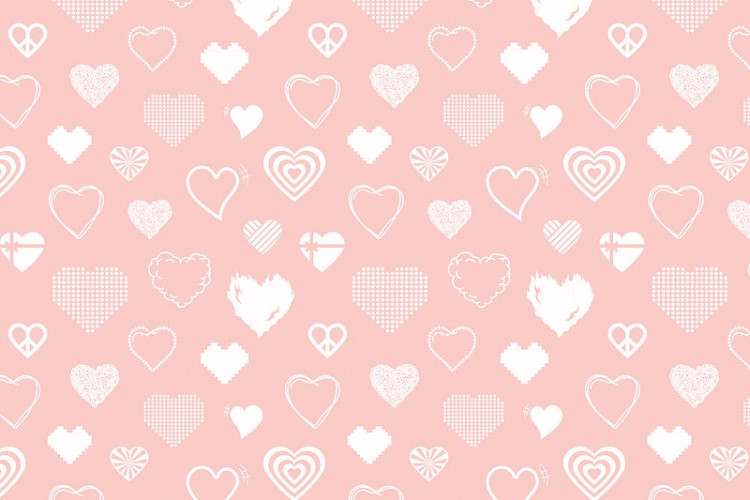 Visit the website
---
FREE 5 HEARTS PATTERN
There can't be too many images of hearts when it comes to celebrating Valentine's Day! If you agree with this statement, we've got a bunch of excellent patterns stored for you. Simple hearts and dots are arranged in lines against five backgrounds: light blue, violet & pink, white, and magenta.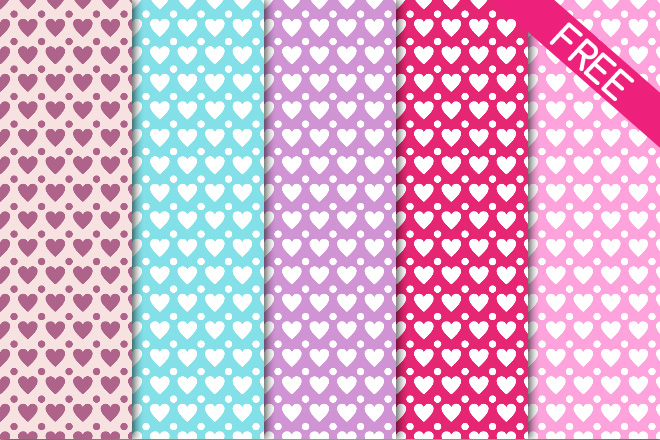 Download
---
LOVE THEME BACKGROUND
Draw plenty of attention to your projects with this romantic pattern. Bright hand-drawn hearts, flowers, lip prints, and diamonds look adorable scattered on the plain white background. This seamless design will enchant everyone.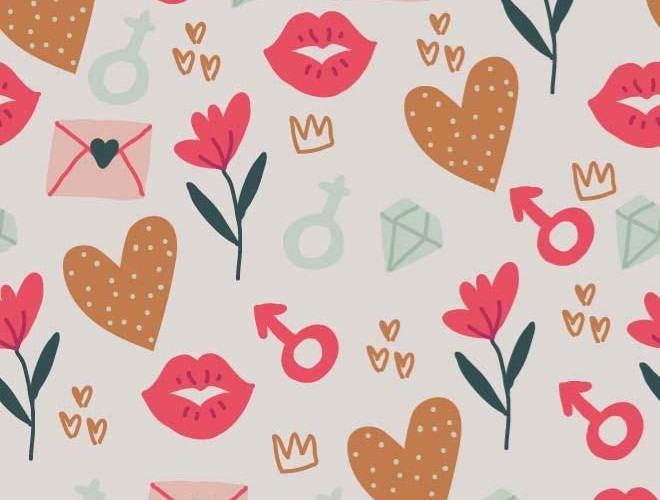 Visit the website
---
Valentine Pattern With Message Coffe Cup Elements
Sleek shapes and a combination of light and intense colors against a clear white background make this pattern look amazing. Bows, envelopes, keys, and cups are mixed up with the sweet red hearts. This design is free and customizable.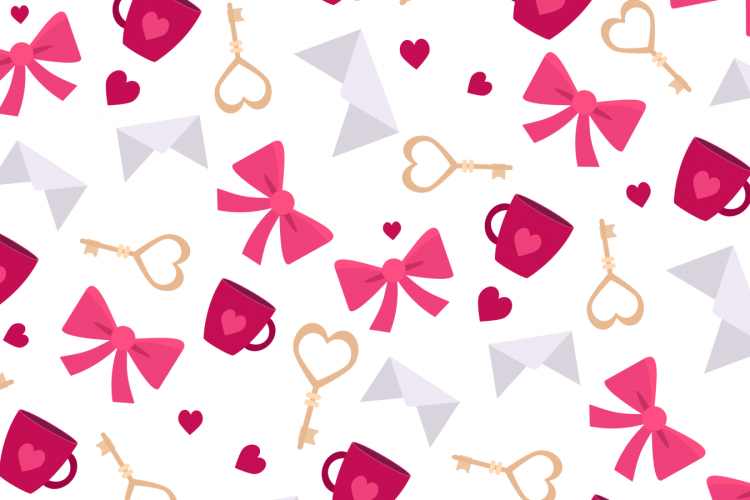 Visit the website
---
Colorful Pattern of Romantic Hearts
Small details give individuality to each heart featured in this marvelous design. You will find striped and dotted hearts, broken and patched ones, the ones struck with a love arrow and the ones with a tiny key to it.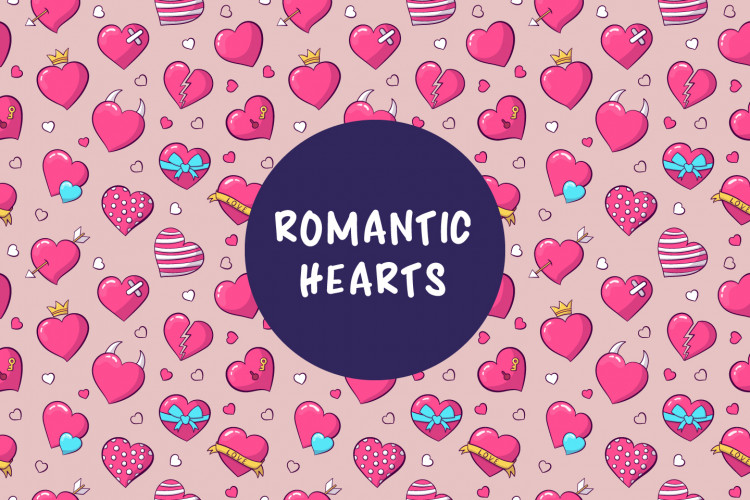 Visit the website
---
Teddy Bear Valentine Theme Seamless Pattern Free Vector
We believe that a cheerful yellow background is perfect for the adorable plush teddies, balloons, roses and love letters featured in this pattern. Rounded shapes and soft hues of red and pink can please anyone.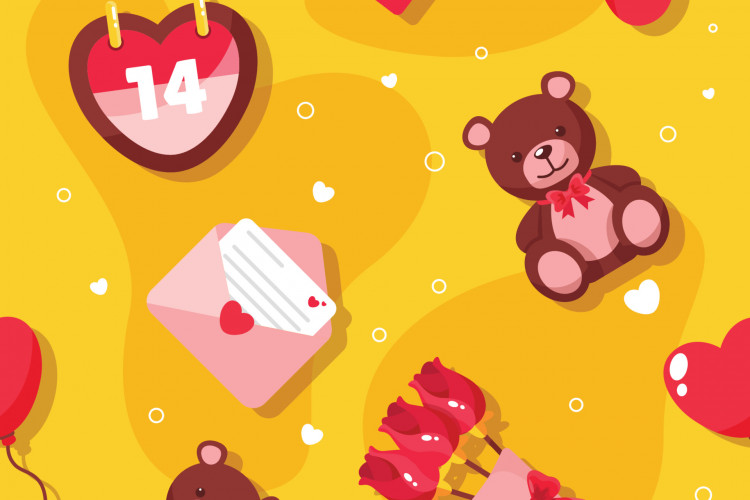 Visit the website
---
Hand-drawn valentine's day pattern collection
Go ahead, and download this stunning free file, to get three special Valentine's patterns in one bundle! Seamless drawings of hearts, padlocks and wine glasses, and three backgrounds varying from intense to light can adjust to any projects.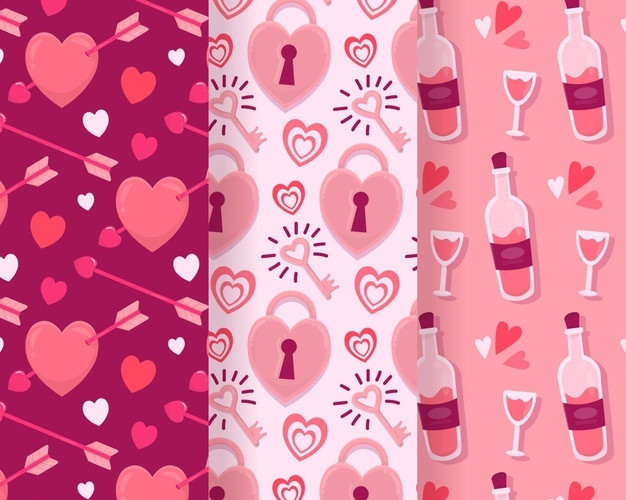 Visit the website
---
Seamless Vector Pattern on the Theme of Wedding and Love Design
Hearts, lip prints, gifts, and lovebirds make this special pattern look sweet and romantic. This design also reminds of a proposal and a wedding thanks to the rings and cakes featured in it. Get this sample for free, and customize it for your lovely projects.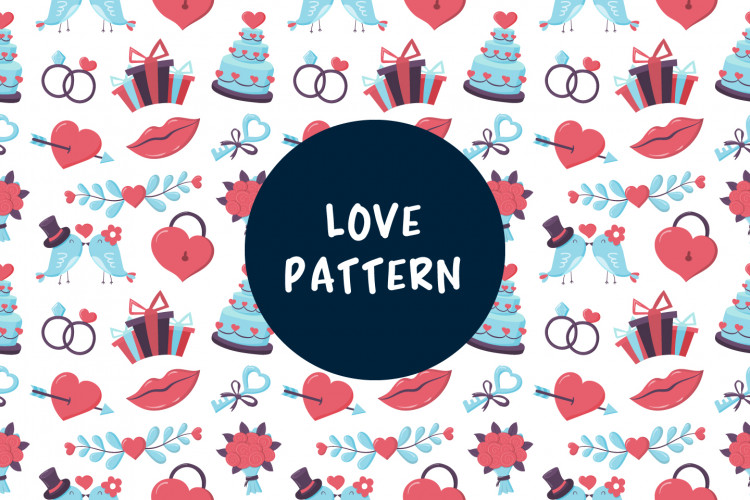 Visit the website
---
Cute romantic hearts valentines day seamless vector pattern
These adorable hearts in different hues of pink look eye-catching against the intense navy background. The pattern is perfect for textile and print, but it will look just as good in graphics and on any webpages.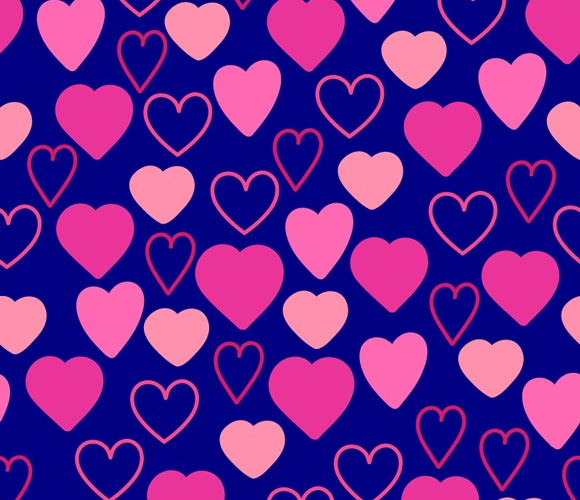 Visit the website
---
Seamless Vector Pattern on the Theme of Wedding and Love
Light blue color and delicate drawings of bouquets and balloons create a wonderful combination, and add charm to this pattern. Pairs of rings included into this design also link it to the theme of wedding and proposal.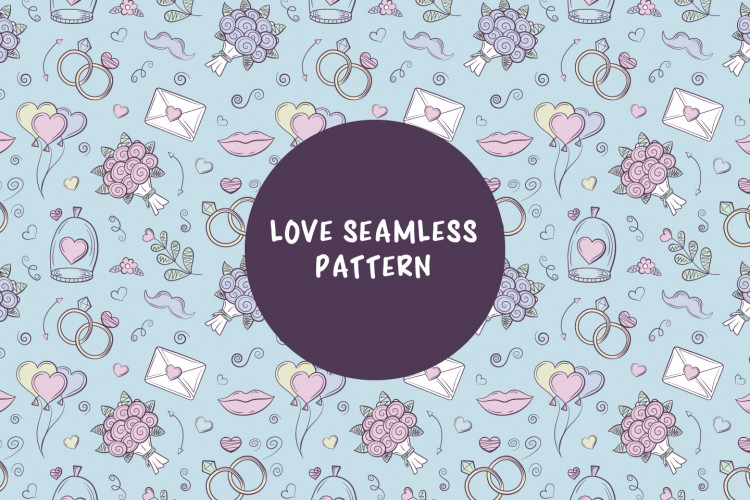 Visit the website
---
Valentine candy pattern Free Vector
Download this colorful pattern to make your Valentine's projects look cheerful and engaging. Little candies, balloons, and love letters are mixed up with the cute hearts in rose, orange, brown, and mint. The sweet pink color is an amazing background for this jolly jumble.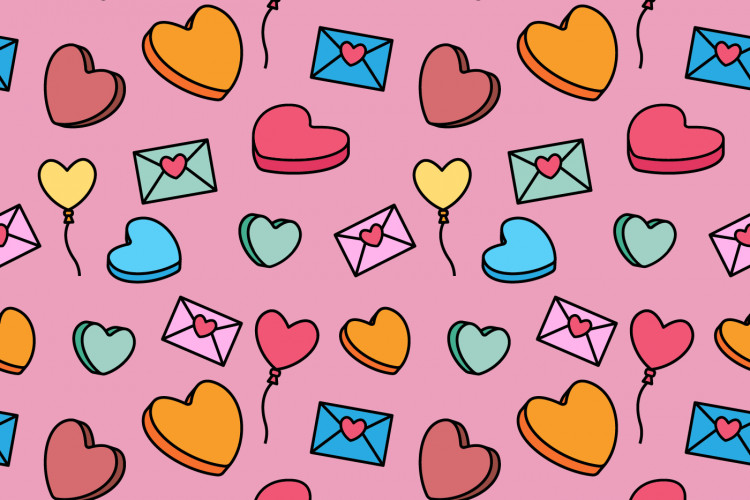 Visit the website
---
FREE VALENTINE'S DAY PATTERNS TEMPLATE IN PSD + VECTOR (.AI+.EPS)
Save this amazing bundle to get ten incredible patterns for your romantic projects! While the backgrounds vary from black to mellow pink, the motives feature tiny dots, linear hearts and some cute texting.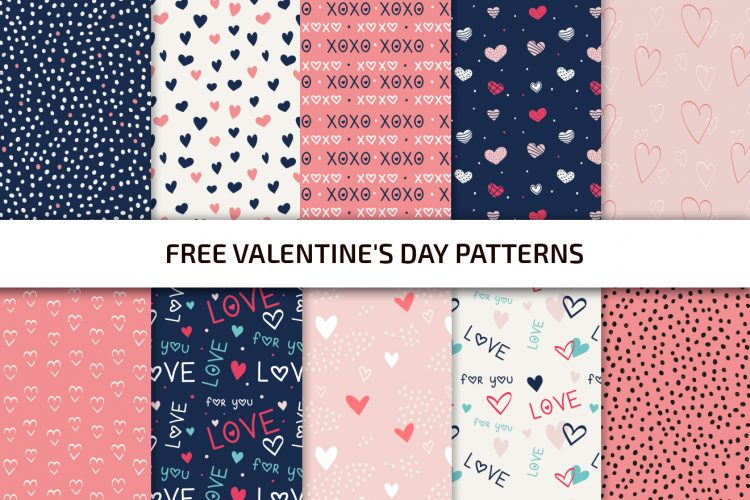 Download
---
Cartoon Hearts Vector Seamless Pattern
Save this cool pattern with amusing hearts to spread the joyful mood around. Small cartoonish characters show all sorts of emotions and actions. An intense purple background makes the vivid red hearts look catchy.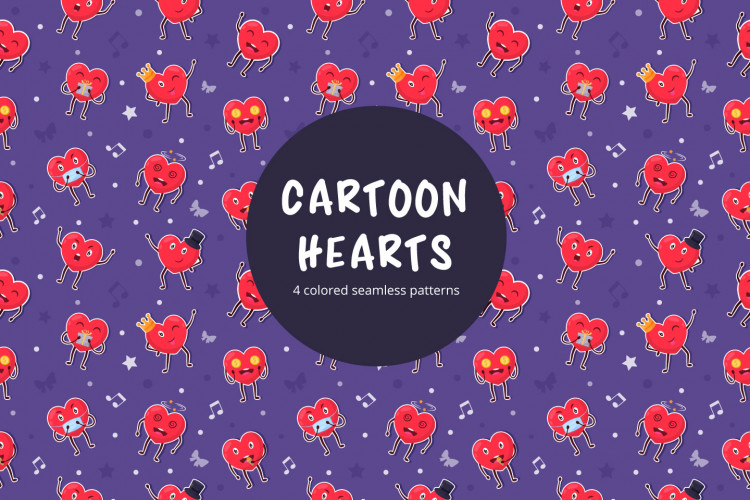 Visit the website
---
Valentine backdrop hearts icons yellow flat hand-drawn sketch
Use this lovely pattern for a touch of elegance in your printing and graphic projects. Linear hearts look like beautiful lace against the rich yellow background. The smallest details are pleasant to look at.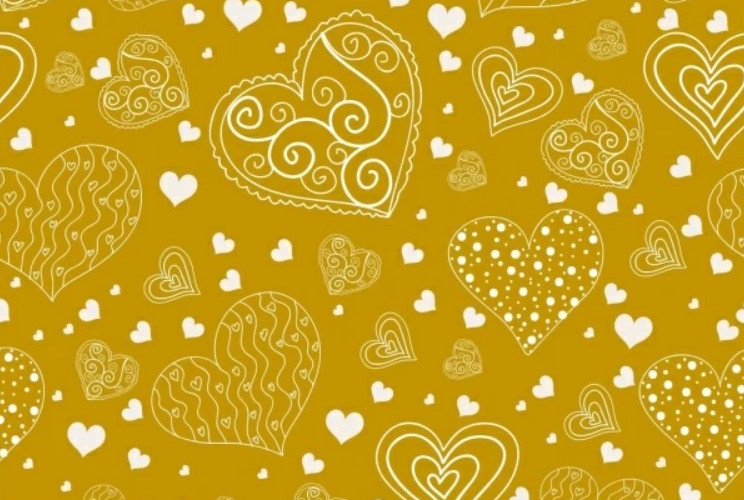 Visit the website
---
Love Illustration Vector Free Pattern
Small doodles shaping up this pattern will look adorable on any surface, and on the web. Here you will find tiny cups, teapots, birdhouses, and flowers, all decorated with cute hearts. A lighthearted cartoonish style will enchant everyone.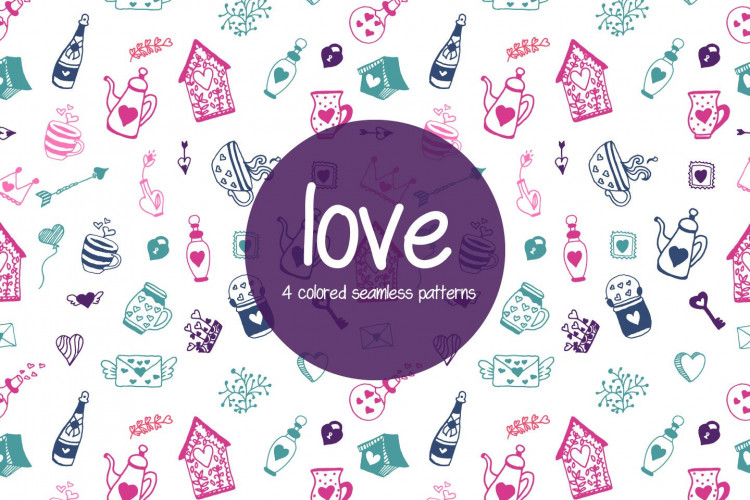 Visit the website
---
Free Vector Hot Pink Heart Background
Fill your printed items, décor and web projects with cuteness using this sweet motif. Dozens of charming little hearts in different hues of pink and white are arranged on the bright pink background. This pattern looks simple yet cute.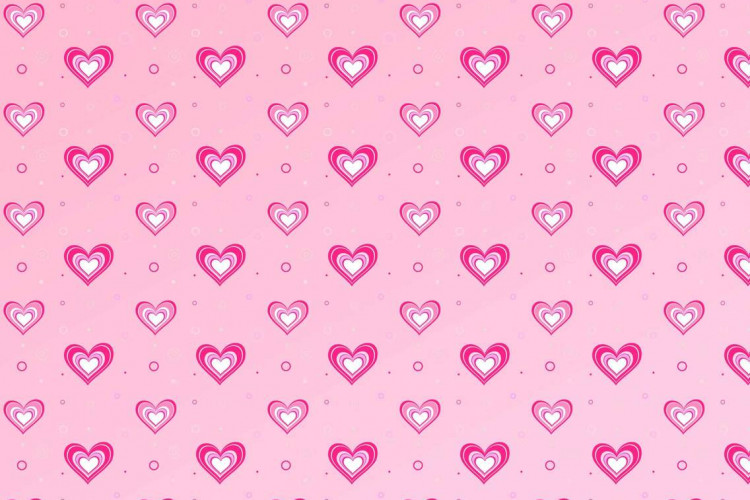 Visit the website
---
BACKGROUND WITH PASTEL COLORS
Have a look at the neat stripes of this lovable pattern. Pastel hues of pink and blue make it apt for various needs. Rows of tiny white hearts add more cuteness. Wrapping paper, postcards, and notepads are just a few items to apply this motif to.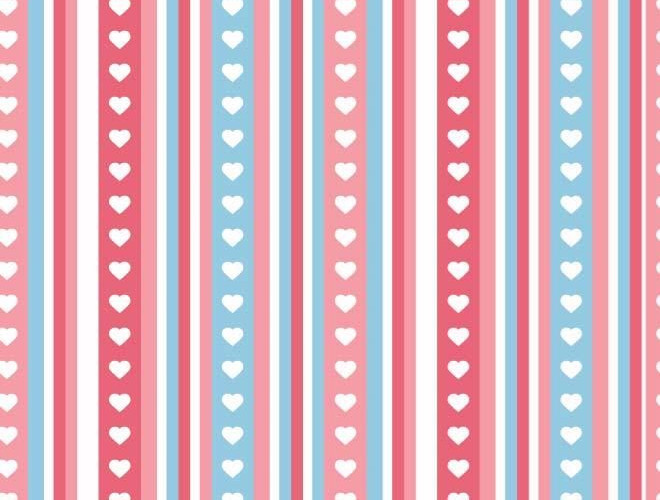 Visit the website
---
Seamless Funny Hearts Free Pattern
Cheeky, charming and cheerful – these tiny cartoonish hearts will light happy smiles on Valentine's Day. Choose among four color options and apply AI to customize this delightful motif for your needs.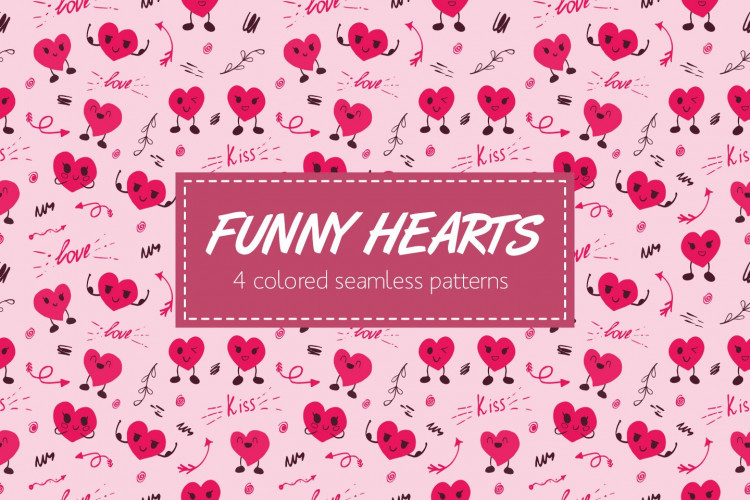 Visit the website
---
Cute love pattern vector
If you are looking for a minimalistic yet impressive pattern, this one may come just right. Adorable linear and watercolor hearts are scattered randomly on the plain clear background. Soft hues make this design look charming.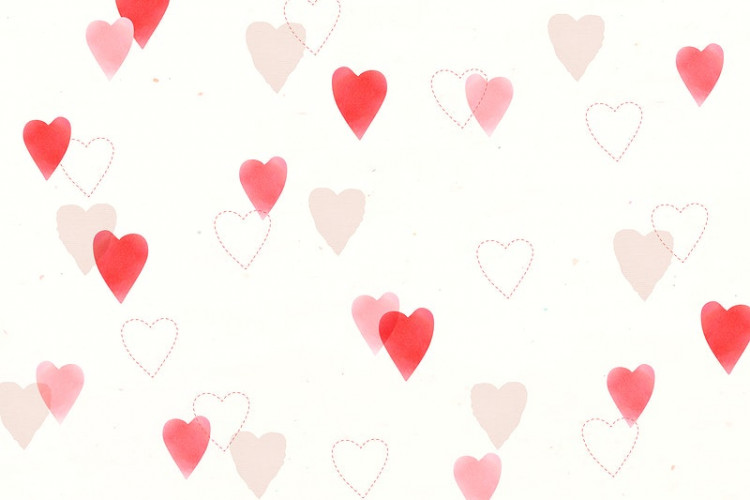 Visit the website
---
Watercolor Valentine Pattern
Think of all the small things we usually associate with Valentine's – and most definitely you will see them in this pattern. Watercolor hearts, envelopes, love arrows, diamond rings, and other objects create a unique stylish motif.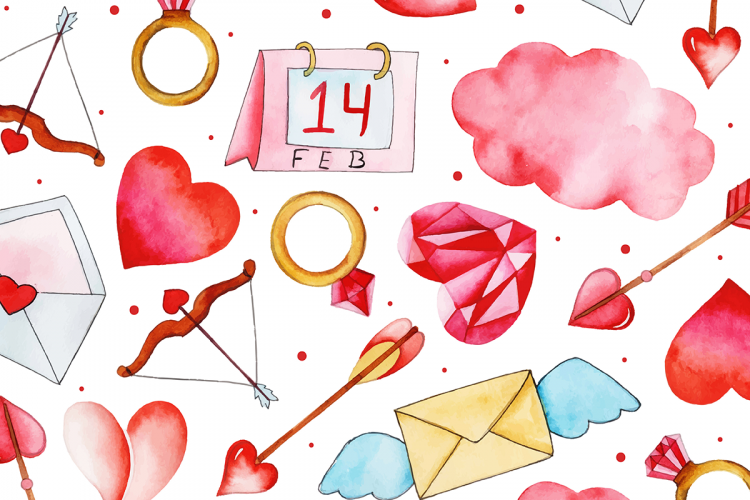 Visit the website
---
Seamless Grunge Hearts Free Pattern
Simple at a first glance, this unique pattern will amaze you with the details. It's shaped up of hearts, some of them looking like cool prints, and others like cute linear doodles. Four backgrounds are an obvious advantage: you can opt for two variants in mint, a pink pastel, and a B&W sample.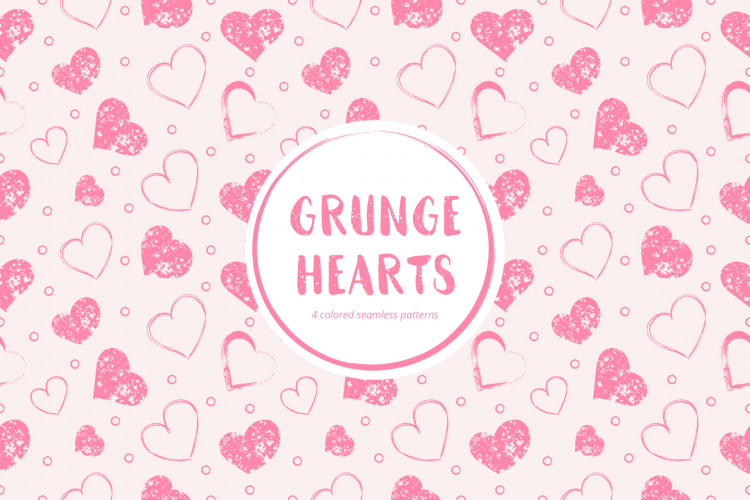 Visit the website
---
Romantic valentine seamless pattern of cats and hearts
Get ready to spread cuteness around using this sweet seamless pattern. Adorable cat muzzles are mixed up with vivid red hearts. The cartoonish style will look amazing on any surface and on the web.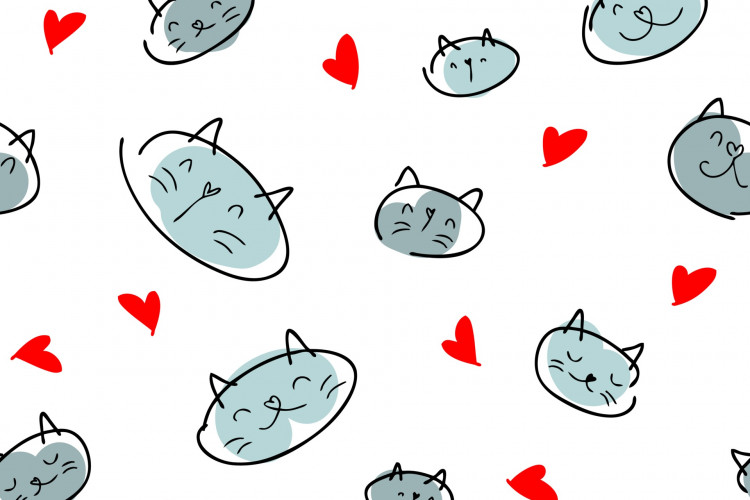 Visit the website
---
Cute hand-drawn valentine's day pattern
This linear pattern might look childish at first, but applied to your unique graphic projects it will easily add a drop of charm and sweetness. Toy teddies, kittens, puppies, and a whole lot of hearts will enchant everyone.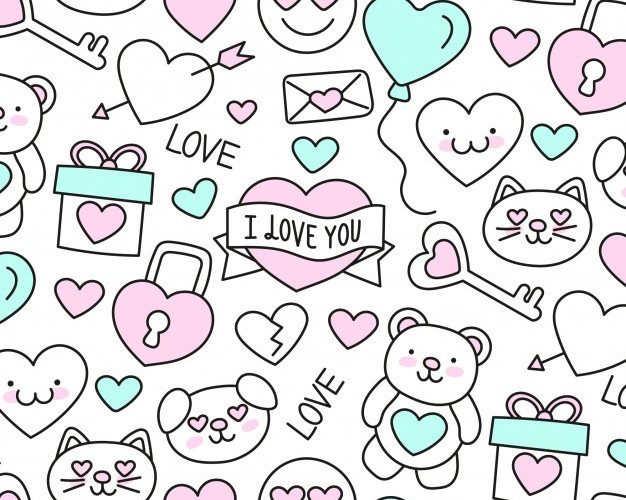 Visit the website
---
Love Hearts Free Pattern
Less is more. Download this minimalistic pattern, and get four color variants in one pack, to apply to your festive designs. You can choose between a pink and a mint motif with the small white hearts, or pick the white patterns with the colored hearts on them.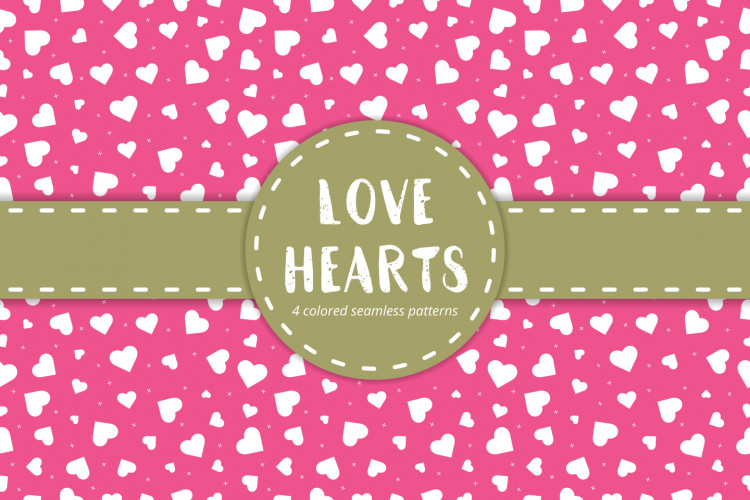 Visit the website
---
Seamless valentines pattern
We adore this one-of-a-kind pattern with the fresh mint background. Cheerful yellow flowers, blue hearts, and a stylish vivid phrase "love you" create an impeccable combo that will make any project look amazing!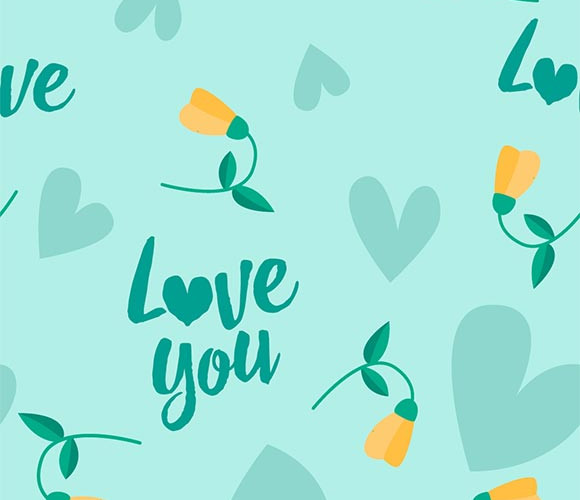 Visit the website
---
Heart pattern
It doesn't take much to craft a sweet and eye-catchy pattern for Valentine's. Have a look at this minimalistic motif with the lines of colorful hearts and dots. Warm colors and doodle style makes this design loveable.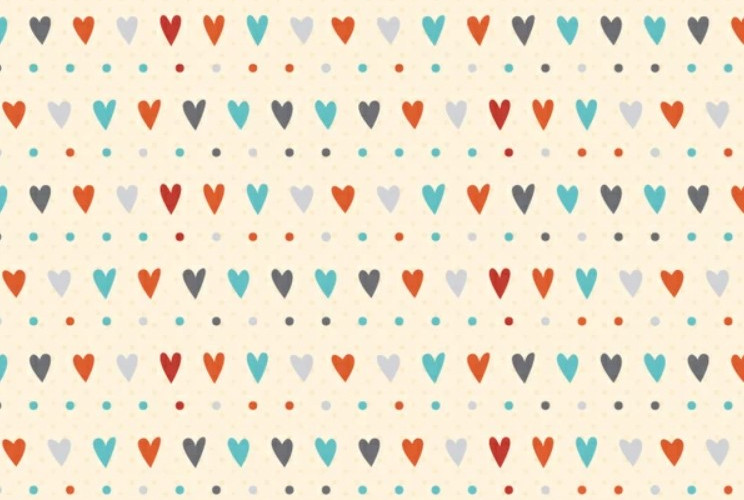 Visit the website
---
Valentine's Day Vector Free Seamless Pattern
The diversity of tiny objects featured in this pattern makes it stylish and cool. Here among countless hearts, flowers and envelopes you will find tiny bottles, padlocks, and tags. Linear style and four variants of color accents will help you adjust this motif to any project.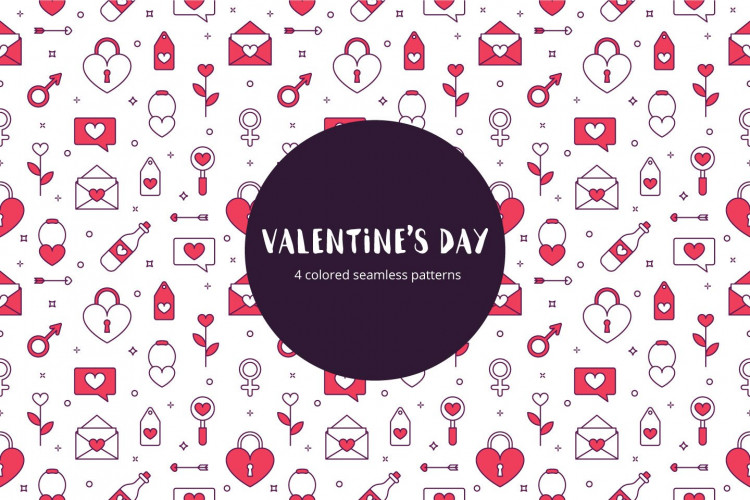 Visit the website
---
Free Heart Pattern
Consider using this cute motif for your romantic projects. Ardent hearts decorated with liner circles vary from tiny to huge ones. The shiny yellow color works as an amazing background. The pattern is easily adjustable in AI.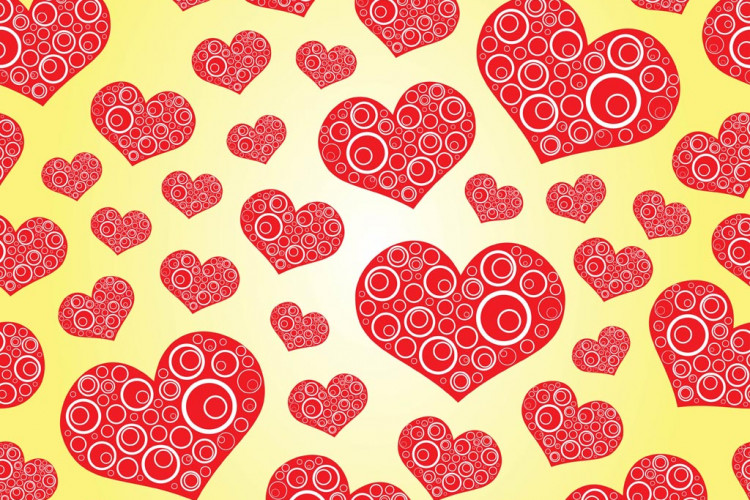 Visit the website
---
Our team hopes that among diverse, unique, and charming patterns included in this sweet compilation you've picked a design that will fit your ideas and projects. Don't waste a moment, download it without paying a cent, and apply graphic software for fast and enjoyable adjusting.