Nowadays, almost every restaurant, bar and cafe has its own website, Facebook page, and Instagram account, some even made a mobile application. So, why do you need good old food flyers? 
The ability to reach out to a new target audience
Not all people are registered in social networks, and not all of those who are registered subscribe and read the pages of restaurants and cafes. And such an offline ad, like a flyer, can help you tell them about your food event or show a menu of your bar. Just download one of our free flyer templates and make it perfectly suitable for your needs using Photoshop: Get Photoshop as part of a Creative Cloud single-app plan for just US$19.99/mo.
The chance to stand out from the crowd
Since lots of establishments promote themselves only on the Internet and social networks using 30+ NEW PHOTOSHOP INSTAGRAM TEMPLATES FOR BUSINESS, flyers will not let you go unnoticed. Moreover, people love beautiful and useful advertising that they can touch and even put in a pocket. Therefore, a well-made food flyer will do its job!
One of the cheapest ways of promotion
You will say that you need to significantly allocate the budget and time for design, printing, and distribution of flyers, but in fact, everything can be done much easier. For example, using the templates from the list below, you can create beautiful engaging flyers that will make people come to your restaurant. 
If you are looking for ideas about what information to put on your food flyer, we have lots of them. Here are some of them: 
Share the secrets of some of your dishes
Write in-short the story of your restaurant. People really like visiting places with a special history 
Tell people how you selected the name for your place
Share the perfect mix of your dishes. Restaurant visitors are often lost in the choice, for example, which wine has to be chosen for a particular dish
Make a special offer. Promise some nice gift that the person will be given if he/she shows the flyer (additional discount or free cocktail) 
For any of these purposes, you can use our Free PSD Flyer Templates for Food. On this list you will find appropriate ones for a bake sale, catering service, food delivery, tea time events, etc. We also have amazing 20 PROFESSIONAL PREMIUM & FREE FLYER TEMPLATES IN PSD FOR BBQ LOVERS! It is really easy to customize the templates in Photoshop, so try it now! 
---
HEALTHY FOOD FLYER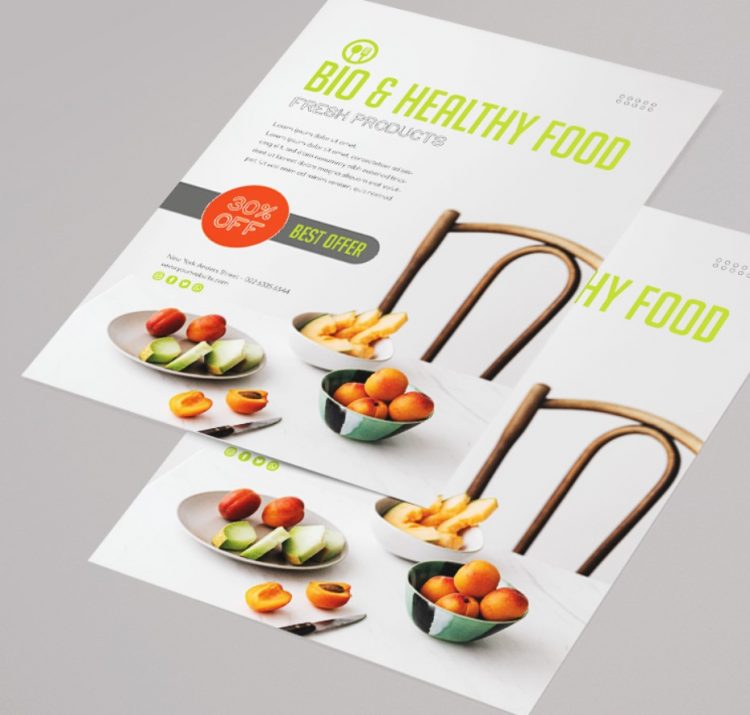 Download
---
FOOD DELIVERY FLYER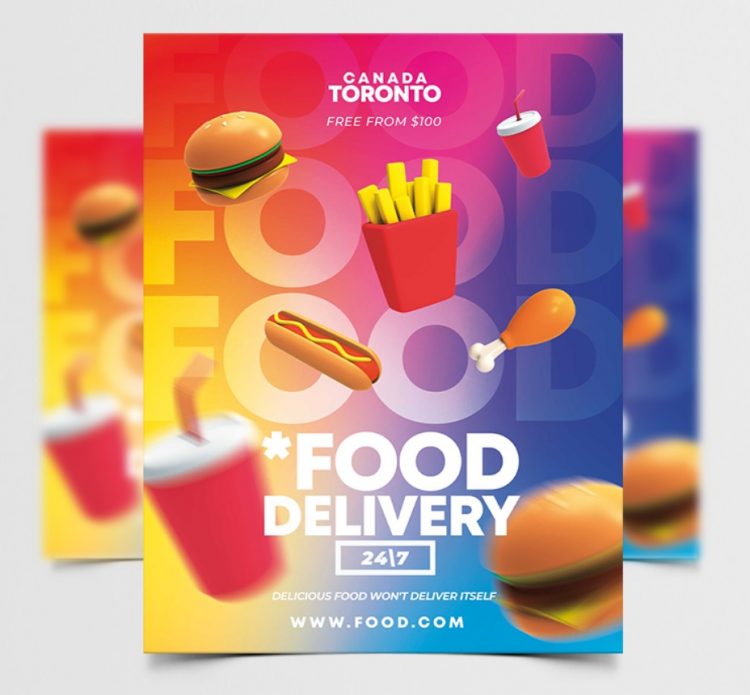 Download
---
5 FREE FOOD FLYER BUNDLE IN PSD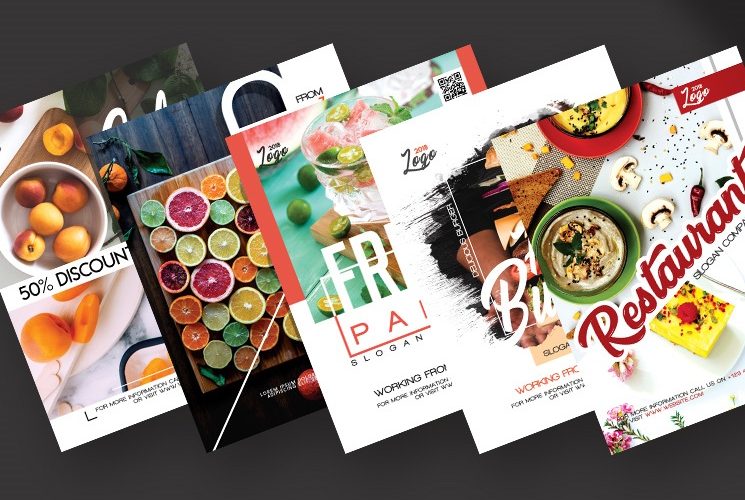 Download
---
FREE HAPPY HOURS FLYER TEMPLATE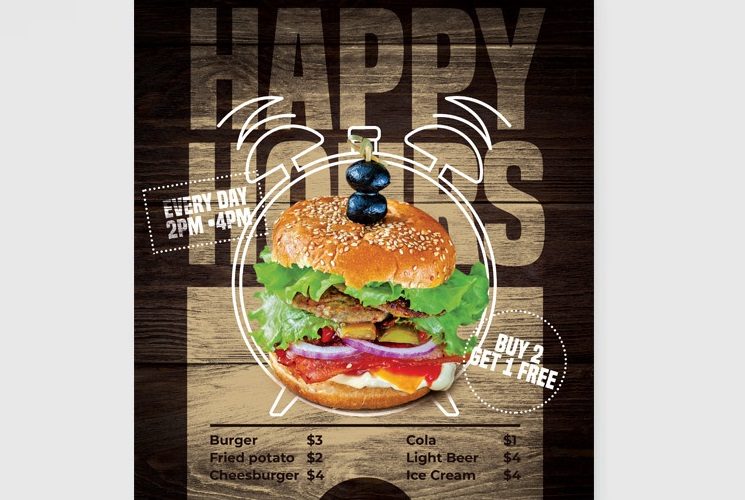 Download
---
Seafood Restaurant – Free PSD Flyer Template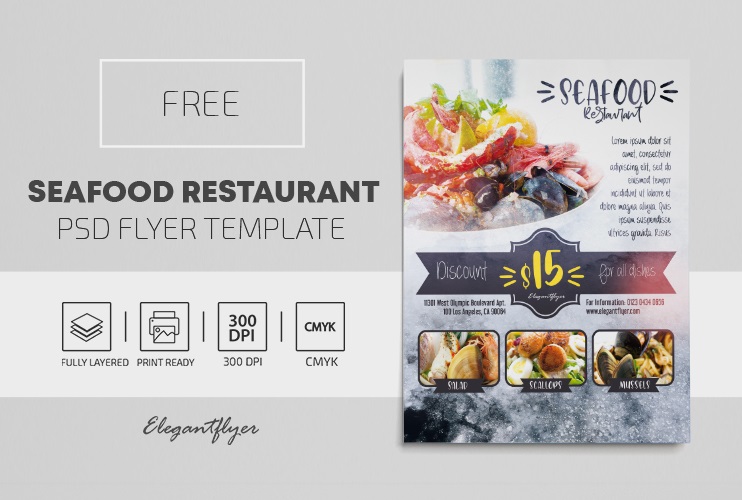 Download
---
Breakfast Time – Free PSD Flyer Template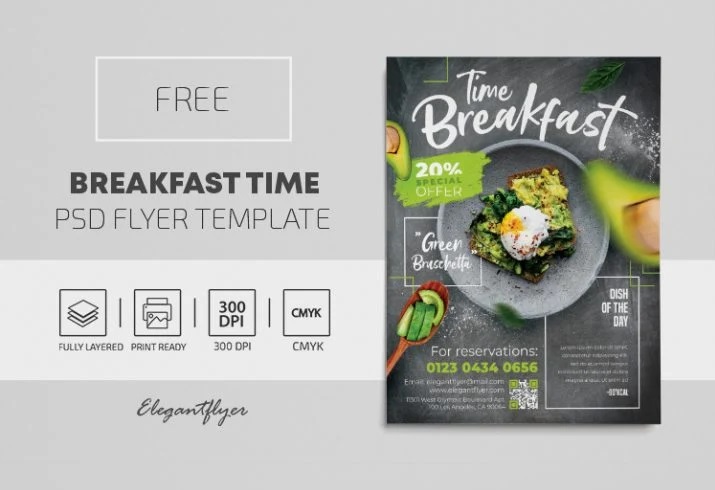 Download
---
Catering Services – Free PSD Flyer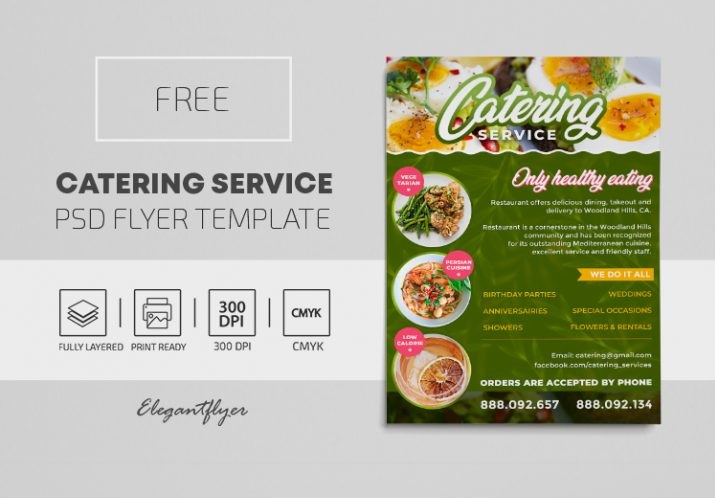 Download
---
Burger – Free PSD Flyer Template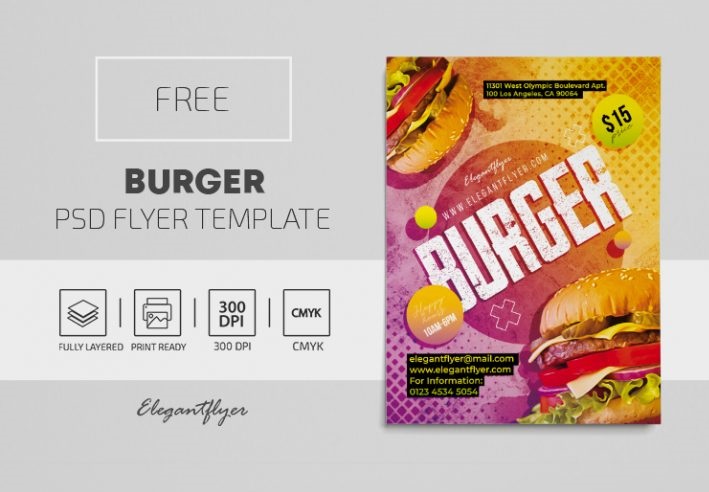 Download
---
Modern flyer template for breakfast restaurant Free Psd
Visit the website
---
Free Cupcake Bakery Flyer
Visit the website
---
Organic Food Shop – Free PSD Flyer Template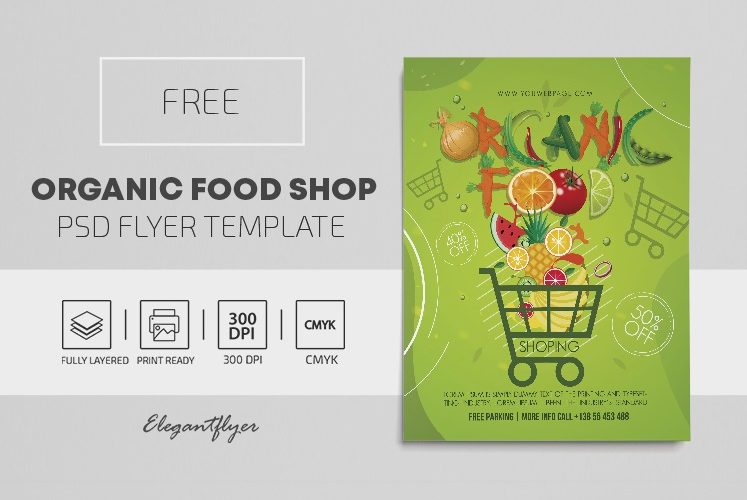 Download
---
Flyer template concept with coffee Free Psd
Visit the website
---
Free Summer Food Event Flyer Template
Visit the website
---
Brunch theme for flyer template Free Psd
Visit the website
---
Bakery – Free PSD Flyer Template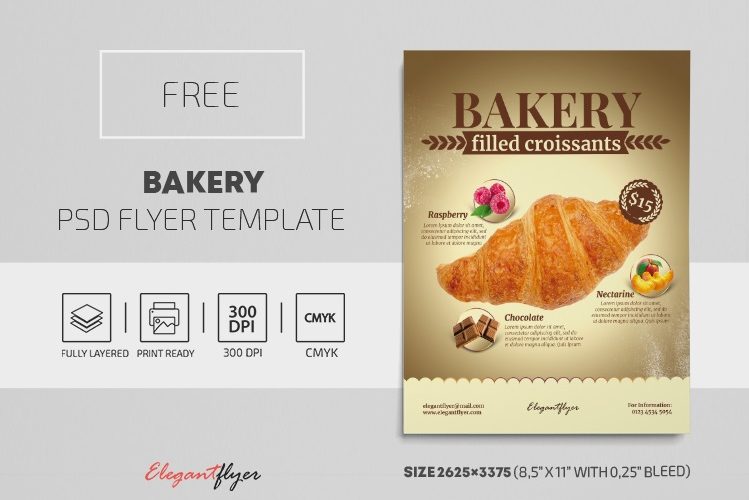 Download
---
Free Modern Photography Flyer Template
Visit the website
---
Pizza Party – Free PSD Flyer Template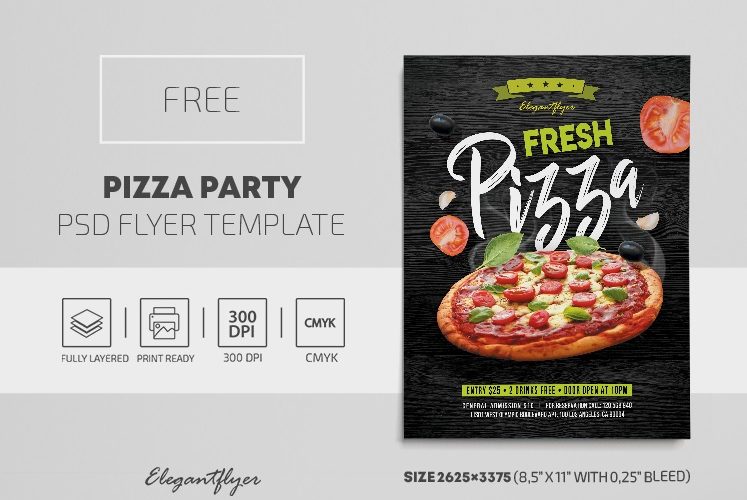 Download
---
Free Bakery Flyer Template
Visit the website
---
Healthy food flyer template style Free Psd
Visit the website
---
Fast Food Delivery Free PSD Flyer Template
Visit the website
---
Flyer for pizza ordering Free Psd
Visit the website
---
Coffe Delicious Free PSD Flyer Template
Visit the website
---
Moody food restaurant flyer square concept mock-up Free Psd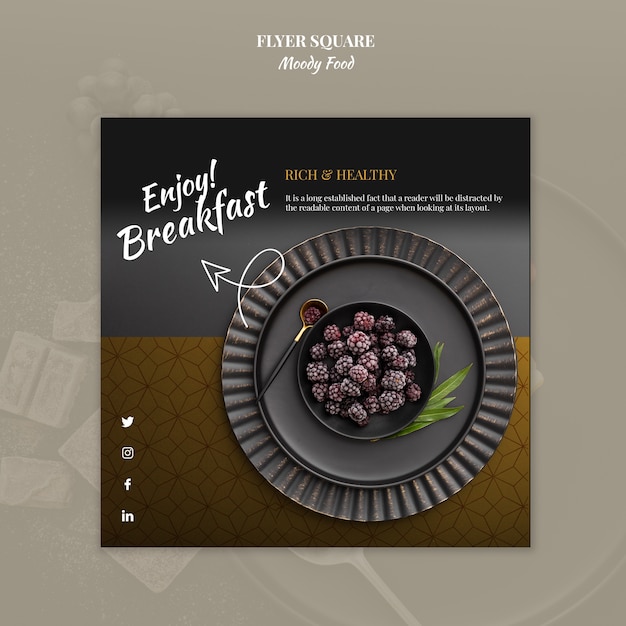 Visit the website
---
Summer BBQ – Free PSD Flyer Template
Download
---
Sea Food Free PSD Flyer Template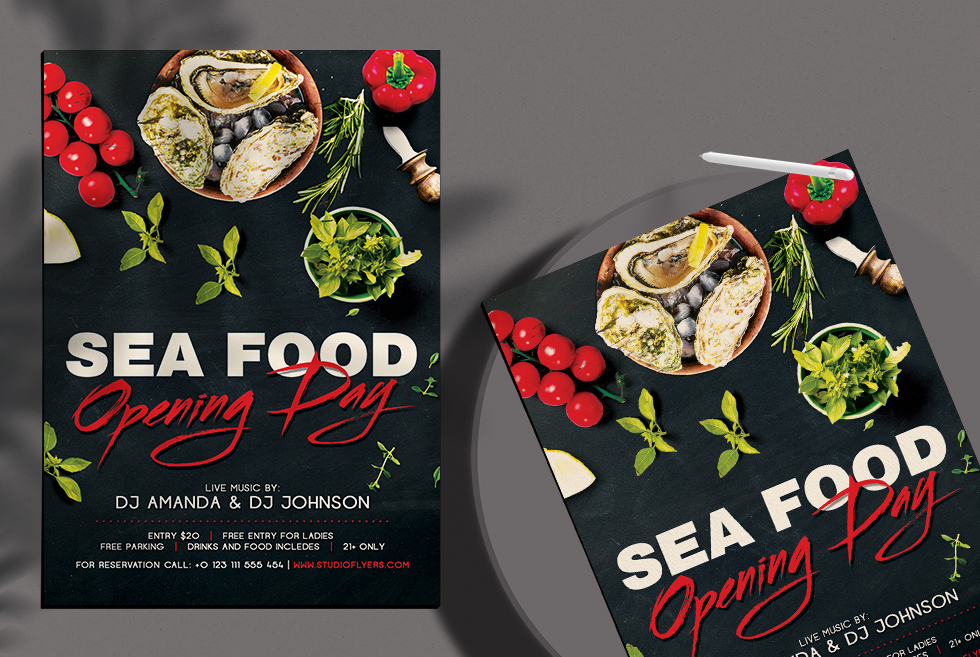 Visit the website
---
Food Festival – Free PSD Flyer Template + Facebook Cover + Instagram Post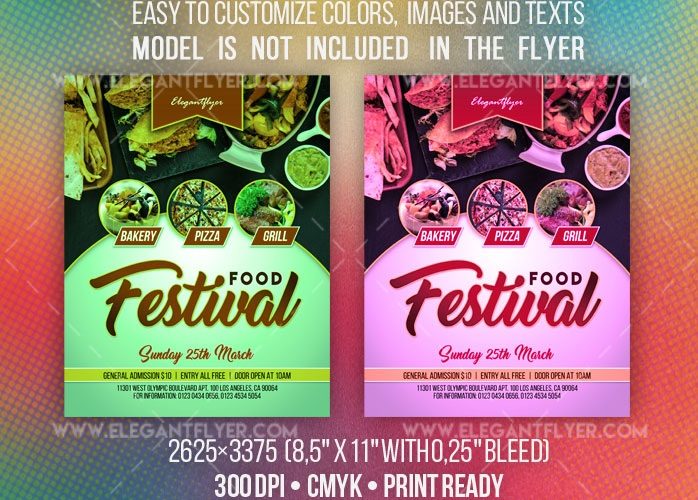 Download
---
Food Menu Free PSD Flyer Template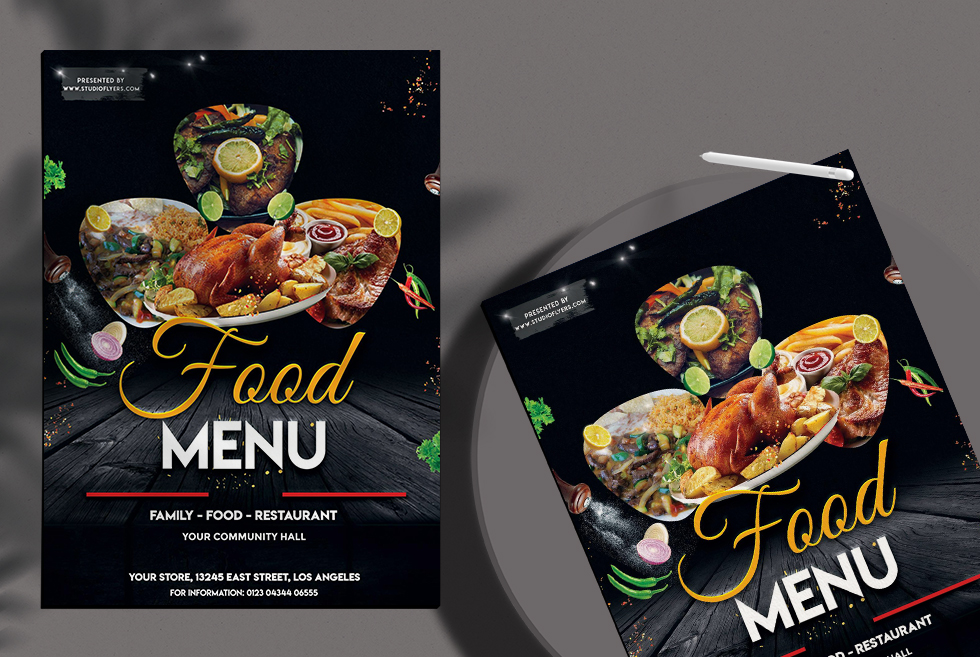 Visit the website
---
Restaurant – Free Flyer PSD Template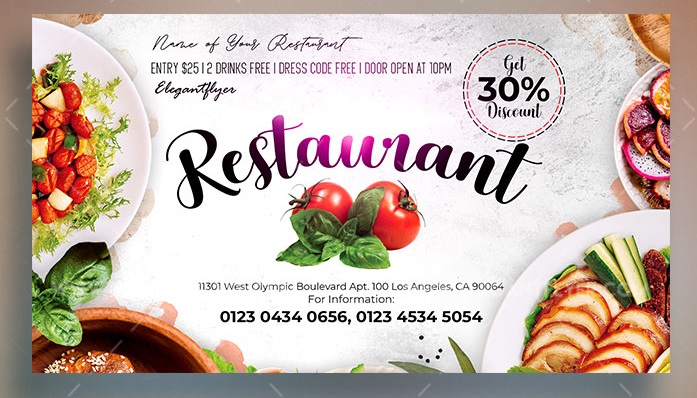 Download
---
Brunch restaurant design square flyer Free Psd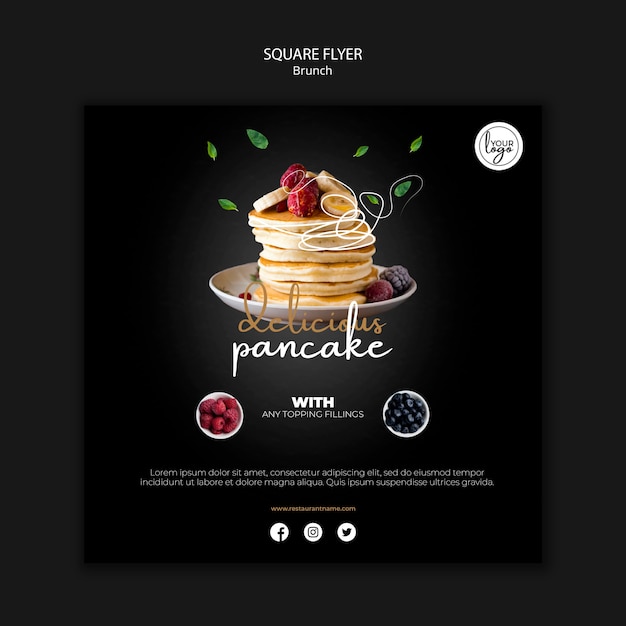 Visit the website
---
Pizza – Flyer PSD Template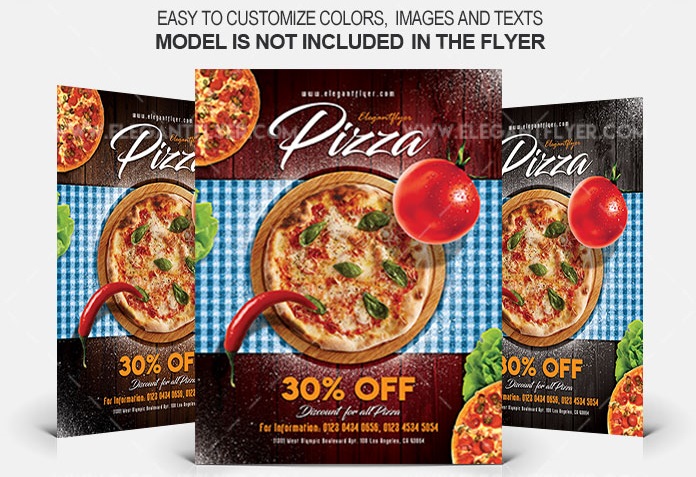 Download
---
Fresh Food – Restaurant Free PSD Flyer Template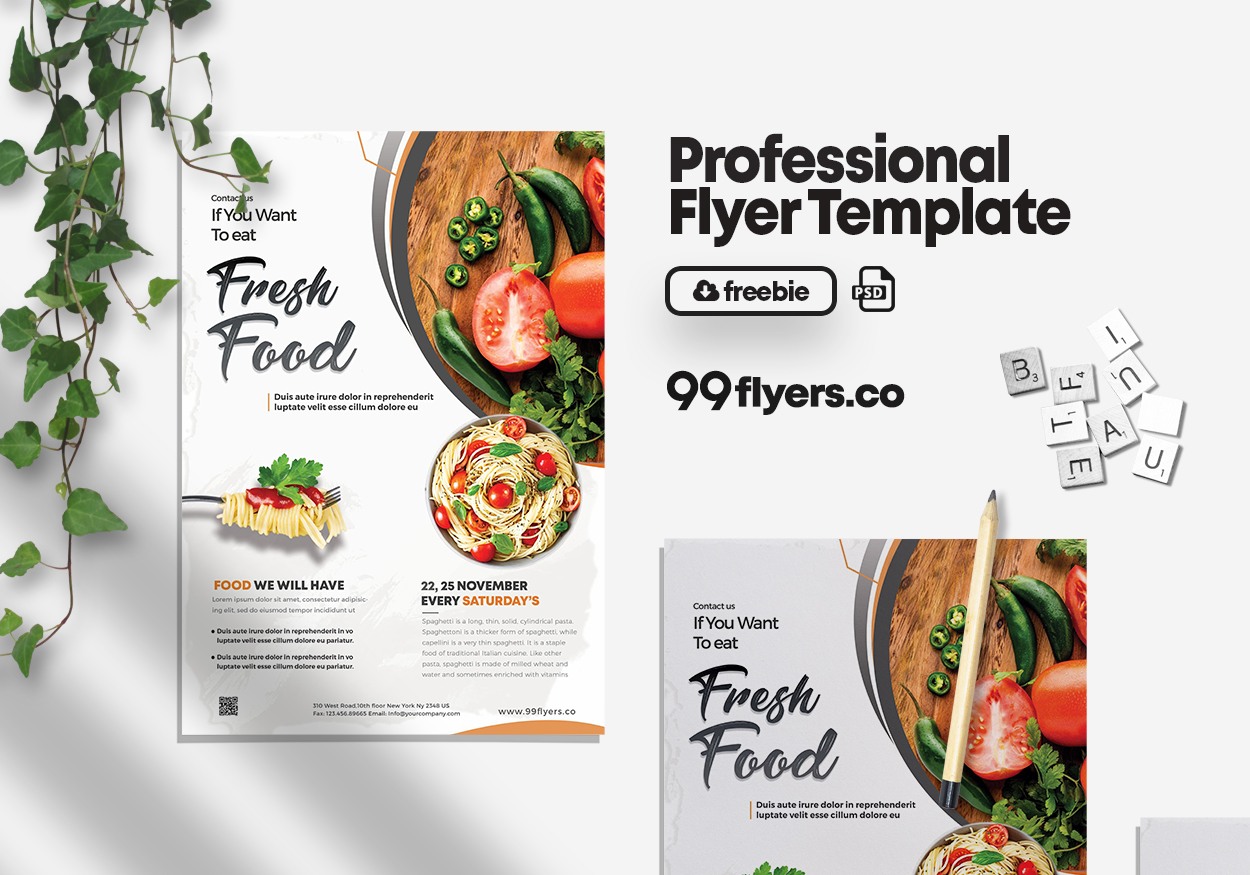 Visit the website
---
Free Template for BBQ Party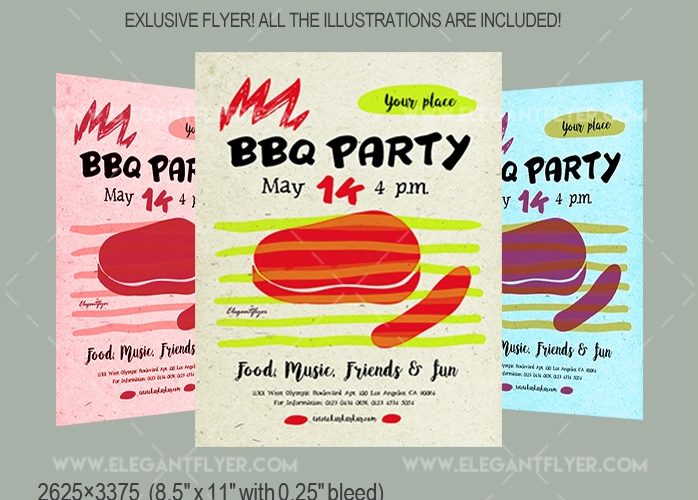 Download
---
Squared flyer for sushi restaurant Free Psd
Visit the website
---
Pizza Party – Free Flyer PSD Template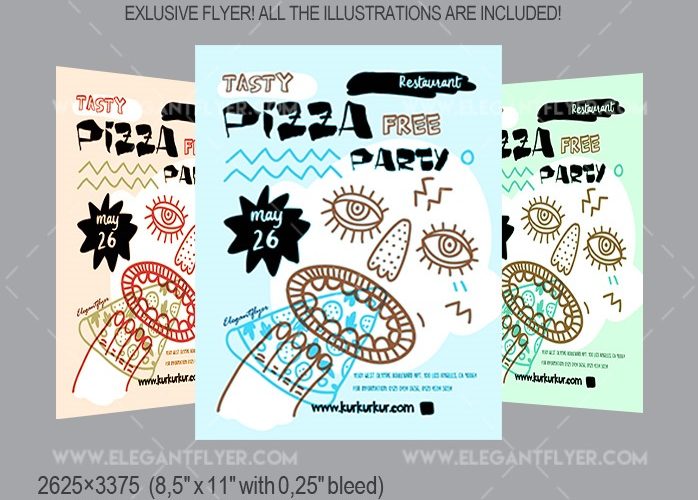 Download
---
Barbecue Weekend – Free BBQ PSD Flyer Template
Visit the website
---
Restaurant poster / flyer template Free Psd
Visit the website
---
Gurman fest – Free Flyer PSD Template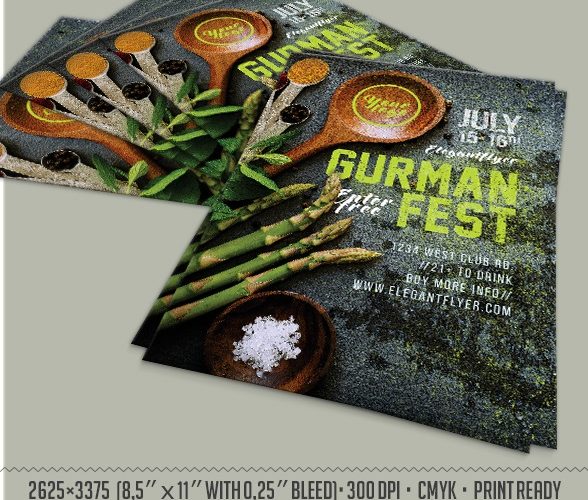 Download
---
Squared flyer for burger restaurant Free Psd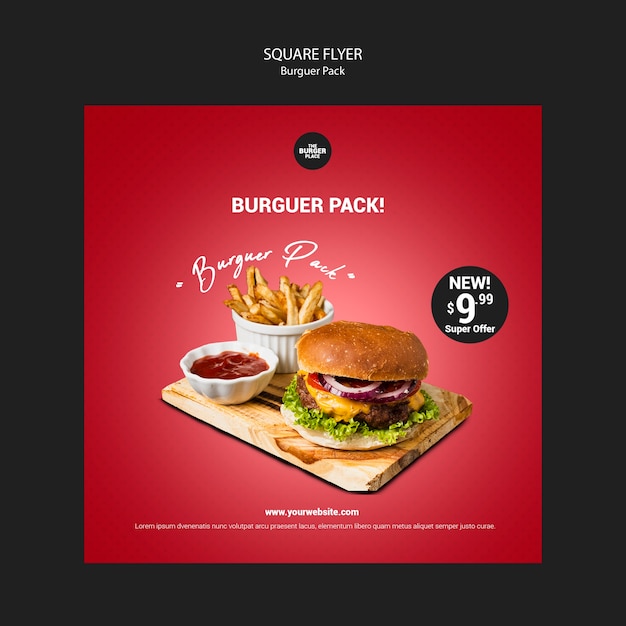 Visit the website
---
Sweet Donats – Free PSD Template + Facebook cover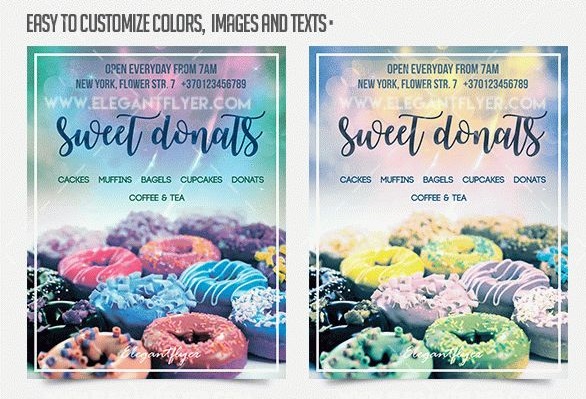 Download
---
Mexican food flyer template Free Psd
Visit the website
---
Free Farmers Market Templates
Visit the website
---
Candy Shop – Free Flyer PSD Template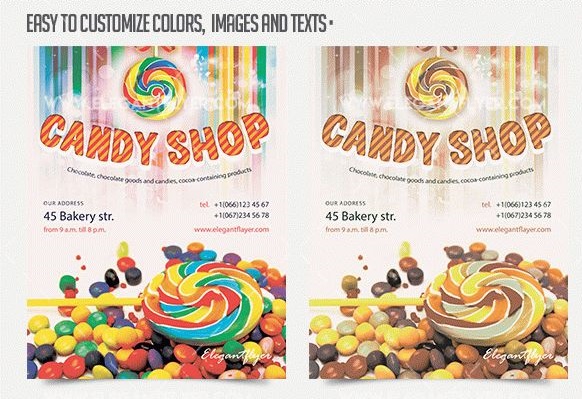 Download
---
Free Flyer Party for Ice Cream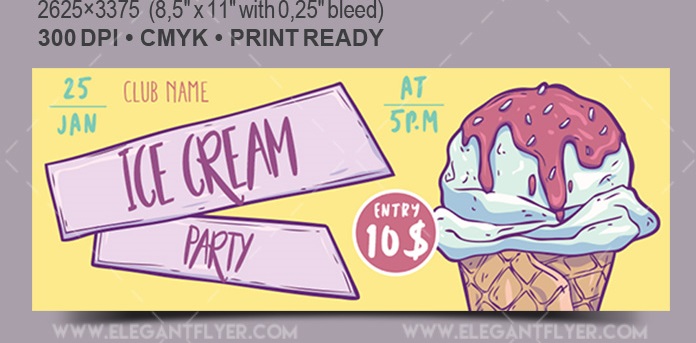 Download
---
Delicious Homemade Pie Free Flyer Template
Visit the website
---
Restaurant – Free Flyer PSD Template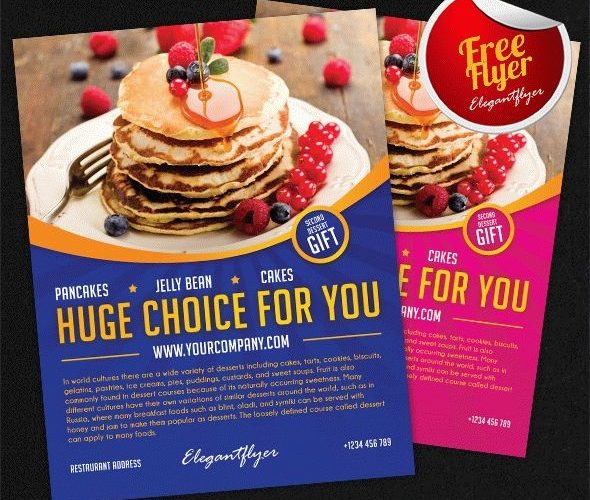 Download
---
Thanksgiving Dinner Poster and Flyer PSD Template
Visit the website
---
Free Flyer For Bake Sale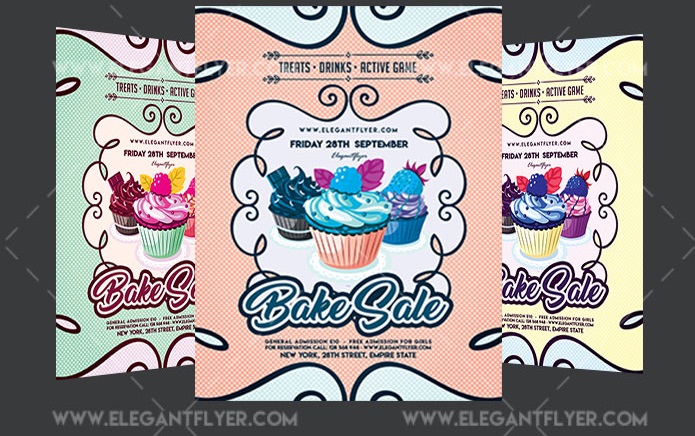 Download
---
Summer Ice Cream Flyer Free PSD Template
Visit the website
---
Kitchen night – Free Flyer PSD Template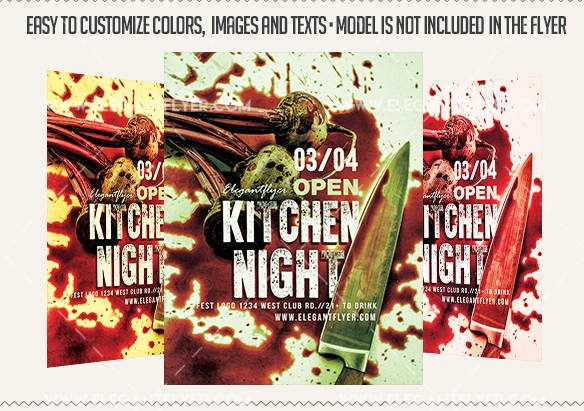 Download
---
Home Delivery Food Flyer Free PSD Template
Visit the website
---
Tasty – Free Flyer PSD Template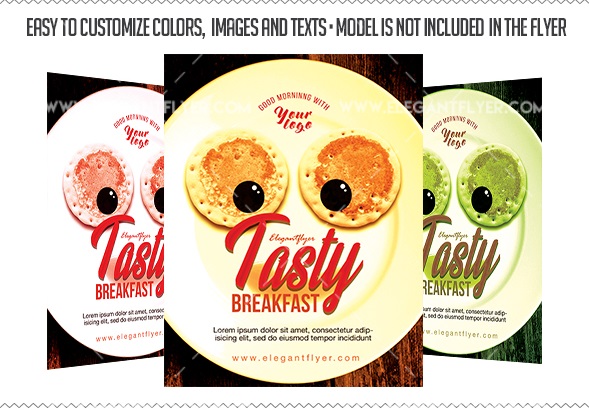 Download
---
Free Bake Sale Flyer Template in Photoshop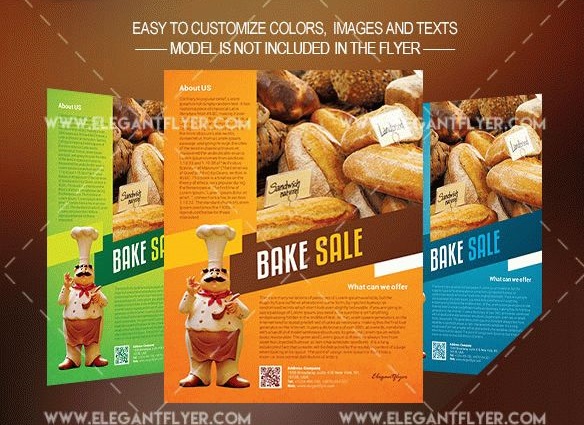 Download
---
Summer ice cream flyer psd template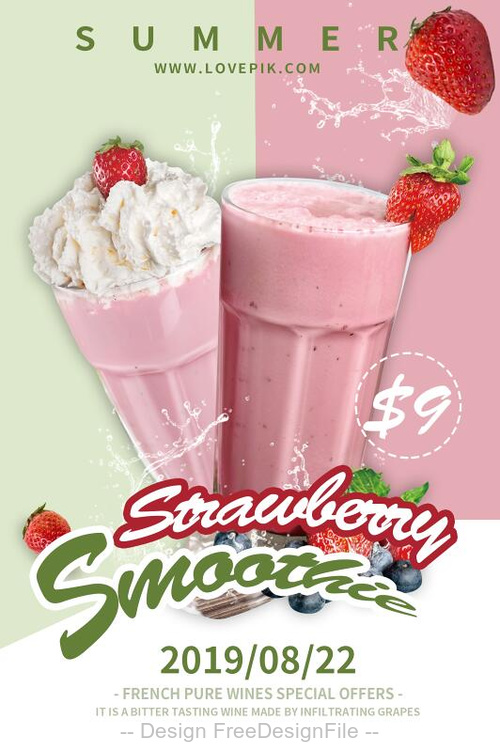 Visit the website
---
Supermarket Fruit Promotion Psd Flyer Template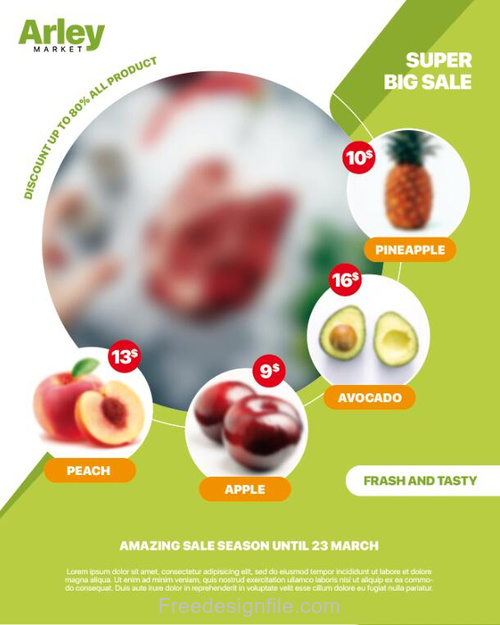 Visit the website
---