Vector icons can work as effective accents in your graphic design. The icons that feature food might be the most diverse and colorful out there. In the extensive collection below we've gathered 35 dainty packs of free food icons. Without a doubt they can add taste and style to the websites, online blogs, presentations, apps, menus, and other printed items.
To complete this list we've searched through such amazing online resources as https://free-psd-templates.com/, https://graphicsurf.com/ and other professional sites, and chose only the best sets for you. So, start scrolling this page to enjoy the visual treat!
---
1. Bakery Icons
 Whether you are a professional baker or an amateur, this hot set of Bakery icons will help to express your passion towards cakes and cookies. Download the free pack in one file, and enjoy editing it to make the images match your projects.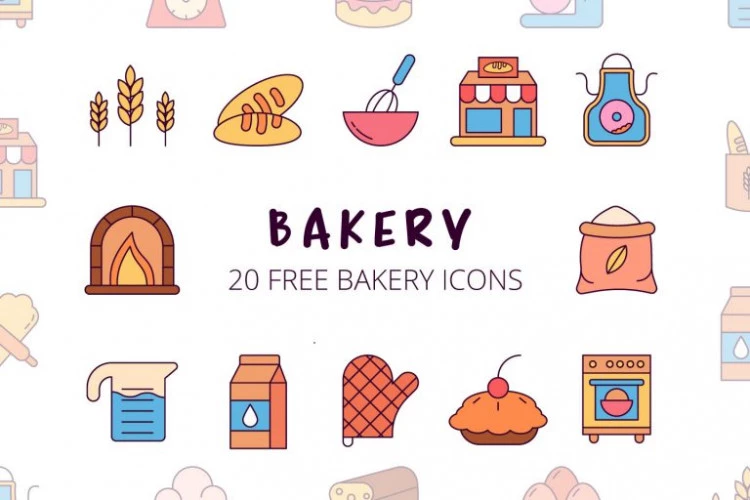 Download
---
2. 20 Fruit Icons
 Sweet colors and playful design of this free Fruits icon set will please anyone's eyes. You can use it not only for food related projects, but also to add a colorful accent or some summer vibes to your design.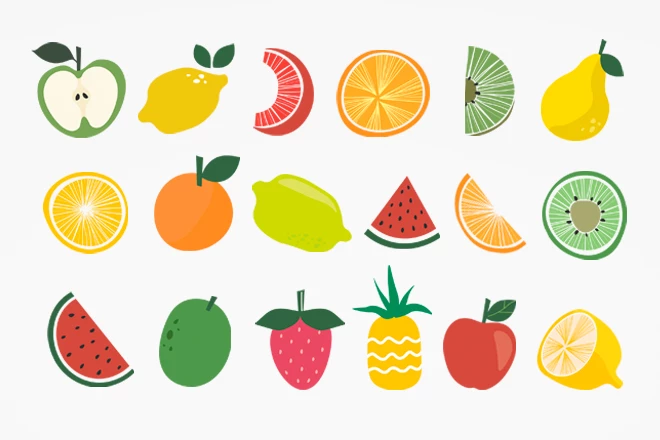 Download
---
3. Coffee Icons
The majority of people can't imagine their life without coffee. A stylish pack of 20 icons presented here can be a great choice for promotion of your coffee shop. Choose among different types of coffee and dainties that go with it to please every customer's taste.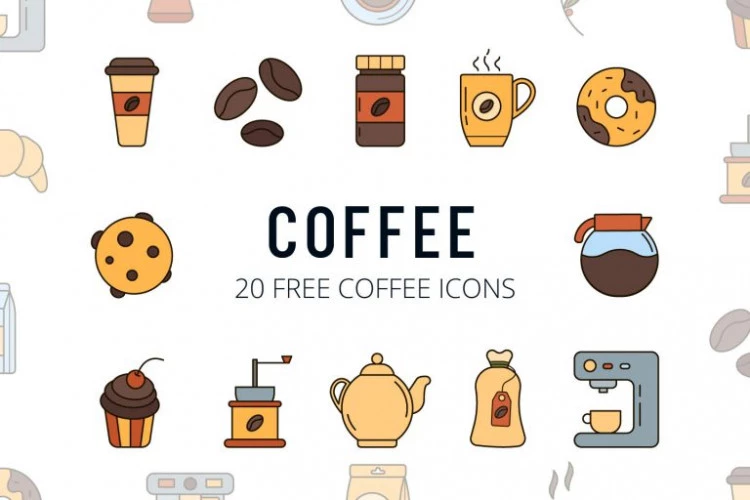 Download
---
4. Catering Icons
 Pay attention to tis simple but detailed catering icon set. Stylish colors and linear style making an awesone combination. Use these icons to brighten up your webpage or printed products.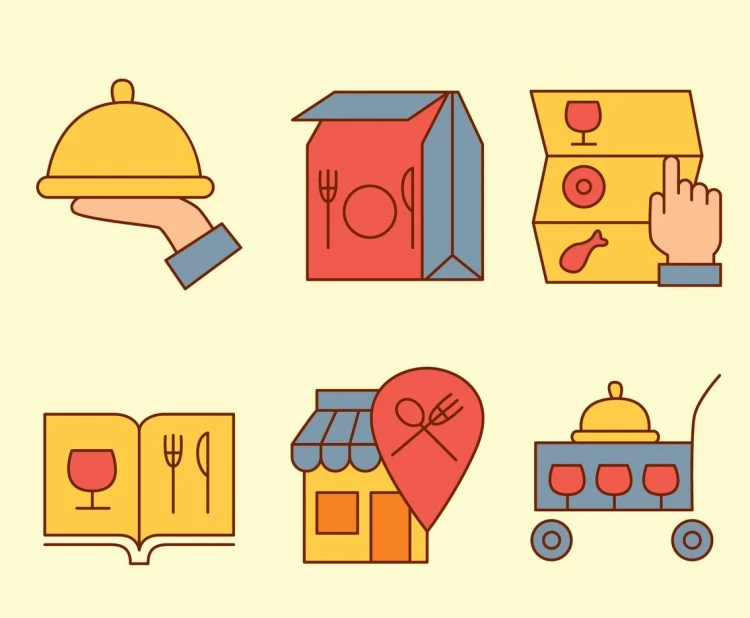 Visit the website
---
5. Asian Food Icons
 Sushi is a beloved dish of many around the globe. Feel free to use these tasteful Asia Food icons for print or web design. The set is fully editable in Photoshop. Modern look of the icons will make any customer drool.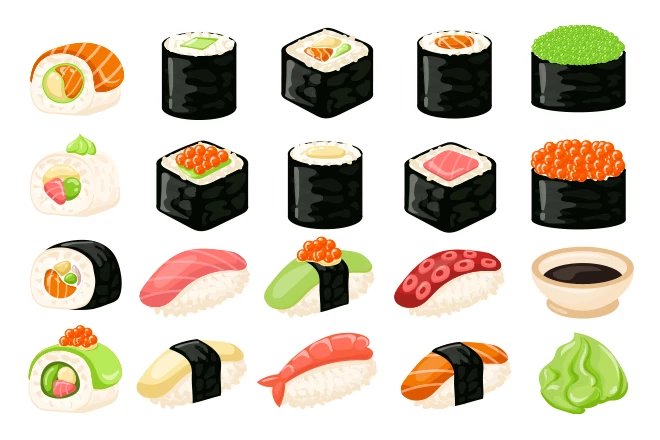 Download
---
6. Food in Cans and Jars Icons
 The variety of foods that can be stored in cans and jars is endless. An extensive pack of food icons here can impress anyone with its bright palette and diversity. Download this editable set for free and pick an image that matches your idea.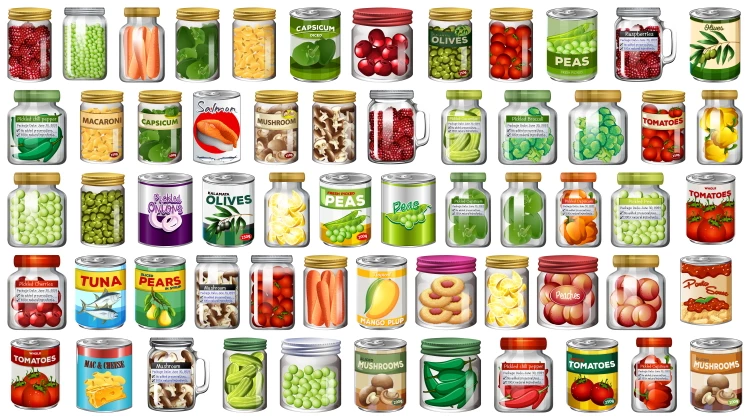 Visit the website
---
7. Food Icons
 Sometimes, simplicity is the key. Use this multipurpose set of Food icons for your cooking web page, social media blogs, or a printed restaurant menu. Although black color and line design look stylish and somewhat formal, you can instantly change the palette in PS.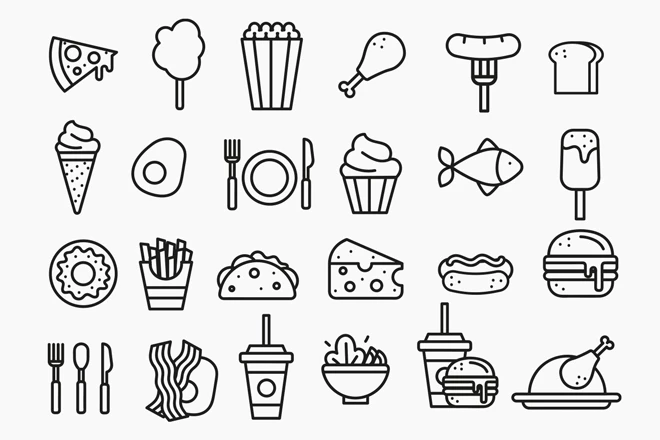 Download
---
8. Fruits and Berries Icons
 Make your customers crave for delicious fresh fruits with this amazing set of icons. They are great both for web pages and printing. Save the whole selection of 20 unique images free of charge, and choose between two options – black & white or colored.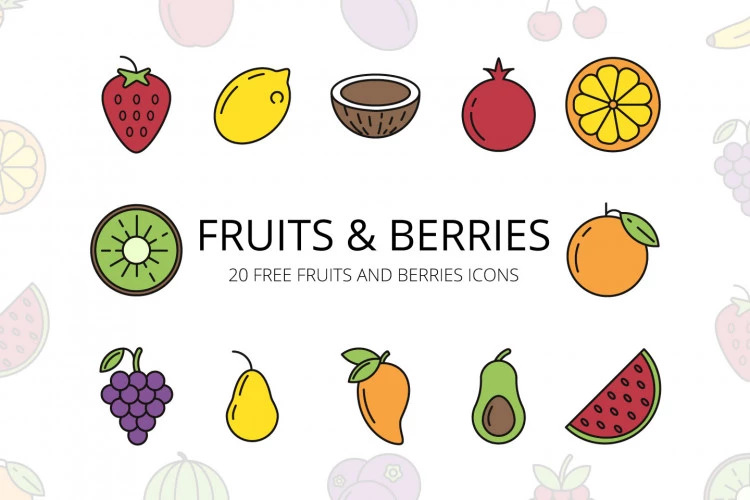 Download
---
9. Fast Food Icons
Although fast food dishes might not be too healthy, almost everyone loves their taste. Tempt your followers and buyers with this yummy pack of Fast Food icons. You can use them to design a catchy menu or place them on your social network page.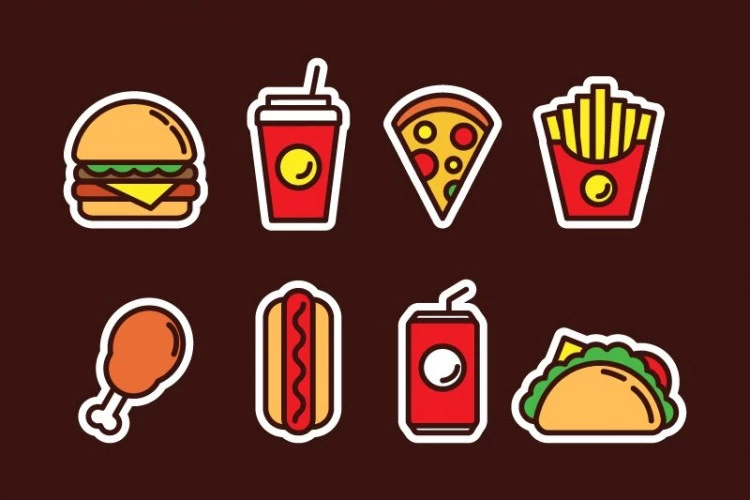 Visit the website
---
10. Restaurants and Cafes Icons
Having a meal out of home is always a special and fun event. Take a look at this massive Cafes and Restaurants set to choose the icons that match your place. A coffee house, a pizzeria, a candy shop, and many other eateries are all presented in this pack.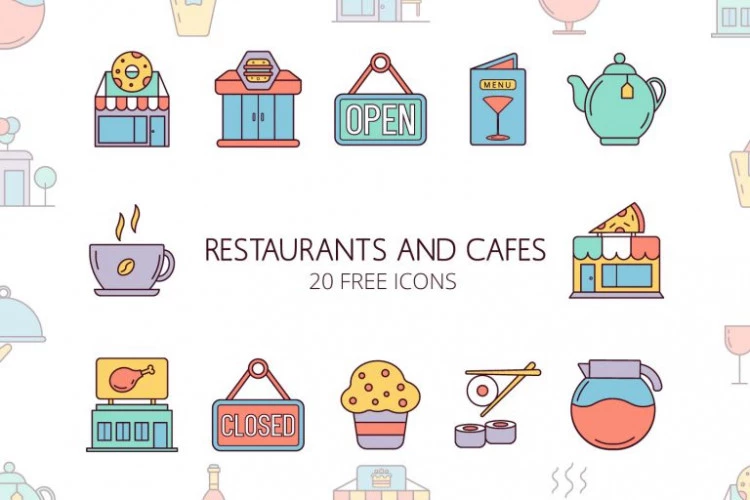 Download
---
11. Fast Food 3D Icons
 Contemporary look of these 3D icons will stir excitement among all fast food lovers! Download a cool pack which features such popular dishes as burgers, French fries, fizzy drinks and more. Realistic shapes and colors are awesome for web, advertising and printing.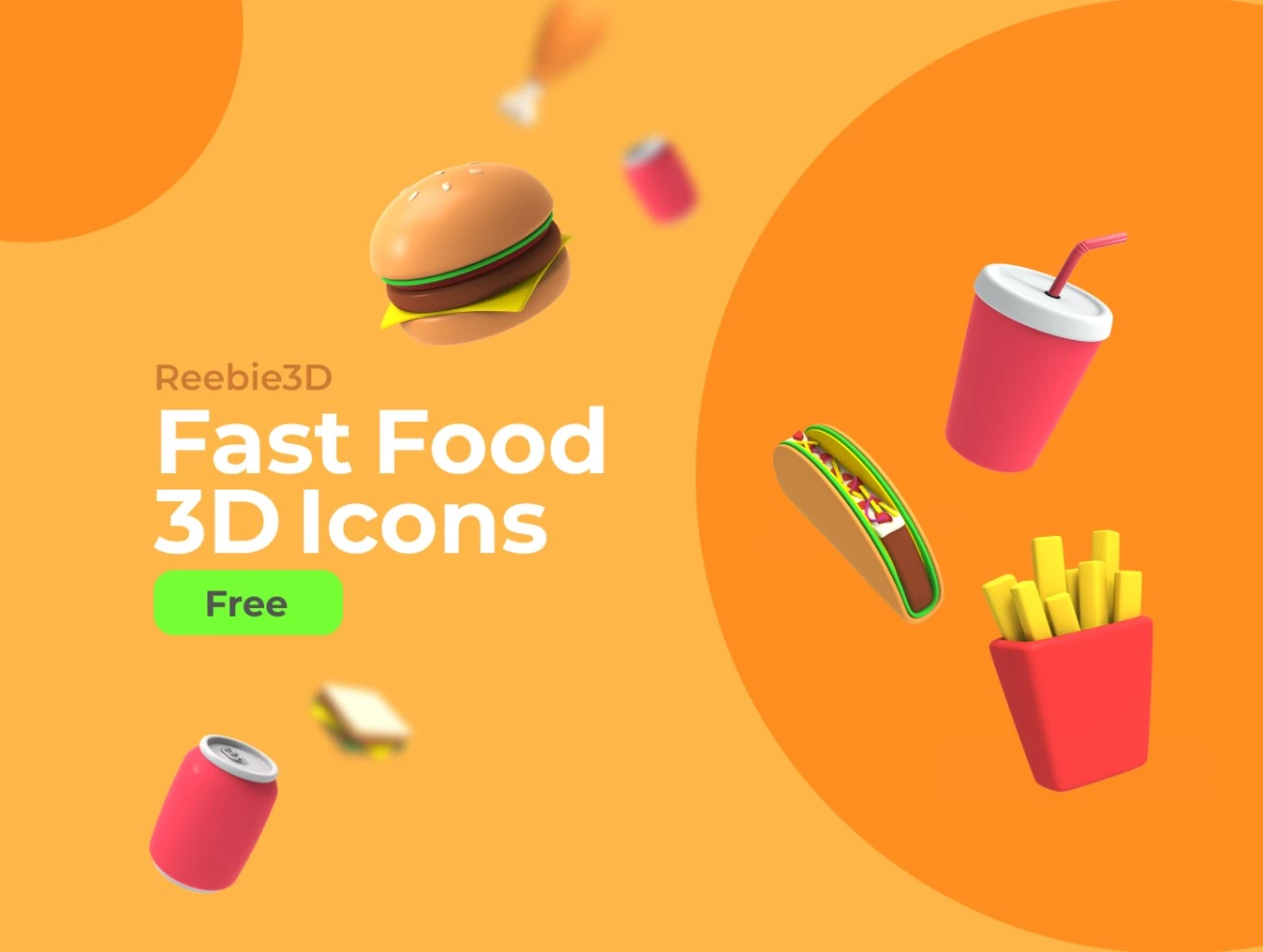 Download
---
12. Fruits and Vegetables Icons
We are certain that having looked through this vast pack of 64 Vegetables and Fruits icons you'll find a great match for your graphic needs. Cute shapes and cartoonish style of the icons will please anyone who sees them on your page or printed goods.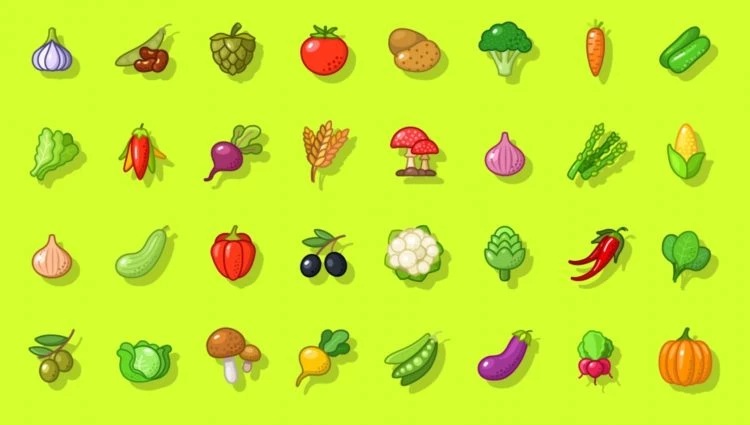 Visit the website
---
13. Sushi and Rolls Icons
 Tasty icons of popular Japanese food can water anyone's mouth. Minimalistic and pleasing to the eye, these images will add cool accents to your blog or prints. Do not hesitate to save this free pack, and edit it in no time with the aid of Photoshop.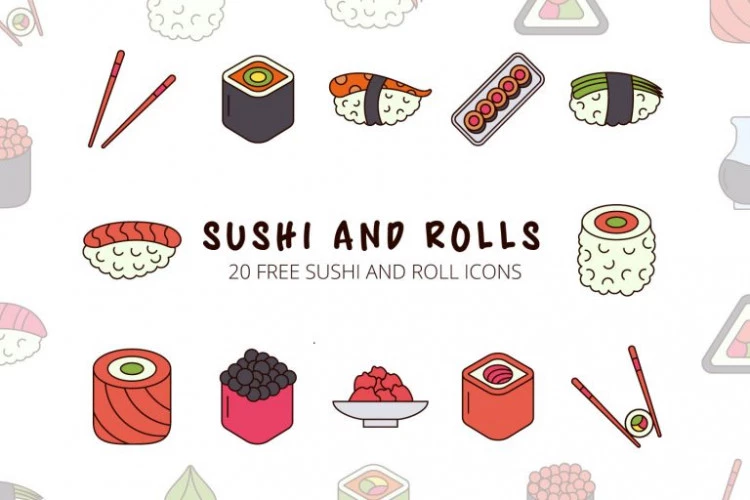 Download
---
14. Food Icons
We guarantee that this free set of Food icons will amaze you with its diversity. Why? Because in one file you'll find 1000 of unique icons, presented in four styles, multiple colors, and various shapes. Here you can find anything from apples and pizza to a lobster, mushrooms and green beans – you just name it! Save the whole selection now, and cover every graphic need with these icons.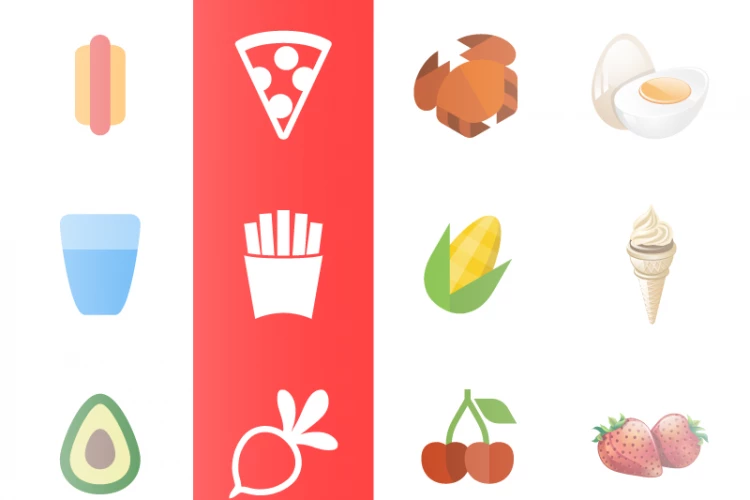 Visit the website
---
15. Sweets Icons
 No matter how old your customers and followers are, they won't resist tasting some chocolate, candies and cookies. Download this customizable pack of Sweets icons that will excite any sweet tooth out there. Lollipops, croissants, ice cream and other dainties are all included in one file.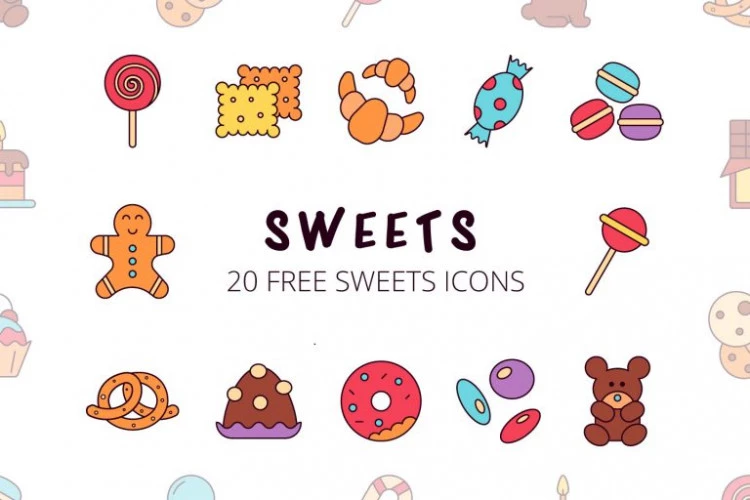 Download
---
16. Food and Drink Icons
Creating unique designs in vector is easy and enjoyable. These minimalistic Food and Drink icons in dark blue can be used anywhere – from websites to mobile apps and textile printing. You can play around with scales and colors easily in PS.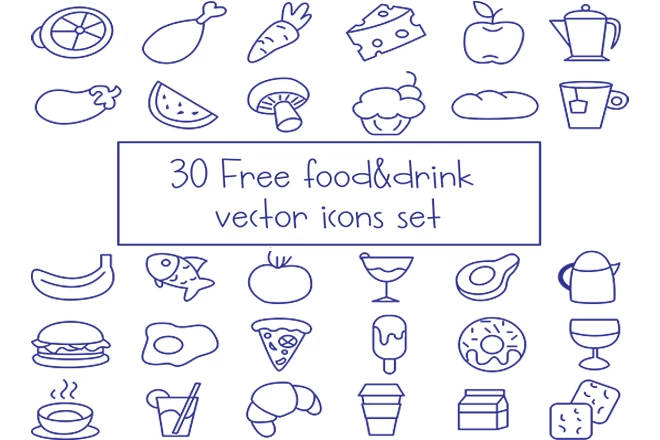 Download
---
17. Cooking Icons
 Find different types of dishes and items related to cooking in this adorable set. Switch between two color options, and open the free file in Photoshop, to adjust the images for your personal or commercial needs.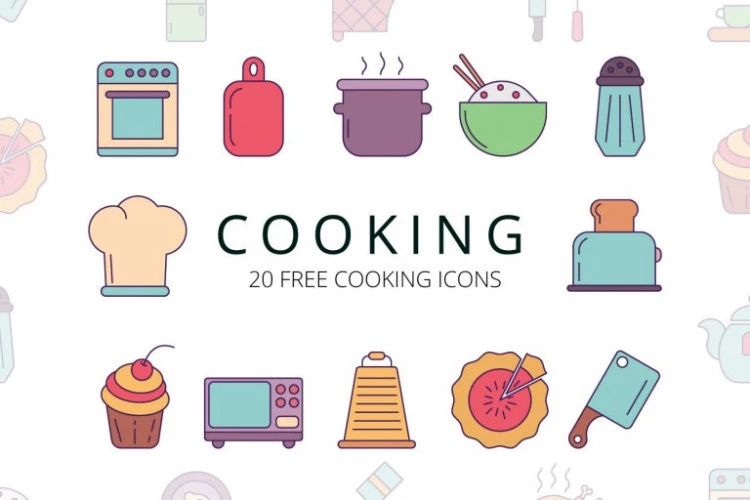 Download
---
18. Food Icon Pack
You don't need much to draw the customers' attention to your projects. Simplicity of shapes and reserved black color of this Food pack can add a stylish note to your online pages and print. Enjoy customizing these vector images and create unique content.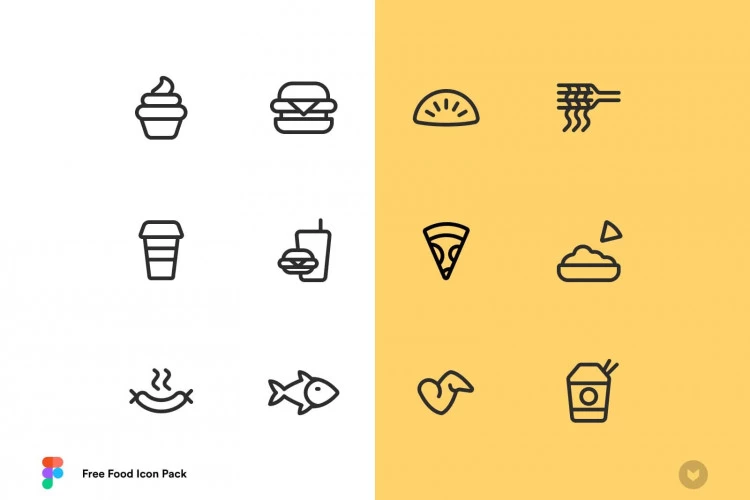 Visit the website
---
19. Pizza Icons
The more pizza the better! Draw the looks of your clients with these free appetizing icons. Aside from different pizza types and ingredients this set includes the items that one can easily associate with the iconic Italian dish.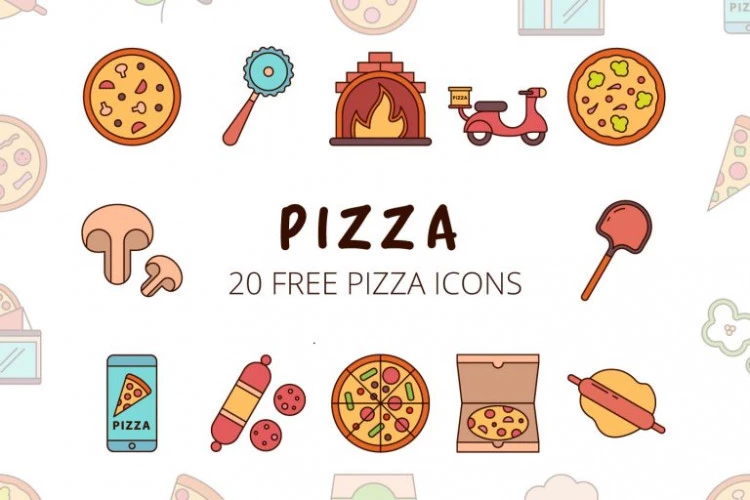 Download
---
20. Coffee Icons
This elegant set of editable vector icons was created to please the eyes of every coffee lover out there. Exquisite details and dark brown color are perfect to present your cozy coffee shop. Save the pack in one click for free, and use it to make your website and menu look charming.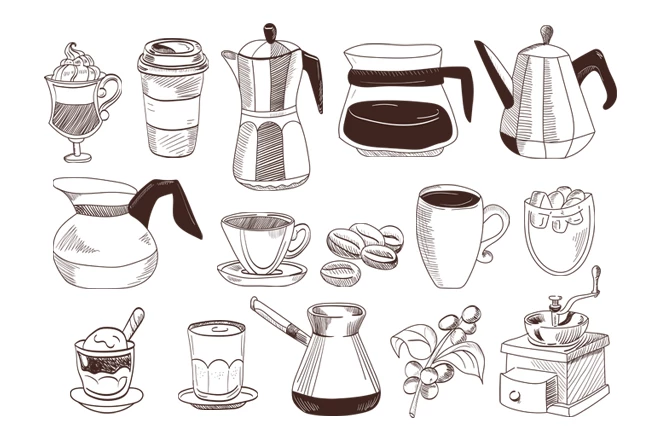 Download
---
21. Thin Line Fast Food Icons
Fast food is not all about hamburgers and Cola – it can be versatile and healthy despite what many might think. In this range of stylish icons you'll find fish, eggs, BBQ, chocolate and more. Save the line vector images in one file, and have fun applying it to your graphic projects using Photoshop.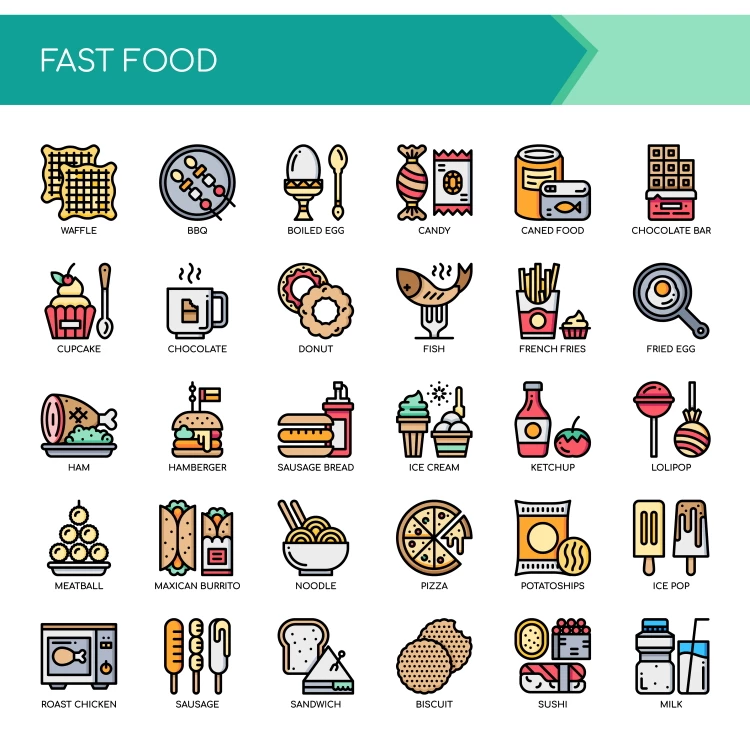 Visit the website
---
22. Food Icons
Make your food blog, café webpage or a menu look eye-pleasing with the fine array of vector food icons. Whether you pick black line images or go for the joyful color option, your clients and online followers will enjoy it.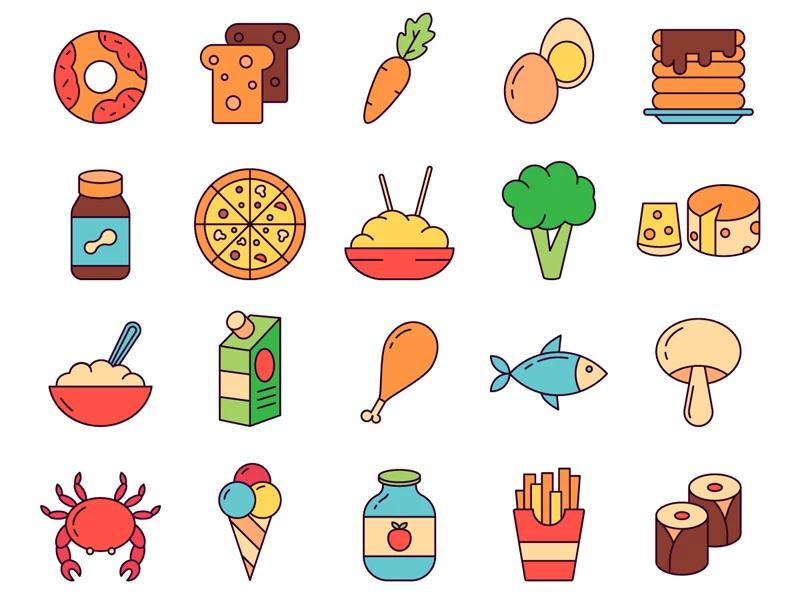 Download
---
23. Fruit Icons
 There's no other such amazing food like fruits as they come in all possible colors, shapes and tastes. From common and seasonal to exotic – most various kinds of fruits are presented through the tasteful icons in this splendid set. Feel free to save and customize it in PS.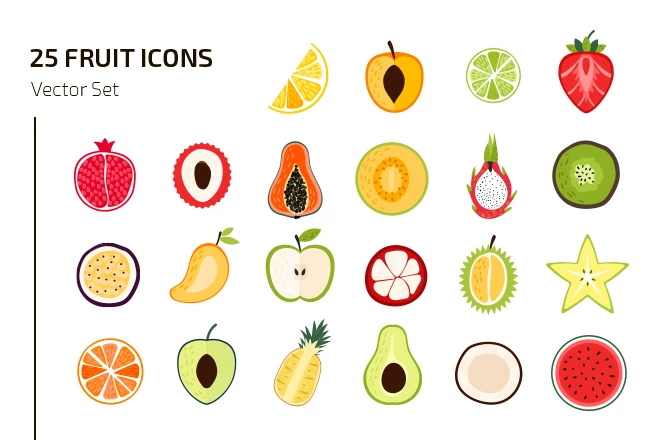 Download
---
24. Cafe Icons Set
 Pleasant clean shapes and three color options make this set Café icons apt for different projects. Add a stylish touch to your website or print a visually pleasing menu with the help of these professional vector icons.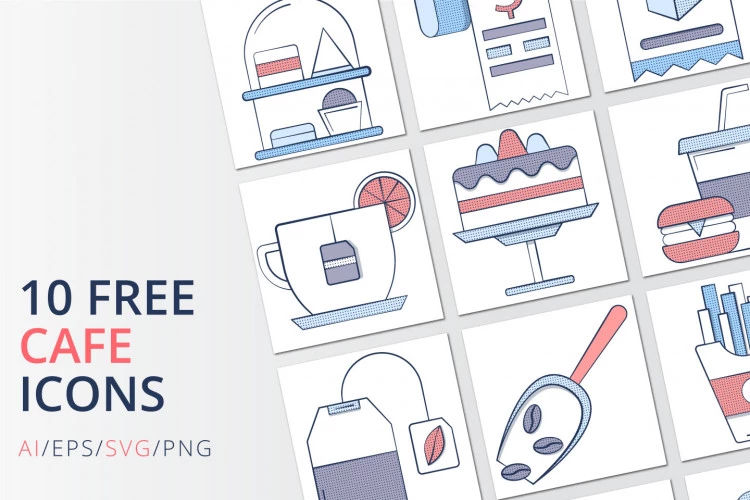 Download
---
Round Wine Icons
Express the winery vibes with this magnificent pack of icons. In the free file you'll find images of grapes, refreshing wine drinks and cheese. Flat design with shadows and vibrant colors will make everyone fall in love with your projects.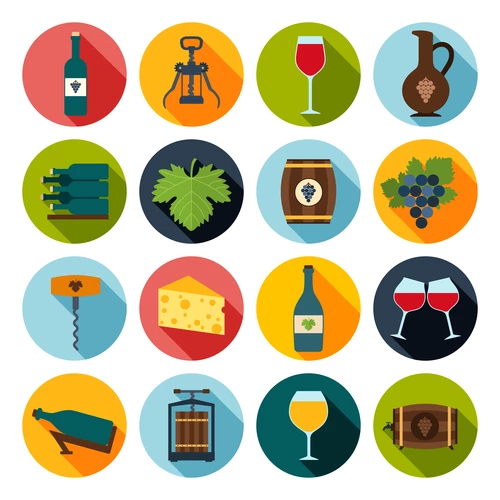 Visit the website
---
26. Handdrawn Kitchen Icons
Use this stylish selection of icons for your site, store or a printed catalogue. Hand drawn style makes every item – be that a simple spoon or a fancy glass – look classy.  Your clients won't miss these icons that you can edit within minutes in PS.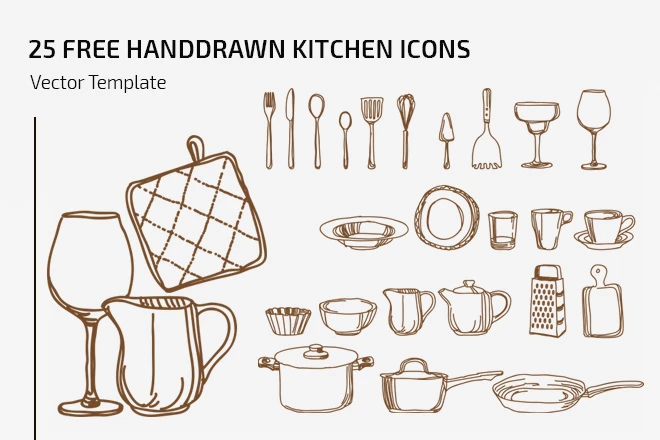 Download
---
27. Cartoon Breakfast Icons
Use this adorable pack to choose the perfect icons for your breakfast menu or other graphic needs. Sweet and funny, the images will help to share your happy mood. Have no doubts to save the pack, and enjoy adjusting it in PS.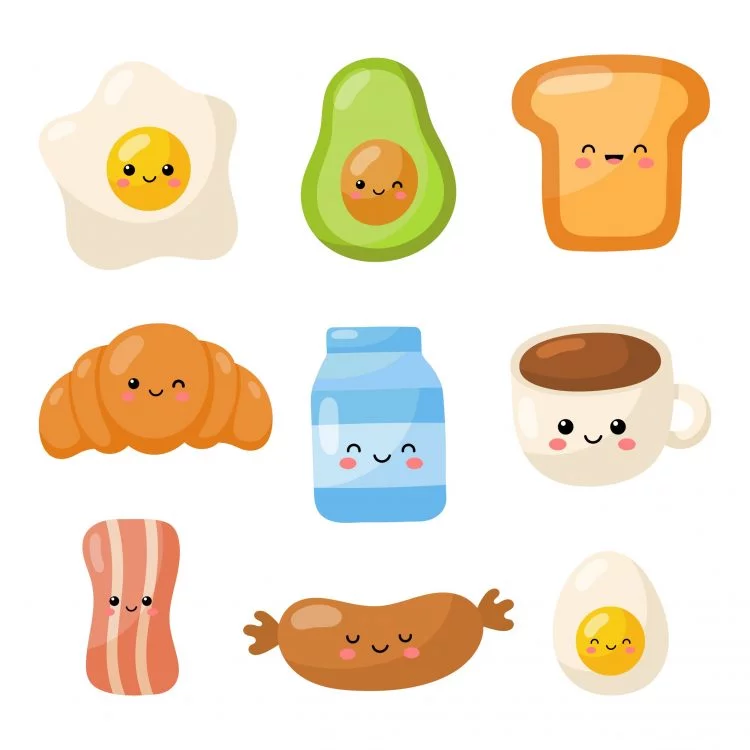 Visit the website
---
28. Food Icons
Free set of nine food icons presents some popular tasty dishes. Flat style and soft palette will speak out to the clients and followers online. Download the sleek pack for free, and customize the scales and colors in vector.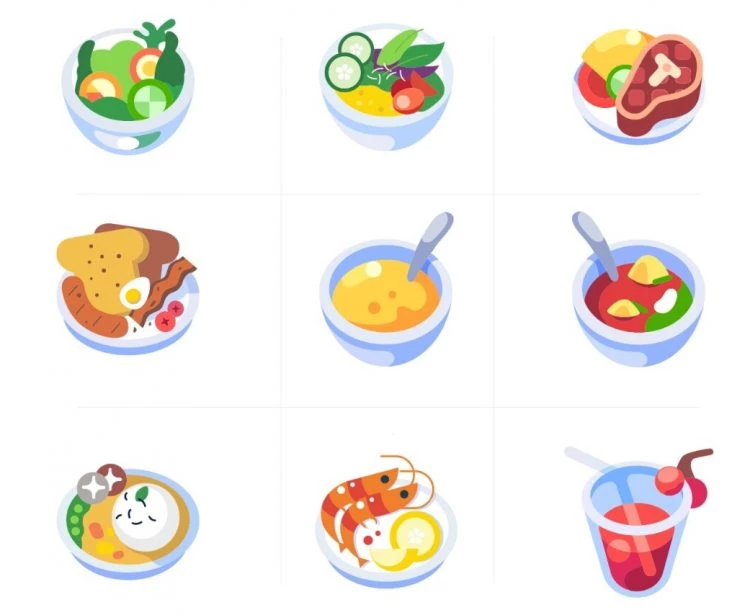 Visit the website
---
29. Kitchen Icons
An apron, a cup, a microwave – this array of vector icons includes the items that can be found in any kitchen. Use it free of charge for bright accents in your cooking blog, or for other online and printing projects.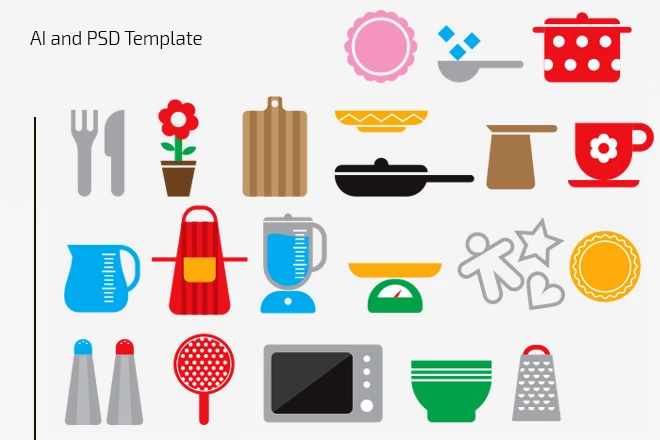 Download
---
30. Monochrome Thin Line Fast Food Icons
Make your fast food menu look modern with this wide range of icons in black and neo mint. Striking color elements will draw maximum attention from your clients and followers alike. Choose between popular dishes such as pizza, donuts, sandwiches and much more.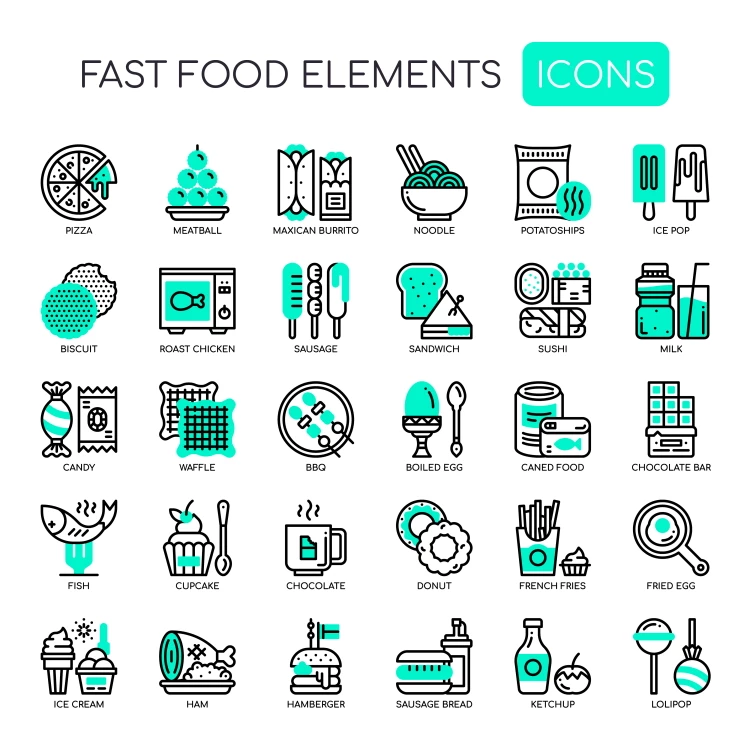 Visit the website
---
31. Food Icons
The smart design of these line food icons is accomplished by a variety of backgrounds. You are free to choose between several vivid colors, black and white. The customizable icons feature various types of dishes and drinks which makes them perfect for an online or printed menu.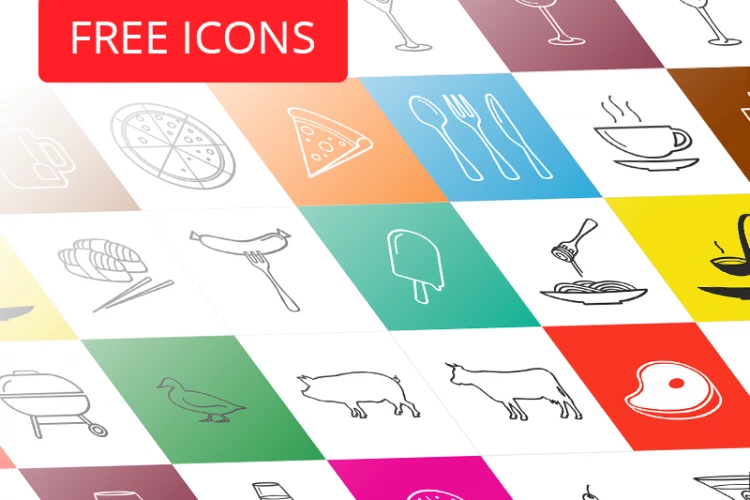 Visit the website
---
32. Food and Drinks Icon Set
 Enjoy using this ultimate set of free Food and Drinks icons. Simple yet adorable, they will easily interest your clients. You can opt for pastel colors or reserved black lines. Vector format allows you to adjust the icons for any project.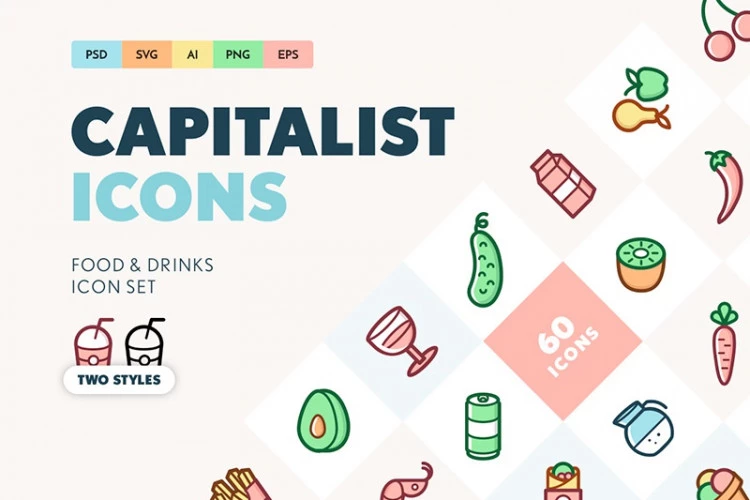 Visit the website
---
33. Healthy Fresh Food Icons
 Prove that healthy food can be attractive and yummy with this cool set of fruit and veggies icons. Natural colors and sleek shapes can easily attract anyone. Save this rich variety of images for free, and make them apt for your needs in Photoshop.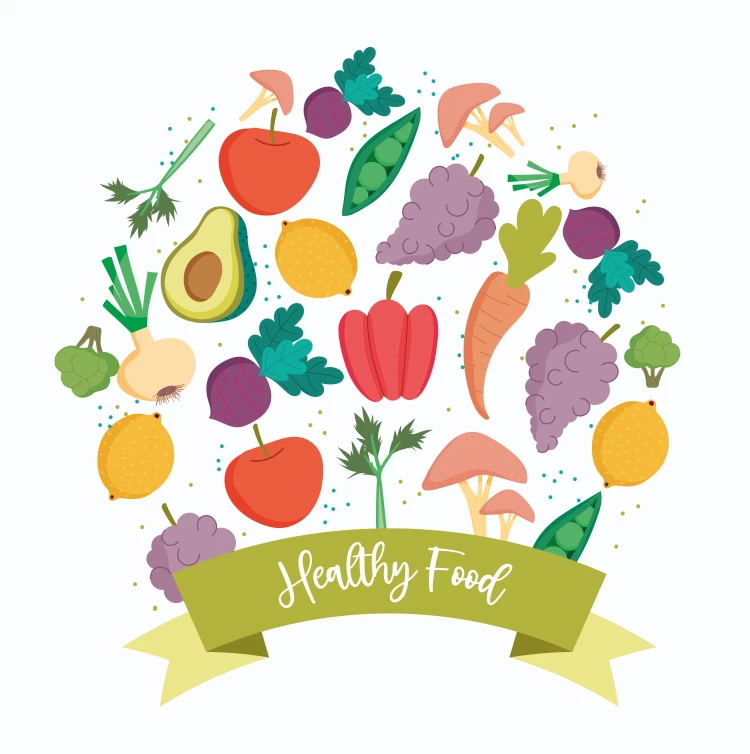 Visit the website
---
34. Fruit Icon Pack
A delicious set here includes icons of single fruits as well as cool combos such as banana and orange or mango and pineapple. You can use them for presenting healthy smoothies on your menu. The other possible options are the icons of an online blog on gardening or a site of a produce market.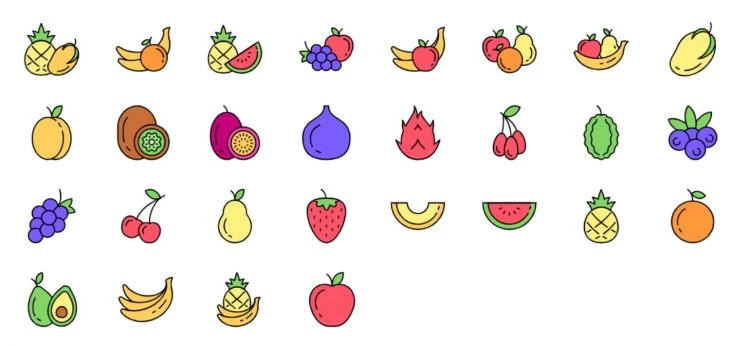 Visit the website
---
35. Chocolate Desserts Icon Pack
 Amazing icons in this free pack will make your customers crave for a dainty dessert. Present special offers in your café with style – we guarantee that with these exclusive images they won't go unnoticed. Download the vector set for free, and play around with palette and scales in graphic software.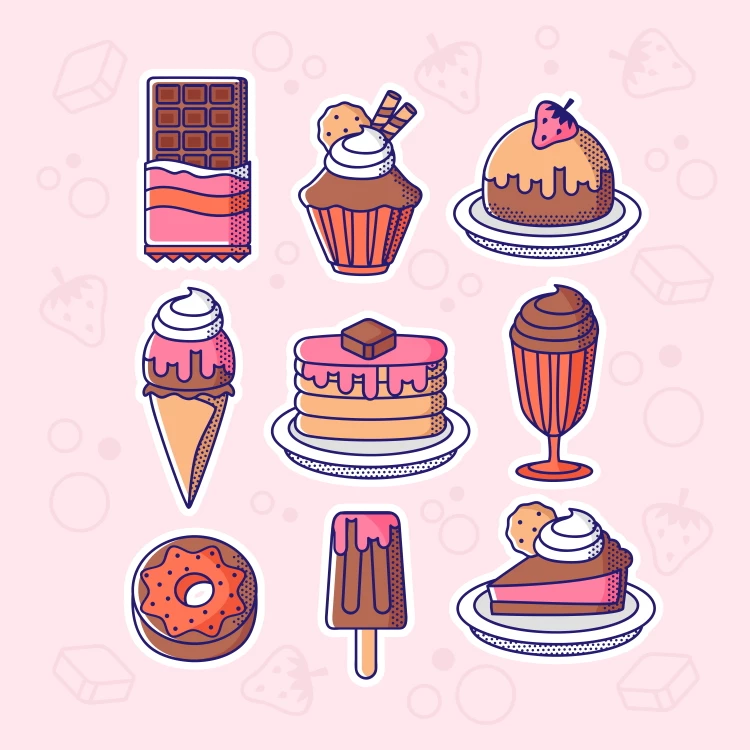 Visit the website
---
We hope that you enjoyed looking through this wonderful collection of free food icons. It includes only top class vector images that will make your printing and graphic projects successful!