Download the Free Finance Isometric Icons Set and add a dash of creativity to your design projects. These icons feature a couple of credit cards, a stack of coins, a piggy bank, a diagram, and other designs. Their shapes are simple, rounded, and smooth. Since the color palette is bright and cheerful, the icons will make a lively addition to your resources. The available formats PSD, AI, PNG, and EPS allow trouble-free adjusting in various applications. The uniqueness of isometric icons lies in their ability to offer a 3D perspective. As a result, your designs and projects become more vibrant and dynamic. Any creative professional can greatly benefit from this download. Offering a mockup of the finance world in miniature, these twelve unique isometric icons are a must-have.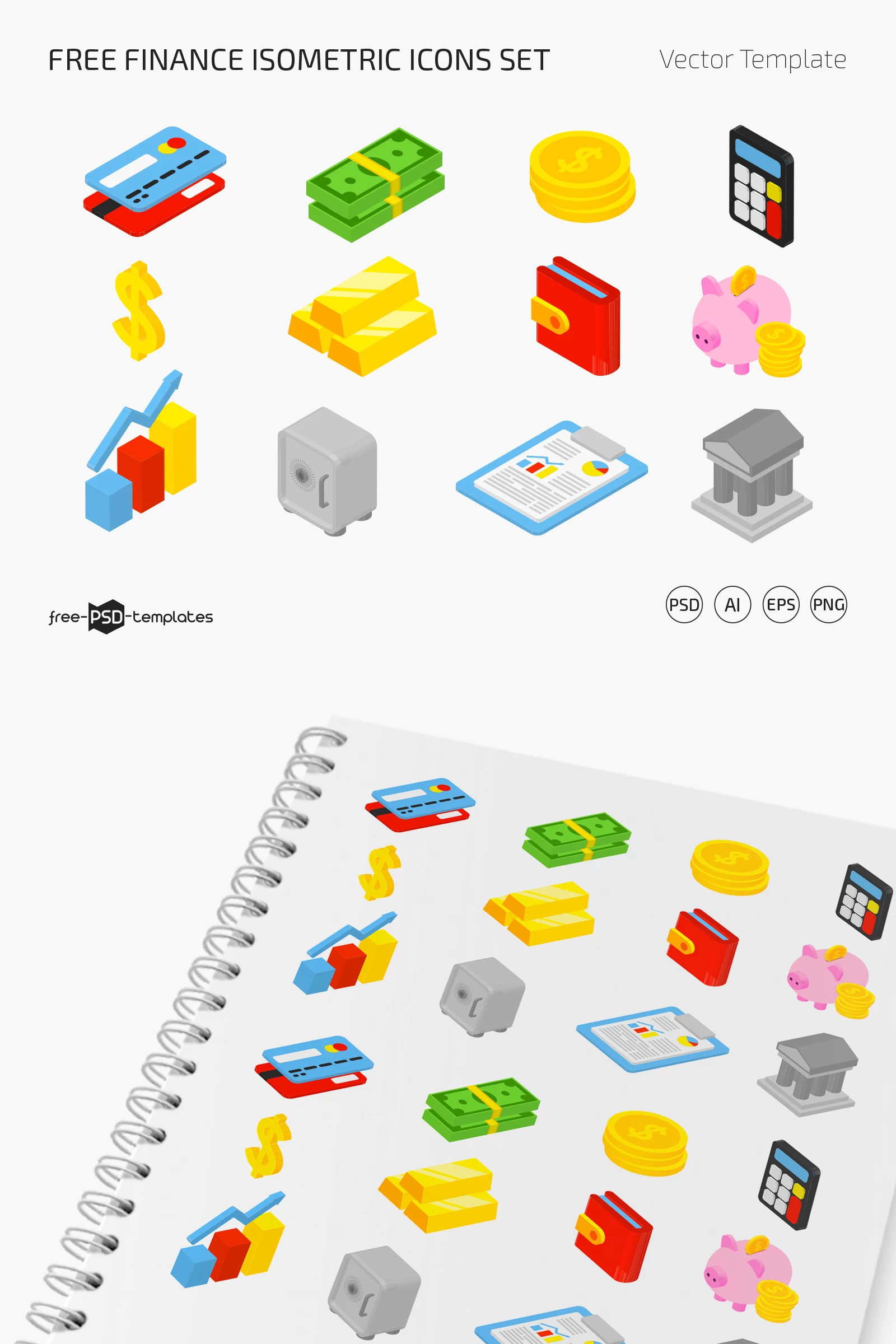 How can you personalize this icon pack?
A sure advantage of this icon collection is that you can instantly personalize it in Illustrator, Photoshop, or other software. It's enough to open the original file in an app and select the icon design you wish to modify. Particularly in Photoshop, you can edit the color scheme, resize the icon, or even tweak the shape with the help of the available tools. Meanwhile, in Illustrator, it's possible to change the fill color for more precise customization. Once edited, the icons can become a better fit for your project, whether it's a website, an app, or a financial report. Overall, you can use this kit to represent financial concepts or services in an engaging manner that enhances the user experience.
Why should you download this icon bundle?
A download of the Free Finance Isometric Icons Set will bring you nothing but perks! Firstly, as you save our original file in vector, you get access to twelve matching icon designs. Secondly, we believe that you'll enjoy the process of personalizing these designer materials in Illustrator or other software. The fresh, lively, and modern look of these mini-creations will surely appeal to the potential customers of the projects you're currently working on. Meanwhile, the royalty-free license grants that there'll be no limitations as you use the icons for commercial and personal needs. Don't hesitate, and get the bundle now!
Download