Download our Free Marketing Isometric Icons Set! This pro-level product offers twelve superb vector icon templates joined by the topic of marketing. In particular, here you'll see a target, a magnet, a loudspeaker, various diagrams, and more. As with any isometric graphics, these icons look modern and visually engaging. 3D shapes surely give a sense of perspective and depth.  They will be of great use to marketing agencies, graphic designers, digital marketers, and basically anyone in need of informative and catchy digital content.
Thanks to the variety of such formats as PSD, AI, PNG, and EPS, users can easily personalize the original set in Illustrator, Photoshop, and other programs. The brisk colors and the unique look of the icons will surely draw the attention of site visitors, clients, and potential buyers.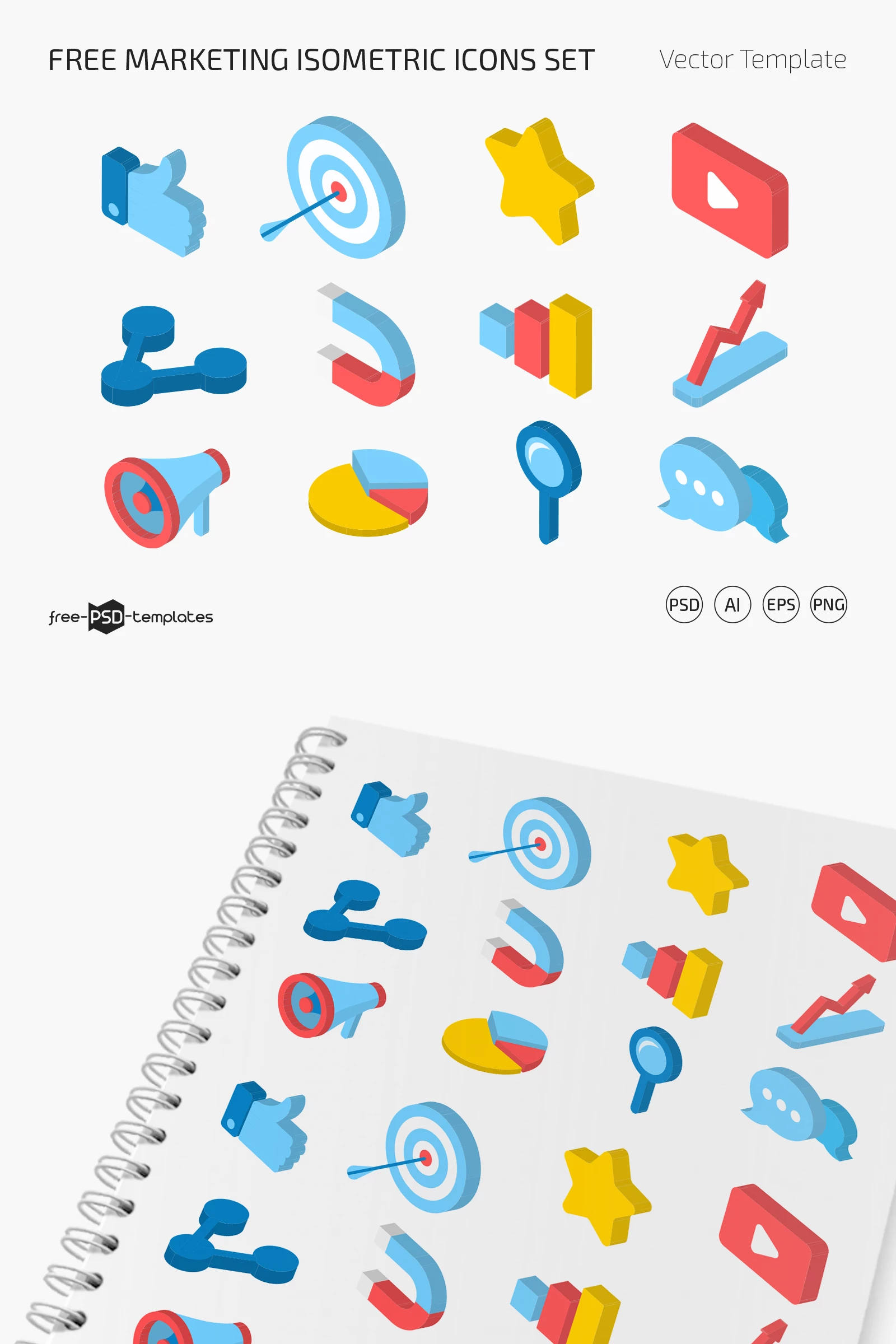 How can you customize this icon pack?
Firstly, users can alter the color scheme using the picker tool, in order to make the icons match their branding preferences. Secondly, it is possible to adjust the shapes of the icons, to make them fit one's specific needs. Besides, users can add any text with the help of the type tool, in order to use these samples as part of their marketing campaign. Finally, one can combine any of the twelve icons, or tailor new ones. The editing possibilities are endless!
Why should you download our isometric icon pack?
Download our Free Marketing Isometric Icons bundle now! First of all, this product will supply you with twelve unique, pro-level samples at no cost. Secondly, our pack is easy to modify and include in bigger design projects. You don't have to be a design pro, in order to make the desired adjustments. Finally, with the free license, users will face no limitations using these designs for whichever needs. Go ahead, and get our fantastic product now!
Download