Go ahead, and download the Free Isometric Balloon Icons pack right now! We've created this amazing kit for anyone looking to bring a festive and fun touch to their new projects. Inside the file, you'll find a whopping twelve fantastic balloon designs. The diversity in this pack is truly impressive! Firstly, we offer five sets of smaller balloons, each with unique shapes and colors. Secondly, there are four bundles featuring different numbers of balloons floating in the air. Lastly, you'll also find a breathtaking balloon wreath, an arch, and a massive column. You can easily incorporate it into your ongoing creative projects using popular design programs like Illustrator and Photoshop. With available formats including AI, PSD, PNG, and EPS, you can choose the tool that suits you best.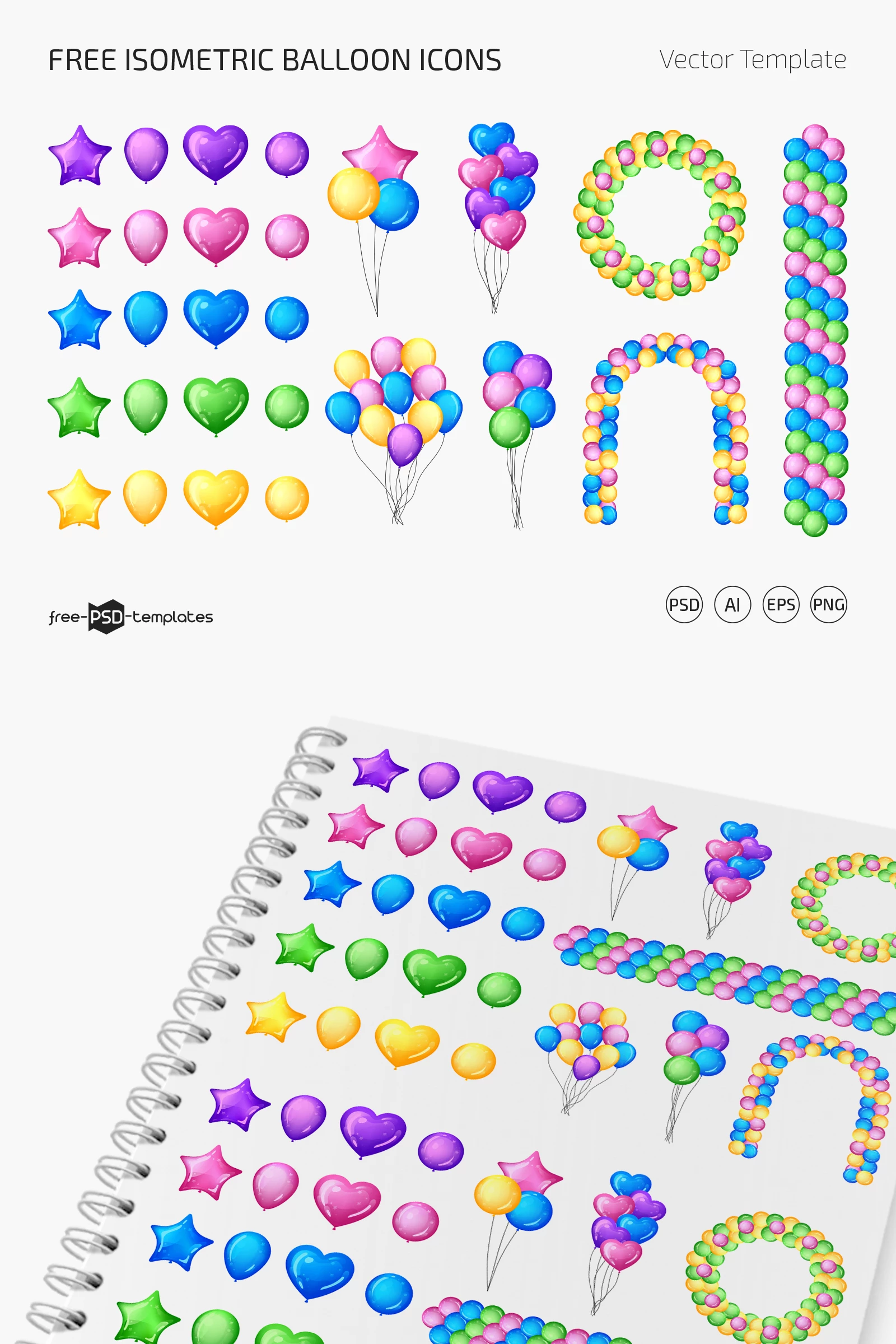 How can you personalize these vector templates?
To begin with, you have the freedom to customize the color palette of the balloons, ensuring a perfect match for your design. Secondly, fine-tune the icon sizes and adjust them to your specific needs. Moreover, feel free to rearrange or remove any elements that are not necessary. Lastly, we encourage you to experiment with various scenes, backgrounds, and effects to make your festive invites, flyers, brochures, online posts, and other designs more captivating and lively. Let your creativity soar and make your creations truly engaging!
Why should you download the Free Isometric Balloon Icons kit?
Don't wait any longer, and download our Free Isometric Balloon Icons pack right away! You'll instantly have access to twelve vibrant and eye-catching vector icons. What's best, this fantastic collection is completely free! It will allow you to save your budget while adding a special touch to your projects. Moreover, with the royalty-free license, you can use these materials for both personal and commercial purposes without any worries. Plus, editing them is a breeze with various programs, ensuring excellent results in no time. So, don't hesitate any longer! Grab our superb kit now and let your creations soar to new heights!
Download