Download the Free Weather Isometric Icons Pack and enhance your weather-related projects! Our superb kit assembles twelve editable vector elements in AI, PSD, EPS, and PNG formats. The 3D perspective, minimalist shapes, and brisk colors make the icons look interesting and up-to-date. Here you'll find images that represent sunny, stormy, windy, and other types of weather. With their vector format, anyone can instantly resize or customize these elements without losing quality, making them a valuable asset for any design project.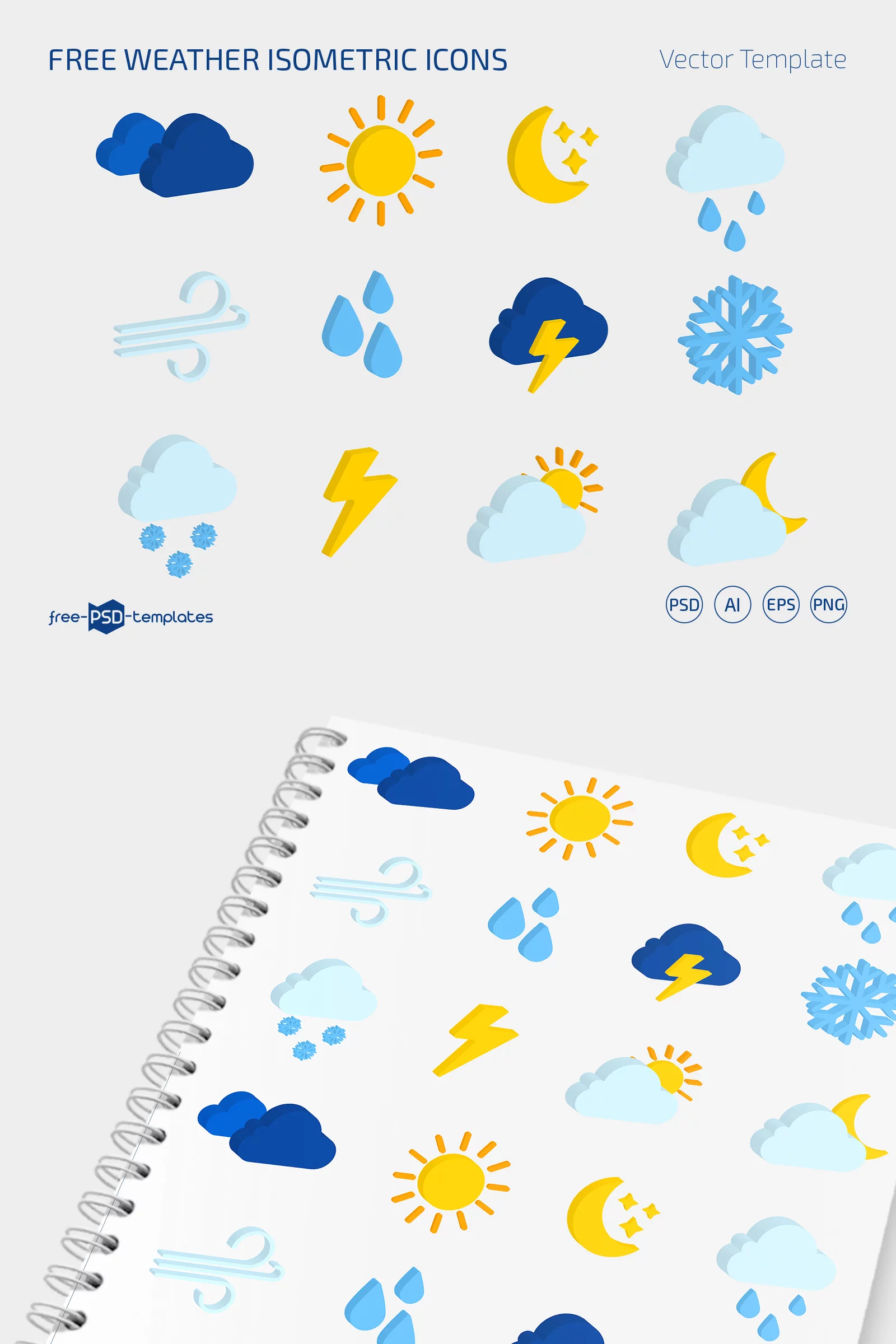 Who can benefit from utilizing this pack?
These icons offer numerous benefits to various users. Web designers and app developers can easily incorporate these eye-catching elements into their interfaces, providing users with visually appealing and intuitive weather information. Meanwhile, content creators and bloggers can use this pack to enhance weather forecasts, travel articles, and outdoor event promotions. Besides, weather-related businesses and marketing professionals can utilize our icon kit to create captivating advertisements, brochures, and posts on social media.
How can you personalize the Free Weather Isometric Icons Set?
Get our unique icon pack now and easily customize it using popular editing software like Illustrator, Photoshop, or others. Firstly, you can modify colors, resize, and adjust elements to fit your project's needs. The vector format allows you to scale icons up or down without quality loss. Besides, you can create unique combinations for different weather conditions by mixing and matching icons. Effortlessly edit with organized files and layers, streamlining your design process. Empower your projects with these versatile icons and let your creativity flow!
Why should you download the Free Weather Isometric Icons Pack?
Download the Free Weather Isometric Icons Bundle now, and make your latest projects stand out both in print and online! With the available range of formats, you can personalize these vector materials in Photoshop, Illustrator, or other software without much hassle. What's awesome, our pro-level kit is available at no charge, allowing you to stay on a budget while preparing cool graphic materials. Meanwhile, with the free license, you won't meet any limits while incorporating the icons into your projects. Experience the versatility and convenience of our weather icon collection today!
Download