Download the Free Autumn Leaves Template for Flyer set! This incredible product provides you with twelve distinct Vector elements featuring versatile autumn leaves. With their warm palette of red, yellow, and orange, and a charming minimalist style reminiscent of watercolor paintings, these elements will certainly complement your seasonal design projects. Furthermore, the availability of multiple file formats (PSD, AI, EPS, and PNG) ensures seamless integration into various design software and platforms. Get your hands on these amazing graphics, and enhance your designs with the vibrant beauty of autumn leaves!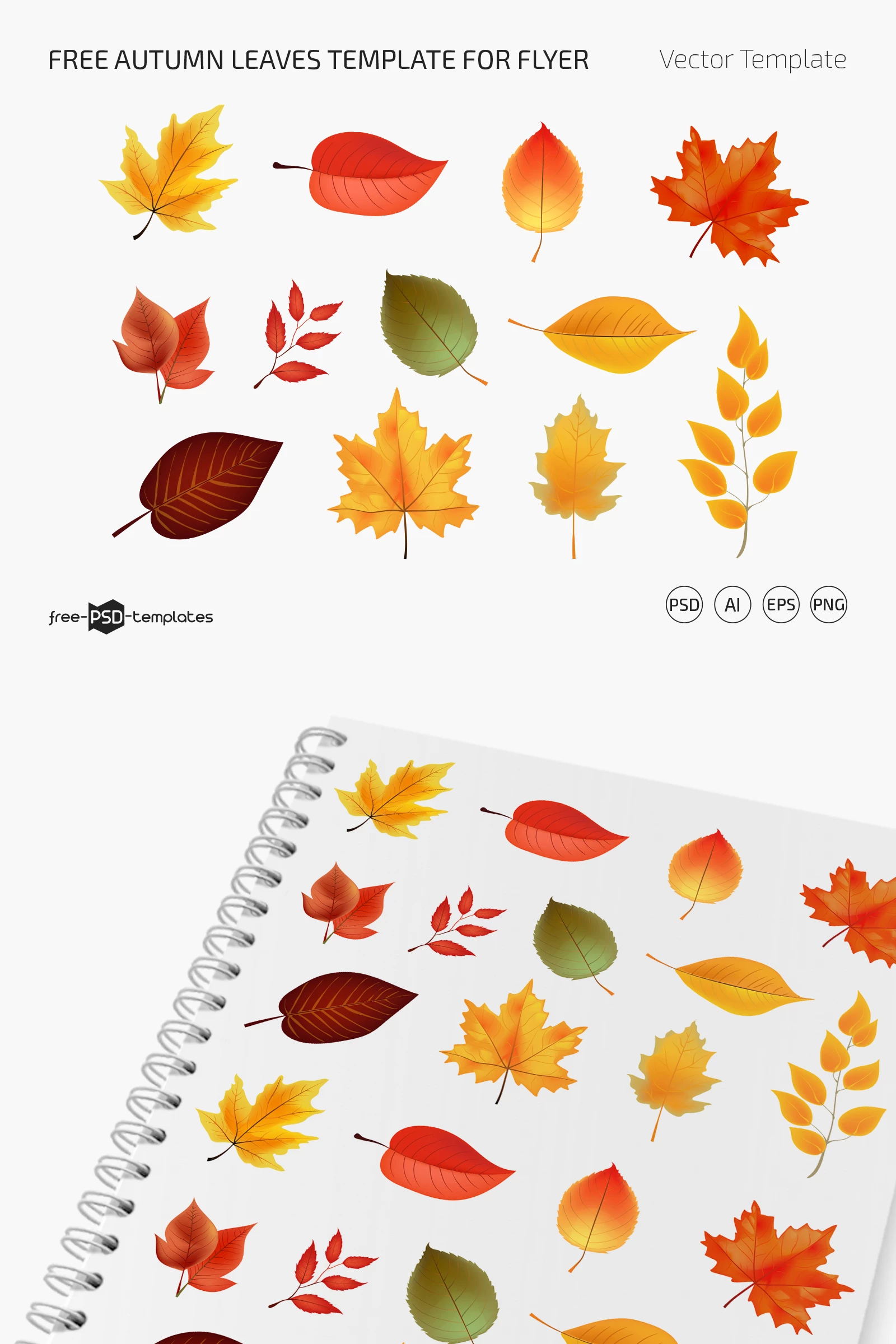 Who can benefit from using this pack?
A set of twelve editable Vector autumn leaves images can benefit various individuals and projects. For instance, graphic designers, artists, crafters, and photographers can use these images to enhance their creative works. Besides, one can utilize these elements in digital artwork, social media graphics, website elements, greeting cards, invitations, scrapbooking, and more. Additionally, these versatile leaf images can complement autumn-themed decorations, seasonal promotions, educational materials, and nature-related projects.
How can you adjust the Free Autumn Leaves Template for Flyer kit?
What's great, the diversity of the available formats – PSD, AI, PNG, and EPS, – allows for easy personalization. In particular, the AI and PSD formats enable you to make precise adjustments to individual elements, colors, and layers. Meanwhile, EPS and PNG formats provide high-quality and transparent images for seamless integration into various projects. With these editing options at your disposal, you can effortlessly enhance your designs and create captivating autumn-themed visuals.
Why should you download the Free Autumn Leaves Template for Flyer set?
Download our Free Autumn Leaves Template for Flyer pack! In it you'll get twelve unique vector fall leaves images that come at no cost, and with a royalty-free license. The soft red, orange, and yellow tones, along with the watercolor-style aesthetics, add a touch of artistic charm to any project. With the availability of multiple file formats (PSD, AI, EPS, and PNG), you can easily incorporate these elements into various design platforms and software. Don't wait any longer—grab this pack now and let your creativity soar!
Download