You have only 8 seconds to capture your social media fans' and followers' attention, so you need to make a perfect, eye-catchy photo that will stand out from the other photos. That's what we are going to talk about in this post. How to improve your mobile photos using some really handy and easy-to-use Android apps for photo editing.
With the extreme growth of mobile devices popularity, more and more people prefer smartphone photography over traditional photo cameras. It's no wonder! Modern smartphones are equipped with powerful camera options and programs, like wide apertures, zoom, dual lenses, low light capability, RAW photo shooting, etc., which allow getting a high-resolution photo without any hassle. The advantages of smartphone photography over traditional are obvious. Digital and film cameras can't compete with the mobility, convenience in uploading and sharing pics on social media, powerful photo editing tools and features mobile devices provide.
The popularity of mobile photography has caused the rise in mobile photo editing apps which help to improve original photos to get amazing and creative results right in your mobile phone without having to edit them in Photoshop or other desktop photo editing programs. Let's have a look to the most powerful and handy 10 Android Photo Editing Apps which will help you get fantastic photos.
Price: Free
Key photo editing features:
Snapseed has a bunch of powerful filters and editing tools which can compete with such pro tools like Photoshop. Along with a wide range of filters (even custom filter, you can create yourself from scratch), the app provides classic tools like cropping, rotating, framing, vignettes, text, white balance and brightness control. Also Snapseed allows you to edit the depth of field to make the background blurred and put the foreground in focus.
---
Price: Free
Key photo editing features:
Prisma provides a lot of creative art filters which allow transforming your photos into painting artworks. Every day, you can find a new art effect filter that you can easily apply to your photo.
---
Price: Free
Key photo editing features:
Thanks to a simple and minimalist interface, the Adobe Photoshop Express app is quite intuitive and easy-to-use. It's equipped with such basic editing options like, cropping, rotating and flipping photos. Among additional tools, there is a powerful Image Rendering Engine that allows processing large panoramic pics, and the Noise Reduction tool that helps to minimize speckling and grain in low-light photos.
---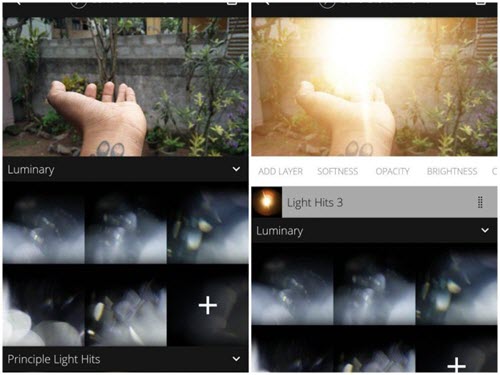 Price: Free
Key photo editing features:
Lens Distortions provides powerful light and lens related effects filters. Among key filters are Luminary effects, Principle Light Hits which provide solar flare to photos, the For, Snow and Rain effects which add snowy, foggy or rainy look to photos, Shimmer and Legacy effects.
---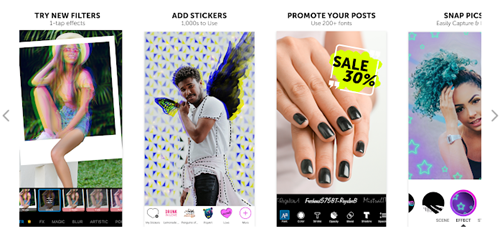 Price: Free
Key photo editing features:
PicsArt is a great photo art tool that allows creating creative and original images by combining graphics and photos. It comes with an inbuilt camera and a social network for sharing photos. Also, it gives an opportunity to add effects in real time. Along with a wide range of collage templates and images which can be used as backgrounds, PicsArt also has a powerful toolset for cropping, cutouts, stretching, adding text, adding stickers and creating memes, applying filters (including HDR). It provides customizable brushes and layers for drawing.
---
Foodie (Android, iOS)
Price: Free
Key photo editing features:
The name speaks for itself. Foodie is the perfect app for those who takes professional food photos or can't leave a day without taking a picture of the food he/she eats. The app provides some really amazing filters created specifically for applying to food photos, like Yum, Positano, Tropical, Picnic, Sweet, Fresh, BBQ, Romantic, Crispy, and Chewy, etc.
---
Price: Free
Key photo editing features:
PicLab is has a lot of powerful editing and refining features, like typography options, stickers and artworks, filters and effects, masks and image overlays (textures, patterns, shapes, borders).
---
Price: Free
Key photo editing features:
PhotoDirector is rather focused on manual enhancement features, like picture retouching (adjusting HSL sliders and RGB color channels, correcting white balance). There are brighten picture features like adjusting darkness, exposure and contrast sliders.
---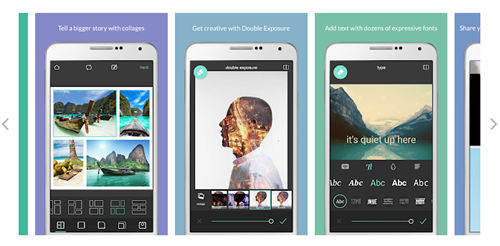 Price: Free
Key photo editing features:
Pixlr provides powerful photo editing and enhancement options for making your photos eye-catchy and outstanding. From creating custom collages to layering multiple images for creating double exposure effect, to retouching (blemishes removing, removing red eyes effect, teeth whitening, etc), add overlays of text, borders, frames or other effects, to stylizing photos to make them look like a painting, ink sketch, a poster, etc.
(1 votes, average: 5 out of 5)