When you're preparing to host a party or event, after deciding when the event will be and where to have it, one of the next things to consider is how to invite friends and family to attend. A quick look around online will reveal that there are a host of beautiful invitation design options available for both online delivery and print. But what are the advantages of each? Is online inviting better for your event? Or would printed invitations be better? They're really two sides of the same coin, and each has unique advantages. It's just a matter of deciding which works best for you.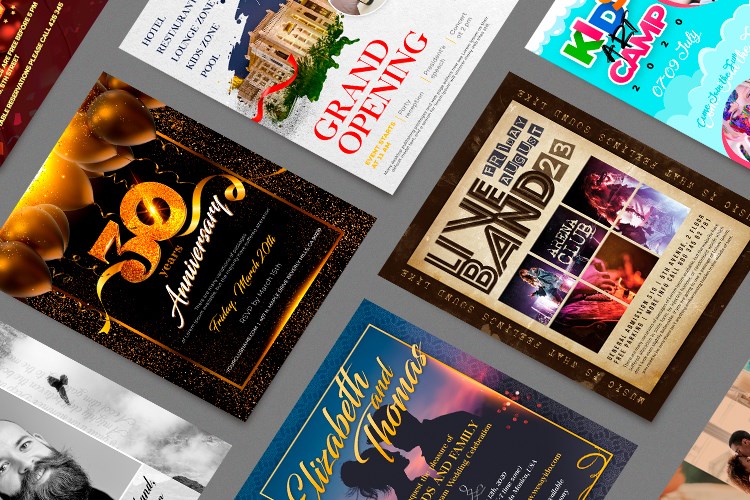 Benefits of Online Invitations
Are you looking for the least complicated way to get invitations created and delivered without ever having to leave home? If so, then online invitations might be the best option for you. You can simply go to a simple online invitation maker and customize the information that you need your recipients to know. Let's face it: we all know that printing costs can be high, especially if you start dealing with high-end printing companies that offer all kinds of paper, and even printing effects such as letterpress and embossing.
With an online invitation, you don't have to worry about those costs. Simply input the details of your event into an invitation maker, add photos, then choose colors and fonts. After your done customizing your invitations can be delivered in the blink of an eye without any special preparation.
Online invitations can also be delivered through a variety of channels! E-mail, Facebook, even a text message can all be convenient ways for you to make sure the most important people in your life are invited to your event. And even better, when using an online invitation maker, RSVPs could not be simpler. A simple message back to you lets you know who's planning to be at your gathering. Online invitations really do revolutionize the simplicity and costs of sending attractive, customized invites!
Benefits of Printed Invitations
After reading about the benefits of sending online invitations, using an online invitation maker might seem like the best option. But there are also benefits and advantages to choosing printable invitations for your event.
Printable invitations can seem more personal to your friends and family. When hosting an event that carries a lot of significance and may be something that guests will want to remember, it can be very nice to use printed invitations. Receiving a paper invitation delivered in the mail helps recipients to understand how important they are to you, and that their presence at the event is important. A printed invitation is something that can be saved, cherished, and looked back on with happy memories. It can even be hung on the fridge as a helpful reminder so that the event doesn't get overlooked! When you receive a paper invitation in an envelope, the experience of opening it up and knowing that someone took the time to create the invitation, put it in an envelope and send it to you is a special feeling that just can't be replaced by online digital delivery.
Printable invitations do not necessarily need to be hard to make. It's basically the same process as creating online invites with an online invitation maker. Simply specify the information for your gathering such as date, time, and location, select the appearance that you want with graphics, photos, fonts, and colors, and then print out as many as you need. It's a simple and easy way to ensure an extra special invitation for special people in your life.
If you have a printer at home, you can easily get the invitations all printed, cut out, and ready for delivery right there. If you don't have a printer, you can always go to a local print shop and have the invitations printed out, often finished and ready to go the same day. It's a convenient option if home printing doesn't work for you.
Whichever option you choose, the most important thing is to make sure that people attend your event, so don't stress out too much about whether they should be online or paper, and send your invitations out as early as possible.