Are you looking for new inspiration ideas and hot design trends? We have some fresh inspiring ideas and examples of the design trends which are popular this year. Web design trends change all the time: emerge, evolve, collapse, complement each other, reappear all over again and again. Nothing remains the same. Trends often repeat themselves, like history. In 2018, we can see a lot of past trends which have evolved, and some new trends. We have rounded up top 17 design trends which have originated recently and continue to evolve and enter the mainstream. Follow these trends in order to stay ahead of the curve and fine-tune your design projects to keep them up to date.
Free design resources are no less important. We know that finding free PSD templates and mockups is a time-consuming task. To make it easier for you, we have created this website. You can find here a lot of useful and absolutely free downloadable PSD resources, like free print templates for print graphic designers who create flyer, brochure, visit cards designs on a regular basis. For logo designers, we provide free logo templates in PSD and Vector. Using Photoshop, you can easily turn these pre-designed templates in awesome and creative artworks: Get Photoshop as part of a Creative Cloud single-app plan for just US$19.99/mo.
Mobile Friendly UI & UX
As mobile traffic grows tremendously from day to day, mobile-friendly user experience and responsive design are a must. No matter what platform a customer uses to land on a website, its user experience should be positive both on mobile, desktop, wide screen, Dribbble is one of the best examples of responsive design that looks great on a screen of any size.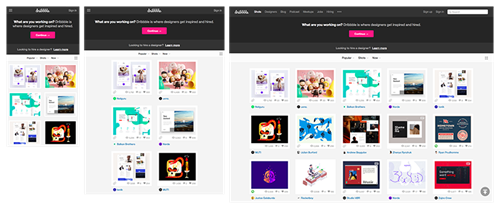 Use of Animations, GIFs and Other Motion Elements
 The use of interactive animations, and animated illustrations increase the customers' engagement on a website and make user experience unique and interesting. Use these interactive UI animations on your website, in newsletters, on social media in order to interact with your users. Look at this creative use of interactive animation.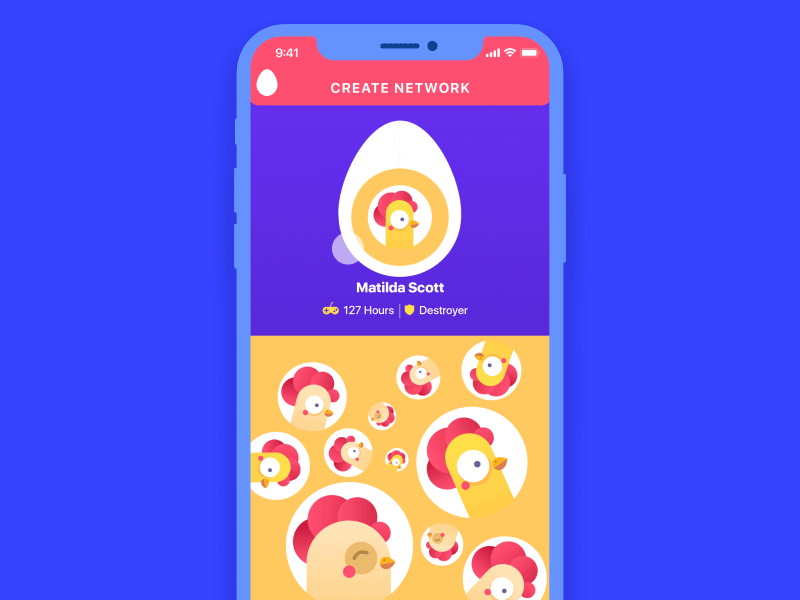 The Rise of Brutalism in Design
Brutalism in web design began in 2017 and continue to gain new followers in 2018. The most recognizable features of brutalism are unnaturally gigantic navigation elements, like cursors, hovers, etc. Brutal designers spit in the face of rational and functional design concepts and principles. Have a look at some of the most interesting examples of brutalism in design.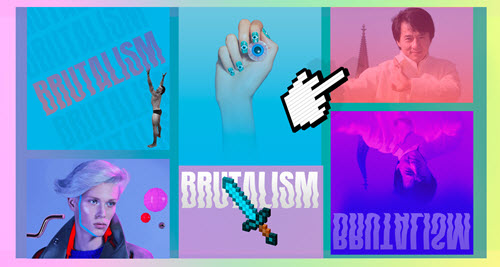 Organic Oblique UI Shapes and Lines
In 2018, sharp and straight lines are not in favour. Instead, you can see the boost of use of oblique forms and shapes. Sharp-edged corners have been substituted by soft-rounded corners. You can see a lot of website user interface backgrounds full of cartoonish curved lines and diagonals coloured in vibrant and neon colours palette.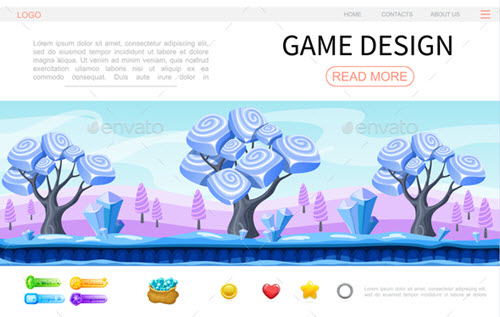 Well-Organized Websites Thanks to Design Systems
In 2018, a lot of companies work on creating design systems – the standardized and well-organized structure of documentation, including UI toolkits with codes and patterns. Such well-ordered design systems help to achieve more effective results in a short period of time and this is a great solution for huge companies to keep all their products design consistent. Learn more about design component-based websites with design systems.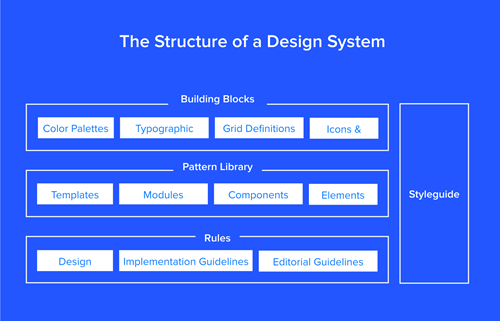 Semi-Flat Design or Flat Design 2.0
This year, flat design evolved into a more comprehensive style, Flat Design 2.0, or semi-flat design. The key features of this new flat design style are adding vibrant gradients and shadows in order to add depth and volume to objects. Do you want to learn flat design, but don't know where to start from? We have compiled a list of 35 flat design tutorials and guides for beginners and advanced level.
Inclusive Design
In 2018, inclusive design is also a trending topic for many designers. Inclusive design key objective is to please the needs and abilities of as many people as possible. Inclusive design recognizes and accommodates different experiences and ways of interacting with the world. Check more about inclusive design principles to have a complete understanding of what it is.
Broken Grids and Overlapping Elements
Asymmetrical geometry and broken grids layouts are a hot trend in web design 2018. Intentionally designed overlapping objects and content created an exotic and unique look and attract the attention to the key elements, such as call-to-actions.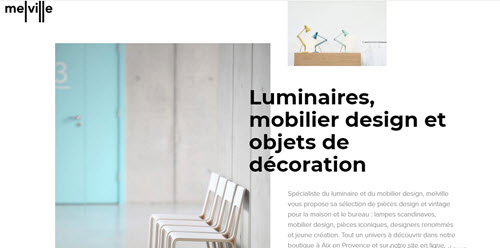 Variable Fonts
Variable Fonts are a new flexible type of fonts which is heavily applied in web design in 2018. Thanks to the technology released by OpenType, a font file contains flexible axes, like width and weight which enable different font design styles.
Storytelling via Data Visualization
Taking into account that people remember 80% of what they see in comparison with 10% of what they hear and 20% of they read, visual content still runs the web. In 2018, a lot of big brands use data visualization animation in design. Such websites like The Washington Post, MailChimp, Bloomberg uses interactive data visualization for showcasing annual reports, presentations, polls results, etc. Have a look at these interactive data visualization examples.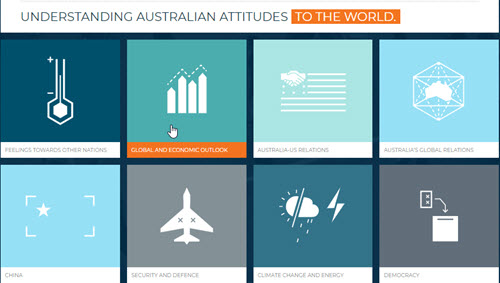 Heavy Use of Negative Spaces
Negative space is a great way to draw attention to focal points in the design. Many e-commerce stores use minimalistic design with a negative space background for making people click on the desired call-to-action buttons.
Multicoloured Gradients
Vibrant multicolour gradients are very popular this year. Here is a creative example of multicolour gradients use in website design.
Mono-coloured Icons
Mono-coloured icons are easy to read. Make use of minimalistic mono-color icons in your design projects this year.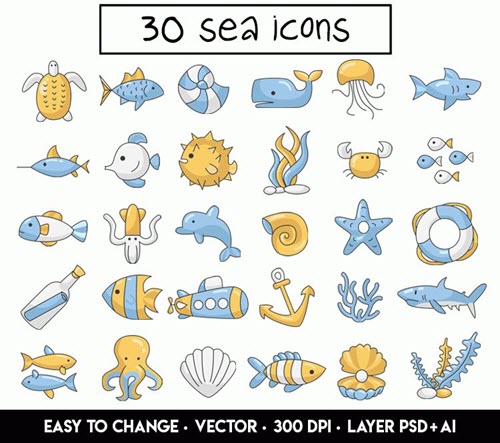 Bold and Creative Typography Combinations in Design
Bold fonts usage has been greatly evolved in 2018. This year, designers combine bold fonts of different width. This helps to grab readers' attention to this or that part of content and add creativity to design layout.
Asymmetric Layouts
Asymmetric layouts add a creative touch to design and make it look modern and original. Have a look at this example.
Creative Illustrations
This year, stock photography is not in favour. Original custom illustrations are a must if you want to stand out from the crowd.  For example, Slack uses a custom illustration on its homepage in order to communicate its key mission.
Tactile Design
Tactile design is very similar to material design. To make the object look real on a digital web design layout, designers apply such design techniques like multiple layers, animated photos and moving design element, detailed photos, white space with no borders.