Typography is ubiquitous, as nearly every second designer employs types in their work. Typography occurs in every design project, be it web design, a print design, or any other design type. Every time you deal with information and displaying content, typography comes into play.
Typography is really complicated. It's not enough to learn the basics of typography, including specific measurements, strict rules of kerning, spacing, legibility. Typography is more than a discipline. It's an art that requires talent, skill, experience and a lot of inspiration for creating worthy types.
We can't help with acquiring typography skill, experience or talent, but we can provide a portion of inspiration from the best type and lettering designers and design accounts who share their creativity, original typefaces and lettering designs with you. Follow them to learn, find useful tips or get inspired for your own typography art pieces.
With so many challenges in design work, like deadlines, multitask management and other challenges, you have no time left for creative process. We know all the challenges you face with and have got you covered. On our website, you can find a lot of useful free design resources, exclusively designed by our graphic designs. No matter what is your design purpose. Need some high-end photo-realistic mockups for Photoshop to create a professional design presentation? Feel free to download any from our collection of free mockups for Photoshop. You can also download for free any of our free print templates, or free flyer templates.
Millar is a virtuoso at vintage types. He creates awesome and authentic vintage looking typographic logos. Take a look at his works if you like vintage typography.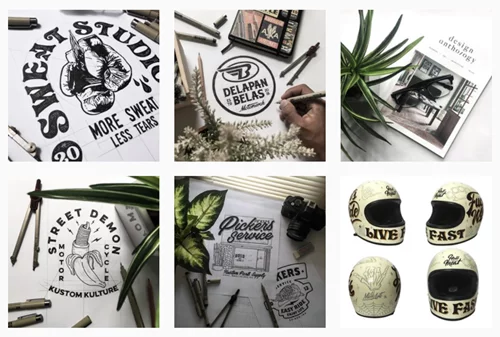 Ale is an expert in handlettering, illustration and design. She creates original lettering and types, by repeating and following the shares, textures or colors of the objects, fruits and products around.
Another creative type designer who creates original handwritten typefaces and script types. Looking at his minimalist, legible and absolutely astonishing types and lettering designs.
Alexis Taïeb is a creative artist who started as a graffiti artist and then learned typography. His works are original and popular. It was Alexis who created a logo for Childish Gambino and he continues to work with him on other projects.
The Daily Type Inspiration is a great source of creative type examples and works from typography and lettering designers from all over the world. Here you will find a huge portion of inspiration and worthy type designers to follow.
Stefan creates really realistic types. He is really good at creating 3D typefaces and lettering masterpieces. Do follow him if you are engaged in 3D typography.
Jessika offers a wide range of finished projects of types, typography logos or lettering projects.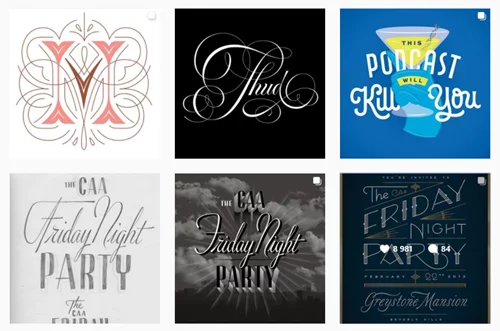 Jackson is a talented type designer and calligraphy designer.  If you want to improve your calligraphy and lettering skills, be sure to follow his Instagram.
Copenhagen type is a great original resource that gives an insight at some original places which feature unique types and lettering. Love travelling and typography, then this Instagram account is a perfect place, as it shares both unique architecture of Copenhagen and unique typography.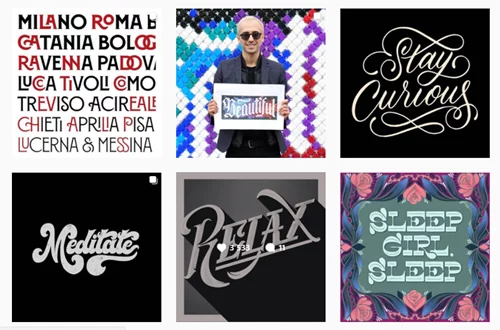 Here is another typography inspiration account that includes a lot of creative types examples and the processes of creating types and lettering artworks.