Download the Free Work From Home Isometric Icons pack! It offers a versatile collection of twelve editable icons. The adjustable nature of these isometric designs brings several advantages, allowing users to tailor the icons to their specific preferences. The icon set brings benefits to various individuals and businesses like graphic designers, web developers, and content creators. It helps enhance visual projects with eye-catching icons. Whether you're working on presentations, websites, or social media posts, these icons will add a touch of professionalism and creativity.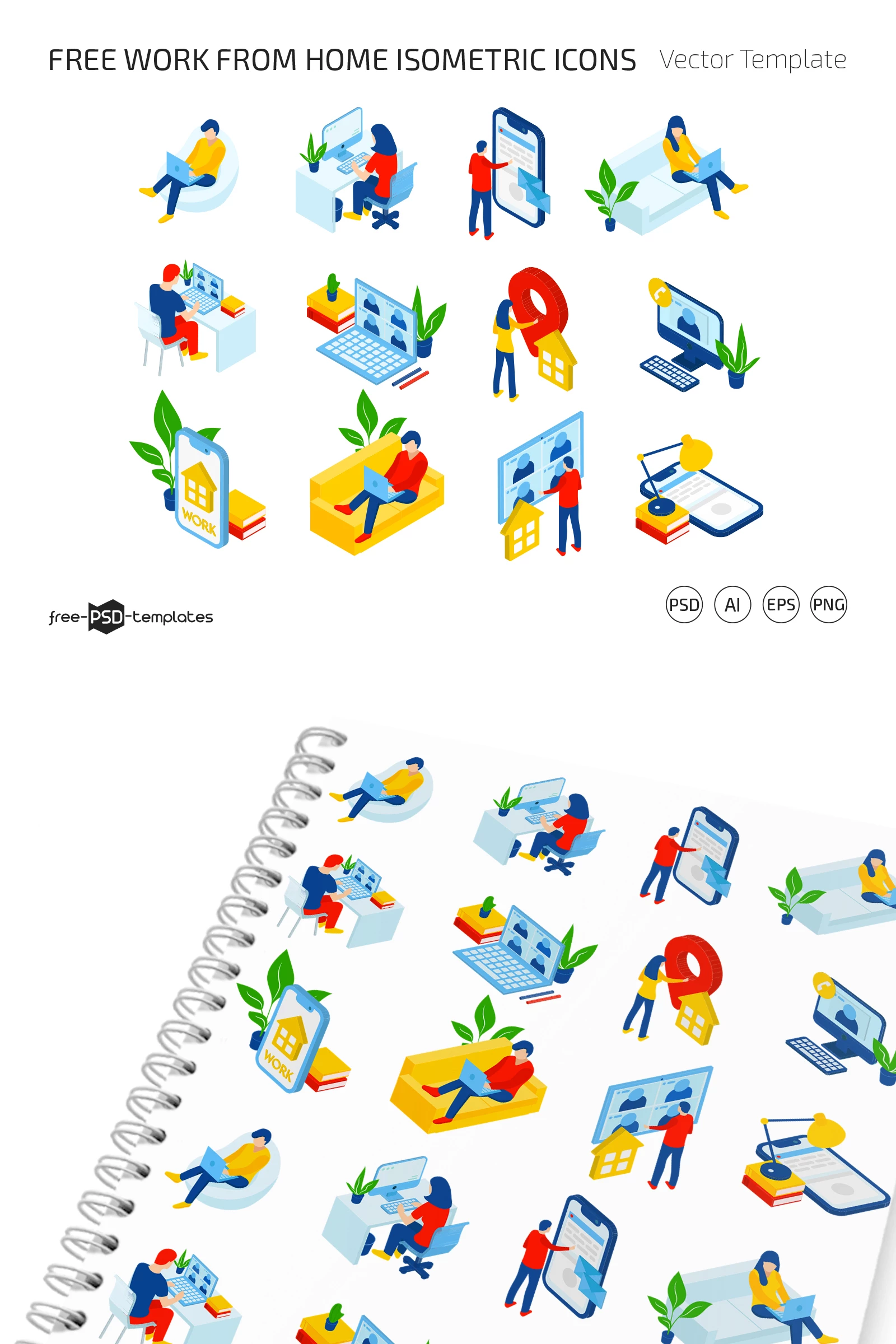 A stylish and engaging modern design
The original file of the icon pack comprises twelve distinct designs, all centered around the theme of remote work from the comfort of one's home office. Half of the icons showcase individuals engaged in tasks such as reading and typing on their PCs or laptops. Meanwhile, the other half depicts home office setups and various gadgets. With rounded, soft-flowing shapes and a color palette predominantly featuring lighter and darker blue tones, these icons offer a modern and harmonious aesthetic. Bright accents in red, yellow, and green provide an additional pop of color, making these designs visually appealing and engaging.
A variety of formats & hassle-free customization
The best part is, users can instantly customize this icon set in software such as Illustrator or Photoshop. Start off by opening the desired icon in your preferred software. Secondly, easily adjust the size, color, and orientation of the icons to match your project's requirements. Additionally, you can modify the individual elements of each piece to craft unique variations. With the available AI, PSD, PNG, and EPS formats, integrating these icons into your designs surely is a seamless process. In particular, using vector-based AI or EPS formats ensures that you can scale the icons to any size without loss of quality.
A stunning design kit not to miss out on!
Download the Free Work From Home Isometric Icons pack to access twelve unique, professional, and stylish-looking icon designs. When you download the original file, you gain full control over these icons, allowing you to adapt them to your specific design needs. Moreover, this bundle is available for free and comes with a free license. It enables you to use the designs in personal and commercial projects without any restrictions. If you're looking to enhance your visual content with high-quality isometric icons that perfectly capture the essence of working from home, this pack is a must-have resource.
Download