Don't miss out on the opportunity to download our amazing Free Isometric Flowers Icons bundle! Inside, you'll find twelve unique vector images of versatile flowers, each showcased on a small square base. These unconventional designs create a sense of dimension and depth, resembling miniature 3D models more visually engaging than flat graphics. You can easily customize these vector elements in your preferred design program with the AI, PSD, PNG, and EPS formats available. Whether you're a graphic designer, presentation creator, print designer, web or app developer, or social media manager, these cute flower icons can enhance your projects. They are perfect for incorporating into app interfaces, websites, presentations, marketing materials, and more.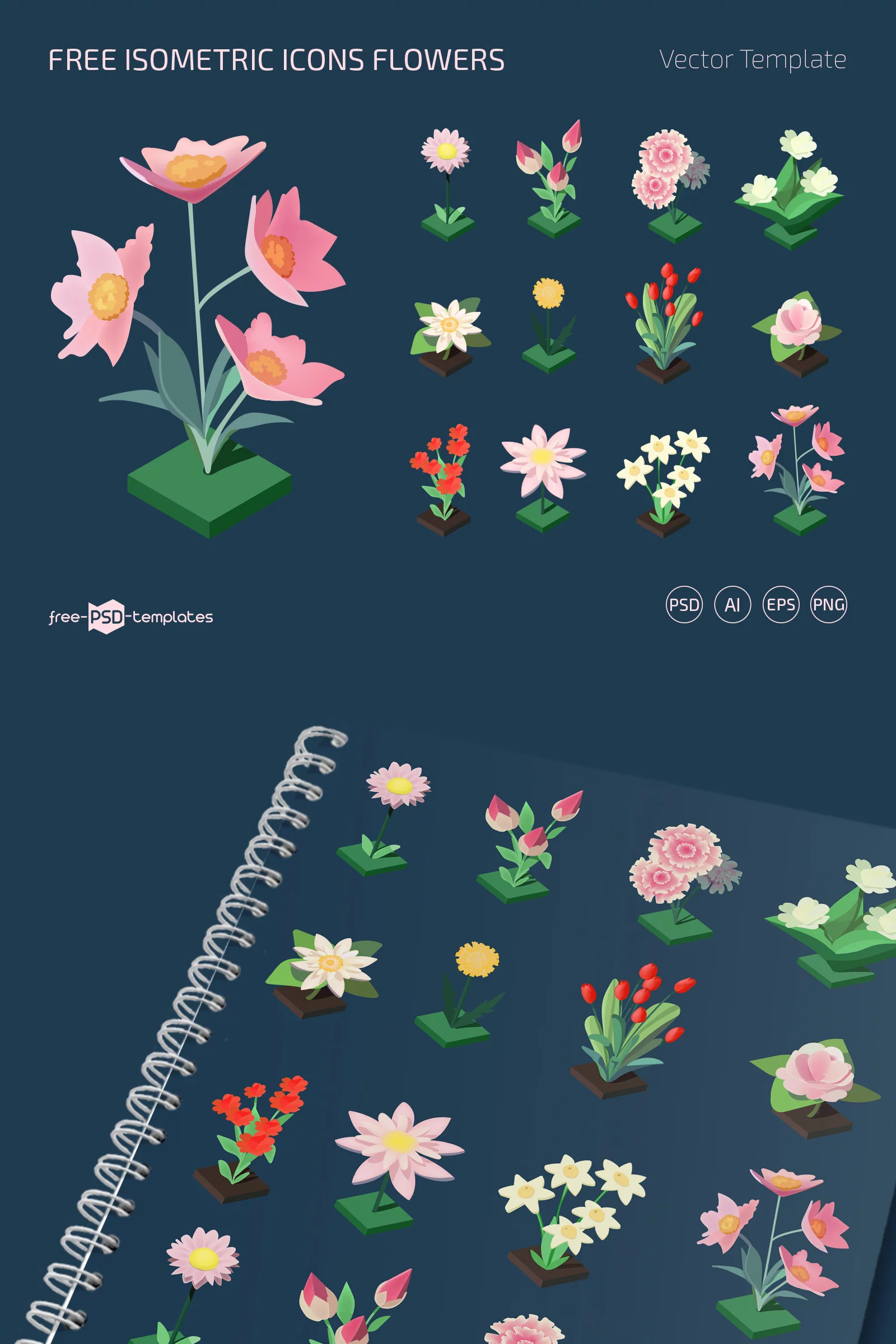 How can you customize this vector bundle?
Firstly, you can alter the colors of the twelve icons to match a desired branding or palette. Secondly, it's possible to enlarge or shrink these elements to fit your specific design requirements. Besides, you can remove or add different elements such as petals, stems, or leaves. Additionally, we suggest you integrate them into various backgrounds or scenes and apply stylistic effects such as gradients, shadows, or textures. Finally, you can arrange the icons in different compositions or create patterns using multiple flowers.
Why should you download the Free Isometric Flowers Icons pack?
Download our Free Isometric Icons Flowers kit, offering you twelve distinctive vector designs that are easy to customize, all at no fee. These captivating, contemporary, and charming icons will infuse your creative projects with a fresh and organic touch. The user-friendly nature of these materials allows for seamless personalization across various design programs, ensuring a hassle-free experience. Moreover, the royalty-free license grants you the freedom to utilize this set for promotions, visualizations, commercial ventures, and beyond. Take advantage of this opportunity and enhance your projects with these remarkable floral icons today.
Download