According to a recent survey by Wibbitz, 84% of marketers said creating visual content has improved their brand awareness, and another 71% said it is increased leads or sales. Do not miss your chance to increase the popularity of your business.
We have made a list of TOP flyer makers that are available online. These tools can be used for free, however, each of them gives you the opportunity to get a PRO-account for some money. 
---
Placeit
This service offers a lot of free flyer templates each of which includes smart objects that can be replaced or removed. Using this tool you can add your text, complete a flyer with some additional graphic, upload your own images for creating a unique product. Apart from flyer layouts, Placeit offers dozens of mockups, logos, and other kinds of design. 
What is special about Placeit:
Creating a flyer is incredibly easy. You do not even have to sign up in order to make good advertising here
For a Pro account, you are required to pay $14.95 monthly. It gives you access to everything on the website
Placeit has a blog where you can read some useful information about promoting a business or making a successful YouTube channel and get great tips about creating a brand identity
You can make a cup print on the website and order the cup with the design you made right here. Also, Placeit offers hoodies, iPhone covers, and T-shirts with the print you created
If you have any questions about using the tool, just chat with the virtual assistant who is always ready to help.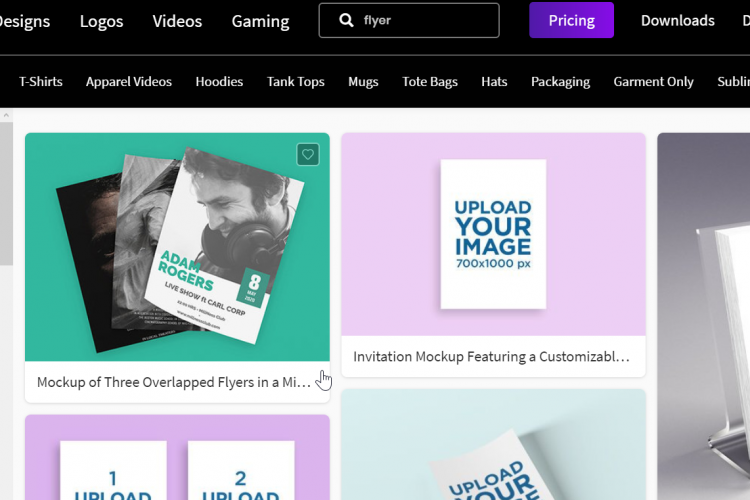 Visit the website
---
Canva
It is a super-easy-to-use software where you need to sign in to make a flyer. You can create a fantastic template here even if you have never done it before. Also, this website is a great option for those who do not want to learn Photoshop. It is a wonderful design tool for public relations professionals.
Canva has lots of advantages over all other software. First, you do not have to download it as it is available online. For creating an ad there you can use one of the thousands of pictures on the website or download your own images or logos. 
What is special about Canva:
An incredible amount of useful tools for working with images, colors, textures, shapes and text
You can edit your flyer with friends or colleagues online
There are free and PRO pictures. The second can be bought for $ 1, which is quite cheap and very profitable
You can create not only flyers, but also greeting cards, brochures, business cards, book covers and much more
Over 8000 templates available
When you made a flyer, it is automatically saved on the site. This means that you can add some changes at any time. In addition, you do not need to save your design to a USB flash drive or use computer space. Each Canva user receives 1 GB of memory.
Canva comes with preset sizes and templates for flyers, social media posts, posters, business cards, etc. This can save you a lot of time since you don't need to define specific sizes to create a new brochure or postcard.
Visit the website
---
Adobe Spark
Adobe Spark has two versions. The first can be used online, and the second is an application that can be installed on an iPhone or PC. The creators of the tool were able to simplify its use, despite numerous tools, such as an animation tool and watermarks. Without experience, you can easily create flyers, brochures, etc.
Adobe Spark has quality templates. It is worth noting that it also offers color and font options, so you can create a great looking product.
If you are creating a flyer for a post on Facebook, keep in mind that this application integrates easily with various social networking platforms such as Twitter and Facebook, customizing your template from the very beginning depending on the size you need.
What is special about Adobe Spark:
It makes it to the TOP-5 flyer maker software
Adobe Spark gives an opportunity to download PDF versions of your own designs and edit them there
Saves your templates automatically
3 in 1: you can make images, pages, and videos
It has a collection of professionally designed fonts (and font pairings) you can choose from
This application can be successfully used both by students who want to make a good presentation for the lesson, and by marketers who want to promote someone else's business. But in fact, absolutely anyone can use Adobe Spark and get amazing results.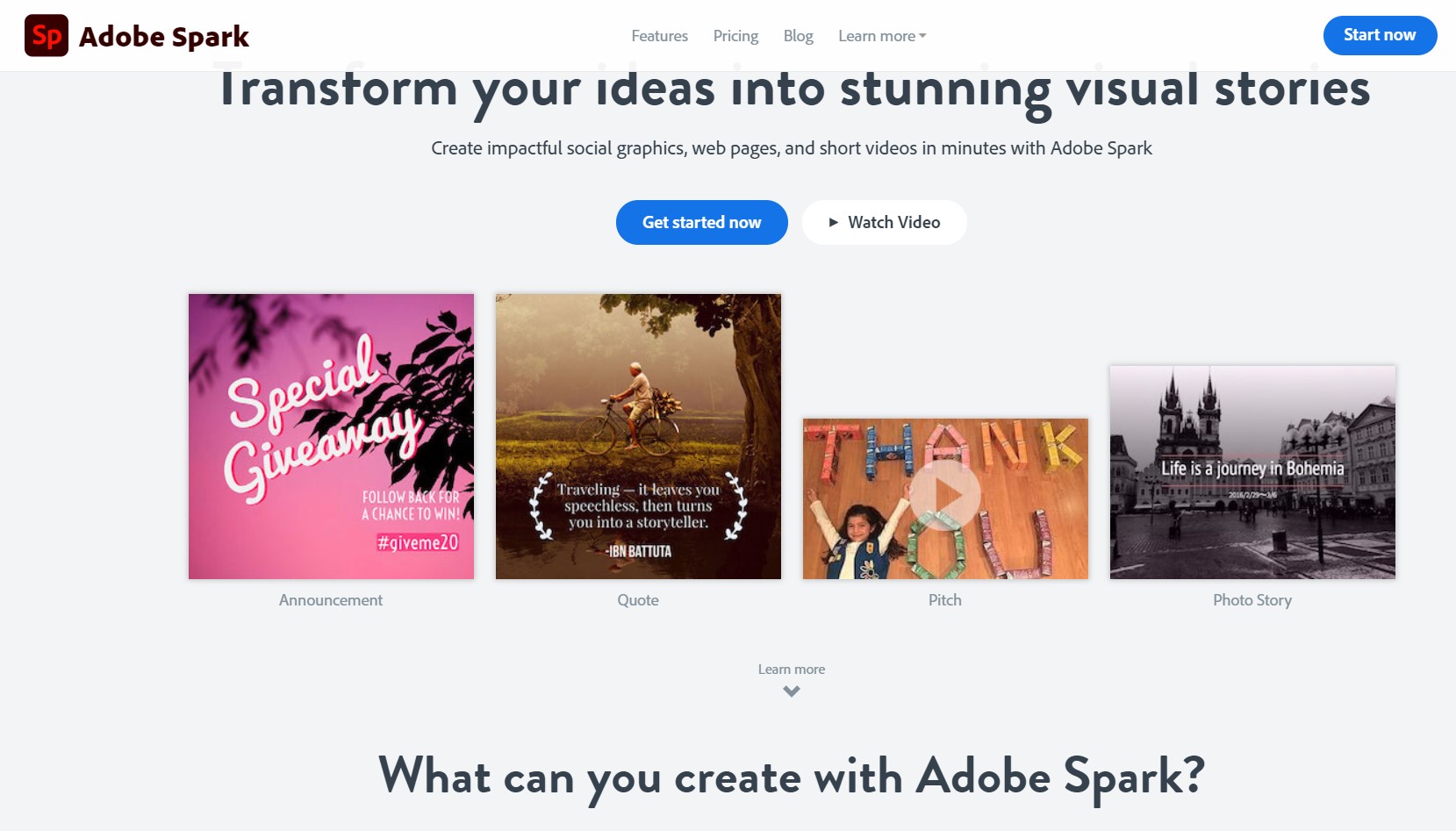 Visit the website
---
Vista Create
This is a great online tool to easily create graphic design and video. You can make a flyer, business card or brochure using their huge collection of already designed templates. This tool is launched by Depositphotos. Each kind of template there has a preset size, but you can change it. Crello can be used online, and it offers its users more than 10,500 design elements and 12,000 pre-made templates for creating engaging content. If you want to get the PRO version of this tool, you only have to pay $ 9.99 per month.
What is special about Crello:
You can share your projects on social networks directly from Crello
Even with a free plan, you can download your fonts from your computer
You can create an unlimited number of folders if you want to sort your projects
It provides customer email support
Buying the PRO version, you get an unlimited amount of storage
You can buy any item for $ 0.99, the use of purchased items is unlimited
There is no mobile version which makes life a bit difficult. But if you usually use your PC for creating advertising content, then this tool must be perfect for you.
Visit the website
---
PosterMyWall
With this tool, you can easily create a quality HD design that looks great. The fact is that you can do this in four very simple steps! First open the PosterMyWall template gallery. There is a huge selection of categories with flyers, brochures, card templates. Then edit the selected layout by adding your own images and text. After you fill out the template with your content, just save and download it. You can then share your flyer on Facebook or print it for distribution.
What is special about PosterMyWall:
Whether you just made 8.5×11 flyer or 24×36 poster, you can quickly turn that into a social media post that will look perfect on your Facebook page
The tool has over 150000 templates and a wide variety of font styles
On the website, you will find appropriate templates that cover numerous categories like parties, holidays, conferences, church, sales and so much more
You can pay per download for high-resolution image designs with prices starting from $2.99
You can download your flyer in most popular design formats like PDF, PNG, and JPG
Download your own custom fonts for free, so that any sketch you make immediately adapts to your brand. Here you can create designs which after that can be sold out via the platform. Isn't it inspiring?
Visit the website
---
Visme
This design tool is available online, but can also work offline. It was launched in 2013. In 2018, the company left the beta version with a completely new interface and 1.3 million active users. Visme offers a wide selection of fonts, icons, images, backgrounds and patterns. The tool has a sharing option that allows teamwork on the same projects together. 
What is special about Visme:
You are allowed to import third-party content, which can then be curated with Visme's available templates
Visme's Visual Learning Center has many resources to help you ranging from technical help to presentation tips
The free account owner gets 100 MB of storage
Upgrade plans exist from $12 per month
"Speak Loudly. Speak Visually" is a slogan of Visme
Visme analytics help the managers track the number of unique visitors, the content most viewed by the visitors 
A simple and intuitive interface is another advantage of Visme. The developers of the tool strive to be universal for creating content, so it has almost everything you need in one place, which saves you time. This software is user friendly, so you don't need to be a professional graphic designer to create attractive visual communications.
Visit the website
---
DesignCap
This is a convenient online flyer where you can easily create awesome advertisements and save your time. In addition, there you can create menus, posters, postcards, logos, etc. This does not require software installation on your PC, so you do not need to worry about the storage of your hard disk. DesignCap serves millions of users in 100 countries.
All the templates on the site are fully customizable, which means that you can easily change the background, fonts, images and even colors.
What is special about DesignCap:
You can adjust the font size, insert images and logos, use the colors of your company and much more
The design you created can be saved in JPG and PNG formats
You can share the link to the design, which is necessary if you are collaborating or doing something for the client
With a free plan, you are limited to just 5 photo uploads, moreover, you are allowed to save just 5 designs in your account
The Basic Plan will cost you $4.99 per month and it lets you export designs also in PDF format
The DesignCap company has more than 10 years of experience in graphic design development. It is very easy to share your posters on Twitter, Facebook, Tumblr, and Pinterest straightforward from the website.  
Visit the website
---
SmartDraw
It allows users to create designs on any device, whether it is a mobile device, a computer running Windows or Mac. In addition, it is available online through web browsers. You can import your own graphics, including logos and photos.
What is special about SmartDraw:
Various export formats, such as PDF, PNG or any MS Office application format in one click
It has 4,500 built-in usable templates that you can use to create over 70 different types of visual effects
Users can also share flyers and collaborate using apps like Dropbox, OneDrive or Google Drive
SmartDraw flyer maker is easy to learn and use, and you don't need to learn Photoshop to create flyers
The tool allows making drawings and diagrams, that with just one click, are sent directly to other tools such as PowerPoint or Outlook
The free trial version gives you a 7-day trial version, has printing restrictions and includes a watermark in the output file, which can be exported in PDF format or saved as your own SmartDraw SDR and SDT file formats. SmartDraw will help you perfectly align elements, as well as arrange everything to look great! Using SmartDraw to print your flyer or share it on social networks is very simple.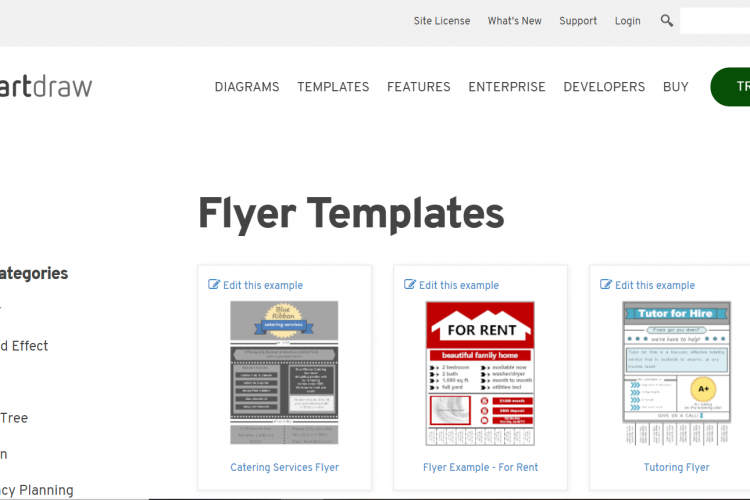 Visit the website
---
Venngage
With Venngage you do not have any special skills or talents to create a flyer with wow-factor. Its library includes over 500 templates that are fully customizable. 
What is special about Venngage:
This tool allows you to download flyers in high resolution in PDF or PNG format.
Has autosave function
The website is very well designed with a user-friendly interface and many help resources
With Venngage, users can easily share their work on social networks
Venngage has an incredibly big range of templates — from brochures and business cards to visually appealing, fun content
Another opportunity you get is incorporating your company branding into your flyer style. For this, you have to upload your logo and your brand color hex codes.
Visit the website
---
MyCreativeShop
This online editing tool gives you the ability to create fantastic flyers with virtually no design experience, either from scratch or using one of the professionally designed templates. With this site you can forget about all the difficulties that you had using Photoshop. MyCreativeShop flyer templates are 100% customizable to your specific needs. Even if you don't find the perfect flyer template here, you can simply get inspired by all the options made by professional designers.
What is special about MyCreativeShop:
They have a blog where you can read useful tips about creating flyers, brochures and other designs on your own
You can download not only your own images but also logos
The tool allows you to save the document as PDF file, but using different online programs you can turn it into JPG, PNG or any other format
You can order design printing right here, they print from 50 to 50000 flyers
Your flyer design is saving automatically in the MyCreativeShop project library
MyCreativeShop offers an array of layout templates for every imaginable flyer need. Make your own flyers in minutes adding photos, graphics, artwork, and text in the colors and fonts you like best.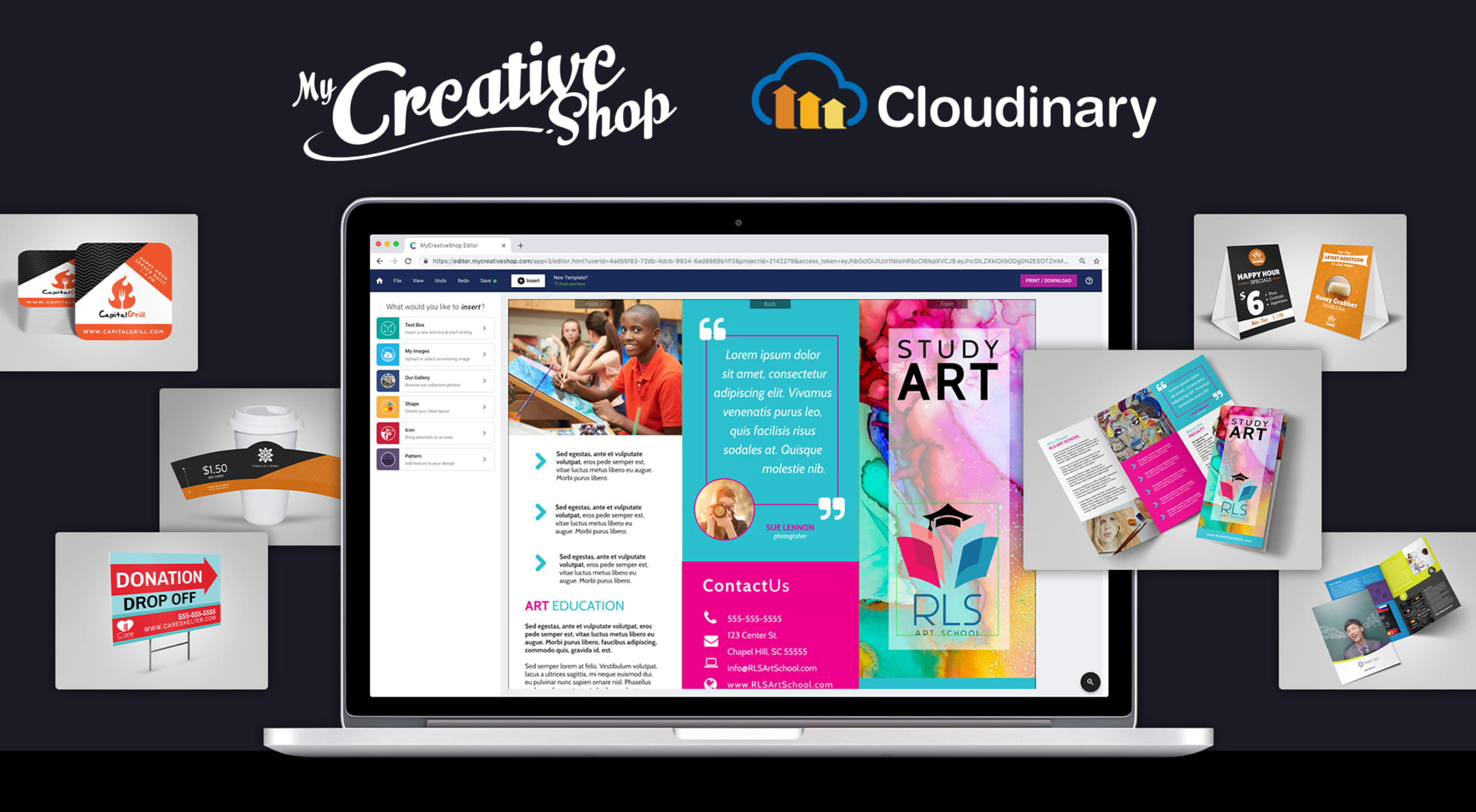 Visit the website
---
Piktochart
It is an intuitive, easy-to-use brochures, presentation, poster, and flyer maker. Piktochart is great for both the beginner and pro designers. You can build professional looking visual designs with Piktochart without hiring a professional designer to do so.
What is special about Piktochart:
You can download the final work in hi-resolution and in various formats such as PNG, PDF, and JPG
Your creation will look every bit as crisp on paper as it does on screen
A user can choose from a library of over 800 professionally designed infographic, presentation, and print templates
It lets you share your design straight to social media 
You can use the colors of your brand or play around with different looks – in mere seconds
The best part about Piktochart is its easy-to-use and intuitive interface, which takes less than 5 minutes to master. The whole process from creation to publication is very fast — select a beautifully designed template, adjust or drag the necessary elements, and finally print or publish. To add, Piktochart has great sections manipulation functionality. This means that you can clone all sections, move them up or down, or even delete them.
Visit the website
---
With any of the listed tools you can create a nice flyer that will attract everyone's attention. For finding the most appropriate option for your promotion, check a few of them.