Although the popularity of online advertising keeps growing by day, the printed ads remain a sure and effective means of promotion. As one example, a professional poster allows you to draw attention of a big number of people to your project, business or event. Placed in a lively street, it will easily catch everyone's looks.
In the special compilation here we present 25+ gorgeous posters that will take your promotion to the next level. Take a close look at each file and pick the one which goes in tune with your goals. Provided by such superb resources as https://free-psd-templates.com/ , https://www.elegantflyer.com/ and others each template meets the top standards. You can download any for free, and customize the writing, colors, and images within just a few minutes in Adobe Photoshop.
---
Church Event
Use this wonderful template to let everyone know about your special church meeting. Designed by a professional it combines beautiful colors with the image perfect for the occasion. Download the PSD file for free, edit the text in Photoshop, and print an amazing poster.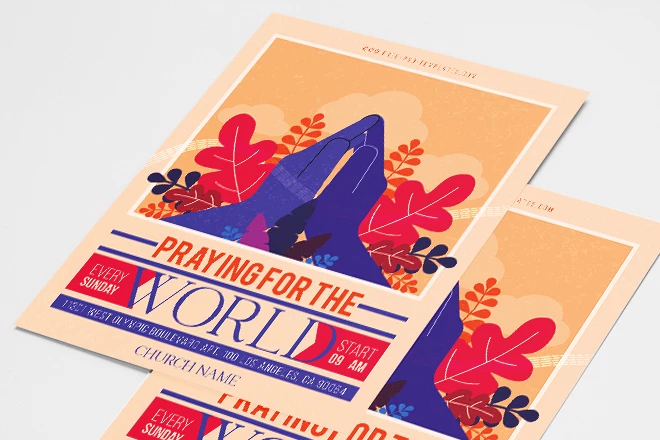 Download
---
Fall Weekend
Promote a superb Fall Weekend party at your club with this stylish poster. Contrasting colors and a photo of a sweet girl will excite your guests. Save the free sample in a click, and customize details easily in PS.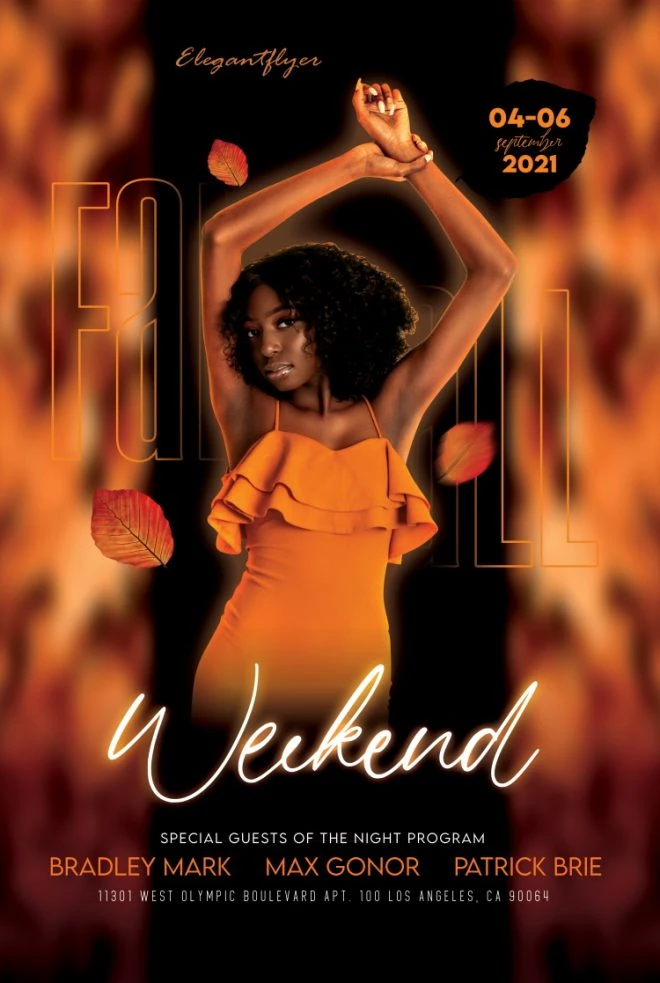 Download
---
Black Friday Sale
Simple yet unusual, the design of this Black Friday poster will draw attention of your future buyers. Bold font and striking combo of red, black and white won't go unnoticed. Download the file now, and get ready for the massive sale!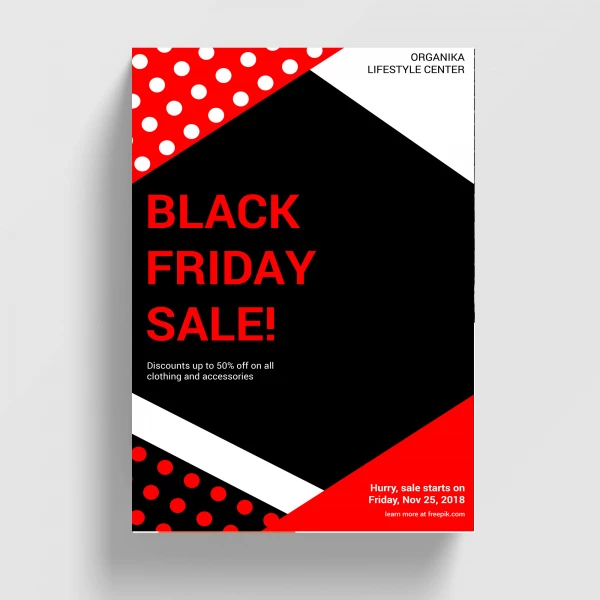 Visit the website
---
DJ
A fabulous music night deserves a cool poster! Vivid, colorful and funny, this free template will stir excitement among your potential visitors. Adjust its look and writing in Photoshop, and succeed at promoting your party.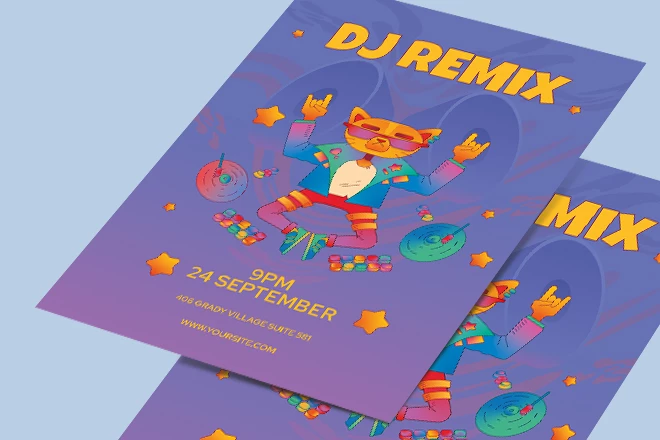 Download
---
Gym Fitness
Invite everyone to join your gym with this incredible poster. B&W photo of a tough guy looks impressive with the striking yellow accents. Save the template for free and make it ready for print within minutes.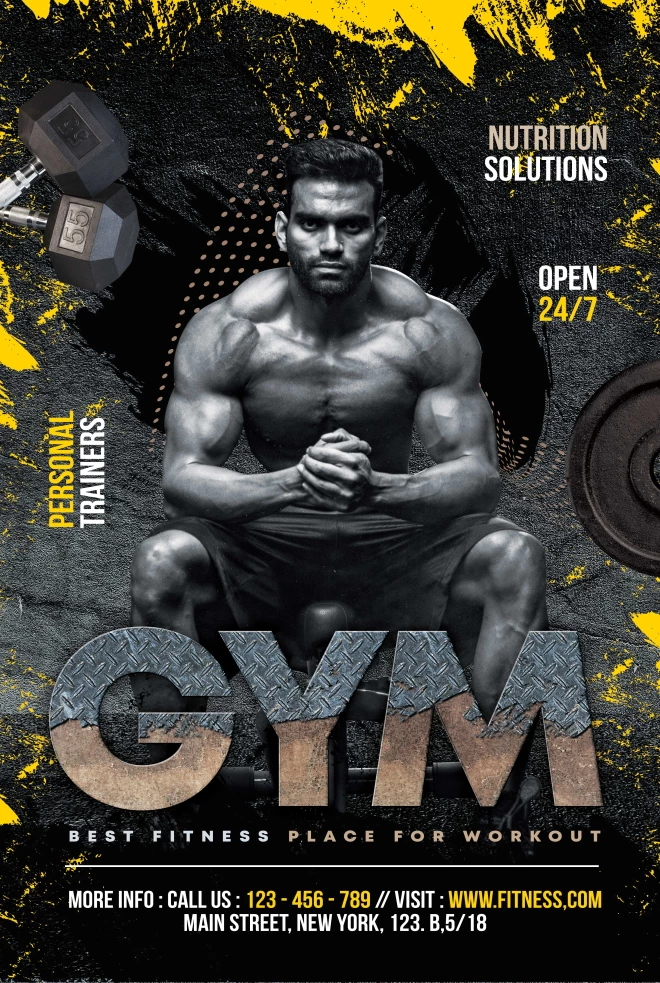 Download
---
Business
Smart design and bright color accents is what makes this formal poster look catchy and cool. Don't hesitate to save the professional file for free, and modify it without much effort in PS. The participants of your event will be impressed with the result.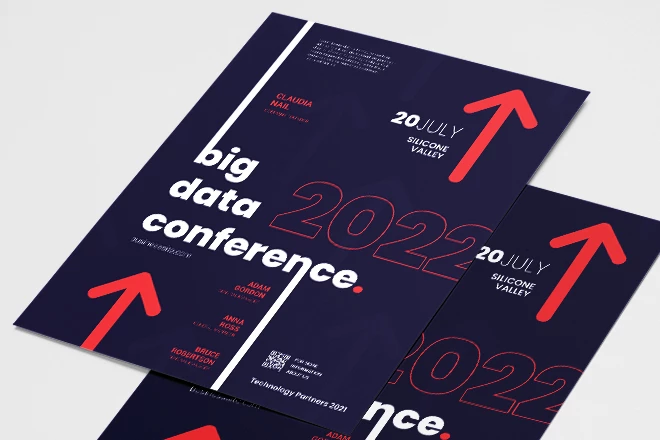 Download
---
Street Food
A poster promoting street food should look bright and joyful – just like a template presented here. Do not hesitate to save it for free, customize details in PS, and make drool all those who's passing by your cool street ad.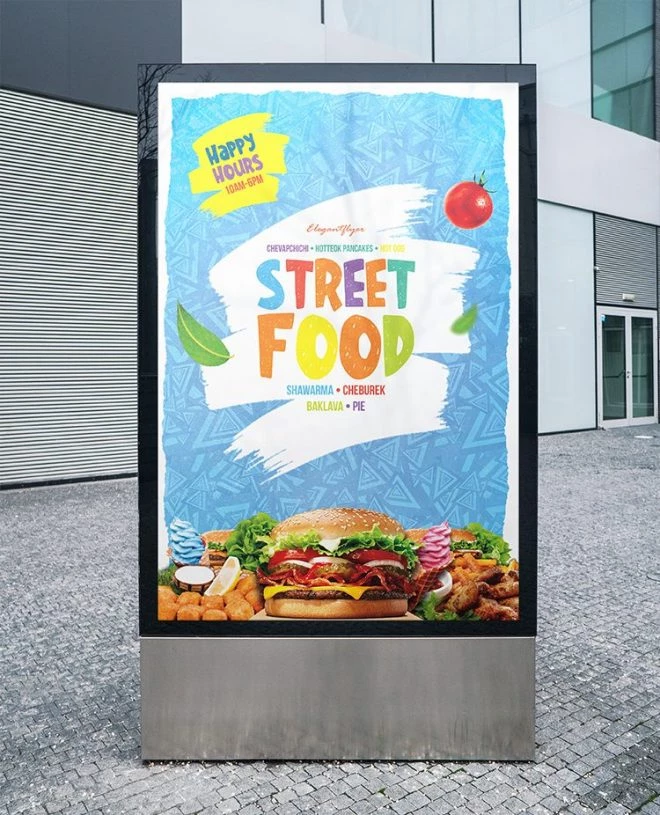 Download
---
Cyber Monday
Cyber Monday is a great opportunity to stock up on high-tech gadgets. Spread the news about your huge sale with this smart poster. Although we think that bright combo of blue and green looks cool, you can choose the other colors in Photoshop.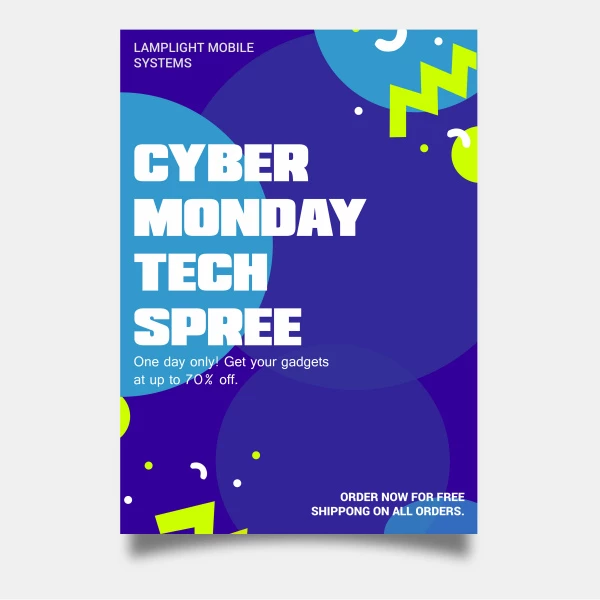 Visit the website
---
Music Event
Minimalistic yet impressive, this free poster template will help to spread the news about your amazing music event. It won't take you long to tune it up – simply run Adobe Photoshop to edit the text, replace the photo, and play around with the palette.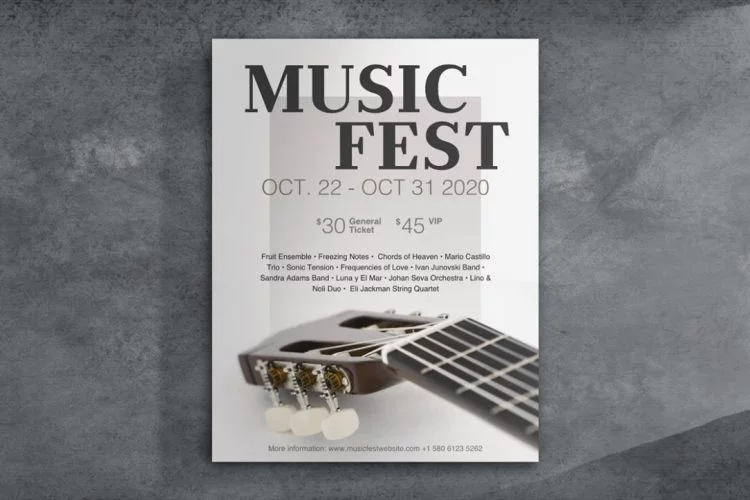 Download
---
Yoga Classes
Spread the vibes of positivity and happiness announcing your yoga classes with the help of this beautiful poster. Save it for free in a click, and have no hassle with editing in Photoshop. We're sure that everyone will love this ad.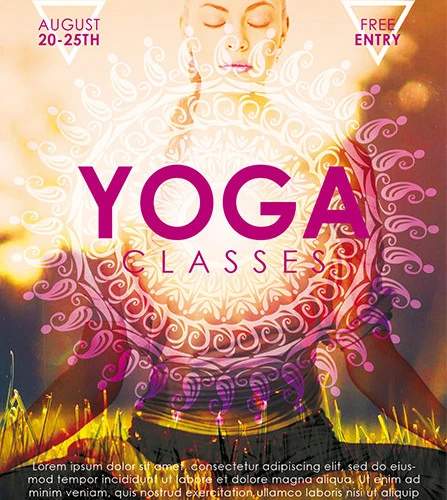 Visit the website
---
Great Vibes
Throw a stunning party that no guest will forget! Draw everyone's attention within minutes using a fabulous poster. This pro template is free and ready for download and PS customization. Save it now without any doubt.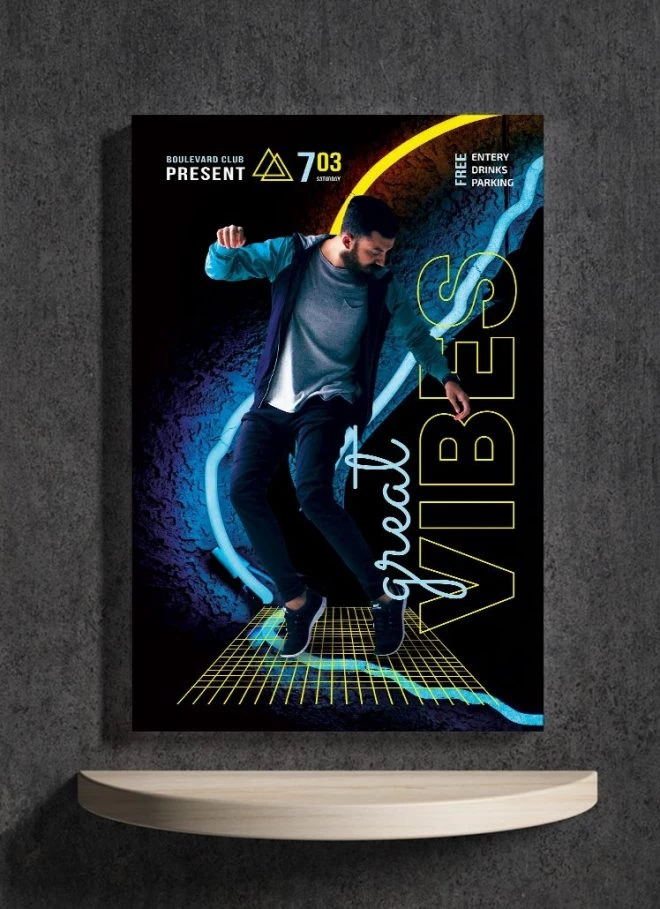 Download
---
Food Market
Promote delicious healthy food at a local market with style and ease. Natural yet bright, the colors of this poster will please the eyes of every customer. Download the template free of charge, and enjoy editing it in PS.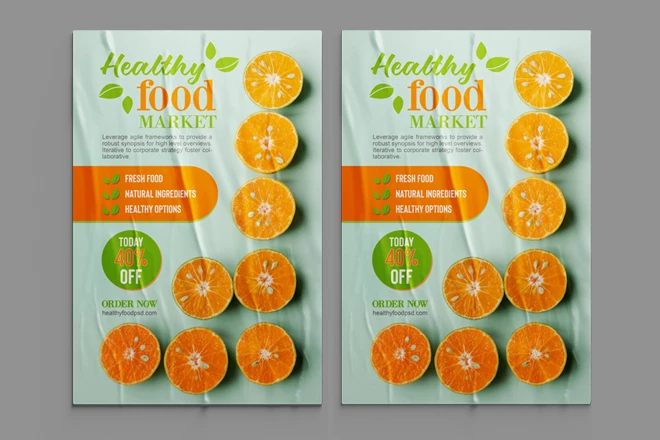 Download
---
Alternative Electro Festival
A stunning festival of Electro Music should be presented with creativeness and style. Save this special PSD sample, to print the posters that will excite your guests. Use Photoshop to edit the text, and change the palette of the template.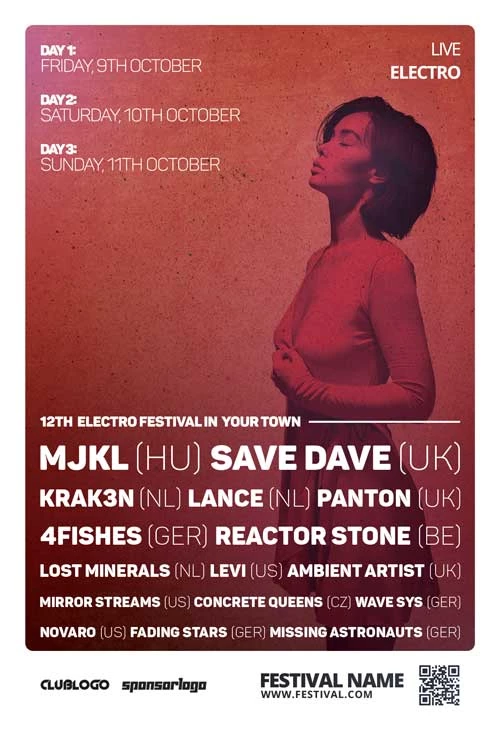 Visit the website
---
Church Revival
Invite everyone to come to a memorable Church Revival using this amazing poster. Dark background and shiny writing will help to place the focus on the photo of a preacher. You can apply Photoshop to change the text and the image within minutes.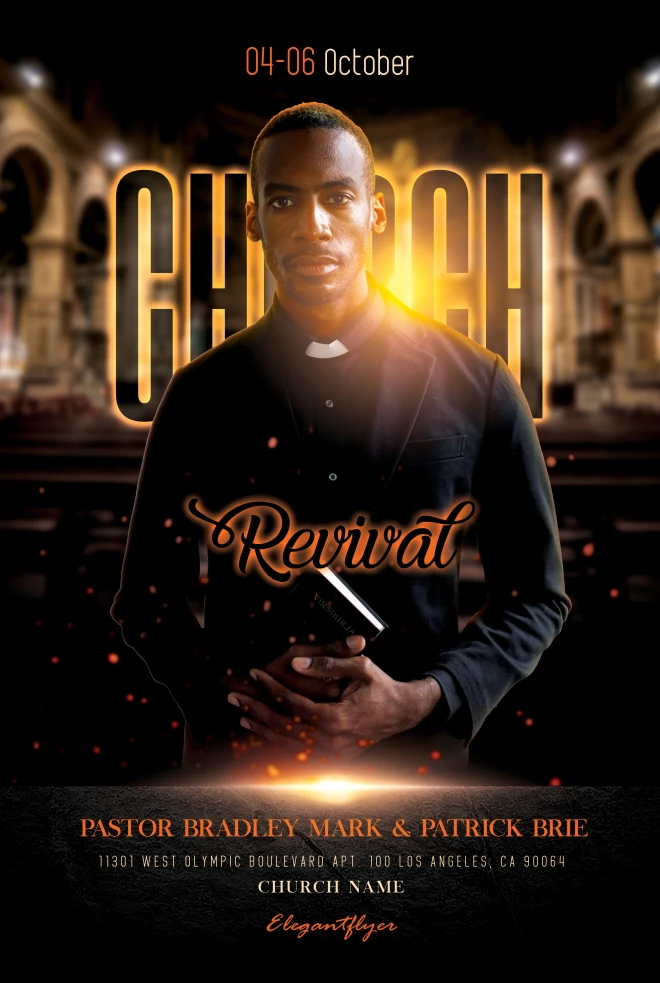 Download
---
Marketing
Who told you that a poster promoting a conference on Marketing Content should look formal and dull? Save this designer sample for free – its modern outlay and vivid accents will instantly interest your potential visitors.
Download
---
Basketball
Get everyone excited about a big upcoming game with this kicky poster file. A cool photo and massive writing will instantly pass the amazing vibes of the event to the viewers. You can drive this free file to Photoshop, and edit its look within seconds.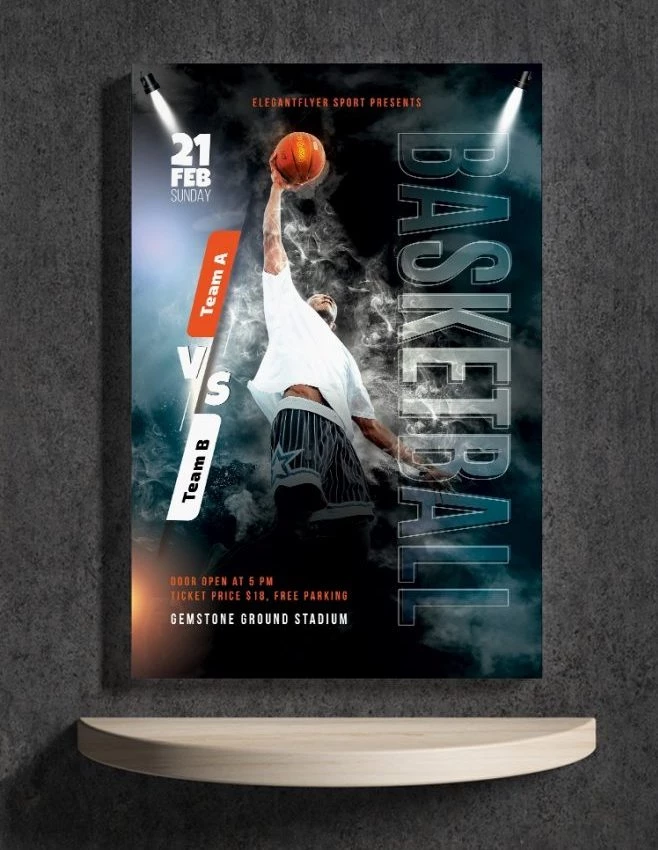 Download
---
Art Fest
A classy template presented here will help to draw attention to your special art event. A B&W image, combined with the dark background and vivid color accents look impeccable together. Modify this sample easily in PS, and create impressive posters.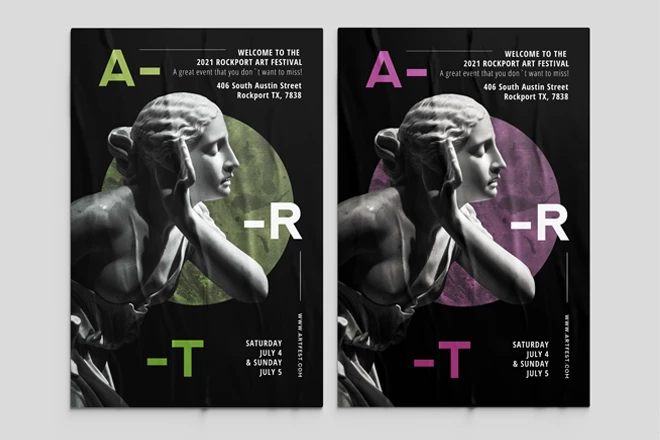 Download
---
Gardening
Advertise your professional gardening services with the help of this beautiful template. Although the presented images look great, you can easily replace them – as well as the text of the poster – with the help of some quick edits in PS.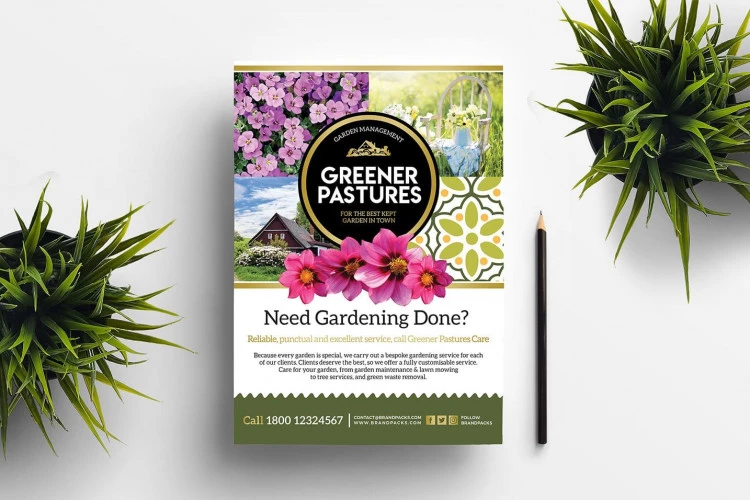 Visit the website
---
Church
Use this free template to spread the news about a wonderful fest at your church around the community. Reserved yet eye catching, it won't leave anyone indifferent. Photoshop will allow you to edit the sample and get it ready for printing in no time.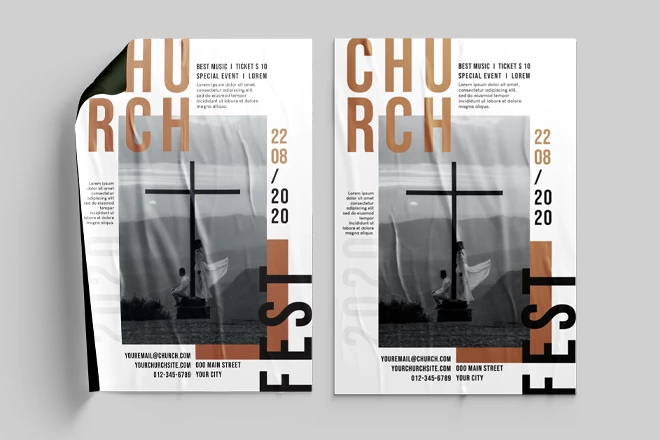 Download
---
Afterparty
A fabulous poster file featured here will make everyone look forward to your special After Party. A cool photo and impressive writing will steal your future guests' looks. Download the free template now, and have no issues editing it in Photoshop.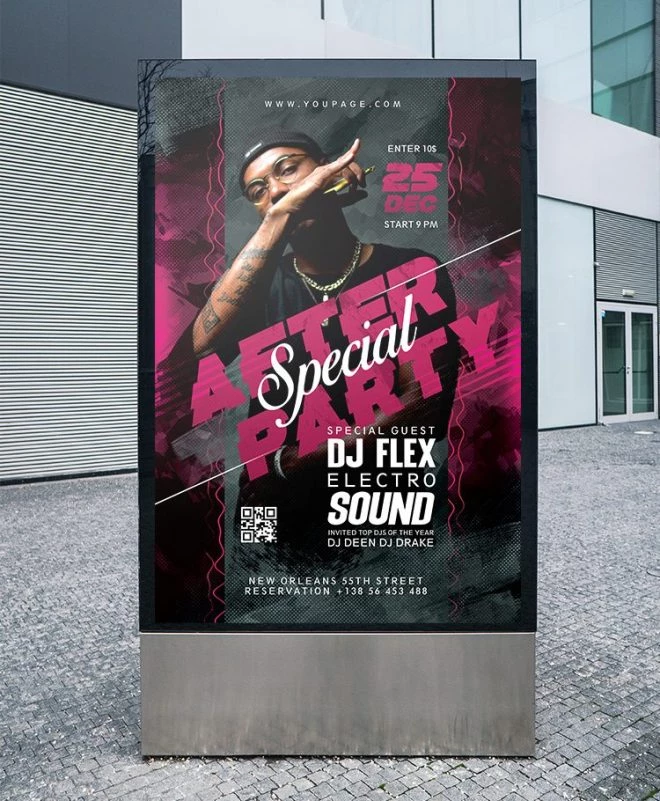 Download
---
St. Patricks Day
For sure, Saint Patrick's Day is a favorite holiday of many. Get everyone excited about the wonderful celebration that will take place at your club. Save this free sample, edit the text in PS, and have luck promoting your party!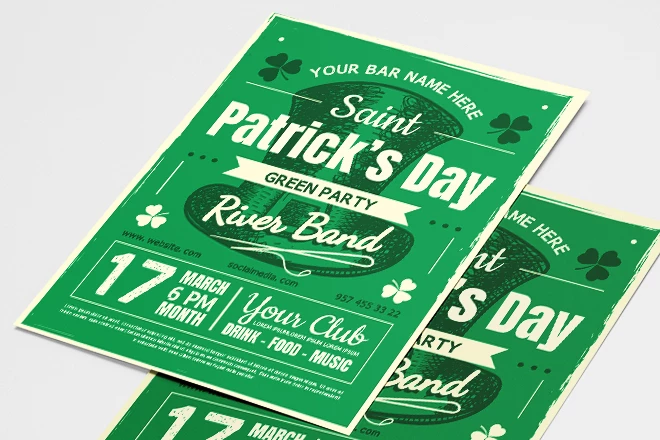 Download
---
Business Solution
A contemporary Business Solution template presented here will help you to craft impressive posters. Draw attention to the event effectively and easily. Download this file in one free click, and apply PS to modify the contact details and add your photo.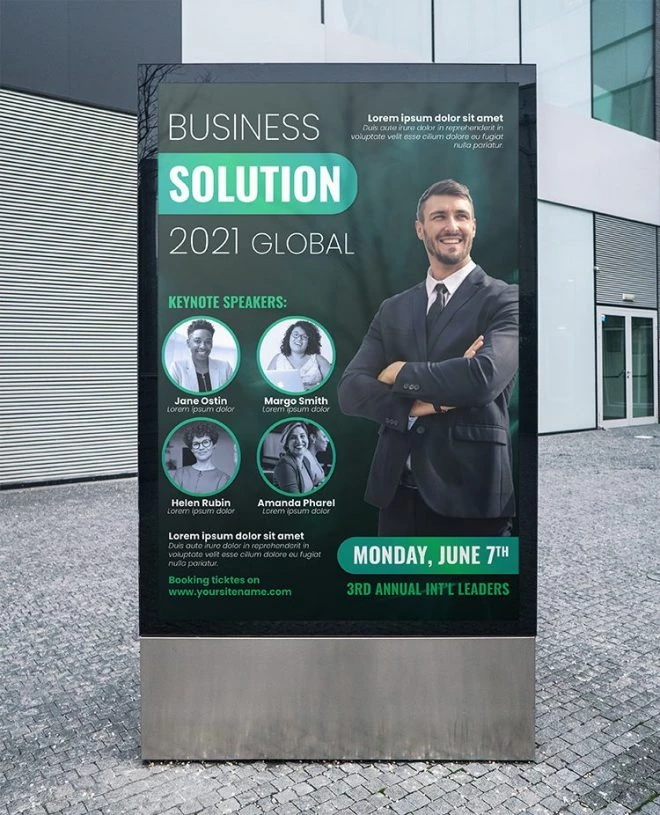 Download
---
Picnic Time
Is there anyone who doesn't enjoy chilling out at a picnic? Invite friends and families to spend happy time together with this colorful free template. Customize its look in PS, and print out wonderful posters that everyone will love.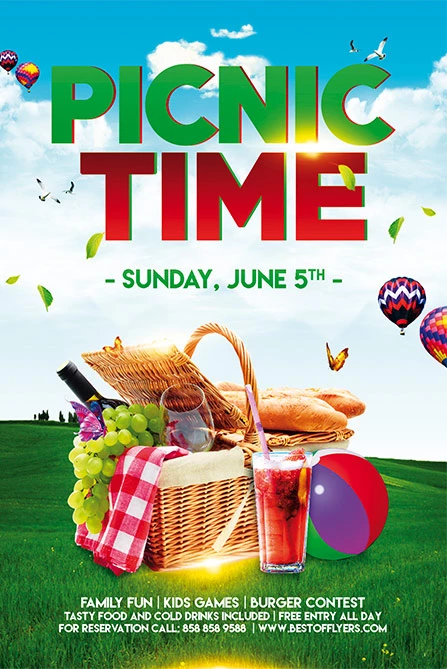 Visit the website
---
Burger
All those craving for a huge juicy burger won't resist the temptation to visit your restaurant as soon as they notice this fabulous poster. Have the place filled with the fast food fans using the awesome free poster.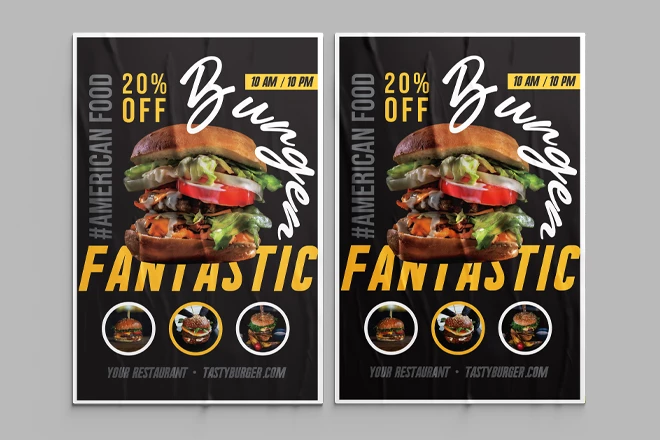 Download
---
Coffee Shop
No coffee lover will pass by this stylish poster. You can almost feel the amazing aroma simply by looking at the tasteful image. Save this ready-made sample for free, and succeed at promoting your cozy coffee shop.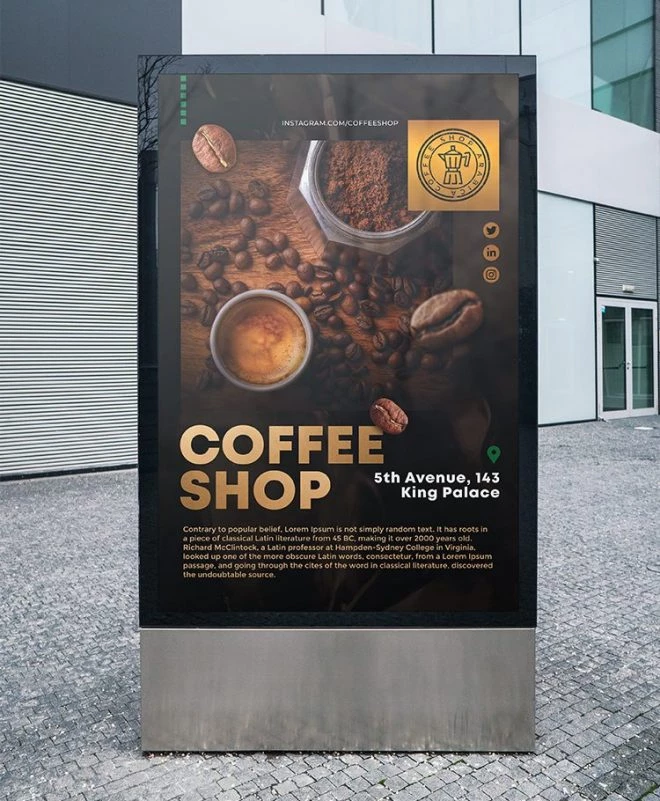 Download
---
Beer Fest
Crafty and lovable, this Beer Fest template will easily spread the word about the huge celebration. Host an event full of fun and tasty drinks that no guest will forget. Customize the free file in Photoshop, and prepare cool posters.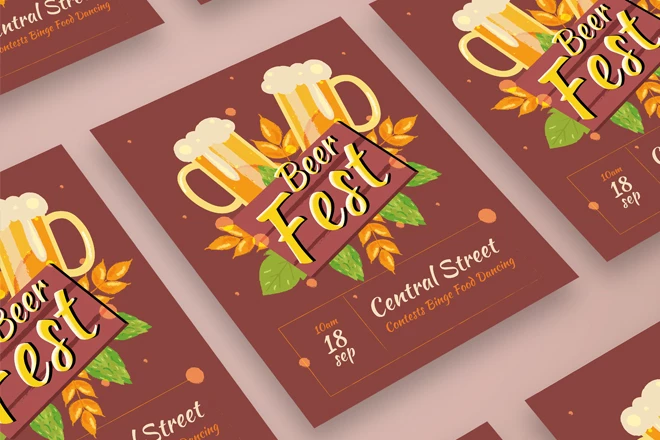 Download
---
Black Friday
Use this Black Friday poster to announce the most generous sale of the year! Every potential customer will pay attention to its gorgeous look. Simply download this file for free, and change the text in Photoshop.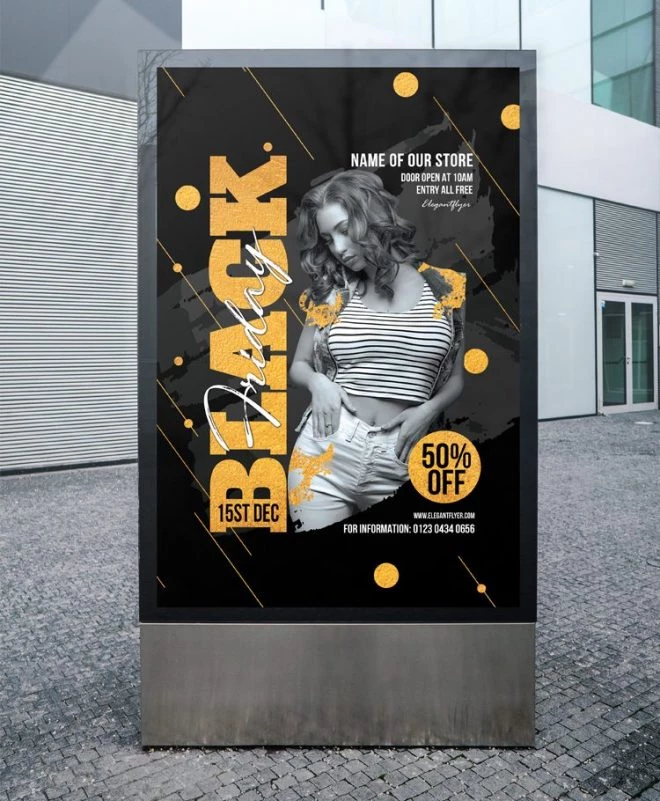 Download
---
We hope that in the diverse collection of templates here you've found the one which perfectly corresponds to your needs and goals. Don't hesitate to save any of these poster files for free, and use them to make your promotion campaign successful!