With the overwhelming popularity of Instagram it might not be easy to make your profile stand out. You should realize that sharing great content is not the only way to engage your followers. The unique style of your page can shine through details such as an original username, a delightful tone of voice, a catchy profile picture, and even unusual Instagram Story Covers.
In the compilation below we present 30 top class Highlight Covers for Instagram. Elegant, trendy and modern, they can be used for various goals and needs. Don't hesitate to download these amazing sets for free. Your followers will certainly love them!
---
1) Free Texture Icon Set
Looking at these wonderful Instagram Covers makes you think that perfection and simplicity go hand in hand. Trendy pastel colors and a variety of textures work great as a background for beautiful fonts. Download this pack of designer icons for free, and change the writing on them within seconds in PS.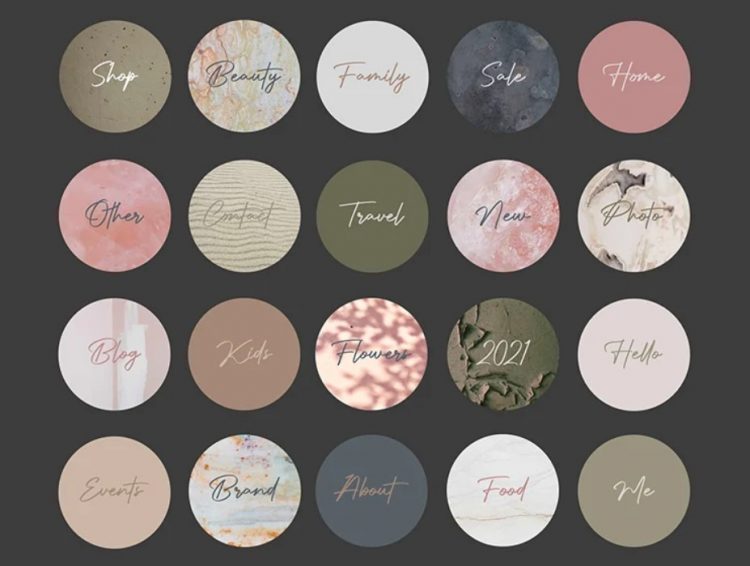 Download
---
2) 20 Free Botanical Instagram Highlight Covers
Delicate design of these free 20 Instagram Stories Covers will enchant your followers. Fine details in rosewood color look tender against the light background. You can use Adobe Photoshop to change the color. These botanical themed icons will add charm to your profile.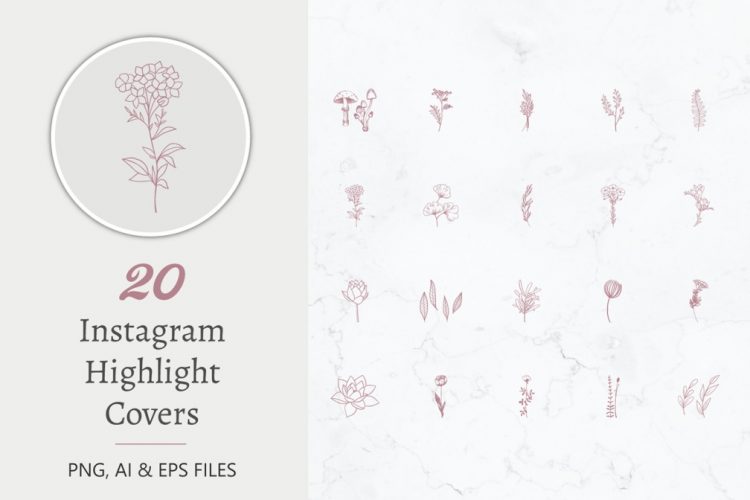 Download
---
3) Free 50 Pet Highlight Icons Set
If your profile is focused on pets and taking care of them, this adorable set of 50 covers will come in handy. A broad choice and several color options allow you to pick a perfect icon for every need. You can download these pet Instagram Covers for free in just one click.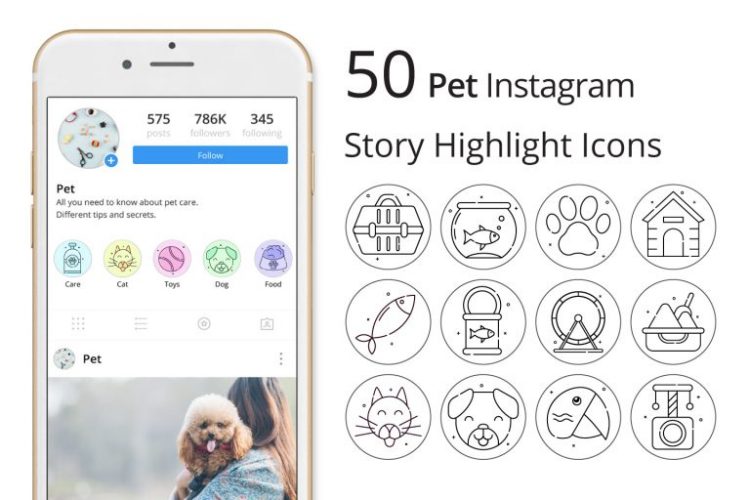 Download
---
4) Free 50 Baby Story Covers Set
 Simple yet charming style of these 50 Baby Instagram Story Covers will immediately speak out to all loving moms out there. You can use these sweet icons for a resource on baby care or an Instagram baby shop. Download this set of baby icons for free to make your profile look stylish.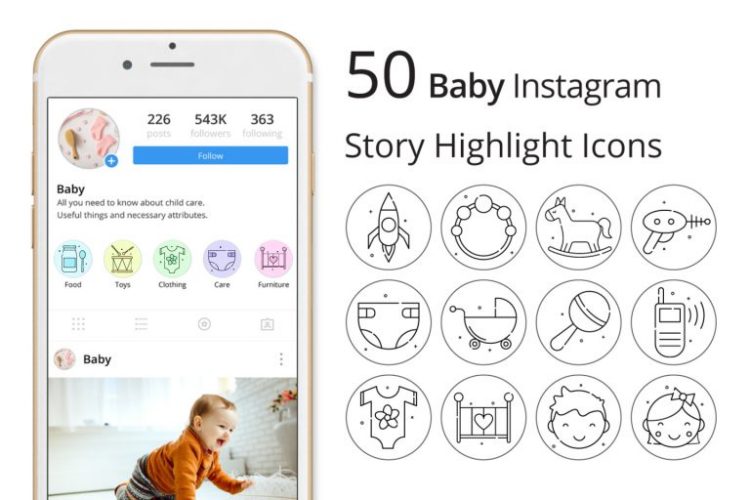 Download
---
5) Free Crochet Icon Set
Crocheting is a unique hobby which deserves special presentation. It might be not easy to find the right Instagram Highlight Covers on Crocheting. But luckily with our exclusive icons pack you won't need to look any further. Download these Crocheting Icons for free, and edit them up to your needs in vector editor.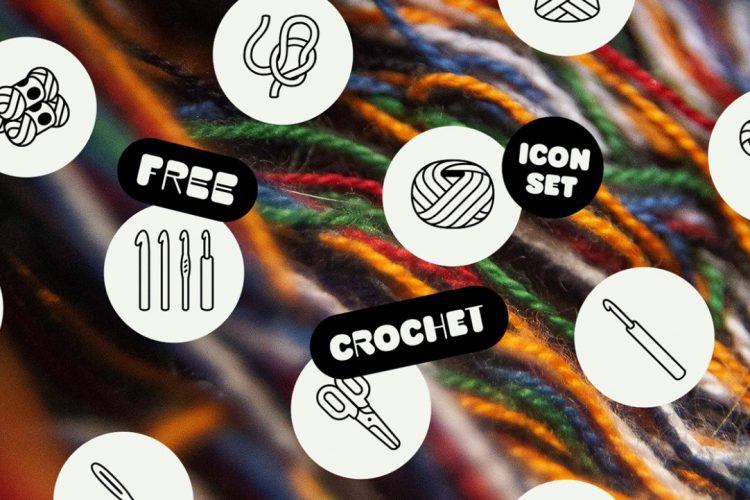 Visit the website
---
6) Floral Highlight Icons Set
This wonderful set of Floral Story Icons for Instagram will enchant your community with its delicate design. Sweet colors and tender look of the covers can go in tune with almost any story you share. Download this splendid pack for free, and enjoy sharing them on your profile.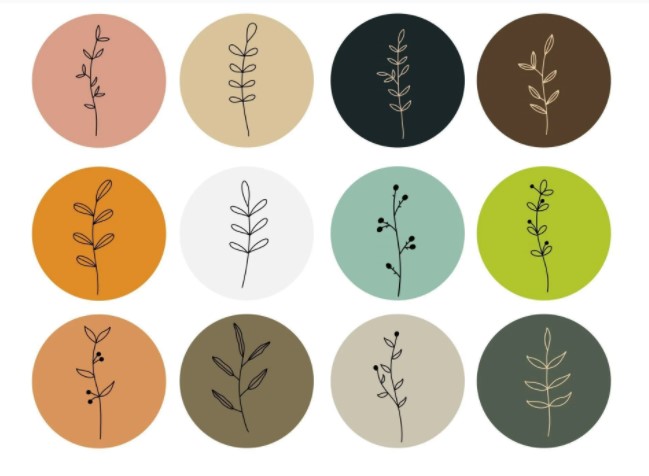 Visit the website
---
7) Free Watercolor Stories Highlights
Unusual and modern, these Watercolor Stories Covers for Instagram can match almost any profile. Soft palette and unique texture make these icons look crafty and eye-catchy. You can use them free of charge, and customize colors, sizes, and shapes in a few clicks.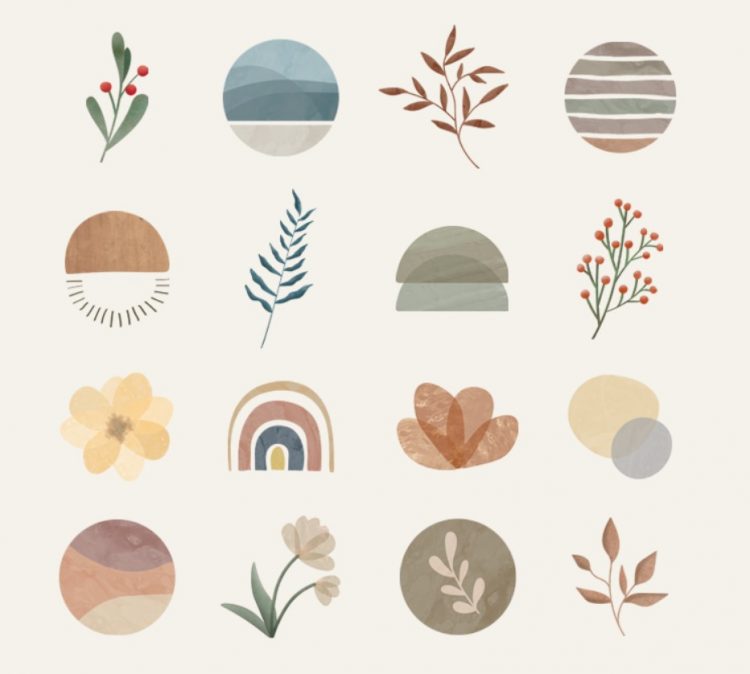 Download
---
8) Free Travel Instagram Stories Highlights Icons
This pack of 100 Travel Story Icons can impress anyone with its diversity. Whichever your story is, we're sure that you'll find a superb cover for it among these designer covers. The pack is available in five soft color options to make the choice even richer. You can use vector editor to make the necessary changes.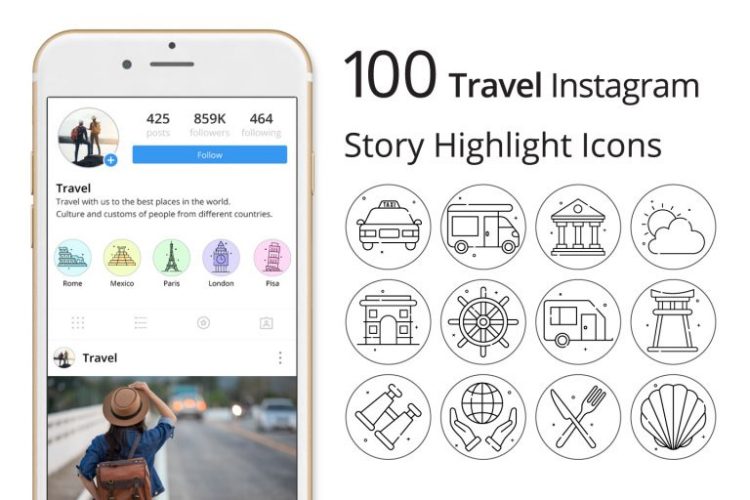 Download
---
9) Free Starry Instastories Highlight Icons
Chic and creative, these starry icons for Instagram will fascinate your followers. Unique design and soft color palette make the Highlight Covers apt for different occasions. Download this pack for free, and customize them to make your profile shine!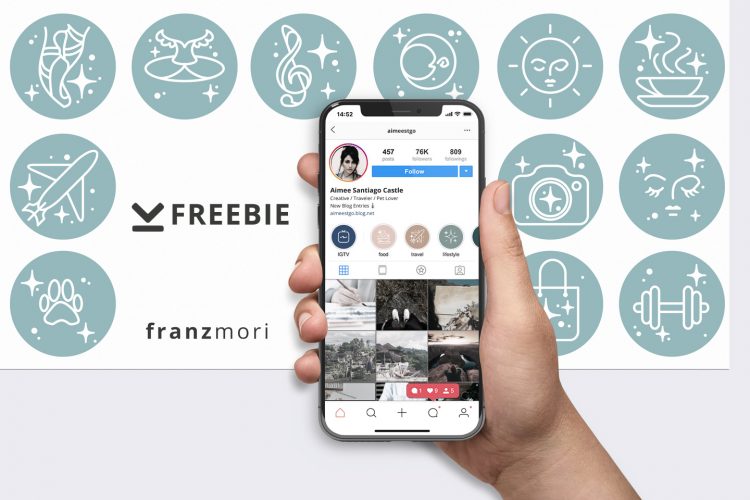 Visit the website
---
10) Free 25 Instagram Icons Set
Abstract forms in graphics are a sure way to attract attention. Download our stylish set of Instagram Icons, and adjust them to your preferences in no time. Bright colors, catchy shapes and fonts will certainly interest your followers.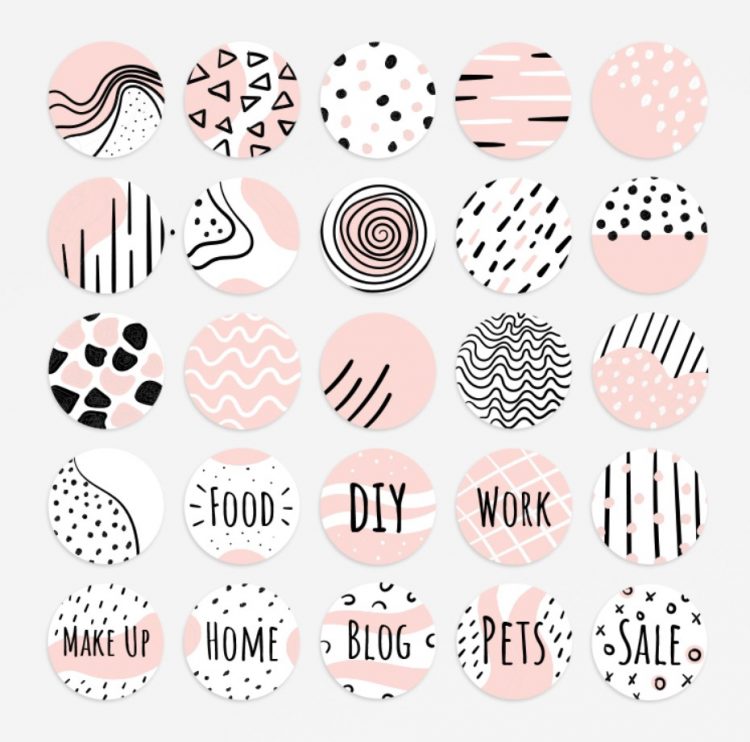 Download
---
11) Free 100 Beauty Icon Set
 The diversity of these Beauty Instagram Story Covers is just as broad as the topic of beauty itself. Whether you are a beauty blogger or an owner of an online store, these stylish Instagram Icons will come in handy. Download this free pack in one click, and choose between five nice colors and 100 of unique options!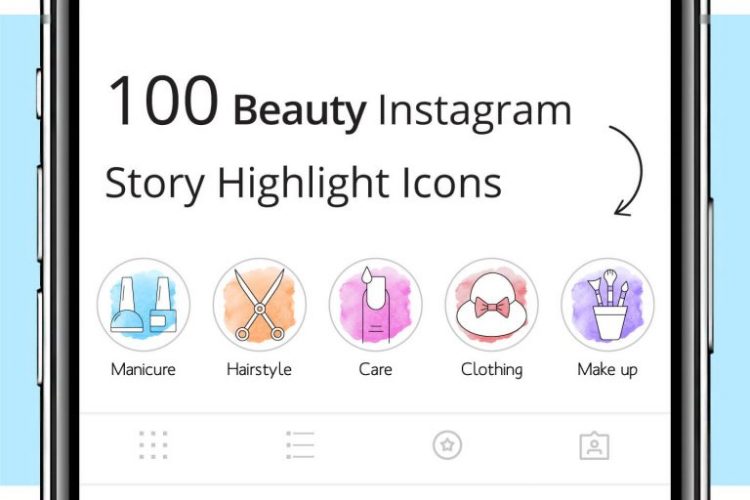 Download
---
12) Free Boho Rainbows Highlight Covers
This exclusive set of Instagram Covers features 15 adorable boho rainbows. Neutral colors and unique style make them multipurpose. Don't hesitate to use these editable icons for your page, we're sure that they will bring you luck!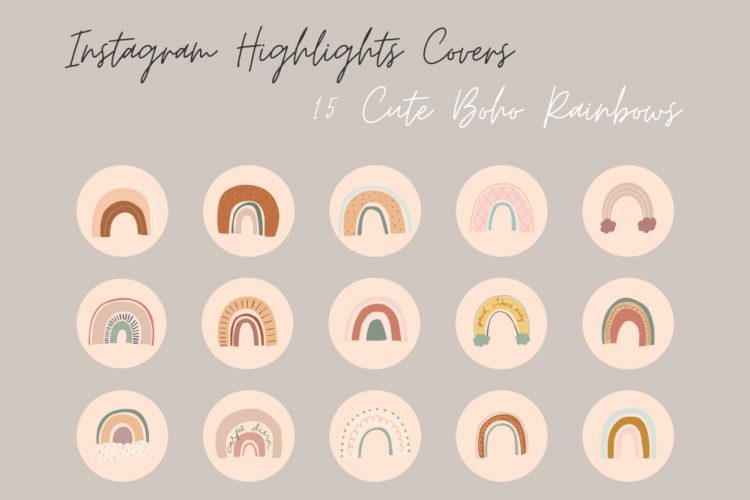 Visit the website
---
13) Free Holiday Icons Set
These 20 delightful Holiday Instagram Icons are perfect to express happy summer mood. Use them for free to tell about your summer adventures to the online community. Don't forget that all Covers are editable in Photoshop.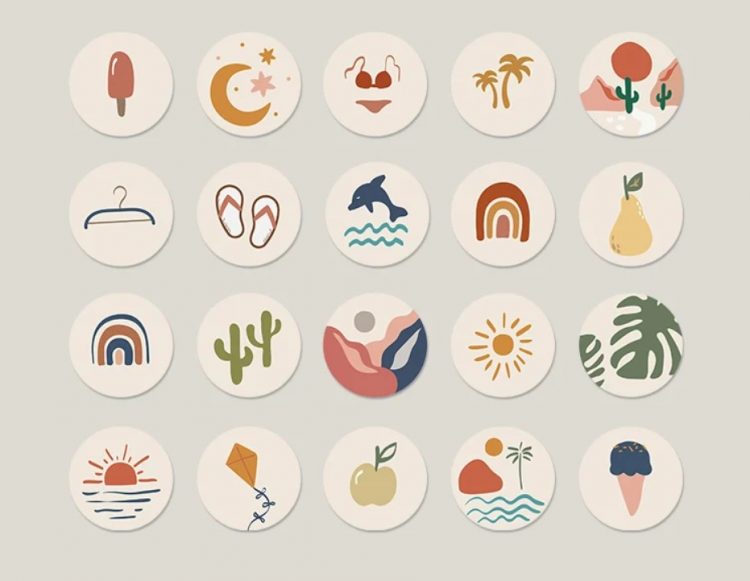 Download
---
14) Free 10 Cooking Stories Highlights
These 10 Cooking Instagram Story Icons will speak out to all foodies out there! 10 unique designs and five color options make the variety of icons endless. Download them in a click and adjust up to your preferences within a couple of minutes.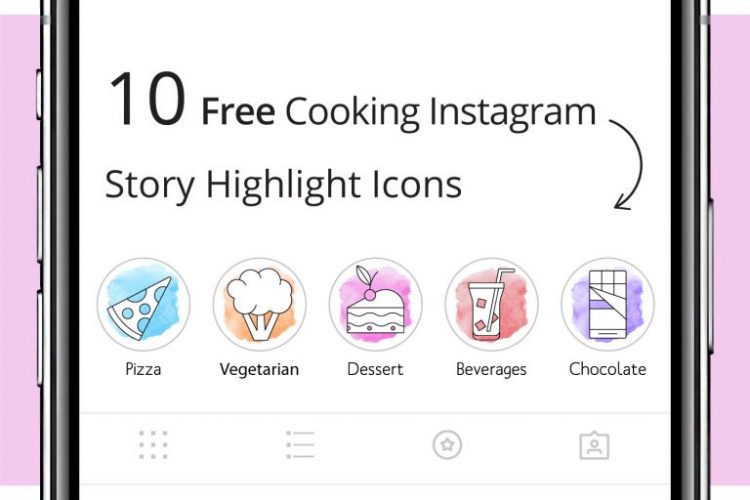 Download
---
15) Free Icons Highlight Line Art Covers
These elegant and modern Instagram Highlight Icons will add a beautiful touch to your profile. You can use them to talk about fashion, beauty, traveling, or to announce special offers in your shop. Free download and easy editing in Photoshop will make your experience enjoyable.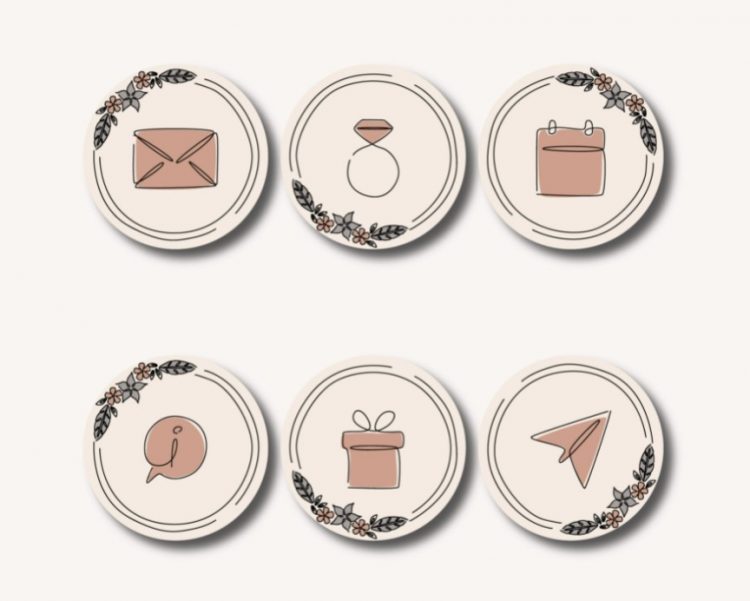 Visit the website
---
16) Free 12 Instagram Highlight Covers
Broad selection of these abstract Instagram Story Covers will amaze the followers with unusual shapes and pleasing colors. Leave them blank or add stylish captions to express your thoughts. Free and fully editable the icons can match any story you share.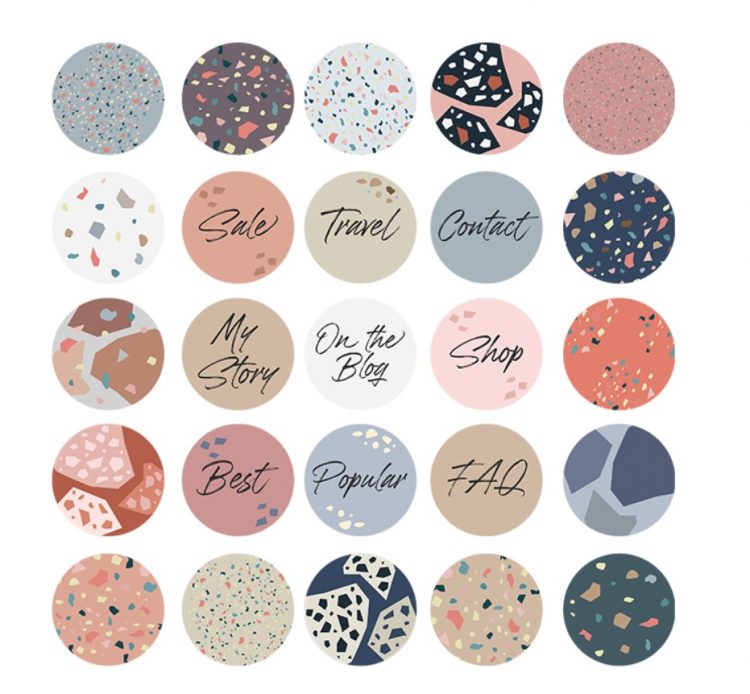 Download
---
17) Free 100 Holiday Instagram Stories Icons
We believe that a big 100 pack of these Holiday Instagram Highlight Covers will enchant you with its cute style. Each icon is available in five different colors which means that you'll definitely find a perfect match for your profile. Use this excellent set of Instagram covers for free, and customize it in no time.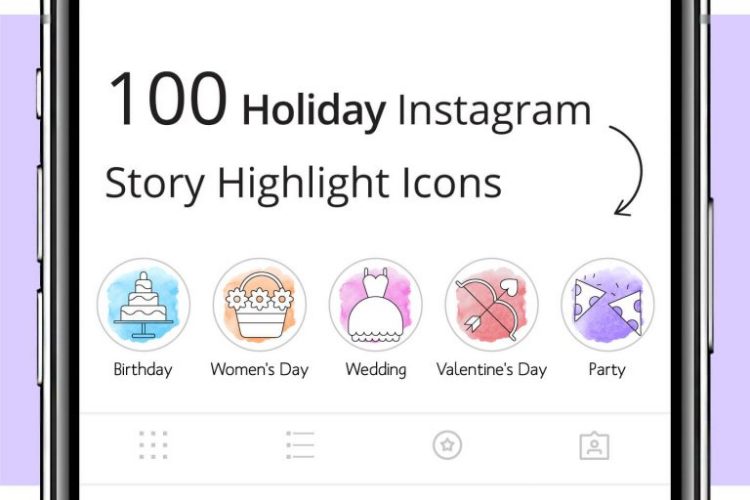 Download
---
18) Free 20 Instagram Stories Highlight Icons
Minimalistic design of these 20 Instagram Story icons make them look fresh and modern. You can choose between two color options – light green and white. The diversity of this set will offer something for every occasion, whether you're speaking about travelling, cooking, or your pet.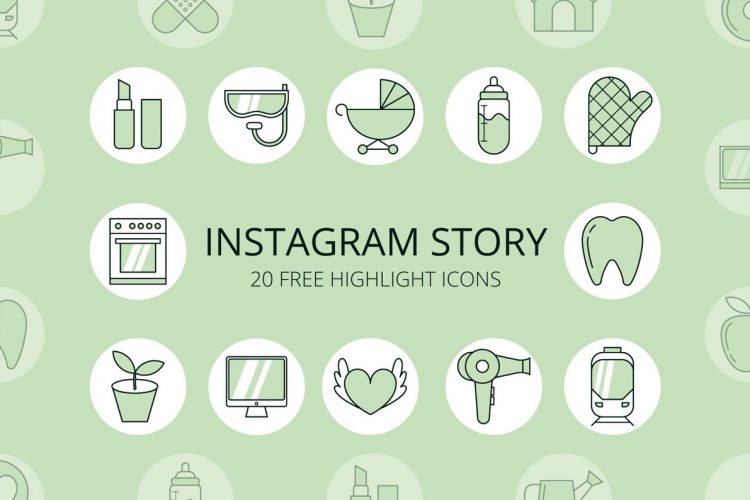 Visit the website
---
19) Free Plants Icon Set
Natural colors and elegant design of these Plant Cover Icons can look great on an Instagram page dedicated to beauty, wellness, gardening, and many other themes. You can also use these templates for printing or various graphic projects. Download them in a click for free, and use PS for customization.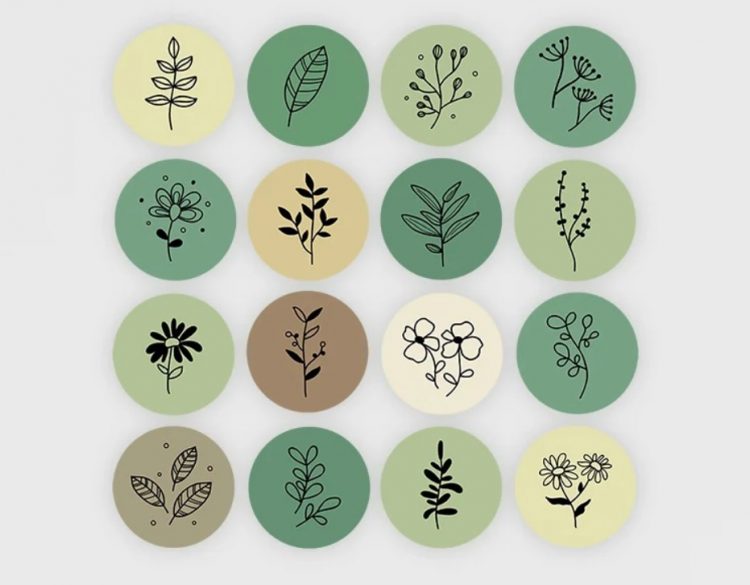 Download
---
20)  Free Stylish Instagram Covers
This pack of Stylish IG Instagram Story Covers will easily attract your followers with its contemporary and minimalist look. Whether you are a blogger, an artist, or a business owner, these covers will add a smart touch to your profile. Free, fully editable, and available in different formats they will certainly live up to your expectations.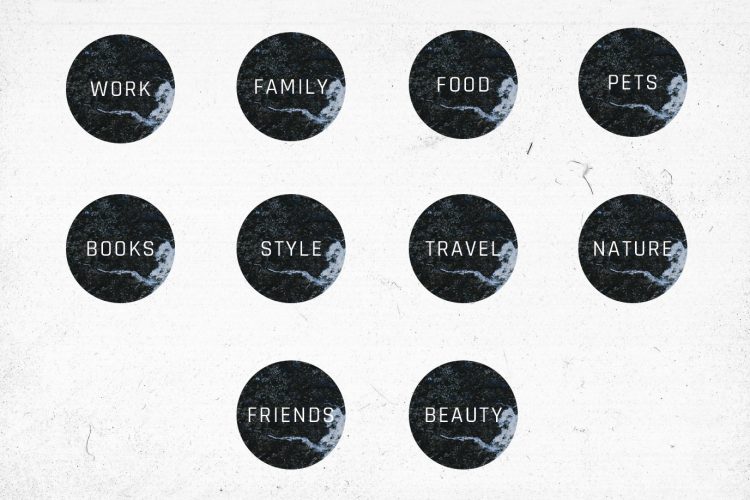 Visit the website
---
21) Free 30 Instagram Stories Icons 
Make your Instagram profile look fashionable with this designer pack of Highlight Covers. 30 unique designs and three color option will allow you to find an ideal icon for your story. The hand-drawn look of the icons will help you stand out from the crowd. This stylish set is available for download any moment, for free, and in different formats.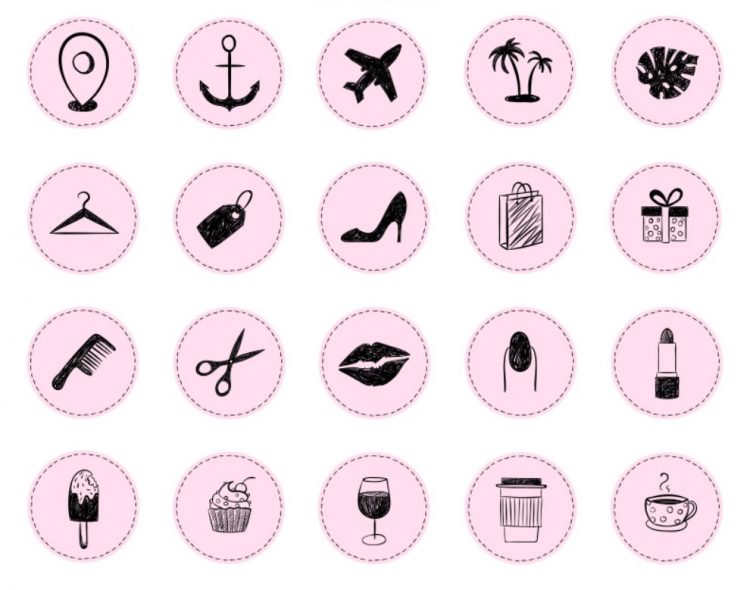 Download
---
22) Free 100 Health Instagram Stories Icons
This massive pack of one hundred Health Story Icons for Instagram will offer a great match for every need and occasion. Seven color options make the number of possible variants infinite. The set will come in handy for Instagram pages of medical institutions, SPA salons, beauty blogs, online cosmetic stores, and more. Use these Health Highlight Covers for free in popular graphic formats.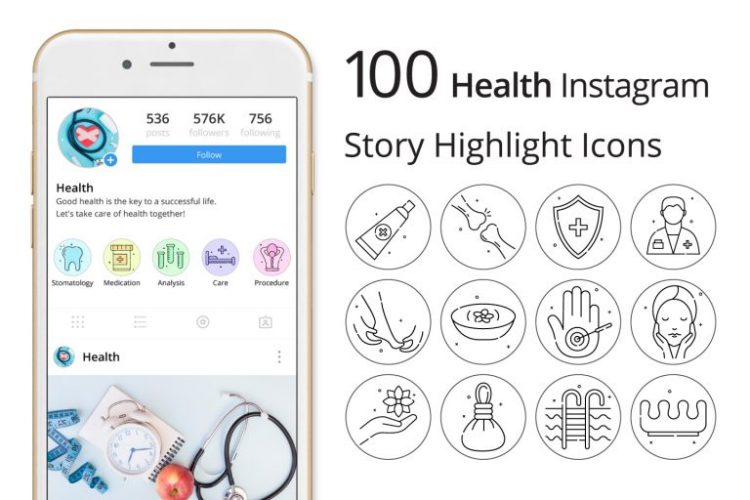 Download
---
23) Free Abstract Botanical Instagram Icons 
Are you in search for unique floral designs for your Instagram profile? Look no further as this admirable set of Abstract Botanical Highlight Covers will leave up to your expectations. Calm natural palette and tender details will speak out to your followers. Download the pack for free, and do the necessary edits within seconds.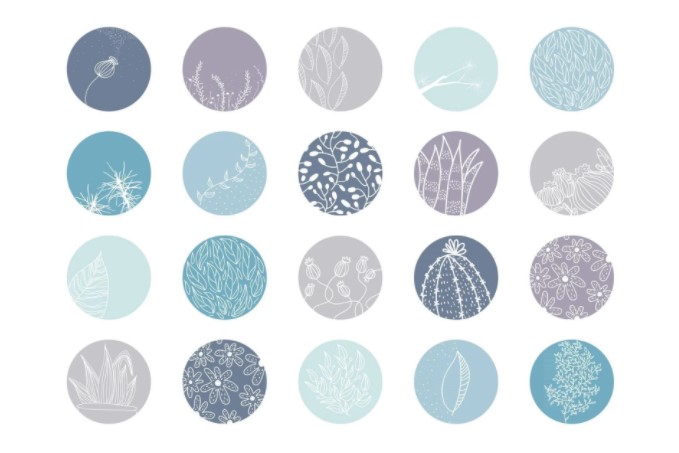 Visit the website
---
24) Free Medical Icon Set
Concise yet stylish look of these 25 medical Vector Icons will draw the attention of followers to your page. Fresh blue color looks excellent as the background to simplistic designs in white. You can use this nifty set of Instagram Health Covers for free, and use Photoshop to adjust the size and colors.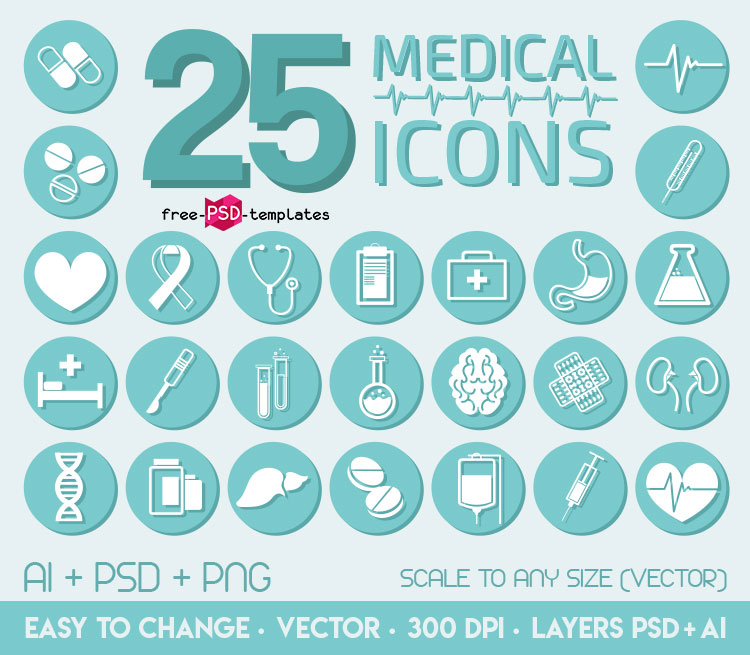 Download
---
25) Free 40 Instagram Stories Highlight Icons
This splendid set of 40 Instagram Story Icons can live up to any situation and need. Share the highlights on your trip, tell about important life events, or tempt your followers with delicious looking food stories with the help of these stylish covers. Download them free of charge, and customize in no time using PS.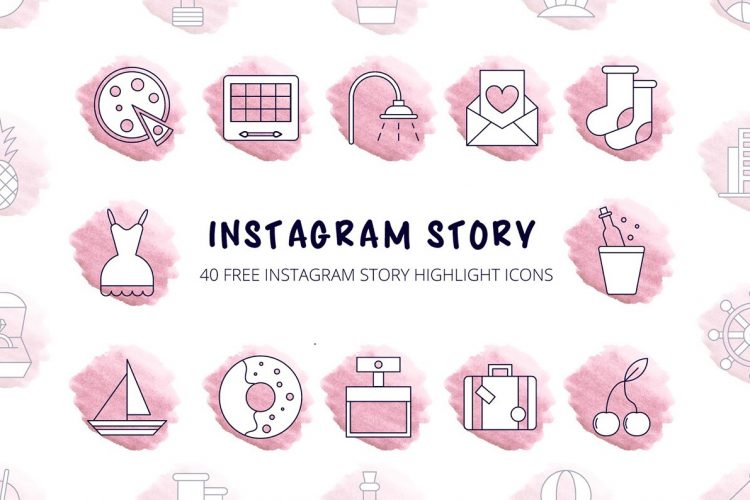 Visit the website
---
26) Free Instagram Blog Icons and Banners Set
This incredible set of Instagram PSD Banner Templates will make your blog look classy. Pastel colors look wonderful matched with the stylish writing and elegant floral designs. Download this free pack, and customize it in Adobe Photoshop, to add unique style to your profile on fashion, style, beauty & wellness.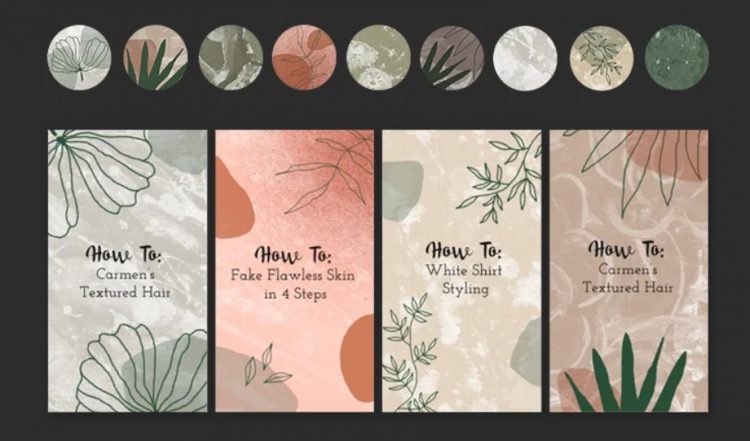 Download
---
27) Free 60 Instagram Stories Highlights
From cooking and parties to trips, wedding, and babycare – this diverse pack of 60 Instagram Highlight Covers has a wonderful option for any occasion. All icons are available in vivid blue and clean white color. Their minimalist design makes them look like adorable hand drawings. We're sure that your followers will be fascinated with your Instagram page.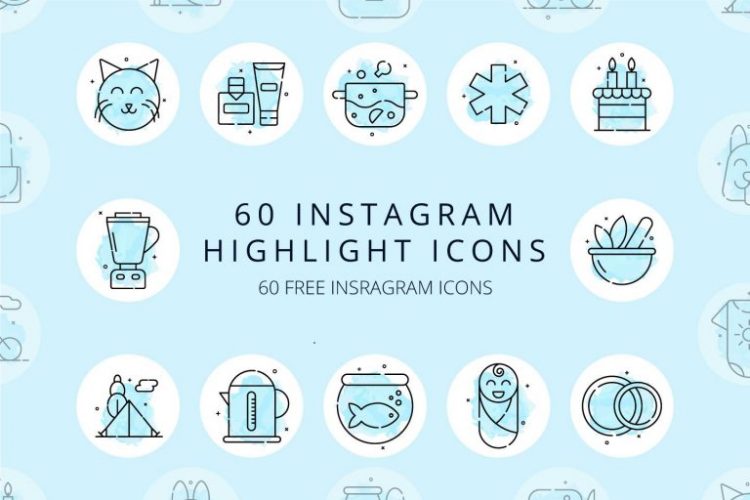 Download
---
28) Free 40 Instagram Cover Icons
 Rich collection of these 40 Instagram Highlight Covers can offer something for every taste and need. Pastel colors and enjoyable design will easily catch your followers' looks. You can easily switch between colors, and use empty templates to add catchy headlines.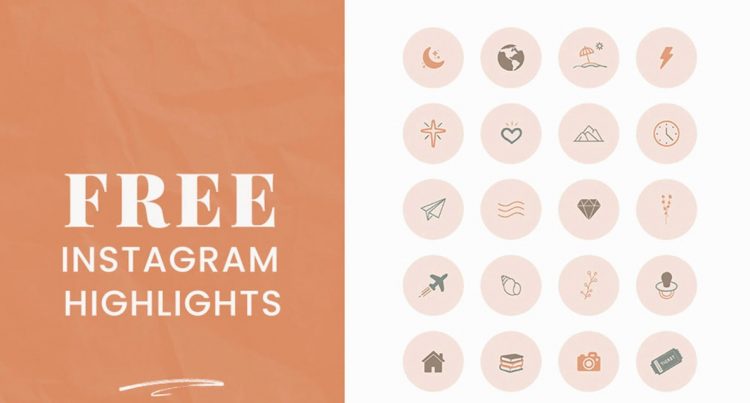 Visit the website
---
29) Free Medical Icon Set
The theme of healthcare and hygiene has never been as important as it is now. Download this smart pack of 20 Health Instagram Icons to draw attention of your followers to the topical questions. Bright colors and enjoyable design make each cover look unique.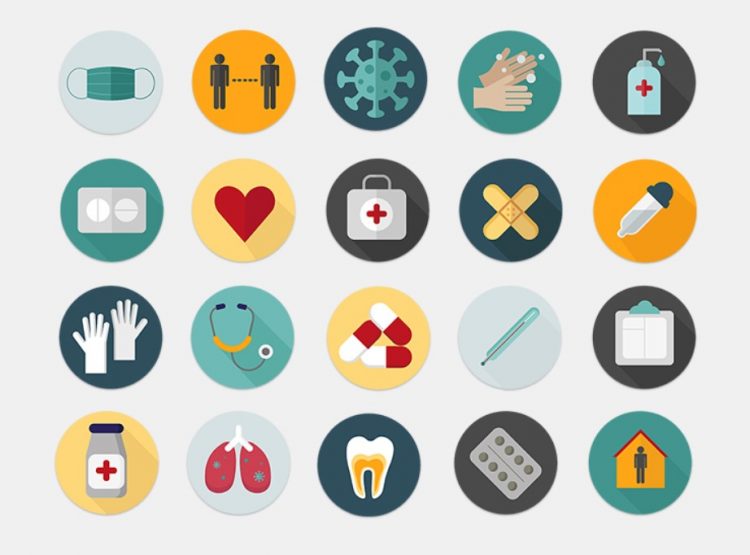 Download
---
30) Free 20 Instagram Stories Covers
This nifty set of 20 Instagram Highlight Covers can offer excellent designs for profiles dedicated to cooking, shopping, education, and many other interesting topics. Download the whole pack for free, and switch between five bright color options to make your Instagram page look engaging.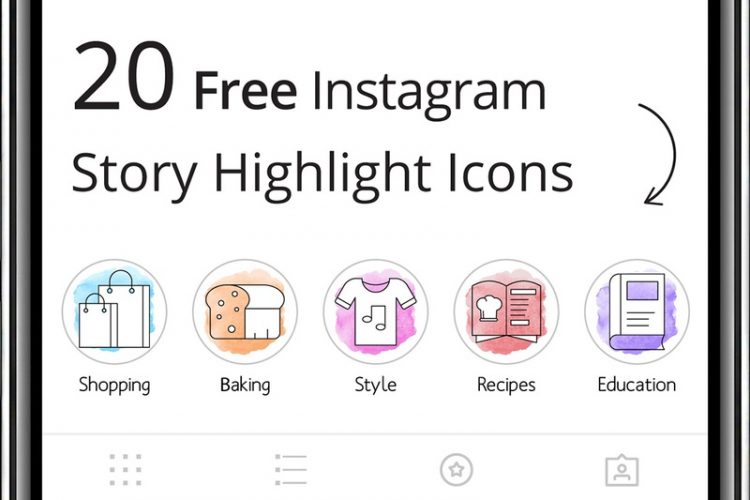 Download
---
We hope that now with these thirty splendid sets of Instagram Highlight Covers at hand you'll find inspiration to create trendy and amazing stories that your followers can admire.