As a designer, an artist, or a business owner, you can't overestimate the advantages of having a customizable frame mockup ready at hand. And how about not just one but forty awesome PSD frame mockups waiting for a quick download? Free-psd-templates.com is glad to offer you this extensive compilation of professional frame mockups. From detailed photo-realistic models to minimalist modern looking items – any of these files can serve well at your design and promotional goals.
The best part about this list is that every mockup included into it can be saved and edited in Photoshop for free. All you need is basic PS skills, a few minutes, and some inspiration in order to insert your fresh artworks into any of the frame models. So go ahead, pick a file that matches your project most, and grant your designs a stylish presentation.
---
Free Frame Mockup Set
Present your artworks with style using any of the 4 adjustable frame mockups included into this set. This mockup will catch the customers\' eyes, while a minimalist bright frame will match any design.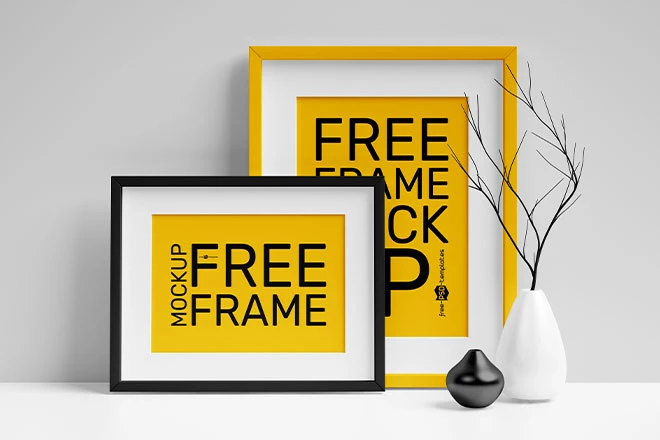 ---
Free Christmas Scene Creator Mockup
Download this mockup with a simple vertical frame to showcase your unique seasonal designs! Modern-looking decorative X-mas trees, ornaments and candles included into the set will add extra festive vibes.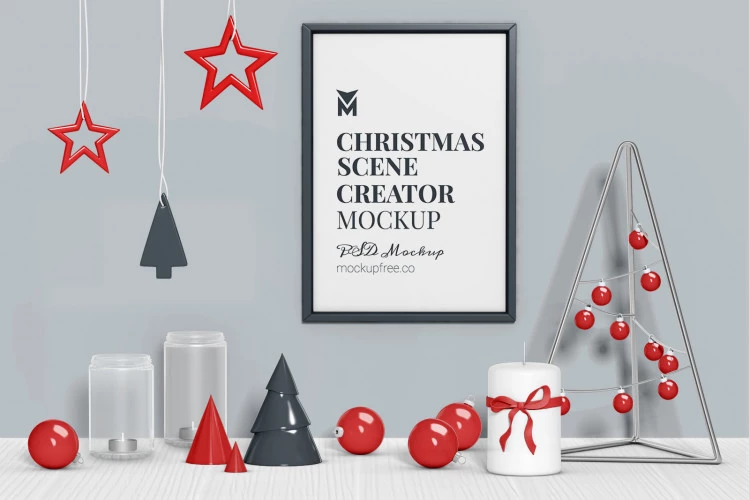 ---
Free Wooden Frame Mockup
A stylish piece of pottery, crafty paper and eucalyptus branches give this photo-based mockup a special charming look. Soft pastel hues won't distract the potential clients' attention from the designs you feature in a reserved white frame.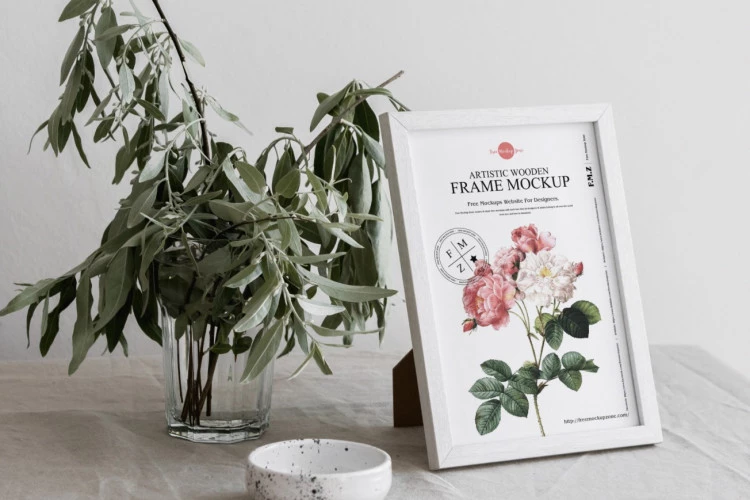 ---
Free Photo Frame Mockup in PSD
This beautiful mockup is all about natural textures, shapes and colors. Candles and a vase with dried reeds give cozy home vibes. We promise that your work will look impressive inside a simple wooden frame.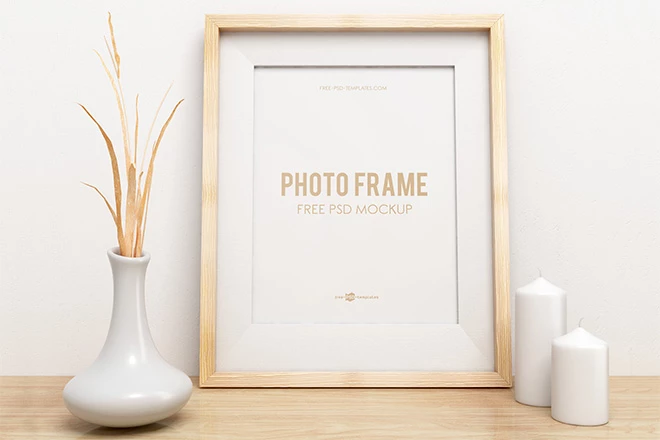 ---
Framenity — Free Set Of 14 Frame Mockups
Here's an amazing find that you'll certainly enjoy using! An adjustable set includes fourteen cool frame mockups; feel free to pick the one that matches your design perfectly. The items included into the file will help create unique scenes.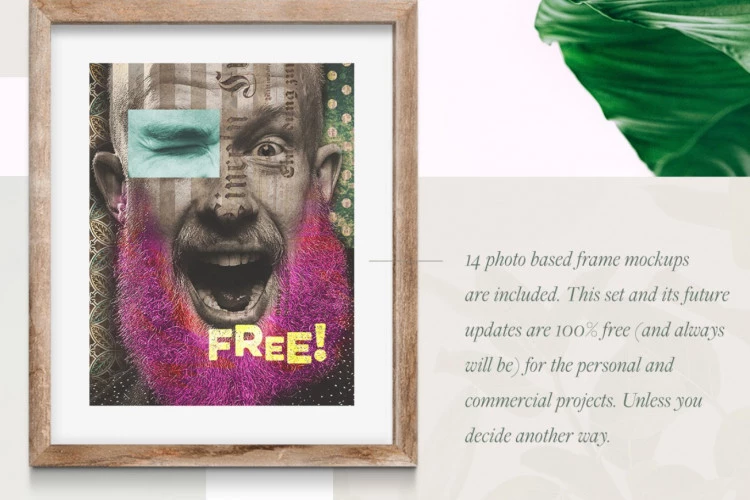 ---
Boho Frame Set Free Psd
An interior scene in soft pastels, and authentic boho elements will help at featuring your creation with style. Relaxed vibes of a cozy home will make potential customers favor the works featured in the simple wooden frame even more!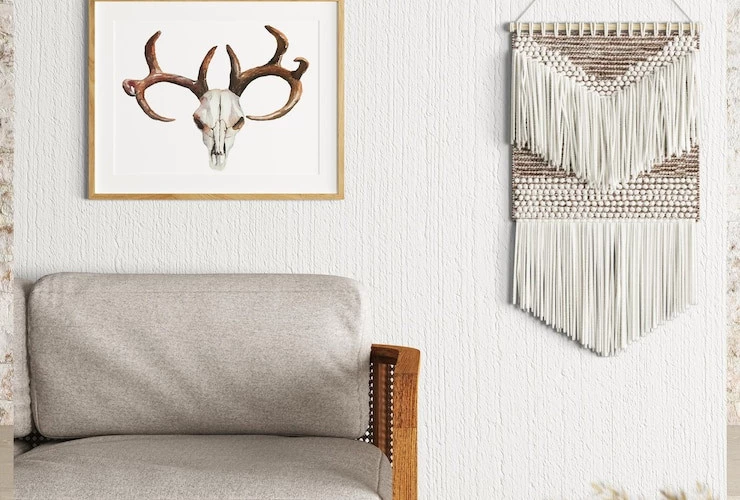 ---
Free Two Wood Frames Mockup
Soft morning lights and beautiful natural shapes of the decorative elements match the elegance of the two minimalist wooden frames in this mockup. Download this pro level mockup, and apply PS to insert your designs into the frames.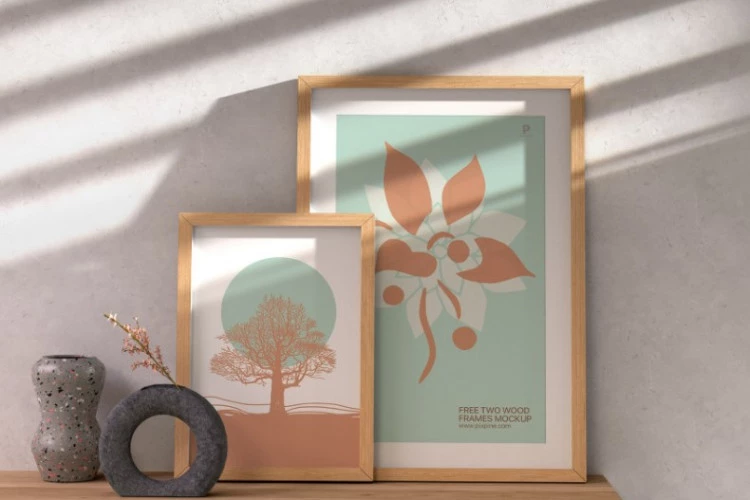 ---
Free Frame Mockup
It doesn't take much to make a presentation of your new artworks or products effective! Download this amazing free pack with three variants of light & shadow play, and run Photoshop to change the color of the background.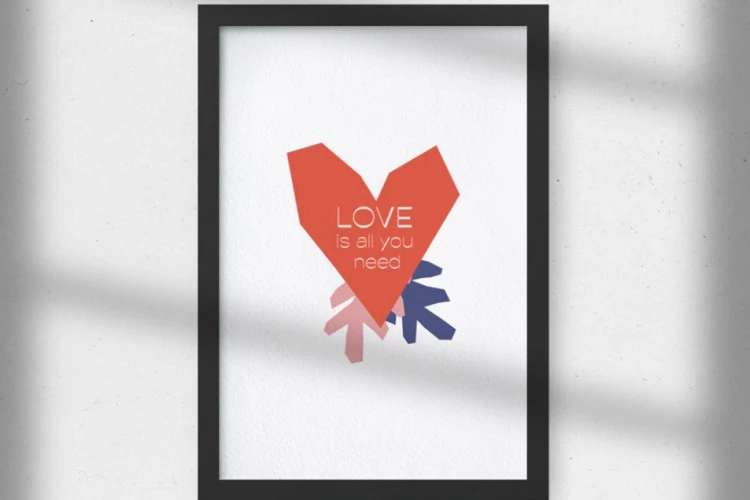 ---
Festive Wooden Frame Template Mockup
Choose this mockup of a wide wooden frame to draw extra attention to your new work! Rich green color of the background makes the scene even more noticeable and stylish. A few minutes spent in PS will be enough for editing.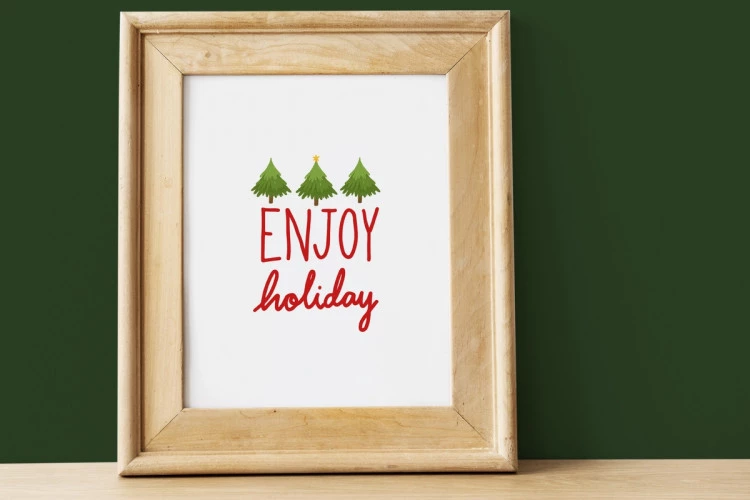 ---
Free Small Poster Frame Mockup
Consider using this unique mockup. A plain square frame in intense black creates a stylish contrast with the pastel hues of the setting. A dried palm leaf in a vase adds an exotic touch. The file is customizable and free.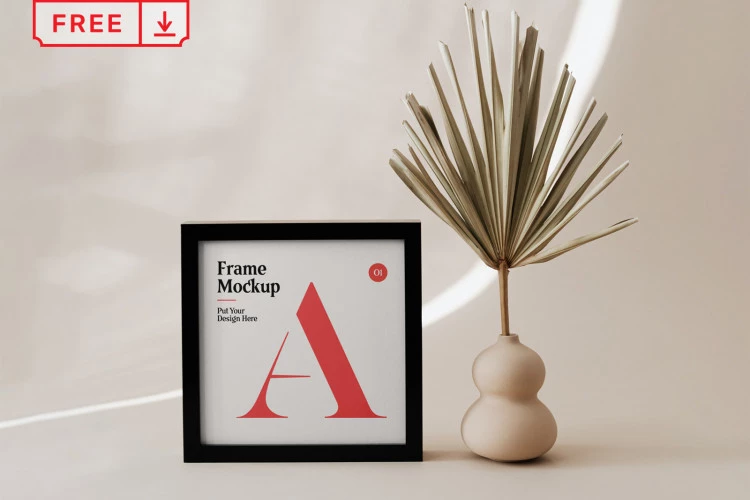 ---
Free Minimalistic Frames Mockup Set
This superb bundle includes five stylish photo realistic mockups for you to make a strong impression on the potential clients. Black painted leaves arranged neatly around minimalist frames in different width look unusual and attention-grabbing.
---
Free PSD Photo Frame Mockup Template
Both you and your customers will be amazed at the stylish look and high detailing of this professional mockup. Shiny stripes and a vase match a big vertical frame on the wall. Light palette in beige, sand and white looks eye-pleasing.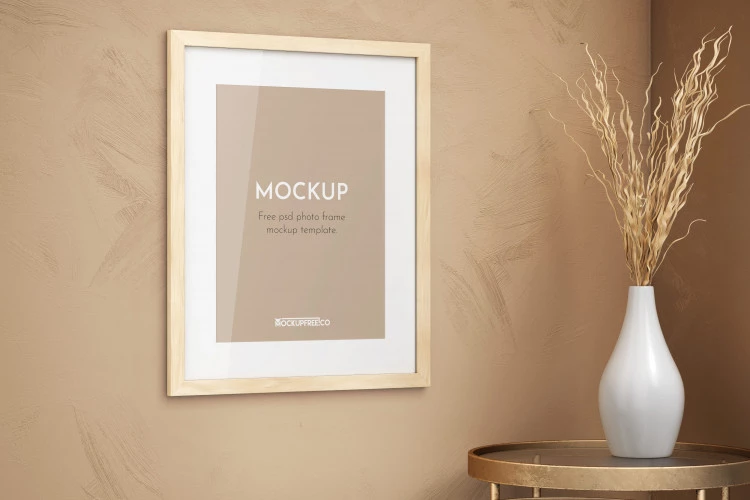 ---
Free Poster Frame Mockup
One big black vertical frame, a plain white wall, and a weathered wooden floor – we guarantee that your posters will look attention-grabbing with this in-style mockup. Simply save the file, run PS, and enjoy easy customization.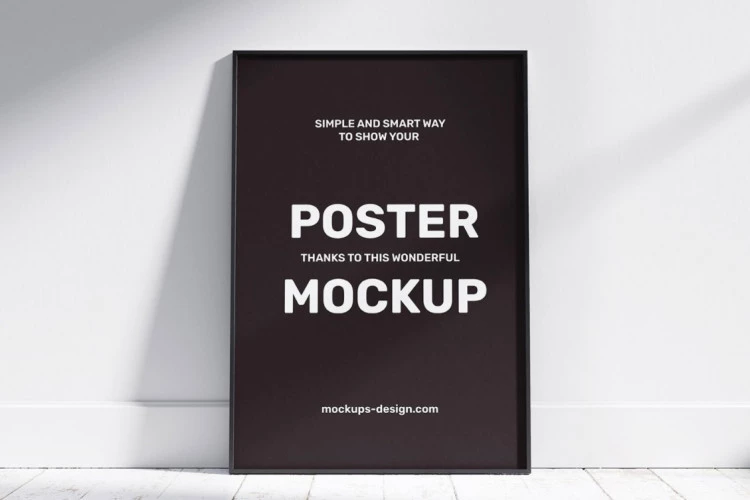 ---
Autumn Frame Free Mockup in PSD
Add some charming autumn vibes to a presentation of your new artwork, to make it unforgettable! Based on a stylish photo, this adjustable mockup has autumn leaves, pinecones and acorns arranged neatly around a wide wooden frame.
---
Poster Frame In Living Room PSD Mockup Free
Spacious, relaxed and stylish, this amazing interior scene can aid at presenting your newest designs! A huge wide frame above the sofa becomes the centerpiece of the composition, and any work inserted into it will grab all attention.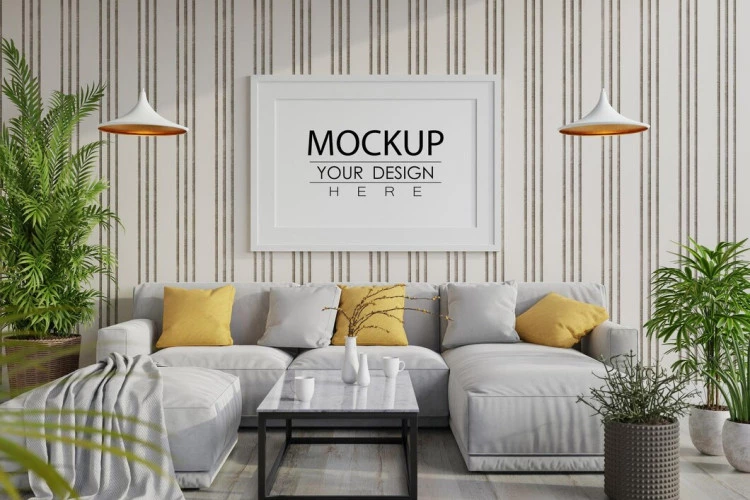 ---
Free Frame On The Wall Mockup
A close-up shot of a minimalist frame turned into a professional mockup can be perfect to introduce your fresh design to the customers. Soft hues, a unique pattern of wood, and dried plants in a vase add natural charm to this piece.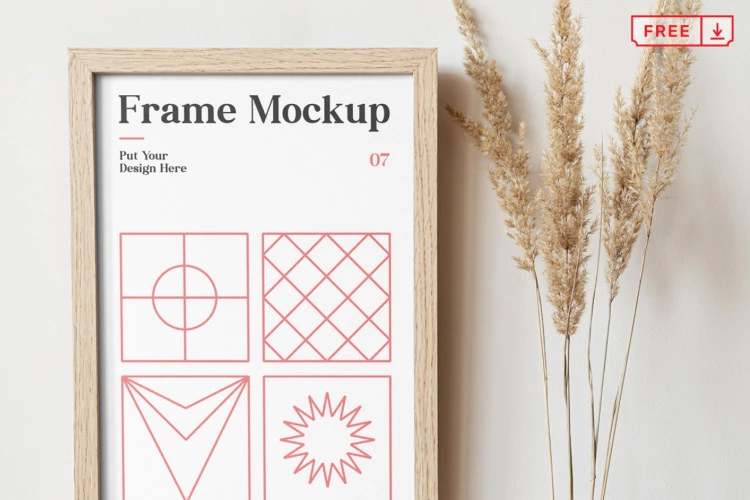 ---
Interior Frame Poster Mockup Free
In case you are looking for something different, to make the first appearance of your design impressive, this one-of-a-kind mockup can come in handy. Although originally an intense black color prevails in it, you can try other hues in PS.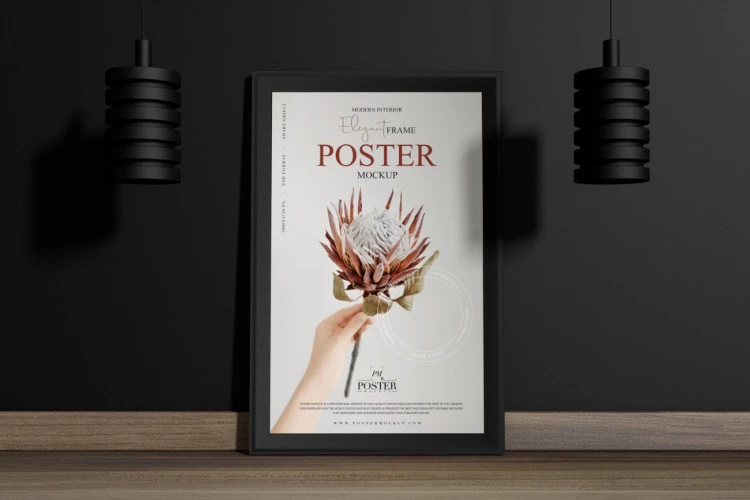 ---
Free Print Mockup
Placing a poster on one of the kitchen shelves can add a stylish note to the interior. Consider using this wonderful mockup to make everyone like your new poster designs. Playful colors of the tiles under the shelf add a joyful accent.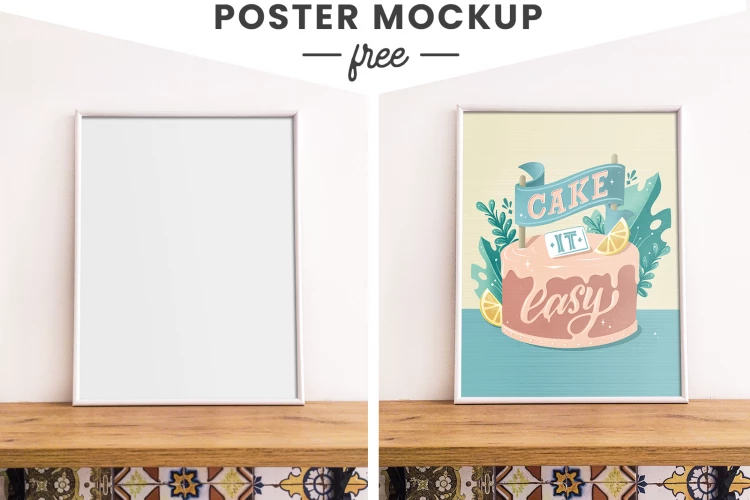 ---
Free Elegant Frame Mockup Design
In this mockup, hand-made items and a bushy plant build a cool crafty combo along with the textured white frame. Featuring your new designs in it is as easy as ABC after some quick Photoshop editing.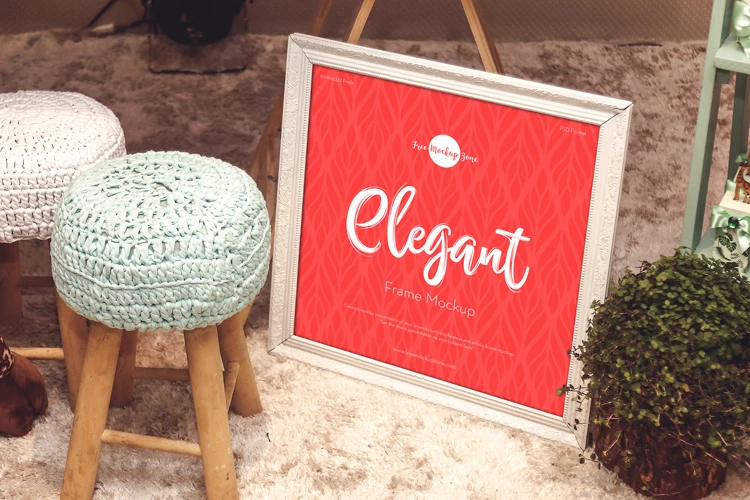 ---
Frame Mockup Freebie
In case you've crafted not just one, but two matching designs, they will look impressive featured in this simple yet stylish frames mockup. PS will help you to customize any details from palette to scales via the smart layers.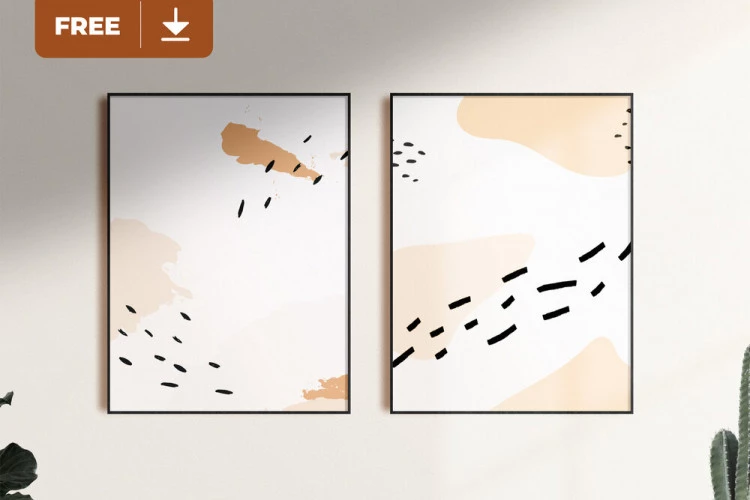 ---
Free Poster Frame On Wall Mockup
This based on a photo mockup features a simple black frame included into an unusual interior. Use it to showcase your latest works in an eye-catching and natural way. A mockup can be customized in PS within minutes.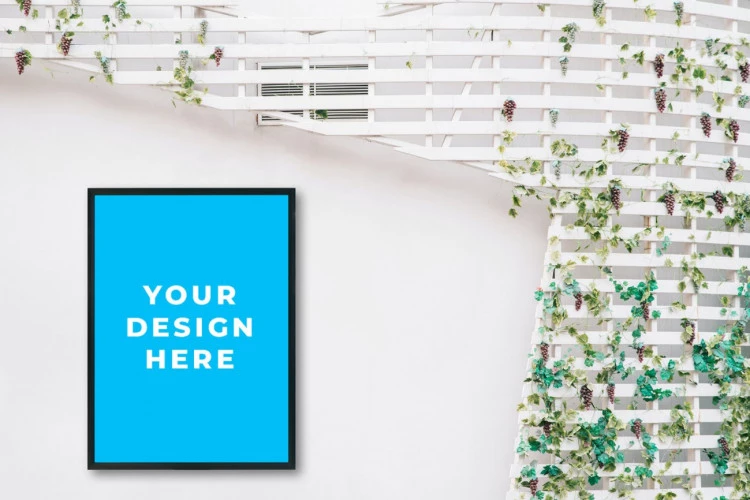 ---
Free Mockup: Picture Frame – 6 Views
This superb mockup offers you to choose among six contemporary looking frames of different types and sizes. A textured gray concrete wall creates a catchy and pleasant contrast with the shadows and a green plant.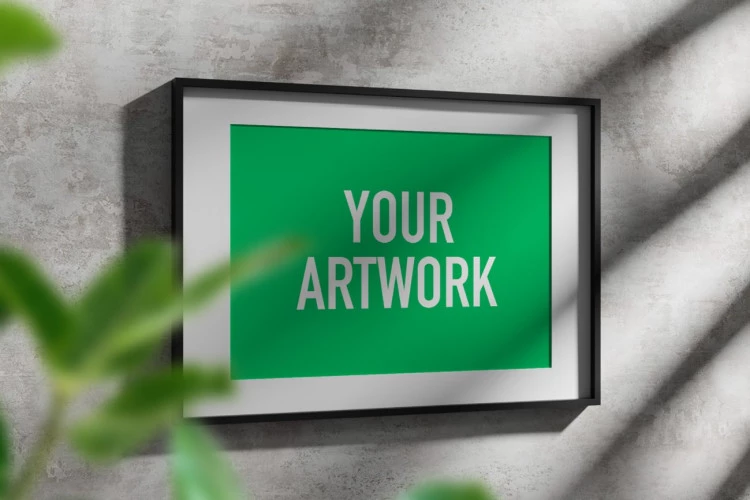 ---
Free Wood Photo Frame Mockup PSD
This simple composition with a wide weathered frame, and a candle, a pinecone and a nut arranged around it gives a pleasant home vibe that your customers will enjoy. You can change the color of the frame, and insert any image in it with PS.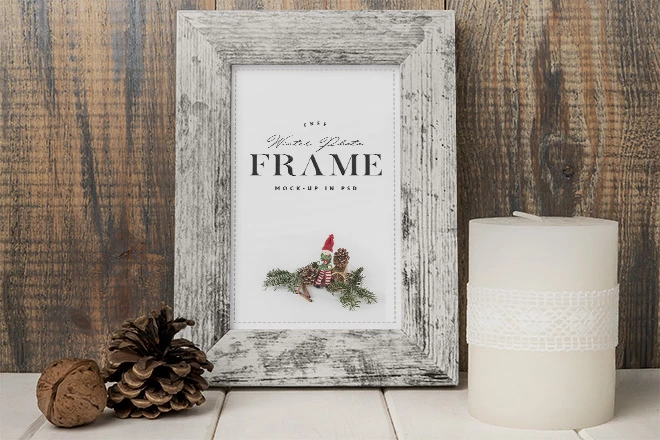 ---
Wooden Picture Frame Mockup PSD With Aesthetic Dried Flower
Use this unique mockup for an impressive presentation of your new designs! Instead of hanging on a wall, a thick brown wooden frame lies flat on top of another one. A dry flower between them adds a tender accent.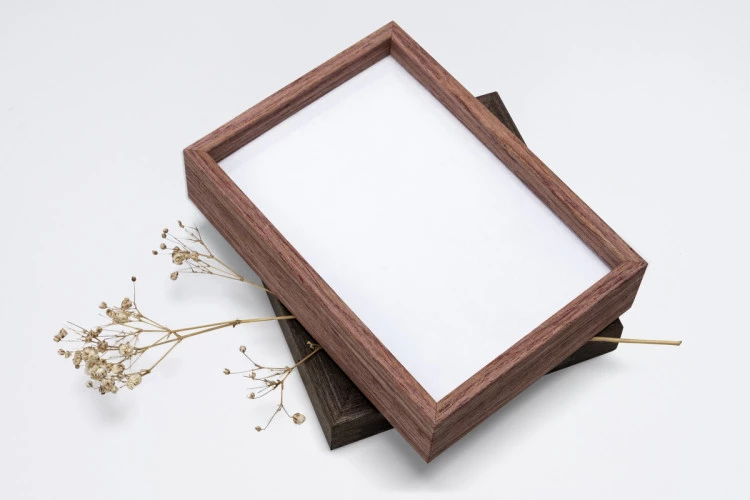 ---
Free Wood Frame Mockup
A cool mockup here can offer you a simple vertical frame, and three types of background to choose from. A clay vase with the thin branches, a drawing model and a couple of books will create a cozy atmosphere around the designs you're presenting.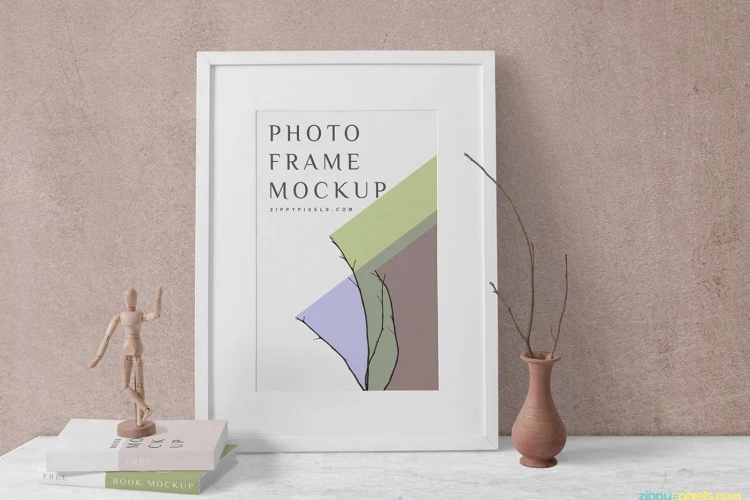 ---
Free Minimal Frame Mockup
This wonderful mockup allows you to feature two artworks at once! Your customers will like a stylish interior with spring branches and a big green potted plant. The color of both the wall and the frames is easy to change in PS.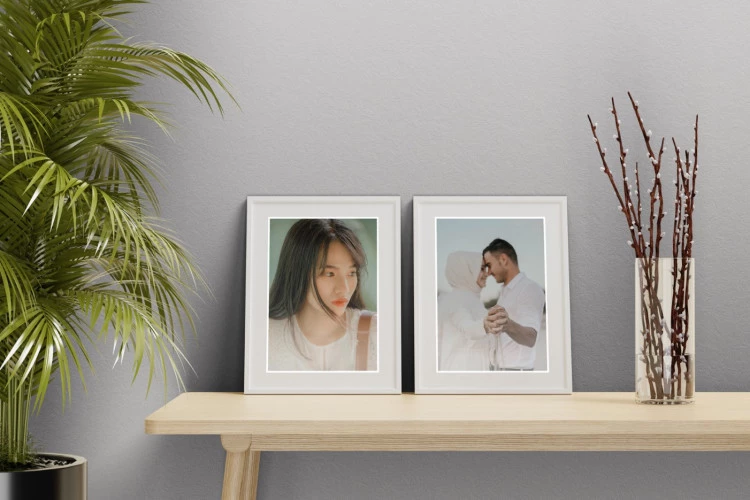 ---
Free Frame Mock-up in PSD
This might be one of the most stylish and unusual frame mockups on our list! Thin black vires build up a simple yet impressive pattern of rhombs; green plants and a wooden table add coziness to this editable composition.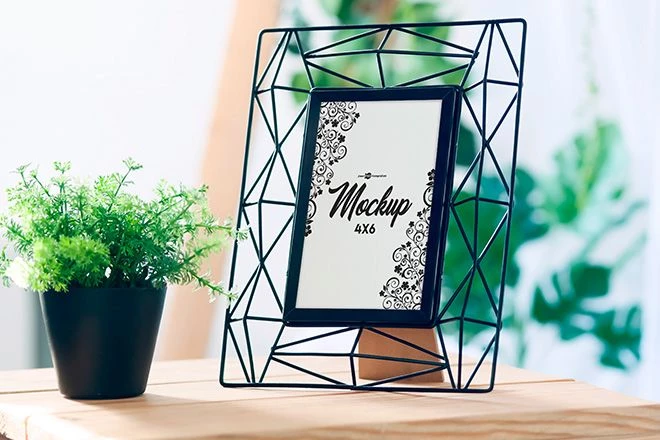 ---
Free Polaroid Photo Frame Mockup PSD
Why not feature your amazing shots in a cool Polaroid frame? The color of the background and the frame itself can be changed in Photoshop, just like other elements of this unique mockup. Download now and enjoy!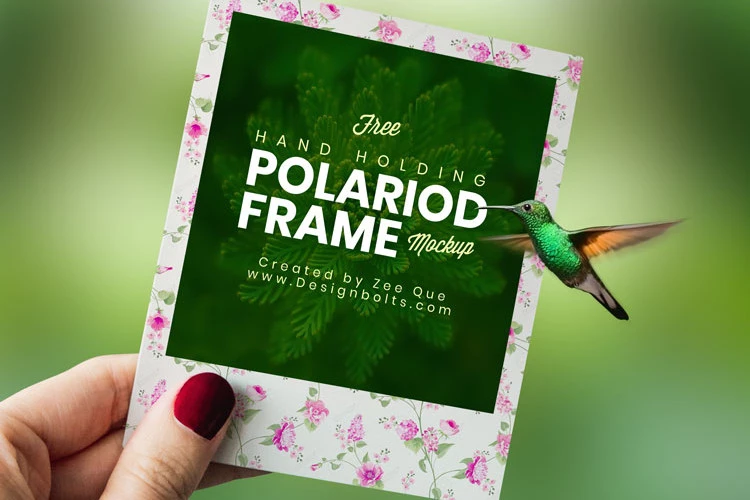 ---
Free Poster Frame Mockup
A shiny vintage clock and a bright pink plant included into this mockup give it a glam vibe. A simple thin frame in the middle draws all attention, contrasting with the polished pastels. Your designs will look extra stylish featured in this template.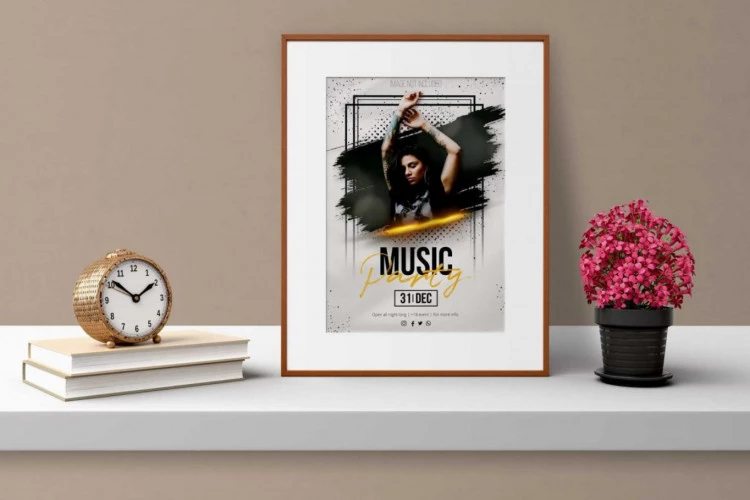 ---
Two Gold Frames – Free Mockup
This pro level mockup includes two classy looking frames in a dimmed golden color. A minimalist sand clock and a wooden horse ornament complete the elegant composition. Feel free to choose between a vertical or for a horizontal frame mockup.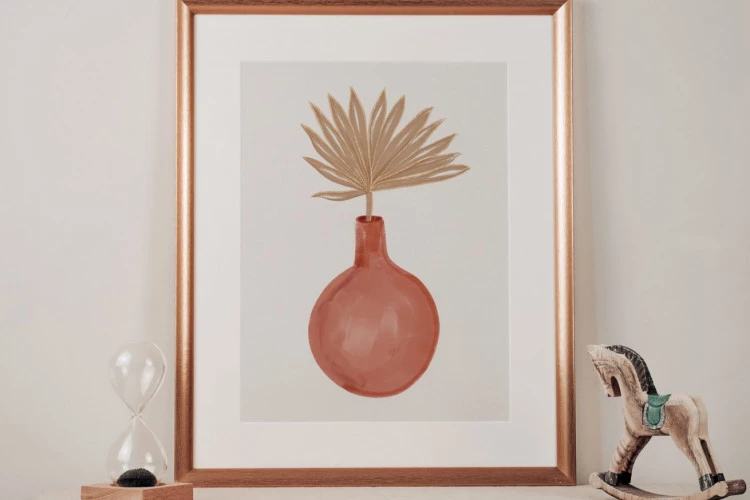 ---
Free Adjustable Frame Mockup
We promise that your new design will look impressive featured in this simple interior mockup. A minimalist black square frame hanging on a white wall can match different styles and palettes. The model is easy to edit in PS.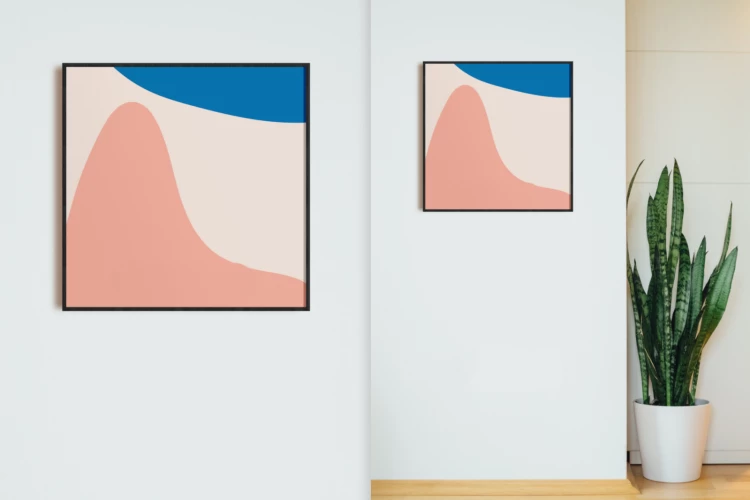 ---
Free Photo Frame Mock-up in PSD
This photo-based mockup of a crafty wooden frame placed in a garden among the tender rose branches will enchant every potential client. A rustic frame can become a great canvas for a variety of designs.
---
Free Frame Mockup In Surreal World
A great advantage of this unusual mockup is that you can customize it by moving the objects, shadows, and changing the background. A minimalist frame can successfully feature any artwork, all you need is a few minutes spent in PS.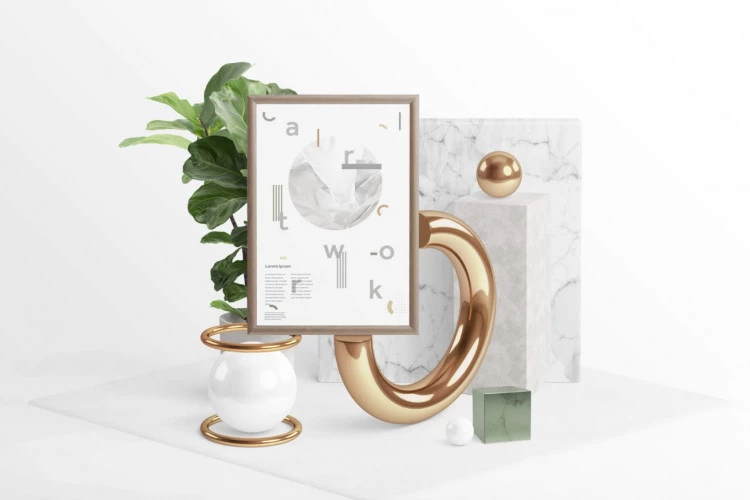 ---
Free Restaurant Indoor Wooden Wall Poster Frame Mockup
This huge poster mockup became a centerpiece of a contemporary kitchen interior with lots of wood and natural colors in it. Take advantage of the eye-catching composition, and present your new works with style.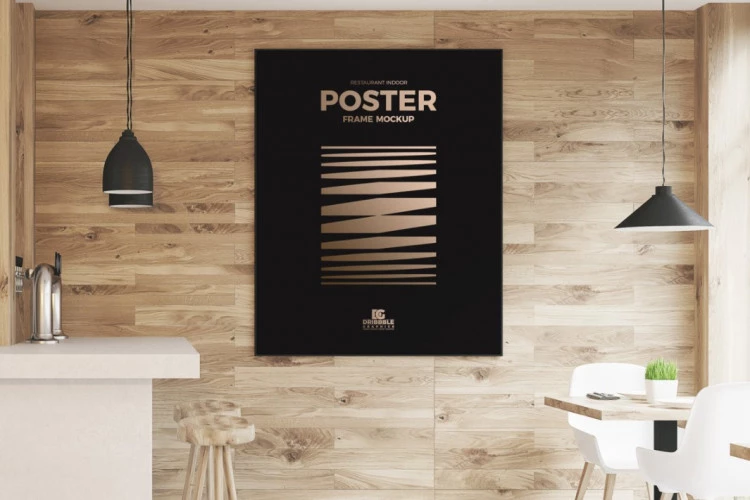 ---
Free Modern Restaurant Interior Frame Mockup Psd
Here's yet another amazing mockup of a stylish interior with a poster frame featured in it. The contrasting natural colors look eye-pleasing, while a big square frame will draw every look to your original designs.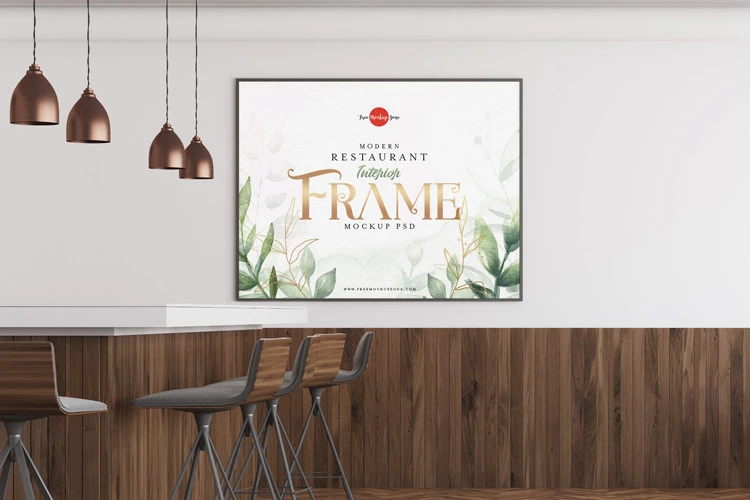 ---
Free Horizontal Poster Frame Mockup
A great advantage of this close-up mockup is that it's focused solely on the contents of the frame. Nothing will distract your customers from paying maximum attention to the designs you feature. The plain setting is easy to replace.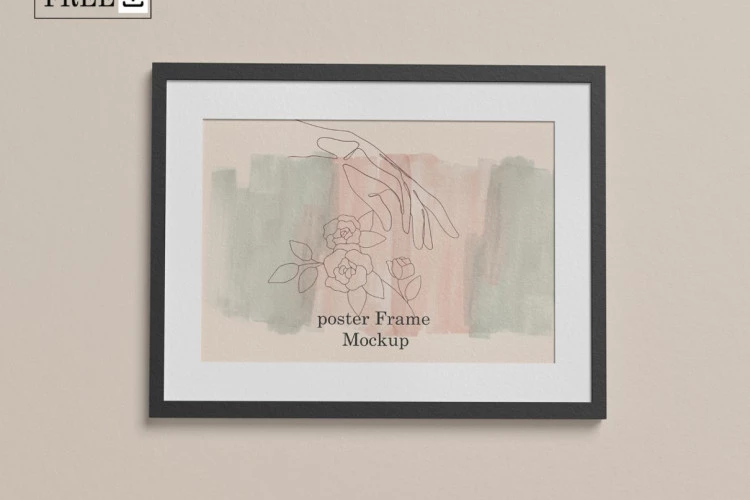 ---
Free Poster Frame Mockup
This template includes four mockups of a solid dark frame, in order to let you see a design at every angle possible. A plain pastel background can be replaced with any image that matches your project in Photoshop.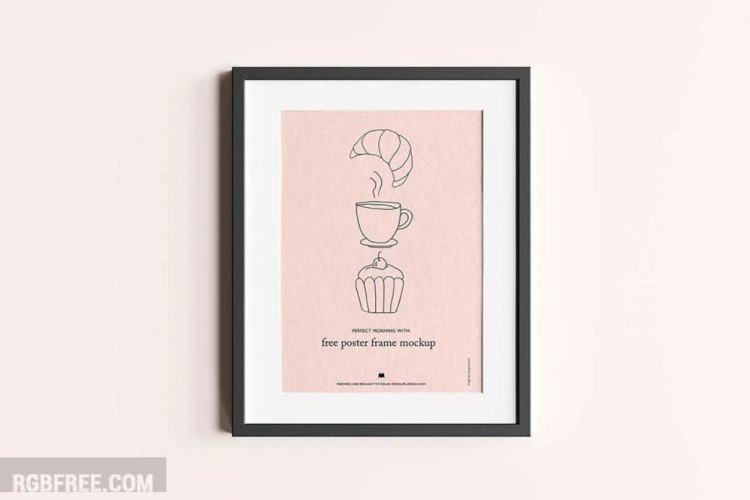 ---
Free PSD Wood Frame Mockup
We like the natural palette and a simple amiable look of this mockup featuring two wooden glassed-in frames. Photos, stylish lettering and original artworks will look amazing when presented with the help of this cool template.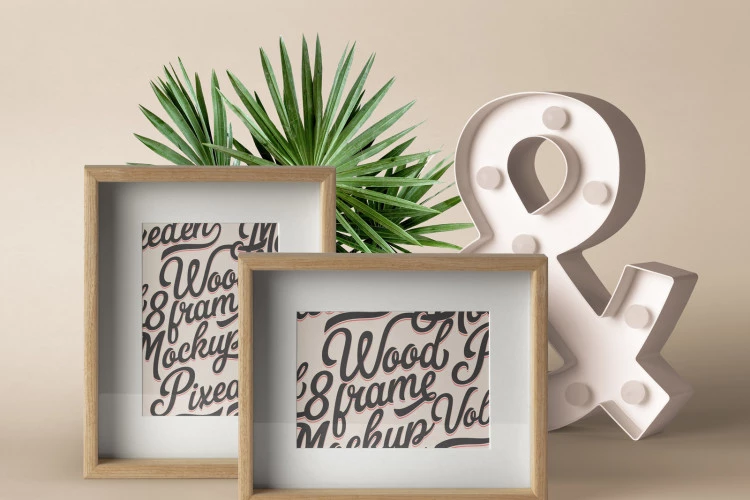 We hope that the versatility of this lengthy list impressed you, having presented mockups of every possible type and style. Pick one or several files that you favor most, download them for free, and enjoy the process of customization in Photoshop.