Winter holidays are just around the corner, and you must be looking for a way to make this year's festive designs look special! Applying themed icons is a sure way to add a charming touch to your printing and web projects.
On this page we present 30+ amazing sets of icons joined by the theme of Christmas celebration. Hand-picked at such awesome resources as https://graphicsurf.com/ , https://free-psd-templates.com/ and others, they offer nothing but top quality graphics that will look great both online and printed on any surfaces. The best part here is that all packs on the list below are available for free, and can be customized easily with graphic software!
---
Christmas Icon Set
This charming set of icons will please the eyes of your customers with the sleek shapes and unique designs. Bright green and red match well with the light golden color. Sledges, gifts, ornaments and other festive items are gathered in this amazing pack!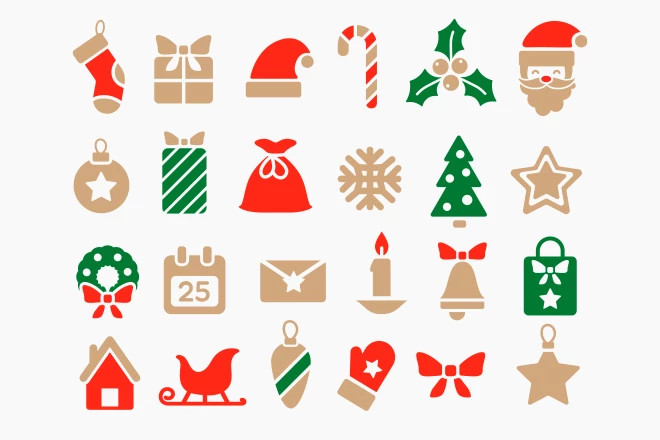 Download
---
Merry Christmas Vector Free Icon Set
This pack of simple yet sweet icons in linear style can offer you twenty little designs to choose from. Here you will find a cup of hot cocoa, a gingerbread man, an angel and a church, and even such unique icons as a wish list, a gift tag, and an elf's hat. The set includes a colored and a B&W option.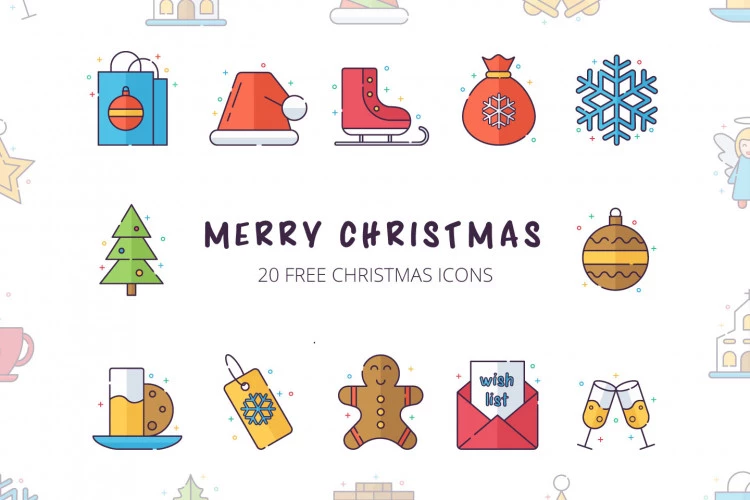 Download
---
Christmas Icons
Soft palette of these wonderful icons will match various projects. A smiling Santa, a cute angel, a snowman, and a reindeer will share the Xmas mood. Rounded shapes and a unique style will look amazing both in print and on the web.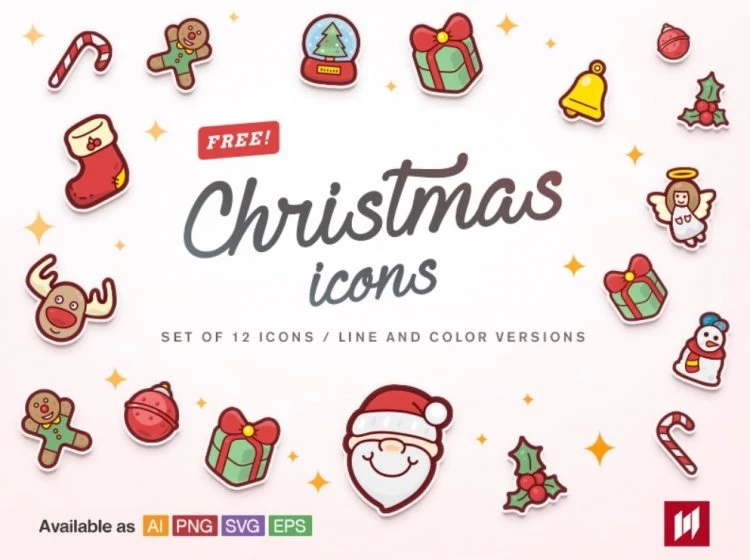 Visit the website
---
Hand drawn christmas icons set
These stunning icons look like tiny detailed drawings. They can add style and beauty to any project. Your customers will be mesmerized with the realistic looking fir tree branches, cones, a beautiful ornament, a reindeer, and other designs.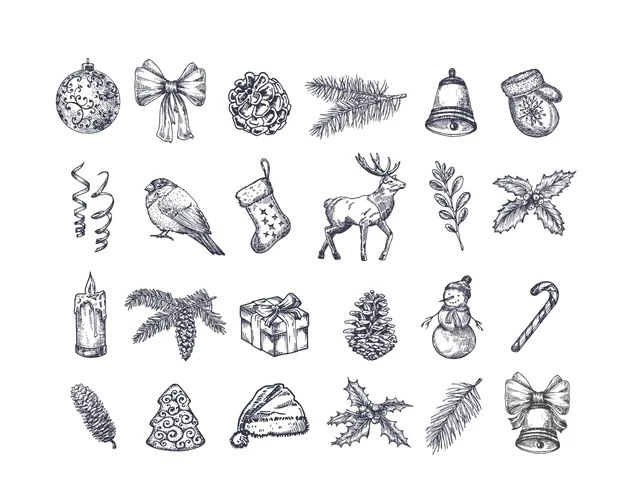 Visit the website
---
Cheerful Christmas icons line design
These simple yet cute icons are meant to describe a fun celebration of Christmas and New Year. Here you will see a gift, a festive tree, a drink, a calendar, and more. Linear style and light shades of green, pink and blue will match different projects.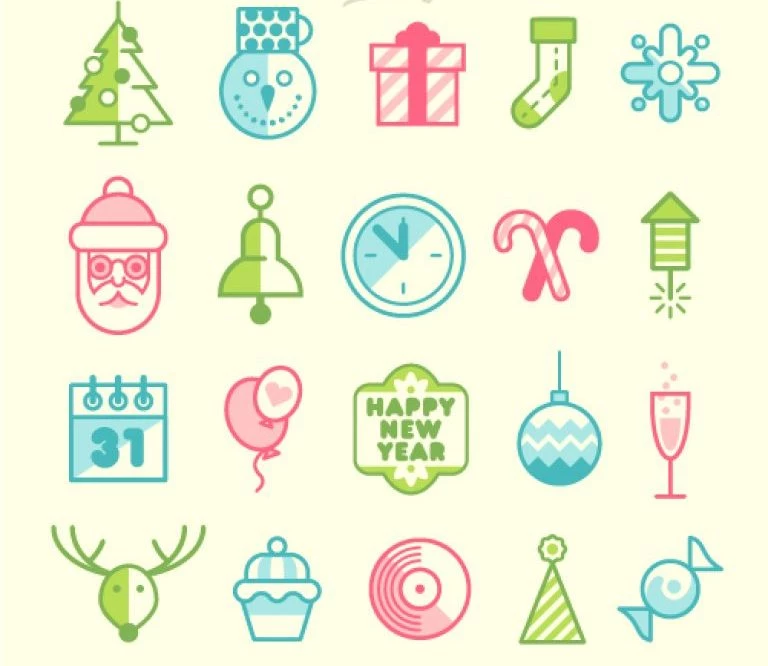 Visit the website
---
Christmas Icons Set
These wonderful outline icons will help you spark a happy mood in customers, web users and friends. In a free customizable pack you will see twenty five charming designs, including fireworks, festive lights, a Xmas cracker, gifts, ornaments, and more.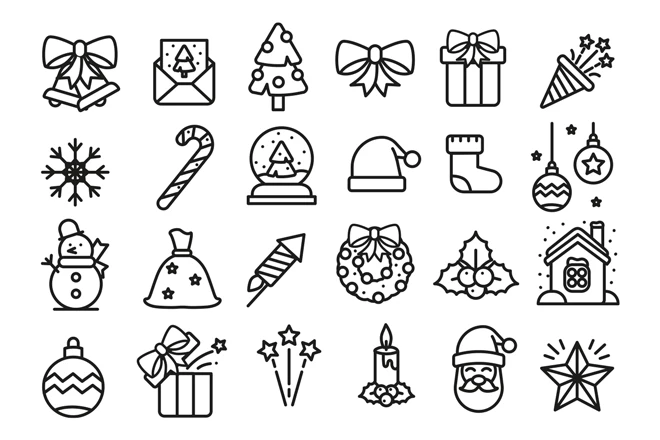 Download
---
Christmas Vector Free Icon Set
A gift, a cookie, sledges, candles, Santa and a snowman – these are only a few of the icons you'll find in a versatile themed pack here. Simple yet sweet, they look equally good in a colored and linear variant.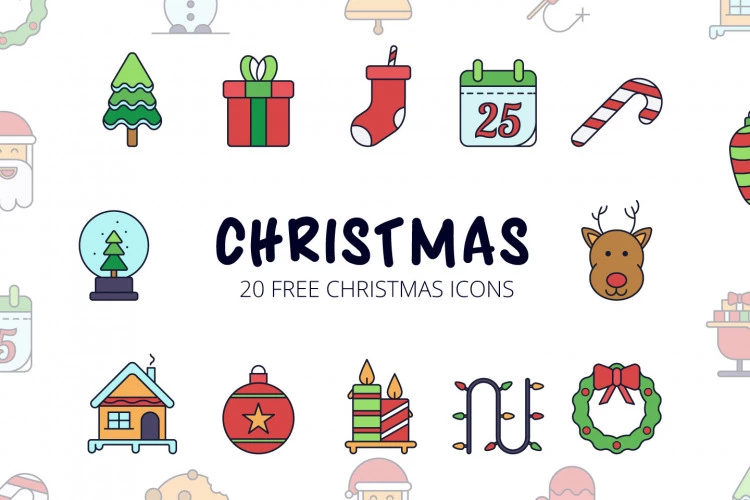 Download
---
Christmas icons with colorful flat design
Thanks to details, soft shapes and sweet colors these flat colorful icons look like tiny illustrations. Have no doubt applying them to your designs. Who wouldn't like a charming angel, a big festive looking present or an amusing elf?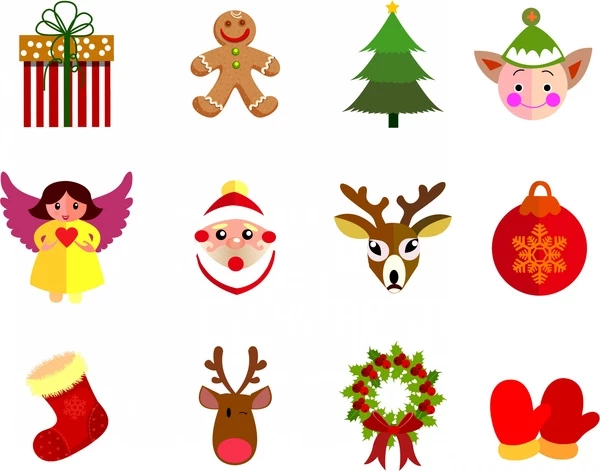 Visit the website
---
Outlined Set Of Christmas Ornaments
All those who enjoy decorating a festive fir-tree, will like looking at these icons depicting Xmas ornaments. Simple shapes and reserved colors give this set a retro vibe. Simple balls, colorful icicles or a bell – all these ornaments look nice.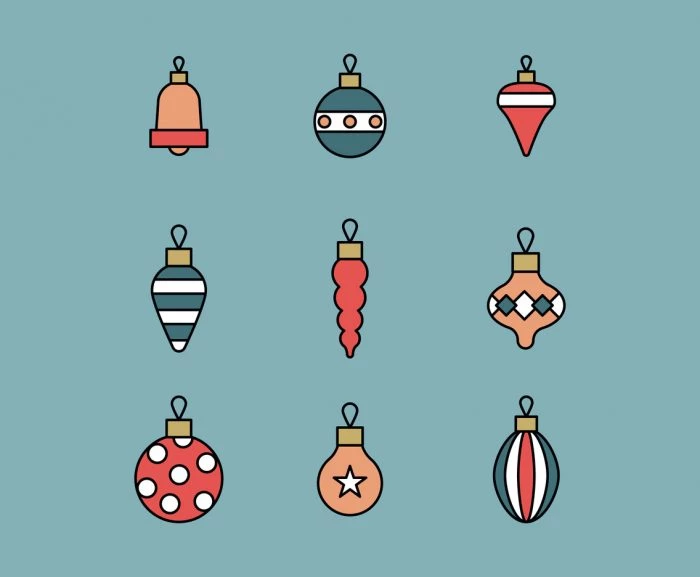 Visit the website
---
30 Christmas Vector Icons
If you need a set of simple, reserved yet festive looking icons for your project, this array of 30 tiny designs might be a good option. Minimalistic shapes and a plain black color will look stylish in print, and especially online.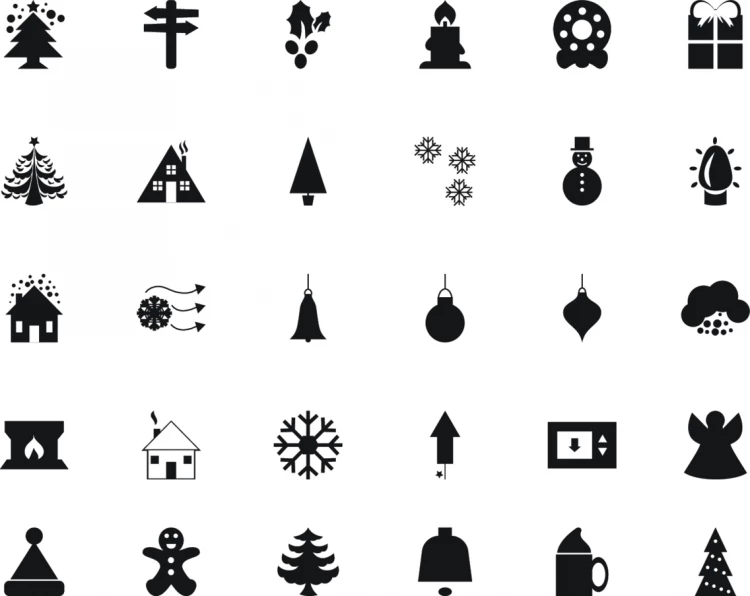 Visit the website
---
Vector Icons for Christmas
These simple sweet icons in basic colors grasp the essence of Xmas celebration. A Santa's hat, a gift, a bell, a candy-cane and other objects will speak out to the customers. You can craft special festive cards, notepads, stickers and other décor using this set.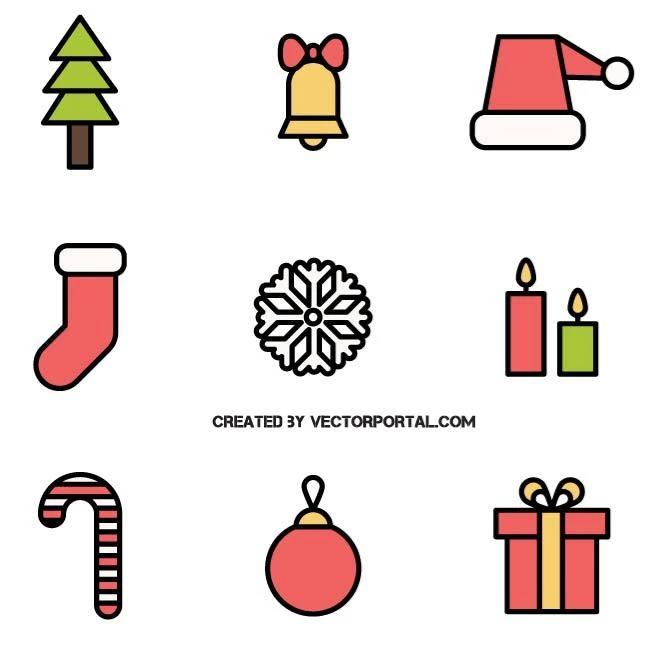 Visit the website
---
Christmas Icons
We love the look of these amazing icons! Light palette and an adorable cartoonish style will place happy smiles on your customers' faces. A tiny smiling ginger bread man, a hot mug, mittens, cookies, a snow globe, and more – there are 25 charming designs to choose from!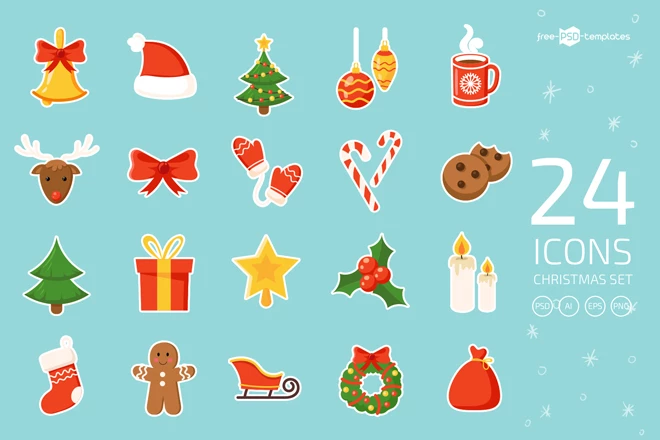 Download
---
50 Christmas Icons
Meet a massive set of fifty icons that cover every aspect of Christmas celebration you can think of! Incredibly detailed, the icons look like professional drawings. What's even better, you can choose between a B&W, and two extra color variants.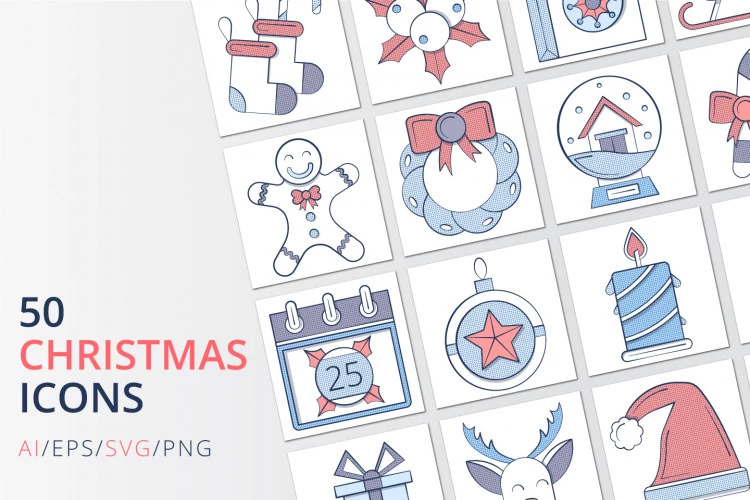 Visit the website
---
Free Christmas Iconpack
Designed in red and white, these icons will look festive and unusual. Although the small images might look simplistic at first, you will notice small interesting details that make them special. A fireplace, a wreath, a sack with gifts, and other items all look wonderful!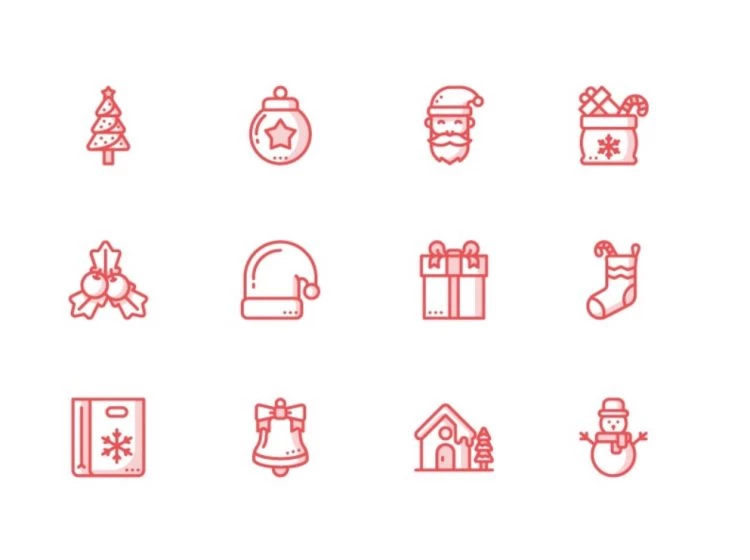 Visit the website
---
Set Of Colorful Christmas Icons
An unusual design and a vivid palette is what makes these icons look so awesome! An elf, Rudolph and Santa smiling wide will certainly amuse your customers. A bell, a candle, a decorated tree and other icons are just as great.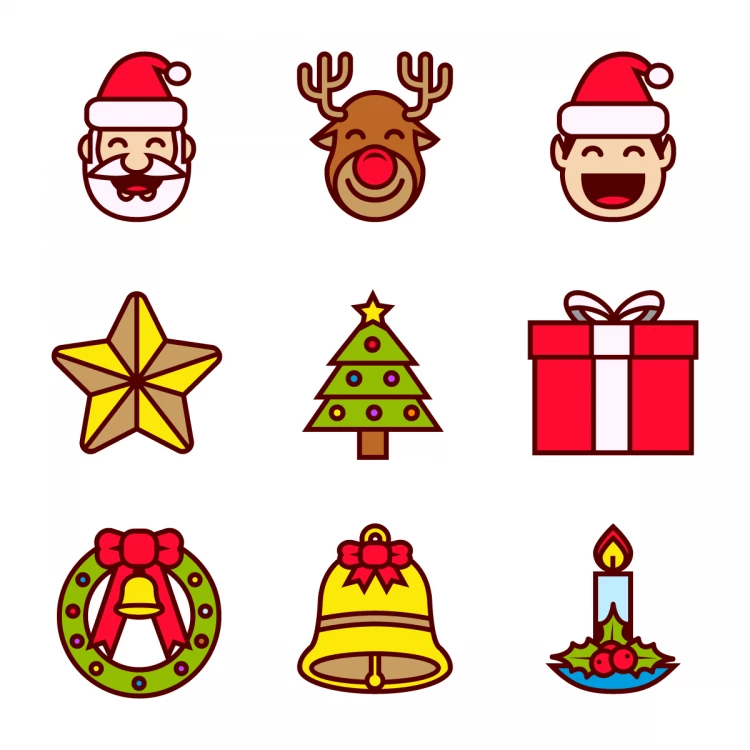 Visit the website
---
Christmas holiday symbols vector set
This pack of twenty five icons might interest you with its unusual yet nice design. In these minimalistic shapes and classic festive colors you can recognize gifts, ornaments, Santa, a snow globe, and even a Christmas pudding.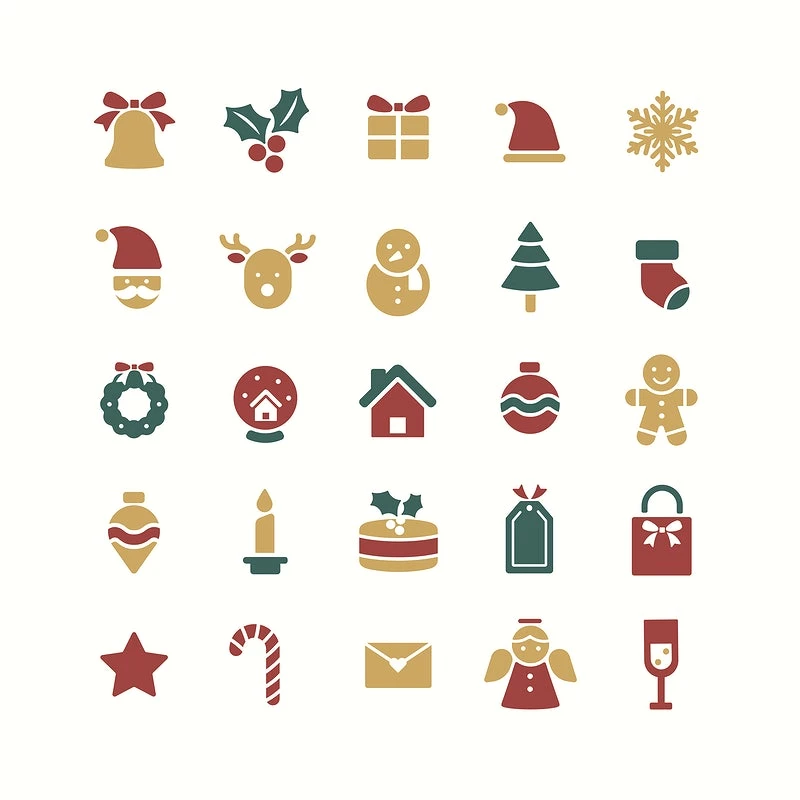 Visit the website
---
Winter Line Vector Icons
Crafted in plain white color, these simplistic icons will look especially great against a bright background. Among the tiny designs you can find gifts, skates, a mitten, sledges with a sack, and even a Xmas turkey and a bottle of wine.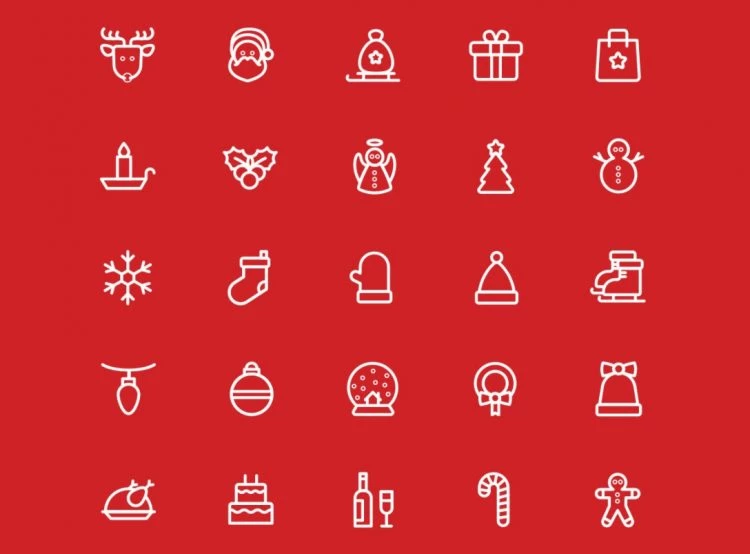 Visit the website
---
Snowflake Vector Icons
Both grown-ups and kids adore looking at snowflakes. This collection of snowflake icons offers you sixteen unique designs. Each icon looks delicate and charming. We wonder which one of these you like most.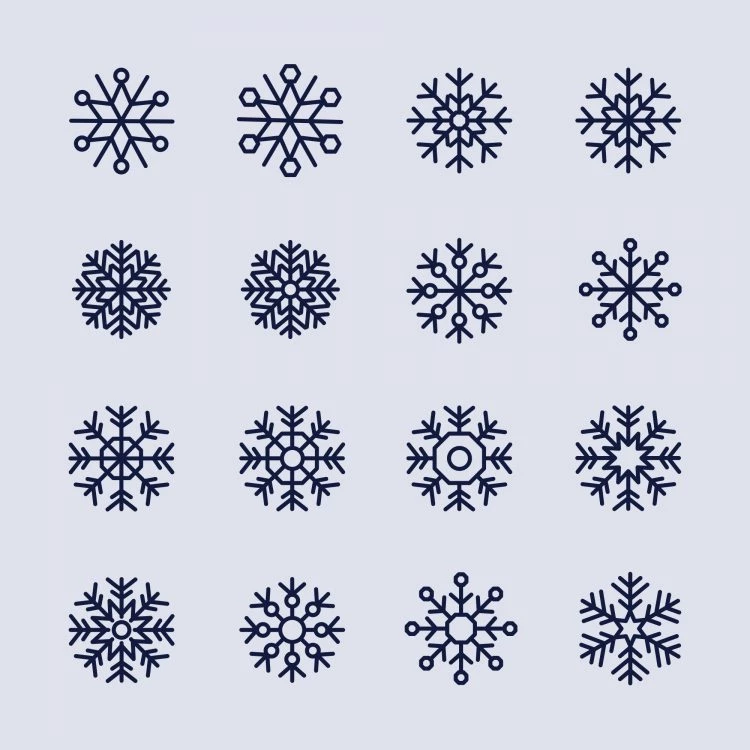 Visit the website
---
Round Christmas Icons
A unique style, intense colors and round shape of the icons makes this set amazing. Wonderful images that represent winter sports and Xmas celebration look great against a turquoise background. There are 16 customizable icons to choose from.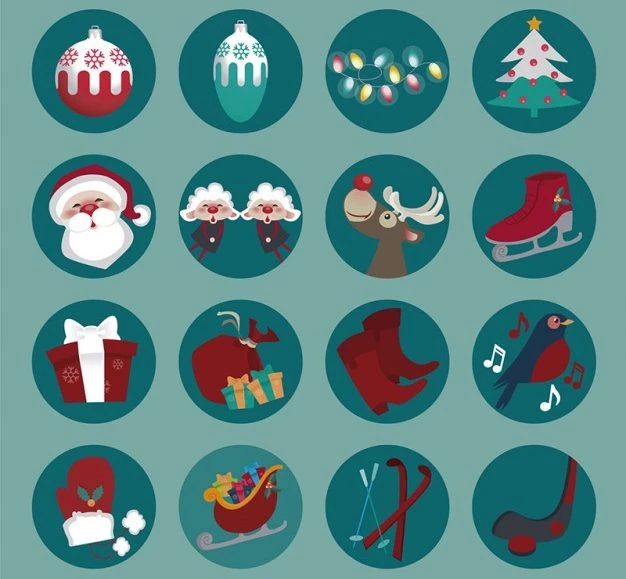 Visit the website
---
Linear Christmas Icons
Small outline icons here look modern and unusual thanks to the minimalistic design and a cool combination of basic black, red and white color. Applied to your décor and designs, they will interest friends and customers.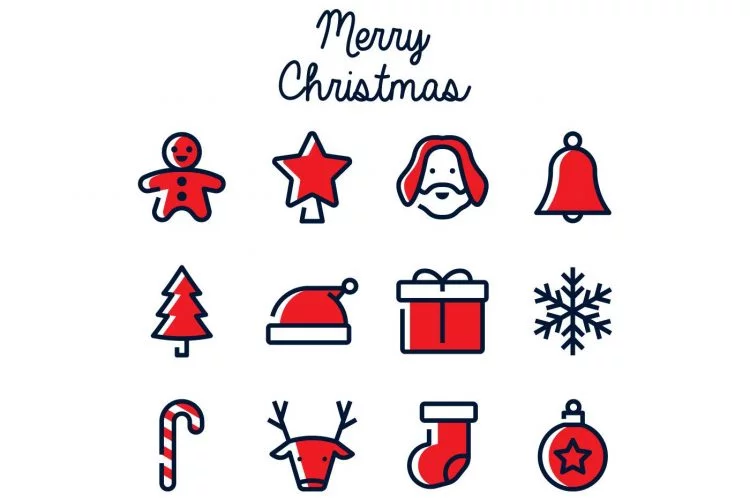 Visit the website
---
Snowflakes Vector Free Icon Set
This collection of twenty beautiful snowflake icons will impress everyone with a variety of shapes and designs. While some snowflakes look charmingly simple, the others are nifty and ornate. These icons can add winter magic to your projects.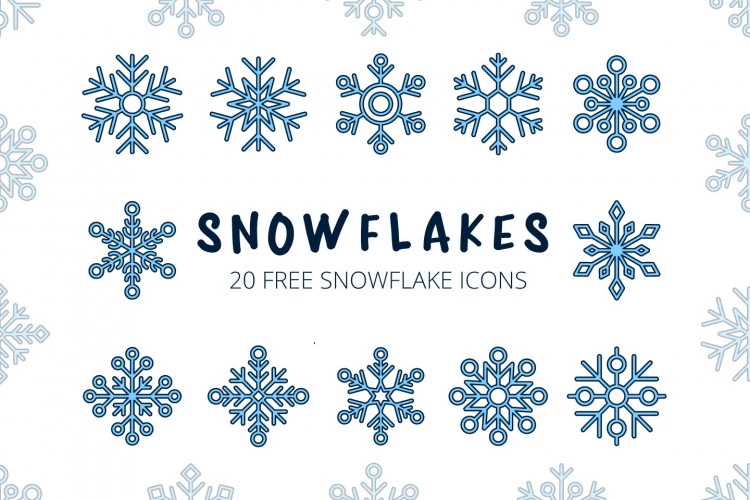 Download
---
Xmas Icon Set
Simple yet incredibly adorable, these red linear icons will look great on every possible surface and webpage. A happy Santa, a smiling snowman, and a cute gingerbread will pass the festive vibes to everyone around. The animated presentation of this pack comes as a cool bonus.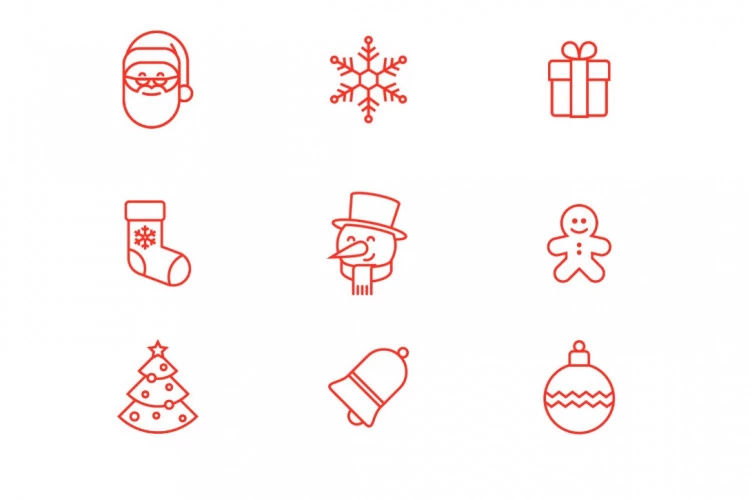 Visit the website
---
Set of blue snowflakes
Delicate patterns of these icons snowflakes will amaze everyone. Nine unique winter icons in vivid blue can make any project look unique and festive. Customize them, and use for Xmas décor, web design, or graphics.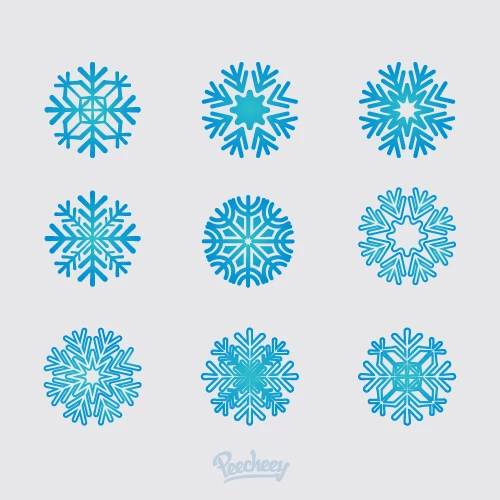 Visit the website
---
10 Free Christmas Icon
 Although this pack includes only ten icons, different color variants multiply the number by three. Festive trees, gifts, a candle, and a small house are some objects we associate with a cozy family Xmas celebration.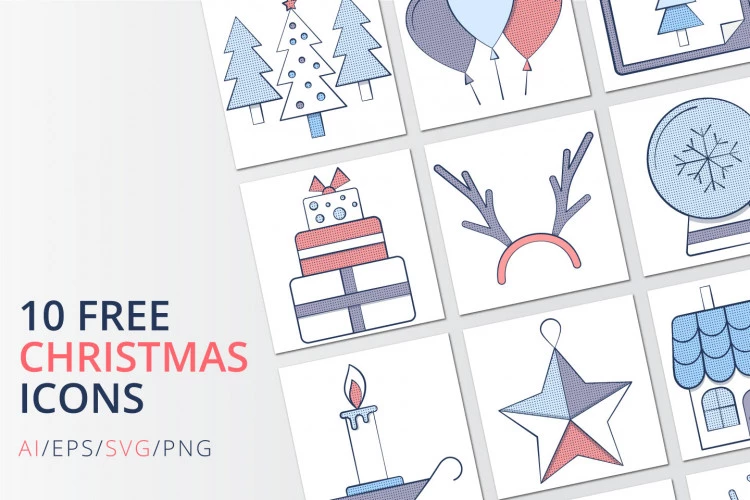 Visit the website
---
25 Free Tidee XMAS icons
Even though these tiny icons might seem overly simplified and even a bit confusing at first, your customers and site visitors might enjoy recognizing ornaments, gifts, Xmas lights, an angel, and other special items. Gradient colors make this pack even more interesting.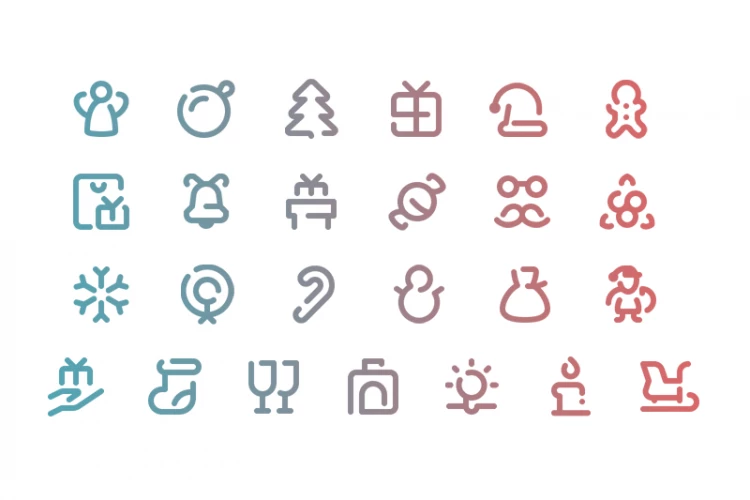 Visit the website
---
50 Christmas Snowflakes
Yet another pack of snowflake icons assembles fifty wonderful designs in bright blue color. From simple icons that remind little stars to elegant and ornate looking, all these snowflakes look equally amazing.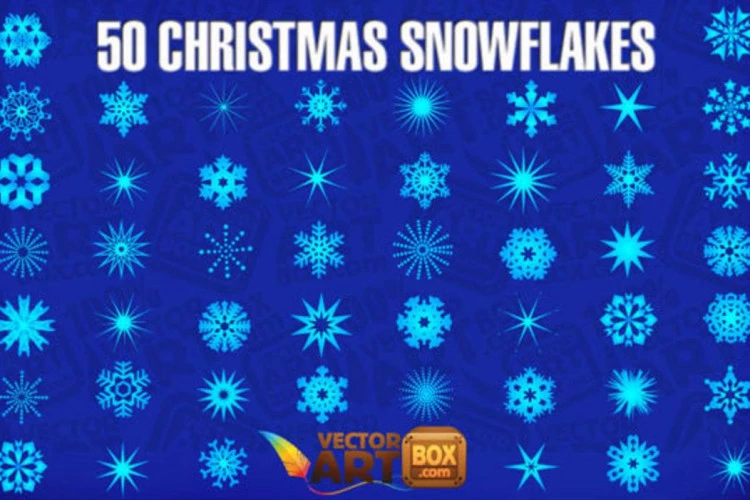 Visit the website
---
Christmas Icons
Meet a pack of sixteen flat designs that look eye-pleasing thanks to the light-hearted style and joyful, fresh colors. Presented in orange and green squares, Rudolph, Santa, a snowman, and other icons will make this Xmas special.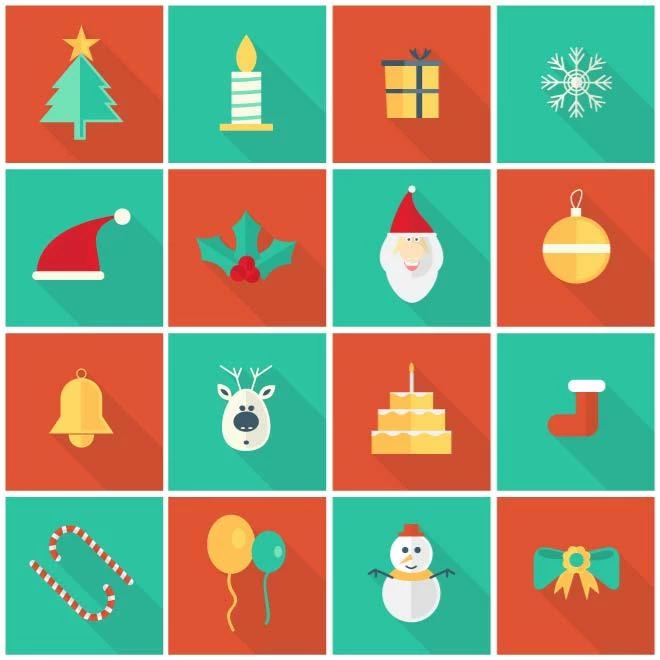 Visit the website
---
25 Free Christmas Icons
Precise details and intense colors make these icons look just like small beautiful illustrations. A simple cartoonish style adds a special charm. You are free to choose among six different ornaments, a bunch of adorable little characters, and even such random designs as a Xmas sweater, a pudding, and a cozy armchair.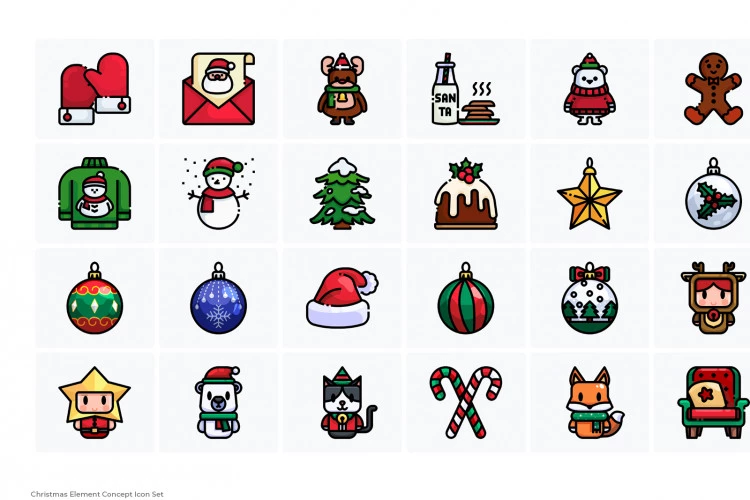 Visit the website
---
Minimal Christmas Icons
Although the majority of these simplistic icons come in a plain black color, some have got a tiny touch of white. A variety of snowflakes, stars, cookies, and even a mushroom and an acorn will look interesting in your designs.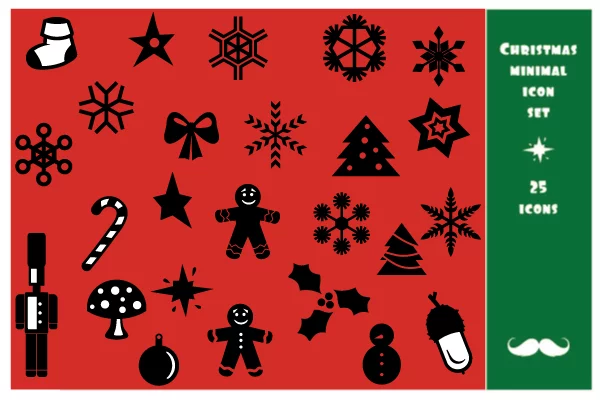 Visit the website
---
Christmas Balls Icons
Have a look at each of the twenty five Xmas ornament icons on this set, and pick those that you like most – which we bet, won't be an easy task because each design here is unique. Despite a minimalistic modern style and a simple B&W palette, each of these ball icons looks sweet and interesting.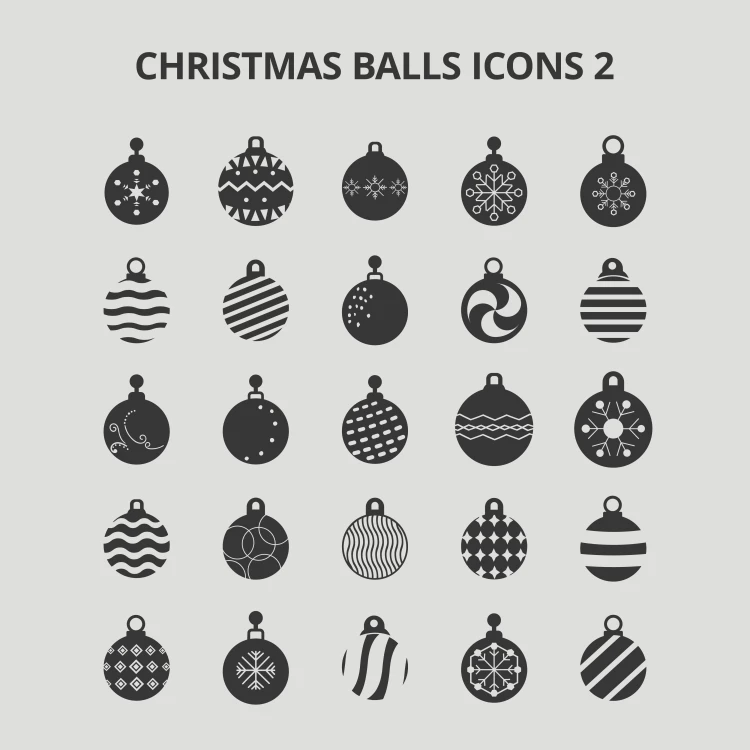 Visit the website
---
Christmas Icons
An array of unique icons on this set will amaze you with its variety. Feel free to choose among several variants of festive decorated trees, snowmen, Santas, bells, and even candy canes and holly. A bright palette makes all these designs even nicer.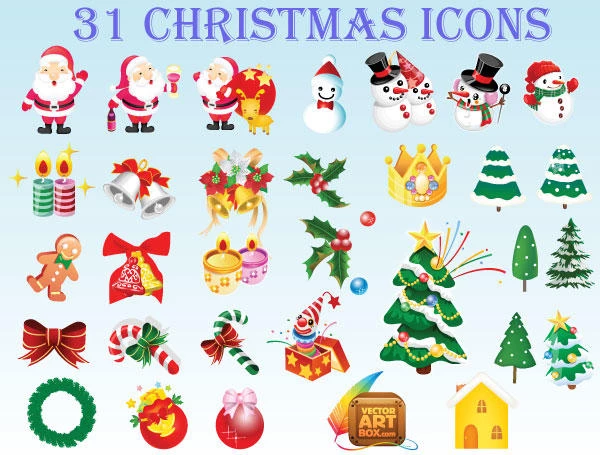 Visit the website
---
Christmas Icons
Vivid colors shaped up by violet lines make these simple icons look unusual and cute. Tiny yet detailed, they look like cartoonish illustrations. Elves, snowmen, stars, lights, and even mittens are gathered here for you.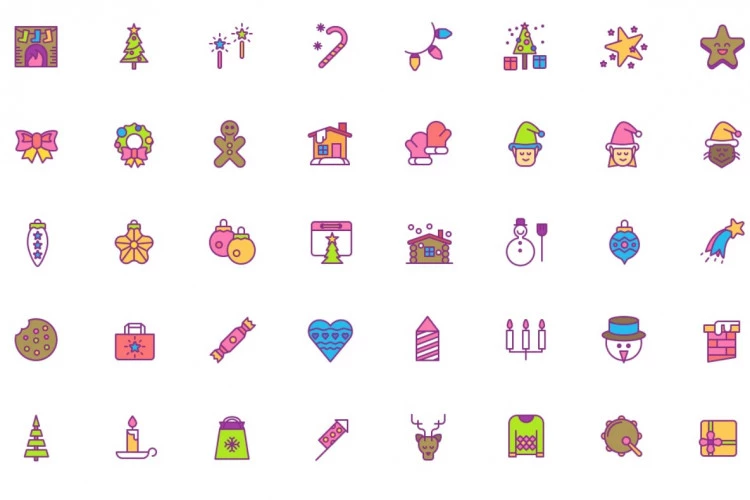 Visit the website
---
Christmas Food Icon Set
 We'd like to conclude this compilation with our favorite set of Xmas food icons. Despite presenting only nine designs, the whole pack looks incredibly charming and sweet. Hot cocoa, cookies, candies, a pudding, and even a smiling gingerbread man will enchant anyone!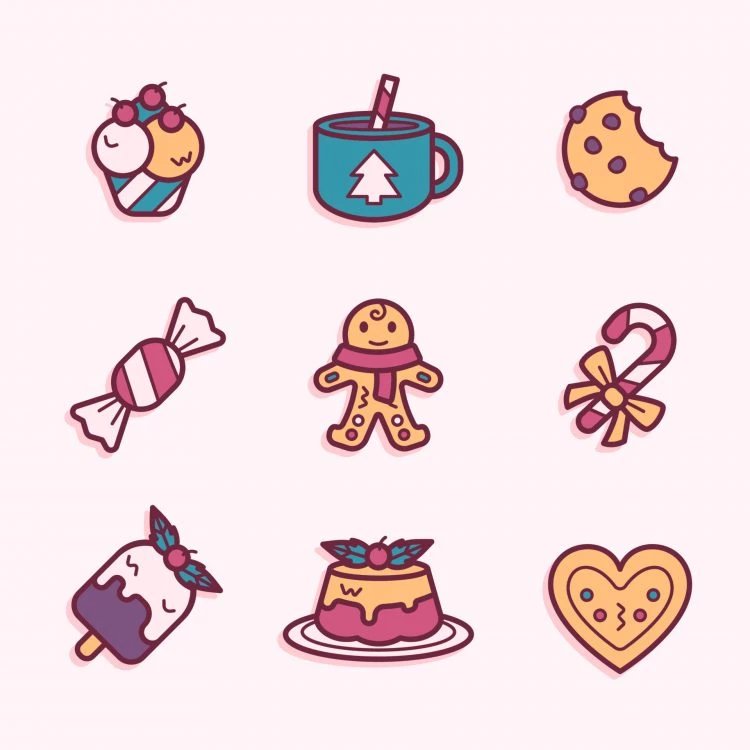 Visit the website
---
 Have you chosen your favorite set on our lengthy list? Do not hesitate, grab one or several of these packs of free icons, and hurry up to create unique festive designs that will make this year's Christmas celebration special!